December, 10, 2013
12/10/13
6:06
PM ET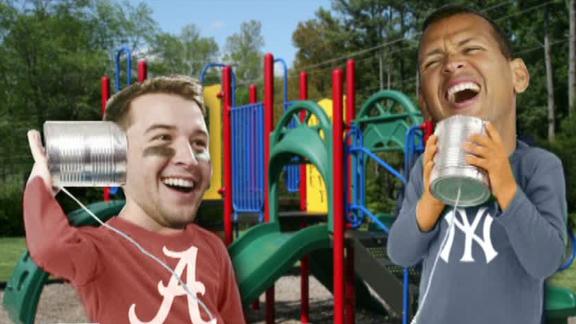 TUSCALOOSA, Ala. -- Yankees manager Joe Girardi has been around the Alabama football program a few times after having Tide coach Nick Saban to New York to speak to his team during the offseason. Even the most famous of pinstriped ballplayers,
Derek Jeter
, came to Tuscaloosa in November to take in the Alabama-LSU game.
All those happenings, while extraordinary in their own right, seem feasible within the bubble of big-time sports, another instance of one historically significant franchise reaching out to another.
But the connection between the Yankees and the Tide took a step in a more perplexing direction when
Alex Rodriguez
spoke on the phone with
AJ McCarron
prior to Alabama's regular-season finale against Auburn. For McCarron, a lifelong Yankees fan, it was a spectacular moment. For a national public that holds Rodriquez in a generally low esteem given his connection to steroids and his suspension from Major League Baseball, it might be a bit dumbfounding.
[+] Enlarge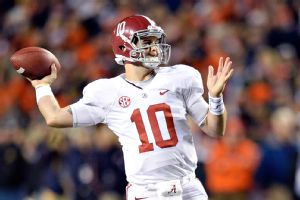 John David Mercer/USA TODAY SportsAJ McCarron doesn't just dial up audibles; Alabama has been putting him on the phone with other athletes who 'reinforce approach and confidence.'
McCarron was cheery, though, when he told reporters on Tuesday that Rodriguez told him he has followed his career.
"Coach Girardi showed them the video of me and [former Alabama center Barrett Jones] pushing each other [in the BCS title game] before last season and told him that's the passion they need within their club again and stuff like that," McCarron said. "It's just pretty crazy that they've watched me before and are fans of me. Like I said, it's unbelievable."
Alabama consultant Trevor Moawad, who is the full-time vice president of mindset programs at Athletes Performance, set up the phone call prior to the Iron Bowl, reaching out to Chad Bohling, who is the director of mental conditioning for the Yankees.
Moawad said the call with Rodriguez lasted 10-15 minutes and the discussion was about what it takes to be a successful athlete. There was no talk of Rodriguez's off-the-field troubles, Moawad said, just his own personal account of how he focused as a young man in order to reach where he is today.
It's a normal routine to put McCarron on the phone with high-profile athletes the night before games, according to Moawad, who said he has set up calls with Russell Wilson and Carson Palmer, to name a couple. Why? Because sometimes hearing the message from someone other than Saban helps.
"Over the years, the night before the game we'll try to find different people to reinforce key things about attitude, approach, confidence," Moawad said. "I've been with [McCarron] for five years, so if you can get someone to reinforce themes that Coach is talking about, it's a benefit.
"There are universal concepts that make athletes good across any sport. And athletes respond well to other athletes who have been successful."
It's hard to imagine a multi-million dollar professional athlete reaching out to a college senior, but Moawad said he hasn't had a hard time convincing players. In fact, most are very aware of McCarron before they speak.
"They are guys that have a tremendous amount of respect for AJ, too," Moawad said. "That's why they're willing to jump on the phone."
As far as McCarron is concerned, it's still an indescribable feeling. In as much as he's aware of his own celebrity, getting on the phone with someone like Rodriguez turns him into a giddy kid again.
"It's almost like living in a dream in a way because I've met guys that I've watched and watched coach for so many years," he said. "Now I'm talking to them on the phone and meeting them in person. It's just pretty surreal."
And there's a chance that McCarron's dream ride will continue. After all, McCarron will be in New York for the first time when he makes the trip to the Big Apple for the Heisman Trophy ceremony.
Maybe A-Rod or another Yankee will show him around.
September, 21, 2008
9/21/08
2:50
AM ET
Posted by ESPN.com's Ted Miller
TEMPE, Ariz. -- I watched USC brutalize Ohio State. And I've now watched Georgia manhandle Arizona State.
| | |
| --- | --- |
| | |
| | AP Photo/Paul Connors |
| | Georgia running back Knowshon Moreno showed once again he is one of the best in the nation Saturday night. |
The obvious question is: Who's better?
Heck if I know.
But if I had to guess, I'd take USC.
That seemed to be the consensus opinion among a couple of other reporters I talked to who had covered both games.
Say what you want about Ohio State, but it's laden with NFL players and few folks would pick the Sun Devils to beat the Buckeyes.
That said: If the Bulldogs go undefeated against a schedule that includes Alabama (next Saturday), LSU, Florida and Auburn, the sight test won't matter because they will have passed the "do test."
That's a big if, which is probably why Georgia coach Mark Richt didn't want to start lobbying for respect just yet, even though his team, ranked No. 1 in the preseason, has dropped two spot in the polls while watching everyone fall in love with the Trojans.
"I wasn't really worried about making a statement," Richt said. "I just wanted to win the game."
Georgia has one of the slickest running backs in the nation in Knowshon Moreno. QB Matt Stafford owns the best arm I've seen since Carson Palmer. Freshman wide receiver A.J. Green looks ready for his close-up, too.
And the defense? Its linebackers are fast and its front four is physical. The secondary is above-average.
The defense is great against the run. It entered the game surrendering 59.7 yards rushing per game and held the Sun Devils to an embarrassing four yards on the ground.
The Bulldogs struggled to pressure opposing QBs, but the one-dimensional Sun Devils made things predictable and Georgia had four sacks.
However, be forewarned Dawgs fans: It's unlikely Georgia will face any more offensive lines with as many issues as ASU, at least not in its marquee games ahead.
Of course, Georgia isn't exactly dominant on its offensive line, and that youth -- two freshmen and two sophomores started -- that played fairly well against ASU, probably will find the going rougher against SEC front-sevens.
Or USC's front seven, should those teams hook in a some sort of game, you know, down the line.
While this game made a statement -- Georgia took care of business a long way from home against a quality opponent -- the Bulldogs don't need to fret about what sort of message they're sending.
Against this schedule, just winning makes a statement.
"We obviously know the prettier it is, the more people are going to look at it," Stafford said. "But we don't look at it like that... We definitely haven't arrived."