September, 25, 2013
9/25/13
11:00
AM ET
COLLEGE STATION, Texas — Playing away from home is typically difficult in college football, but the road has been good to Kevin Sumlin in recent years, and as a result, Texas A&M last year.
After playing four straight games at home to start this season, the No. 10 Aggies (3-1) hit the road this weekend to resume their SEC schedule against Arkansas.
[+] Enlarge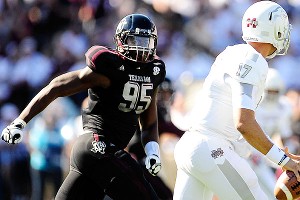 Stacy Revere/Getty ImagesKevin Sumlin has all sorts of ways to motivate the Aggies for road games, such as the unveiling of all-black uniforms last season at Mississippi State.
Last season, the Aggies were undefeated away from Kyle Field, going 6-0 in road games and winning their neutral site contest in the AT&T Cotton Bowl over Oklahoma. Sumlin's teams have won 13 consecutive away from their home stadium dating back to his final season at Houston, where the Cougars were 6-0 on the road in 2011.
Sumlin said he believes the reason is consistency in approach.
"We don't change our routine much," Sumlin said. "The same routine we use at home, we use on the road. I think, just like a lot of different things, you try to keep it all the same. You go on the road, you try to create your own energy. We don't make a big deal about road trips."
The term "creating your own energy" can mean different things to different players.
"You just look around and you see the crowd and a lot of the times, I don't know if other players get the feeling but I get the feeling that they're cheering for me," junior receiver
Malcome Kennedy
said. "It's something weird. Different players have different methods of approaching it but it's a very awesome experience."
The Aggies have tackled some tough opponents on the road. Last season, their road triumphs included No. 1 Alabama and two other regular season wins over teams that were ranked at the time the Aggies played them -- Mississippi State (ranked No. 15 at the time of the meeting) and Louisiana Tech (No. 23).
And though the Rebels weren't ranked, the Aggies' comeback win at Ole Miss proved to be a significant one for Texas A&M, since the team didn't play well from start to finish. The Aggies turned the ball over six times in that game but still climbed out of a 10-point fourth quarter deficit to win.
"I feel like when we go on the road, it's us against the world," senior defensive back
Toney Hurd Jr
. said. "We go into the stadium with a mindset that we have to come out here on top. Coach Sumlin has instilled in us that we have to focus and keep the same mindset, just like we're playing at home, but we're away."
Sometimes, Sumlin might try to do something to trigger the Aggies' energy level. Against Mississippi State last season, it was the unveiling of new all-black uniforms. When the Aggies played at Alabama, it was the first time that season that they donned what A&M calls the "icy whites," which is an all-white uniform, helmet included.
It isn't always easy to guess what it is, but Kennedy said Sumlin usually comes up with something.
"It's so hard to tell with him," Kennedy said. "It just happens. The great thing about it when it happens is that players get this new life about them. It's always something, because he cares about the team. He's such a players' coach. He knows what we need and he knows what we want, so he'll always make the best decision for us. We just lay back and we expect something but we don't know what it is yet."
It certainly doesn't hurt that Sumlin's teams have had elite quarterbacks running the show during the streak. Last season, it was Heisman Trophy winner
Johnny Manziel
. In 2011, it was Case Keenum, who broke eight career FBS statistical records and was a dark-horse Heisman candidate until the final regular season game.
Having a good team with strong leadership helps also. The Aggies had much of that last season, as did Houston before that.
"When you're away, it really takes that leadership from your players," Aggies' senior running back
Ben Malena
said. "It takes guts, especially in this conference, to go out there and win on the road."
August, 18, 2013
8/18/13
11:01
AM ET
In the middle of the whirlwind at SEC media days, before all of the autograph allegations, Texas A&M quarterback
Johnny Manziel
said something that in retrospect seems prescient.
While making a stop in one of the seemingly dozens of interview rooms, a reporter surmised that Manziel was tired of talking about his offseason and was simply ready to return to the football field. The reigning Heisman Trophy winner, cracked a smile and confirmed that assessment.
"Can't wait," he said. "No more talking off the field. All the talking's done on the field."
Interestingly, the mid-July media extravaganza in Hoover, Ala., is about the last day we've heard Manziel speak publicly, unless you count a handful posts to his Twitter account in the time between media day and the start of Texas A&M's preseason training camp on Aug. 5.
As the college football world has focused on Manziel's eventful offseason -- and most recently, news of an NCAA investigation into allegations that he profited from signing autographs -- Manziel has remained silent as he focuses on the 2013 season.
[+] Enlarge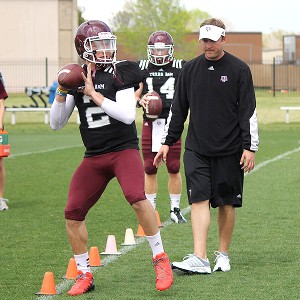 Sam Khan Jr./ESPNJohnny Manziel and Texas A&M quarterbacks coach Jake Spavital have worked on Manziel's pocket presence in the offseason.
What hasn't dominated the conversation when it comes to Manziel is what is in store for him on the field in his second season as the Aggies' starting quarterback. It was just more than a year ago that he was named the starter, winning a quarterback battle over
Jameill Showers
(now at UTEP),
Matt Joeckel
and
Matt Davis
.
So, how do you tell the Heisman Trophy winner to do better?
"All you have to do is watch video," Aggies coach Kevin Sumlin said.
What does the video reveal?
"You saw him progress as a quarterback as the year went on," quarterbacks coach Jake Spavital said. "Those first five games or so, he was just freelancing and doing his own thing."
Sumlin has noted several times in the past year that Manziel was a better quarterback in the second half of the season. His grasp of the offense and ability to throw downfield have improved.
The stats support that assessment. In the final six games, Manziel had a better completion percentage (73.4 percent, compared to 63.8 percent in the first seven), more yards per attempt (9.31 vs. 7.95), a better touchdown-to-interception ratio (12-to-3, compared with 14-to-6) and, as a result, a better passer rating (169.5 vs. 144.5 to 169.5).
The area in which he can make serious strides this year is his pocket presence.
"That's what we focused on throughout the spring because we know what Johnny can do when he's outside the pocket, running the ball," Spavital said. "I try not to let him scramble in practice and he gets frustrated at times and you'll see some pretty wild plays out there, but he's been staying in the pocket, going through his progressions, and I think it's making him a better pocket passer."
Sumlin said he has seen Manziel improve in several aspects of his game during the offseason.
"He continued to work at everything. In the classroom, understanding the whole picture, operational procedure, he's a lot better there," Sumlin said. "Mechanically, he's better. He understands some things. It's like playing golf. Once you understand the mechanics, you can kind of correct yourself when things aren't going right. I think he's worked very hard in the offseason to understand the mechanics and, really, the complete offense. I don't think there's one area that he has really concentrated on, I think he has worked on his total game."
The operational procedure that Sumlin speaks of, which simply is his ability to run the offense, is something Spavital noted that Manziel has down solid. Spavital said in the spring that Manziel is now able to get the play signal, operate and spend the rest of the time focusing on what the defense is showing.
In the first year of this Air Raid-style spread offense with its high pace of play, some of the basics were hardest to grasp early on. And that's not just for the quarterback, but all of the offensive players.
"I guarantee you Johnny vs. Florida -- I've never asked him about it -- I guarantee you he went out there and Kliff [Kingsbury] signaled in the play and he made sure the receivers knew what they were doing and made sure the back knew what he was doing and made sure the O-line knew what they were doing and then he just snapped the ball and ran the play," Spavital said. "Well, now, it's second nature to him and you signal the play to him and he just operates it and he can focus on the defense. He can change the play if he needs to and you don't get caught in as many bad plays because he's seen all the bad looks. He's learned his lessons from it. That's the way you get better in this offense; you learn from your mistakes."
Spavital has worked with several quarterbacks who have run this style of offense: Case Keenum at Houston, Brandon Weeden at Oklahoma State and
Geno Smith
at West Virginia. The common thread in all of them, he said, is that the second year running this offense is the year that the quarterback makes a significant step forward because everyone grasps the scheme better.
"It's the year that they go off," Spavital said.
Back at SEC media days, Manziel himself said he wants to be smarter about when he chooses to break the pocket and run.
"There were times where I'd take off running and you've got a guy running down the field on a post that you knew on Monday of the week that that route was going to be open if this coverage was this, this and this. And yet, pressure comes up and you need to step up in the pocket, but then I decide to run," Manziel said. "Maybe the play turns out to be a success, maybe it doesn't, but just making it easier on myself is the bigger thing.
"You can sit there and take a nice easy step, do everything, have your fundamentals and make the throw and let them walk in for a touchdown, or whatever the situation may be. But just continue to get better downfield and seeing the vision [is the key]. All that will come with the more playing time and the more time you're out on the field. I know from the Florida game to Oklahoma, it's a crazy amount of difference."
One thing that the coaches don't want to do, Spavital said, is make Manziel robotic.
"Johnny wants to be a better pocket passer," Spavital said. "You can see him progress as the year went on and he's going to keep getting better at it. The main thing is you don't want to handcuff him and you want Johnny to be Johnny. His ability to scramble and make plays and get out of the pocket is the reason why he won the Heisman. You want to just keep working on the little things and get him to be a better passer, but at the same time you just want that kid to keep balling the way he is."
December, 5, 2011
12/05/11
9:10
PM ET
My Heisman Trophy ballot has changed every week for the last couple of months.
I'm not surprised there are more than three players going to the trophy presentation.
Five players were invited to New York for Saturday night's Heisman Trophy presentation -- quarterbacks
Andrew Luck
of Stanford and
Robert Griffin III
of Baylor, tailbacks
Montee Ball
of Wisconsin and
Trent Richardson
of Alabama and cornerback Tyrann Mathieu of LSU.
It's a shame the Heisman Trust didn't have room for three more quarterbacks because Houston's
Case Keenum
, USC's
Matt Barkley
and Boise State's
Kellen Moore
were just as deserving.
With five finalists going to New York, it figures to be one of the closer votes in recent Heisman Trophy history.
The closest vote in Heisman Trophy history came just two years ago, when Alabama tailback Mark Ingram edged Stanford's Toby Gerhart by only 28 points. Ingram received 227 first-place votes, Gerhart got 222 and Texas quarterback Colt McCoy, the second runner-up, received 203.
Given the number of finalists and their geographical regions, we could have another really close finish on Saturday night.
Luck, the runner-up to Auburn's Cam Newton last season, entered the 2011 season as the Heisman Trophy favorite. His performance didn't slip much this season, as he completed 70 percent of his passes for 3,170 yards with 35 touchdowns and nine interceptions.
I still feel Luck might be the most valuable player on any team in the country. Without him, there's no way the Cardinal is ranked No. 4 in the country and playing No. 3 Oklahoma State in the Tostitos Fiesta Bowl. Luck has done more with less, as Stanford lacks the game-changing playmakers that other teams have.
But Luck might still be the second-best quarterback in New York. Griffin, who is widely known as RG3, completed 72.4 percent of his passes for 3,998 yards with 36 touchdowns and six interceptions. He also ran for 644 yards with nine touchdowns.
Without him, the Bears wouldn't have beaten TCU, Oklahoma and Texas. Griffin's one drawback: He had a late interception that sealed the Bears' fate in a 36-35 loss at Kansas State on Oct. 1 and threw two picks in a 59-24 loss at Oklahoma State on Oct. 29. But with everything else RG3 has done this season, it's easy to give him a mulligan for the miscues.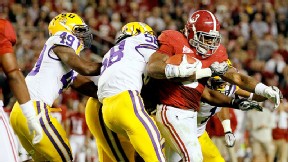 Kevin C. Cox/Getty ImagesRunning back Trent Richardson has been at his best in Alabama's biggest games.
I still believe Richardson is the best player in the country. He looked like the best player on the field in No. 2 Alabama's 9-6 loss in overtime to No. 1 LSU on Nov. 5. He had 89 rushing yards and 80 receiving yards in a game where every yard mattered. He finished the season with 1,583 yards with 20 touchdown runs and three touchdown catches. He's also Mr. Dependable, not losing a fumble in his past 520 touches and only once in 614 career touches.
Ball has been a scoring machine for the No. 10 Badgers this season, running for 1,759 yards with 32 touchdown runs and six touchdown receptions. His 38 total touchdowns are one shy of matching former Oklahoma State running back Barry Sanders' NCAA single-season record of 39 set in 11 games in 1988. Ball's production helped lead the Badgers to a Jan. 2 date against Oregon in the Rose Bowl Game presented by VIZIO.
Mathieu fell off my ballot after he was suspended from playing in the Tigers' 45-10 victory over Auburn on Oct. 22 for smoking synthetic marijuana. But his big plays helped the Tigers overcome deficits in each of their last two victories, over Arkansas and Georgia in the SEC championship game.
Mathieu -- aka the "Honey Badger" -- is the best player on the top-ranked team. He leads the Tigers with 70 tackles and has forced six fumbles and recovered five. He also is the most dynamic punt returner I've seen since Florida State's Deion Sanders. Mathieu has scored four touchdowns -- two on fumble returns and two on punt returns.
To penalize Mathieu for one foolish mistake wouldn't have been right. After all, Newton was briefly ruled ineligible at Auburn last season and 2010 Heisman Trophy finalist
LaMichael James
of Oregon was suspended from playing in last season's opener.