February, 11, 2011
2/11/11
6:55
PM ET
I'm here for you, to answer all of your questions and weigh in on whatever is on your mind in this week's SEC mailbag:
Wayne in Leesburg, Ga., writes:
Chris, what do you think are Georgia's chances of winning the SEC East in 2011? I know they had a down year last year (ifs and buts), but they could have just as easily finished 10-3. If they can weather the storm early against Boise State and South Carolina, they could be 7-0 heading to Jacksonville against the Gators. I know there's no
A.J. Green
, but they look to me on paper to be deeper next year. Your thoughts?
Chris Low:
I was one of those predicting big things for the Bulldogs this past season, so forgive me if I'm a little gun shy about stepping out there too far in 2011. I agree that the talent is in place to make a run, and the East should be pretty open again. I'm still not sure if the right personnel is in place to effectively run a 3-4 defense, although landing 340-pound junior college nose guard John Jenkins helps.
Aaron Murray
is exactly the kind of quarterback I'd like to build around if I were a coach, and it sounds like Isaiah Crowell won't have to wait long for his first carry. The Bulldogs need better play from their offensive line next season and need to tackle more consistently. And, yes, if they get past Boise State and South Carolina (both games being playing in the state of Georgia), I like their chances to be right there in the East race. They just need to come out on the plus side of those ifs and buts.
---
Patrick in Winson-Salem, N.C., writes:
I know you probably don't even care any more when people say that you hate on Auburn because I'm sure you get tons of mail about it. I'm not sure if you do since I did like some of the blogs on Auburn earlier this season, but it is getting old with the constant reminder of whether or not the national championship will get taken away because of Cecil Newton. Every time I think we have gotten past that, at least until more "evidence" comes around, which I don't believe it will, some righteous writer posts a story about it from either Sports Illustrated or ESPN. You (writers in general) don't seem to want to talk about the good and all the players that had nothing to do with this or the reasons why it might not be true. As Auburn linebacker Josh Bynes said, "You guys don't want to hear the truth." Lets start reporting on facts, like how Auburn beat Oregon 22-19 for the national championship and not on speculation. THANKS WDE!
Chris Low:
I can assure you I don't hate or hate on Auburn. The Tigers' officials and players were a classy bunch out in Arizona, and it was a blast dealing with them leading up to their national championship. I can also assure you that I've gone out of my way to accentuate the positive with their program, and there was a lot of positive to accentuate this season. The
Cam Newton
story is simply the one most of the Auburn fans remember, and that's just part of the business. I get that. I also understand how Auburn fans are sick and tired of hearing about what might happen in the future. The reality is that none of us know, and I have my doubts (like you) whether anything will come of the NCAA's investigation. At the same time, until the NCAA notifies Auburn that it's a closed matter, my advice to Auburn fans is to enjoy what was a magical ride in 2010 and don't get caught up in what might or might not happen down the road.
---
Danny at MacDill Air Force Base in Tampa, Fla., writes:
Chris, I wrote you yesterday about the 2009 college football season during my deployment to Afghanistan. I have some pretty fun pictures that I made and would love to share, but don't know how I could send them to you. My girlfriend (now my wife) sent me an Alabama flag, and I built a flagpole out of 2 x 4's. We did a "raising of the flag" reminiscent of the Marines' Iwo Jima flag raising. The picture is great and sits on my desk. Anyway, thought I'd share. If you'd like to see them, let me know how I could send them to you.
Chris Low:
Danny, great story, and I'd love to see the pictures. You can email me at
espnclow@aol.com
. Most of all, thanks from the bottom of my heart for your service to our country.
---
James in Walnut, Miss., writes:
I got a question. Please tell me how you can't have Mississippi State ranked in the top 15 and second in the SEC West?
Chris Low:
My first thought would be because the West will be loaded again next season, and while I think Mississippi State will be a very good football team, I'm not ready to slide the Bulldogs ahead of Alabama, LSU and Arkansas (in that order). Not that it matters for 2011, but Mississippi State did lose to all three of those teams this past season. In fact, the only West team Mississippi State beat was Ole Miss. Still, I think the Bulldogs will be a tough out for everybody they play again next season and will be knocking on the door of nine wins again. In my early 2011 SEC power rankings, I had Mississippi State No. 5 overall, and I think that's more than fair. In fact, I've heard from a few Auburn, Florida and Georgia fans wanting to know how I could have Mississippi State ranked ahead of their teams. Hey, that's life in the SEC.
---
Wmob in Atlanta writes:
I take it from your lack of mention that you believe Jacoby Brissett doesn't have a chance in the Gators' quarterback equation next year.
Chris Low:
I wouldn't go that far. I was mostly breaking down battles this spring and weighing in on those guys who would be around for spring ball. With a new offense and new offensive coordinator, I wouldn't rule out anybody at Florida. I do, however, believe it would be a real long shot to think that Brissett could win the job despite not having the benefit of spring practice and not arriving on campus until this summer. That almost never happens in this league with a true freshman at the quarterback position. Could he play his way into some snaps as the season progresses? Absolutely. But if he's playing early for the Gators next season, that's probably not a very good sign, because it would mean that
John Brantley
and freshman Jeff Driskel didn't wow anybody over this spring and were even less impressive during preseason practice.
---
Jose in Aiken, S.C., writes:
If
Connor Shaw
beats out
Stephen Garcia
, could there be a chance Garcia transfers?
Chris Low:
I don't see it. Garcia will be a senior, and he's already used up his redshirt season. Even if Shaw wins the job, we've seen with Steve Spurrier that he's almost always going to experiment a little and play two quarterbacks. Garcia had his best season a year ago. He just didn't finish that well with the five interceptions in his last two games. It ought to be an interesting spring, because I think the Head Ball Coach is serious about giving Shaw a legitimate chance to win the job.
---
Kelly in Nashville, Tenn., writes:
What do you think about the
Gerald Jones
story at Tennessee?
Chris Low:
You're obviously talking about the chatter out there that Jones supposedly helped Auburn assistant coach Trooper Taylor steer some prospects to Auburn and away from Tennessee. First of all, Jones' eligibility is up, and he's hardly the first player that has gone to bat for a former coach of his on the recruiting trail, even if that coach does happen to be at another school now. Where I would have a problem with it is if Jones bashed Tennessee. You simply don't do that to your teammates and coaches. Be honest and be truthful, but don't engage in tearing down the school that just paid for your education. I don't know that he did that, but you can bet that he and Tennessee coach Derek Dooley have had a few conversations in the past couple of days. The reality is that players build up relationships with certain assistant coaches and those relationships endure no matter where that coach goes.
January, 28, 2011
1/28/11
12:38
PM ET
Our regular Friday cruise around the league:
January, 21, 2011
1/21/11
4:06
PM ET
The college football season has come and gone with Auburn winning the SEC's fifth straight BCS national champioinship, but ESPN.com national columnist Gene Wojciechowski writes that the whole
Cam Newton affair still stinks
.
In his mind, the unresolved issues cast a dark cloud over Auburn, Mississippi State and the SEC.
What do you think?
I'm sure you'll let me know.
I'll post some of the more thoughtful responses next week on where you think this is all headed, if anywhere, and what it means for the SEC and college football.
Newton
has already come out and said he doesn't think an asterisk will be attached to his accomplishments or anything that Auburn has achieved when the NCAA investigation into the whole pay-for-play scheme cooked up by Newton's father, Cecil Newton, finally concludes.
One thing's for sure: The NCAA and SEC's handling of the matter will be debated for a long time to come.
January, 21, 2011
1/21/11
12:05
PM ET
A Friday offering of SEC links:
January, 14, 2011
1/14/11
5:24
PM ET
I trust all the Auburn fans are over their jetlag by now and being stuck in airports while trying to get back from Arizona. I was right there with you in Philadelphia this week.
We'll wrap up the week by emptying out the mailbag:
Sean in Atlanta writes:
Are you not going to comment on Cecil being at the game?
Chris Low:
I was hoping nobody would ask. Obviously, you're referring to Cecil Newton. He's become such a part of SEC lore that we know him simply by his first name. You've got Herschel, Bo, Archie and now Cecil. My first thought is that I guess we're left to decide for ourselves if he really did show up after the game as his lawyer suggests, or did he simply show up Auburn athletic director Jay Jacobs and go to the game despite what Jacobs said was a mutual decision between the two for Cecil to stay away. If Cecil told Jacobs he would stay away and then attended the game anyway, I'd say that further underscores how difficult it is to give any credence to anything Cecil says. But as a father, there's no way I would have ever agreed in the first place not to attend. How many times does your son play for the national championship? Granted, Auburn can't give Cecil a ticket or sell him a ticket, but Auburn also can't forbid him to buy a ticket elsewhere and attend the game on his own accord. This whole arrangement of Auburn distancing itself from Cecil had more to do with
Cam
than anything. Auburn wanted to go out of its way to protect Cam and not put him in an uncomfortable position where his father was always around. Either way, I'd say Jacobs and the Auburn administration aren't shedding any tears that Cecil won't be hanging around Jordan-Hare Stadium next season.
---
Stephen in Little Rock, Ark., writes:
I appreciate your blog and usually agree with you. Maybe I'm just a homer, but how does LSU end up above Arkansas in all the power rankings just because they are separated by one loss? Arkansas lost to Ohio State, while LSU beat a Texas A&M team that Arkansas beat earlier in the season. Not to mention the fact that the Hogs beat the Tigers. I don't mind being ranked where we are except for that one fact.
Chris Low:
Yeah, I went back and forth on the No. 2, No. 3 and No. 4 spots. I ended up going with LSU for a couple of different reasons – how impressive the Tigers were in the bowl game, their 11 wins were the second most in the SEC behind Auburn, their 5-2 record against nationally ranked opponents and the fact that both of their losses (Arkansas and Auburn) were close games that went down to the final minutes on the road. I can see how Alabama, Arkansas and LSU could all make claims for that No. 2 spot. After all, they beat up on each other. Arkansas beat LSU. Alabama beat Arkansas, and LSU beat Alabama.
---
Ron in Maysville, Ky., writes:
Chris, great article on
Randall Cobb
and I agree with you. I think Cobb and Chris Lofton followed the same path. Chris was overlooked by his home state and so was Cobb.
Chris Low:
Good comparison. Kentucky dropped the ball on Lofton, and Tennessee dropped the ball on Cobb. Both players are a reminder to us all that while coaches and analysts often times get caught up in measurables, it's impossible to measure a player's heart, his drive and his work ethic. Cobb was easily one of my favorite players in the SEC over the past decade. He could do just about anything on a football field and endeavored to do it well. He wasn't the fastest guy, the biggest guy or the most talented guy out there. But more times than not, he was the best guy. In a lot of ways, he was a throwback.
---
Scott in Vermont writes:
Chris, just for fun, let's say the SEC had to draft an All-Star team from only the seniors. Who would be on it? And how would they do against other conference teams made up of the same idea?
Chris Low:
The truth is that most of the premier talent in the SEC this season was concentrated among the underclassmen. But you've given me an idea for next week. I'll come up with an All-SEC team for this season consisting only of seniors. Maybe I can get my colleagues at ESPN.com to do the same, and we can compare them. Thanks for the idea. I did do my Super Seniors feature back in December where I picked the top senior contributor from each SEC team in terms of production and leadership.
---
Mike in Birmingham, Ala., writes:
Chris, enjoy your stuff. Auburn fan here and we probably would have been worse than 9-3 without Cam and Fairley. However, you could say that about almost every national championship team. Look at Alabama this year without Javier Arenas (arguably the biggest game changing defensive player the last 10 years) and Rolando McClain. Thanks
Chris Low:
All fair points. It was just magnified so much with those two guys at Auburn this season because nobody had any idea they would be the kind of difference-makers they were. Usually, you groom a quarterback, and he develops over time. Even
Greg McElroy
had been in Alabama's program for a few years, and Tim Tebow was in his third season at Florida when the Gators won the title. And then Fairley? I say this in all honesty and it probably makes me look like I don't know my stuff, but I had to go find a roster early in the season to see who this No. 90 was for Auburn. I didn't remember him at all from the year before, but then he shows up this season and is dominant. I guess what I was trying to drive home more than anything was that Auburn was able to plug these two guys into the mix, both coming over from the junior college ranks where it's always a crapshoot, and went from being a contender in the West to the best team in the country. Quite a ride for the Tigers, indeed. But, hey, it all has to fall together just perfectly to win a national title, and Auburn brought it to the table every week this season. Congrats and War Eagle!
January, 10, 2011
1/10/11
8:37
PM ET
Cam Newton
's father, Cecil Newton, is not attending the Tostitos BCS National Championship Game, Auburn athletic director Jay Jacobs told the Associated Press.
Jacobs said the decision for Cecil Newton not to attend was "mutually agreed upon."
Last week, Cam Newton said his father would be at the game after skipping the SEC championship game back on Dec. 4.
Auburn announced last month that Cecil Newton's exposure to the program would be limited after the NCAA said he was involved in a pay-for-play scheme in trying to shop Cam Newton to Mississippi State.
December, 7, 2010
12/07/10
1:33
PM ET
Checking out what's making headlines around the SEC:
December, 3, 2010
12/03/10
11:23
AM ET
Having covered the SEC for nearly 20 years, I thought I'd seen it all.
Great players. Legendary coaches. Sordid scandals. Bitter feuds.
But then came Wednesday's stunningly bizarre ruling on
Cam Newton
.
[+] Enlarge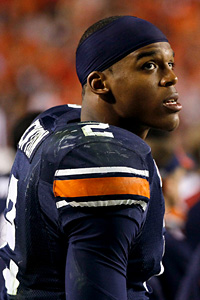 Kevin C. Cox/Getty ImagesQuarterback Cam Newton and Auburn play South Carolina for the SEC title.
Ever since, I've been asked by friends, relatives, SEC fans, non-SEC fans and people who don't even like football just exactly what happened.
As one person said, explain this to the common man, because it makes no sense.
My first response was that every move the NCAA makes doesn't make sense.
But here's my best college try.
The NCAA concurred with what
ESPN.com reported last month
, which is that Newton's father, Cecil Newton, shopped his son to Mississippi State, thus violating NCAA rules.
As pointed out by the NCAA in its release, there is hard evidence that this solicitation occurred, and both the NCAA and Auburn are in agreement that it occurred.
Auburn was informed on Monday that NCAA amateurism bylaws had been violated, and the school on Tuesday – without making it public – declared Cam Newton ineligible.
Obviously expecting this ruling to come down at some point, Auburn had been building its case, and on Wednesday, successfully won its reinstatement case to have Cam Newton's eligibility restored.
A couple of things to consider here are that the NCAA's student-athlete reinstatement committee is a separate entity from its enforcement staff. And even more importantly, Auburn based its case for reinstatement on its contention that neither the school nor Cam Newton had any knowledge of the pay-for-play scheme cooked up by Cecil Newton, who went through former Mississippi State player Kenny Rogers as the middle man.
The fall guy was Cecil Newton, whose punishment is that he will have limited access to Auburn's football program, which I guess means you won't see him hanging around the locker room after games. Similarly, Rogers was disassociated from Mississippi State.
Yet, Cam Newton plays on.
Most people who live outside the 334 area code look at this entire situation and shake their heads in disgust.
First and foremost, a father shopping his own son for money?
Not only that, but we're all to believe that Newton – who was 20 at the time – never had any clue that his father was so far down the path of trying to sell Cam's services to Mississippi State that Cecil Newton was instructing Rogers to send text messages to boosters outlining the payment schedule?
I'll let everybody make up their own minds as to what they do and don't believe.
And we won't even broach the obvious next question: So Cecil Newton just arbitrarily quit shopping his kid after the first pay-for-play attempt was unsuccessful?
Again, make up your own mind.
But the facts are this: There is no evidence at this point that Auburn did anything wrong, that Cam Newton or anybody received a cent or that Cam Newton knew anything about his father's shady dealings.
And as simply as I can say it, that's the reason he's still playing.
Conspiracy theorists will have a field day with the fact that he's the best player in America and playing for the No. 1 team in America and that there's no way the NCAA would ever sit that player down as potentially the two biggest games of the season approach.
I think it's safe to say the NCAA is feeling some heat. If you don't think so, see NCAA president Mark Emmert's statement Thursday on the Cam Newton ruling.
Still, I ask South Carolina fans, Alabama fans, Arkansas fans and fans of all schools to put yourselves in Auburn's shoes right now.
How would you feel if you were No. 1 in the country and your Heisman Trophy front-runner was declared ineligible merely on a high presumption of guilt 12 games into an unbeaten season?
And that's exactly where it is right now.
In a month, three months or 12 months, there might be evidence that Newton knew everything or that he was a willing participant. It also might be proven that he was an innocent pawn in this whole convoluted affair.
Either way, the NCAA investigation continues, and Newton presses on to what he and Auburn hope will be the Tigers' first national championship since 1957.
Sure, it's a black eye for the SEC, which has battled the "If you ain't cheating, you ain't trying" rap for years.
Clearly, there's a giant loophole, too, in the NCAA and SEC bylaws that needs to be fixed in a hurry when a parent can shop his kid and there are no repercussions for the kid.
And this whole interpretation by the SEC of its own bylaw 14.01.3.2 sounds like a bunch of legal mumbo jumbo to me.
Here's the way it reads:
"If at any time before or after matriculation in a member institution a student-athlete or any member of his/her family receives or agrees to receive, directly or indirectly, any aid or assistance beyond or in addition to that permitted by the Bylaws of this Conference (except such aid or assistance as such student-athlete may receive from those persons on whom the student is naturally or legally dependent for support), such student-athlete shall be ineligible for competition in any intercollegiate sport within the Conference for the remainder of his/her college career."
So why then is Cam Newton not ineligible, according to SEC bylaws?
The SEC's explanation is that there was no evidence that Cecil Newton ever agreed to receive money, only evidence that he solicited money.
Maybe it's just me, but don't you agree to receive money the minute you ask somebody for it?
Regardless, talk about open season for every shady relative out there now who wants to make a quick buck.
It's been a great season, a memorable season in a lot of ways, and Cam Newton is the most dynamic football player I've seen in this conference since Herschel Walker.
But if you don't reside in that 334 area code, it's a season that will forever have an asterisk attached to it.
November, 11, 2010
11/11/10
5:33
PM ET
The
Cam Newton
saga went to another level Thursday afternoon when Kenny Rogers, appearing on a Dallas radio station, said
Cecil Newton put a price tag on his son
.
Rogers is the former Mississippi State player that ESPN.com reported last week was claiming to represent the Newton family and soliticing money for Newton to sign with the Bulldogs. Rogers, who denied he was involved last week, conceded Thursday that Cecil Newton told him it would take anywhere from $100,000 to $180,000 for Mississippi State to sign his son.
During the radio interview, Rogers said he didn't know anything about Newton's recruitment at Auburn or any other school. He said he had "no idea" why Newton chose Auburn or if Auburn paid Newton. Rogers said he has been contacted by the NCAA.
In an e-mail to ESPN.com, an NCAA spokeswoman said: "The solicitation of cash or benefits by a prospective student-athlete or another individual on his or her behalf is not allowed under NCAA rules."
Rogers worked for Chicago-based agent Ian Greengross. The NFL Players Association said last week said it had filed a disciplinary complaint against Greengross for "violating numerous provisions of the NFLPA's agent regulations while recruiting and representing players." It also target the actions of Rogers.
In another e-mail, a spokesman said: "Generally speaking, if a third party is marketing a student-athlete, there could be potential agent violations. Under NCAA rules, it doesn't matter what you call yourself or how you are compensated, the actions are what triggers agent violation rules."
The NCAA spokeswoman said: "The decision to rule a student-athlete ineligible is made by the university, not the NCAA. We do not suspend student-athletes. It is a school action. The university can then seek reinstatement on behalf of the student-athlete and reinstatement decisions are made by the NCAA.
Officials at Auburn and Mississippi State refused comment Thursday.
Earlier this week, Auburn coach Gene Chizik was adamant that Newton would play this Saturday against Georgia, and officials at Auburn have said steadfastly that they have uncovered nothing that would impact Newton's eligibility.