March, 20, 2014
Mar 20
2:30
PM ET
AUBURN, Ala. -- SEC defenses had no answer for Gus Malzahn's hurry-up, no-huddle offense last season. It wasn't a complicated scheme, but
Auburn
's pace simply overwhelmed the rest of the conference. The Tigers led the nation in rushing and averaged 39.5 points per game en route to a league title and a spot in the national championship game.
[+] Enlarge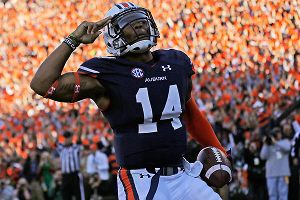 AP Photo/Dave MartinThink Nick Marshall and Auburn's offense played at quick pace last season? The Tigers are hoping to go ever faster in 2014.
If you ask Malzahn, it wasn't fast enough. He wants to go even faster in Year 2.
"We think we can be quite a bit faster," he said in his pre-spring press conference. "There were times last year [when] we had a lot of new people out there, a lot of moving parts, and as you get more comfortable, the faster you can get."
The emphasis on tempo was evident Tuesday when Auburn opened spring practice. There was little time wasted between each drill, and the second period was dedicated solely to pace. Despite coming off a three-month break from football, the players embraced it.
"We love the pace," offensive lineman
Chad Slade
said. "Some people don't get used to it, but we're used to it by now. Everybody is back, and we have high expectations for everything [including] the pace going faster.
"[Looking at] how fast we went last year, we can go 10 times faster than we did."
Ten times faster? That's crazy, right? Maybe not.
Consider that Auburn returns eight starters on offense including four on the offensive line. The coaching staff, which had never worked with the players this time a year ago, is back and has a year of experience under its belt. And then there's
Nick Marshall
, the starting quarterback and the man who orchestrated the HUNH offense.
Marshall arrived in Auburn last summer as a junior college transfer. It took him less than a month to win the starting job, and though he started slowly, it didn't take long before he had a grasp of the offense. By the end of the season, he looked like a natural.
Now, he is entering his first spring practice with the team, and he's more comfortable than ever.
"I think he's really looking forward to the spring," Malzahn said. "This is the first time we've actually had a quarterback [who] will go through spring practice that started the year before. Coach [Rhett] Lashlee is excited about that, and that will be a good thing moving forward.
"I'd like to think if your quarterback comes back, we'll be a little farther ahead."
It's the first time Auburn has returned a starting quarterback from the year before since Brandon Cox in 2007.
But Auburn isn't the only team looking to speed up the pace. Based on the Tigers' success from a season ago, more and more teams in the SEC are following the same blueprint this spring. Florida showed a little up-tempo offense when it opened practice on Wednesday, and even Alabama, whose head coach advocated for the 10-second rule, has picked up the pace.
Still, as the rest of the conference tries to catch up, Auburn is only going to get faster. The pieces are in place for Malzahn to take his HUNH offense to the next level this season.
And that is a scary thought for SEC defenses.
January, 3, 2014
Jan 3
9:30
AM ET
Editor's note: Each day this week Florida State reporter David M. Hale and Auburn reporter Greg Ostendorf will preview a position battle in Monday's VIZIO BCS National Championship. Today's matchup is between Auburn's offensive line and Florida State's defensive line.
Auburn's offensive line:
We've broken down all of the matchups this week, but as Auburn center
Reese Dismukes
put so eloquently Thursday, "You can have all the pretty boys you want, but whoever wins the line of scrimmage all day is usually going to be who wins the football game." If that's the case, the Tigers are in good shape. They feature one of the most dominant offensive lines in the country. It's the reason they're in Pasadena, Calif.
[+] Enlarge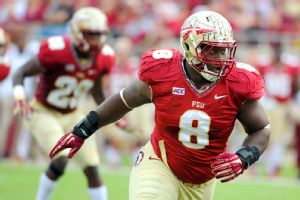 Melina Vastola/USA TODAY SportsFSU nose tackle Timmy Jernigan is a force inside, and how well the Tigers do against him could determine how well they run the ball.
Dismukes, a three-year starter, is the anchor of the group. He was a finalist for the Rimington Trophy, awarded to the top center in college football, and although it's not an official stat, he leads the team in knockdowns. The matchup between him and Florida State nose tackle
Timmy Jernigan
won't just be a battle in the trenches -- it will be a war.
From a pure talent standpoint, sophomore left tackle
Greg Robinson
has emerged as the best player on this Auburn offensive line. He started last year but was still relatively unknown heading into this season. He's quickly become a star in the SEC, and he continues to improve his draft stock with every game.
Junior
Chad Slade
doesn't get the notoriety, but he's been as solid as it gets for the Tigers. He moved from right tackle to right guard and hasn't missed a beat. The other two spots are taken by a pair of redshirt freshman,
Alex Kozan
and
Avery Young
. Kozan was named to the freshman All-SEC team for his play at left guard.
If Auburn wants to knock off No. 1 Florida State, this is the matchup it has to win. The Tigers have rushed for an average of 402 yards over the past four games, and it's in no small part due to the play of the offensive line.
Florida State's defensive line:
This is a much different defensive front than what the Seminoles ran in three years under Mark Stoops. When Jeremy Pruitt took over at defensive coordinator this season, he had four new starters on the line and completely revamped the scheme. It's been something of a work in progress all season, but the Seminoles believe the unit is playing its best football now.
Jernigan is a beast in the middle of the line, and he'll be a huge challenge for an Auburn team that wants to play physical and run between the tackles. Seminoles opponents are averaging just 3.1 yards per rush between the tackles and fewer than 9 percent of runs up the middle go for 10 yards or more. Jernigan also leads FSU's defensive linemen in sacks (4.5) and tackles for loss (10.5).
Eddie Goldman
and
Mario Edwards Jr
. add plenty of size to the mix on the D-line, too, while
Christian Jones
and FSU's safeties will be counted on to seal the edge, which is where the defense is far more vulnerable. Across the board, Auburn's O-line figures to be as big a physical challenge as Florida State has faced all season, and with the tempo that the Tigers run, it could be tough for FSU to substitute as often as it would like.
There's ample talent on the line for Florida State, but this figures to be as tough a matchup as the unit has faced.
Ostendorf:
Edge Auburn
Hale:
Slight edge for Auburn
December, 27, 2013
12/27/13
2:30
PM ET
AUBURN, Ala. -- Auburn defensive end
Dee Ford
, considered one of the SEC's top pass rushers with 8.5 sacks this season, has faced some of the top offensive lines in the conference, but he says there are none better than his own. And he should know. He goes against them for 20 to 25 minutes straight every day in practice.
"It's just the way we work," Ford said. "We push each other. I don't think they've faced a defensive line as good as ours because we push each other to that limit every day. At times where you think you would lay off a little bit, we don't. We're still going at it, whether it's run fits or pass rush. We go at it."
[+] Enlarge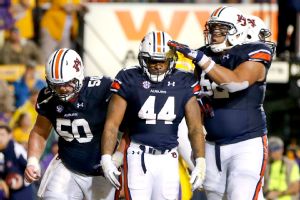 Derick E. Hingle/USA TODAY SportsReese Dismukes, left, and Chad Slade, right, have helped anchor a stellar offensive line for Auburn.
It's that drive that has turned what many thought would be a weakness into Auburn's biggest strength this season.
The Tigers lead the nation in rushing, averaging 335.7 yards per game. They rushed for an SEC-championship-game-record 545 yards against Missouri their last time out. Throw in the fact that they have only given up 16 sacks after allowing a league-high 37 a year ago, and it's easy to see why they're one of the nation's best offensive lines.
It helps to have players like
Nick Marshall
and
Tre Mason
in the backfield, and Gus Malzahn's system certainly plays a major role in the success. But it starts with the O-line.
"Any time you can run the football and people know you are going to run the football against the defenses we have, the offensive line deserves a lot of credit," Malzahn said.
When the first-year head coach arrived at Auburn, he knew right away the offensive line would be one of the team's strengths. It didn't matter how bad the unit looked at times in 2012; the Tigers had three starters returning and plenty of depth to go around. It was up to the new coaching staff to give them their edge back.
"Auburn is blue-collar, hard-nosed, physically and mentally tough," Malzahn said. "That is who we are and that is how we win football games here. That is how they have done it for a long time. That is the one thing we realized that we have to get back. That is what we focused on."
The practices changed. The drills changed. The Tigers became as physical as any team in the country, beginning last spring. They were one of the only teams to let the quarterbacks go live during fall camp. There were some injuries along the way, but now Auburn is sitting at 12-1 and headed to the VIZIO BCS National Championship.
"Any time you get to this game, you're going to be pretty good up front with your offensive line," Malzahn said. "In 2010, we had a veteran group, one of the strengths of our team. This year is no different."
It comes as no surprise that the development of the offensive line has had a direct correlation to Auburn's turnaround this season.
Left tackle
Greg Robinson
has emerged as a potential first-round draft pick with his play this season.
Chad Slade
, who moved from right tackle to right guard, has been a constant all year.
Alex Kozan
and
Avery Young
, the two newcomers to the group, have both exceeded expectations, with Kozan earning a spot on the freshman All-SEC team.
And what about center
Reese Dismukes
, the anchor of the group? He never doubted the offensive line, even with what transpired last season.
"I don't think our mentality has really changed," Dismukes said. "Our goal has always been to be the best offensive line in the country. We've just gotten better over time."
October, 14, 2013
10/14/13
3:30
PM ET
AUBURN, Ala. -- Don't look now but Auburn leads the SEC in rushing. The Tigers are averaging 287 yards per game on the ground, which ranks seventh nationally.
Credit the trio of running backs --
Tre Mason
,
Cameron Artis-Payne
and
Corey Grant
. Credit quarterback
Nick Marshall
, who led the team with 140 yards rushing against Ole Miss. And credit the offensive scheme implemented by first-year head coach Gus Malzahn.
But what about the offensive line?
"We get pretty good credit within the program," center
Reese Dismukes
said. "None of us are [worried] about awards and all that stuff. That's not really a big deal with us. We're hogs and that's what we do. Without us, the [skill players] couldn't do anything."
Dismukes is likely the only name you've heard of on the offensive line. He was a second team preseason All-SEC selection and was named to the Rimington Trophy watch list before the season. But he'll be the first to tell you that it's not just about him.
"I think we've got five guys that are 100-percent bought in and committed to do the right thing all the time," Dismukes said. "We're really starting to gel here. We've been running the ball well and protecting the ball well, too. We're playing really good right now, and we just need to keep getting better each week."
From left to right, it goes
Greg Robinson
,
Alex Kozan
, Dismukes,
Chad Slade
and
Patrick Miller
. On Saturday,
Avery Young
got the start in place of Miller at right tackle because of an off-the-field issue. It was the first change to the starting five all season.
Still, this is a unit that is not made up of five-star recruits or potential first-round draft picks, but they have been as productive as any line in the SEC. In addition to leading the conference in rushing, they're also tops in fewest sacks allowed. The Tigers have given up just four sacks through the first six games after allowing a league-worst 37 in 2012.
"I look at it as we're just maturing," Robinson said. "Last year, we gave up sacks, but things are different [now]. I think the offense has a big toll on that and who's in the backfield, also."
So who is the man behind the success of the 'hogs' up front? Auburn offensive line coach J.B. Grimes. He brought more than 30 years of coaching experience with him when he followed Malzahn from Arkansas State to Auburn.
"I know this -- J.B. Grimes is as good a fundamental coach as there is," offensive coordinator Rhett Lashlee said. "He did wonders with the offensive line at Arkansas State last year. We led that league in rushing, and I think we were towards the top in fewest sacks allowed. He's done a really good with these guys."
The players have responded well to the veteran offensive line coach, too.
"There's never a dull moment [with Grimes]," Dismukes said. "He's an old-school guy, and I like that."
This Saturday, Auburn visits Texas A&M for a top-25 showdown in College Station. Everyone is already talking about the quarterbacks and the skill-position players, but it starts up front at the line of scrimmage.
"It's real important," Lashlee said. "You're going on the road in a hostile environment in a game where we need to be able to run the football. That's not different than every week in our league. We have leaned on them since day one."
Now it's up to the Auburn offensive line to deliver yet again.
November, 7, 2012
11/07/12
12:30
PM ET
No late-night drama. Just SEC links.
July, 12, 2012
7/12/12
3:35
PM ET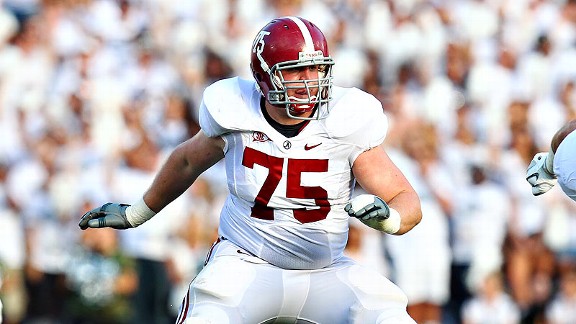 Ned Dishman/Getty ImagesA move to center shouldn't slow Alabama's Barrett Jones, last season's Outland Trophy winner.
Our preseason SEC position rankings continue with the big uglies. The
real
muscle down in the trenches. Offensive lines are crucial in every level of football, but teams seriously do live and die by the play of their offensive lines in the SEC.
Past rankings:
On to the SEC's offensive line groups:
1. Alabama:
Four starters return (with 95 combined starts), there's size, there's athleticism and this line just screams first-round NFL talent, starting with mammoth tackle
D.J. Fluker
and guard
Chance Warmack
. Reigning Outland Trophy winner
Barrett Jones
is moving to center, but with his versatility he should excel there. Add former top recruit
Cyrus Kouandjio
at left tackle and this is arguably the country's top offensive line.
2. LSU:
Like Alabama, this line is full of experience, as four starters return and so does
Josh Dworaczyk
, who was granted a sixth-year after a knee injury caused him to miss all of 2011. Some think he was LSU's best lineman before last season began. Tackles
Chris Faulk
and
Alex Hurst
are two of the best in the league and center
P.J. Lonergan
is tough to beat. Former highly-touted recruit La'El Collins should also contend for time this fall, too.
3. Texas A&M:
This could be the strength of the team. Left tackle
Luke Joeckel
is a future first-rounder, while right tackle
Jake Mathews
has All-SEC potential. Senior center
Patrick Lewis
provides a very sturdy anchor in the middle. Guards
Jarvis Harrison
and
Cedric Ogbuehi
are young, but both got good experience last year, as Harrison started five games and Ogbuehi started six. Depth could be an issue, as most reserves are younger.
4. Arkansas:
The Hogs have one of the better center-guard combos in the league in
Travis Swanson
and
Alvin Bailey
. Both have received preseason accolades and should be even better in 2012. Sophomore tackle
Brey Cook
came in with a lot of hype and if he develops in his second season, this line will be really good. Sophomore
Mitch Smothers
proved he can play just about anywhere and big left tackle
Jason Peacock
is back, but is still in the doghouse after his arrest this spring.
5. South Carolina:
Replacing Rokevious Watkins at left tackle won't be easy, but the staff feels like redshirt freshman
Brandon Shell
might be the man for the job. He's incredibly talented and athletic and improved his blocking ability during his redshirt year. Center
T.J. Johnson
and guard
A.J. Cann
are coming off of solid seasons, but the right side has questions. Right tackle
Mike Matulis
started five games last year, but missed spring while recovering from shoulder surgery and right guard
Ronald Patrick
recorded zero starts last year.
6. Tennessee:
The good news is that everyone is back. The bad news is this is the same line that was incredibly inconsistent last year in the run game, as Tennessee ranked 116th in rushing offense. However, the staff feels it has a better lineup with the emergence of sophomore
Antonio Richardson
at left tackle. Stud
Dallas Thomas
moves to left guard and
Ja'Wuan James
, who has started 25 games at right tackle, provides some good stability. The line has 99 combined starts and allowed just 18 sacks last year, but the proving ground with this group is establishing that it can come off the ball and be a better running team.
7. Missouri:
The Tigers lost three starters from last year, but that doesn't mean Mizzou is without experience. Old man
Elvis Fisher
was granted a sixth year after last year's season-ending knee injury and will provide a major boost at left tackle. And three other linemen return with starting experience from last year: tackle
Justin Britt
, who took over Fisher's spot last year, and guards
Jack Meiners
and
Travis Ruth
. One thing to keep an eye on is the line's durability. The average weight of this group is roughly 295 pounds.
8. Auburn:
Three starters return to a line that has a ton of young depth. Center
Reese Dismukes
is the anchor and one of the top centers in the league. Guard
John Sullen
and tackle
Chad Slade
combined for 21 starts last year. The staff really likes redshirt freshman
Greg Robinson
at left tackle and former top recruit
Christian Westerman
will compete for time after sitting out last year. Guard
Eric Mack
made strides this spring before he was shot near the hip during the tragic shooting that occurred near Auburn's campus in June.
9. Mississippi State:
Injuries and constant reshuffling along the line caused the Bulldogs' offense to struggle for most of last season. Three starters are gone, but junior guard
Gabe Jackson
, who is one of the league's best, is back and so is right guard
Tobias Smith
. If Smith, who suffered a season-ending knee injury early last year, is healthy, this line should be very strong along the interior.
Dillon Day
started six games last year and returns at center, while junior college transfers Charles Siddoway and Dylan Holley are pushing for time.
10. Florida:
The Gators return four starters to a line that struggled all last season. Will Muschamp said he saw vast improvement up front this spring, but tackles
Xavier Nixon
and
Matt Patchan
must show more consistency and leadership.
Jonotthan Harrison
is solid at center and guard
Jon Halapio
has improved each year. Sophomore tackle
Chaz Green
and impressive early enrollee D.J. Humphries will compete for time as well.
[+] Enlarge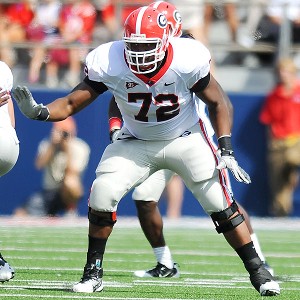 Radi Nabulsi/ESPN.com Georgia may have O-line questions, but likely none concerning junior Kenarious Gates.
11. Georgia:
Yet again the Bulldogs have questions up front. Junior
Kenarious Gates
is very versatile and athletic and is Georgia's most reliable lineman. The staff was pleased with guards
Dallas Lee
and
Chris Burnette
coming out of spring, but a lot is riding on sophomore
David Andrews
making it at center. If he has to move, Burnette will have to move to center and more reshuffling will come. Inexperience is worrisome and true freshman John Theus should get plenty of chances to take one of the tackle spots.
12. Vanderbilt:
Thanks to offensive line coach Herb Hand, this group was one of the most improved in the league last year. He'll have a tall task again with a lot of youth and inexperience. Left tackle
Wesley Johnson
is one of the most underrated linemen out there, while
Ryan Seymour
has been solid up front. The right side has issues and the depth is a concern. Injuries made it tough for this line to get through spring practice, and six freshmen are coming in to compete for spots during fall camp.
13. Kentucky:
The Wildcats lost three starters from a line that struggled throughout 2011, but vets
Larry Warford
and
Matt Smith
are back to provide a solid center-guard combo. However, they'll be asked to help a cluster of youngsters. The left side is gone and will be replaced by youngsters
Zach West
(redshirt freshman) and
Darrian Miller
(sophomore). Right tackle
Kevin Mitchell
started just one game last year. Any sort of injury up front would be devastating for the Cats.
14. Ole Miss:
This is arguably the Rebels' weakest position. Hugh Freeze wasn't thrilled with the line this spring, continuing to say it didn't handle the offense's tempo well. Guard
Matt Hall
, who had double-digit starts last year, left the team this spring. Center
Evan Swindall
was Ole Miss' most consistent lineman this spring, while senior
A.J. Hawkins
moved to guard. Comfort was an issue for everyone, and the tackle spots were filled this spring by
Emmanuel McCray
, who missed all of last season, and JUCO transfer Pierce Burton.
September, 10, 2011
9/10/11
12:24
PM ET
AUBURN, Ala. -- Kickoff is here on the Plains and we have some lineup changes for both teams.
AUBURN
A.J. Greene will start at right tackle this week. Last week, redshirt freshman Chad Slade started at right tackle. Greene's return is big for the Tigers. He missed most of last season with an injury and he's viewed as one of Auburn's most athletic offensive linemen.
With Greene starting at right tackle, Slade will move over and start at right guard in place of John Sullen.
Defensive back Jermaine Whitehead will wear No. 32 instead of No. 3 today.
MISSISSIPPI STATE
Wide receiver Chris Smith will start for Sam Williams this week. Williams had three catches for 27 yards, including a long of 17 last week.
SOME PREGAME NOTES
Spirit, the eagle that flies around the stadium before the game, went a little off course this morning. It almost flew into a window and got pretty close to some fans in the stands, but when it landed at midfield this place exploded. Really cool tradition.
There is some bad blood between these programs because of the whole Cam Newton fiasco last year, and the Auburn fans let the Bulldogs know it when they came out of the field. Boos rained down from all directions and the Bulldogs seemed to love it as they lifted their arms, calling for more.
April, 15, 2011
4/15/11
9:00
AM ET
Spring game:
3 p.m. ET on
ESPN3.com

Questions answered:
Auburn finally said so long to kicker
Wes Byrum
after last season. This spring, Cody Parkey did his part to somewhat ease that loss. He's been very solid on field goals and nailed kicks of 49 and 60 yards in a scrimmage. While quarterback
Cam Newton
was a major factor in the Tigers' running game in 2010, Auburn will again be well equipped in that department.
Michael Dyer
was tremendous as a freshman last year and doesn't appear to be headed for a sophomore slump after a productive spring. His running buddy
Onterio McCalebb
is as fast as ever and will be the Tigers home run threat out of the backfield. The Tigers didn't exactly replace receiver
Darvin Adams
, but junior
Emory Blake
, who had a team-high eight touchdown catches in 2010, looks to be the go-to-receiver.
Questions unanswered:
Filling Newton's quarterback shoes wasn't going to happen overnight and it wasn't going to happen after 15 spring practices.
Clint Moseley
and
Barrett Trotter
split reps with the first team, but both had a tough spring. Strides were made, but neither really separated himself. Things should get even more interesting for this duo when freshman
Kiehl Frazier
gets on campus this summer. Auburn also had the task of trying to replace potential top-10 pick, defensive tackle Nick Fairly. It would be hard for anyone to make a push like Fairly did, but sophomores Ken Carter and Jeffrey Whitaker have the responsibility of just that. As a whole, the Tigers will be young on defense, with only three returning starters.
Spring stars:
Redshirt freshman wide receiver
Travon Reed
, who missed most of last season with a knee injury, has been a guy the coaches have tried to get the ball to a bunch. He'll line up in the slot, as a wildcat quarterback and could help in the return game. He's a dynamic athlete and has bounced back this spring. Junior receiver
Quindarius Carr
had a solid spring. He didn't put up great numbers in 2010, but has really come along this spring, drawing high praise from his coaches. Defensive end Corey Lemonier has really made strides this spring as well.
Of note:
Senior Neiko Thorpe moved from cornerback to safety. … There was a lot of shuffling going around on the offensive line this spring. Senior A.J. Greene is the guy at left tackle, but redshirt freshman Chad Slade, junior Donnie Riggins and senior Bobby Ingalls all spent time there as well. Senior Brandon Mosley is at right tackle. … Redshirt freshman linebacker Jawara White returned to practice this spring after suffering a severe spinal cord injury last year. … Linebacker Jessel Curry and safety Ryan Smith are dealing with personal issues and missed the latter part of spring practices. …
Ladarious Phillips
worked at H-back. … Offensive tackle Shon Coleman, who signed as part of the 2010 class, didn't go through practice, but is on the roster after battling leukemia last year.