December, 26, 2012
12/26/12
12:10
PM ET
Freshmen have played a major role this season in the SEC.
A redshirt freshman, Texas A&M quarterback
Johnny Manziel
, won the Heisman Trophy. A true freshman, Georgia running back
Todd Gurley
, leads the league in rushing with 1,260 yards, and two of Alabama's most dynamic playmakers on offense are true freshmen -- receiver
Amari Cooper
and running back
T.J. Yeldon
.
It doesn't stop there, either.
Ole Miss redshirt freshman
Denzel Nkemdiche
leads the Rebels with 78 total tackles, including 12 for loss, and Texas A&M redshirt freshman
Mike Evans
leads the Aggies with 75 catches for 1,022 yards.
It's a freshman class, at least at this point, that would compare with any in the history of this league.
Here's a look at some of the other recent star-studded freshman classes from the SEC:
2008
RB Mark Ingram, Alabama
WR Randall Cobb, Kentucky
WR Julio Jones, Alabama
WR A.J. Green, Georgia
OT Cordy Glenn, Georgia
DE Jake Bequette, Arkansas
LB Dont'a Hightower, Alabama
LB Chris Marve, Vanderbilt
CB Janoris Jenkins, Florida
2006
QB Tim Tebow, Florida
QB Matthew Stafford, Georgia
WR Percy Harvin, Florida
WR Brandon LaFell, LSU
OT Andre Smith, Alabama
CB D.J. Moore, Vanderbilt
CB Trevard Lindley, Kentucky
2005
RB Darren McFadden, Arkansas
RB Arian Foster, Tennessee
RB Felix Jones, Arkansas
OT Michael Oher, Ole Miss
WR Sidney Rice, South Carolina
WR Earl Bennett, Vanderbilt
DE Tyson Jackson, LSU
2001
QB David Greene, Georgia
RB Carnell Williams, Auburn
RB Ronnie Brown, Auburn
OT Shawn Andrews, Arkansas
C Ben Wilkerson, LSU
DE David Pollack, Georgia
CB Carlos Rogers, Auburn
CB Ahmad Carroll, Arkansas
P Dustin Colquitt, Tennessee
1996
RB Shaun Alexander, Alabama
RB Derek Logan, Kentucky
OT Chris Samuels, Alabama
OL Jeno James, Auburn
LB Jevan Kearse, Florida
CB Champ Bailey, Georgia
1994
QB Peyton Manning, Tennessee
RB Fred Taylor, Florida
WR Hines Ward, Georgia
WR Reidel Anthony, Florida
WR Ike Hilliard, Florida
LB Dewayne Rudd, Alabama
CB Corey Chavous, Vanderbilt
August, 9, 2012
8/09/12
3:23
PM ET
By
ESPN.com staff
| ESPN.com
David Ching writes:
With a role in all three aspects of the game, Malcolm Mitchell faces the question of whether he can pull off the sizable task, much as UGA legend Champ Bailey did back in the day. The Freshman All-SEC player thinks that uncertainty is a good thing.
Ching

: Georgia's starting offense and defense largely dominated against their second-team counterparts in Georgia's first preseason scrimmage -- and that was disappointing to some of the starters.
Kipp Adams writes

: 2014 quarterback DeShaun Watson of Gainesville, Ga., has put up some video-game-like numbers in the past two seasons, and for that effort he has received early and prestigious postseason invites: to Rising Seniors, the Atlanta all-star weekend, and to January's Under Armour All-America Game.
Radi Nabulsi writes

: 2014 receiver Nate Brown is on the cusp of becoming a big name in recruiting, and he's ready for the 2012 season and an invite to the Georgia Junior Bowl in December to help determine his fate.
Ching

: Around the Hedges in 80 Days -- 23 days to kickoff. It is possible for freshman O-lineman Greg Pyke to play in some capacity this fall, but it would not be shocking to see him take a redshirt like Bulldogs offensive linemen often do.
Nabulsi:
UGA receiver Rantavious Wooten talks about coming back from the injuries of a car accident and weighs in on the issue of concussions in football.
July, 3, 2012
7/03/12
5:25
PM ET
By
ESPN.com staff
| ESPN.com
We've already unveiled our best SEC offensive players of the BCS era.
Now it's on to the side of the ball that this league has come to be known for over the years – defense.
It was a nightmare trying to keep this list to just 11 players, but here's what we came up with.
The players are listed alphabetically:
John Abraham, DE, South Carolina:
He was a tremendous player on some really bad teams in college. Abraham led the Gamecocks in sacks for four straight seasons from 1996-99 and remains one of the NFL's premier pass-rushers.
[+] Enlarge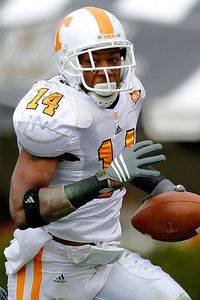 Kevin C. Cox/Getty ImagesEric Berry had 241 tackles and 14 interceptions in three seasons.
Eric Berry, S, Tennessee:
A consensus All-American in both his sophomore and junior seasons in 2008 and 2009. Berry won the Jim Thorpe Award as the nation's top defensive back in 2009 and finished his career with 14 interceptions.
Glenn Dorsey, DT, LSU:
The anchor of LSU's 2007 national championship defense. Dorsey capped his stellar career by winning the Outland Trophy, Lombardi Award, Bronko Nagurski Trophy and Lott Trophy as a senior in 2007.
John Henderson, DT, Tennessee:
The Outland Trophy winner in 2000 and a two-time All-America selection. The 6-foot-7, 290-pound Henderson was also a finalist for the Outland Trophy in 2001 and finished his career with 38.5 tackles for loss
Rolando McClain, LB, Alabama:
Nick Saban called McClain one of the smartest players he's ever coached. He was plenty productive, too, and was a driving force behind the Crimson Tide's unbeaten run to the 2009 national championship.
Reggie Nelson, S, Florida:
The catalyst defensively for the Gators on their 2006 national championship team, Nelson was a consensus All-America selection that season and a finalist for the Jim Thorpe and Bronko Nagurski awards.
Patrick Peterson, CB, LSU:
One of the most explosive football players in SEC history. Peterson was equally dynamic as a shut-down cornerback and return specialist. He won the Jim Thorpe and Bednarik awards as a junior in 2010.
David Pollack, DE, Georgia:
Joined Herschel Walker as Georgia's only three-time, first-team All-America selection. Pollack was a two-time SEC Defensive Player of the Year and cleaned up as a senior in 2004 by winning the Lombardi and Bednarik awards, as well as the Lott Trophy.
DeMeco Ryans, LB, Alabama:
One of the most prolific tacklers in Alabama's storied history. Ryans finished his career with 309 total tackles from 2002-05 and won the Lott Trophy in 2005 as college football's IMPACT Defensive Player of the Year.
Lito Sheppard, CB, Florida:
A dynamic playmaker for the Gators on both defense and as a return specialist on special teams. Sheppard was a first-team All-America selection in 2000 and a two-time All-SEC selection
Patrick Willis, LB, Ole Miss:
The most honored defensive player in Ole Miss history. Willis was a two-time, first-team All-American and won the Butkus Award and Lambert Award in 2006 as the nation's top linebacker.
March, 1, 2012
3/01/12
2:30
PM ET
Malcolm Mitchell
just wants to stay on the field and play.
That's why Georgia's top receiver and the SEC's fourth-leading receiver in 2011 approached Bulldogs coach Mark Richt about getting a shot at cornerback this spring. In fact, he started talking about it during the week leading up to the Outback Bowl, but really got serious with his thoughts when he went to speak with Richt a week after the bowl game.
"It's something I want to do, not just something that just popped up," Mitchell said Thursday.
[+] Enlarge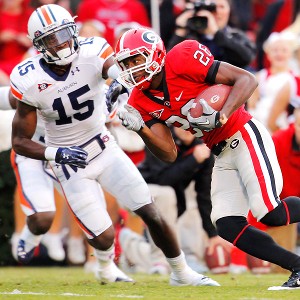 Todd Kirkland/Icon SMIGeorgia's Malcolm Mitchell has shown that he has the athletic ability to play on both sides of the ball.
The original conversation with Richt ended with Mitchell's coach being intrigued, but not sold on the idea of his best offensive weapon taking some reps on the defensive side of the ball. After all, he was recruited to play either side while in high school, so Mitchell would catch on fast, but that's Richt's top skill player and taking reps away from him wouldn't be ideal.
However, Richt was swayed to give Mitchell a chance to become the reincarnation of Georgia great Champ Bailey after Georgia took so many hits to the corner position. Transfers, dismissals, the signing of just one defensive back in Georgia's 2012 recruiting class and the suspension of starter
Sanders Commings
meant the Bulldogs would begin the fall short-handed at cornerback.
Mitchell will get his chance this spring and believes that one way or the other a decision about the fall will likely come at the end of spring practice. It might take Mitchell a little time to regain his defensive legs, but he's excited for the opportunity because he wants to do more for his team in 2012.
"I don't want to come off the field," he said. "Everything I can possibly do I want to do it. I'll do it all if they let me."
One thing he's excited about on defense is being more physical ... as in he can't wait to start hitting people again, or as he puts it, he wants to "go after someone." He couldn't exactly do that on offense, except for a few blocks he threw in there at times, but he'll have a chance to lay a little lumber during some defensive reps this fall.
As for how those reps will be distributed, Mitchell isn't sure. If he is able to play corner, he assures he'll still play offense. Whether he'll play full time on either side won't be known until later in the process.
But will Mitchell be doing too much? He's thought about it. In high school he was worried that he was doing too much at times, but when he really sat and thought about his decision he figured he might as well use the ability he has to do more if it will help his team. Plus, he's been itching to play defense since arriving at Georgia.
He isn't worried about stuffing too much football on his plate because he believes he'll get in the proper physical and mental shape to withstand more plays.
"I'm not scared of the decision I made to go talk to [Richt] about it," Mitchell said. "It's something I care about and I really want to do. I feel if I put in enough time I can do it."
His confidence is obvious and when he was asked what his initial thoughts were when he heard Bailey would sometimes hit 100 plays in games as a two-way player, Mitchell didn't hesitate to deliver the perfect response.
"I want 101," he said.
July, 6, 2011
7/06/11
2:33
PM ET
By
ESPN.com staff
| ESPN.com
The NFL players have spoken, casting their votes for the top 100 players in the NFL game today.
Manning
You can view their
list on NFL.com
. Before you go there, want to venture a guess on which conference had the most players?
It wasn't the SEC, nor was it the Big Ten.
It was the Big East with 16.
Now, there's a bit of a catch. We counted those Miami players who played for the Hurricanes when they were competing in the Big East as representing the Big East ... and not the ACC. The same goes for
Michael Vick
at Virginia Tech.
We also counted those Nebraska and Colorado players making the list as being from the Big 12, even though the Huskers are moving to the Big Ten and the Buffs to the Pac-12 this coming season.
The SEC and Big Ten tied for second behind the Big East, each with 13 players making the top 100. The ACC had 12, and the Pac-12 had 11. The Big 12 had just seven. Notre Dame had one, and the remaining 27 players were from non-BCS schools and/or smaller schools.
Miami led all teams nationally with 10 players. Tennessee was second on the list with six.
There are two ways to look at it from the Vols' perspective. One, they've done a good job of producing premium NFL talent. And two, they haven't done a whole lot with that talent, as it's been 13 years since they last won an SEC championship.
Would you believe that Alabama and Florida didn't have a single player on the list and that LSU has just one? Those three teams have combined for five of the past eight BCS national championships.
Here's a rundown of the SEC players:
TENNESSEE
No. 2 - QB
Peyton Manning
(1994-97)
No. 25 - RB
Arian Foster
(2005-08)
No. 36 - TE
Jason Witten
(2000-02)
No. 62 - LB
Jerod Mayo
(2005-07)
No. 93 - S
Eric Berry
(2007-09)
No. 99 - OT
Chad Clifton
(1996-99)
GEORGIA
No. 48 - CB
Champ Bailey
(1996-98)
No. 66 - DE
Richard Seymour
(1997-2000)
ARKANSAS
No. 98 - RB
Darren McFadden
(2005-07)
AUBURN
No. 75 - DE
Jay Ratliff
(2001-04)
LSU
No. 45 - WR
Dwayne Bowe
(2003-06)
OLE MISS
No. 23 - LB
Patrick Willis
(2003-06)
SOUTH CAROLINA
No. 69 - DE
John Abraham
(1996-99)
January, 26, 2010
1/26/10
10:34
AM ET
By
ESPN.com staff
| ESPN.com
The SEC has 14 players on the
Pro Bowl roster
, although some of them won't play because they're in the Super Bowl.
Alabama and Tennessee lead the way with three players apiece. Here's a look at the SEC players who made it this season. The game will be played Sunday in Miami:
ALABAMA
Roman Harper
, S, Saints, NFC
Le'Ron McClain
, FB, Ravens, AFC
DeMeco Ryans
, LB, Texans, AFC
AUBURN
Jay Ratliff
, DT, Cowboys, NFC
FLORIDA
Percy Harvin
, KR, Vikings, NFC
GEORGIA
Champ Bailey
, CB, Broncos, AFC
Jon Stinchcomb
, OT, Saints, NFC
LSU
Alan Faneca
, OG, Jets, AFC
Kevin Mawae
, C, Titans, AFC
OLE MISS
Patrick Willis
, LB, 49ers, NFC
SOUTH CAROLINA
Sidney Rice
, WR, Vikings, NFC
TENNESSEE
Shaun Ellis
, DE, Jets, AFC
Peyton Manning
, QB, Colts, AFC
Jason Witten
, TE, Cowboys, NFC