January, 1, 2013
1/01/13
2:48
AM ET
ATLANTA – When
Tajh Boyd
looked up at the scoreboard inside the Georgia Dome and saw only 1 minute, 39 seconds remaining in the final football game of 2012 all he could do was smile.
He didn't look at LSU's 24-22 lead or the chance for yet another ACC team to fall at the hands of the mighty SEC. All the junior quarterback saw was a chance at something special -- and three timeouts on Clemson's side.
"Last drive, ball is in your court. It's your game to lose," Boyd later said.
With 80 yards to go and the first bowl win for the Tigers since 2009 on the line, Boyd calmly turned to his coaches and said, "Let's go get it."
And against one of the toughest defenses in the nation, Boyd went and got it. It started off a little rocky, but for the quarterback who had been thrown around like a rag doll all night, he wasn't leaving Atlanta without dramatics.
After two incompletions and a
Sam Montgomery
sack made it fourth-and-16 from his own 14, Boyd made the throw of his life when he hit
DeAndre "Nuk" Hopkins
over the middle for a 26-yard gain.
Boyd hit Hopkins, who finished the night with a game-high in catches (13) and receiving yards (191) and caught two touchdown passes, two more times for 20 yards before
Adam Humphries
set up kicker
Chandler Catanzaro
's game-winning, 37-yard kick to give
Clemson the 25-24 win
.
[+] Enlarge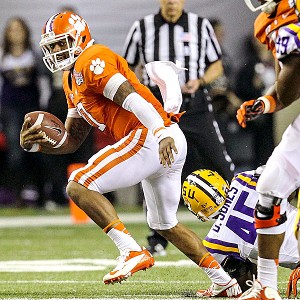 Daniel Shirey/USA TODAY SportsTajh Boyd completed 36 of 50 passes for 346 yards and two touchdowns in Clemson's win.
"I wanted to go into the stands and celebrate already because I knew [Catanzaro] was going to kick it through those uprights," he said.
The image of Catanzaro celebrating well before the kick went through will live on forever, but the night Boyd and Hopkins had together will go down as one of the all-time greats.
Both entered the game with gaudy numbers. Boyd had more than 3,500 yards on the season and 34 touchdowns, while Hopkins led the ACC with 1,214 receiving yards and 16 touchdowns. But both left with hero status, as they willed their team to a win.
Boyd was smacked around on just about every play, while Hopkins had to work 98 percent of the night without his dynamic partner
Sammy Watkins
, who left the game on the second play from scrimmage with an ankle injury.
Talk about a straight shot of adversity with no chaser.
But Boyd and Hopkins didn't flinch. With every bone-crushing hit or awkward tumble Boyd took, he stood up stronger and more confident. He might have mimicked a pinball at times, but he played like a champion.
"Hits hurt a little bit," Boyd said. "I'll be sore in the morning, but it's well deserved. For this type of offense and for this type of team, you lay everything out there on the line, regardless of the game."
Before the game, coach Dabo Swinney told Boyd he was going to have to play and fight for everything on the field and it was going to take him squeezing throws through windows the size of Gatorade bottles. It wasn't always going to be pretty.
Boyd took hit after hit, but kept going. He ran the ball a game-high 29 times and threw 50 passes, finishing the night with 368 yards of total offense on a school record 79 plays by a quarterback.
Of Clemson's last 34 plays, 28 involved Boyd.
"It's not about how hard you get hit," Swinney said of Boyd, "it's about can you keep competing, can you keep getting up and keep competing. That's what it's about.
"He kept competing, kept playing, going to the next play.
"He was awesome. So proud of him."
But he wasn't alone. Hopkins, who was basically on double duty, overwhelmed LSU's secondary, catching just about everything in sight and finding space in the most clogged areas. He created his own room at times and hauled in two magnificent touchdown catches to keep the Tigers going.
"That's how Nuk is," safety
Xavier Brewer
said. "He's a true competitor. You can put it all on his shoulders and he's going to make those plays when you need him and he did that tonight."
He was a man possessed, as he pushed Boyd to elevate his game.
Swinney called Monday's game a "landmark win" and a "tombstone win." Boyd said it felt like winning the ACC title, which the Tigers were a win away from defending. So much rode on this game, while all areas of Clemson's team stood tall against one of the SEC's best, the play of the Tigers' dynamic duo truly was special to watch.
"There's never any doubt that Tajh and Nuk are going to bring everything they've got," Brewer said. "It was awesome to see them compete and play with so much heart. It inspired the whole team."
Boyd will have time to rest and the pain from the night's beating will disappear, but this win is something he'll cherish forever. For a team that endured so much good and bad this season, Monday night's win was the consummate ending for the Tigers' season.
"It was a special moment," Boyd said. "One of the most special moments I've ever been a part of."
"You live for these moments to grind and to sweat it out and have tears with your teammates out there. In the fashion that we won the game, it was unbelievable."
December, 31, 2012
12/31/12
11:33
PM ET
ATLANTA -- In the battle for Death Valley and Tigers supremacy, No. 14 Clemson upset No. 8 LSU
25-24
on a last-second, 37-yard field goal by
Chandler Catanzaro
.


It was over when:
Catanzaro nailed the 37-yard kick to cap a masterful 10-play, 60-yard drive by Clemson.
Game ball goes to:
Clemson wide receiver
DeAndre Hopkins
was unstoppable all night. Even with partner in crime
Sammy Watkins
out for basically the entire game with an ankle injury, he caught a game-high 13 passes for a game-high 190 yards and two touchdowns. His last touchdown cut LSU's late fourth-quarter lead to two points.
Stat of the game:
Hopkins finished the night with the school record for single-season receiving yards (1,404).
Stat of game II:
LSU linebacker
Kevin Minter
finished the game with 19 tackles, including 1.5 for loss and a sack.
Stat of the game III:
Clemson registered a season-high eight sacks against LSU.
Unsung heroes of the game:
You can't really say that Clemson quarterback
Tajh Boyd
was an unsung hero, but he deserves some love after he threw for 346 yards and two touchdowns on 36-of-50 passing. He also ran the ball a game-high 29 times for a net gain of 22 yards and a touchdown. Defensive end
Malliciah Goodman
finished the game with three sacks, including a major one with LSU leading 24-16 with more than nine minutes left and driving in Clemson territory. The sack knocked LSU out of Clemson's side of the field.
What it means for Clemson:
After a disappointing finish to the regular season, Clemson took down one of the SEC's best teams, as its offense put together spectacular back-to-back scoring drives, gutting LSU's defense along the way. It was also the first bowl win for Clemson since beating Kentucky 21-13 in the 2009 Music City Bowl.
What it means for LSU:
The Tigers' defense totally collapsed on Clemson's final two drives of the game, allowing scoring drives of 77 and 60 yards. After controlling the game for most of the second half, the defense fell apart. Now, the Tigers will probably say goodbye to a good chunk of that defense, as a handful of underclassmen are expected to declare early for the NFL draft.