August, 14, 2013
8/14/13
11:45
PM ET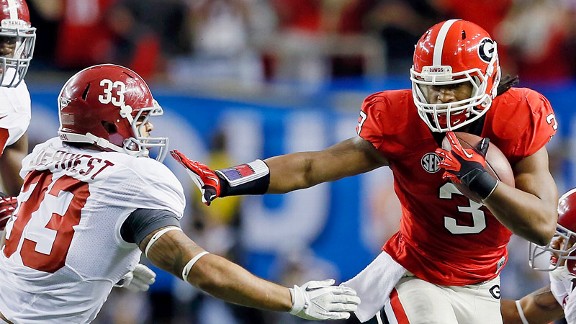 Kevin C. Cox/Getty ImagesTodd Gurley had 105 total yards and two touchdowns in Georgia's scrimmage Wednesday, part of a much more focused effort by the Bulldogs' offense.
ATHENS, Ga. -- Since his team will open the season at night against Clemson, Georgia coach Mark Richt wanted his team's final two scrimmages to be under the lights.
Richt got exactly the conditions and energy level from the team that he was hoping for in Wednesday's second scrimmage of the preseason -- a marked difference from the Bulldogs' listless effort a week ago.
"I thought it would be a good idea to do it this week because I just wanted it to be a nice, cool night, I wanted everybody to be well-rested and I just wanted to see a lot of energy out there," Richt said. "It was like night and day from the first scrimmage as far as just the energy level out there."
Georgia's coaches got what they expected from their starting units, as well, with those groups mostly having their way against the backups in traditional series and situational scenarios.
"When you scrimmage like this and you go ones versus twos, you hope that your number-one offense is going to have a pretty good go against your number-two defense and vice versa. And that's about how it's gone," Richt said. "If your second offense was just thrashing your number-one defense, then you've got a really, really serious problem. But that's not the case. I thought both number-one units played pretty good."
Several of Richt's assistant coaches said recently that they would begin narrowing the field of candidates for playing time after Wednesday's scrimmage so that they would have defined roles when they hold their third and final scrimmage next Wednesday. Richt said the coaches would grade film of the scrimmage within the next 24 hours, but their personnel decisions will likely take at least a few days.
"It'll be maybe a day or two before we start trying to figure out ... and it won't be exact until probably next Wednesday," Richt said. "I would think by next Wednesday when we have that practice game, we'll have a really good idea of our lineup."
As for statistics, there were no particularly eye-catching numbers on Wednesday -- unlike last week's scrimmage, when starting quarterback
Aaron Murray
threw three interceptions. Murray bounced back to go 14-for-18 for 173 yards, one touchdown and one interception on Wednesday, with backup
Hutson Mason
finishing 9-for-19 for 107 yards, one touchdown and one interception.
All-SEC tailback
Todd Gurley
was the offensive star of the evening, rushing five times for 33 yards and two touchdowns and adding three receptions for another 72 yards. Tailback
Keith Marshall
had six carries for 39 yards and freshman
Brendan Douglas
added seven rushes for 50 yards and two catches for another 31 yards.
"[Douglas] was very impressive today," Richt said. "He ran the ball well, he ran with power, he ran with some vision, he continued to pass [block] pretty good. He's not perfect in that area."
Blake Tibbs
and
Michael Bennett
caught the two touchdown passes and
Malcolm Mitchell
led the receivers with four catches for 58 yards.
Josh Harvey-Clemons
, suspended for the opener at Clemson, led the defense with seven tackles and three pass breakups.
Amarlo Herrera
had five tackles and two pass breakups, while
T.J. Stripling
,
Connor Norman
,
Garrison Smith
and
Leonard Floyd
all had four stops. Floyd also made a tackle for a loss and would have recorded a sack, Richt said, if not for being blatantly held by an offensive tackle.
Defensive end
Toby Johnson
recorded the one official sack.
Freshman cornerbacks
Shaq Wiggins
and
Brendan Langley
both made interceptions, with Langley returning his interception 48 yards for a touchdown. Richt said Langley also broke up a pass at the goal line to prevent a touchdown.
The two freshmen are not just competing to be the backups at cornerback, Richt said, they're competing with
Sheldon Dawson
to win a starting job alongside junior
Damian Swann
.
"I'd say they're all still competing, other than Swanny's going to be in there," Richt said. "But who the other starter will be, it's just a matter of watching what happened in this scrimmage and what happens between now and next Wednesday, probably."
Kennar Johnson
and
Lucas Redd
also intercepted passes.
The Bulldogs are still contending with a number of injuries, as 15 players appeared on Wednesday's injury report -- including safeties
Tray Matthews
(shoulder/hamstring),
Corey Moore
(knee sprain),
Shaquille Fluker
(illness),
Marc Deas
(elbow sprain) and
Paris Bostick
(foot surgery).
Nose guard
Chris Mayes
(concussion), linebackers
Tim Kimbrough
(knee sprain) and
Chase Vasser
(ankle sprain), receivers
Reggie Davis
(knee sprain),
Rhett McGowan
(ankle sprain) and
Rantavious Wooten
(hamstring strain), tailback
A.J. Turman
(knee/ankle) and tight end
Jay Rome
(ankle sprain) were also sidelined.
The good injury news, Richt said, was that he did not believe the team suffered any new injuries during the scrimmage.
"It was a good day. No one was banged up today," Richt said. "Sometimes the next day you hear something, but today Ron [Courson, Georgia's director of sports medicine] came to me and said everything looked good, so that's a blessing."
September, 9, 2012
9/09/12
4:36
PM ET
By
DawgNation staff
| ESPN.com
David Ching writes:
With four defensive stars still suspended in a high-stakes SEC opener on the national stage, Georgia could count on, among plenty of others, linebacker Jarvis Jones, who rallied the Bulldogs with his seemingly endless stifling of James Franklin and Mizzou in their conference debut.
Ching

: 3 up, 3 down
Ching

: Random thoughts on Georgia at Missouri -- Finally, against Missouri and after four years of waiting, Georgia fans might've seen receiver Marlon Brown's big breakout game?
September, 7, 2012
9/07/12
8:19
PM ET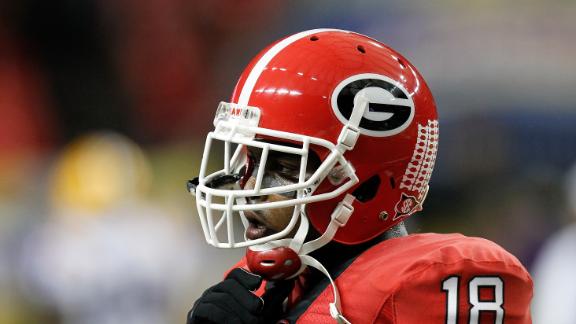 ATHENS, Ga. -- Georgia will be without All-America free safety
Bacarri Rambo
and linebacker
Alec Ogletree
for perhaps the game where they can least afford for them to be absent. Saturday night's visit to Missouri pits the Bulldogs against perhaps the most explosive offense they will face all season -- and they'll do so without four defensive starters.
Georgia coach Mark Richt announced weeks ago that starting cornerback
Sanders Commings
and outside linebacker
Chase Vasser
would be suspended for the first two games and now ESPN.com has confirmed that Rambo and Ogletree will join them on the suspended list as continued punishment for failing offseason drug tests.
All four players started games last season -- Commings started all 14, in fact, and Rambo started 13 after being suspended for the opener against Boise State -- and would have played key roles against Missouri's passing attack.
August, 26, 2012
8/26/12
3:56
PM ET
By
Jenny Zimmerman
| ESPN.com
David Ching writes:
Georgia's walk-ons know that they won't find much glory in their roles, but they persevere knowing that their scout team play is crucial to the success of the team and that they get to keep putting on the pads for the Bulldogs.
Ching

: Georgia quarterback Christian LeMay says he is a classic nap-taker, and he would enjoy the occasional snooze before kickoff on game days this fall – especially if he is going to gear up to see the field for the first time since high school.
Ching
Around the Hedges in 80 Days.

Outside linebacker Chase Vasser is likely to see plenty of playing time, but he needs to make full use of his opportunity now, while the freshmen are still learning, if he wants to remain in the starting lineup.
August, 23, 2012
8/23/12
10:40
AM ET
LSU wide receiver
Odell Beckham
Jr. knows exactly what Georgia is going through.
Last season, he watched an extremely talented Tigers team deal with a myriad of distractions during their national title run. Even though LSU made it to the big game, Beckham said the path taken was extremely tiresome at times.
"It sucks that you have to wait all that time for the season to actually get started, but you have to do things to keep yourself out of trouble," Beckham said. "If it's an extra workout or staying with teammates, you have to do it."
[+] Enlarge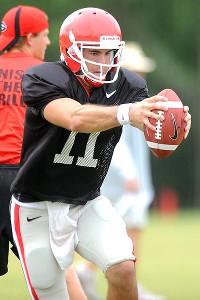 Radi Nabulsi/ESPN.comDespite a tumultuous couple of months, the Bulldogs had "a very productive and great offseason," Aaron Murray said.
Georgia needed that advice long ago, as the Bulldogs ran into a rash of off-field trouble this spring that leaked over into the summer. What made matters worse was the fact that key starters were involved:
Senior defensive end
Abry Jones
was extremely bothered by the off-field garbage. As things piled up, his patience began to dissolve as he watched a team with so much talent risk throwing everything away with humiliating off-field transgressions.
"It's real frustrating," Jones said, "but at the end of the day, when you see people who can't really control themselves off the field [you realize] it was people who weren't really in it for the whole team the whole time."
The Bulldogs are now hoping to take a chapter from LSU's playbook and make an SEC title run while ignoring the noise surrounding them.
"The off-field distractions are very unfortunate and the things that happened to those guys are very unfortunate," senior receiver
Tavarres King
said. "But we're keeping the main thing the main thing, and that's winning ballgames, progressing as a team and getting better.
"It's pretty frustrating, but you get a hold of those guys and you bring them back."
Getting better and focusing began when the spring nonsense brought things to a boiling point inside Georgia's locker room. The coaches were flustered and players felt betrayed. That's when quarterback
Aaron Murray
and some of the other veterans stepped in to rally the team together.
Murray said the players held multiple meetings in which they discussed how they were wasting the riches in front of them. The silliness not only embarrassed the program but it would eventually keep the Bulldogs from another SEC run if it didn't stop.
The more meetings they had, Murray said, the more focused and cautious players became away from the field. A real sense of urgency fell over the team, Murray said.
Even after Crowell's arrest and subsequent dismissal, Murray said players kept moving and had an extremely productive offseason.
"We just want to go out there and play," he said. "It's been a long offseason, but it's been a very productive and great offseason. Guys have worked hard and they just want to go out there and play football.
"It's definitely been the most successful summer that I've been a part of because of the amount of work everyone put in and the amount of time [people put in]. Everyone was extremely focused and understood the goals that we had and were ready to do what was needed to accomplish those."
Now, it's time to see how this team reacts when the meat of the season arrives and players get antsy. Games start taking a toll and players need release. How will this team respond?
Maybe the Dawgs should take some advice from a former teammate and someone who witnessed a similar situation in 2011.
"They've been through a lot this offseason," said LSU quarterback
Zach Mettenberger
, who was dismissed from Georgia in April of 2010. "It's a lot of guys that I know [who got in trouble] and I played with them. They just have to keep focused and stay tough. People are going to say things that they want to say about them -- just like what I went through. You just have to stand by your beliefs and know that you're capable of doing it."
With its personnel, Georgia is totally capable of making another run to Atlanta, if not further. But this team has to overcome the distractions that turned their offseason into a circus away from the field.
Coach Mark Richt knows it will be a challenge, but he also believes that he has the right guys to get the job done.
"We got a bunch of awesome guys that are working their tail off for a tremendous season and a tremendous outcome and those are the guys I'm focusing the most on right now," he said. "I don't think anybody's going to let what happened slow them down."
August, 3, 2012
8/03/12
10:18
AM ET
It's as if Georgia just can't escape off-field storylines during the offseason.
First, we saw the spring arrests of cornerbacks
Sanders Commings
and
Branden Smith
. Then, safety
Bacarri Rambo
and linebacker
Alec Ogletree
reportedly failed drug tests. Commings is set to serve a two-game suspension, while the others are likely to miss time as well this fall.
Oh, and then there was the whole Isaiah Crowell incident that left the Bulldogs without its starting running back entering fall camp.
[+] Enlarge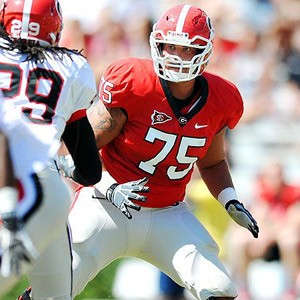 Radi Nabulsi/ESPN.comThe Bulldogs will be without their No. 1 right tackle, Kolton Houston, until an anabolic steroid leaves his system.
Then, came Thursday's events. One incident could be classified as bad luck, as redshirt sophomore offensive lineman
Kolton Houston
was
ruled ineligible
because he again tested positive for a steroid he was given after he underwent shoulder surgery before enrolling at Georgia in 2010.
The other? Well, it was another suspension, as Mark Richt announced that potential starting linebacker
Chase Vasser
will
serve a two-game suspension
to begin the year following his DUI arrest in May in Atlanta.
While the latter has to infuriate Richt, Houston's situation must
be frustrating
. Houston, who won the starting right tackle spot this spring, is still testing positive for an anabolic steroid, 19-norandrosterone, that Georgia's medical staff says he unknowingly took after undergoing shoulder surgery in 2009. Georgia's staff has continued to test Houston since he first tested positive for the steroid in April 2010 and insists that he hasn't used the drug again.
Unfortunately, enough of the drug still remains in his system. Georgia pleaded its case to have the NCAA make an exception for Houston, but the NCAA said no way.
"He's been tested probably more times than anybody in the history of college football," Richt told reporters at Georgia's preseason media day Thursday. "We're 100 percent certain he has not continued to take this thing, but it's just never gotten far enough out of his system for him to be declared eligible to play."
Added Georgia associate athletic director for sports medicine Ron Courson: "My hope is to restore his eligibility as soon as we can. ... We feel like we're so close," Courson said. "He's served his penalty. Let's not quibble about two or three anagrams. There's no performance-enhancing aspect. He's paid his due."
Unfortunately, the NCAA can't make an exception for Houston. He's already escaped a lifetime ban after his second positive test, and while you have to feel for Houston, making an exception for him would open up a new can of worms for the NCAA. The NCAA doesn't want to have to deal with similar cases each year because you never know which ones could be true or fabiricated.
I'm not saying Houston's is fabricated, but if he were allowed to play, what's to stop other athletes from experimenting to see if they can use a similar story to slip by the NCAA?
It also means that Georgia's line, which wasn't in the best shape exiting spring, has more concerns to work through. Though Houston had yet to play a down for the Bulldogs, he was still viewed as one of Georgia's top linemen. Richt said sophomore
Watts Dantzler
now moves into the starting right tackle spot. The bottom line is that this line has to accelerate its development and get some of those youngsters more prepared.
While Houston's situation is out of Richt's hands, he has to make sure that ones like Vasser's stop. This team has too much to lose and can't let boneheaded incidents slow it down.
Georgia has one of stricter discipline policies in the league, but maybe Richt has to do more because you have to wonder if some of these players don't care. If it's so strict, why do off-field incidents continue to pile up in Athens? You could argue that law enforcement there is a bit stricter, but at the end of the day it's the athletes who make these decisions.
I wouldn't blame Richt if he went to bed with his cell phone off.
Georgia has to stop the silliness or its season will be a major disappointment and, unfortunately, Richt will have to shoulder most of the blame from fans.
August, 1, 2012
8/01/12
7:55
PM ET
By
ESPN.com staff
| ESPN.com
DawgNation Roundtable

: Georgia's safeties, who already might open the season minus leader Bacarri Rambo, are just one of the several units the Roundtable considers as being especially vulnerable to injuries that come with fall camp.
David Ching writes

: Georgia's Allison Schmitt wins gold in London.
Video:
Georgia linebacker Chase Vasser talks to DawgNation's Radi Nabulsi about the grueling task of facing Georgia's running backs and what it takes to garner the UGA coaches' attention the right way during camp.
Ching

:
Position previews – Special teams.
After losing a Ray Guy Award winner, a record-setting Lou Groza Award finalist and the 2011 Paul Hornung Award winner , perhaps no unit is more unsettled than special teams as the preseason starts.
Ching

:
Around the Hedges in 80 Days – 31 days to kickoff.
While his freshman season established him as an SEC standout, Malcolm Mitchell's sophomore season will be a grueling test of his endurance while he faces immense expectations as a cornerback, a receiver and possibly a kick returner.
April, 16, 2012
4/16/12
8:30
AM ET
Thanks to some late defense heroics, Georgia's Red team defeated the Black team 32-31 in the G-Day Game Saturday in front of 44,117 fans at Sanford Stadium.
Tied at 25 late in the fourth quarter, linebacker
Reuben Faloughi
knocked the ball out of quarterback
Parker Welch
's hand. Fellow linebacker
Ricky Lowe
grabbed the ball out of the air and returned it 62 yards for a touchdown to make it 32-25 with 1:40 remaining.
Less than a minute later, quarterback
Christian LeMay
put the Black team back on the board with a 66-yard touchdown pass to tight end
Jay Rome
. The Black team then went for two, and the win, but LeMay's pass to wide receiver
Rhett McGowan
was incomplete.
"It was a great day for Georgia," coach Mark Richt said. "I feel like everyone enjoyed the game. I thought there were a lot of offensive plays that were made today. When you look at it, the defense was scoring points, too. I thought both sides of the ball played well. It was exciting."
LeMay led all quarterbacks with 154 yards and a touchdown on 7-of-10 passing. Black team running back
Richard Samuel
also had a game-high 43 yards on eight carries.
Aaron Murray
, who quarterbacked the Red team, completed 7-of-17 for 112 yards and a 33-yard touchdown pass to
Tavarres King
.
Hutson Mason
, who played for both teams, completed 9-of-12 for 133 yards and a 7-yard touchdown pass to McGowan.
Running back
Isaiah Crowell
rushed for 39 yards for the Red squad, while
Ken Malcome
, who has drawn a lot of praise from coaches and players this spring, scored two touchdowns for the Red and rushed for 32 yards.
Linebacker
Ramik Wilson
led the Red team with seven tackles, including a sack, and returned an interception 19 yards. Linebacker
Chase Vasser
led the Black team with five tackles and a pass breakup, while linebacker
Alec Ogletree
registered four tackles and returned an interception 28 yards.
Defensive end
Garrison Smith
added a big man touchdown when he fell on a fumble by Mason in the end zone in the fourth quarter.
Here's a link to more info about Georgia's spring game on the school's
official website
.
April, 5, 2012
4/05/12
2:42
PM ET
By
ESPN.com staff
| ESPN.com
DN Roundtable

: Beyond recruiting, what should be Mark Richt's top priority in making adjustments for 2012? Improved return coverage is high on the list.
David Ching writes

: Justin Scott-Wesley is working to make the receiver rotation.
Video:
Chase Vasser talks to DawgNation's Radi Nabulsi about spring ball and UGA's "man-child," and gives DN a Malcolm Mitchell update.
September, 15, 2011
9/15/11
12:00
PM ET
LSU's game with Mississippi State is only hours away, so to keep you from leaving work too early, we've got some links from around the SEC to keep you busy.