October, 23, 2014
Oct 23
10:15
AM ET
Join ESPN.com reporters Edward Aschoff, Heather Dinich, Adam Rittenberg and host Chantel Jennings as the discuss who should be in the top four when the College Football Playoff committee's first rankings come out next week. They will also preview Week 9's best games and take your questions.
July, 14, 2011
7/14/11
12:20
PM ET
Taking a look at what's going on in the SEC world just before the weekend comes.
March, 31, 2011
3/31/11
9:42
AM ET
The
fallout has begun
from Wednesday night's episode of HBO's "Real Sports with Bryant Gumbel" that included four former Auburn players saying they were paid during their time at Auburn.
Coach Gene Chizik called it "pure garbage" and questioned why players HBO talked with who disputed the payment claims weren't included in the show.
Auburn athletic director Jay Jacobs said the school would conduct its own investigation.
"While HBO confirmed to us they have no proof that any of these claims are true, we contacted both the NCAA and Southeastern Conference as soon as these allegations surfaced," Jacobs said. "We have engaged outside counsel to investigate this matter and will spare no resources to find the truth."
Chizik was Auburn's defensive coordinator from 2002-04. Two of the players making the claims, Stanley McClover and Troy Reddick, were at Auburn while Chizik was the defensive coordinator. One of the players saying he was paid, Raven Gray, came to Auburn in 2008, but never played because of injuries. The other, Chaz Ramsey, played as a freshman in 2007, suffered injuries and later tried to sue a former Auburn offensive line coach and trainer for mismanaging his back injury. That suit was thrown out of court.
Lee Ziemba, an All-America offensive tackle for the Tigers last season, told ESPN.com on Wednesday that he "never received a dime" at Auburn. He and Ramsey roomed together as freshmen, and Ziemba said he doesn't believe Ramsey's claims.
Here's a video of a
heated Chizik disputing the allegations
.
March, 30, 2011
3/30/11
7:14
PM ET
If money was being passed around at Auburn like some of Lee Ziemba's former teammates claim it was, he wants to know why he was excluded.
Ziemba, an All-America offensive tackle on the Tigers' national championship team last season, told ESPN.com on Wednesday that he never received any improper benefits during his time at Auburn and doesn't believe the claims of four former players, who told HBO Real Sports that they were paid by Auburn boosters, and in one instance, by an unnamed assistant coach during the Tommy Tuberville era.
[+] Enlarge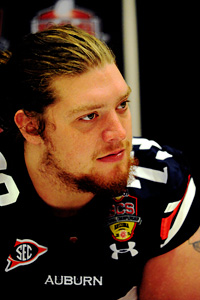 Mark J. Rebilas/US PRESSWIREAuburn tackle Lee Ziemba says he didn't see money exchanging hands at Auburn. "I think I would have been one of those people," Ziemba said.
"I'm not trying to toot my own horn, but if anybody would have seen something like that, I think I would have been one of those people," Ziemba said. "I was heavily recruited, and there was a huge battle between Arkansas and Auburn to get me. I was never once offered any money and never saw or heard anything close to what they're saying. I could have used the money, too. College was a struggle financially. There were some nights I was trying to decide whether to put gas in my truck or eat a meal."
The HBO Real Sports show will air Wednesday night at 10 p.m. ET, and the
SportsByBrooks website received a transcript of an advance copy from the show
.
The former Auburn players claiming they were paid were Stanley McClover (2003-05), Troy Reddick (2002-05), Chaz Ramsey (2007) and Raven Gray (2008).
Ziemba says he and Ramsey roomed together as freshmen. Ramsey later sued Auburn for not properly managing his back injury, a suit that was eventually thrown out of court.
"We were both scratching around for enough money to buy a $5 footlong at Subway," Ziemba said. "If he were getting thousands of dollars, you're not going to keep that quiet. I would have heard about it, and he would have been spending so out of control that I would have noticed something."
Ziemba said he and several of his former Auburn teammates had been talking among themselves Wednesday trying to figure out if certain players had indeed been paid. He said nobody had any pay-for-play stories during their time on the Plains.
"All this talk about $500 handshakes … I walked out of those same locker rooms 52 times after games, met those same boosters and got to know them and not once did anybody give me a dime," Ziemba said. "It's just not plausible."
Asked what motives the players would have for making up these claims, Ziemba said, "Maybe they're trying to get 15 more minutes of fame. Maybe they're trying to make Auburn look bad because their time there wasn't what they wanted it to be. I don't know, but I'm not buying any of it.
"The whole thing is sickening because Auburn has taken enough blows."
March, 30, 2011
3/30/11
9:21
AM ET
It was a controversial run to the 2010 BCS national championship for Auburn, and now this ...
On Wednesday night, an HBO Real Sports special will detail stories by four
former Auburn players who say they were paid
during their time at Auburn. All of the players were recruited and played under Tommy Tuberville -- Stanley McClover (2003-05), Troy Reddick (2002-05), Chaz Ramsey (2007) and Raven Gray (2008).
It should be noted that Gray was a highly recruited junior college player, but never played during his year at Auburn. Ramsey was obviously disgruntled when he left. He filed a lawsuit against former Auburn offensive line coach Hugh Nall and former Auburn trainer Arnold Gamber in federal court in 2009 alleging that the two men's actions caused Ramsey, a freshman All-SEC offensive lineman, to suffer a career-ending injury during his rehabilitation from back surgery. Nall was later dismissed from the suit.
The SportsByBrooks website received an
advance copy of the show
, which will air from 10-11 p.m. ET on Wednesday.
McClover said he once received $4,000 after collecting four sacks against Alabama. He also said he received sexual favors at Ohio State during the recruiting process. McClover initially committed to Ohio State, but said he switched to Auburn after receiving money.
Auburn declined to comment on the report, telling HBO, "Auburn athletics respectfully declines to comment on these alleged claims apparently made by a few former football players. Compliance with all NCAA and Southeastern Conference rules is a major emphasis and top priority for all of our athletic programs at Auburn University."
July, 17, 2009
7/17/09
10:01
AM ET
By
ESPN.com staff
| ESPN.com
Posted by ESPN.com's Chris Low
Who knows how this will all turn out, but former Auburn offensive guard Chaz Ramsey is suing his former offensive line coach, Hugh Nall, and the Tigers' former trainer, Arnold Gamber, for bullying him into going against his doctor's orders.
As a result, Ramsey claims that a back injury never properly healed and cost him a probable NFL career.
It's the side of college football nobody wants to talk about. Players play with pain all the time. But as you'll hear around any practice field, there's a difference in playing with pain and playing injured.
And the truth is that a lot of players play injured, too.
To be clear, I'm not passing judgment on Nall or Gamber in this case. I wasn't there and don't know the facts, and as Nall points out, he has a 24-year track record of doing what he can to help kids ... not hurt them.
The whole thing is an unfortunate situation, but you know Ramsey's not the first player to have his college career cut short and feel like those inside the program pushed him to come back too soon or play/practice when he wasn't 100 percent.
The difference is that Ramsey's gone public with it and wants some compensation.
The flip side to this story is that players often put pressure on themselves to hurry back from an injury because they don't want to lose their position and be relegated to the bench.
What's more, no player wants to get the label of being soft, undurable or injury-prone.
So it's a fine line, and one that's easily blurred.
The key is having quality people on your medical staff, coaches trusting those people and those people always having the best interest of the player at heart when determining if that player is healthy enough to play, practice or work out.
The simple rule of thumb being: If he were your own son, would you allow him to be out there?
January, 13, 2009
1/13/09
1:31
PM ET
By
ESPN.com staff
| ESPN.com
Posted by ESPN.com's Chris Low
Making the rounds to see what else is making headlines in the SEC: