SEC:

Chick-fil-A Bowl 2012
January, 1, 2013
1/01/13
1:10
PM ET
LSU quarterback
Zach Mettenberger
made a solemn promise just as 2012 was giving way to 2013 early Tuesday morning.
He was trying to explain the inexplicable -- how the Tigers could be so dysfunctional offensively in a 25-24 Chick-fil-A Bowl loss to Clemson that included a lot of the same warts that have popped up in LSU's other losses over the last couple of years.
"Trust me when I say this is going to eat at everybody on this offense all year and all offseason," Mettenberger said. "You're going to see a totally different animal next year.
[+] Enlarge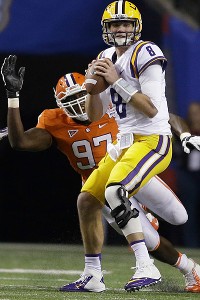 AP Photo/David GoldmanLSU quarterback Zach Mettenberger says the loss to Clemson will eat at the offensive players all offseason.
"We're going to get this right for next year."
They better, particularly if they plan on keeping pace with Alabama in the Western Division and remaining a fixture in the national championship equation.
Nobody's saying that LSU's defense has been perfect over the past two seasons, but the Tigers have been good enough and talented enough on that side of the ball to win a national title.
On offense … it's been a complete crap shoot. Some good and some really, really bad.
The frustrating thing for those on the Bayou is that LSU closed the regular season this year with a flurry on offense. Mettenberger got better. So did his receivers, and the combination of the young talent in the offensive line along with freshman running back
Jeremy Hill
made for a promising future.
But then comes the New Year's Eve dud in Atlanta that evoked memories of last season's epic meltdown offensively against Alabama in the BCS National Championship Game.
It's everything, too.
It's not just the play-calling, although the decision to throw the ball on second and third down when LSU needed just 2 yards to pick up a clinching first down played right into Clemson's hands.
You have to force Clemson to use its timeouts right there, and pounding the ball in that situation has been a hallmark of Les Miles' program at LSU.
Moreover, where was Hill in the fourth quarter? He rushed for 124 yards and two touchdowns on 12 carries, and didn't get a single carry in the fourth quarter.
And eight three-and-outs on offense, not to mention 219 total yards, against a Clemson defense ranked 74
th
nationally in total defense?
Again, it was everything -- questionable play-calling, poor execution, not manning up in the offensive line and not delivering in key situations.
LSU probably could have finished Clemson late in the third quarter after a Clemson fumble gave LSU possession at the Clemson 29-yard line, but LSU had to settle for a
Drew Alleman
20-yard field goal.
Go back to the 21-17 loss to Alabama this season. LSU came alive offensively in that game and surged ahead 17-14 in the fourth quarter.
The Tigers were on the brink of finishing Alabama after driving to the Crimson Tide 32. But they opted for three straight running plays in that situation and came up empty when Alleman missed a 45-yard field goal, opening the door for Alabama's game-winning drive.
In the 14-6 loss to Florida this season, LSU was held to a season-low 200 yards and didn't score a touchdown, along with turning the ball over three times.
Of course, nothing compares to last season's 21-0 stinker against Alabama in the BCS National Championship Game. LSU mustered just 92 total yards and didn't cross midfield until its second possession of the fourth quarter. The worst part was that the Tigers never made any adjustments.
Every loss stings the most in the immediate aftermath. And let's be real here. There are a ton of programs out there who would love to trade places with LSU. This has been one of the best runs in the history of the school.
But as impressive as this run has been -- and the Tigers have established themselves as a top 10 program nationally -- they're going to hit a ceiling unless they can get it fixed on offense.
Miles hinted that some changes could be coming with his "adjustment has to be made" declaration following the loss to Clemson, which was LSU's third postseason setback in the past four years.
With as many as six underclassmen on defense considering a jump to the NFL, the Tigers might face a bit of a rebuilding project on that side of the ball next season.
So more than ever, they need to find some consistency on offense, and probably more importantly, find a way to deliver on offense when it counts.
Otherwise, the Tigers' best football under Miles might be behind them.
January, 1, 2013
1/01/13
2:48
AM ET
ATLANTA – When
Tajh Boyd
looked up at the scoreboard inside the Georgia Dome and saw only 1 minute, 39 seconds remaining in the final football game of 2012 all he could do was smile.
He didn't look at LSU's 24-22 lead or the chance for yet another ACC team to fall at the hands of the mighty SEC. All the junior quarterback saw was a chance at something special -- and three timeouts on Clemson's side.
"Last drive, ball is in your court. It's your game to lose," Boyd later said.
With 80 yards to go and the first bowl win for the Tigers since 2009 on the line, Boyd calmly turned to his coaches and said, "Let's go get it."
And against one of the toughest defenses in the nation, Boyd went and got it. It started off a little rocky, but for the quarterback who had been thrown around like a rag doll all night, he wasn't leaving Atlanta without dramatics.
After two incompletions and a
Sam Montgomery
sack made it fourth-and-16 from his own 14, Boyd made the throw of his life when he hit
DeAndre "Nuk" Hopkins
over the middle for a 26-yard gain.
Boyd hit Hopkins, who finished the night with a game-high in catches (13) and receiving yards (191) and caught two touchdown passes, two more times for 20 yards before
Adam Humphries
set up kicker
Chandler Catanzaro
's game-winning, 37-yard kick to give
Clemson the 25-24 win
.
[+] Enlarge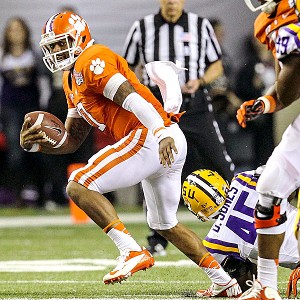 Daniel Shirey/USA TODAY SportsTajh Boyd completed 36 of 50 passes for 346 yards and two touchdowns in Clemson's win.
"I wanted to go into the stands and celebrate already because I knew [Catanzaro] was going to kick it through those uprights," he said.
The image of Catanzaro celebrating well before the kick went through will live on forever, but the night Boyd and Hopkins had together will go down as one of the all-time greats.
Both entered the game with gaudy numbers. Boyd had more than 3,500 yards on the season and 34 touchdowns, while Hopkins led the ACC with 1,214 receiving yards and 16 touchdowns. But both left with hero status, as they willed their team to a win.
Boyd was smacked around on just about every play, while Hopkins had to work 98 percent of the night without his dynamic partner
Sammy Watkins
, who left the game on the second play from scrimmage with an ankle injury.
Talk about a straight shot of adversity with no chaser.
But Boyd and Hopkins didn't flinch. With every bone-crushing hit or awkward tumble Boyd took, he stood up stronger and more confident. He might have mimicked a pinball at times, but he played like a champion.
"Hits hurt a little bit," Boyd said. "I'll be sore in the morning, but it's well deserved. For this type of offense and for this type of team, you lay everything out there on the line, regardless of the game."
Before the game, coach Dabo Swinney told Boyd he was going to have to play and fight for everything on the field and it was going to take him squeezing throws through windows the size of Gatorade bottles. It wasn't always going to be pretty.
Boyd took hit after hit, but kept going. He ran the ball a game-high 29 times and threw 50 passes, finishing the night with 368 yards of total offense on a school record 79 plays by a quarterback.
Of Clemson's last 34 plays, 28 involved Boyd.
"It's not about how hard you get hit," Swinney said of Boyd, "it's about can you keep competing, can you keep getting up and keep competing. That's what it's about.
"He kept competing, kept playing, going to the next play.
"He was awesome. So proud of him."
But he wasn't alone. Hopkins, who was basically on double duty, overwhelmed LSU's secondary, catching just about everything in sight and finding space in the most clogged areas. He created his own room at times and hauled in two magnificent touchdown catches to keep the Tigers going.
"That's how Nuk is," safety
Xavier Brewer
said. "He's a true competitor. You can put it all on his shoulders and he's going to make those plays when you need him and he did that tonight."
He was a man possessed, as he pushed Boyd to elevate his game.
Swinney called Monday's game a "landmark win" and a "tombstone win." Boyd said it felt like winning the ACC title, which the Tigers were a win away from defending. So much rode on this game, while all areas of Clemson's team stood tall against one of the SEC's best, the play of the Tigers' dynamic duo truly was special to watch.
"There's never any doubt that Tajh and Nuk are going to bring everything they've got," Brewer said. "It was awesome to see them compete and play with so much heart. It inspired the whole team."
Boyd will have time to rest and the pain from the night's beating will disappear, but this win is something he'll cherish forever. For a team that endured so much good and bad this season, Monday night's win was the consummate ending for the Tigers' season.
"It was a special moment," Boyd said. "One of the most special moments I've ever been a part of."
"You live for these moments to grind and to sweat it out and have tears with your teammates out there. In the fashion that we won the game, it was unbelievable."
December, 31, 2012
12/31/12
11:33
PM ET
ATLANTA -- In the battle for Death Valley and Tigers supremacy, No. 14 Clemson upset No. 8 LSU
25-24
on a last-second, 37-yard field goal by
Chandler Catanzaro
.


It was over when:
Catanzaro nailed the 37-yard kick to cap a masterful 10-play, 60-yard drive by Clemson.
Game ball goes to:
Clemson wide receiver
DeAndre Hopkins
was unstoppable all night. Even with partner in crime
Sammy Watkins
out for basically the entire game with an ankle injury, he caught a game-high 13 passes for a game-high 190 yards and two touchdowns. His last touchdown cut LSU's late fourth-quarter lead to two points.
Stat of the game:
Hopkins finished the night with the school record for single-season receiving yards (1,404).
Stat of game II:
LSU linebacker
Kevin Minter
finished the game with 19 tackles, including 1.5 for loss and a sack.
Stat of the game III:
Clemson registered a season-high eight sacks against LSU.
Unsung heroes of the game:
You can't really say that Clemson quarterback
Tajh Boyd
was an unsung hero, but he deserves some love after he threw for 346 yards and two touchdowns on 36-of-50 passing. He also ran the ball a game-high 29 times for a net gain of 22 yards and a touchdown. Defensive end
Malliciah Goodman
finished the game with three sacks, including a major one with LSU leading 24-16 with more than nine minutes left and driving in Clemson territory. The sack knocked LSU out of Clemson's side of the field.
What it means for Clemson:
After a disappointing finish to the regular season, Clemson took down one of the SEC's best teams, as its offense put together spectacular back-to-back scoring drives, gutting LSU's defense along the way. It was also the first bowl win for Clemson since beating Kentucky 21-13 in the 2009 Music City Bowl.
What it means for LSU:
The Tigers' defense totally collapsed on Clemson's final two drives of the game, allowing scoring drives of 77 and 60 yards. After controlling the game for most of the second half, the defense fell apart. Now, the Tigers will probably say goodbye to a good chunk of that defense, as a handful of underclassmen are expected to declare early for the NFL draft.
December, 31, 2012
12/31/12
7:39
PM ET
ATLANTA -- LSU coach Les Miles isn't one for uniform modification, but he and his team made a special exception for tonight's Chick-fil-A Bowl.
The Tigers are paying tribute to the victims of horrific shootings at Sandy Hook Elementary in Newtown, Conn., on Dec. 14. LSU players unanimously voted to honor the victims by having a decal on the back of their helmets that reads "RAV," which stands for Random Acts of Violence. The letters have been stamped with a circle and a slash to represent stopping these random acts of violence. Sandy Hook Elementary is also written around the decal.
Jones starting
LSU junior linebacker
Tahj Jones
is making his first start of the season at outside linebacker. He is getting the start over
Lamar Louis
after being cleared academically.
December, 31, 2012
12/31/12
6:50
PM ET
ATLANTA -- Welcome to the Georgia Dome!
We're in for quite the game tonight here at the Chick-fil-A Bowl, as No. 8 LSU takes on No. 14 Clemson in a battle of the Tigers. I hear that the naming rights to Death Valley and a whole bunch of chicken sandwiches are on the line in this one.
It's a great way to ring in the new year, as Clemson's high-powered offense takes on LSU's top-ranked defense. There will be a battle of top 10s tonight, with Clemson entering with the eighth-ranked offense (518.3 yards per game) and LSU coming in with the No. 7 defense (296.2).
Some down on the Bayou weren't too pleased about this being the bowl destination for their beloved Tigers after a 10-2 season, but we could see a real classic with LSU's defense taking on Clemson's offense. Clemson quarterback
Tajh Boyd
enters with more than 3,500 passing yards and led the ACC with 34 touchdowns, while LSU's defense has allowed more than 276 passing yards only three times this season. However, all three of those games came during the last three games of the season.
LSU has a load of speed on the defensive side, and has been extremely good at getting to the quarterback with its elite defensive line, headlined by
Sam Montgomery
,
Barkevious Mingo
and
Bennie Logan
. The Tigers put a lot of pressure on opposing quarterbacks, but mainly do it without the use of the blitz. The last time Boyd and this Clemson line played a solid defensive line, South Carolina's
Jadeveon Clowney
ate Boyd up and the junior quarterback completed less than 50 percent of his passes and threw two interceptions.
But Clemson has two elite receiving weapons in
DeAndre Hopkins
and
Sammy Watkins
, who combined for 125 catches for 19 touchdowns and more than 1,900 yards. Both make a lot of plays after the catch, so LSU will not only have to worry about eliminating the deep ball, it will have to worry about stopping Clemson in the YAC department.
Stay glued to this one because we have a good one on our hands.
December, 31, 2012
12/31/12
4:30
PM ET
With the Chick-fil-A Bowl a few hours away from kickoff, it's time to look at the key player for LSU as it takes on Clemson:
X FACTOR
Eric Reid, Jr., S:
There's no doubt about the offensive talent Clemson has. The Tigers ended the regular season leading the nation with 22 touchdowns of 25 yards or longer. Clemson has scored at least one touchdown of this distance in 11 straight games, including 10 such touchdowns in their last four games, according to ESPN Stats & Information. Quarterback
Tajh Boyd
has been stellar once again, completing 54.3 percent of his passes thrown 25 yards or longer. He also has the luxury of throwing to
DeAndre Hopkins
and
Sammy Watkins
, who have combined for 125 catches for 1,922 and 19 touchdowns. That means Reid will have his work cut out for him tonight. He's the safety net for LSU, and Clemson will try to go after LSU's young secondary. Reid has had moments of brilliance this year, but has also been caught looking at times. If he can eliminate the deep ball, or take big plays away from the likes of Hopkins and Watkins, LSU's defense will be in good shape. LSU's secondary gave up multiple passes of 25 yards or more in the final two games of the season, and Boyd, who was second in the ACC in passing will no doubt look to hit the deep ball. Reid has to be able to erase that from Boyd's arsenal inside the Georgia Dome tonight, or LSU's defense will feel the heat.
December, 31, 2012
12/31/12
12:30
PM ET
Here's a look at three keys for No. 8 LSU's matchup with No. 14 Clemson in tonight's Chick-fil-A Bowl:


1. Contain Clemson's passing game:
Quarterback
Tajh Boyd
had another solid season for Clemson. He was second in the ACC with 3,550 passing yards and led the league with 34 touchdowns through the air. Two other reasons LSU's defense has to be on its toes when it comes to Clemson's passing game? How about wide receivers
DeAndre Hopkins
and
Sammy Watkins
? The two combined for 125 catches and 1,922 yards with 19 touchdowns. Watkins came in with all of the hype, but Hopkins had the tremendous season, leading the ACC with 1,214 yards and 16 touchdowns. He has 10 touchdown receptions on passes thrown 20 yards or longer, which leads the nation, while Watkins has gained 422 of his 708 receiving yards after the catch, according to ESPN Stats & Information. Clemson owns one of the most explosive offenses in the country, and LSU surrendered more than 300 passing yards in the last three games of the season after not allowing more than 276 through the first nine games.
2. Bring that November offense to Atlanta:
LSU has been able to run the ball all season, but only really started throwing the ball well in November. Quarterback
Zach Mettenberger
finally felt comfortable in the Tigers' offense during the bye week leading up to the Alabama game. He then threw for a career-high 298 yards against Alabama and finished with three consecutive 200-yard games after not registering back-to-back 200-yard games through the first eight games of the season. If LSU brings the balanced offense that helped it go during the last month of the season, it'll present a host of problems for Clemson's defense, which has continued to struggle. Remember, LSU has four backs with more than 350 yards, and all four are averaging more than 32 yards per game. Stopping the run will be tough enough, but now having to worry about Mettenberger's arm is just another obstacle for Clemson.
3. Don't put pressure on Keehn's leg:
With starting punter
Brad Wing
suspended, freshman
Jamie Keehn
will take the field. The one thing you don't want to give Clemson is good field position to work with, and Wing had the leg to get LSU out of any difficult situation. Keehn has punted just three times this season, and that was in the opener. Although he averaged 41 yards on his three punts, the pressure will certainly be on him inside the Georgia Dome. LSU's defense has shown some bend in the past few weeks, so having Clemson work with a short field could be trouble.
December, 31, 2012
12/31/12
12:00
PM ET
No. 8 LSU (10-2, 6-2 SEC) vs. No. 14 Clemson (10-2, 7-1 ACC)


Who to watch:
Clemson quarterback
Tajh Boyd
. The junior finished second in the ACC with 3,550 passing yards and led the league with 34 touchdown passes, but now faces one of his toughest challenges in LSU's exceptional defensive line. The last time Boyd faced a real quality defensive line, he was eaten up by South Carolina and ferocious defensive end
Jadeveon Clowney
. Boyd completed fewer than 50 percent of his passes and threw one touchdown to two interceptions. Boyd must take on a line that features ends
Sam Montgomery
and
Barkevious Mingo
and defensive tackle
Bennie Logan
, who combined for 13 sacks and 22.5 tackles for loss. Oh, and then there are defensive tackles
Anthony Johnson
and
Josh Downs
, who added 13.5 more tackles for loss and 5.5 sacks. If Boyd can escape the pressure, he could have a chance to make some plays on LSU's secondary. According to ESPN Stats & Information, Boyd has completed 54.3 percent of his passes thrown 25 yards or longer, with 14 touchdowns to four interceptions. LSU's defense is allowing quarterbacks to complete just 21.2 percent of those passes, with two touchdowns to four interceptions, but it also allowed multiple receptions of 25 yards or more in the last two games of the season.
What to watch:
Although Clemson has received the bulk of the offensive attention, LSU has been extremely successful with the ball in its past few games. The Bayou Bengals have always been able to run, averaging nearly 180 yards rushing per game, but passing with a purpose was rare for most of the season. Quarterback
Zach Mettenberger
didn't exactly get off to a great start in conference play, and he didn't register back-to-back 200-yard passing games until November. But he came through in the final four games, averaging 267.5 passing yards. He'll face a defense that ranks 75th in total defense, allowing 411 yards per game, including 250 passing. Clemson also has allowed 22 passing touchdowns and 7.4 yards per pass attempt. If LSU's offense is able to be as balanced as it has been, Clemson's defense could be in for another long bowl night.
Why watch:
One of the nation's most high-powered offenses takes on one of the country's best defenses. Tigers vs. Tigers. Death Valley owners meet for the first time since 1996, when they played in what was then called the Peach Bowl. More had been expected from both teams after they won their respective conferences in 2011. LSU was a legitimate national championship contender before the season, while Clemson was a win away from trying to defend its ACC title. You'll see a ton of speed on the offensive side of the ball for Clemson, and just as much speed from LSU's defense. It's the perfect way to ring in the new year!
Prediction: LSU 31, Clemson 17.
With Mettenberger's improved play, LSU now has a tougher offense for Clemson to battle. The fact that Clemson's defense is still struggling to stop anyone is a major concern. LSU will pound Clemson's defensive front with its tremendously strong running game, and that should help open up things for Mettenberger over the top. Clemson's offensive line had issues against South Carolina's defensive front a month ago, and now has to face one of the best lines in the country. LSU is going to make it very hard for Boyd to move around and use his talented set of receiving weapons, while keeping running back
Andre Ellington
in check.
December, 3, 2012
12/03/12
1:46
PM ET
By
ESPN.com staff
| ESPN.com
GeauxTigerNation has more coverage of the LSU Tigers:
Gary Laney writes
: Tigers fans might bemoan a trip to the Chick-fil-A Bowl with other teams landing in bigger bowls, but LSU gets a great matchup with high-powered Clemson.
David Helman writes

: LSU's trip to the Georgia Dome for the Chick-fil-A Bowl will work wonders for LSU recruiting.
December, 2, 2012
12/02/12
9:32
PM ET
LSU Tigers (10-2) vs. Clemson Tigers (10-2)
Dec. 31, 7:30 p.m. ET, Atlanta (ESPN)
LSU take by GeauxTigerNation's Gary Laney:
How does one judge LSU's season?

At 10-2, the Tigers fell short of their preseason No. 1 ranking. They failed to make the SEC championship game, much less defend their conference title.
On the other hand, LSU masterfully overcame a ton of problems.
Tyrann Mathieu, the Tigers' Heisman Trophy finalist at cornerback, was dismissed from the team in August.
Chris Faulk
, the left tackle who seemed destined to be drafted by the second round, was lost to a knee injury after one game, and running back
Alfred Blue
was also lost to a knee injury a couple of weeks later. The Tigers finished the season with three offensive line starters who weren't starters at the beginning of the season.
Yet, by the end of the regular season, LSU seemed to have it figured out.
Zach Mettenberger
was much improved in the passing game, and
Jeremy Hill
emerged as one of the nation's best freshmen running backs. And the defense, though it gave up passing yards late in the season, remained solid, led by end
Sam Montgomery
and linebacker
Kevin Minter
.
So how LSU's season is perceived might come down to how the Tigers play in the bowl. If the offense continues its resurgence and the Tigers win, they will go into the offseason with a rosy outlook. If the Tigers lose and the defense continues to give up passing yards, followed by the seemingly inevitable loss of underclassmen like Montgomery and free safety
Eric Reid
to the NFL draft, it could be an offseason of worry on the bayou.
---

Clemson take by ACC blogger Heather Dinich:
Clemson, much like Florida State this year, was oh-so-close to something bigger than the Chick-fil-A Bowl, but the Tigers' losses to the Seminoles and rival South Carolina ruined the program's chances at a second straight appearance in the ACC championship and a BCS bowl.
That's not to say this wasn't a successful season for coach Dabo Swinney. The Tigers maintained their position as a top 15 team all year, and have thrived behind a high-scoring offense led by quarterback
Tajh Boyd
, who was named the ACC's Player of the Year. In his second season as a starter, Boyd helped lead Clemson to back-to-back 10-win seasons, the first Clemson quarterback to do that since Rodney Williams in1987-88. Clemson had the No. 6 scoring offense in the country this year (42.33) points per game, but was smothered in a 27-17 loss to South Carolina. The defense under first-year coordinator Brent Venables was better, but it wasn't championship-caliber, finishing No. 47 in the county, allowing 24.92 points per game.
Clemson's only ACC loss this year was in Tallahassee to a Florida State team that was ranked No. 4 in the country at the time. Clemson reeled off seven straight wins after that loss and had momentum heading into its regular-season finale against the Gamecocks, but for the fourth straight season, Clemson was outplayed and outcoached by its in-state rival.
Clemson will forever be remembered for its abysmal performance in last year's Discover Orange Bowl, but this matchup against LSU will be a chance for the Tigers to take a monumental step towards redeeming their postseason image.