January, 17, 2013
1/17/13
1:20
PM ET
The news of Chip Kelly's decision to leave Oregon for the Philadelphia Eagles sent the residents of Eugene, Ore., into a natural funk. But it also should have saddened many of the people who reside in SEC country.
The sexy Oregon-SEC national championship matchup that has become a regular storyline in college football over the past few years just lost a monster amount of its luster. Are the same athletes still on campus? Oh, yeah. But Kelly isn't, and the storyline of Kelly vs. the SEC was such a good one for college football.
[+] Enlarge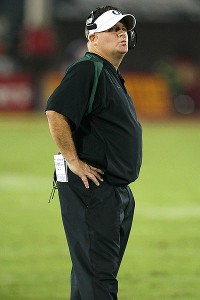 AP Photo/Bruce SchwartzmanChip Kelly's move to the NFL removes a formidable foe from the list of coaches capable of ending the SEC's string of national titles.
While Kelly had been bested by the SEC in recent attempts (see: Auburn and LSU), he still seemed like the only coach who really had what it took to end the SEC's reign of terror on the rest of the college football landscape. SEC fans snickered at a lot of teams that thought they had the recipe for stopping the SEC, but they had respect for Kelly and his Oregon teams.
Now, that respect will take a little bit of a hit. That's not to say
Marcus Mariota
and
De'Anthony Thomas
won't be elite players in 2013, but that team as a whole has to replace one of the best football minds in the game. During the better part of his tenure at Oregon, Kelly engineered one of the most exciting football programs to watch. Outside of the flashy uniforms, Oregon had tricky formations that took full advantage of all that speed that is legitimately comparable to what the SEC is packing.
That speed isn't going anywhere, and those formations will likely still be there, but the intangibles of having Kelly running things will be missed. It just won't be the same watching Oregon attempt a run for the BCS title game, because Kelly and that genius mind of his won't be there on the sideline. And it won't be as exciting if an SEC team has a chance to be paired with the Ducks in the big game. Sure, the overload Nike and neon will attract a lot of attention, but something will be missing if the Kelly-less Ducks meet the SEC in the championship game.
It just won't feel right, because Kelly was such a big part of what made Oregon such a formidable foe for the SEC. Kelly's mind was as interesting as the team he fielded, and his absence really does affect the buzz around what has turned into a fun little rivalry.
It wasn't necessarily as big as Good vs. Evil, but it was a fun "rivalry" to talk about every season. When the possibility of an Alabama-Oregon national championship became a realization, college football was truly buzzing. When Alabama crushed Notre Dame in the Discover BCS National Championship, Oregon was the first team brought up when discussing which opponent would have given the Crimson Tide an actual challenge.
Kelly vs. the SEC is one of those matchups that doesn't get old because it feels like one that could actually bring the SEC down. SEC fans certainly don't want to see the end of their conference's historic run, but the thought of a real challenge is intriguing. Kelly brought that intrigue.
With all that talent returning, Oregon likely isn't going anywhere, but an Oregon team lacking Kelly's presence won't be as appealing to SEC folk. The visor and the quirkiness are gone. He figured to be the top coach out there, with the right mind and equipment to top the SEC. Losing that just takes a little bit of the excitement out of the thought of the SEC taking on Oregon.
September, 1, 2011
9/01/11
3:30
PM ET
Well, Chris, we meet again. The SEC and Pac-12 can't seem to quit each other, eh?
You actually were a good sport about not gloating too hard over your correct prediction that Auburn would outlast Oregon and win the SEC's fifth consecutive national championship. My prediction? I can't recall, but I'll admit a vague recollection of wrongness.


But here we go again: No. 3 Oregon versus No. 4 LSU in Cowboys Stadium. As good a season-opening matchup as we've had in decades. Kudos to both programs for having the courage to give college football fans something to look forward to during this dreary, controversy-laden offseason, from which these teams are not exempt by any means. Lots of intrigue in this one -- on and off the field.
But let's start with the football part of football. Tell me about LSU: What are the Tigers' strengths and what are their question marks?
Chris Low
: Honestly, Ted, the SEC has won so many national championships in a row now that it's not as much fun to talk smack. I guess we're sort of used to it here in SEC land. We do rings and NCAA investigations in these parts.
As for the game Saturday night in Arlington, Texas, I can't wait to see the collection of talent and speed on that field. This LSU defense should be the fastest John Chavis has had, and he's always put a premium on speed dating back to his days as Tennessee's defensive coordinator. Not only are the Tigers fast on defense, but they're deep. They have defensive ends, Barkevious Mingo and Sam Montgomery, who run like safeties, and Chavis loves to use multiple defensive backs. Just about everybody in LSU's secondary is a former cornerback. The best of the bunch is Morris Claiborne, who can fly. The Tigers are going to play Tyrann Mathieu at nickel and let him roam, which is what he does best. They'll bring him on the blitz one play and drop him into coverage on the next. He had 8.5 tackles for loss as a freshman and forced five turnovers.
[+] Enlarge
Tim Heitman/US PresswireThe Tigers are expected to lean heavily on Spencer Ware and the running game.
While defense will clearly be LSU's strength, the Tigers still have their share of guys on offense capable of making big plays even with quarterback
Jordan Jefferson
and receiver
Russell Shepard
sitting this one out. Sophomore running back
Spencer Ware
is poised to be one of the SEC's top breakout players this season. A former quarterback in high school, he weighs 225 pounds, has great moves and accelerates with the best of them. Senior guard Josh Dworaczyk will miss this game with a knee injury, and that's a blow. He's one of LSU's top offensive linemen. The one thing you don't know about this team is how equipped it would be to have to play from behind.
Jarrett Lee
is a senior and threw the ball well when he was called upon last season, but it's his show now with Jefferson sidelined. Lee's going to have to be more than just a situational player. I think you'll also see junior college newcomer
Zach Mettenberger
in this game. He has one of the strongest arms in the SEC, but he hasn't played at this level in a game. The Tigers will certainly have to throw it some to win this game. What I don't think they want to happen is to be in a position where they're having to throw it.
Ted Miller
: Everyone is pretty focused on the matchup of the LSU defense and the Oregon offense, which makes sense. Most everyone knows the SEC plays defense at a different level than the rest of the country, though some snarky sorts out West wonder if that's because those defenses play against SEC offenses. We'll get to that. I'm just as curious about the Ducks' defense against the LSU offense, even more so with Jefferson out. The Ducks' defense was underrated last year. While it ranked only 34th in the nation in total defense, it gave up just 4.67 yards per play and ranked 20th in third-down defense. For comparison, LSU yielded 4.86 yards per play and ranked 16th in third-down defense.
But that is last year. Oregon is replacing five starters from its front seven. While the defense has been stout during preseason camp -- the feeling is it's less experienced but bigger and more physically talented than last year -- we really don't know what it will do against Ware and a run-first attack. As for defending the pass, the Ducks felt like they'd have one of the best secondaries in the country -- not unlike LSU -- heading into the season, but that included All-America cornerback Cliff Harris. Harris, you might have heard, is suspended because he was in a 118 mph hurry to get back to Eugene one offseason night.
But back to that Ducks offense versus LSU's defense matchup. The Ducks' up-tempo, spread-option has been stymied in big games of late when opposing defenses had extra time to prepare and loads of NFL talent in their front seven.
What have you heard about the Tigers' preparation and how does their front-seven personnel compare to Auburn's in 2010?
Chris Low
: The best news for the Ducks is that Nick Fairley won't be suiting up for LSU on Saturday. He was the difference out in Glendale, Ariz., back in January, and my contention is that interior line play defensively has been what's set the SEC apart from everybody else the past several years. LSU is extremely talented up front with terrific athletes at the end positions and some promising young talent at tackle. They call true freshman tackle Anthony Johnson "Freak" for a reason. He's big, bad and usually bearing down on whoever has the ball. LSU doesn't have a proven difference-maker up front the caliber of Fairley, but LSU is deeper in the defensive line than Auburn was last season. At linebacker, Ryan Brown is an All-SEC caliber player on the weak side, but the Tigers will sorely miss Kelvin Sheppard in the middle. It looks like converted safety Karnell Hatcher is going to play a bunch in the middle.
Not to take anything away from Auburn's performance last season in the BCS National Championship Game, but LSU is a more talented defense across the board, particularly in the secondary, than the Auburn defense Oregon faced last season.
This also isn't John Chavis' first rodeo. His defenses were the backbone of some of Tennessee's best teams in the late 1990s, and with this being his third season in Baton Rouge, look for the Tigers to play even faster and more instinctively in that system this season. They've been working overtime to make sure they're getting the calls in quick enough, but I'd say you're going to see at least five defensive backs on the field for much of the game.
[+] Enlarge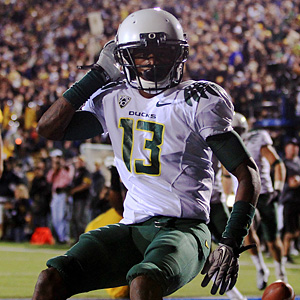 Ezra Shaw/Getty ImagesThe Ducks will be without standout corner/returner Cliff Harris, who's suspended from the team indefinitely.
Ted Miller
: All right, so we've talked about who will be there. The elephant in the room is who won't be. The Ducks have two suspended players in cornerback Cliff Harris and middle linebacker Kiko Alonso. (We're guessing with Alonso; Chip Kelly won't say for sure.) More than a few folks saw the suspension of Shepard making the loss of Harris a push -- two all-conference types who also are special-teams stars. Alonso is the Ducks' most physical linebacker, so his loss is significant. Dewitt Stuckey has seen action, but his backup is a walk-on. The Ducks seem fairly healthy heading into the game, though there are questions about receiver
Josh Huff
, who had been walking around in a boot until recently.
Still, all of this seems less important than the loss of Jordan Jefferson. First, what does losing Jefferson mean to LSU, both as a player and leader? Second, tell us a bit about Lee.
Chris Low
: The Tigers will miss Jefferson's ability to scramble and extend the play. He didn't throw it very well last season, but he made several big plays with his legs. In Lee, you get a pure pocket passer who's not going to move around much and look to run.
Lee's story is a good one. He had a brutal redshirt freshman season in which he threw 16 interceptions, including seven that were returned for touchdowns. But he persevered and hung around, and here he is with a chance to lead LSU to a special season as a senior. Lee came off the bench several times last season to save the Tigers, and I don't think there's any question that there's a renewed sense of confidence in him among his teammates.
Shepard is another playmaker you take out of the equation for LSU and a guy who can turn missed tackles into touchdowns, and the other key piece on offense the Tigers will be missing is senior guard Josh Dworaczyk, who's out with an injured knee. He was one of the anchors of that offensive line, so that's three key players missing on offense.
If the Tigers are going to win this one, they have to keep the Ducks from dialing up a bunch of big plays.
Enough talking, though. Let's play. How do you see this one shaking out, Ted?
Ted Miller
: Chris, after watching Oregon lose games like this to Boise State, Ohio State and Auburn, I've got to admit I see a pattern. Further, I think LSU's front seven is at least as good as Auburn's was
and
the LSU secondary is much better. I think the Ducks' defense will hold down the LSU offense fairly well, but I also think it will feel like a road game for Oregon because of a two-to-one Tigers advantage in the stands. I see a good game, but one in which the Tigers prevail 24-21.
Chris Low
: I'm picking the Tigers, too. Imagine that. I tried to convince you to pick Auburn out in Arizona back in January, but you were blinded by those Oregon uniforms. The Ducks play fast, but so does the LSU defense. I also think the Tigers will be able to run the ball well enough to keep that Oregon offense off the field. Get ready for Spencer Ware to formally introduce himself to the college football world in a 28-24 LSU win that soothes a few wounds on the Bayou.
November, 10, 2010
11/10/10
3:00
PM ET
It's time for a blogger debate! And it doesn't get much better than when we match the SEC and Pac-10.
Our topic: No. 1 Oregon and No. 2 Auburn. Who's better and why?
Both are unbeaten, and if the season ended today, they'd play for the national title.
We've got lots of football left, and probably many more plot twists in the hunt for the national title, but there's no reason we can't engage in a hypothetical, is there?
So the Pac-10 blog -- Ted Miller -- and the SEC blog -- Chris Low -- have decided to meet for some civilized debate on Auburn versus Oregon.
Ted Miller
: Chris, since things are so quiet in the sleepy SEC, I think we should spice things up with a Pac-10-SEC blogger debate! It seems like a long time since we last had a debate between our two conferences. How'd that one go? Let's see I championed Taylor Mays and you celebrated Eric Berry. Wait.
Why did I bring that up
?
Anyway, our topic is Oregon and Auburn: Who's better and why.
[+] Enlarge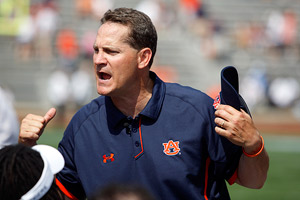 John Reed/US PresswireGene Chizik has silenced those critical of his hiring last year but getting Auburn off to a 10-0 start this season.
This is a potential national title game between the No. 1 Ducks and No. 2 Tigers, who are both unbeaten and feature Heisman Trophy candidates leading high-powered offenses.
You get first blood. Tell me about Auburn. It seems like it wasn't too long ago that Jay Jacobs was getting hounded for hiring Gene Chizik. Guessing that's died down a wee-bit.
Chris Low
: No doubt, Ted. I wonder where that obnoxious guy is now, the one yelling at Jacobs as he was leaving the airport after finalizing the deal with Chizik? Maybe Jacobs knew what he was doing after all. The guy with the 5-19 record at Iowa State has done all right by himself on the Plains. He has a Heisman Trophy-caliber quarterback and the SEC's leading rusher in Cam Newton, a 6-foot-6, 250-pound freak of nature who runs like Bo Jackson and also has an NFL arm. Keep your eyes, too, on freshman running back Mike Dyer, who they haven't had to lean on much this season, but is oozing with talent and has fresh legs for this stretch run. The Tigers' defensive numbers are nothing to write home about, but they do have the kind of dominant interior defensive lineman, Nick Fairley, who can take over games. Georgia coach Mark Richt said Fairley's the closest thing he's seen to Warren Sapp. Auburn's calling card defensively has been making plays at key times in the fourth quarter. The Tigers have been a serviceable defense through three quarters this season, but they've been a championship-caliber defense in the fourth quarter -- which is why they're 10-0.
So tell me about Oregon?
[+] Enlarge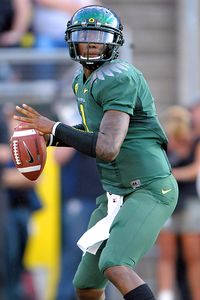 Kirby Lee/Image of Sport/US PresswireSophomore Darron Thomas was thrust into the starting quarterback job and has performed admirably.
Ted Miller
: Speaking of coaches: How about Oregon's Chip Kelly? How could he possibly expect to top winning the Pac-10 and playing in the Rose Bowl his first season? How about contending for a national title in his second? The Ducks, however, expected to be here when the 2009 season ended because just about everybody was coming back from the Pac-10 champions. That is until a guy you are now familiar with -- quarterback
Jeremiah Masoli
-- got caught up in some off-field issues and eventual got himself booted from the team. That seemingly left a void behind center, but sophomore
Darron Thomas
has not only filled Masoli's shoes, he's gone up a few sizes: He's 15th in the nation in passing efficiency and 21st in the nation in total yardage. Meanwhile, speedy running back
LaMichael James
is the top Heisman alternative to your guy, Newton. As for the defense, it's like the offense: Extremely fast. It ranks 13th in the nation in scoring defense and it has forced 28 turnovers, second-most in the nation. Folks often underestimate the Ducks' defense because it gives up some yards -- it ranks 29th in the nation in total defense -- but that's because the offense scores so quickly: The nation's No. 1 offense ranks 115th in the nation in time of possession. But the Ducks only give up 4.45 yards per play. Our factoid of the day is that number would rank No. 1 in ... wait for it ... the SEC!
Obviously, we're talking about two very good teams that have done impressive things on their way to remaining unbeaten. I know we both have Oregon ahead of Auburn in our power rankings, but give me the case for Auburn.
Chris Low
: Ted, I think what separates Auburn is Newton. Nobody has been able to stop him. If you commit to taking away the run, he's proved he can beat people throwing the ball. And if you come after him and/or don't have enough people in the box, he's been magic running the ball. Keep in mind, too, that we're not talking about a 220-pound guy running the ball. We're talking about a 250-pound guy who's physical, tough and doesn't run out of bounds. In the red zone, he's the great equalizer, because he gains 3 yards when he falls forward and has the size and the strength to push the pile. On top of it all, he's always a threat to throw the ball. Similar to Oregon, Auburn doesn't flinch if somebody puts 30-plus points on the board, because the Tigers' mentality is that they're going to score 50. Their offensive coordinator, Gus Malzahn, will make you defend everything -- reverses, throwback passes, passes to the backs, even passes to Newton. He caught a touchdown pass two weeks ago against Ole Miss. The Tigers also play at a tempo on offense that has opposing defenses gasping for air in the fourth quarter. But when they have to, they can put teams away and finish games by running the ball. They're fourth nationally (one spot ahead of Oregon) this week in rushing offense with an average of 307.2 yards per game. Auburn's top four rushers -- Newton, Dyer,
Onterio McCalebb
and
Mario Fannin
-- are all averaging at least 6.4 yards per carry. Do the Ducks have any answers for that running game?
[+] Enlarge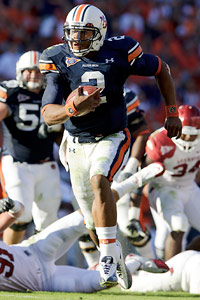 Paul Abell/US PresswireAuburn's Cam Newton is just as dangerous with his arm as he is on his feet.
Ted Miller
: That's what's so interesting about this as a potential national title game match -- there's an odd familiarity that both teams will have with each other despite never crossing paths. My guess is Malzahn and Kelly already have studied each other, just in terms of mutual admiration. And both defenses will be familiar with up-tempo, no-huddle, spread-option offenses that can power you and finesse you and throw downfield. Further, the Ducks have played against a number of big, fast, capable quarterbacks with NFL futures: Washington's
Jake Locker
, Ohio State's
Terrelle Pryor
and Stanford's
Andrew Luck
. The results have been mixed. Last year, Luck and Pryor got them. Luck beat the Ducks with uncanny downfield accuracy, which is why he'll go No. 1 in this spring's NFL draft. Pryor shocked them with the best passing game of his career in the Rose Bowl. Locker missed this year's game, but he's never had much luck against Oregon. In general, Oregon has a good run defense: Opponents are averaging 3.38 yards per rush. But the Ducks are undersized. A physical Stanford team had some success, rushing for 177 yards. But one thing about Oregon on both sides of the ball: It is masterful with halftime adjustments. They shutout Stanford, owners of the nation's No. 5 scoring offense, in the second half, and have given up just 48 points in the second half this year -- just seven in the fourth quarter!
Obviously, two very good teams that have done impressive things on their way to remaining unbeaten. I know we both have Oregon ahead of Auburn in our power rankings, but give me the case for Auburn if it played Oregon in the national title game. How do you see it going?
Chris Low
: Well, if that happens, the first thing we all better make sure we have is a calculator. That and make sure there's no danger of a power surge to the scoreboard. You're right about Oregon. Nobody in the country has been better in the second half. The Ducks' ability to score points in bunches is amazing, but the Tigers are equally adept at going on head-spinning scoring sprees. Just ask Arkansas, which saw Auburn roll up 28 points in the fourth quarter in Xbox-like fashion. I have no doubt that an Auburn-Oregon matchup would be played in the 40s. I think the difference, though, would be Auburn's ability to put the breaks on the track meet and run the football in the fourth quarter, especially with Newton being so good at converting on third down. So I'm going Auburn 45, Oregon 41 in a game that rates up there with the Texas-USC classic to decide the 2005 national title.
Ted Miller
: That's clearly something we can all agree on: This likely would be a highly entertaining, offensively driven national title game if these two teams manage to get themselves there. Further, I think, after never getting a USC-SEC title game, folks on both coasts would enjoy an SEC-Pac-10 matchup. No trash-talking there, right? And I do see a clear advantage for Auburn: It has been tested. It's played five games decided by eight points or fewer, and three decided by a field goal. The Ducks closest game? An 11-point win at Arizona State. But that's also why I'd pick Oregon in this one. Oregon beat the No. 6 team in the nation, Stanford, by 21 points. It shut Andrew Luck out in the second half. And I look at all of Auburn's close games: Mississippi State, Clemson, South Carolina, Kentucky and LSU, and think: None of them would be within 10 points of the Ducks. Maybe LSU, because any game Les Miles touches is surprising. And I think Vegas would agree with me. So if we ended up with an Oregon-Auburn national title game, my guess is the Tigers would go TD for TD with the Ducks in the first half, then the Ducks would pour it on late for a 50-35 win. But I reserve the right to change my mind, particularly because I think the Tigers' toughest test -- Alabama -- is ahead.
Moreover, both teams should be advised: You probably should get to the Jan. 10 date in Glendale before you start trash-talking each other. At least before you use your best stuff.
June, 25, 2010
6/25/10
4:46
PM ET
This is annoying: The SEC and Pac-10 only play one game in 2010 and, on paper, it doesn't look like much of a game.
Oregon, which figures to be ranked in or near the preseason top 10, visits a Tennessee team on Sept. 11 that is on its third coach in three years and is clearly rebuilding.
(Volunteers fans: Release your Lane Kiffin curses ... now!)
And yet.
While Ducks fans over on the
Pac-10 blog
seem to believe this is going to be a butt kicking, I'm not so sure. Maybe it's because I was covering Auburn during the Phillip Fulmer glory days and can't imagine the Vols ever being anyone's patsy (in fact, I was covering preps and recruiting for the Mobile Register when a guy from Williamson High School by the name of Tamaurice Martin -- some called him "Tee" -- picked the Volunteers over Auburn).
Or maybe it's because the last time a highly ranked Pac-10 team thought it was going to deliver a whipping in Neyland Stadium, California face planted in 2006.
My hunch is this will be a competitive game. So, with that said, here are three keys for Tennessee to score the upset over the Ducks.
Tauren Poole & Luke Stocker: The Volunteers are completely -- completely as in all five 2009 starters are gone -- rebuilding their offensive line. Oh, and their QB, whoever that ends up being between junior college transfer Matt Simms and true freshman Tyler Bray, will be seeing his first college action the previous weekend vs. UT-Martin. That's not good. But Poole at running back and Stocker at tight end are good. Perhaps even very good. The Ducks' defense is a veteran unit and extremely fast. They also run a lot of stunts, which can confuse a young O-line. But they aren't very big. So keep it simple on offense and get the ball to your money guys. Word on the street is Poole can make plays even when the blocking isn't perfect. And when the Ducks start obsessing about Poole, that would be the perfect time to dump it to the 6-foot-6, 253-pound Stocker and see what he can do in the secondary. A big target like Stocker could help a young QB gain some confidence, at which point he can start looking for his wideouts.
Boise State & Ohio State: QB Jeremiah Masoli running coach Chip Kelly's spread-option offense was often a thing of beauty. But, you may have heard, Masoli won't be a problem in Knoxville. Further, it seems like defenses that have more than just one week to prepare have more success against the Ducks' spread-option -- see a pair of early-season losses to Boise State and the Rose Bowl defeat to Ohio State. The Vols will have the entire summer to familiarize themselves with Oregon's misdirection, as well as to get accustomed to the Ducks' extraordinary pace (their no-huddle is as fast-paced an offense as you will see). Ohio State often won one-on-one matchups up front. The Vols have some solid talent, experience and depth with their front seven, though it won't match the Buckeyes. Boise State often out-flanked the Ducks with an outstanding game plan. Wait a second! Where did that new, hotshot defensive coordinator Justin Wilcox come from? Boise State! Wilcox has faced the Ducks each of the past two seasons. He knows their scheme and their personnel. That's a huge advantage.
Atmosphere: Before Cal's 2006 visit, the Bears downplayed the experience of playing in front of 100,000-plus fans. Southern humidity? Who cares! And then the Bears wilted, mentally and physically. One Cal player told me later that Neyland was such a "freak show" -- his term -- that it was a significant distraction. My guess is Vols fans thought their trip to Berkeley, where student protesters were living in trees, was a bit of a "freak show," too. But the Ducks won't be used to the atmosphere -- both the stadium size as well as the weather (summers in Eugene often demand a sweater at night). Aggravating matters, they will be sending out a mostly green QB to handle the pressure on the road. Senior Nate Costa has started only one game: at UCLA in 2009. Sophomore Darron Thomas came off the bench as a true freshman vs. Boise State in 2008 and led a stunning comeback, but he redshirted last year. In other words, instead of a two-year starter leading the Ducks' complicated offense in a hostile environment, they will be relying on an unproven guy. A couple of early mistakes, and that atmosphere could prove a significant factor.
February, 15, 2010
2/15/10
5:07
PM ET
The SEC has taken a beating the last few years about its weak nonconference schedule, and in some cases, rightfully so.
But the teams in this league are making more of an attempt to play at least one marquee nonconference game a year.
Here's my early ranking of the 10 toughest nonconference games involving an SEC team in 2010. There's a chance this list could change some as we get closer to the season.
But for now, here goes:
1. Oregon at Tennessee, Sept. 11:
The Ducks will start the season as a Top 5 team in just about every preseason poll. Quarterback
Jeremiah Masoli
headlines a horde of returning starters for Chip Kelly's club.
2. Florida at Florida State, Nov. 27:
The Seminoles have a chance to be really good on offense with the return of quarterback
Christian Ponder
from a shoulder injury. If some young guys come through on defense, look out.
3. Penn State at Alabama, Sept. 11:
The Nittany Lions lose a lot of good football players from their 2009 team. But it's still Penn State, and it's still JoePa. These two teams have played some classics over the years.
4. LSU vs. North Carolina (Atlanta), Sept. 4:
We'll find out soon enough if LSU has improved any on offense. The Tigers open the season in the Chick-fil-A Kickoff Game against a North Carolina defense that's fast, talented and nasty.
5. Georgia Tech at Georgia, Nov. 27:
Going against Paul Johnson's option offense is always a challenge, and the Yellow Jackets will be extra motivated after being spanked at home last season by the Bulldogs.
6. West Virginia at LSU, Sept. 25:
The Mountainers will have to plug in a new starter at quarterback, but the core of the offense and defense returns. This is a team that could easily win the Big East title in 2010.
7. Arkansas vs. Texas A&M (Arlington, Texas), Oct. 9:
This might end up being a 52-50 game with the way these two offenses score points. If the Aggies tighten up on defense, they'll be a dangerous team next season.
8. Vanderbilt at Connecticut, Oct. 2:
The Commodores hit the road to face a Connecticut team that may be the sleeper pick in the Big East. The Huskies lost just six starters from a team that blasted South Carolina in the bowl game.
9. South Carolina at Clemson, Nov. 27:
Speaking of the Gamecocks, they end the 2010 season by traveling to arch-rival Clemson. It hasn't exactly been a bed of roses for South Carolina the last decade at Death Valley.
10. Clemson at Auburn, Sept. 18:
We'll dub this the Lewis Grizzard Bowl. Clemson won't have
C.J. Spiller
to lean on next season, but the Tigers still have enough talent to line up and beat just about anybody they play.
Noting:
LSU is the only SEC team to have two games on this list, and they're both the first month of the season. ... Kentucky, Mississippi State and Ole Miss don't play nonconference games that made the Top 10. Kentucky's toughest game is at Louisville. Mississippi State's toughest game is at Houston. Ole Miss' toughest game is a push between a trip to Tulane and a home game against Fresno State. ... In addition to the Georgia Tech game, Georgia also travels to Colorado in 2010. ... Of the SEC's 10 toughest nonconference games, notice that Florida, South Carolina and Vanderbilt are the only three teams playing true road games. Even then, Florida and South Carolina don't leave their respective states.