January, 7, 2013
1/07/13
10:30
AM ET
All the attention is on tonight's Discover BCS National Championship, but eyes were all over the SEC over the weekend, with a handful of players making decisions about their futures.
Here's a look at some of the movers and shakers from the weekend to check up on:

FLORIDA
Backup quarterback
Jacoby Brissett
, who was beaten by
Jeff Driskel
for the starting spot at the beginning of the season, and reserve running back
Chris Johnson
, who was primarily used on special teams,
have decided to transfer
. Brissett's decision didn't shock anyone. He was behind Driskel all year and played in just five games and his only start came late in the year when Driskel was out with an ankle injury. Johnson arrived at Florida as a safety, but moved to running back, where he was buried on the depth chart. His lasting image with the team was being ejected in the Gators' loss to Louisville in the Allstate Sugar Bowl for punching a Louisville player.
The loss of Brissett is significant when it comes to depth. After Driskel, the Gators will have three scholarship quarterbacks entering the 2013 season, but basically no experience.
Tyler Murphy
will be a redshirt junior, but has never thrown a pass at the college level, while
Skyler Mornhinweg
will be a redshirt freshman and Max Staver will be a true freshman. That means Driskel's health becomes the top priority in 2013 for the Gators.

GEORGIA
While Florida lost a quarterback, Georgia kept one, with
Aaron Murray
deciding to
stay for one last year with the Bulldogs
. Murray seriously considered leaving school early for the NFL, but will return for one final attempt at making a run to a championship. With the defense Georgia had in 2012, this past season felt like the best chance Murray had at winning multiple championships with the Bulldogs. Next year's defense will be gutted, so it will be back to the drawing board for that side of the ball.
One thing that has been counted against Murray when it comes to the pro level is his height. At 6-foot-1, he doesn't have ideal height for a quarterback, but what might have helped him in this year's draft was the play of Seattle Seahawks quarterback
Russell Wilson
, who stands just 5-11, but has had a tremendous rookie year. Murray isn't going to get any taller, but he does have a chance to break even more records in a Bulldogs uniform and could improve his stock for the 2014 NFL draft.
On Friday, linebacker
Jarvis Jones
decided to enter April's NFL draft
. No shocker at all, as he's No. 1 on ESPN draft analyst Mel Kiper Jr.'s Big Board. Jones is a two-time All-American and has been right at the top of the list for the nation's best defensive player for the past two years. He would have been silly to come back for a final year at Georgia, and he's going to make himself -- and his family -- a ton of money. He was one of the league's most exciting players to watch, but it was his time to move on.

LSU
There was a mass exodus from LSU over the weekend, as eight underclassmen decided to leave the Bayou. It started with linebacker
Kevin Minter
last week. Then, safety
Eric Reid
, cornerback
Tharold Simon
, running back
Spencer Ware
and punter
Brad Wing
decided to leave LSU early Friday
. On Sunday, sources told ESPN's Joe Schad that defensive linemen
Sam Montgomery
,
Barkevious Mingo
and
Bennie Logan
would also enter the NFL draft
.
Losing those linemen wasn't much of a surprise, as Mingo and Montgomery are projected to be first-round draft picks, and Logan is rated as Kiper's fifth-best defensive tackle among juniors. Wing's time in Baton Rouge seemed to be coming to an end, and his bowl suspension didn't help, but Simon and Ware could have benefited from another year of football. With the emergence of freshman
Jeremy Hill
, Ware saw his carries decline in 2012, while Simon still has some room to improve. He's rated the No. 15 cornerback by ESPN Scouts Inc., but didn't blow a ton of people away in 2012. He has great size and instincts, but it was surprising to see him leave early.
January, 3, 2013
1/03/13
1:10
PM ET
During the last two seasons, when I'm at a bowl game featuring an SEC team, the league is 1-3. You're welcome everyone not in the SEC.
April, 7, 2012
4/07/12
7:35
PM ET
GAINESVILLE, Fla. -- The adventure as
a guest coach
at Florida's spring game continues ...
12:00 p.m.:
A host of former players get together for a flag football game dubbed the "Battle of the Decades," with players from the 1980s, '90s and 2000s participating. Thankfully, none of the old guys is hurt from all that running.
12:10:
The quarterbacks come out and SI.com's Andy Staples and I try to meticulously dissect every single part of
Jeff Driskel
's and
Jacoby Brissett
's games to figure out which one is better. Like everyone around Florida's program, we're unable to.
12:20:
I walk over to punt-return drills, nearly getting clocked by a ball the wind carried over toward me.
Marcus Roberson
,
Trey Burton
,
Loucheiz Purifoy
and
De'Ante "Pop" Saunders
are taking reps.
12:29:
One-on-ones between receivers and defensive backs begin. It's light, but it's something to look at and we still can't figure out which quarterback is better, but tight end
Jordan Reed
impresses with a one-handed catch and true freshman receiver Latroy Pittman out-muscles his opponents for a few tough catches.
12:35:
The offensive line goes through drills which incorporate a lot of spinning, slapping, pulling and pushing. It's humorous, until you realize how much bigger they are than you. Then you just think it's dangerous. Offensive line coach Tim Davis screams "Spin, spin, spin," until he's blue in the face and his voice is hoarser than before.
[+] Enlarge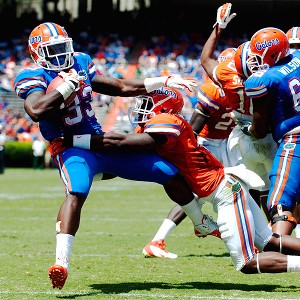 AP Photo/Phil SandlinRunning back Mack Brown (33) stumbles in for a touchdown during Florida's spring game Saturday.
12:49:
After watching the offensive line go at the defensive line, headlined by a rough battle between
Sharrif Floyd
and
Xavier Nixon
, the team jogs to the middle of the field for one last huddle before hitting the locker room.
12:51:
We're in the locker room and the fun begins. After the team splits up by position, the coaches start going over last-minute game plans and emphasizing technique. "Stay under control!" running backs coach Brian White yells. "Let's get this crowd jacked up! Have people leave this (game) knowing we're going to flat-out dominate up front!" Defensive coordinator Dan Quinn preaches mental toughness in loud, quick bursts. He doesn't want to see any walking around or hands on hips. He wants energy and aggression on the field. "Ball Out U!" he screams. "Put out great (expletive) tape! When we turn on the tape I want to make sure I can't wait to watch you."
12:57:
The excitement is growing inside the locker room. An animal is waiting to be unleashed. Players are hyped, as White walks around with a smile on his face saying, "Lotta nervous faces in here today," over and over. He's followed by verbose defensive backs coach Travaris Robinson, who constantly taunts the receivers and pretty much every offensive player. "Let's get to those quarterbacks today and get in their faces!"
12:59:
Floyd sits and stares at the floor, like he's ready to destroy it. The person giving bear hugs and high-fives at the Gator Walk is ready to rip someone apart like a bear. He sits in silence as a coach tosses him smelling salt. He sniffs and doesn't flinch. He's ready.
1:04:
Defensive end/Buck
Ronald Powell
shoots up out of his chair and starts dancing around, yelling inaudible words of encouragement to his teammates. He's pushing guys and slapping their pads. "Play
yo
game, baby! It's just practice! Everything you do, you've done before!"
1:05:
Floyd stands and walks to the center of the locker room. His teammates huddle around him. Players go silent when he speaks. "Do
your
job, not the man next to you!" His voice is deep, loud and haunting. He keeps shouting "aggressive" over and over, which fuels his teammates even more and incites a frenzy before head coach Will Muschamp arrives.
1:07:
Following the Lord's Prayer, Muschamp delivers a short pregame speech. "Fast and physical. Offense, run the ball down their throats!" The place explodes as players exit the locker room, tapping the orange "GRIND" sign above the locker room door on the way out.
1:10:
Kickoff.
We didn't get to actually coach or call plays, but here are some observations from the sideline:
Davis was very hands-on with linemen when they made mistakes. He made them verbally repeat their mistakes and asked them what they had to do to correct them. He was extremely thorough with players and took time to teach between plays.

Offensive coordinator Brent Pease was really concerned with clock management. He was constantly telling the quarterbacks not on the field to make sure that the one in the game knew about the clock and knew when it was running out, even though there was no delay-of-game penalty. That communication failed early in the scrimmage.

Even though Pittman had a pretty impressive day, receivers coach Aubrey Hill and receiver Andre Debose were coaching him on his routes, helping him get out of his breaks faster on the sideline.

Driskel and Brissett looked like old fishing buddies out there. They were joking with each other after plays and helping each other when they made mistakes. Competition didn't stop them from cooperating.

Tyler Murphy appears out of the quarterback race, but he showed some excellent coaching skills. He was spouting terminology and trying to help as much as he could. He was by Pease's side almost the whole time and was able to find a lot of the little things the other QBs missed. He might know the offense the best, but isn't as skilled as the others.
Quick quotes:
Running back Mack Brown after getting popped during his touchdown run: "He picked me good. He Goldberged me."

Receiver Solomon Patton after Chris Johnson's 15-yard run in the fourth quarter: "Man, we got some backs."

Debose to walk-on Michael McNeely after his 52-yard catch: "I bet you thought that ball was in the air forever, huh?"
2:53:
Blue defeats Orange 21-20 and I debut with a victory. As Muschamp jogs to meet Florida's band director, he stops to congratulate me on my win and I announce my retirement from the coaching profession.