June, 28, 2011
6/28/11
9:00
AM ET
By
ESPN.com staff
| ESPN.com
Today's coaching spotlight shifts to Arkansas.

Coach:
Chris Klenakis
Position:
Offensive line
Experience:
He's in his second season on Arkansas' staff. Klenakis was the offensive coordinator/offensive line coach for six seasons at Nevada prior to replacing Mike Summers at Arkansas in January 2010. Klenakis has 20 years of Division I experience. He served two different stints at Nevada and was also the Wolf Pack's offensive coordinator from 1997-99. From there, he went on to head up the offenses at Southern Miss and Central Missouri. During his two stints at Nevada, Klenakis became the first offensive coordinator in NCAA FBS history to have a team lead the nation in rushing offense (2009) and passing offense (1997).
Of note:
Klenakis is regarded as the creator of the "Pistol" offense. ... Klenakis and Arkansas coach Bobby Petrino were teammates in the early 1980s at Carroll College in Helena, Mont. ... Fifteen offensive linemen coached by Klenakis have gone on to the NFL, including tackle DeMarcus Love, who was taken in the sixth round of this past April's NFL draft. ... Klenakis' name was mentioned last January in connection with the Texas offensive line job, which was eventually filled by former Georgia offensive line coach Stacy Searels.
His challenge:
Petrino was determined to put some more pop in the running game, and Klenakis' arrival last season helped the Hogs do just that.
Knile Davis
led all SEC running backs with 1,322 rushing yards, and Arkansas was much more effective running the football. Klenakis will have another key challenge in 2011, and that's shoring up the two tackle positions. Gone are Ray Dominguez and Love, who combined for 70 starts the past three seasons. True freshman Brey Cook enrolled early and was impressive this spring. He's already one of the strongest players on the team, but it's never easy to get a true freshman ready to line up against some of the marquee pass-rushers an offensive tackle has to face on a weekly basis in this league. Yet, that will be Job No. 1 for Klenakis in the fall. In fact, Klenakis won't have much experience, period, to work with at tackle. Sophomore Anthony Oden received most of the first-team work at the other tackle spot in the spring opposite Cook. Junior college newcomer Jason Peacock and fifth-year senior Grant Freeman are also possibilities. Freeman had a pair of starts during the 2009 season. Oden also started a game in 2009 as a true freshman, but missed most of last season with mononucleosis and had to redshirt. There aren't any question marks in the middle of the Hogs' offensive line, not with sophomore center Travis Swanson and sophomore guard Alvin Bailey returning. But especially with a new quarterback taking over this season, how quickly those two new tackles develop will go a long way toward determining whether or not Arkansas will be a serious player in the Western Division race.
February, 26, 2010
2/26/10
10:00
AM ET
By
ESPN.com staff
| ESPN.com
Here's a Western Division breakdown of who's out and who's in for the 2010 season. Auburn was the only team in the league without any turnover:

ALABAMA

Who's out: Associate head coach/linebackers coach James Willis

Who's in: Alabama coach Nick Saban promoted Jeremy Pruitt from director of player development to fill the vacancy left by Willis, who went to Texas Tech to be Tommy Tuberville's defensive coordinator. Pruitt had been Alabama's director of player development for the last three seasons and coached at Hoover High School just outside Birmingham prior to that.

ARKANSAS

Who's out: Offensive coordinator/receivers coach Paul Petrino, assistant head coach/offensive line coach Mike Summers and defensive ends coach Kirk Botkin.

Who's in: Garrick McGee was promoted to offensive coordinator after Paul Petrino left to take the Illinois offensive coordinator's job. Kris Cinkovich will coach receivers after spending the last six seasons coaching receivers at UNLV. Steve Caldwell, who was out of coaching last season, will coach ends. Caldwell was on Phillip Fulmer's staff at Tennessee for 14 seasons. Chris Klenakis will coach offensive line after coming over from Nevada.

LSU

Who's out: Assistant head coach/running backs coach Larry Porter, receivers coach D.J. McCarthy and tight ends/recruiting coordinator Don Yanowsky.

Who's in: Frank Wilson, who was at Tennessee last season, will coach the running backs and serve as recruiting coordinator. Billy Gonzales will coach receivers and serve as the passing game coordinator. Gonzales spent the last five seasons at Florida. Steve Ensminger, a former quarterback at LSU, will coach tight ends. He spent last season coaching high school football, but was at Auburn the six seasons prior to that and has also coached at Georgia, Clemson and Texas A&M.

MISSISSIPPI STATE

Who's out: Defensive coordinator Carl Torbush and defensive line coach David Turner.

Who's in: Manny Diaz will be the Bulldogs' defensive coordinator and also coach linebackers. He was the defensive coordinator at Middle Tennessee State the previous four seasons. Chris Wilson will serve as co-defensive coordinator and coach the defensive line. He spent the last five seasons coaching the defensive line at Oklahoma.

OLE MISS

Who's out: Offensive coordinator/quarterbacks coach Kent Austin.

Who's in: Dave Rader will coach quarterbacks and take over as co-offensive coordinator for Austin, who left to take the head-coaching job at Cornell. Rader was out of coaching the last three seasons, but was the offensive coordinator at Alabama under Mike Shula from 2003 to 2006. He was also the head coach at Tulsa from 1988 to 1999. Rader will share the coordinator duties with Mike Markuson, who was promoted by Houston Nutt and will also continue to coach the offensive line.
February, 22, 2010
2/22/10
1:15
PM ET
By
ESPN.com staff
| ESPN.com
When a new coach takes over a college football program, typically the third season is when it's fair to make the first real evaluation of where that program is headed.
[+] Enlarge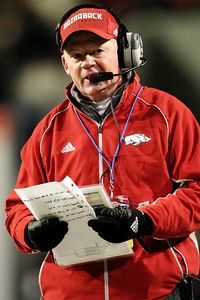 Nelson Chenault/US PresswireBobby Petrino is working on limiting the big plays his defense gave up too often last season.
This will be Bobby Petrino's third season at Arkansas. It's been a steady climb so far. The Hogs went from five wins to eight wins last season, including a win over East Carolina in the Liberty Bowl.
Suffice it to say that Year No. 3 under Petrino brings with it some heavy-duty expectations. This will be his most talented team, his most experienced team, and the schedule turns a little bit in the Hogs' favor.
Arkansas could start the season ranked in the top 20 of the preseason poll, something the Hogs haven't done since 1999.
Junior quarterback
Ryan Mallett
returns as one of the most feared passers in the country, and the arsenal of playmakers surrounding him is as stocked as any Petrino has ever coached.
If the defense comes through, it could be a season to remember in Fayetteville.
Granted, that's a big if when you look at the Hogs' defensive numbers from the past two seasons, but Petrino is confident they will be improved on that side of the ball.
Petrino talked about his defense and a lot more in a recent Q&A I did with him heading into the spring. The Hogs open practice on March 30 and play their spring game on April 24:
Even though Mallett's going to be sidelined this spring with the broken bone in his left foot, how important are these next three or four months for him if he's going to become a truly great quarterback?
Bobby Petrino:
The one thing you know he'll do is work real hard at it. He just won't get the 15 practices in, but should be good to go for all the summer work. He'll certainly be in the classroom doing everything he needs to do to get ready and take that next step.
What gives you hope that your defense will be better next season and more consistent?
BP:
We've recruited hard the last two years on defense and really tried to address issues in the secondary and the defensive front. So I think we're going to be more talented and more physical on defense this year. We have to tackle better, and we have to stop the explosive plays. That's what really hurt our defense a year ago. We would play good and play good and then give up a big play.
Sort of like the Alabama game last season when you were within a touchdown in the third quarter and then give up an 80-yard touchdown pass?
BP:
Our defense had played great, and they hit an 80-yard touchdown. And we're right there. We just don't make the play on the ball. So we've got to do a better job of playing the ball in the air and just stopping the big plays. The deep play-actions and screens are what hurt our defense more than anything.
How important is getting Isaac Madison back at cornerback after he missed all last season with a knee injury?
BP:
He'll be back and is doing real well (with his recovery). That was a huge loss for us because he's our fastest, most experienced, smartest secondary player. He should be back at full speed and ready to go. He's doing everything right now. I'm not sure I'll let him do the contact part of spring ball. He'll do everything else.
How would you assess the rest of your defense?
BP:
Our defensive front will be good, and we'll have depth. We've got [Jake] Bequette coming back and Damario Ambrose and Tenarius Wright at the defensive ends and then inside a lot of guys with a lot of experience coming back with [Zach] Stadther and D.D. Jones, Pat Jones, [Lavunce] Askew and [Alfred] Davis. All those guys have played a bunch of football, which is new. We haven't had guys who've played a bunch of football before. At linebacker, I'm a little concerned about depth. That's been an area where we've been hurt by a lack of depth. We have to have a good spring in developing depth at linebacker, but we do have a lot of experience in Freddy Burton and Jerry Franklin. Jerry has started every game since I've been here, and he's just a junior. But I am worried behind those guys.
As you look at all the intangibles it takes to compete for a championship, do you believe you guys are closer to being there?
BP:
We're definitely closer. Experience is something that really helps, the understanding of what we want to do and then our expectations. I think we took a huge step last year from the Alabama game to the Florida game. We went into the Alabama game and didn't execute and didn't play as well as we could. But also, I don't think we expected to win, and I don't think we executed because we were a little intimidated. Then when we went to Florida, our guys competed really, really hard and did everything they could to win the game. Mentally, we grew up and matured.
Your new offensive line coach, Chris Klenakis, was on staff at Nevada last season where the Wolf Pack led the country in rushing with an average of 344.9 yards per game. They were third nationally in 2008. What kind of dimension does he bring to your running game?
BP:
He's the guy who invented the Pistol [offense], he and coach Chris [Ault] together. I coached with Coach K before [at Nevada] and put together an offense before with him and were very successful. He's a very good teacher in the offensive front, but he also understands every other aspect of the offense. I think we'll be much more physical in the run game next year. We actually ran what everybody wants to call the Pistol last year and executed the passing game really well out of it. Now, we need to run the ball better out of it.
When you look at your running game, you appear to have all the different pieces in place in the backfield?
BP:
I'm really excited about our backfield. This spring will be very, very competitive. Ronnie Wingo has sprinter speed. He won the 100 and 200 meters in the state of Missouri in high school and today weighs 230 pounds. He really excites me. The other guys are all capable.
Broderick Green
is 248 pounds and the big guy we need back there.
Knile Davis
is up in the 220s. We have a chance now where we can be much more physical running the ball and running the ball downhill. That's so important in this league. When you get into a battle with Alabama, you have to be patient and run the ball and not give up the negative plays. That's what they're so good at, causing you to have negative plays.
You've obviously had some potent offenses during your career. Where do you think this one stacks up in terms of playmakers and the ability to score in a variety of ways.
BP:
When you look at the overall picture, it's the deepest group [of playmakers] I've had. We have to prove that we can do it up front. That's where we have to make great improvement. But when you have a
Greg Childs
,
Joe Adams
and
Jarius Wright
all coming back with two years of experience, and they've all made a lot of plays in this conference, that's exciting. Our young guy,
Cobi Hamilton
, might be better than all of them. He's a special, special talent and made a lot of plays last year as a freshman. But we've got to take care of business in the offensive front so we can be consistent.
How much do you feel the fans' expectations?
BP:
I feel good about the expectations of our players, the expectations of our team. That's the key. We're hoping everyone expects us to win, and if the fans do, then obviously that's great. But the best part of it is when our players expect to take the field and win, and I think we'll be that way this year.
January, 14, 2010
1/14/10
4:43
PM ET
By
ESPN.com staff
| ESPN.com
Arkansas' coaching staff looks a little different than it did at the end of the regular season.

The newest addition to the staff is former Nevada offensive coordinator Chris Klenakis, who will coach the offensive line. He replaces Mike Summers, who left to join Joker Phillips' staff at Kentucky.

All told, the Hogs have three new assistants. Steve Caldwell will coach defensive ends and Kris Cinkovich will coach receivers.

Garrick McGee's not a new face on the staff, but he was promoted to offensive coordinator after Paul Petrino left to take the offensive coordinator job at Illinois.