June, 12, 2014
Jun 12
10:30
AM ET
GAINESVILLE, Fla. -- One thing is clear in the wake of
Joker Phillips' sudden departure from Florida
on Wednesday: The Gators haven't had much luck with wide receivers coaches in recent years.
It's no coincidence that Florida hasn't had a wideout with more than 600 yards since
Riley Cooper
led the team with 961 yards in 2009. That was UF's last season of stability at a coaching position that has been turbulent ever since.
In 2009, Billy Gonzales ended a five-year run as Florida's wide receivers coach when he
reportedly resigned with a sticky note
that said, "I'm going to LSU."
Then-Florida head coach Urban Meyer replaced Gonzales with Central Michigan receivers coach Zach Azzanni, who only lasted one season. He was not retained when new head coach Will Muschamp took over for Meyer and assembled his staff in 2011.
Muschamp brought in former Gators standout Aubrey Hill, who coached one season before
resigning amid allegations
of involvement with improper benefits in his previous coaching job at the University of Miami.
Hill's departure came in August 2012, weeks before the season began.
"Aubrey informed me he was resigning for personal reasons that have nothing to do with the University of Florida," Muschamp said in a statement at the time.
Muschamp promoted graduate assistant Bush Hamdan to replace Hill and then hired Phillips after the 2012 season.
At the time, Phillips was
quoted on the school's official website
as saying, "I'm looking forward to contributing to the long-term vision that [Muschamp] has for this program."
Surely that vision wasn't one of nearly constant turnover, as Phillips left for "personal reasons" of his own.
With graduate assistant Chris Leak's promotion on Wednesday, Florida is on its sixth wide receivers coach in six seasons.
Perhaps that's why Muschamp made sure to mention Leak's standing, saying, "He is one of the all-time Gator greats and being at Florida is very important to him."
In promoting Leak, Muschamp is hoping the former star quarterback is ready to be a full-time assistant coach at the age of 29 and can bring the continuity that has been missing for so long.
Leak inherits a
receiving corps
largely comprised of talented youngsters who must be developed. Florida has six wide receivers entering their first or second season this fall.
When asked early in spring practice if this group is the most talented he's had in his three years at Florida, Muschamp said, "I don't think there's any question."
Now, after Phillips' departure, the unit and its inexperienced coach are surrounded by questions.
If the Gators are to rediscover their winning ways through the air, Leak and his receivers will have to factor in prominently. If they do that, perhaps Florida will have something as rare as a 1,000-yard receiver -- a wide receivers coach roaming the sidelines for a second season.
October, 30, 2013
10/30/13
10:00
AM ET
ATHENS, Ga. -- In some ways,
Arthur Lynch
believes that
Aaron Murray
fits the quarterback stereotype perfectly. In others, Georgia's senior tight end says that Murray could not be further from what one might expect from a record-setting, four-year starter at one of the nation's most prominent football programs.
[+] Enlarge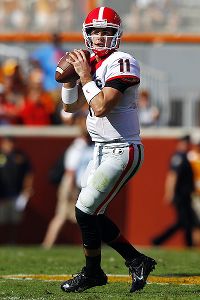 AP Photo/Wade PayneAaron Murray's career at Georgia is one of the best in SEC history.
"He wants to be the leader, kind of the guy that needs to be looked upon for everything. Sometimes I think he applies too much pressure on himself with that," said Lynch, Murray's longtime friend and roommate. "But in terms of like walking around campus and brushing people off, I kind of wish he had more of that. Sometimes it gets so annoying in public, no matter where it is. It could be the dining hall, it could be in Atlanta, it could be at Shane's Rib Shack, he's going to stop and give pictures where some guys might brush people off.
"So no, he's never given that vibe, which is a testament to him because he could easily be that guy and people would probably like him more for it because it's, 'Ah, that's what he's supposed to act like.' But the fact that he doesn't fit that mold is probably what people get weirded out about. They're probably like, 'There's got to be something behind the curtain.'"
Nope. Murray's generally affable demeanor is no facade -- which might be part of his perception problem nationally and even within his own conference.
He's not a flashy player, throwing up "Get Money" hand signals after a touchdown like Heisman Trophy winner
Johnny Manziel
at Texas A&M. He hasn't won BCS titles like Alabama's
AJ McCarron
. Yet when the SEC's coaches released their preseason all-conference list, some college football observers were surprised to see Murray as the first-team quarterback.
Maybe that was a career achievement award from the league's coaches, as Murray's team-first attitude and legendary work ethic have helped him become the most prolific passer in the league's history.
"Everything he's done, he's earned it. It wasn't just off God-given talent or this crazy arm or anything like that. It's that he's worked for it, he's earned it," said receiver
Rhett McGowan
, Murray's fellow fifth-year senior.
Murray has already broken ex-Bulldog
David Greene
's SEC record for career passing yards (Murray now has 12,029) and surpassed former Florida great
Tim Tebow
's career mark for total offense (Murray's at 12,327 yards) with a completion to Lynch in the Bulldogs' last game against Vanderbilt.
Entering Saturday's game against Florida, Murray is two touchdown passes behind ex-Gator
Danny Wuerffel
's SEC record of 114 touchdown passes, and he's still on pace to threaten ex-Gator Chris Leak's league record of 895 completions (Murray has 835) and former Kentucky quarterback
Jared Lorenzen
's mark of 1,514 pass attempts (Murray has 1,355).
Not that he has much time to focus on the record book these days. Coming off two straight losses, Murray's Georgia team (4-3, 3-2 SEC) needs a win on Saturday to have any hope in the SEC East race -- and he has been working overtime with an injury-depleted receiving corps in hopes of giving his offense a chance against a stout Florida defense.
"I guess when I'm old and want to brag, I can," Murray said of the records. "But right now it's all about the team. It's all about getting this win. I guess I can talk about this later in life when I'm done playing and all, when I look back."
Murray was on a short list of Heisman contenders just a few weeks ago, when Georgia was coming off wins against top-10 teams South Carolina and LSU and still had hopes of claiming a BCS championship berth. That was Murray's stated goal all along in returning for his senior season, and it appeared to be a reasonable possibility before many of his most valuable skill players fell victim to long-term or season-ending injuries.
The Bulldogs' once-explosive offense struggled without
Todd Gurley
and
Keith Marshall
in the backfield and
Malcolm Mitchell
,
Justin Scott-Wesley
and
Michael Bennett
at receiver, and the losses to Missouri and Vanderbilt in those players' absence sunk the Bulldogs' BCS hopes. But Murray said he doesn't regret his decision to put off his NFL dreams for one more season.
"I'm still playing football. I'm still out there with my buddies having fun, competing," Murray said. "Obviously I came back to try to give ourselves a chance to win a championship, but it didn't happen. So what? Let's move on. Let's continue working hard and having fun, and that's what I'm doing."
That typifies the attitude Murray has displayed since he arrived at Georgia in 2009, with his relentless behind-the-scenes work propelling him through one of the most statistically impressive careers in SEC history, even if it might not result in the recognition that goes to quarterbacks on championship teams or those with a flashier highlight reel.
A BCS crown will not complete Murray's legacy at Georgia, but he will leave a significant void nonetheless. To gain some insight, consider an observation that Bulldogs coach Mark Richt made last Friday at the end of the Bulldogs' open week, when most coaches and players had already started making the most of a rare off weekend.
"It was maybe close to noontime, maybe just after noontime, and he and
Faton [Bauta
, one of Georgia's backup quarterbacks] are out there doing footwork and drill work and throwing the ball," Richt recalled. "I went over the rail and I said, 'Get out of here. Just relax.' They were like, 'There's no days off, Coach. There's no days off.' [I said], 'All right, if that's what you want.'
"But that's how he is. He's wired that way. Every single day he wants to try to find a way to get better, and he's not feeling sorry for himself or anything like that. I think he's still very happy that he's here with us and wants to finish strong."
May, 14, 2013
5/14/13
12:00
PM ET
Wash that chicken salad sandwich down with some refreshing SEC links!
May, 7, 2013
5/07/13
9:00
AM ET
GAINESVILLE, Fla. --
Jeff Driskel
is entering his second season as Florida's starting quarterback, and that comes with expectations.
[+] Enlarge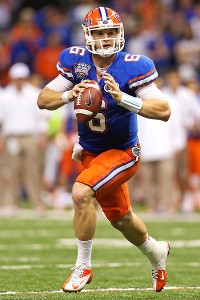 Matthew Stockman/Getty ImagesIt seems likely that Jeff Driskel will run more in Florida's new offense in 2014.
The bar was set somewhat low in 2012, because Driskel and Jacoby Brissett were sophomores who had seen minimal playing time in 2011 -- and neither was very good when they did get on the field. Driskel did have some very good moments in his first season as a starter, but he also had some terrible ones, too.
Now that Driskel has had a year in coordinator Brent Pease's system, has improved his ability to read coverages and change the pass protections when needed, and the left side of the offensive line has been upgraded, Driskel should be better. That's what UF coach Will Muschamp is hoping, anyway.
If the past is an accurate indicator, then Driskel will be. Most of UF's recent quarterbacks were better in their second season as a starter than they were in their first season. Here's a look:
Shane Matthews
1990:
Completed 239 of 328 passes (60.6 percent) for 2,962 yards with 23 touchdowns and 12 interceptions. He was a consensus All-SEC first-team pick and was the league's player of the year after posting four of the top 10 single-game passing totals in SEC history.
1991:
Completed 218 of 361 passes (60.4 percent) for 3,130 yards with 28 touchdowns and 18 interceptions. He was a consensus All-SEC first-team pick and was the league's Player of the Year again -- becoming just the fifth player in SEC history to earn that honor twice. He set 14 school and five SEC records.
Matthews was certainly better in his second season, which was also coach Steve Spurrier's second season in Gainesville. Spurrier and Matthews shredded the SEC and established the Gators as a program that would annually compete for the national championship.
Danny Wuerffel
1993:
Completed 159 of 273 passes (58.2 percent) for 2,230 yards and 22 touchdowns with 10 interceptions. The 22 touchdowns were an NCAA freshman record. He threw for at least three touchdowns in four of his seven starts and set a school record by throwing for at least three touchdowns in four consecutive starts.
1994:
Completed 132 of 212 (62.3 percent) passes for 1,734 yards and 18 touchdowns with nine interceptions. He had a streak of 67 consecutive passes without an interception and led UF to the second of their four consecutive SEC titles. He set three Sugar Bowl records, tied another and set two UF bowl game records in the Gators' loss to FSU.
Wuerffel split time each season with Terry Dean but was the Gators' leading passer both years. The experience he gained turned out to be invaluable and set the state for his monster seasons in 1995 and 1996, which ended with him winning the Heisman Trophy and the Gators winning the school's first national championship.
Rex Grossman
2000:
Completed 131 of 212 passes (61.8 percent) for 1,866 yards and 21 touchdowns with seven interceptions. Grossman rotated with Jesse Palmer and Brock Berlin early in the season but eventually won the starting job and started eight games as a redshirt freshman, earning Freshman All-American honors. Grossman was the first freshman to win SEC Championship Game MVP honors.
2001:
Completed 259 of 395 passes (65.6 percent) for 3,896 yards and 34 touchdowns with 12 interceptions. The 3,896 yards is still a school single-season record and is second on the SEC's single-season list. Grossman finished second in the Heisman Trophy balloting and was a first-team All-American and The Associated Press' Offensive Player of the Year.
Grossman's second season as the starter was one of the best in SEC history. He should have won the Heisman Trophy in 2001 and certainly would have been the favorite to win it in 2002 had Spurrier not left for the NFL's Washington Redskins.
Chris Leak
2003:
Completed 190 of 320 passes (59.4 percent) for 2,435 yards and 16 touchdowns with 11 interceptions. After rotating with Gavin Dickey and Ingle Martin in the season's first four games, Leak was given the starting job and led the Gators to a 21-20 come-from-behind victory over Kentucky.
2004:
Completed 238 of 399 passes (59.4 percent) for 3,197 yards and 29 touchdowns with 12 interceptions. Leak averaged 277 yards per game in the last seven games of the season. He threw six touchdown passes against South Carolina, which tied Wuerffel's school record for most touchdown passes in an SEC game.
Leak had more success in his second season as a starter, which came in Larry Fedora's first and only season as the Gators' offensive coordinator. Ed Zaunbrecher was the coordinator in 2002-03. Leak and UF's offense struggled in 2005 in the transition to Urban Meyer's spread-option offense, but he led the Gators to the 2006 national title.
Tim Tebow
[+] Enlarge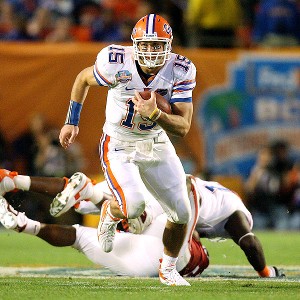 Doug Benc/Getty ImagesTim Tebow's second year as a starter at Florida resulted in a national championship for the Gators.
2007:
Completed 234 of 317 passes (68.5 percent) for 3,132 yards and 32 touchdowns with six interceptions and ran for 895 yards and 23 touchdowns. Tebow was the first sophomore to win the Heisman Trophy. He also claimed the Maxwell and Davey O'Brien awards, was The Associated Press' Offensive Player of the Year, and was a consensus first-team All-American. He became the first player in NCAA history to rush and pass for at least 20 touchdowns.
2008:
Completed 192 of 298 passes (64.4 percent) for 2,746 yards and 30 touchdowns with four interceptions and ran for 673 yards and 12 touchdowns. Tebow was a Heisman finalist and won the Maxwell and Manning awards. He also repeated as The Associated Press Offensive Player of the Year. He had a school-record streak of 230 consecutive passes without an interception.
Tebow's first year as a starter is hard to top, but he came pretty darn close in his second season to equaling what he did in 2007. More importantly, Tebow led the Gators to the program's third national title in 2008. Tebow will go down as one of the greatest players in college football history. When his career finished, he either tied or owned five NCAA, 13 SEC and 27 school records.
John Brantley
2010:
Completed 200 of 329 passes (60.8 percent) for 2,062 yards and nine touchdowns with 10 interceptions. Brantley started every game, but rotated at times with
Trey Burton
and Jordan Reed.
2011:
Completed 144 of 240 passes (60.0 percent) for 2,044 yards and 11 touchdowns with seven interceptions. Brantley suffered an ankle injury against Alabama and missed the next two games. He also left the FSU game with a concussion.
Brantley's numbers were roughly the same in 2011 as they were in 2010, but in fewer games. Brantley had different head coaches and offensive coordinators in successive seasons, plus he didn't have anything close to the same weapons around him that the previous quarterbacks did.
October, 15, 2012
10/15/12
12:05
PM ET
Halfway through the 2012 season, the comparisons are already coming: Is this Florida team destined to repeat what it accomplished in 2006?
It sounds crazy, it really does, but the similarities are there. The offense isn't exactly pretty, but the defense is stellar. Both running games have bulls in the backfield (2006 had a young Tim Tebow and power back DeShawn Wynn). Urban Meyer used more of a pounding spread, while Will Muschamp (also in his second year, like Meyer) has his team grinding along and outplaying everyone in the second half.
[+] Enlarge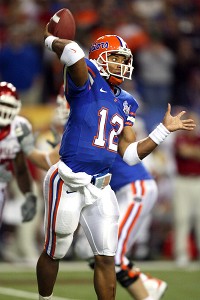 Bob Leverone/Sporting News via Getty ImagesChris Leak was a legitimate threat throwing the ball for the 2006 Florida team, something that lacks in this season's version.
The 2006 team didn't really feel like a true national championship contender halfway through the season because it never blew anyone away with the offense dragging along.
But somehow, the wins kept piling up, as toughness, not flash, got it done ... just like this year's team.
But can these Gators make a run to the national championship, or even the SEC championship? Can a team that has averaged 69 passing yards in its past two games really make it through the rest of its SEC schedule and beyond?
So far a mediocre passing game has been enough with that tremendous defense and rugged running game. But for this team to get on the 2006 team's level, some things have to change, especially with No. 7 South Carolina venturing into the Swamp on Saturday.
For starters, the Gators have to be a threat to throw. In 2006, Chris Leak, who eventually became Florida's all-time leading passer, was very much a passing threat. He didn't throw for a lot of yards, averaging just 210 yards a game, but defenses had to account for a balanced Gators offensive attack.
This year's team doesn't really have that in
Jeff Driskel
. He's a tremendous athlete and can throw a good ball, but he's averaging just 139 yards a game and has four touchdown passes.
Now, Driskel doesn't have the receiving threats Leak had.
Frankie Hammond Jr.
,
Quinton Dunbar
,
Jordan Reed
and
Andre Debose
just don't generate the same excitement as Percy Harvin, Andre Caldwell, Dallas Baker and Cornelius Ingram.
Sure, the Gators haven't exactly needed to throw the ball with their running game and defense, but when Driskel
has
to pass against good defenses, will he be able to? It's still a mystery, and that has to be concerning.
When you compare the defenses, the pass rushes are very different. The 2006 team had Jarvis Moss and Derrick Harvey, who combined for 18.5 sacks. That team had 34 sacks. This one has just 12. Quick passing teams hurt Florida's pass rush to start the year, but it has to be more consistent in SEC play.
This year's team does win the kicking battle with All-American hopeful
Caleb Sturgis
, and you could argue that the running game is stronger with
Mike Gillislee
.
Even with Tebow and Harvin helping out Wynn, those Gators averaged 160 rushing yards a game. Having more of a passing game cut into the rushing numbers, but Wynn wasn't Gillislee, who leads all SEC running backs with 615 rushing yards and is one of only two backs to average 100 or more yards a game (102.5). Wynn finished the 2006 season with just 699 yards.
[+] Enlarge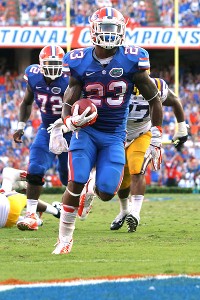 Kim Klement/US PresswireMike Gillislee is averaging 5.1 yards per carry this season.
Add Driskel,
Omarius Hines
,
Solomon Patton
and
Trey Burton
, and these Gators are second in the SEC in rushing, averaging 233.3 yards per game and 236 in conference play.
When it comes to points, both teams are pretty even. The 2006 team averaged 29 points and gave up 9.5 through the first six games (all wins as well), while this year's team is scoring 27.8 and allowing 12.3. This year's team is also averaging around 20 yards fewer (378.3) and giving up 40 more yards (297.2).
So the similarities are obvious, but this team doesn't have the experience the 2006 team had, and you have to wonder if that will eventually catch up to it.
I have to admit I was very surprised to see Florida at No. 2 in the first BCS standings. Don't get me wrong, the Gators have been impressive with those back-to-back SEC road wins, the second-half pushes, the win over LSU, and that defense and running game.
But No. 2?
In the right light, is this Florida team really a 2 or is it more like a 4, or even a 5? We'll find out with South Carolina and Georgia next.
Florida might be a tough team to truly figure out, but the 6-0 start is a pleasant surprise. A team that was expected to be nothing more than a distant third in the East could be playing in Atlanta in early December.
That's something the 2006 team would be very proud of.
January, 7, 2012
1/07/12
7:30
PM ET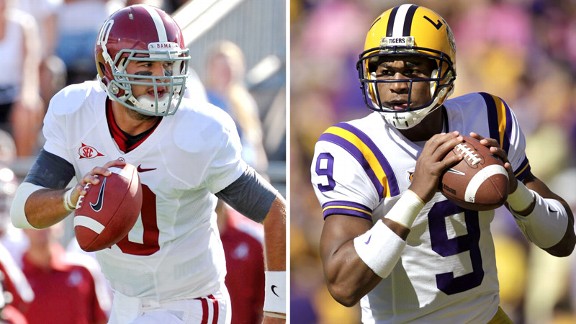 US Presswire/AP PhotoAlabama's AJ McCarron and LSU's Jordan Jefferson will face off Monday night in New Orleans.
NEW ORLEANS -- Auburn had Cam Newton.
Alabama had Greg McElroy.
Florida had Tim Tebow, twice (though Chris Leak was the starter in 2006).
And LSU had Matt Flynn.
All solid national championship quarterbacks.
This time, the quarterbacks enter Monday's Allstate BCS National Championship Game with some concern attached to their names.
For Alabama, it's the talented but young
AJ McCarron
. For LSU, it's embattled senior
Jordan Jefferson
. Together, they create more questions than answers.
McCarron probably hasn't received the criticism Jefferson has. As a first-year starter, the sophomore is allowed a mulligan here and there. His year has consisted of 2,400 passing yards, 16 touchdowns and just five interceptions. But it also featured seven games in which he threw for fewer than 200 yards, including the final four games of the regular season, among them Alabama's Nov. 5 showdown with LSU.
His decision-making has been questionable at times and there are more than a handful of times in which McCarron tried to do too much, and while that's natural for a youngster, it can't happen Monday.
"Growing as a quarterback all year long, I felt like I've done a pretty good job so far," McCarron said. "Coming in your first year you're not going to know a whole lot going into it. As of now, I feel like I've been here forever.
"This season's taken a long time."
It feels like it's been a tremendously long career for Jefferson. His four years at LSU have seemed like eight and he's always been such a wild card for the Tigers. He's thrown 34 career touchdowns in 41 starts. To put that in perspective, Georgia's
Aaron Murray
threw 35 touchdowns this season.
It's been a rocky career for Jefferson, and he's had his share of rocky moments in 2011. His 33-yard performance against Georgia in this year's SEC championship seemed to set quarterback play back, and he's completed double-digit passes in a game just once this season, when he threw for 208 yards on 18-of-29 passing.
He'll enter Monday's game with fewer than 700 passing yards in nine games. Granted, Jefferson didn't reclaim his starting spot until mid-November, but he averages just nine pass attempts a game.
And unlike McCarron, fans have let Jefferson know when they're unhappy. The boo birds that greeted him during the Kentucky game after he returned from his four-game suspension for his role in a bar fight resurfaced at times when Jefferson wasn't playing well. Most notably, they surrounded Jefferson during an eventual scoring drive against Arkansas and a few times against Georgia.
"Once they see that error occur, I guess it makes them mad a little bit, I guess," Jefferson said of the boos.
But like his team has all season, Jefferson blocks out the negativity on the field. He can't control it, so he doesn't bother with it. It's just like his reaction to his poor play. Jefferson prides himself on quarterback amnesia.
"Playing quarterback, you're not always expected to have a perfect performance," he said. "That's why you have to put the bad performances behind you and try to find ways to improve for the next performance."
McCarron stresses over his mistakes more, but only because he's a perfectionist. Curing his field issues is mandatory for McCarron to get through a practice session, and that attitude should take him far in this league.
"Every game you're not going to be perfect going into the game, especially after the game," he said. "You just try to eliminate as many mistakes as you possibly can."
They won't be perfect. That's why there are other players to lean on at times. McCarron and Jefferson aren't true stars and don't have the flashiest stats, but with help from those around them, their teams are playing for a national title and one will be hoisting that coveted crystal ball Monday night.
It could always be worse, LSU offensive coordinator Greg Studrawa said. LSU's quarterback play could be like it was the three years after its 2007 championship, when quarterbacks threw 48 touchdowns to 37 interceptions and LSU took a back seat to teams.
"Up-and-down, in my opinion," he said, "has been better than it's been."
October, 6, 2011
10/06/11
9:00
AM ET
I understand that there are a lot of rumors going around about me and the validity of my picks each week.
Last week, fellow SEC blogger Chris Low brought to light an issue with the NCAA and myself concerning my consistency of picking the winners week in and week out.
At this time, I can't comment one way or the other about my interaction with the NCAA, but at the appropriate time I will make an official statement. This has been hard on me, Chris and my cat Meeko, who has had to endure weeks of having a frustrated owner, who only wants the truth to come out.
It says a lot about my colleague that he would want to break this news to the public. I can only classify him as one thing: a sore loser.
As of Thursday, I am in the lead with a record of 39-6 (.866), while Chris is trailing with a record of 36-9 (.800). Chris told me this week that he needed a gimme pick, pleading that I choose an obvious loss to help him out. For shame, Chris. Begging (without money) will get you nowhere in this world. You're better than that.
Now, on to the picks.
MISSISSIPPI STATE at UAB
Edward Aschoff
: The Bulldogs are looking to get their execution right on offense, while continuing to shuffle bodies along the offensive line. If this were an SEC team, I'd say the Bulldogs were in trouble, but they should be fine this weekend. Yes, UAB took Mississippi State down to the wire last year, but these Blazers are still looking for their first win. ...
Mississippi State 27, UAB 10
Chris Low:
The Bulldogs won't get a chance to end their three-game SEC losing streak this weekend because they step out of conference to play UAB on the road. This is one of those no-win types of games for the Bulldogs, who nearly lost at home two weeks ago to Louisiana Tech. We'll see how much they learned from that scare. …
Mississippi State
31, UAB 14
KENTUCKY at No. 18 SOUTH CAROLINA
Edward Aschoff:
There is a new quarterback under center for the Gamecocks and it's time to revitalize this South Carolina offense. Coach Steve Spurrier can't be so quick to yank
Connor Shaw
Saturday and with a week to prepare as the starter, the offense should look better, right? As for Kentucky, the offense has struggle to get anything going and it has to face a defense that is finally playing up to its potential. ...
South Carolina 24, Kentucky 6
Chris Low:
Both teams are making changes to try to jump-start lethargic offenses. Connor Shaw is replacing
Stephen Garcia
as South Carolina's starting quarterback, while Kentucky is thinking about pulling true freshman quarterback Bookie Cobbins' redshirt and playing him at receiver. The good news for the Gamecocks is that they appear to be hitting their stride defensively, which means the Wildcats are staring down the barrel of a fourth straight loss. …
South Carolina 30, Kentucky 7
VANDERBILT at No. 2 ALABAMA
Edward Aschoff:
Vanderbilt is clearly overmatched on paper, but Vanderbilt's secondary concerns Alabama coach Nick Saban. No need to worry, Tide faithful -- Alabama's running game will wear down Vandy and any chance of a Commodores upset. Alabama's defense should also keep Vandy's struggling offense grounded for most of the day. ...
Alabama 31, Vanderbilt 3
Chris Low:
Alabama's really good at not giving up touchdowns, and Vanderbilt's really bad at scoring touchdowns, at least on offense. Nothing gets under Nick Saban's skin more than seeing his team let down against an inferior opponent. But then, this bunch hasn't shown any signs of letting down against anybody. …
Alabama 34, Vanderbilt 3
GEORGIA at TENNESSEE
Edward Aschoff:
This game is pretty big as far as the East is concerned, and the winner will momentarily assume the role as favorite in the division. Tennessee has a dangerous high-flying offense, while the Bulldogs' defense has really improved over the last three games. Tennessee coach Derek Dooley is looking for his first big SEC win and with a ferocious home crowd, the Vols squeak by. ...
Tennessee 28, Georgia 23
Chris Low:
After all the gloom and doom to start the season, Georgia is right back in the middle of the Eastern Division race. For that matter, who isn't? This is a big game for Derek Dooley and the Vols, who are in search of that first signature win. But if the Bulldogs can win, especially with their schedule the rest of the way, they're probably the favorite to win the East. Sophomore quarterback
Tyler Bray
is red-hot for the Vols, but Georgia's defense is even hotter. …
Georgia 31, Tennessee 24
No. 15 AUBURN at No. 10 ARKANSAS
Edward Aschoff:
Arkansas is fresh off a valiant second-half comeback against Texas A&M, but is still pretty banged up. Auburn, on the other hand, somehow found a way to drive the ball late and upset South Carolina on the road. Auburn's defense improved mightily against the Gamecocks, but South Carolina was barely playing with a manageable quarterback. Arkansas'
Tyler Wilson
is still gaining yards on the Aggies and that trend could continue this weekend. ...
Arkansas 38, Auburn 27
Chris Low:
If only this game is half as wild as the one last season, then we're all in for a treat. Auburn exploded in the fourth quarter to win 65-43. Both teams have injury issues coming in, and both teams have also had their issues when it comes to stopping people. Arkansas seemed to find something in the second half last week in its comeback win over Texas A&M and will ride that momentum at home to a key Western Division win. …
Arkansas 34, Auburn 30
No. 17 FLORIDA at No. 1 LSU

Edward Aschoff:
Florida is heading to Death Valley to face the No. 1 team in the country with a freshman quarterback and a hurt ego. Fortunately for the Gators, this isn't a night game.
Jeff Driskel
will likely get the start for the Gators and expect LSU's defense to try to punish the young gun early and often. Florida went into Baton Rouge with a true freshman quarterback in 2003 and won, but that was with a guy (Chris Leak) who started two games prior. Things will be much different this time around. ...
LSU 27, Florida 13
Chris Low:
It really ought to be against the rules to have to face Alabama's defense one week and LSU's the next. But that's the predicament Florida finds itself in this week and does so with a true freshman (Jeff Driskel) making his first start at quarterback. The Gators are good enough defensively to keep it close for a while, but they're not good enough to go into Tiger Stadium and win. …
LSU 24, Florida 14
March, 20, 2009
3/20/09
10:40
AM ET
By
ESPN.com staff
| ESPN.com
Posted by ESPN.com's Chris Low
ATHENS, Ga. -- Joe Cox is accustomed to waiting in the shadows.
The fifth-year senior quarterback played for two years behind former Florida quarterback Chris Leak at Independence High School in Charlotte, N.C., before getting his chance.
He's waited for four years at Georgia, playing the past two years behind the guy who might be the No. 1 pick in April's NFL draft, Matthew Stafford.
| | |
| --- | --- |
| | |
| | Paul Abell/US PRESSWIRE |
| | Joe Cox finally has a chance to be Georgia's starting quarterback. |
So forgive Cox if he's soaking in everything this spring and leaving nothing to chance. This is his only shot to lead this football team the way he wants to.
Sure, he's always been a leader behind the scenes, a guy who knows the playbook inside and out, a guy who does things the right way and a guy who's been there in any capacity whenever the team has needed him.
As a redshirt freshman three years ago, he came off the bench to bail the Bulldogs out against Colorado and threw a game-winning touchdown pass with 46 seconds remaining.
But it's his team now, and with Knowshon Moreno, Mohamad Massaquoi and Stafford all gone, the challenge to keep the Georgia offensive machine going will be a daunting one.
It's a challenge Cox insists he's up to, and more importantly, one his coaches and teammates insist he's up to.
Cox, a fiery redhead, sat down with me on Thursday, and here's my Q&A with him:
With Stafford's career taking off the last two years, did you ever think you were in the wrong place at the wrong time? You probably could have been the starter at a lot of other schools.
JC: I never tried to look at it that way, because I knew it wouldn't do me any good. I knew when I signed here that this was the place for me and where I wanted to be no matter if I was playing or not. I knew they were going to be bringing in top players at every position every year. It was definitely difficult not playing, but I still tried to look at the positives. I learned a lot and felt like I helped the younger guys, being in the huddle with them and helping them get on the field quicker.