June, 19, 2012
6/19/12
10:13
AM ET
It looks like we are getting closer and closer to having a four-team playoff in college football.
A little less than a week after conference commissioners and Notre Dame athletic director Jack Swarbrick met in a playoff war room in Chicago, ACC commissioner John Swofford told ESPN.com's Mark Schlabach on Monday that "considerable progress"
has been made concerning a playoff
ahead of their meeting in Chicago on Wednesday.
Swofford said he hopes the commissioners will be able to present a four-team playoff model, to be implemented beginning with the 2014 season, to the BCS presidential oversight committee in Washington, D.C., next week.
What still needs to be ironed out are when and where the two semifinal games and the national championship game will be played, how the four teams will be selected, what will happen to the current BCS bowl games and how the conferences will divide as much as $400-500 million in annual TV revenue.
[+] Enlarge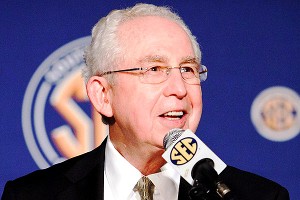 Darrell Walker/Icon SMICommissioner Mike Slive won't likely get quite everything the SEC wants in the playoff debate.
But what most people are
really
interested in is how the teams will be selected. SEC commissioner Mike Slive has made it perfectly clear that he wants the top four teams selected, regardless of if they win their conference or not. He knows that plays to the SEC's strength because there could be the occasional scenario, as in 2011, where the SEC could send two teams to the playoff, increasing the conference's chances of competing for and winning a national championship. And if you take conference championship prerequisites out of it, the SEC might even be in contention to get three teams in (very, very unlikely, but the league did have the top three spots in the BCS heading into the final weekend of the 2011 regular season).
The problem that Slive has run into is that other big conference commissioners are leaning toward prefering giving special treatment to teams that win their conferences. And other commissioners certainly don't want to see three SEC teams in the playoff.
So that means that compromise is going to have to be made. Someone will have to bend, even if the SEC has been very consistent about its feelings toward selecting the four teams.
"This league (the SEC) is all about competition and it just makes sense to me to let the four best teams compete and see who's going to be the national champion if we're going to have the playoffs," Mississippi State athletic director Scott Stricklin told ESPN.com at the 2012 SEC spring meetings in Destin, Fla. "It's hard for me to fathom a scenario that the fans across the country would really buy into that doesn't feature the four best teams."
As we get closer to finding out what will be made of all this playoff talk, it sounds like Slive and his SEC comrades won't get their way. That doesn't mean the SEC will be at a total loss. A hybrid scenario of some sort should still consistently have the SEC champ in it and that "wild-card" spot could go to the next-highest SEC member if it's ranked high enough. An SEC team ranked No. 2 or No. 3 has a better shot at making the playoff than a conference champ ranked fifth or sixth. But what Slive is worried about is a fourth-ranked SEC team getting passed by a fifth-ranked conference champ.
Slive's push for the "best four" model is all well and good, but other commissioners don't think it's easy to determine definitively a No. 4 from a No. 5. That's where winning your conference comes into play. In a hybrid, it's much easier to determine if a No. 2 or No. 3 should go over a 4 or 5, so that's where the SEC -- or any other conference -- would come up short. Slive understands that 2011 will only happen so often, so he wants to make sure that an SEC team sitting around fourth or fifth in the rankings has a shot to play for a national title.
Thus strength of schedule now comes into play, forcing SEC teams to step out of their comfort zone in scheduling. Now, maybe that No. 4 SEC team has a better case because it played two tougher out-of-conference games. But tougher schedules mean you decrease your chances of running the table, and Slive knows that.
We still have a way to go, but it seems like the cards are stacked against the SEC and compromise might be the best option.
October, 18, 2011
10/18/11
11:30
AM ET
It looks like we could be even closer to seeing a 14th school join the SEC.
And the possible 14th school isn't a shocker by any means.
The New York Times reported Monday that Missouri's decision to officially apply for membership in the SEC is "
inevitable and imminent
."
Missouri has already been allowed to explore conference options outside of the Big 12, and reports have surfaced of late that the school is very interested in the SEC.
An official familiar with school decisions involving conference affiliation told The Times that Missouri officials expect to get enough votes among SEC presidents to become a member of the conference, but the school still needs a formal invite from the league.
Interim Big 12 commissioner Chuck Neinas had said that he expected Missouri to stay in the league, while SEC commissioner Mike Slive has made it clear that the league isn't openly pursuing any other schools at the moment. Well, according to The Times' source, Missouri could join the SEC as soon as next year.
We all expected the SEC to eventually expand to 14 teams and it looks like it could happen sooner rather than later. Spending one year with 13 schools in athletic competition wouldn't have been ideal, but it also wouldn't have been the end of the world for the conference. Extending that beyond 2012 wasn't likely to happen.
The addition of Missouri would not only increase the league's revenue by stretching out into new TV markets (St. Louis and Kansas City), but it would also increase the SEC's academic standing. With Texas A&M set to join the league next year, the SEC will have three
AAU schools
, including Florida and Vanderbilt. Missouri would make four AAU schools.
This seems like a pretty good fit for both parties, but don't think it stops here. If Missouri is officially asked to join and accepts, it will be time to talk about even more scheduling issues for the SEC and which division this new group of Tigers will be in. Would they be placed in the West and force Auburn to the East? Would we have three Tiger teams in the wild West?
But it's possible that none of that will matter, as speculation will then turn to the chances of the SEC expanding to 16 teams. Then, we'll wonder if the league will be split into four divisions. The madness surely won't stop any time soon, even if the SEC finally gets its 14th school.