May, 27, 2011
5/27/11
11:00
AM ET
Most of the news concerning Ole Miss' defense -- especially its secondary -- lately hasn't been great.

The Rebels lost defensive standout -- and emotional leader -- D.T. Shackelford this spring. Then, coach Houston Nutt dismissed linebacker Clarence Jackson and defensive end Delvin Jones just days after both were after arrested for public drunkenness.

Let's not forget the defense as a whole has a lot of questions surrounding it heading into the 2011 season.
Well, the Rebels' defense finally got some good news -- and at just the right area, too.

Defensive back Denzel Nkemdiche, which is pronounced kim-DEECH-ee (thank you, Ole Miss), signed a financial aid agreement with Ole Miss and is expected to be available to play for the Rebels this fall.

Nkemdiche, of Loganville, Ga., is a member of Ole Miss' 2011 class. Originally, Nkemdiche signed with Mississippi Gulf Coast Community College in February because it was thought that he would be an academic non-qualifier. Earlier this week, Nkemdiche received the news that he had gotten a high enough score on his SAT to be cleared academically.

Due to NCAA rules, Nkemdiche can't sign a letter of intent because the LOI period ended on April 1, but he was allowed to sign the financial aid agreement. Technically, he won't officially be counted as an Ole Miss recruit until he attends his first day of classes this summer.

"Denzel helps our numbers in the defensive backfield immensely," Nutt said in a release. "He is physical and very fast. He is a blitzer who tackles fundamentally sound, and most importantly, he finds the football. With his versatility, he provides a lot of options."

The 5-foot-11, 198-pound athlete could wind up playing safety for the Rebels, but there was a shortage of cornerback numbers this spring. He recorded 101 tackles, including 18 for loss, eight sacks and three interception returns for touchdowns as a senior. On offense, he rushed for 192 yards and three scores on 39 carries.

The addition of Nkemdiche brings some much-needed help to the Rebels' secondary. Ole Miss worked with just three scholarship cornerbacks this spring. The Rebels have better depth at safety, but as a whole, the unit is still unproven.

The Rebels do return senior starter Damien Jackson at free safety, and sophomores Brishen Matthews and Frank Crawford are also back. Ole Miss also got some good production out of junior college transfers Ivan Nicholas and Josh Shipp this spring.
May, 16, 2011
5/16/11
4:06
PM ET
The linebacker corps at Ole Miss is thinning by the day, meaning the opportunity for prized freshman C.J. Johnson just gets a little bigger by the day.

On Monday, Ole Miss coach Houston Nutt announced that sophomore linebacker Clarence Jackson had been dismissed from the team along with sophomore defensive end Delvin Jones following their arrests on public drunkenness charges last week. Jackson ended the spring as the Rebels' starter at weak side linebacker. Jones was on down the depth chart as a reserve at defensive end.

In Jones' case, he had stepped in for D.T. Shackelford as a starter after Shackelford suffered a knee injury during the final week of spring practice. Shackelford isn't expected back for the season.

Now, more than ever, Ole Miss needs Johnson to come in, learn the defense as quickly as possible this summer and be ready to go for preseason camp. The Rebels love his size and athletic ability, but there won't be the luxury of bringing him along slowly.

It was obvious that Jackson's days were numbered last week following his arrest. Like a lot of coaches, Nutt has shown a willingness in the past to give players second chances. But given Jackson's suspension last fall when he was charged by campus police for burglary after allegedly taking a television set that belonged to a mathematics classroom, Nutt wasn't about to be burned a third time by Jackson and cut him loose.
April, 21, 2011
4/21/11
4:00
PM ET
The moment outside linebacker D.T. Shackelford's injury proved to be season-threatening, distress signals circulated throughout Ole Miss's football team.
Offensive coordinator David Lee said the severity of Shackelford's knee injury, which is expected to sideline him for his senior season, felt like a shot to the figurative heart of the football program.
Not only was he an outstanding linebacker -- and arguably the Rebels' best player -- he was a tremendous leader. On a team lacking a ton of seniors, losing an emotional leader like Shackelford is devastating.
However, in the weeks since Shackelford's freak ACL tear, coach Houston Nutt has found some potential candidates who could step into Shackelford's leadership role.
Right now, Nutt is relying on veteran defensive ends Wayne Dorsey and Jason Jones. Dorsey, a senior, enrolled at Ole Miss last January and played in nine games in 2010, starting four.
Jones, a junior, played in 12 games last season, starting four.
[+] Enlarge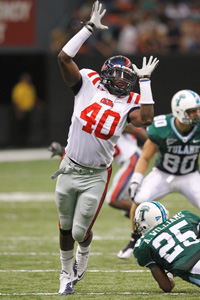 Derick E. Hingle/US PresswireSenior defensive end Kentrell Lockett is a strong candidate to fill the leadership void left after D.T. Shackelford's injury.
Neither is a household name for the Rebels, but Nutt said he saw both step up in place of Shackelford shortly after he went down.
"They showed real signs [of becoming team leaders]," Nutt said.
Sophomore Mike Marry, who worked some in Shackelford's spot after he went down this spring, also took on a leadership role for the team during that latter parts of spring practice, Nutt said.
One guy who could provide that leadership spark this fall is senior defensive end Kentrell Lockett. Lockett, who was granted a sixth year of eligibility by the NCAA after tearing his ACL last fall, missed all of spring practice, but is someone Nutt said he's really hoping steps up soon.
It shouldn't be hard for Lockett to grab the attention of his teammates. He's the most experienced guy on Ole Miss' roster and has great locker-room presence.
While each of these players could become dynamic leaders for this team, finding someone with the same electricity Shackelford possessed seems like a long shot.
"D.T. just took complete ownership," Nutt said. "It was just unbelievable the way he went about things."
That won't easy to replace.
As for finding someone to fill his playing shoes, besides a little work from Marry, the Rebels also rotated sophomore Clarence Jackson and redshirt freshman Ralph Wilson in at Shackelford's position this spring.
The player to keep an eye on this fall will be incoming freshman C.J. Johnson, who was the top recruit out of the state of Mississippi in 2010. He accumulated 149 tackles and two interceptions as a high school senior and despite playing inside linebacker he should be able to move outside.
Johnson has the skill to come in and immediately contribute, but developing his leadership qualities will be the next step in his maturation process.