May, 16, 2014
May 16
11:00
AM ET
GAINESVILLE, Fla. -- For a team that was desperate for playmakers on offense last season, the
Florida Gators
have growing hopes for 2014.
Enthusiasm has been building since spring football ended, and it's not just because starting quarterback
Jeff Driskel
is healthy or the young receivers and running backs have another year of experience and maturity.
[+] Enlarge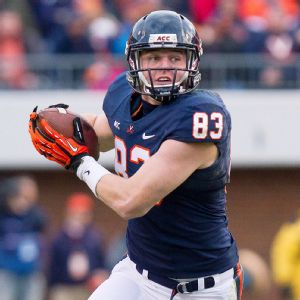 Lee Coleman/Icon SMIJake McGee's 45 catches last season at Virginia were 41 more than Florida's entire tight end corps had.
It's the tight end position, and one player in particular.
Fifth-year senior
Jake McGee
, the former Virginia standout who
announced his transfer to Florida
last week, gives the Gators a dynamic threat that defenses will have to account for.
"I'm very excited," head coach Will Muschamp said to a gathering of media on Tuesday in Orlando, Fla. "He's a guy that has tremendous ball skills, very good athlete at 6-5, 245 pounds and runs extremely well. I think he's a good addition to our team, and he'll certainly compete well."
The Gators haven't had a pass-catching tight end since 2012, when
Jordan Reed
led the team with 45 catches for 559 yards and three touchdowns. He was Driskel's safety net and go-to target. Not coincidentally, the Gators had their best season under Muschamp, winning 11 games.
"I think it was a very offensive position when Jordan Reed was here," Muschamp said.
Last year, it was just plain offensive.
It won't be hard for Florida to improve on the production it got out of the tight end position last season -- a
total
of four catches.
Florida returns seniors
Tevin Westbrook
(three catches in 2013) and
Clay Burton
(one catch), who have been used primarily as blockers. The Gators also are building depth at the position with three true freshmen.
DeAndre Goolsby
enrolled in January and made a good first impression in the spring, while
C'yontai Lewis
and
Moral Stephens
are due to arrive in June.
With McGee on board, however, the freshmen won't need to be rushed into early playing time.
The focus throughout the spring was for the tight ends to learn the no-huddle spread offense brought from Duke by new coordinator Kurt Roper. His B position uses the tight ends and fullbacks in a variety of roles and disguises -- from motioning and blocking out of the backfield to inline blocking, lining up in the slot, or splitting out wide.
In every one of those wrinkles, Roper expects his players to be pass-catching threats.
"It's going to be an important position," he said during spring, "and it's going to be a playmaking position for us, so we're counting on them. ...
"I think I've seen growth. Those guys haven't done a whole lot of [receiving]. I think they enjoy doing it. I think they enjoy being part of the pass game. Because of that they go out and work hard and get better at it."
It's a work very much in progress. Now with McGee, suddenly the Gators have a more polished, vastly more experienced puzzle piece. He comes to UF with plenty of accolades.
McGee was Virginia's leading receiver last season with 43 catches for 395 yards and two touchdowns despite a lingering shoulder injury. With his speed and athleticism, the Florida coaching staff is also excited about what he brings on special teams.
McGee was drawn to Florida by Muschamp who recruited him in high school, and Roper, who led Duke's offense against Virginia while McGee took note.
"Their offense, being on the other side, was sort of fun to watch," McGee said to Scott Carter of Gatorzone.com, Florida's official athletics website. "They did a lot of cool things and really did a lot with the tight end position that excites me as a player. There's a lot of versatility with the position to create mismatches and be allowed to do all sorts of different things."
Those feelings of eagerness and optimism are very much mutual, as both parties anticipate a sudden impact. UF coaches know they very well might have recruited a game-changer in McGee, whose graduation from UVA last month enabled him to transfer without having to sit out a year.
"To be able to have a guy that defenses know they have to account for in terms of is he a receiver, is he a tight end, can he create a three-man blocking surface?" Muschamp gushed. "That changes things in the run game. It changes things in protection and how people will attack you. ...
"We feel like he's a very talented player and a great addition for our team."
May, 9, 2014
May 9
4:45
PM ET
With former Virginia tight end
Jake McGee
transferring to Florida
, the Gators got a major upgrade to their group of pass-catchers.
And this is an immediate upgrade because McGee has already graduated from Virginia and will attend grad school at Florida. Yep, McGee can start playing right away this fall, and it sounds like the Gators plan to use him a lot in the passing game this fall as another weapon for quarterback
Jeff Driskel
to throw to.

With plenty of questions at the tight end spot this spring, McGee not only brings the talent to stretch the field and be more of a playmaking tight end for the Gators, he has plenty of experience. McGee caught 71 passes for 769 yards and seven touchdowns in his last two years with the Cavs. Last season, he caught a team-high 43 passes for 395 yards. He also had two touchdowns. Returning tight ends
Tevin Westbrook
and
Clay Burton
, both seniors, have combined to catch six career passes for 54 yards and zero touchdowns.
McGee's arrival will give the Gators a much-need receiving threat for a team that hopes to generate more consistency in the passing game. Florida is still looking for its go-to receiver, and McGee is expected to be used as a flexed tight end, meaning he'll do a lot more than block in Florida's offense. McGee was moved to receiver this spring because of his athleticism, and Florida's coaching staff plans to take full advantage of his athletic ability.
April, 11, 2014
Apr 11
10:00
AM ET
GAINESVILLE, Fla. -- Progress. It's what
Florida
fans expect to see this fall. It's what they hope to see in Saturday's spring game.
Everyone is under much more scrutiny after the Gators' 4-8 record last season, but mostly the microscope will be on a brand-new offense that has been installed in just 14 spring practices. It's just one of several aspects of the scrimmage that fans and the media will be analyzing.
[+] Enlarge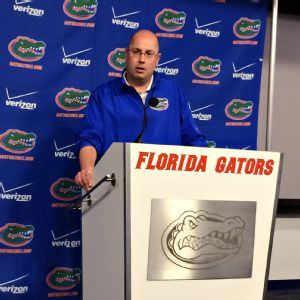 Jeff Barlis/ESPNAll eyes on Saturday at Florida's spring game will be on new coordinator Kurt Roper's offense.
The game, at 1:30 p.m ET at Ben Hill Griffin Stadium, will be divided into four, 12-minute quarters with a running clock. Teams were drafted by honorary alumni captains on Thursday night, but fans will get to see a lot of first-team offense against first-team defense in the mix.
Here's what to watch for:
New and improved quarterback:
All eyes will be on
Jeff Driskel
, the junior who hasn't exactly lived up to his status as the
top QB prospect in 2011
. He's coming off surgery and six months of rehab for a broken bone in his lower right leg. The injury, which cost him most of the 2013 season, ensures that he'll be a non-contact participant (as will all of the QBs). Driskel has had an excellent spring. He's clearly the starter and is a respected leader. His teammates have been raving about how good and comfortable he looks in an offense that is much closer to what made him a star in high school. Driskel said he just
wants to show the fans that he is confident and having fun
. But nothing pleases a crowd like putting points on the board. He can create a lot of goodwill if he finds receivers in stride and generally commands a smooth-looking offense.
Mr. Roper's offense:
Some success by Driskel and backup quarterbacks
Will Grier
and
Skyler Mornhinweg
would go a long way in showing off the new scheme that offensive coordinator Kurt Roper brought from Duke. The No. 1 thing that fans want to see is a very different-looking offense. Roper has the potential to deliver with his no-huddle, shotgun spread attack. At the very least, the tempo will be much faster than in any of Florida's last three seasons of taking a clock-chewing, run-heavy, pro-style approach.
Young secondary:
The Gators have
Vernon Hargreaves III
at cornerback,
Jabari Gorman
at safety and little certainty throughout the rest of the defensive backfield. Yes, there is a ton of talent, but it's young and inexperienced. There are three starting jobs open because UF operates so often in a nickel formation. Early enrollee freshmen
Jalen Tabor
and
Duke Dawson
have had their expected ups and downs in competing with junior
Brian Poole
for the starting spot opposite Hargreaves. Poole is also in the mix at nickel corner, along with
Marcus Maye
.
Keanu Neal
might have the edge for the other starting safety spot, but keep an eye on
Nick Washington
and
Marcell Harris
. Don't be surprised if the DBs struggle on Saturday as Florida's offense looks to win fans and influence coaches.
O-line vs. D-line:
This one is a toss-up. The Gators' offensive line has not been good in pass protection, but the defensive line isn't exactly loaded with pass-rushing demons. The uptempo offense should help Florida's O-line, as there is a new emphasis on getting the ball out of the quarterback's hand in three seconds. The marquee matchup to watch is defensive end
Dante Fowler Jr
. against left tackle
D.J. Humphries
. They're two of the Gators' most talented players, and they've been going at each other throughout spring practice. The rest of Florida's starters are veterans, but fans might want to cover their eyes when the second units come on. Coach Will Muschamp has not been pleased with the development of his young linemen on either side of the ball.
The B-position:
Tight ends and fullbacks have been largely overlooked in recent years, as blocking has been the top priority. That's changed under Roper, who said on Thursday: "It's going to be an important position and it's going to be a playmaking position for us, so we're counting on them." Roper said he's seen growth out of veterans such as
Tevin Westbrook
,
Clay Burton
and
Hunter Joyer
. He also said early enrollee freshman
DeAndre Goolsby
is more comfortable in a pass-catching role based on his experience in high school.
Playmakers at WR:
It bears repeating that this spring has been all about the new offense. Fans were screaming for dramatic changes by the end of last season, and no position needs it more than wide receiver, where the Gators haven't had anyone crack the 600-yard mark in a season since 2009. As the spring wore on, playmakers began to emerge. Senior
Quinton Dunbar
is the unquestioned leader of the group and a certain starter. Sophomores
Demarcus Robinson
,
Ahmad Fulwood
and
Chris Thompson
appear to be developing as reliable targets. Slot receivers
Valdez Showers
and
Latroy Pittman
have had solid spring camps as well. If the offense clicks, it will be a treat for fans to finally see these athletes make catches in space and show what they can do with the ball in their hands.
April, 1, 2014
Apr 1
2:00
PM ET
GAINESVILLE, Fla. -- Thanks to a new offense, the
Florida Gators
are expecting some serious improvement this fall. Every player has hopes and dreams of better statistics.
The most realistic chances to double or even triple their production? That's easy.
Tight ends and fullbacks were an afterthought in 2013, used almost exclusively as blockers in UF's pro-style offense. Two tight ends combined for four catches. Two fullbacks had a total of six receptions and three carries.
[+] Enlarge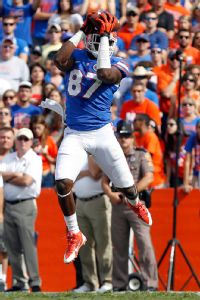 Kim Klement/USA TODAY SportsTevin Westbrook hopes to be a bigger part of Florida's offense this season.
But rather than file a class-action lawsuit for neglect, the four rising seniors are thrilled to learn an offense that promises much more involvement.
"It's really exciting," tight end
Tevin Westbrook
said. "It's more of a competition. Every day when you go out you know that you've to play to be able to catch the ball and block, to move from off the ball to a bigger role. It's exciting. We're catching balls and blocking from the backfield, blocking for the quarterback."
With so little to see of the tight ends and fullbacks on last year's game tape, offensive coordinator Kurt Roper has had to use the first part of spring practice to evaluate what he's got.
"The thing we're trying to figure out first and foremost is the tight end/H-back in our offense, who we call the 'B,' is who is that?" he said. "Who's the guy that's going to be the best in that situation? So it's a fun battle to watch between all those guys that we're repping at that position.
"I think that that B position, because it's so different from what they were doing in the past is probably the thing that we've got to watch the closest."
The change has been apparent.
Those four returning players -- Westbrook, tight end
Clay Burton
and fullbacks
Hunter Joyer
and
Gideon Ajagbe
-- have probably seen more targets this spring than all of their previous years combined. And true freshman tight end
DeAndre Goolsby
has seen as much action as any of the seniors.
Joyer, who has even gotten to show off his hands on intermediate routes, can't hide his smile when talking about the new opportunities available.
"Yeah, everybody's being used and used a lot," he said. "Everyone has a role in it and everyone determines our own roles. So as long as you're doing well, you'll have one."
It's all by design, says Roper. Last year at the reins of a Duke offense that averaged more than 409 yards a game, Roper gave significant roles to two quarterbacks, four running backs and six receivers.
"I think the biggest thing when you put together an offense is you want a defense to have to defend the field and defend all your skill players," Roper said. "Those guys [at the B position] are a big part of our offense. I think they're going to be put in position to make some plays.
"It's been fun to evaluate and we've had some big plays made by those guys. [Last Wednesday], we had two great catches by Gideon and Goolsby. So I think they're starting to get a feel for what we're asking them to do, and I think they're going to be capable of making some of those plays."
That's a huge development for an offense that got almost nothing there last year. Now there's potential and the promise of more to come.
Goolsby, a three-star prospect out of Derby, Kan., committed last November as Florida was in the midst of a seven-game losing streak. He chose the Gators over Ohio State, Oklahoma Arkansas and Kansas State and is now seeing the benefits of UF's new offense.
At 6-foot-4, 230 pounds, Goolsby still needs work in the weight room, but the education he is getting in spring practice should work wonders in getting on the field this fall.
"He's a really good athlete," head coach Will Muschamp said. "He's a guy that can do some things as far as what we're looking for at that position. He fits it extremely well. … I think he's done a really good job. I'm very pleased where he is. I think it's a little early right now to tell where he will contribute."
Florida also signed two more players in its 2014 class who profile as part of the 'B' team -- tight ends
C'yontai Lewis
and
Moral Stephens
, who arrive this summer.
It should make for a robust competition that carries over from spring practice into the fall and maybe even turns into some long-awaited offense.
For the previously invisible tight ends and fullbacks, the new offense means they can dare to dream.
"If we make plays and we come out and block and we catch the ball, they're going to have to put the tight end into the plays," Westbrook said. "As a unit, it's a chip on our shoulder. We need to step up and make more plays in practice and then there will be more action from the tight end."
February, 17, 2014
Feb 17
2:00
PM ET
GAINESVILLE, Fla. -- In the last decade, more than any other time in its history, Florida's status as a recruiting juggernaut has been proven.
Once head coach Steve Spurrier established his alma mater among college football's elite, blue-chip talent started flocking to UF. The Gators also recruited well under Spurrier's replacement, Ron Zook. Then Florida won two national championships with coach Urban Meyer.
The fact that Florida has thrived on the recruiting trail despite Meyer's soap-opera departure and some sub-par seasons on the field is a testament to the strength of the brand.
This week we count down the
five most impactful UF recruiting classes in the last decade
, not including Florida's most recent class, which isn't even fully assembled on campus yet.
No. 5 on our list in order of impact is the Class of 2011, head coach Will Muschamp's first class, which was
ranked No. 12 by ESPN
.
[+] Enlarge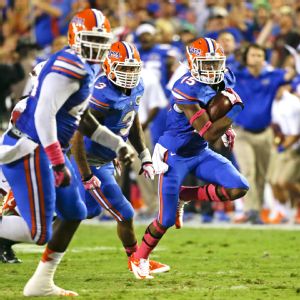 AP Photo/John RaouxLoucheiz Purifoy's big-play ability at cornerback allowed him to stand out in three seasons at Florida and should get him selected high in this year's NFL draft.
The stars:
This is easy.
Marcus Roberson
and
Loucheiz Purifoy
became lockdown cornerbacks and were the only three-and-done players from this 19-man class. Roberson made an instant impact, starting his first 10 games as a true freshman, and Purifoy first emerged as a special-teams terror. By the end of their college careers, the two clearly established NFL pedigree -- Roberson for his advanced technique, Purifoy for his supreme athleticism. They are expected to be picked no lower than the second round this May.
The contributors:
Several players stand out in this class, including a few starters. Among them, starting quarterback
Jeff Driskel
is the one who could still push his way into the star category if he improves during his final two seasons of eligibility. Other starters have carved out significant roles for themselves, including fullback
Hunter Joyer
, safety
Jabari Gorman
and tight ends
Clay Burton
and
Tevin Westbrook
.
Valdez Showers
successfully converted from safety to running back last season. And
Kyle Christy
was a record-setting punter who stumbled in 2013 and will fight to take his job back this year.
The letdowns:
Some of the top talents in this class never panned out at UF, as eight of the 19 players transferred and one quit football after injuries derailed his career. The biggest name to transfer was QB
Jacoby Brissett
, who started four games at Florida but left for NC State after losing the competition for the starting job to Driskel. WR
Ja'Juan Story
, TE
A.C. Leonard
, RB Mike Blakely and S
De'Ante Saunders
were four of the Gators' five highest-rated recruits in the class. Transfers Story, Blakely and WR
Javares McRoy
were recruited by Meyer for his spread-option offense and never quite fit Muschamp's pro-style scheme. Leonard and Saunders made strong impressions on the field, but both ran afoul of the law and transferred to Tennessee State.
The results:
There have been high points, such as an 11-win season in 2012 in which Florida was just one Notre Dame loss away from playing for the national championship. But there have been more low points, such as a 7-6 season in 2011 and a numbing 4-8 season in 2013. The results on the field have been uneven, but there's still time for this class to distinguish itself.
December, 30, 2013
12/30/13
4:30
PM ET
GAINESVILLE, Fla. -- Florida's new offensive coordinator, Kurt Roper, is known for his ability to adapt his offense to his players. It's one of the biggest reasons he was hired.
Will Muschamp is a head coach who needs results right away, and the Gators are expected to try just about anything to achieve them -- uptempo, no-huddle, spread, zone read. You name it.
After three years of a pro-style offense that had a heavy emphasis on downhill running, there will be changes.
Practice time will be at a premium, but Roper has a plan.
He'll start with incumbent quarterback
Jeff Driskel
and find what he does best. Then Roper will do the same with his offensive line and skill positions.
"I think you've got plenty of time through spring practice and through fall practice to make those decisions," he said. "So you get 15 opportunities in spring practice to make those decisions, and then you get 29 practice opportunities in the fall to keep making those decisions and finalizing going into fall camp.
"So everything moves fast, but you've got to figure those things out."
Here are some keys to Florida's offense next year.
Run, Driskel, run
[+] Enlarge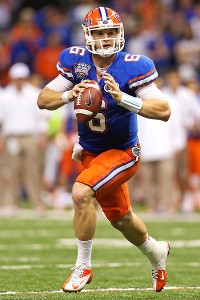 Matthew Stockman/Getty ImagesIt seems likely that Jeff Driskel will run more in Florida's new offense in 2014.
The majority of Roper's success has come in the passing game, but this season at Duke proved he can succeed calling plays in a much more balanced spread offense. Blue Devils quarterback
Brandon Connette
, who started three games this season, has 13 scores on the ground. He and starter
Anthony Boone
have combined to score 17 of Duke's 25 rushing TDs.
Look for the read-option to come back at Florida in 2014. It won't take Roper long to see that Driskel's best success as a college QB came mostly on the ground.
One of former offensive coordinator Brent Pease's goals for 2013 was to get Driskel comfortable as a pocket passer, but it didn't happen in his injury-shortened season. In his two full games, Driskel ran 17 times for just 38 yards (2.2 yards per carry). Then he was hurt a few minutes into Game 3. It was a lost season. But if those first two games were any indication, the Gators weren't planning to use as much of the read-option that Driskel had good success with in teaming with tailback Mike Gillislee in 2012.
Look for Florida to turn Driskel loose, hope he stays healthy and not worry about redshirting incoming freshman
Will Grier
or a possible second QB signee who would likely be a dual-threat athlete.
Pray for the offensive line
This is where it all starts, and there's no doubt Florida has a lot of room for improvement. With
D.J. Humphries
,
Max Garcia
,
Tyler Moore
,
Chaz Green
and
Trenton Brown
, Florida has the makings of a capable line. But only one of those five -- Garcia -- played a full season in 2012. The injury bug hit the OL as hard as any position, so it will be critical for this group to miss as little time as the injury gods will allow. There is some size and talent on the bench, but zero starting experience.
Changing to more of a spread offense should benefit this unit more than any other on the offense, as it struggled mightily in pass protection throughout the last two seasons. The comparative simplicity of zone blocking will also help more of Florida's inexperienced players get on the field sooner. The Gators redshirted three offensive linemen in 2013 and hope to sign four or five more this year.
Another technique -- cut blocking -- could be incorporated next season, depending on Roper's scheme and the yet-to-be-hired offensive line coach. After Florida lost to Georgia Southern in November, Muschamp lamented how the cut block "negates talent" of the defense. In 2014, the Gators might prefer to be on the other side of that equation.
Any receivers who can get open?
This has been one of the most confounding problems at UF since Riley Cooper and Aaron Hernandez thrived as Tim Tebow's favorite targets in 2009. There are plenty of decorated recruits on the roster. The wideouts have had proven position coaches such as Pease and Joker Phillips mentoring them. In steps Roper, who has produced 1,000-yard receivers in four of six seasons at recruiting-challenged Duke. It's time for some of Florida's talented youngsters to step forward and demand the ball, and there is at least one starting job available.
[+] Enlarge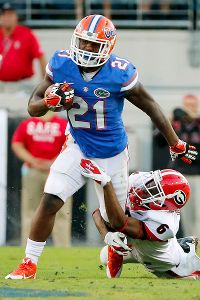 Sam Greenwood/Getty ImagesKelvin Taylor showed plenty of promise as a freshman.
The freshmen who played the most in 2013 --
Ahmad Fulwood
and
Demarcus Robinson
-- have the size to create mismatches. Another freshman who burned his redshirt late in the season,
Chris Thompson
, has plenty of speed. With all of the WR screens Roper likes to call, the Gators will miss senior
Solomon Patton
, a speedy jitterbug who could have thrived in the new offense. Perhaps a replacement can be found in freshman
Alvin Bailey
, who redshirted in 2013.
The tight end position took a huge step backward when Jordan Reed left early after a solid 2012 season. Florida lacked any semblance of a down-the-middle pass-catching threat in 2013, as
Tevin Westbrook
and
Clay Burton
combined for four catches. The Gators have commitments from three TE/H-backs, so don't be surprised if a freshman emerges.
Bigger-play running backs
Tailback is one position that won't keep Roper awake at night, as the Gators have a bevy of talented runners. Florida entered the 2013 season expecting
Matt Jones
to become one of the SEC's best running backs. And while hopes are still very high for Jones, the Gators believe they found another featured back in
Kelvin Taylor
after Jones was lost for the season with a knee injury.
Mack Brown
gives UF a reliable backup, and the coaching staff is excited about the potential of
Adam Lane
, who redshirted last season.
Where Florida's tailbacks can improve is in hitting more big plays. Taylor averaged 4.6 yards a carry and Brown averaged 3.7. But explosive plays are more likely to come from Jones or little-used
Valdez Showers
, who averaged 8.6 yards per carry. The Gators are also hoping to sign a speed back who could play right away and complement the group of grinding runners already on the roster.
August, 16, 2013
8/16/13
9:30
AM ET
GAINESVILLE, Fla. -- Florida fans better get a good look at senior wide receiver
Solomon Patton
this season because guys like him are going to be hard to find around here from now on.
Small guys.
The 5-foot-9, 171-pound Patton doesn't really fit into coach Will Muschamp's philosophy that bigger is better. Not just on the line of scrimmage, either. Big receivers. Big defensive backs. Big linebackers.
[+] Enlarge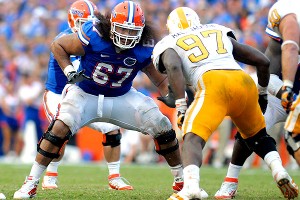 AP Photo/Phelan M. EbenhackGuard Jon Halapio, at 6 feet 3 and 321 pounds, meets Will Muschamp's size criteria to compete in the SEC.
Size does matter at Florida now. Muschamp believes it's the best way to have success in the Southeastern Conference.
"This is a big man's league," he said. "When you go pay to watch a boxing match, you don't go watch the featherweights fight. You go watch heavyweights fight. This is a heavyweight league.
"So we need have a big, physical team. You can still be really fast, but you better be big and physical if you want to win in this league right now."
Muschamp is in his third season and working on his fourth signing class, and he has certainly made the Gators a bigger, more physical team in that short period of time. To see the difference, look at UF's roster from 2009. The Gators had five starters or key contributors who were 5-9 or shorter: Jeff Demps, Chris Rainey, Ahmad Black, Markihe Anderson and Brandon James.
This year's team has only one starter that small: 5-9 safety
Cody Riggs
. Patton is a role player (he's the jet sweep guy) and the shortest player on scholarship is 5-7 freshman running back Adam Lane -- who weighs 222 pounds.
Muschamp's philosophy goes further than just the size of the players. He wants the bulk of his 85-man roster to be comprised of what he calls big-skill positions: offensive and defensive linemen, linebackers and tight ends. He wants 50. Right now he has 42 (see breakdown below).
Muschamp wants 15-17 offensive linemen, and the Gators are close to that number. They have five scholarship tight ends, too. The defensive line is where the problem is. The Gators are short on ends, especially speed rushers. There are eight scholarship defensive tackles, but only three have played in a game (
Dominique Easley
,
Leon Orr
and
Damien Jacobs
), and just two bucks (hybrid defensive end/linebacker).
It'll take at least a couple more signing classes for the Gators to be as stocked along the defensive line as Muschamp would like. Muschamp believes long-term success at Florida -- and therefore the SEC -- depends on beefing up those defensive numbers.
And not just to compete with Alabama and Nick Saban, either.
"When big guys run out of gas, they're done," Muschamp said. "We don't ever want our big guys up front to play more than six or eight snaps in a row and have the intensity you've got to play with to be successful in this league. So you can't ever have enough defensive linemen or pass rushers, especially the way the game's going.
"You look in our league at Missouri and Kentucky and Tennessee, a lot of schools are going to a little bit of a Big 12 model, like Texas A&M, where they're spreading the field, and you can't ever have enough guys that can play in space and rush the passer. The most exerting thing in football is rushing the passer. Those guys are battling against a 315-pound guy and trying to push the pocket, so you can't ever have enough of those guys."
Here's the breakdown of what Muschamp calls the big-skill players:
Offensive line
Ideal number:
15-17
Number on the roster:
14.
Tyler Moore
,
Quinteze Williams
, Rod Johnson, Octavius Jackson, Cameron Dillard,
Trip Thurman
,
Jon Halapio
,
D.J. Humphries
,
Jonotthan Harrison
,
Chaz Green
,
Max Garcia
,
Trenton Brown
,
Ian Silberman
,
Kyle Koehne
.
Comment:
The Gators will lose four players to graduation but have four offensive line commits for 2014, three of whom weigh more than 300 pounds. The line has gotten bigger, stronger and more physical since Muschamp called them soft at the end of his first season.
Defensive tackle
Ideal number:
8-10
Number on the roster:
8. Damien Jacobs,
Joey Ivie
, Leon Orr,
Darious Cummings
, Jay-nard Bostwick, Caleb Brantley, Antonio Riles, Dominique Easley.
Comment:
Not a lot of experience here, but the four freshmen (Ivie, Bostwick, Brantley and Riles) will gain valuable experience as part of the rotation this season.
Defensive ends
Ideal number:
6-8
Number on roster:
4.
Alex McCalister
,
Jonathan Bullard
, Jordan Sherit, Bryan Cox.
Comment:
Easley also can play end. This is perhaps the most flexible position, with several players having the ability to play inside on passing downs to get the best pass rushers on the field.
Bucks
Ideal number:
4-6
Number on roster:
2.
Dante Fowler
,
Ronald Powell
.
Comment:
This position also needs to be beefed up quickly, with Powell likely leaving after this year if he has a good season. Some flexibility here, too, because Cox and McCalister could spend time here.
Linebackers
Ideal number:
9-12
Number on roster:
9.
Michael Taylor
,
Matt Rolin
,
Jeremi Powell
, Jarrad Davis,
Neiron Ball
,
Darrin Kitchens
,
Daniel McMillian
,
Alex Anzalone
,
Antonio Morrison
.
Comment:
UF has one bona fide stud (Morrison) and a mix of veteran role players and freshmen. McMillian is a player to watch. He could become a starter by midseason. This is an important position group because it produces a lot of special teams players.
Tight ends
Ideal number:
3-5
Number on roster:
5.
Clay Burton
,
Tevin Westbrook
,
Kent Taylor
,
Colin Thompson
, Trevon Young.
Comment:
A lot of players, but little production so far. Burton, Westbrook and Thompson are mainly blockers, but there's optimism that Thompson can develop into someone who can work the middle of the field.
June, 20, 2013
6/20/13
1:30
PM ET
Every year, players come and go in college football. With that teams can either grow or take steps back because of turnover.
It's time to check out Florida's strongest position and weakest position heading into the 2013 season:
Strongest position: Cornerback

The Gators are stacked at corner. Starters
Loucheiz Purifoy
and
Marcus Roberson
have the potential to be All-SEC players and maybe even All-Americans. Both are already projected to be first-round picks in next year's NFL draft, with Purifoy being considered one of the top overall corners in the country. Purifoy is still a bit raw, but he's extremely athletic and physical, which helps him against bigger receivers. He also plays some receiver and returns kicks, but he should spend the majority of his time at corner this fall. Roberson has lockdown ability (14 defended passes last year) and while he might not be as athletic as Purifoy, he covers a ton of ground and has tremendous technique. Florida should enter the 2013 with the SEC's top corner duo. Sophomore
Brian Poole
will also help out a lot after having a solid first year and he should start at nickel corner. Veteran
Jeremy Brown
has had an injury-plagued career, but he returns for a final season, while many feel incoming freshman Vernon Hargreaves III could step on the field and play right now.
Weakest position: Pass-catchers
This position hasn't been a strength for the Gators in quite some time. With a lot of recruiting misses and not enough development, the Gators are stuck with a group that doesn't have a consistently reliable go-to threat.
Quinton Dunbar
has had his ups and downs, but appears to be more focused now. However, a lot will be on his plate if no one else steps up. Freshman Demarcus Robinson, who enrolled early this spring, has the makings to be a true big-play receiver for the Gators, but he has no college experience.
Andre Debose
might be a dangerous return man, but he's been wildly inconsistent and unfocused at receiver during his career. After that you have speedy, multi-purpose player
Solomon Patton
, who is returning from injury, and sophomores
Latroy Pittman
and
Raphael Andrades
, who combined for four catches for 11 yards last year. Four more freshmen receivers will be on campus this fall to help with depth. As for tight end, Jordan Reed is gone, meaning the relatively inexperienced
Kent Taylor
,
Colin Thompson
and
Clay Burton
will have to grow up even more this fall.
May, 17, 2013
5/17/13
3:00
PM ET
GatorNation's Rankings Week concludes with a list of the Gators' top needs in recruiting for the class of 2014, as well as a list of the top players the Gators are pursuing at those positions.
Ranking UF's needs for 2014
1. Offensive line
March, 13, 2013
3/13/13
11:35
AM ET
Schedule:
The Gators open spring practice today at 4:30 p.m. ET and will conclude the spring with their annual Orange & Blue Debut on April 6 at 1 p.m. ET inside Ben Hill Griffin Stadium.
What's new:
Defensive coordinator Dan Quinn left to become the defensive coordinator for the Seattle Seahawks. Will Muschamp then promoted D.J. Durkin from linebackers/special teams coach to defensive coordinator. Brad Lawing was hired away from South Carolina to help coach Florida's defensive line and was given the title of assistant head coach. Interim wide receivers coach Bush Hamdan was replaced by former Kentucky head coach Joker Phillips.
On the mend:
Redshirt junior offensive lineman
Chaz Green
will miss all of spring after undergoing ankle surgery following Florida's bowl game. Redshirt junior defensive end/linebacker
Ronald Powell
will also miss the spring while he continues to rehab his ACL injury that he suffered last spring. Redshirt junior offensive lineman
Ian Silberman
is out for the spring, as he recovers from shoulder surgery that he had before the bowl game. Freshman linebacker Matt Rolin is also out, recovering from ACL surgery. Senior offensive lineman
Jon Halapio
(knee scope), senior wide receiver
Solomon Patton
(broken arm), redshirt junior linebacker
Neiron Ball
(ankle) and punter
Kyle Christy
(shoulder) will all be limited this spring.
On the move:
Junior cornerback
Loucheiz Purifoy
will start the first seven practices at the "Z" receiver spot. Redshirt freshman Quinteze Williams moved from defensive tackle to offensive tackle. Sophomore
Antonio Morrison
moved from Will to Mike linebacker, while redshirt junior linebacker
Michael Taylor
has moved from Mike to Will. Redshirt freshman
Rhaheim Ledbetter
moved from safety to fullback. Redshirt junior
Gideon Ajagbe
also moved from linebacker to fullback. Redshirt junior
Cody Riggs
has moved from cornerback to safety, where he's listed as a starter.
Question marks:
Heading into the spring, the biggest questions remain on offense, where the Gators were incredibly inconsistent last year. Workhorse running back
Mike Gillislee
is gone, and while the Gators should feature a stable of running backs this fall, throwing the ball has to improve or this offense will go in reverse. Quarterback
Jeff Driskel
says he's more confident and offensive coordinator Brent Pease expects to open things up more in the passing game, but the Gators also have to get better protection up front and develop some more reliable receivers and replace top target, tight end
Jordan Reed
. Florida's defense has a lot of experienced youngsters, but it won't be easy to replace the production that guys like
Sharrif Floyd
,
Matt Elam
and Jon Bostic had last year. Florida is also looking for someone to replace kicker
Caleb Sturgis
. Redshirt freshman
Austin Hardin
and senior
Brad Phillips
will compete for that spot.
New faces:
Rolin, running back Kelvin Taylor, linebackers Alex Anzalone and Daniel McMillian, defensive lineman Joey Ivie, and wide receiver Demarcus Robinson all enrolled early as true freshmen. Florida also welcomed Nebraska offensive lineman transfer
Tyler Moore
(sophomore) and junior college transfer Darius Cummings (DT). Offensive lineman Max Garica also transferred from Maryland and sat out last season.
Key battle:
Florida has to find a reliable receiving target at either tight end or receiver. The athletic
Kent Taylor
figures to be the favorite at tight end, but he'll have to compete with
Colin Thompson
,
Clay Burton
and
Tevin Westbrook
. At receiver, it's a free-for-all, and there isn't a ton of experience. Purifoy will certainly get his shot, but vets
Quinton Dunbar
and
Andre Debose
have to make significant strides. So does rising sophomore
Latroy Pittman
, who fell off last year after a successful spring. Sophomore
Raphael Andrades
will be back and forth between football and baseball, while Patton will be limited. Keep an eye on Robinson, who was the top receiver in the Gators' 2013 class and is a downfield threat and someone who can be elusive through the middle of the field.
Breaking out:
Florida needs to replace Gillislee, and sophomore
Matt Jones
has already had a solid offseason, according to coaches. He progressed as last season went on and has both speed and strength to work with. The plan is for him to be a 20-plus-carry player this fall. Morrison's role now expands, and after having a very solid freshman year, even more is expected from him now that he's at the Mike. If he improves his coverage ability, he could be a big-time player for the Gators. Also, keep an eye on junior safety
Jabari Gorman
. He covers a lot of ground and isn't afraid to play in the box.
Don't forget about:
Ball and Riggs have dealt with injuries in the past, but as they get healthy, Florida's coaches are excited about what they could do in 2013. Ball will play some Buck and provides Florida with another solid third-down pass-rusher and should help the Gators put more pressure on opposing backfields this fall. Riggs played in just two games last year before fracturing his foot, but he's a very physical defensive back. With his speed, moving to safety should provide him a chance to make more plays in Florida's secondary. He was also the starter at safety when Elam went to nickel last year.