October, 10, 2014
Oct 10
8:00
AM ET
1. Looks like the SEC East race changed a ton as soon as Georgia sent out a news release announcing that its star tailback Todd Gurley is indefinitely suspended.
Gurley is reportedly being investigated for accepting extra benefits for memorabilia and/or autographs
. Texas A&M's Johnny Manziel only sat out the first half of last season's opener after getting caught up in an autograph-sale scandal. It's unclear how much time Gurley will miss, but he will not play in the Bulldogs' pivotal game at Missouri on Saturday. Unfortunately for Heisman Trophy contenders, you don't get to go through life experiences quietly and out of the public eye. This also reignites a reasonable
debate about whether a college athlete deserves to have the ability to profit from his or her likeness or signature
. This probably won't be the last time a college star is embroiled in this kind of situation.
2. Without question, one of the biggest games in the SEC this weekend is Ole Miss' visit to Texas A&M. Manziel led A&M to narrow wins against the Rebels in both 2012 and 2013, but it's now on Kenny Hill to carry the Aggies' offense. Those Ole Miss teams weren't ranked third nationally like this one, though, and
these Rebels remember those bitter defeats well
. What makes this game particularly intriguing is the matchup between Ole Miss' defense which might be the best in the SEC and an A&M offense that typically puts up points in droves -- although Mississippi State proved last weekend that
the Aggies can be stopped
. Here's a good Ole Miss-A&M
breakdown from the Dallas Morning News
. One more item to watch on Saturday:
If it rains, keep an eye on the turf conditions at new Kyle Field
. The field was a mess in the Aggies' last home game against Rice following a night of heavy rain.
3. Love him or hate him, you can usually expect to hear Steve Spurrier say something interesting. Check out some of his comments on Wednesday night's call-in show. Gems like, "
I am embarrassed at times the way we play
." Spurrier's South Carolina players say they
haven't lost faith in quarterback Dylan Thompson
, but it's clear that he needs to play better as the Gamecocks hit the stretch run in the SEC East. South Carolina has a week off to lick its wounds after last Saturday's upset loss to Kentucky. Meanwhile the Wildcats, enter Saturday's game against Louisiana-Monroe as one of the SEC's feel-good stories. At 4-1,
Kentucky boasts one of the nation's top pass defenses
.
Around the SEC
Florida's
back to its ground-and-pound identity
because of its problems in the passing game.
Speaking of the running game, LSU knows it
needs to get its ground game going
against Florida on Saturday.
Sammie Coates and Duke Williams get most of the headlines, but
Auburn's receiving corps is much deeper
than just the two biggest stars.
Arkansas defensive backs coach Clay Jennings
compares Alabama receiver Amari Cooper to NFL star Calvin Johnson
.
A
new sexual assault claim
has surfaced in the Vanderbilt rape case from last year.
Tweet of the day
Excited to honor the 1964 Arkansas National Championship team with special uniforms this Saturday! #WoooPig pic.twitter.com/cmQiyS2Sby

— Bret Bielema (@BretBielema) October 9, 2014
April, 17, 2014
Apr 17
11:00
AM ET
There's a saying that the Arkansas defense is living by this spring in hopes of becoming a better, more aggressive unit this fall.
It rings true with the mentality new defensive coordinator Robb Smith wants to instill in his group.
"Coach Smith stressed he can stand getting beat, but he can't stand getting 'beat up,'" senior defensive end
Trey Flowers
said.
[+] Enlarge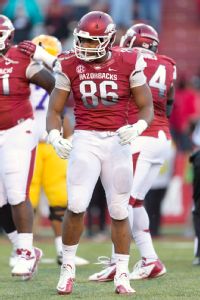 Wesley Hitt/Getty ImagesSenior DE Trey Flowers and the Arkansas defense have a new attitude this spring.
The Razorbacks would prefer to be on the right side of both, but the effort is the key part of the equation. Given that, the unit is working this spring to become faster, more physical and more aggressive than before. Rather than read-and-react, it's more line-up-and-attack in Fayetteville, Ark., which is the what Razorbacks coach Bret Bielema is looking for.
"When Bret hired me, one of the things he wanted to do was be aggressive on defense," Smith said. "We're going to pick our opportunities to do that. We have a couple of wrinkles in right now, and we'll continue to build off of that. We've got to continue to get more precise with those things and keep getting better and keep improving."
The focus this spring, Flowers said, has been on physical play, stopping the run and creating turnovers. The Razorbacks were 11th in the SEC and 90th in the nation last season in yards-per-carry allowed (4.67) to opponents and were 11th in the league in rushing yards allowed per game (178.58). When it comes to turnovers, the Razorbacks had the worst turnover margin in the SEC (minus-9) and they created the fewest, too (14).
So the current defensive staff, which consists of one returnee (linebackers coach Randy Shannon) and three newcomers (Smith, defensive line coach Rory Segrest and secondary coach Clay Jennings) has honed in on getting the Razorbacks playing with the type of mentality desired.
"I think you do it a couple different ways," Smith said. "You practice it in terms of technique. You make sure you're physical tackling. You make sure that you're taking on blocks the right way. You can do it from a scheme standpoint. You make sure you're dictating daylight, things of that nature. You can pressure a little bit. I think all of that kind of builds to an aggressive mentality."
While the Razorbacks remain in a base 4-3 alignment, there are definitely wrinkles and differences in what they're doing this season. Segrest said the defensive line is transitioning to the attacking mentality.
"I think one of the biggest things, just looking back at least year, there was more of a read concept and I'm more of an attack guy when the ball is snapped," he said. "We still want to make sure we're attacking proper aiming points and not just running up the field, so there's an adjustment going from a pure read to an attack and react. That's been a little bit of a transition, but I think the guys have really come a long way as far as that goes."
Senior cornerback
Tevin Mitchel
, one of six starters returning on Arkansas' defense, said he completely buys into Smith's "I can stand getting beat, but I can't stand getting beat up," approach.
"I love that saying because as a corner, you can tell that he understands that you're going to get beat. That's just the game of football," Mitchel said. "He can stomach that, he can deal with that. But he cannot stomach getting beaten up. I'm down for that. I'm doing my best every practice not to get beat. My job is to defend my man from the ball and be more physical than the other man."
Smith stressed that there's a long way to go before the Razorbacks are where they want to be defensively and that the defense is still "a work in progress." But the players seem to have the kind of attitude he and his staff are seeking, and they hope that translates to results in the 2014 season.
"It's just instilling that attitude, being a championship defense," Flowers said. "That's with everything from running to the ball, smart swarming, tackling, creating takeaways and just being physical. That all-around attitude is one we just want to hang our hat on and get better at during the spring."
SEC SCOREBOARD
Saturday, 12/27
Saturday, 12/20
Monday, 12/22
Tuesday, 12/23
Wednesday, 12/24
Friday, 12/26
Monday, 12/29
Tuesday, 12/30
Wednesday, 12/31
Thursday, 1/1
Friday, 1/2
Saturday, 1/3
Sunday, 1/4
Monday, 1/12
Tweets from https://twitter.com/ESPNCFB/lists/sec