November, 18, 2013
11/18/13
1:50
PM ET
They will be talking about Nick Marshall's miraculous 73-yard touchdown pass to
Ricardo Louis
on the Plains for a long time.
As Hail Marys go, that one has to be right there at the top. But where does that play rank among some of the more thrilling and/or memorable ones in SEC history?
[+] Enlarge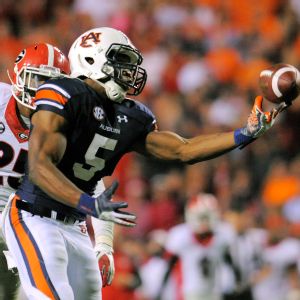 Shanna LockwoodRicardo Louis' catch will live in SEC lore.
Here's a look at a few more that will live eternally, and we've listed them chronologically.
Obviously, there are countless others. Let us know what we've missed.
Oct. 31, 1959: Billy Cannon's tackle-breaking 89-yard punt return on Halloween night stands as one of the most famous plays in college football history. It was the only touchdown scored that game, lifting No. 1 LSU to a 7-3 win over No. 3 Ole Miss in Baton Rouge.

Dec. 2, 1967: Alabama quarterback Ken Stabler's 47-yard touchdown to beat Auburn 7-3 is known simply as "The Run in the Mud." The game was played in a driving rainstorm, and Stabler saved the Tide that day with his scamper around right end in what was a quagmire of a field.

Dec. 7, 1972: Known as the "Punt, Bama, Punt" game, Auburn's Bill Newton blocked two Alabama punts in the fourth quarter, both returned for touchdowns by David Langner to lead the Tigers to a 17-16 win over the previously unbeaten and heavily favored Crimson Tide. Langner's game-winning score came in the final minute and a half.

Jan. 1, 1979: Who can forget Barry Krauss' fourth-down, midair stop of Penn State's Mike Guman just inches short of the goal line in the Sugar Bowl? It's one of the most memorable defensive plays in Alabama's storied history and preserved a 14-7 win over the Nittany Lions, leading to the first of two straight national titles for the Tide.

Sept. 6, 1980: It was the day Herschel Walker was introduced to the college football world. He ran over Bill Bates at the goal line on the first of two touchdown runs in his freshman debut, rallying Georgia to a 16-15 win over Tennessee in Knoxville and setting the stage for the Bulldogs' national championship run.

Nov. 1, 1980: Mississippi State snapped Alabama's 28-game winning streak with a 6-3 win over the Tide in Jackson, Miss. With the Tide threatening in the final seconds on first-and-goal from the 4, the Bulldogs got a huge defensive play to secure one of the more memorable upsets in SEC history. Tyrone Keys darted through and forced Alabama quarterback Don Jacobs to fumble on an option play, and Billy Jackson was there to recover for Mississippi State. Afterward, Bear Bryant came into the Mississippi State locker room to congratulate the Bulldogs.

Nov. 8, 1980: This one also has its own name, "Run, Lindsay, Run." Lindsay Scott's 93-yard touchdown catch and run on third-and-8 from Georgia's own 7 allowed the Bulldogs to pull out a 26-21 win over Florida in the final seconds in Jacksonville and keep alive their national championship season.

Oct. 8, 1988: There aren't many touchdowns that lead to earthquakes, but Tommy Hodson's game-winning 11-yard touchdown pass to Eddie Fuller on fourth down in LSU's 7-6 victory over Auburn registered vibrations on a seismograph in the LSU geology department.

Dec. 5, 1992: Antonio Langham returned an interception 27 yards for a touchdown with 3:15 to play in the inaugural SEC championship game, leading Alabama to a 28-21 win over Florida and setting the stage for the Tide's national championship victory over Miami in the Sugar Bowl.

Nov. 14, 1998: Clint Stoerner's stumble and fumble after it appeared all Arkansas had to do was run out the clock in the final 1:43 gave Tennessee new life, and the Vols zipped in for the game-winning touchdown to stay unbeaten and keep alive their 1998 national championship season in miraculous fashion.

Nov. 9, 2002: Yep, another one with a nickname, "The Bluegrass Miracle." Marcus Randall threw a desperation 75-yard touchdown pass that was batted around and caught by Devery Henderson as time expired, lifting LSU to a 33-30 win over Kentucky in Lexington.

Nov. 16, 2002: David Greene threw a 19-yard touchdown pass to a leaping Michael Johnson on fourth-and-15 with 1:25 to play, giving Georgia a 24-21 win over Auburn on the Plains and paving the way for the Bulldogs' first SEC championship in 22 years.
March, 28, 2013
3/28/13
4:50
PM ET
OK, I know I didn't cover all of the
memorable SEC upsets from the last 30 to 35 years in my earlier post
.
And, yes, I've already heard from some of you about those that weren't included.
So as promised -- and hoping that there are a few more compelling upsets to come in the NCAA tournament -- below are several more upsets involving SEC teams that fans have either tried to keep alive all these years or do their best to forget.
I've also included non-conference games and bowl games in this batch, and they're listed chronologically.
Texas A&M 29, Alabama 24 (2012):
The Aggies were a 13-point underdog on the road against the No. 1 Crimson Tide, and Johnny Football delivered the performance that won him the Heisman Trophy.
South Carolina 35, Alabama 21 (2010):
The No. 1 Crimson Tide had their 19-game winning streak snapped before a raucous crowd at Williams-Brice Stadium. Steve Spurrier said afterward that his Gamecocks played close to perfection on offense. Naturally, South Carolina lost the next week at Kentucky.
Jacksonville State 49, Ole Miss 48, 2 OTs (2010):
Ole Miss, coming off a nine-win season, opened the 2010 season by blowing a 21-point halftime lead and losing at home to the FCS Gamecocks.
Vanderbilt 17, South Carolina 6 (2007):
The Gamecocks debuted at No. 6 that week in the first BCS standings, but were stunned at home by the Commodores. It was one of two SEC wins that season for Vanderbilt.
Kentucky 43, LSU 37, 3 OTs (2007):
Braxton Kelly's stop of Charles Scott on fourth-and-2 in the third overtime preserved Kentucky's biggest win in decades and sent the No. 1 Tigers packing even though they rebounded to win the national title that season.
Auburn 20, Florida 17 (2007):
Wes Byrum kicked a 43-yard field goal as time expired to end an 11-game winning streak for the defending national champion Gators and hand Urban Meyer his first loss in the Swamp.
Vanderbilt 24, Georgia 22 (2006):
Bryant Hahnfeldt kicked a 33-yard field goal with seven seconds left to cap a game-winning 65-yard drive for the Commodores, whose only other wins that season were over Duke, Tennessee State and Temple.
Mississippi State 38, Florida 31 (2004):
It's an upset Ron Zook remembers all too well. It cost him his job.
Auburn 23, Florida 20 (2001):
The No. 1 Gators were a three-touchdown favorite and had won their first five games by a 244-45 margin. The unranked Tigers, though, sent Jordan-Hare Stadium into a frenzy when Damon Duval booted the game-winning 44-yard field goal with 10 seconds to play.
Mississippi State 47, Florida 35 (2000):
The No. 3 Gators had their 72-game winning streak against unranked teams snapped in Starkville as the Bulldogs rolled up 351 yards on the ground.
Arkansas 28, Tennessee 24 (1999):
The Vols were No. 3 and pointing toward a run at a second straight national title, but Clint Stoerner and the Hogs exacted revenge from the heartbreaking loss the year before in Knoxville when Stoerner stumbled and fumbled. When it was over, the Hogs' fans tore down the goalposts and paraded them up and down Dickson Street.
Georgia 20, Auburn 16 (1986):
It was a bitter home loss for the No. 8 Tigers and cost them a share of the SEC championship. It's a game that's probably best remembered for the water cannons at Jordan-Hare Stadium being turned onto the Georgia fans while they celebrated on the field after the game.
Miami (Ohio) 21, LSU 12 (1986):
The eventual SEC-champion and Sugar Bowl-bound Tigers opened the season by taking down No. 7 Texas A&M and rose to No. 8 in the polls. The very next week, they were ambushed at home by Miami (Ohio).
Tennessee 38, Auburn 20 (1985):
The Vols knocked eventual Heisman Trophy winner Bo Jackson out of the game and blistered the No. 1 Tigers in Knoxville behind four touchdown passes from Tony Robinson.
Georgia 10, Texas 9 (1984):
The Bulldogs capped the 1983 season by upsetting No. 2 Texas in the Cotton Bowl and knocking the previously unbeaten Longhorns out of the national title picture. Vince Dooley said that Texas defense was one of the best he's ever seen.
Tulane 31, LSU 28 (1982):
It's the last time Tulane has beaten LSU, which was ranked No. 7 entering the game and would go on to play in the Orange Bowl that season.
Georgia Tech 24, Alabama 21 (1981):
This ranks right up there with some of the more improbable upsets in history involving SEC teams. Alabama was ranked No. 2, but managed to lose in Birmingham to a Georgia Tech team that finished 1-10 that season -- the lone win coming over the Tide.