January, 9, 2014
Jan 9
10:00
AM ET
Dee Ford
has seen it all during his time at Auburn -- the highs and the lows.
As a freshman, he won a BCS national championship. Two years later, he endured a 3-9 season and the coaching change that ensued. But the senior defensive end stuck around and finished his career as a part of this year's Auburn team that came a play or two away from winning a second national championship in the last four years.
[+] Enlarge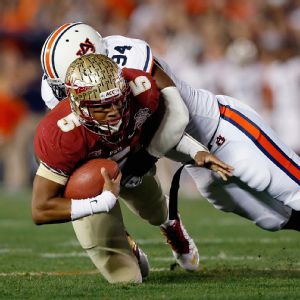 Kevin C. Cox/Getty ImagesNosa Eguae ended his senior season in the same way he ended his freshman season in 2010 -- starting for Auburn in a BCS championship game.
"It's been a big roller coaster," Ford said prior to Monday's title game. "There's a message behind it. Things aren't going to work out when you expect it to. It's really revealed who we are as individuals and who we are as a team."
Things didn't work out for the Tigers in Pasadena. They ultimately fell short of the ultimate goal, losing to Florida State in the national championship, but it was still a season to remember for Ford and the rest of that senior class. After everything, they went out on top.
"It means a lot for me to go out (like this) my last year," Ford said after the game. "In the entire time, we set a goal to have the biggest turnaround in college football history, and it was an amazing journey for me. I'm definitely proud to be an Auburn Tiger right now. We didn't win, but at the end of the day, I'm still proud of my team."
It was the same sentiment shared by all 15 seniors. The majority of them were there for the 2010 national championship. They all went through last year's difficult season and finished this season on top, despite the loss to the Seminoles.
It was a journey that brought them closer together.
Ford's partner on the defensive line,
Nosa Eguae
, is also a senior. In fact, he was the only starter from the 2010 team still on the roster. On Tuesday, Eguae addressed his fellow seniors in an open letter to the fans that he shared with multiple media outlets.
"This is the last time my brothers and I will get to spend a day with each other," Eguae said. "For tomorrow, we will go our separate ways and pass the torch to the next group of seniors that will lead and fight for the greater good of the family. From tragedy to triumph, I could not ask for a better group of men to ride off into the sunset with."
In addition to Eguae and Ford, the senior class that has grown so close together includes the likes of
Steven Clark
,
Chris Davis
,
Jake Holland
,
Cody Parkey
,
Jay Prosch
,
Ryan Smith
and
Ryan White
-- all who started or made an impact at some point during the season.
It's a group that could have won two national championships during their time at Auburn but will still leave behind a legacy that will affect the program for years to come.
"There will be a lot of great things and great memories that our seniors have led us to be," Auburn coach Gus Malzahn said. "We were just on the brink of making it one of those magical seasons, but there's so many great things that we'll take. I just told the seniors they laid the groundwork for our program moving forward, and our program is very bright right now."
With nine starters returning on offense, pending
Tre Mason
's decision, and seven starters returning on defense, the Tigers should be among the nation's elite teams again next season. They're ranked No. 5 in ESPN's
Way-Too-Early Top 25
for 2014. But it will be up to the seniors-to-be to provide the leadership.
Center
Reese Dismukes
, a three-year starter, knows he'll be counted on as a leader again next season, but he showed his appreciation to the departing seniors after Monday's game.
"Proud of my teammates and coaches," the Auburn captain tweeted. "We fight and fight til the end. Thanks seniors for all you've done for this program."
The torch has been passed.
July, 11, 2013
7/11/13
4:00
PM ET
We've looked at how all
14 special teams units stack up in the SEC
. Now, it's time to take a look at the top kickers and punters the conference has to offer.
We're going five and five, so we'll start with the kickers:
1. Carey Spear, Sr., Vanderbilt:
He enjoyed arguably the best season of any Vandy kicker after he connected on 20-of-24 field goals and set the school record for field goals made and kick scoring. He was also perfect from within 43 yards. He had a long of 52 yards and was 7-of-11 from 40 yards and out.
2. Cody Parkey, Sr., Auburn:
He didn't attempt a lot of kicks last year, but made 11-of-14 field goals and didn't miss from within 46 yards. He's also connected on 51 straight extra points. With what should be an improved offense, he should have more opportunities to show off his leg this fall.
3. Zach Hocker, Sr., Arkansas:
Even though he only made 11-of-18 field goals last year, Hocker is currently the most successful kicker in the SEC. He is the SEC's active career leader in extra points made (143), total points (287) and points per game (7.6).
4. Andrew Baggett, So., Missouri:
As a freshman, Baggett only missed two kicks under 40 yards and was an SEC All-Freshman Team member. He finished the year hitting 14-of-20 field goals, with a long of 46 yards, and 33-of-37 extra points.
5. Devon Bell, So., Mississippi State:
Bell was a little inconsistent when it came to hitting from distance early, but finished the year nailing 14 of his last 18 field-goal attempts. He hit 43-of-44 extra points, but will need to make sure the momentum he ended last season with spills over to the fall.
On to the punters:
1. Kyle Christy, Jr., Florida:
He was one of the nation's best last year and should be considered the top punter in the country entering the 2013 season. He had a long of 62 yards and booted 25 of his punts 50-plus yards. Twenty-seven of his punts landed inside opponents' 20-yard line and he ranked ninth nationally last year in net punting.
2. Landon Foster, So., Kentucky:
He'll start the season as one of the nation's best after 42.9 yards per punt and blasting 22 kicks 50-plus yards last season. He had a net average of 39.5 and had 13 kicks downed inside the 20. Fourteen of his kicks resulted in fair catches.
3. Tyler Campbell, Sr., Ole Miss:
He redshirted last year, but was one of the best in the country two years ago. In 2011, Campbell averaged 43.6 yards per kick and ranked second in the SEC with 28 kicks that were downed inside the 20. Campbell has averaged 44.6 yards per punt during his career.
4. Baker Swedenburg, Sr., Mississippi State:
Sure, he only sent five of his punts 50-plus yards, but he was one of the most consistent punters in the SEC last year. He averaged 41.1 yards per punt and pinned 18 kicks inside the 20. Ten of those punts were downed inside the 10. With his hang time, Mississippi State led the nation in punt coverage (.46 yards per return).
5. Cody Mandell, Sr., Alabama:
Yes, Alabama does have a punter -- and he was pretty good last year. He averaged 44.3 yards on 50 punts, pinning 19 inside the 20 and sending 14 50-plus yards. He also had a net of 39.5 yards.
July, 11, 2013
7/11/13
2:50
PM ET
We conclude our position rankings by looking at special teams. These can be some of the unsung heroes of teams or they can be major goats. Believe it or not, it's hard out there for special teams guys.
Here's how all 14 SEC special teams units rank heading into the 2013 season:
1. Mississippi State:
The Bulldogs return starting kicker
Devon Bell
, who hit 14 of his last 18 field goals last year, and punter
Baker Swedenburg
, who averaged 41.1 yards per kick last year and had a net of 39.9 yards.
Jameon Lewis
was Mississippi State's top return man last year, averaging 25.9 yards on his 20 kick returns. He also took one 100 yards for a touchdown. With Johnthan Banks gone, Lewis could move to punt returner, while
LaDarius Perkins
and
Robert Johnson
can handle kickoffs. Mississippi State also allowed just 6 yards on 13 punt returns (.46 yards per return), but did allow two touchdowns on kickoffs.
[+] Enlarge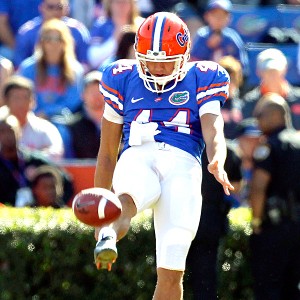 AP Photo/John RaouxKyle Christ has averaged 44.0 yards per punt in his two seasons at Florida.
2. Florida:
The Gators have to replace All-American kicker Caleb Sturgis, which won't be easy at all with nothing but inexperience there, but Florida has arguably the nation's best punter in
Kyle Christy
. He averaged 45.8 yards per kick, pinned 27 kicks inside the 20-yard line, blasted 25 punts that went 50-plus yards and ranked ninth nationally in net punting.
Andre Debose
proved to be one of the SEC's best return men again, averaging 28.3 yards on 18 kick returns and taking one back 100 yards for a score.
Loucheiz Purifoy
is a great cover guy and can help return kicks along with
Marcus Roberson
. Florida gave up 7.3 yards per punt return (one touchdown), just 18 yards on kickoffs and blocked six kicks last year.
3. Vanderbilt:
Carey Spear
knocked 20-of-24 field goals through last year, setting the school record for field goals made and kick scoring. He also didn't miss anything within 43 yards. Vandy must replace solid punter Richard Kent. Redshirt freshman
Colby Cooke
and walk-on
Taylor Hudson
competed at punter this spring, but freshman Tommy Openshaw could get a shot as well.
Jonathan Krause
returned 25 punts for 281 yards and became the first Commodore in 45 years to return two punts for touchdowns last year. Both
Brian Kimbrow
and
Andre Hal
averaged a little more than 22 yards per kick return. Vandy was solid defending kickoffs, but was second-to-last in the SEC in defending punts (10.7 yards per return and one touchdown).
4. Missouri:
The Tigers return one of the nation's best return men in
Marcus Murphy
, who took three kickoffs and a punt to the house last fall. He averaged 24.1 yards per kick return and 13.9 per punt return.
Andrew Baggett
, who only missed two kicks under 40 yards last year, was a an SEC All-Freshman Team member last year, but has to be more consistent in 2013. Punter is up for grabs with Trey Barrow gone. Junior
Christian Brinser
is the favorite, but has just one career punt.
5. Alabama:
The Crimson Tide has one of the league's most reliable punters in
Cody Mandell
, whose 44.3 yards per kick, pinned 19 inside the 20 and booted 14 50-plus yards.
Christion Jones
averaged 26.6 yards per kick return (eight returns) and had a touchdown last year, while returning 21 punts for 213 yards. He could get help from the shifty
Dee Hart
, who returns from an ACL injury. Short-yardage kicker Jeremy Shelley is gone, but long-distance man
Cade Foster
is back. He's shown improvement, but hit just 4-of-9 kicks last year and could share duties with redshirt freshman
Adam Griffith
. Coverage has to improve as well.
6. LSU:
The Tigers lost kicker Drew Alleman and punter Brad Wing. Losing Wing sounds like the most significant, but the staff feels pretty confident in fellow Aussie
Jamie Keehn
, who averaged 43.7 yards on 12 punts last year.
Odell Beckham
Jr. racked up 320 yards and two touchdowns on punt returns and might get more chances on kickoffs. Freshman
Jeryl Brazil
is extremely fast and shifty, so expect him to get work in the return game, too. LSU was also one of the best kick/punt coverage teams in the SEC last year. Finding a suitable kicker won't be easy, though. Two walk-ons competed for the kicking job this spring. Junior
James Hairston
has a monster leg, but has been inconsistent on field goals.
7. Ole Miss:
In hindsight, Ole Miss' coaches made a smart decision when they decided to redshirt
Tyler Campbell
. He was one of the country's best punters two years ago and has a career average of 44.6 yards per kick. In 2011, he downed 28 kicks inside the 20.
Jaylen Walton
became a dangerous returner for the Rebels last year, averaging 24.7 yards on 26 kick returns, and took one 100 yards for a score. The Rebels have to replace kicker Bryson Rose, but senior
Andrew Ritter
, who redshirted last year, should have the first crack at it. Though, he hasn't attempted a field goal in his career. Ole Miss also has to improve its kick coverage, as they gave up three total touchdowns on returns.
8. Auburn:
The Tigers had some of the best numbers around when it came to defending kickoffs and punts. But that's because Auburn didn't kick off much and opponents rarely punted. So it's tough to say how good the Tigers are in those areas, but on five punt returns the Tigers allowed just 4 yards. Kicker
Cody Parkey
hit 11 of 14 kicks last year and didn't miss from within 46 yards. He's also hit 51 straight extra points. Punter
Steven Clark
averaged only 39.8 per kick, but his hang time forced only five returns last year. Onterio McCalebb is gone, finding a game-changer like him is up for grabs. Eyes are on
Trovon Reed
and
Quan Bray
.
9. Arkansas:
Kicker Zach Hocker enters the season as the SEC's active career leader in extra points made (143), total points (287) and points per game (7.6). He'll have to improve on his 11-of-18 field-goal mark from last year. The Hogs were middle-of-the road when it came to defending returns and lost top return man Dennis Johnson.
D'Arthur Cowan
and
Nate Holmes
will handle return duties. Holmes ranked 10th in the SEC with a punt return average of 6.4 yards per return, while Cowan averaged 17.6 yards per kick return.
10. Texas A&M:
The Aggies have one of the SEC's best returners in
Trey Williams
, who averaged 22.3 yards on 25 returns.
Brandon Williams
, who should be a big-play athlete for A&M, should also help out on kick returns.
De'Vante Harris
and
Sabian Holmes
should provide the Aggies with some solid return options on punts as well. A&M lost punter
Ryan Epperson
, but
Drew Kaser
shouldn't miss a beat as his replacement. Kicker
Taylor Bertolet
has to be much better, though. He hit just 13 of 22 field goals, missed seven extra points and was just 2-of-9 on field goals between 30 and 49 yards.
11. South Carolina:
Bruce Ellington
is a very good and very experienced kick returner. He averaged 22.6 yards per return last season and had a long of 50 yards. Now, replacing Ace Sanders at punt returner won't be easy, but
Victor Hampton
should be a viable option there. He's extremely fast and is a fast-twitch player, so he should be able to create plays in space. Speedy
Damiere Byrd
will get a chance on kickoffs and possesses the speed to hit a home run when he touches the ball. Punter
Tyler Hull
is back after averaging 39.4 per kick and pinning 12 inside the 20.
Landon Ard
left spring as the top placekicker, but has only handled kickoff duty during his career.
12. Tennessee:
The Vols might have to rely on
Michael Palardy
to handle field goals, punts and kickoffs this fall. He hit 9 of 12 field goals last year, while
Derrick Brodus
hit 6-of-7. Only Palardy attempted a kick more than 40 yards last year and missed it. There will be competition at kicker, but Palardy should have the punter spot after averaging 43.1 yards per kick, pinning 16 inside the 20 and blasting 13 50-plus yards. With Cordarrelle Patterson gone,
Devrin Young
should take over kickoff and punt return duties. He was Tennessee's top punt returner last year.
13. Kentucky:
The Wildcats return one of the nation's best punters in
Landon Foster
, who averaged 42.9 yards per kick and had 22 kicks go for 50-plus yards last year. But Kentucky is still searching for a field goal kicker.
Joe Mansour
has been the kickoff guy for three years, but freshman Austin MacGinnis might be the guy the coaches are depending on the most when he gets in for fall camp. Kentucky has one of its top return guys coming back in
Demarco Robinson
, but lost
DeMarcus Sweat
this summer. Sweat averaged 20.5 yards per return.
14. Georgia:
The Bulldogs continued the trend of having issues defending returns, ranking last in the SEC in punt coverage (11.1 yards per return and a touchdown) and eighth in kickoff coverage (20.2 yards per return). Another concern is kicker, where
Marshall Morgan
could miss at least one game this fall following an arrest on June 29 for boating under the influence. He's Georgia's only scholarship kicker and was shaky last year, hitting 8 of 14 field goals. Punter
Collin Barber
averaged 41.5 yards per punt and pinned 19 of his 60 kicks inside the 20.
Malcolm Mitchell
has all the talent to be a return star, but his ill-advised decision-making has turned him into a liability.
July, 11, 2013
7/11/13
10:00
AM ET
The preseason accolades for kickers kept rolling in Wednesday, as the preseason watch list for the
2013 Lou Groza Award
was announced. The Lou Groza Award is given annually to the nation's best placekicker.
Earlier on Wednesday, the Ray Guy Award, which is given annually to the nation's top punter,
watch list was released
.
The SEC has had its fair share of watch list members thus far, but only two made it onto the Lou Groza list:
We're taking a look at special teams today as we conclude our position rankings, so you'll see what we here at the SEC blog think of these guys and their fellow place kickers.
December, 20, 2012
12/20/12
4:00
PM ET
We continue our look at the best and worst moments from the season that was for all 14 SEC teams by taking a look at the
Auburn Tigers
:
BEST

The Tigers didn't have many happy moments to celebrate in 2012. In a year in which Auburn went 0-8 in conference play and watched as head coach Gene Chizik was shown the door only two years removed from winning a national championship, there wasn't a lot for this program to celebrate. But the best moment of the year came way back in September when the Tigers beat giant killer Louisiana-Monroe in overtime, thanks to a 35-yard field goal by
Cody Parkey
. A week removed from watching the Warhawks upset Arkansas in Little Rock, Ark., the Tigers didn't become the second SEC victim after it clawed its way to its most respectable win of the year. The only other two victories for the Tigers came against New Mexico State and Alabama A&M. The Warhawks proved to be a solid team all year, but when they went to the Plains in September, they were upended by the Tigers. Auburn totaled 418 yards of offense, including 255 on the ground. Louisiana-Monroe had the ball first in overtime, but had its field goal attempt blocked by
Angelo Blackson
. Three plays later, Auburn had its game-winning field goal and avoided an 0-3 start to the season.
WORST
The Tigers hardly stepped into the building when it was blasted by archrival Alabama 49-0 in Tuscaloosa in the season finale. The Tigers were listless and totally overmatched, as the Crimson Tide put up 42 points by halftime. By the time Alabama got up 14-0 in the first quarter, the Tide had outgained Auburn 102-2. This game marked the second straight year in which Alabama's defense didn't surrender any points to the Tigers' offense. When all was said and done, Alabama registered 483 yards of offense to Auburn's 163. The Tigers turned it over three times and recorded just seven first downs. The writing was on the wall concerning Chizik's fate well before Auburn rolled over against the Tide, but Auburn made his firing official the very next day. Auburn finished the year near the bottom of the SEC in just about every major offensive and defensive category.
Prior best/worst:
September, 17, 2012
9/17/12
11:51
AM ET
The SEC league office has announced its top performers for Week 3:
SEC OFFENSIVE PLAYER OF THE WEEK
Jeff Driskel, QB, Florida:
Driskel completed 14-of-20 passes for 219 yards and two touchdowns and rushed for 81 yards in Florida's 37-20 win at Tennessee. He accounted for 300 of Florida's 555 total offensive yards, the most for the Gators in an SEC game since 2001.
SEC DEFENSIVE PLAYER OF THE WEEK
Kenronte Walker, S, Missouri:
Walker made two plays at the goal line late in the game to preserve Missouri's 24-20 win over Arizona State. With 3:36 left in the 4th quarter and on a 4th-and-goal for Arizona State at the MU 3-yard line, Walker deflected a Sun Devil pass to stop a potential ASU scoring drive. On its next defensive stand, with 1:58 left in the game, Walker intercepted a Sun Devil pass on a 3rd-and-9 play at the MU 20-yard line, and returned it 49 yards to seal the Tiger victory.
SEC SPECIAL TEAMS PLAYER OF THE WEEK
Cody Parkey, PK, Auburn:
Parkey's 35-yard field goal in overtime gave Auburn a 31-28 win against Louisiana-Monroe. Parkey hit all four of his point-after-touchdown attempts in the game, accounting for seven points. The average starting field position for the Warhawks' four possessions on Parkey kickoffs was its own 15-yard line, which included one touchback.
SEC OFFENSIVE LINEMAN OF THE WEEK
Chance Warmack, OG, Alabama:
Warmack led an Alabama offensive line that totaled 438 total yards (225 rushing and 213 passing) in the Tide's 52-0 win at Arkansas. He posted the offensive line's highest grade at 91 percent with no pressures, no sacks allowed and no penalties. Alabama's offensive line did not allow a sack in the game and did not have a turnover.
SEC DEFENSIVE LINEMAN OF THE WEEK
Jadeveon Clowney, DE, South Carolina:
Clowney was credited with seven tackles, including 3.5 for loss for minus-17 yards with two sacks, in South Carolina's 49-6 win over UAB. The Gamecock defense held the Blazers to just 89 second-half yards and just 27 rushing yards on 42 carries. South Carolina's defense sacked UAB quarterbacks six times in the contest.
SEC FRESHMAN OF THE WEEK
Johnny Manziel, QB, Texas A&M:
Manziel completed 20-of-36 passes for 294 yards with four touchdowns and no interceptions and rushed for 124 yards and two touchdowns in Texas A&M's 48-3 win at SMU. Manziel set an A&M freshman record for passing yards and tied the freshman mark for touchdown passes against the Mustangs. His 418 yards in total offense and six touchdown responsibility (4 pass and 2 rush) are the most in the SEC this season.
September, 17, 2012
9/17/12
9:00
AM ET
After another Saturday of action, it's pretty clear that Alabama is on another level in this sport. The Crimson Tide had their way with an overmatched Arkansas team, but they did so without displaying their best effort.
I don't care if the Hogs were hurting; Alabama looked pretty darn good out there.
The question now is who can top the Tide?
1. Alabama (3-0; LW: 1):
The Crimson Tide left little doubt that they're the best team in the country after blowing Arkansas out of its own stadium 52-0. The Razorbacks might have been down, but it's not like they didn't have talent to test Alabama. Saturday was barely a contest and now everyone is wondering if anyone can beat this team right now.
2. LSU (3-0; LW: 2):
The Tigers are quietly playing some very good ball. They've outscored their opponents 145-31 and have been running the ball down teams' throats, averaging an SEC-high 269.3 yards per game. Alabama is getting all the love, but LSU isn't far behind the Tide.
3. Georgia (3-0; LW: 3):
The Bulldogs' offense has really been clicking thus far, and we're starting to see that running game get better and tougher. Georgia's defense still has a little more bend than the coaches would like in areas, but it's done a pretty decent job without being at full strength through the first three games. This unit will only get better once
Bacarri Rambo
and
Alec Ogletree
return.
4. South Carolina (3-0; LW: 4):
The Gamecocks have spent the past two weeks working in their backup quarterback, but haven't missed a beat.
Dylan Thompson
has passed for 507 yards and five touchdowns in the past two games, and South Carolina has scored 48 and 49 points, respectively. However,
Connor Shaw
is now dealing with a fracture in his right shoulder, so we might see even more of Thompson from here on out.
5. Florida (3-0; LW: 6):
Talk about a second-half team. The Gators have spent the past two weeks stumbling around in the first half, only to run over opponents in the second half. And what's even more impressive is that Florida has done this on the road in two very hostile environments. Against Tennessee on Saturday, Florida registered 555 yards of offense, including 336 on the ground. This team is much tougher than it has been the past two years.
6. Mississippi State (3-0; LW: 7):
A letdown against Troy certainly wasn't out of the realm of possibility for the Bulldogs, and they almost got caught sleeping. But Mississippi State survived and has one more tuneup before heading into the meat of conference play. Quarterback
Tyler Russell
joins West Virginia's
Geno Smith
as the only quarterbacks in the country with efficiency ratings of 160-plus, eight touchdowns and no interceptions.
7. Tennessee (2-1; LW: 5):
When the Vols had a chance to make a big statement in the league, they fell flat in the second half at home against the Gators. This team had Florida on the ropes and let the Gators get away, getting outgained 152-5 in the fourth quarter. Tennessee has a lot of talent, but the magnitude of Saturday's game clearly got to this team.
8. Missouri (2-1; LW: 9):
The Tigers have been banged up all year, and had to play over the weekend without starting quarterback
James Franklin
, who reinjured his shoulder against Georgia. Still, this team showed good toughness against Arizona State in a game that could have turned into a real shootout. The Tigers have to get healthy with a very physical South Carolina coming up as Mizzou turns its attention to conference play.
9. Texas A&M (1-1; LW: 10):
The Aggies had a little bit of a hangover from the Florida game to start things off against SMU, but regrouped to bounce the Mustangs 48-3.
Johnny Manziel
is turning into quite the quarterback to watch, as he accumulated 418 total yards of offense and six touchdowns Saturday. The Aggies have a tuneup game against South Carolina State and then head into SEC play.
10. Auburn (1-2; LW: 12):
The Tigers avoided a miserable start by sneaking past Louisiana-Monroe in overtime. Instead of being yet another one of the Warhawks' victims, Auburn's defense stood tall in overtime to set up
Cody Parkey
's game-winning field goal. This team still has a lot of issues on both sides of the ball, but an 0-3 start would have been a disaster, especially with LSU next.
11. Ole Miss (2-1; LW: 11):
The offense looks much better and is more exciting, but the Rebels' defense was embarrassed at home Saturday, as Texas scored 66 points and gained 676 yards in the process. The defense has a lot of work to do before SEC play begins, but if the offense continues to play like it has through three games, Ole Miss will stop its SEC losing streak.
12. Arkansas (1-2; LW: 8):
All the Razorbacks have done thus far is beat Jacksonville State (and give up 21 points in the process) and drop back-to-back games to Louisiana-Monroe and Alabama. The last two losses, especially the 52-0 drubbing from Alabama, might have hurt more than Bobby Petrino's untimely exit.
Tyler Wilson
, who is battling a head injury, called his team out for quitting against Alabama, and he had every reason to.
13. Vanderbilt (1-2; LW: 14):
We finally saw the explosion we expected from Vanderbilt's offense Saturday. It might have been against Presbyterian, but it was a much-needed confidence booster for a team that was hovering around the bottom of the SEC in offensive production. But as the Commodores get ready for the heart of conference play, they'll do so with a quarterback controversy on their hands.
14. Kentucky (1-2; LW: 13):
Right when the Wildcats look like they're making some sort of progress, they throw it away with a bad overtime loss to Western Kentucky at home -- on a trick play no less. Kentucky's bowl chances got slimmer and slimmer with that loss and things around coach Joker Phillips have to be heating up. Even getting back to five wins will be very tough for the Wildcats this fall.
July, 23, 2012
7/23/12
10:00
AM ET
Now that we've ranked all 14 of the SEC's special-teams units, it's time to take a look at the league's top kickers.
Past rankings:
Here are our top 10 SEC kickers:
1. Caleb Sturgis, Sr., Florida:
The Lou Groza Award finalist hit on 22 of 26 field goal attempts for a kicking percentage of 84.6 last season. He was extremely accurate, hitting 19 of 21 kicks within 50 yards, and showed off his power by hitting 3-for-5 from 50 yards and beyond, including hitting a long of 55.
2. Drew Alleman, Sr., LSU:
He ranked first in the SEC and second nationally in field goal percentage after hitting 16 of 18 (88.9) field goal attempts last season, including a long of 44. He also made 62 of 63 (98.4) extra points. Alleman's solid 2011 season proved to be the most accurate year by an LSU kicker ever.
3. Zach Hocker, Jr., Arkansas:
He enters his senior season holding the Arkansas record for career field goal percentage at 80.4 percent and has 222 career points. Last season, he connected on 21 of 27 (77.8) field goal attempts, including a long of 50 yards, and made 57 of 59 (96.5) extra points.
4. Jeremy Shelley, Sr., Alabama:
After an average regular season, Shelley became one of Alabama's most important players in the BCS title game against LSU, as he hit 5 of 7 field goals. He finished the year hitting 21 of 27 (77.8) field goal attempts, and left last season much more confident than he entered.
5. Craig McIntosh, Sr., Kentucky:
He turned out to be one of Kentucky's best offensive weapons last fall, hitting 12 of 14 (85.7) field goals, including a long of 48. The Wildcats have more optimism concerning their offense and finding individual playmakers, but McIntosh will yet again be key for Kentucky in the points department.
6. Bryson Rose, Sr., Ole Miss:
While he only attempted 11 kicks last season, hitting nine of them, Rose has shown pretty solid accuracy during his career. He hit 16 of 18 field goals as a sophomore and has nailed 25 of 29 career kicks (86.2). With a new offense being installed, Rose's leg might be called even more this fall.
7. Cody Parkey, Jr., Auburn:
He led the Tigers in points last season, with 80, after hitting 13 of 18 field goals and 41 of 42 extra points. Parkey needs to work on his range, as all of his field goal attempts came within 50 yards last season. He's also a Lou Groza Award watch list member for 2012.
8. Trey Barrow, Sr., Missouri:
He filled in for the injured Grant Ressel last season and connected on 7 of 9 kicks (77.8), with a long of 39 yards. Barrow is the team's punter as well, but entered the spring as the starting kicker, but fell behind
Andrew Baggett
at times. He could rise or fall on this list depending on where he is on the place-kicking depth chart this fall.
9. Ryan Fowler, Sr., Vanderbilt:
He took over the place-kicking duties halfway through the season and hit 4 of 7 field goals, including a long of 35 yards, and all 19 of his extra-point attempts. Fowler was a two-year starter before
Carey Spear
passed him heading into last season. Fowler was 24-for-34 on field goals during his first two years as a starter.
10. Michael Palardy, Jr., Tennessee:
He was very inconsistent in 2011, but there was more of an emphasis put on special teams as a whole during spring practice at Tennessee. Last season, he hit 9 of 14 (64.3) field goals, including a long of 52. He has range to hit from deep, but has to improve his accuracy.
July, 11, 2012
7/11/12
11:45
AM ET
The SEC has six players on the 2012 preseason watch list for the Lou Groza Award, which is presented annually to the nation's most outstanding kicker.
Here are the six SEC players who made the Groza watch list:
For the full Lou Groza watch list,
go here
.
The SEC also has five players on the 2012 preseason watch list for the Ray Guy Award, which is presented annually to the nation's most outstanding punter.
Here are the five SEC players who made the Guy watch list:
For the full Ray Guy watch list,
go here
.
February, 10, 2012
2/10/12
4:00
PM ET
We've come to the end of our postseason position rankings. Special teams don't get a ton of credit when things go right, but we all know how much grief they get when things go wrong. Just look at all those shanks we saw from kickers last season.
Fortunately, there are other aspects of special teams that involve more exciting plays, like returns that can change the dynamic of a game or are just really easy on the eyes (just take a look at what
Joe Adams
did
to Tennessee last fall
).
You can see how we ranked the SEC's special teams units before the season
here
.
Here are our final rankings:
[+] Enlarge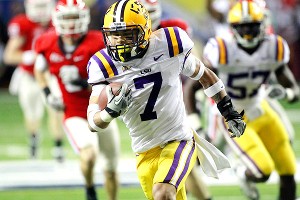 AP Photo/John BazemoreTyrann Mathieu's punt return for a touchdown against Georgia turned the momentum in the game.
1. LSU:
All-American punter
Brad Wing
averaged 44.4 yards per kick, had 20 punts of 50-plus yards and pinned 27 kicks inside the opposing 20-yard line. His long of 73 yards completely changed LSU's first game with Alabama.
Tyrann Mathieu
had two clutch punt returns for touchdowns against Arkansas and Georgia at the end of the season and was fifth nationally averaging 15.6 yards per return.
Morris Claiborne
also returned a kickoff for a touchdown and averaged 25.1 yards per return. Opponents averaged 3.7 yards per punt return and just 20 yards per kickoff against LSU.
Drew Alleman
led the SEC in field goal percentage (88.9), hitting 16-of-18 kicks.
2. Arkansas:
Adams was one of the best punt returners in the country, averaging 16.9 yards per return and taking four to the house for scores. The Hogs were just as dangerous on kickoffs, as
Dennis Johnson
and
Marquel Wade
both returned kicks for touchdowns and ranked in the top five in the SEC in return average.
Zach Hocker
hit 21-of-27 kicks and led all kickers by averaging 9.1 points per game.
Dylan Breeding
led the SEC in punting (45.3) and downed 16 inside the 20. Arkansas was one of the best in the SEC in kickoff coverage, but did allow two punt returns to go for scores in the two biggest games of the season.
3. Auburn:
Auburn had
Onterio McCalebb
and
Tre Mason
take kickoffs back for touchdowns, as the Tigers led the SEC in kickoff return average (24.7) and also in kickoff coverage. Auburn wasn't great returning punts, but punter
Steven Clark
was a Ray Guy Award finalist and pinned 33 punts inside the 20.
Cody Parkey
ranked sixth in the league in field-goal kicking, connecting on 13-of-18 kicks (72.2).
4. Florida:
Even without Urban Meyer running the show, the Gators were still pretty successful in this department. Florida was first in the SEC and tied for sixth nationally with six blocked kicks. Two punt blocks went for touchdowns.
Caleb Sturgis
was a Lou Groza Award finalist, hitting 22-of-26 field goals, including three from 50-plus yards. Florida was also solid in kickoff coverage and got kickoff touchdowns of their own from
Andre Debose
, who was third in the league in return average, and
Jeff Demps
. Florida averaged 7.2 yards per punt return and averaged 39.8 yards per punt.
5. Ole Miss:
If not for special teams, Ole Miss would have been even worse in 2011.
Tyler Campbell
averaged 43.6 yards per punt on his 72 attempts and pinned 28 inside the 20. The Rebels also had two different players --
Nickolas Brassell
and
Jeff Scott
-- return punts for touchdowns and Ole Miss was near the top of the league in kickoff coverage and had a net punting average of 38 yards.
Bryson Rose
also hit nine of his 11 field-goal attempts.
6. Vanderbilt:
It was a mixed bag for the Commodores when it came to special teams. Vanderbilt was second in the league in opponent punt return average (3.9), but allowed a touchdown, and gave up another touchdown on kickoff coverage. Vanderbilt also blocked two kicks. Missed field goals haunted Vanderbilt, as the Commodores missed two in the six-point loss to Tennessee and one at the end of regulation in a three-point loss to Arkansas.
Andre Hal
logged a kickoff touchdown, but Vandy was 11th in the league in punt return average.
7. Alabama:
Before the national championship game, Alabama's field-goal kicking game received a ton of criticism, especially for the four misses in the 9-6 loss to LSU. But
Jeremy Shelley
redeemed the unit by hitting 5-of-7 in the rematch. Alabama's kickers missed 13 kicks.
Marquis Maze
only had 12 kickoff returns, but averaged 28.5 yards per return, was third in the SEC in punt return average (13.2) and had that nifty touchdown against Arkansas. However, Alabama was 11th in the league in kickoff coverage and 10th in punt average.
8. Kentucky:
Punter
Ryan Tydlacka
was fourth in the league in punting (43.6), had 20 punts of 50-plus yards and had 19 of his punts downed inside the 20.
Craig McIntosh
connected on 12-of-14 field-goal attempts (.857). Kentucky was in the middle of the pack in kickoff coverage. The Wildcats weren't so good at returning kicks, ranking 11th in the SEC in kickoff returns and last in punt returns, averaging 1.8 yards per return.
9. Mississippi State:
The Bulldogs were last in the league in kickoff returns and were the only team to average fewer than 20 yards a return. The Bulldogs were better on punts, getting touchdowns from
Chad Bumphis
and
Johnthan Banks
, and ranked fifth in the league in punt return average. Punter
Baker Swedenburg
ranked seventh in punting and pinned 19 punts inside the 20.
Derek DePasquale
hit 12-of-18 field goals.
10. Tennessee:
The Vols didn't record any special teams touchdowns, but were fifth in the league in kickoff returns and seventh in punt returns. As far as defending returns, Tennessee allowed just 18.1 yards per return, but was 10th in punt return coverage and gave up a touchdown.
Michael Palardy
hit of nine of his 14 field-goal attempts and punter
Matt Darr
was 10th in the SEC in punt average (38.1).
11. South Carolina:
The Gamecocks struggled in the kicking game, but did have a bright spot in
Ace Sanders
recording a touchdown on a punt return and South Carolina blocked two kicks. However, South Carolina was seventh and eighth in the SEC in kickoff and punt returns, respectively. South Carolina was last in kickoff coverage and gave up a touchdown.
Jay Wooten
missed four field goals and three extra points, while punter
Joey Scribner-Howard
was ninth in the SEC in punting, averaging 38.9 yards per punt.
12. Georgia:
Outside of
Brandon Boykin
's 92-yard touchdown return in the Outback Bowl, his 22.4-yard average on kick returns and
Drew Butler
's 44.2 yards per punt, Georgia didn't do much at all on special teams. The group that was supposed to be first in the league allowed two kickoffs and punts to go for touchdowns and allowed a fake punt for a touchdown against South Carolina.
Blair Walsh
entered the season as one of the nation's top kickers, but hit just 21-of-35 kicks, including missing two in overtime in the bowl loss to Michigan State.
September, 30, 2011
9/30/11
9:00
AM ET
It's time to take a look at some interesting facts that you may not have known about the SEC as we head into the fifth weekend of the season:
Arkansas leads SEC, averaging 47.0 points per game in wins. Kentucky, averaging 20.5 points per game in its wins, is 12th.
Alabama's offense is averaging 6.9 yards per play, which leads the SEC. Last year, three SEC teams were above 6.9 yards per play -- Auburn (7.4), Arkansas (7.1) and Alabama (7.0).
Alabama has allowed only four plays of 20 or more yards this season, which is tied for second nationally. The Tide is also one of eight FBS teams to not allow a rushing play of 20-plus yards this season.
Florida leads the SEC and is tied for seventh nationally with only two sacks allowed in four games this season.
Saturday marks the first game between Alabama and Florida since 2006 that one isn't ranked No. 1 in the nation. This will also be the 14th straight game between the two in which one is ranked in the top 10 (every game since 1990).
In its two wins, Mississippi State has not allowed any sacks this season. Only Duke and Texas A&M have not allowed any sacks in its wins (two-or-more) this season.
Only Vanderbilt and Connecticut have given up just one red zone touchdown this season, lowest in FBS. Vandy opponents have only score one touchdown in six trips to the red zone.
Florida leads the nation in opponents' third-down conversions. The Gator defense has allowed opponents to convert just 21.1 percent of their third downs (11 of 52).
Auburn leads the nation in kickoffs with the average kickoff going 69.54 yards. Tiger kicker Cody Parkey leads the SEC with 15 touchbacks this season.
Georgia's Bacarri Rambo leads the nation in passes defended per game (interceptions and pass deflections) with 2.33 (seven in three games). He has four interceptions and three pass deflections this season.
LSU's Michael Ford leads the SEC in most 10-plus-yard rushing plays against ranked teams with seven. Georgia's Isaiah Crowell is second with five.
The average game time in the SEC is three hours and 16 minutes, which is four minutes more than the average for all FBS games (3:12). Arkansas plays the quickest games in the SEC at three hours, 10 minutes while Auburn's games are the longest at three hours, 25 minutes.
SEC teams are leading the nation in punt returns, averaging 31.0 yards per game and 11.03 yards per return. The next closest is the Pac-12 at 19.6 yards per game. The national average is 17.5.
Alabama allowed just seven points in the first half of last week's Arkansas game. The Crimson Tide has allowed seven points or less in the first half of its last nine games. The Crimson Tide has surrendered three points or less six times over the span including three first half shutouts. Chronologically, these games are: 3 by LSU (Nov. 6, 2010), 3 by Miss. State (Nov. 13, 2010), 7 by Georgia State (Nov. 18, 2010), 7 by Auburn (Nov. 26, 2010), 0 by Michigan State (Jan. 1, 2011), 0 by Kent State (Sept. 3, 2011), 3 by Penn State (Sept. 10, 2011), 0 by North Texas (Sept. 17, 2011), 7 by Arkansas (Sept. 24, 2011).
Arkansas is a perfect 15-of-15 (100.0 percent) inside the 20-yard line this season, which is tied for the NCAA lead. Arkansas has scored a touchdown on 12 of 15 (80.0 percent) trips in the red zone, which is tied for first in the SEC and 12th in the NCAA. Arkansas' defense has held its opponents to 3-of-7 (42.9 percent) in the red zone, which leads the SEC and ranks second in the NCAA, and allowed touchdowns on just two of seven trips (28.6 percent), the third best percentage in the conference and sixth best in the nation.
Arkansas should have the mental edge over Texas A&M this weekend. The Aggies haven't beaten an SEC team in 16 years and are 0-6 against the conference since their last win in 1995 when they beat LSU in their season opener.
Auburn has scored 14 points or more in a span of two minutes or less 11 times under Gene Chizik. The Tigers have pulled the trick twice this season, scoring 14 points in 58 seconds against Mississippi State and 14 points in 1:37 against Utah State. The 2009 Tigers set the bar by scoring 16 points in 1:27 of game time in the second quarter against Ball State. The 2009 team also scored 14 points in eight seconds against Ole Miss. The 2010 Tigers scored 14 points in less than two minutes six times.
Florida has had 36 rushes of 10 or more yards this season and 10 passes of more than 20 yards this season. The combined total is an average of 11.5 plays per game during the first four games of this season. In 2010, the Gators had 106 total plays of 10 or more rushing yards or 20 or more passing yards, an average of 8.2 plays per game. Last week against Kentucky, the Gators scored four big-play touchdowns: a 45-yard pass, a 20-yard run, an 84-yard run and a 60-yard run.
Georgia sophomore quarterback Aaron Murray is already fifth in Georgia's record books in career touchdown passes thrown with 35. He has thrown multiple touchdowns in eight of his last nine games dating back to last season. In those nine games, he has thrown 23 touchdowns and eight interceptions. Mike Bobo (1994-97) is fourth in Georgia history with 38 touchdowns thrown in his career.
Turnover margin has been a key in Kentucky's results under Joker Phillips. In his two seasons as head coach, the Wildcats are 5-0 in games in which the Wildcats win the turnover margin, 2-2 when the margin is tied and 1-7 when the Cats lose the turnover battle. Kentucky is plus-eight in turnover margin in its victories and -13 in losses in the 2010 and 2011 seasons.
LSU has capitalized on eight of its 11 takeaways this season. Against West Virginia, the Tigers scored three touchdowns following takeaways. LSU's 11 takeaways have resulted in a total of 50 points through four games. LSU has allowed just a field goal following its three turnovers this year.
LSU is one of five FBS teams that is currently allowing fewer than 2.0 yards per rush. The Tigers defense has allowed just 213 yards on 111 carries so far this season (1.92 yards per rush).
Sixteen players have made their first career start this season for Ole Miss. They are (OFFENSE): Nickolas Brassell (CB/WR), Barry Brunetti (QB), H.R. Greer (FB), Matt Hall (OG), Donte Moncrief (WR), Jamal Mosley (TE), Collins Moore (WR) and Aaron Morris (OL). On DEFENSE, Aaron Garbutt (SAF), Uriah Grant (DT), Wesley Pendleton (CB), Justin Smith (DT), Senquez Golson (CB), Byron Bennett (DL), Frank Crawford (DB) and Ralph Williams (LB). In all, 30 Ole Miss Rebels have seen their first career action this season.
Last season, Mississippi State was plus-11 in the turnover margin in its seven wins and -4 in four losses. State turned the ball over just nine times in nine wins and 12 times in four losses. Through the first four weeks of the 2011 season, State is plus-4 in its victories and -1 in its losses.
South Carolina is off to a 4-0 start for just the eighth time in school history and for the first time since the 2001 season. In 2001, Carolina started 5-0 and finished 9-3 on the year. The Gamecocks' best start was in 1984, when they started 9-0 and finished the season with a 10-2 mark. Carolina is 2-0 in the SEC for just the third time in its 20-year SEC history. It was 4-0 in 2001 and 2-0 in 2000.
South Carolina running back Marcus Lattimore has 18 rushes of 10 yards or longer this season, second most in FBS.
Tennessee leads the SEC and ranks seventh nationally with a 57.1 percent conversion rate on third downs (24-of-42). UT is the only team in the SEC above 50 percent on third-down conversions. The Vols converted 37 percent of their third downs a year ago (69-of-189). Tennessee successfully converted 10 third-down attempts in each of its first two games in 2011 after not posting 10 conversions in a game since 2006.
September, 16, 2011
9/16/11
4:30
PM ET
It's never too late to check out some interesting numbers from the second week of SEC play:
35.67:
That's the average punt return yardage Ole Miss'
Jeff Scott
, which leads the nation. He has returned three punts for 107 yards and a touchdown this season.
131:
LSU quarterback
Jarrett Lee
had thrown 131 consecutive passes without throwing an interception until Mississippi State's Johnthan Banks picked him off in the fourth quarter Thursday night. Lee's streak was the second longest in school history.
8:
Auburn kicker Cody Parkey leads the SEC with eight touchbacks.
7:
Alabama opponents have not scored a touchdown in the first quarter in seven straight games. The last time an opponent scored a touchdown in the opening quarter against the Tide was against Tennessee on Oct. 23, 2010.
87:
Kentucky freshman running back
Josh Clemons
' 87-yard touchdown run against Central Michigan was the longest for a Wildcat since Bernie Scruggs went 88 yards against Georgia in 1970. It is the longest rush by a Kentucky freshman ever. That was also the combined score of the Georgia-South Carolina game from last Saturday, which is the most ever in the series' history. The previous high was 86 points, 52-34 Georgia in 1970. South Carolina's 45 points was the most points the Gamecocks have scored in the history of the series.
6:
That's the number of players in the Auburn-Mississippi State game who each had more than 100 all-purpose yards in the contest. For Mississippi State,
Vick Ballard
had 199 (135 rush, 64 receiving),
LaDarius Perkins
had 117 (78 rush, 2 receiving, 37 kickoff returns) and
Chris Relf
had 109 (106 rush, 3 receiving). For Auburn,
Tre Mason
had 186 (14 rush, 172 kickoff return),
Michael Dyer
had 150 (all rushing) and
Emory Blake
had 108 (all receiving).
13:
Florida's opponents are converting third downs 13 percent of the time. They have converted 3-of-23 attempts.
41.1:
That's how many points Auburn is averaging during its nation-leading 17-game winning streak.
194:
Georgia's Brandon Boykin leads the SEC and ranks sixth nationally with an average of 194 all-purpose yards a game. Boykin is the highest ranked defensive player among the NCAA leaders in this category.
15:
Either Florida or Tennessee has been the East representative in 15 of the 19 SEC title games. The winner of this game has been the representative 12 times. Also, 15 is the amount of times both teams were ranked when playing each other from 1990-2004. Since then, both teams have been ranked just three times when facing off against one another.
June, 23, 2011
6/23/11
9:50
AM ET
We're finally at the end of our position rankings and we'll finish up with special teams. This group does a lot more than people think and teams are starting to put their best athletes out here.
Kickers and punters don't get a lot of respect in the athletic department, but they are crucial assets to teams.
Let's see how the SEC special-teams units stack up:
1. Georgia:
It would be hard to find another special-teams unit better than the one in Athens. The Bulldogs return the dependable Blair Walsh at kicker, who nailed 20 field goals on 23 attempts (87 percent). Punter Drew Butler averaged 44.5 yards on 50 punts, with 19 landing inside the 20-yard line. Georgia also has a talented returning duo in Brandon Boykin and Branden Smith. Boykin is the school's all-time leader in kick return yards and averaged 24.3 yards per return with a touchdown in 2010. Smith only returned 10 punts last year, but is dynamic in space.
[+] Enlarge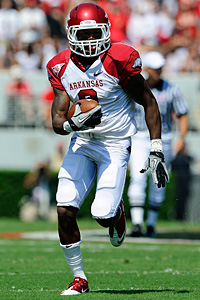 Paul Abell/US PresswireJoe Adams was fifth in the nation in punt returns last season, averaging 15.6 yards per return.
2. Arkansas:
Joe Adams
might be one of the most fun guys to watch in the return game. He was fifth in the nation, averaging 15.6 yards per return last year, and is one of the shiftiest returners out there. He also had a touchdown.
Dennis Johnson
is back from injury and when he was healthy, he was one of the best kicker returners in the league. In the kicking game, sophomore Zach Hocker had an impressive freshman year where he connected on 16 of 19 field goals, with seven from 40 or better. Punter Dylan Breeding averaged 42.5 yards per kick and pinned 18 inside the 20.
3. Alabama:
Trent Richardson
not only heads the Tide's offense, but he's extremely dangerous as a kick returner. He averaged 26.4 yards per return and had a touchdown last year.
Marquis Maze
, who grabbed 21 punt returns last year, has great speed to break one at any time. Alabama actually returns two kickers in Jeremy Shelley and Cade Foster. Shelley handled kicks within the 40-yard range, while Foster had long distance duty. The job at punter hasn't been settled, with Cody Mandell and Jay Williams battling it out.
4. Florida:
Caleb Sturgis is finally healthy after suffering a back injury last season. He was solid from farther out as a freshman, but struggled to stay consistent closer to the end zone. Ray Guy winner Chas Henry is gone, but freshman Kyle Christy enrolled early and immediately took over punting duties, launching a punt 55 yards in the spring game.
Andre Debose
was named the nation's top kick returner by the College Football Performance Awards in 2010 after returning two kicks for touchdowns and
Chris Rainey
could be the slipperiest punt returner in the SEC. Florida also has been the best punt/kick blocking team around the last few years.
5. Ole Miss:
Place-kicker Bryson Rose made 16 of 18 kicks last year and should be just as solid and might have to come up with even more kicks this fall. His kicking partner, punter Tyler Campbell, had a nation-leading 46.4 yards per punt average in 2010. He launched 19 punts over 50 yards and five of 60 or more yards.
Jeff Scott
was solid on kick returns, but Ole Miss' staff will look to junior college transfer Philander Moore for kick and punt returns. Last season at Blinn (Texas) College, Moore had 811 total return yards and six touchdowns.
6. Vanderbilt:
Kicker Ryan Fowler and punter Richard Kent return in 2011. Fowler was solid as a freshman, but took a few steps backward in 2010 kicking 8-of-13 and missing all of his kicks from beyond 35 yards. Carey Spear, who handled kickoffs last season, could push Fowler. Kent had one of the strongest and most durable legs in the country last season, leading the nation with 84 punts and averaged 41.8 yards per kick. Twenty-seven of them were downed inside the 20. Vanderbilt did, however, have four punts blocked. When healthy,
Warren Norman
is one of the most dynamic returners in the league. As a freshman, he took three kickoffs back for touchdowns and averaged 25.4 yards per return before his injury last season.
7. LSU:
The Tigers had one of the most exciting place-kickers to watch in Josh Jasper because he not only kicked but he was the master of the trick play. LSU will now look to Drew Alleman, who has had issues with consistency. Jasper also punted here and there, but regular punter Derek Helton is gone, leaving redshirt freshman Brad Wing in charge. The Australian-born athlete has a lot to learn about the SEC. Now that Patrick Peterson is gone, LSU is starting over in the return game. No one on the roster is as dynamic, but the Tigers will look at
Rueben Randle
, Tyrann Mathieu and Ron Brooks to carry the load by committee.
8. Mississippi State:
Kicker shouldn't be an issue for the Bulldogs. Derek Depasquale has hit 20-of-24 field goals in his two seasons in Starkville and nailed a 54-yarder in the spring game. Mississippi State must replace punter Heath Hutchins, but Baker Swedenburg should fill in nicely. The Bulldogs have a lot of athletes to throw out into the kicking game this year.
LaDarius Perkins
, who is Mississippi State's talented backup to running back
Vick Ballard
, will be used on kicks, along with receiver
Brandon Heavens
.
Chad Bumphis
returned punts last season, but Heavens could take over that role.
9. Kentucky:
Returners Randall Cobb and
Derrick Locke
are gone, but there are some athletes ready to fill in. Randall Burden, Winston Guy and Martavius Neloms got looks at punt returner this spring and there are a few options at kick returner. Both
Raymond Sanders
and Jerrell Priester fielded a few last season. Both kickers are back. Walk-on Craig McIntosh made 11 of 15 field goals last season, with a long of 50, while punter Ryan Tydlacka averaged 43.8 yards per kick.
10.Tennessee:
Kicker Michael Palardy only attempted seven kicks last year while backing up Daniel Lincoln. His only three misses were from beyond 40 yards. Tennessee will also be breaking in new punter Matt Darr this fall. The Volunteers were in the middle of the SEC pack in kick returns last year, but were 11th in the league in punt returns, totaling just 73 punt returns. Da'Rick Rogers will return punts and showed improvements there, while the Vols have yet to find their punt returner.
11. Auburn:
Record-setting kicker Wes Byrum is finally gone, so the Tigers' new kicker literally has big shoes to fill. That person should be Cody Parkey, who primarily kicked off last year. Auburn also lost punter Ryan Shoemaker. His replacement,
Steven Clark
had nine punts in 2010, with two dropping inside the 20.
Onterio McCalebb
should return more kicks this season and dynamic redshirt freshman
Trovon Reed
could be used on punt returns, where the Tigers averaged just 6.2 yards per return a year ago.
12. South Carolina:
Gone is dual-threat kicker Spencer Lanning, who kicked field goals and punts. Jay Wooten impressed at times this spring and can place-kick and punt. There's a chance the Gamecocks might end up having two kickers as Patrick Fish competed for the punting spot this spring. The Gamecocks were last in the SEC with a 3.4-yard average on punt returns, while the tiny
Bryce Sherman
averaged 20.4 yards on kicks, with a long of 37. The shifty
Ace Sanders
and newcomer Damiere Byrd could compete for time at punt returner.