February, 12, 2013
2/12/13
4:15
PM ET
As we continue to process who everybody signed and who they didn't sign last week, I couldn't help but think about the quarterback position.
It goes without saying that having a winner at that position is a must if you're going to win championships and consistently compete for championships.
But as this past season showed us, there's no reason to fret just because your school signed a quarterback that wasn't on everybody's list of blue-clippers.
Case in point: There were two quarterbacks among the three Heisman Trophy finalists in 2012, and neither one of those guys was a four-star prospect.
Texas A&M's
Johnny Manziel
won the Heisman Trophy, and in 2010, he was a three-star prospect out of Kerrville, Texas, and ranked by ESPN as the No. 39 quarterback prospect in the country. Among prospects in the state of Texas that year, he was ranked No. 97.
Kansas State's
Collin Klein
was very lightly recruited. He was a three-star prospect out of Loveland, Colo., and barely even ranked among the top 10 prospects in the state of Colorado that year. He played some receiver his first season at Kansas State before eventually moving back to quarterback.
Don't stop with just Manziel and Klein.
Look at the two starting quarterbacks in the Super Bowl this season.
The Baltimore Ravens'
Joe Flacco
, who's about to be paid handsomely following an incredible playoff run, was a three-star prospect out of Audubon, N.J., in 2003. He signed with Pittsburgh and played very little his first two years before transferring to Delaware.
Colin Kaepernick
of the
San Francisco 49ers
was also a three-star prospect out of Turlock, Calif. He played his college ball at Nevada and was ranked as the No. 50 quarterback nationally by ESPN coming out of high school in 2006. Early on in the recruiting process, he was receiving more interest to play baseball in college than he was football.
December, 4, 2012
12/04/12
8:45
PM ET
By
Tobin Petitpas, ESPN Stats & Info
| ESPN.com
US PresswireJohnny Manziel (left), Manti Te'o (center) and Collin Klein are the 2012 Heisman Trophy finalists.
Johnny Manziel finished the regular season with 3,419 pass yards and 1,181 rush yards. His 4,600 yards of total offense broke the SEC single-season record set by Cam Newton during his 2010 Heisman Trophy season. When Newton broke the record, he supplanted Tim Tebow's Heisman Trophy season of 2007.
Manziel has been responsible for 43 touchdowns this season, tied with Tajh Boyd and Jordan Lynch for the most in FBS. He had six games with at least two touchdowns passing and rushing. That's tied with Tebow in 2007 for the most such games in a season since 2000. Collin Klein is tied for second in FBS this season with three such games.
Manziel had 70 plays that gained 20 yards or more this season, 10 more than any other FBS player. He was tied for the eighth-most passes (52) and the second-most rushes (18) of 20-plus yards.
Manziel gained 784 rush yards on scrambles, the most in the SEC. He had 13 scrambles that gained at least 20 yards, including seven touchdowns. No SEC player had more total rushes or touchdowns of 20-plus yards, let alone scrambles.
Klein has scored a rushing touchdown in 11 straight games, the longest active streak in FBS. The only game that he did not have a rushing touchdown was against Missouri State, an FCS opponent. Since the start of last season, Klein has scored a rush TD in 23 straight games against FBS opponents. That is the longest such streak for any player in the last nine seasons.
Since the start of last season, Klein has an FBS-best 37 rushing touchdowns in goal-to-go situations. Klein has had at least one such touchdown in 22 of 25 games during that time period, including in his last 10 games in which he has at least one such attempt.
Klein has accounted for 69 percent of Kansas State's yards and 66 percent of its offensive touchdowns this season. Klein's percentages are slightly better than those of Robert Griffin III from his 2011 Heisman season at Baylor. Griffin accounted for 66 percent of Baylor's total and 61 percent of its touchdowns.
Manti Te'o has seven interceptions this season, tied for second-most in FBS and three more than any other linebacker. Te'o also has two fumble recoveries. His nine total takeaways are tied for the most in nation.
Te'o has 103 tackles this season, 42 more than any other player on Notre Dame. He has just two missed tackles all season. As a team, the Irish have missed 61 tackles this season, the third-fewest among AQ schools.
Notre Dame leads the nation in scoring defense (10.3 PPG) and is the only team that has not given up a touchdown drive longer than 75 yards this season. Every other FBS team has allowed at least three.
December, 3, 2012
12/03/12
6:40
PM ET
In a real shocker, Texas A&M quarterback
Johnny Manziel
has been named one of the three
finalists for this year's Heisman Trophy
.

Johnny Football is joined by Notre Dame linebacker
Manti Te'o
and Kansas State quarterback
Collin Klein
.
Manziel, a redshirt freshman, appears to be the front-runner after a fantastic first year of college football. He threw for 3,419 yards with 24 touchdowns to eight interceptions. He also finished the year second in the SEC with 1,181 rushing yards and led the conference with 19 rushing touchdowns.
Manziel really threw himself into the Heisman discussion nationally when he helped lead Texas A&M to a 29-24 upset win over No. 1 Alabama in Tuscaloosa. He also guided the Aggies to a 10-2 season in their first year in the SEC and will man A&M against Oklahoma in the AT&T Cotton Bowl on Jan. 4.
Manziel's 4,600 total yards of offense set an SEC record.
November, 27, 2012
11/27/12
1:30
PM ET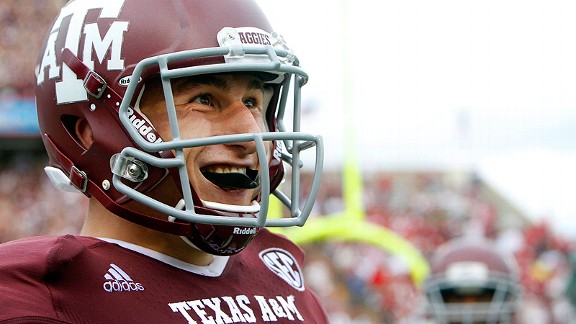 Brett Davis/US PresswireWhen it comes to Heisman candidacy, Texas A&M's Johnny Manziel has compiled a strong platform.
There's one last weekend for Heisman voters to scout any remaining candidates for college football's most prestigious award.
But after 13 weeks of action, the winner is clear, and voters don't need any more time to think about it.
It was
Johnny Manziel
a week ago. It's Johnny Manziel today. And it should be Johnny Manziel when the Heisman Trophy is presented on Dec. 8.
In 12 straight weeks (Texas A&M didn't have a bye week) the slippery Manziel racked up 3,419 passing yards with 24 touchdowns to eight interceptions and rushed for 1,181 yards and 19 more scores. He's second in the SEC in passing yards and first in rushing. He also guided Texas A&M to a 10-win season in its first year in the SEC and was undefeated on the road.
His 4,600 yards of total offense (and counting) topped Cam Newton's mark of 4,327 yards, which used to be an SEC record. He already has more passing and rushing yards than Tim Tebow did during his Heisman season in 2007 and has thrown for 565 more yards than Newton did during his 2010 Heisman season. He won't touch Robert Griffin III's 4,293 passing yards from his 2011 Heisman year, but he crushed him in the rushing department by 482 yards.
Manziel has had three games in which he had at least 300 passing yards and 100 rushing yards, the most for any player in a single season since 2000. The rest of the nation has had eight such games the entire season, according to ESPN Stats & Information. Manziel has also gained 784 rushing yards on scrambles. That's 43 more yards scrambling than
Collin Klein
,
Braxton Miller
and
Marcus Mariota
combined. He has also scrambled for 35 first downs this season, including 20 first downs on third down, according to ESPN Stats & Information.
Not voting Manziel No. 1 at this point is almost comical when you look at the way the fabulous freshman phenom has done all of this in his first year on the field with a brand-new offense and coaching staff in the SEC.
"His numbers speak for themselves against anybody who has played not only this year but who has [ever] played the game," said Texas A&M coach Kevin Sumlin, who has been very actively captaining the Johnny Football Heisman ship. "As we've gone through this process, he's been a catalyst for this football team in the first season in the SEC."
While his 43 total touchdowns are lower than his three predecessors, Manziel has way more total touchdowns than the other two dual-threat quarterbacks still alive in this race.
Klein, who has had a superb season, has 34 total touchdowns and Miller has 28 total.
People will knock his two losses (something neither Klein nor Miller have) to Florida and LSU at home. Both are currently ranked within the top seven of the BCS standings and both own top-10 defenses. In those games, Manziel threw for 449 combined yards with zero touchdowns and three interceptions. He also rushed for 87 yards and one touchdown, averaging 2.6 yards per carry.
Not Heisman-worthy at all, but you have to dig deeper than just his two poor performances against top-notch defenses. Look at the growth from Manziel after his losses. Since the LSU game, he has averaged 382.2 yards of offense with 19 touchdowns.
One of those opponents was Alabama ... on the road. Talk about growth.
He had his true coming-out party in front of the entire nation when he torched Alabama's top-ranked defense for 345 yards of offense and two touchdowns. He never wavered and sliced up the Tide with his arm and legs. Some of the Playstation moves he pulled didn't seem possible.
He then showed out in his final outing with a bevy of twists and turns that amounted to 439 yards and five touchdowns against Missouri with a brace on his knee. Willis Reed and Paul Pierce had nothing on Johnny Football.
Manziel has made Texas A&M one of the nation's hottest team. The Aggies aren't close to where they are without Manziel. People talk about how much
Manti Te'o
, Manziel's only real remaining Heisman competition, has meant to Notre Dame. He's been fantastic, but take Manziel off A&M's squad, and the Aggies aren't nearly the same.
Being a freshman should only help his defense because it makes what he's done that much more impressive. His two losses shouldn't hold much weight because Tebow and Griffin both had three losses before winning.
What matters is his body of work, and no one else equals him. No one else equals his excitement or importance.
The Heisman Trophy should be as good as his.
"It's something you dream about as a kid, when you're sitting there playing all these NCAA [video] games when you're a kid and you create a player and you win the Heisman as a freshman because you just put up crazy numbers," Manziel said. "It's something that you can only sit back and dream about. It's the biggest, most prestigious award in college football, so it would definitely be a dream come true."
Manziel is living the video game life, and there's no reason his dream shouldn't become a reality.
November, 20, 2012
11/20/12
10:30
AM ET
Johnny Football isn't just leading the SEC Heisman vote, he might be leading the nation's vote as well:
Johnny Manziel, QB, Texas A&M:
Manziel was his usual Johnny Football self in the blowout win over Sam Houston State. He passed for 267 yards with three touchdowns and an interception and rushed for 100 yards and two touchdowns on 16 carries. Manziel is now the first SEC player, first freshman and fifth NCAA FBS player to pass for 3,000 yards and rush for 1,000 yards in a season. Saturday was his eighth straight game with 300 or more total yards. He also broke the school record for total offense in a season (4,161 yards). But that's not all that propelled him to the top of the Heisman charts. Kansas State quarterback
Collin Klein
tossed three interceptions in the Wildcats' blowout loss to Baylor, and Oregon running back
Kenjon Barner
rushed for only 66 yards in the Ducks' three-point loss to Stanford. That means it looks like a two-horse race between Manziel and Notre Dame linebacker
Manti Te'o
for the most coveted award in college football. At this point, there's no point in worrying about Manziel's freshman status. Really, it's a foolish argument because he has been the nation's most exciting player, and age should have no bearing on his Heisman chances.
January, 7, 2012
1/07/12
12:17
AM ET
ARLINGTON, Texas -- Arkansas proved it was the better team
on Friday night
with a performance solid enough to keep Kansas State at an arm's length for most of the night.
Time for some analysis. Plenty more on the way tonight.


How the game was won:
Neither team brought its A game, but Arkansas' defense played one of its best games of the season and the Kansas State offense didn't do enough to chase down the Hogs, who jumped out to a 19-0 second-quarter lead, and a late third-quarter score helped put the game out of reach before Kansas State's Anthony Cantele missed a 43-yard kick with 6:36 to play.
Turning point:
Kansas State took the momentum with 16 consecutive points to get within 19-16 less than four minutes into the second half, but the Hogs'
Tyler Wilson
put together a huge drive, going 58 yards in 11 plays to put the lead back to 26-16. He capped it with a 9-yard touchdown pass to
Cobi Hamilton
and completed 5 of 7 passes for 60 yards on the drive, thanks to penalties.
Stat of the game:
Kansas State rushed 40 times for 86 yards. That average of just over 2 yards per carry isn't good enough for K-State's run-oriented offense to have a chance. Credit Arkansas' defense on that one.
Second-guessing:
Kansas State's decision to punt to
Joe Adams
. He was dangerous more in the first half, but he broke a 51-yard return for a score to put Arkansas up 10-0. Kansas State should have known better or avoided him more deliberately. You
don't need to look far to see why
.
What it means:
Arkansas becomes the fourth consecutive SEC team to win the Cotton Bowl and grabs the third 11-win season in school history and first since 1977, a year after making the school's first BCS bowl. Coach Bobby Petrino has the Hogs rolling. They'll come back in 2012 with plenty of potential to chase after an SEC title. Wilson loses three of his top four receivers, but he proved his worth as a quarterback this season.
Kansas State finished with 10 victories, its first double-digit win season since winning the Big 12 in 2003. The Wildcats' pluckiness ran out in this one, and they couldn't earn a seventh win as an underdog this season.
Record performance:
Collin Klein
became the Big 12's single-season leader for rushing touchdowns with a 6-yard run in the third quarter for his 27th of the season, tying Texas' Ricky Williams.
Record performance II:
Adams' first-half punt return was his fourth on the season, giving him the SEC single-season for punt return touchdowns. He has five for his career.
January, 6, 2012
1/06/12
10:30
AM ET
Here are three keys for Arkansas in its AT&T Cotton Bowl showdown with Kansas State:

Contain Collin Klein:
The Razorbacks weren't great at stopping the run this season and Klein knows how to frustrate defenses with his legs. Kansas State's quarterback threw for just 1,745 yards, but he rushed for 1,099 yards and led the Big 12 with 26 rushing touchdowns. Arkansas finished the regular season ranking ninth in the SEC in rushing, allowing 174.3 yards per game. Making sure Klein doesn't extend plays with his legs will be crucial for Arkansas' defense.
Get the running game going:
While the Razorbacks' defense will need to contain Kansas State's best runner, Arkansas must also get its running game going. The Hogs' running game was inconsistent for the first part of the year, but seemed to come together in the second half of the season. In order for Arkansas' offense to truly produce, it has to be balanced with the rush and the pass. Pounding the ball with
Dennis Johnson
will be key, as it should help to wear down that pretty solid Kansas State rushing defense and will definitely open up Arkansas' passing game with stud quarterback
Tyler Wilson
.
Avoid a slow start:
The Razorbacks seemed to get too comfortable during the midpoint of the season and had a knack for falling behind early. That can't happen today. Kansas State has had a wonderful year under coach Bill Snyder and chances are that the Wildcats aren't going to relinquish much of any lead the Hogs give them as they try to end the year on a special note. Arkansas needs to come out fast and put its foot on the Wildcats' throat early if it can.
January, 6, 2012
1/06/12
9:00
AM ET
Arkansas (10-2) plays its fourth game in Cowboys Stadium in the past 27 months on Friday night when it faces Kansas State (10-2) in the AT&T Cotton Bowl. Here's a preview:


WHO TO WATCH:
Arkansas senior receiver
Jarius Wright
. After setting a number of school records this season, Wright's down to his final game in a Hogs' uniform. He was remarkably consistent with his 11 touchdown catches and also improved dramatically with his ability to make things happen after the catch. The Hogs will go after Kansas' State secondary, and Wright should get plenty of chances for big plays. The Wildcats lost two games this season to Oklahoma and Oklahoma State and allowed more than 500 yards passing in each of those losses, not to mention a total of nine touchdown passes. You can bet that Wright is eager to get in on a little of that action.
WHAT TO WATCH:
Arkansas defending Kansas State quarterback
Collin Klein
. The Wildcats' 6-5, 225-pound junior quarterback carried the ball a Big 12-leading 293 times this season while rushing for 1,099 yards. He'll run over players down near the goal line and is athletic enough to run away from them in the open field. Having to deal with a running quarterback is never ideal for a defense, and Arkansas was ninth this season in the SEC when it came to defending the run. The Hogs, under the tutelage of new defensive coordinator Paul Haynes, will look to take away Klein's running lanes and force him to pass the ball. Klein has 26 rushing touchdowns this season, which is one short of Ricky Williams' Big 12 record of 27 touchdowns when he won the Heisman Trophy at Texas in 1998.
WHY TO WATCH:
The Hogs have made tremendous strides under Bobby Petrino and positioned themselves solidly among the SEC's elite. They were close last season against Ohio State in the Sugar Bowl (even though that game was later vacated). Here's their chance against another top 10 team in a bowl game and to punctuate what would be a certain top 10 finish nationally with a win. Plus, the contrasting styles of the two quarterbacks --
Tyler Wilson
's throwing prowess and Klein's running prowess -- could turn this game into a shootout.
PREDICTION:
Arkansas 38, Kansas State 24. Wilson's eyes had to light up when he started watching film of Kansas State's pass defense. The Wildcats will have a difficult time matching up against the Hogs' deep stable of playmakers. Arkansas still has to prove that it can stop a quality offense, but the Hogs are healthy on defense and have more than a few seniors on that side of the ball determined to go out the right way.
January, 5, 2012
1/05/12
5:05
PM ET
Jake Bequette knows Arkansas' defense underachieved in 2011.
It was a unit that was supposed to be coach Bobby Petrino's best during his Arkansas tenure, but following the preseason hype, it found itself near the bottom of the SEC in most defensive categories at the end of the regular season.
Arkansas' senior defensive end knows there was just too much bend.
[+] Enlarge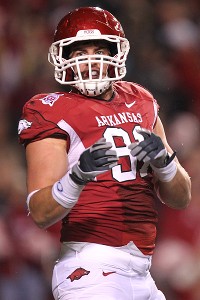 Nelson Chenault/US PresswireArkansas' Jake Bequette hopes the Razorbacks' defense can finish on a high note vs. Kansas State.
But Friday is a chance for the Razorbacks' defense to temporarily reinvent itself. It's a chance to end the season against a Kansas State offense that might be ranked 96th nationally, but is putting up 33 points a game.
With the way Arkansas' defense ended the season, this one could be a shootout fit for the old west, but Bequette hopes it's the Hogs that deliver most of the ammo.
"Hopefully it's not a shootout," Bequette said. "Hopefully, it's a one-sided shootout for us."
With the offensive weapons No. 6 Arkansas has, staying alive in a shootout shouldn't be a problem. But making sure one doesn't ensue will probably come down to what the Hogs do when Kansas State has the ball.
The eighth-ranked Wildcats don't put up a ton of yards each week (they average 343.7 yards per game), but they do have a dual-threat quarterback in
Collin Klein
, who is averaging 237 yards of total offense a game. He led the Big 12 with 26 rushing touchdowns during the regular season and also threw for another 12.
His leading receivers --
Chris Harper
and
Tramaine Thompson
-- have yet to cross the 550-yard mark and have six touchdowns between them, so the Wildcats mostly rely on a ground game made up of Klein (1,099 yards) and running back
John Hubert
(933).
That could be bad news for the Hogs, considering they ranked ninth in the SEC in rushing defense, giving up 174.3 yards per game, and were second to last for allowing 20 rushing touchdowns.
Bequette said the key to making sure Arkansas' defense doesn't revert to its old ways is winning the battle of first-and-10 and stopping the run early. Getting the Wildcats in third-and-long situations will be very beneficial for this defense, Bequette said.
That starts, Bequette said, with stopping Klein. Now, that doesn't necessarily mean Arkansas has to get him to throw more. Klein passed for more than 200 yards just twice -- once in a loss to Oklahoma State and once in a win against Texas A&M. It's stopping his ground movement that will be essential, as he has rushed for 90 or more yards in eight games this season.
Klein' ability to run opens things up for Hubert, and might catch Arkansas looking in the secondary.
The Hogs also need to play within themselves. This team isn't suffering from talent deficiencies on defense. Depth certainly is a problem, but the Hogs are equipped with defensive starters that could find plenty of playing time elsewhere around the league. The issue is playing consistently for 60 minutes at a time.
"You don't win 10 games with bad players or without playing well," Bequette said.
What should also help Arkansas' defense is the fact that there is some fresh blood on board. Bequette said parting with defensive coordinator Willy Robinson was tough, but the team has more than welcomed Ohio State's former co-defensive coordinator and safeties coach, Paul Haynes, to the bunch.
In the short time Bequette has worked with him, Bequette said he's been thoroughly impressed. He has not only injected some new life into the unit, but he has players feeling and playing more confidently. He's putting a lot of responsibility on Arkansas defenders, and they like it.
Friday also marks the end of the road for a handful of seniors who helped Arkansas get to where it is now. Most of them come from the defensive side of the ball, so it's been especially hard for them to look back and see some of the unit's shortcomings.
But this group is motivated to lead the charge for the future. A win will give Arkansas its first 11-win season since 1977, and Bequette thinks it will generate a ton of momentum heading into the offseason for next year's team.
"As seniors, we want to win our last game, but we also want to leave a legacy," he said.
December, 29, 2011
12/29/11
9:00
AM ET
We continue our look at some "Next Level" bowl stats, courtesy of the good folks at ESPN Stats & Information.
Today, we're looking at the Taxslayer.com Gator Bowl between Florida and Ohio State, and the AT&T Cotton Bowl between No. 6 Arkansas and No. 8 Kansas State:
Taxslayer.com Gator Bowl –- Ohio State vs. Florida
Ohio State quarterback Braxton Miller has run for 100 yards in three of his past five games with the majority coming on designed running plays. During that time period, Miller has averaged 85 yards per game on designed runs, after averaging 21.3 in his first six career games.
Miller averages 13.3 yards per rush on draw plays. He's run 17 draws this season with 12 coming in the past five games. Miller averages 7.9 yards per scramble. Miller has taken off to run 41 times, resulting in 16 first downs with eight coming on third down.
Florida has allowed 19 rushing first downs on third down this season, tied with Alabama for fewest in the SEC and 14th fewest in FBS.
Miller is at his best when he can get outside the pocket, where he has not thrown an interception in 25 attempts. Miller has made these limited opportunities count, averaging 11.4 yards per attempt. Florida has held its five ranked opponents this season to a 51.1 completion percentage when passing inside the pocket with only LSU and South Carolina completing more than 50 percent.
Miller completes just 39.5 percent of his passes when he takes a snap from under center. The good news for Ohio State is when Miller does complete a pass in this formation it tends to gain a lot of yards with seven of his 17 completions going for at least 20 yards, including three touchdowns.
OSU's Dan Herron has rushed for 593 yards this season in six games since returning from suspension, 321 of which have come after contact. Herron has gained at least 34 yards after contact in every game this season. Yet, he might not even be the toughest running back to bring down in the game. Chris Rainey has gained 446 of his 790 rushing yards this season after contact, which is a slightly higher percentage than Herron's.
Jeff Demps has gained 447 of his 539 yards running to the right or left side of the offensive line. Demps has 65 rushes to the left/right with 13 gaining 10 yards or more and seven gaining at least 20.
John Brantley completed 37.9 percent of his passes thrown 20 yards or longer this season, which is up 15.2 percent from last season. Florida's two other quarterbacks (Jeff Driskel and Jacoby Brissett) this season have completed just one of their 15 passes thrown 20 yards or longer.
Andre Debose leads Florida with four receptions on passes thrown 20 yards or longer this season with all four going for touchdowns. Debose's four catches on these throws all gained at least 64 yards (64, 65, 65, 80), which is the most 60-plus yard touchdown receptions by any player in the SEC and tied for second most in the FBS.
AT&T Cotton Bowl –- No. 8 Kansas State vs No. 6 Arkansas
Tyler Wilson is completing 64.2 percent of his passes when opponents send five or more pass-rushers on a play this season with a plus-eight touchdown-to-interception ratio. Wilson has been outstanding against the blitz when not facing the top three pass efficiency defenses (Alabama, South Carolina and LSU), completing 66.7 percent with no interceptions in 102 attempts. Kansas State enters the Cotton Bowl ranked 73rd in pass efficiency defense.
Jarius Wright has been Wilson's primary deep threat in 2011. Wright has more yards and touchdowns on throws of 20-plus yards than all other Razorbacks combined. His best game came against Texas A&M, when he caught five passes for 183 yards and a touchdown on passes thrown at least 20 yards in the air.
Wilson has thrown a touchdown from inside of the pocket in every game but one this season. Wilson has protected the football when throwing from the pocket with eight fewer interceptions than Ryan Mallett's 12 last season. Out of the pocket, Wilson has thrown 14.0 percent of his passes and has not found the same success.
Arkansas leads the SEC and is tied for 22nd in the FBS with 41 plays that gained 25 yards or more. The Razorbacks had at least two such plays in every game this season, except for in their only two losses when they had one each against Alabama and LSU.
Kansas State has allowed 33 plays of 25-plus yards this season, fourth fewest in the Big 12. The Wildcats allowed 11 of these plays in its only two losses of the season to Oklahoma and Oklahoma State.
Kansas State has scored a touchdown on 29 of 33 (87.9 pct) goal-to-go situations this season, the 13th-highest percentage in the nation. The Wildcat's knack for the end zone is built upon quarterback Collin Klein's legs as he has scored more close touchdowns than any other player in the nation.
December, 4, 2011
12/04/11
11:41
PM ET
Kansas State Wildcats (10-2) vs. Arkansas Razorbacks (10-2)
Jan. 6, 8 p.m. (FOX)

Kansas State take from Big 12 blogger David Ubben:
Kansas State does it ugly. All the time, every time. But it does it. The Cats are college football's biggest overachievers, and they do it on the back of
Collin Klein
, who has dragged defenders on his 6-foot-5, 225-pound frame for 1,099 rushing yards and 26 touchdowns. By the way, he's the quarterback. Never mind his wonky delivery. He's gotten better and more accurate as the season has gone on, and somehow has stayed healthy. He just might be the toughest player in college football, and if you're watching K-State's offense, he's probably the guy with the ball in his hand.
Bill Snyder deserves the national coach of the year nod, and the Wildcats have had a defensive renaissance under coordinator Chris Cosh in 2011. This is the same team that gave up more than 3,000 rushing yards last year. Well, sort of. It's not quite the same team. Linebacker Arthur Brown doesn't miss very many tackles and he's one of the Big 12's speediest linebackers. Cornerback Nigel Malone picked off seven passes this year for an All-Big 12 caliber season.
---

Arkansas take from SEC blogger Edward Aschoff:
Before the season, it looked as if coach Bobby Petrino was equipped with his best, most complete team since his arrival in Fayetteville. The defense was easily the best he had, and while quarterback Ryan Mallett was gone,
Tyler Wilson
appeared to be just as talented, and with their wealth at wide receiver, it didn't look like the Razorbacks would miss a beat in the passing game. Not to mention Arkansas had one of the SEC's best in running back
Knile Davis
.
But days before the season began, the Hogs were dealt a crushing blow when Davis went down with a season-ending ankle injury. With Davis sidelined, the Arkansas offense became more one-dimensional as it searched for a consistent running back. Injuries then took hold of the defense and the Hogs found themselves outmanned in a huge game with Alabama, losing 38-14. The Razorbacks then struggled to get going in the first half of games after that. The slow starts nearly cost them at Ole Miss and Vanderbilt, but things changed during their homecoming game with South Carolina.
The Hogs jumped out quickly against the Gamecocks and never looked back. Starting with that 44-28 win, the Razorbacks won their first three games in November by a combined score of 137-52. Arkansas had an opportunity to shake up the BCS and sneak into the national championship, but fell 41-17 to No. 1 LSU in its season finale. Still, Arkansas had another fine year under Petrino, getting to 10 wins and finishing first in the SEC in total offense (445.8 yards per game).