March, 26, 2015
Mar 26
11:30
AM ET
TUSCALOOSA, Ala. -- It's a terrible cliche, but we're going to have to let this thing play out.
Alabama's quarterback competition, despite our incessant need for more information and more insight, is, for the most part, unknowable. That is, unless your name is Nick Saban or Lane Kiffin. And even then, their patience far exceeds the general public's.
[+] Enlarge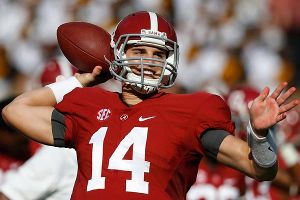 Brynn Anderson/AP PhotoJake Coker is more confident in his second spring at Alabama, but don't expect the Crimson Tide QB job to be decided any time soon.
Former Florida State transfer Jake Coker seems to be more confident, Saban has said.
Stud freshman Blake Barnett seems to have great leadership qualities, Saban said as well.
But are they frontrunners to replace Blake Sims, who threw for the most yards in a single season in school history last year? If not, where do they rank in relation to the other candidates at the position: Cooper Bateman, David Cornwell and Alec Morris?
Maybe we'll get a clearer picture come A-Day when the final scrimmage of spring will be open to everyone, but for now it's hard to tell.
The only thing we do know is that the staff has changed the way it looks at the position this year.
"We've tried to make it a little easier with what we're doing at that position so that they don't have the burden as some of the guys in the past have had so that the inexperienced players can develop a little more quickly," Saban said.
While it's unclear whether that means a trimmed-down playbook or fewer calls made at the line of scrimmage, it does add an extra layer of intrigue to the competition, seemingly opening the door for youngsters like Barnett and Cornwell, a redshirt freshman.
But at the same time it might be a relief to someone like Coker, too, considering his struggles a year ago learning a new offense. He was the more prototypical fit with a stronger arm and more ideal size than Sims, but Sims ultimately showed more comfort running the offense and won the job early on in the season.
When Coker spoke to the media prior to the Allstate Sugar Bowl in January, he said he had made strides in practice and during spot duty late in games.
"I've gotten better I feel like in all areas of playing quarterback, but especially as far as learning this offense and getting more fluid and on time," Coker said.
Center Ryan Kelly, who spoke at the start of spring practice, said he's seen a difference in Coker, too.
"He's obviously more mature, obviously, being a fifth-year guy," Kelly said. "You've seen the in and outs of college football, and I think he's done a great job stepping into a bigger leadership role. Last year, being his first year, it's just hard to step into a role like that when you don't really know a lot of guys. Now that he's had a little bit of time to meet everybody and kind of hang out and build people's trust up, I think he's going to have a good year."
Of course, that's only one player's opinion, and we likely won't hear from Coker or any of the other quarterbacks at all this spring. They'll fight to win the job first, and then they'll live to tell us about it.
For now, though, we're left to read the tea leaves. Pretty soon we'll have scrimmages, which may or may not include passing statistics.
If you're looking for a starter to be named this spring, don't hold your breath. It's a competition, but another cliche you hear often in sports -- a sense of urgency -- isn't part of the equation.