September, 23, 2011
9/23/11
10:40
AM ET
Houston Nutt has always taken pride in a treacherous rushing attack. Mostly because its success relied on multiple bodies.
There was Darren McFadden and Felix Jones at Arkansas. And more recently at Ole Miss he's had the combinations of Dexter McCluster, Cordera Eason,
Brandon Bolden
,
Jeff Scott
and even a little
Enrique Davis
.
In Nutt's three seasons at Ole Miss, his teams have averaged 186.5, 183.6 and 207.6 yards per game during a full season. Most of that damage was done with the help of the use of multiple running backs in the offense.
[+] Enlarge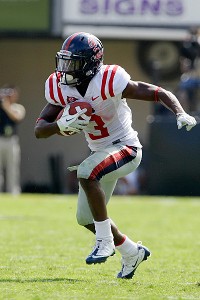 AP Photo/Mark HumphreyRunning back Jeff Scott has had to carry the load for Mississippi because of injuries.
Fast forward to 2011, and Nutt finds himself without a strong running game and his Rebels are 1-2, averaging 109 rushing yards a game, which ranks 11th in the SEC.
Nutt watched as his top two backs -- Bolden and Davis -- went down with injuries in Week 1, leaving Scott to carry the load. Scott has been successful, but not having that second punch in the backfield has hurt the Rebels' offense.
Bolden returned last week, but Ole Miss still couldn't run the ball effectively. Without a successful multiple rushing attack, Nutt thinks any offense will struggle in this league.
"It's a must," Nutt said of having a multi-running back system in the SEC. "You probably gotta have three -- two for sure -- but you need three and sometimes four. This is the guy that's going to get hit … this is the guy that's gonna take some shots. How durable you are at the position is really the key for the year."
Look at past three national champions.
In 2008, Florida basically used four rushers in quarterback Tim Tebow, wide receiver Percy Harvin and running backs
Chris Rainey
and
Jeff Demps
. Each eclipsed the 600-yard mark and had four or more touchdowns. The Gators averaged 231.1 rushing yards per game and finished 13-1.
Alabama's 2009 team had one of the toughest running back duos around in Mark Ingram and
Trent Richardson
. Ingram won the Heisman Trophy after rushing for 1,658 yards and 17 touchdowns. Richardson, then a freshman, had 751 yards and eight scores.
Of course, Auburn's perfect run last season was fueled by the three-headed rushing monster of quarterback Cam Newton and running backs
Michael Dyer
and Onterrio McCalebb. Newton and Dyer both rushed for more than 1,000 yards (Newton had 1,400-plus) and McCalebb had 810, giving Auburn a staggering 284.8 rushing yards per game.
Currently, four -- Alabama, Florida, Auburn and Vanderbilt -- of the top six rushing teams in the SEC consistently utilize multiple running backs. Tennessee, Ole Miss and Kentucky are at the bottom of the league in rushing and don't.
South Carolina, the SEC's top rushing team, runs on
Marcus Lattimore
power, something coach Steve Spurrier worries could begin to weaken over time without some help. Lattimore already leads the nation in yards (534) and carries (87).
Alabama coach Nick Saban understands Spurrier's concern, saying the use of more running backs helps keep players fresh and the offense firing. Saban's combo of Richardson and
Eddie Lacy
has combined for 619 yards and 11 touchdowns.
"I don't think there's any question about it that if you're going to be able to run the ball it's always good to have a guy who's healthy and fresh out there that can give a little change of pace and have a little juice all the time," Saban said. "That's been beneficial for us for several years now."
Seeing two talented running backs lineup together can also have defenses spinning, wondering who and how to attack.
"We're going to be anywhere from empty to three backs," said Florida coach Will Muschamp, whose rushing attack averages 210.3 yards a game. "That's what's difficult in preparing for our offense.
"There are a lot of multiple formations and shifts and different things that happen with the same personnel on the field."
For Richardson, he's thrived in a two-running back operation and loves it, even though he's the go-to guy. It not only keeps him energized but it makes wearing down defenses that much more fun.
"It's like, how are you going to control these two guys?" he said. "With the rotation that they have, and with the features they have to bring to the field, it's kind of hard to slow these guys down."
March, 5, 2009
3/05/09
1:00
PM ET
Posted by ESPN.com's Chris Low
It's graduation time for Jevan Snead.
No need to panic, Ole Miss fans. He's not going anywhere, and he'll be right back under center when the Rebels open the 2009 season at Memphis on Sept. 5.
He'd be disappointed, though, if he were the same player as a year ago when he burst onto the scene as the best young quarterback in the SEC.
| | |
| --- | --- |
| | |
| | Wesley Hitt/Getty Images |
| | Jevan Snead said he's embracing a larger leadership role this season. |
"That first year is always kind of a learning year, and I'm looking forward to really taking off this next year," Snead said.
The Rebels will do everything they can to facilitate that move to the next level, and it starts with giving him more of offensive coordinator Kent Austin's playbook and broadening the offense.
"I'm looking forward to expanding and diving deeper into the playbook, and I'm excited about some of the stuff we're going to be adding," said Snead, who threw 16 touchdown passes and only three interceptions during Ole Miss' six-game winning streak to end last season.
But like all great competitors, Snead is not as interested in talking about the things he did right last season. His focus is on the things he did wrong.
It's all part of growing, maturing and developing into the kind of quarterback that can lead a team to an SEC championship.
Keep in mind that last season was Snead's first dose of the SEC, and all he did was beat Florida on the road, beat LSU on the road and carve apart Texas Tech in the AT&T Cotton Bowl.
"There's always another level," Snead said. "That goes for me and this team. I know there are a lot of things I can do better."
At the top of his list is being a more consistent quarterback, namely protecting the ball better.
In his first seven games, Snead threw 10 interceptions. He only threw three more in his last six games. But the part that Snead can't get out of his mind is that the Rebels lost the Wake Forest, Vanderbilt and South Carolina games primarily because they couldn't take care of the football.
"I'm trying to continue my learning and understand things better so I can make good decisions," Snead said. "I struggled early on last season with my decision-making, so I'm trying to get to where I can make better decisions and make them quicker."
Finding a left tackle is of the utmost importance this spring, but Snead has a bunch of experience returning around him when it comes to his playmakers. Dexter McCluster, who led the Rebels in rushing and was second in receiving, is back. So is leading receiver Shay Hodge, not to mention running backs Cordera Eason, Brandon Bolden and Enrique Davis.
"We can do a lot more things, and there's a lot we can do that we didn't last year just because we were all still learning it," said Snead, who sat out the year before after transferring from Texas. "We pretty much have the base down now and are looking to add some stuff. We know we have the players that can run it. It's just a matter of building on it."
Snead's 2,762 passing yards a year ago were the most in a season for an Ole Miss quarterback by somebody not named Eli Manning. The same goes for Snead's 26 touchdown passes.
Manning's leadership, though, was what was invaluable for the Rebels during their breakthrough 10-win season in 2003 when they shared a piece of the Western Division title.
Snead, a junior, knows that's where he has to step up like never before next season, and it's already started this offseason.

Jevan Snead
#4 QB
Ole Miss Rebels
2008 STATS
RAT
YDS
TD
INT
CMP%
94.1
2,762
26
13
56.3
This is his team now.
"Last year, I was an underclassman. I had no experience," Snead said. "I didn't really have anything behind my talk. I didn't want to say too much and felt like I needed to gain everybody's respect and everybody's trust first. This year, having been through last season and the success we had, I feel a lot more confident in my role as a leader and more prepared for it."
One of the things he's done ever since Ole Miss left Dallas earlier this year is watch for complacency. So far, he likes how the Rebels have handled success and dealt with being in the spotlight.
It's new territory for them, as many are picking them as one of the favorites in 2009 in the Western Division.
"Everybody knows who we are," he said. "We were the underdogs last year. This year, it's going to be different. Everybody's going to be watching out for us.
"That's OK, because we feel there's a lot more out there for us."