October, 17, 2013
Oct 17
1:00
PM ET
John Chavis knows what a championship defense looks like.
He's coached a few in his two decades as a defensive coordinator in the SEC, both at LSU and Tennessee.
[+] Enlarge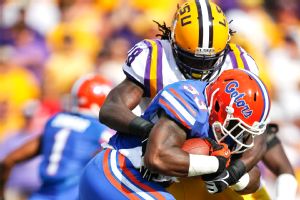 Derick E. Hingle/USA TODAY SportsAfter a shaky stretch, Lamin Barrow and the LSU defense haven't given up a touchdown in six quarters.
He'd be the first to tell you that the defense LSU put on the field to start this season wasn't championship caliber, which wasn't all that surprising considering the amount of talent (six starters) the Tigers lost last season to the NFL draft.
Chavis knew back in the offseason that it was going to be a work in progress with this group, and that some choppy waters were ahead. But seeing his defense shredded the way it was for eight quarters starting with the second half of the Auburn game, extending through the entire Georgia fiasco and then the first half of the Mississippi State game, was nauseating.
"It was difficult, but I always say, 'We're going to live in our hopes, not our fears," Chavis said.
Those hopes have been rekindled thanks to the promise the No. 6 Tigers have shown defensively in their last six quarters of play. And just like that -- with some youngsters growing up in the secondary, some depth developing up front and Chavis making a few tweaks with his combinations -- LSU heads to Ole Miss on Saturday riding the kind of defensive momentum that has been a staple of this program since Chavis took over the defensive reins in 2009.
"But we can't think that we've arrived," Chavis said.
He's been around this league long enough to know that it can change in a flash.
He's also been around long enough to know that playing rock-solid defense and winning championships go hand-in-hand.
Granted, this hasn't been your typical year in the SEC with so many veteran quarterbacks playing at a high level and 10 of the 14 teams in the league averaging more than 30 points per game.
But somewhere along the way, it always gets down to making key stops at key moments.
The Tigers look a lot more equipped to do that on a consistent basis as they plunge into the second half of the season. They're coming off their most complete defensive performance of the season in a 17-6 win over Florida and have now gone six straight quarters without allowing a touchdown.
"I feel like the intensity level now is something that it hasn't been all season, and all 11 guys are on the same page," junior defensive tackle
Ego Ferguson
said. "When we're there, it's a special unit."
The 44-41 loss to Georgia was undoubtedly the low point. The Bulldogs had receivers running free all game, and the Tigers just looked out of sorts defensively. They then went out the next week and gave up 23 points in the first half to Mississippi State.
"We just weren't playing to our potential," Ferguson said.
They also weren't playing as many players, particularly up front. So Chavis made it a point to beef up the rotation in the defensive line, and also made some changes in the secondary.
Sophomore
Jalen Mills
has moved to the nickel position, which has given the Tigers more flexibility on passing downs. True freshmen
Tre'Davious White
and
Rashard Robinson
are now the two cornerbacks outside when Mills moves inside to the nickel, and sophomore
Corey Thompson
has started at safety the last two games.
Chavis said following the win over Florida that it was the best the Tigers had played at safety all season, and getting back a healthy
Craig Loston
was also a big part of that.
Robinson probably would have played even more earlier in the season had he not missed preseason camp while waiting to be cleared academically. He has the skill set to be the next great LSU cornerback.
And LSU coach Les Miles really likes what he sees athletically from this defense.
"I think our defense has always been a confident unit," Miles said. "They just needed to get some things in place. This will be a team that athletically will eventually be one of the more talented defenses that we've had."
Chavis, whose raw emotion is one of the things that endears him to his players, didn't hold back last week when challenging them to get back to playing LSU football.
This is a team that had finished in the top 12 nationally in total defense and scoring defense each of the last three seasons but gave up 962 yards and 70 points in that two-week stretch leading up to the Florida game.
"Guys are really playing with the attitude and swagger that's been played here in past years," Collins said. "Guys are really stepping up and playing their role. We always preach that we haven't played our best game yet."
Judging from the way the Tigers have played on defense the last six quarters, they might be just getting started.
April, 17, 2013
Apr 17
12:00
PM ET
Midweek links for your viewing pleasure.
August, 10, 2012
8/10/12
3:15
PM ET
At the end of the day,
Tyrann Mathieu
just couldn't stop thinking about himself.
Months after proclaiming he was changed, humbled and ready to lead, Mathieu's selfishness cost him his LSU career, as
Les Miles announced his player's dismissal at a news conference Friday
.
[+] Enlarge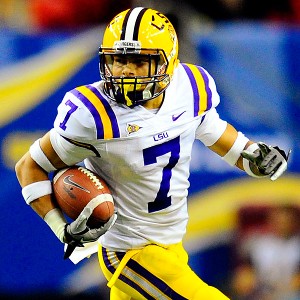 Dale Zanine/US PresswireTyrann Matheiu emerged last season as one of the nation's top cornerbacks and punt returners.
Miles, with disappointment scribbled all over his face, stood up and announced to the college football world that one of the most exciting players in the game -- and a Heisman Trophy finalist a year ago -- is no longer a part of LSU's football because he violated team policies again.
One of the best game-changers and playmakers -- regardless of position – that the game had to offer claimed to have learned from his mistakes, but he is now leaving a team capable of making back-to-back national championship runs.
The face of LSU's program, who went with the celebrity flow by posing for preseason magazine shots this year and showed off his punt-returning skills to the nation on ESPN, let his team and its fan base down by once again thinking of himself first.
Miles didn't give details as to what Mathieu did to earn a one-way ticket out of Baton Rouge, but from the way Miles sounded during his press conference, Mathieu had run out of chances. And Miles had run out of patience with the Honey Badger.
"This is a very difficult day for our team," Miles said. "We lose a quality person, teammate and contributor to the program. However, with that being said, we have a standard that our players are held to, and when that standard is not met, there are consequences.
"It's hard because we all love Tyrann. We will do what we can as coaches, teammates and friends to get him on a path where he can have success. We are going to miss him."
What they'll miss on the field is his unbelievable playmaking ability. Mathieu had a true nose for the ball, constantly locating and flying to it no matter where he lined up, and amazing vision. He wasn't the biggest player or the best cover man, but he just had a way of disrupting things that few could mimic. And on special teams, he proved he could completely change the landscape of a game with one cut.
During his two years at LSU, he totaled 133 total tackles (16 for loss), grabbed four interceptions and forced 11 fumbles (most in school history). He also recovered eight fumbles and averaged 15.59 yards per punt return (with two scores) last year.
The Tigers will now look to a committee of players to replace Mathieu. Redshirt freshman
Jalen Collins
could get work at corner, while true freshmen
Dwayne Thomas
,
Deion Jones
and
Corey Thompson
could get work at nickel. Redshirt freshman safety
Micah Eugene
could also get some work there.
But none are the Honey Badger.
In January, Mathieu sat at a podium inside the Marriott Convention Center in New Orleans just days before the national championship expressing his feelings about his celebrity status and how it transformed him.
He admitted to getting carried away with his Honey Badger persona that took the Internet and college football by storm. The T-shirts, signs, videos and slogans that made him so captivating and famous slowly began to inflate his ego. He went from playing with a chip on his shoulder to playing like he owned the world.
Then, just as he was sitting on top of the world, he was suspended halfway through the season for reportedly failing a drug test. Mathieu later said his one-game suspension helped him realize he wasn't as invincible as he thought. It helped bring him back to reality and made him truly cherish his time with his team.
But the past caught up with Mathieu, who leaves a team poised to be better in 2012. The offense is expected to take off with quarterback
Zach Mettenberger
, and the defense, which ranked second nationally last year, had a chance to be even better, too. But Mathieu won't be around to help.
LSU has met distractions before, but to lose someone with so much talent and status is a real shot to a team hungry to make up for last year's championship failure. This team will regroup, but it has to feel betrayed.
The childlike smile, blonde hair and charismatic play that made Mathieu so endearing in Baton Rouge are all gone. And Mathieu has no one to blame but himself.
August, 18, 2011
8/18/11
1:00
PM ET
It's all about the kids, right?
If that's the case, then some of those kids committed to Texas A&M would like to see the Aggies leave the Big 12 behind and move on to greener pastures in the SEC.
ESPN Recruiting analyst Corey Long
caught up with a couple of current Texas A&M commitments
, who said they'd be excited about a chance to play against SEC talent each week.
"It's pretty exciting to think about," safety
Corey Thompson
(Missouri City, Texas/Elkins) told Long. "I really don't have any problems with the Big 12 but I'd rather be in the SEC.
"There is better competition in the SEC; it's a lot more like the NFL. There's more speed and athleticism there top and bottom."
Thompson then added that a move to the SEC assures him that the powers that be at A&M are expecting this football program to take off and possibly be a legit national contender.
"This lets me know that the athletic department and the people there expect big things out of A&M football and I hope it happens soon," he said.
For athlete
Darion Monroe
(Reserve, La./East St. John), the SEC has always been something he's followed closely. When you live only an hour away from LSU, it's easy to keep up with the conference.
"When I heard about A&M trying to [get] in the SEC, I thought it was real cool," Monroe said. "I grew [up] watching SEC football here in Louisiana and it's the big-time conference to everyone."
All that national attention wouldn't be too bad either, Monroe said.
"Everyone watches SEC football on Saturday; they are on national TV with CBS and ESPN," he said. "So it's just more exposure for the school and the players."
SEC SCOREBOARD
Saturday, 12/21
Monday, 12/23
Tuesday, 12/24
Thursday, 12/26
Friday, 12/27
Saturday, 12/28
Monday, 12/30
Tuesday, 12/31
Wednesday, 1/1
Thursday, 1/2
Friday, 1/3
Saturday, 1/4
Sunday, 1/5
Monday, 1/6
Tweets from @ESPNCFB/sec