April, 9, 2014
4/09/14
9:00
AM ET
AUBURN, Ala. --
Gabe Wright
isn't a defensive end. At 6-foot-3 and 284 pounds, he simply doesn't fit the bill. He's too big, too valuable a space-eater inside at defensive tackle. Moving him to end would be like chasing a sports car with a tank. Some things just don't make sense. Some players just aren't built to play in space.
Yet there he is during practice this spring, lining up on the edge of the defensive line, pinning his ears back and rushing the passer. In doing his best
Carl Lawson
impression, Wright has gotten some fans on The Plains excited. But, as defensive coordinator Ellis Johnson cautions everyone: "I don't foresee that being permanent."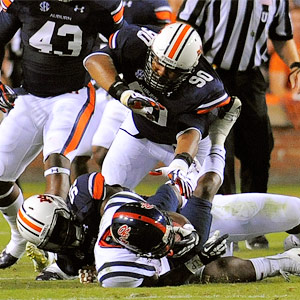 Shanna Lockwood/USA TODAY SportsAuburn's Gabe Wright believes he'd be an effective defensive end in certain situations after getting reps there this spring.
Sorry, folks. The so-called "Rhino Package" won't be an every down occurrence this fall, though the imagery in itself is something to root for -- plumes of dust, the screech of fans in the distance, the target of the hunt a helpless SEC quarterback named
Brandon Allen
or
Dak Prescott
or
Dylan Thompson
.
Wright and fellow tackle
Montravius Adams
aren't the new wave of roughly 300-pound ends, though. They're tackles through and through. Their time spent at end this spring has been only by necessity, making up for a shortened rotation of ends as
Dee Ford
and
Craig Sanders
were lost to graduation. Auburn took another hit when
LaDarius Owens
broke his foot,
Keymiya Harrell
went down with an unspecified injury and
Elijah Daniel
hurt his groin, leading to one of the more perplexing out-of-context quotes of all time from Johnson: "Groins can be funny."
When asked if Auburn was thin at end, head coach Gus Malzahn responded, "We definitely are."
On the bright side, it's making things interesting for the rest of the defensive line.
"It's a blessing for me to get on the edge," said Wright, who played some end in high school. "We had some guys go down, some depth issues this spring. So guys had to step up."
The blessing, for someone like Wright, is obvious.
"Let's see: End, you get maybe 30 percent of a double team," he explained. "When I'm inside, I get 90 percent of a double team."
Wright, who finished second on the team with 8.5 tackles for loss and third with three sacks a year ago, said that spending time at end has helped him work on his pass-rushing skills. No longer struggling for space to move in a double team, he can get off the line and either rush the edge, swim inside or go one-on-one and bull-rush an offensive lineman.
Versatility, though, might the biggest benefit to having both Wright and Adams at end this spring. When opposing offenses go into jumbo packages, expect to see a few more big bodies along the defensive line this season.
"I think it does nothing but help us moving forward," Malzahn said.
Said Wright: "The fact that we can maybe go four D-tackles at one point, that just amazes me. It's like, What do you do? We can bull-rush the tackles and we can bull-rush the ends."
When asked point blank whether he genuinely expected to play outside, Wright hedged his bets.
"When we do have teams like Arkansas, Alabama, LSU -- and this is not what coaches have told me -- I just believe it will be a factor," he said. "You've got two-, three-tight-end sets. Why not be able to put a D-tackle out there?"
Whether he's at end or tackle, one thing will remain the same: Defensive line coach Rodney Garner will be there in his ear shouting words of, say, encouragement.
"All the same," Wright said of Garner's colorful vocabulary. "It's all 'exciting', 'exquisite' and 'extraordinary.' "
And expletive?
"Expletive," he said. "Very expletive."
September, 26, 2013
9/26/13
4:00
PM ET
AUBURN, Ala. -- Auburn has played four games under new coach Gus Malzahn, and although the Tigers are coming off a loss to LSU, the results have been fairly positive. They started 3-0, won their first conference game in nearly two years and stayed competitive in Death Valley.
With no game this weekend, the Tigers are planning for the future.
"The open date comes at a very good time for our team," Malzahn said. "We've got four games under our belt for our coaches to evaluate our personnel, see where we're at as a team and plan moving forward for the rest of the year to put our guys in the best place to be successful."
[+] Enlarge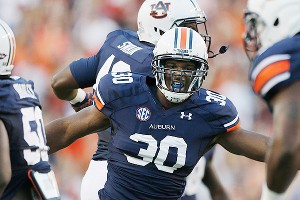 AP Photo/Dave MartinDee Ford is slowly rounding back into form after recovering from an MCL injury.
But more importantly, the week off gives Auburn a chance to get healthy.
"I don't think I've been around a team that had that many (injuries) this early and to main impact players," Malzahn said. "Defensively, we've been playing without a lot of our impact players, and even when we get them back, they're not quite 100 percent yet. But they're getting there."
Both
Dee Ford
and
Justin Garrett
missed the first two games due to injury but returned against Mississippi State. Ford, the team's top pass rusher, sprained his MCL in fall camp but is slowly working his way back. Garrett sprained his foot in camp and has since moved positions from the Star to weakside linebacker.
Against LSU, Auburn was without cornerback
Chris Davis
and defensive end
Craig Sanders
as both players suffered ankle injuries prior to the game. Davis led the Tigers with 10 tackles against Arkansas State in week two and also serves as the team's primary punt returner.
Additionally, running back
Corey Grant
, defensive back
Robenson Therezie
and linebackers
Kris Frost
and
Cassanova McKinzy
all missed time or were limited against LSU.
Needless to say, the bye week couldn't have come at a better time for Auburn.
"That may be the biggest blessing of the off week that we have a chance to get some of our guys healed up," Malzahn said. "We've got guys that weren't 100 percent that played anyway last week, so hopefully this week will help them get back to 100 percent. And the guys that haven't played, we'll have a chance to have two weeks before our next game and have a chance to get one of those guys back on the field."
Defensive tackle
Jeffrey Whitaker
is among those who have yet to play this season, but his status is a little more in question. The two-year starter suffered a knee injury in fall camp that required surgery, and the coaching staff said they plan to make a decision on his future in the coming weeks.
The team also confirmed this week that wide receiver
Jaylon Denson
would miss the remainder of the season with a knee injury.
"To lose a guy like Jaylon Denson is a huge blow, but it creates opportunities for other people," Malzahn said. "The good thing is for the future we're playing a whole bunch of young guys. That will do nothing but helps us for the future."
Next up for Auburn is a home game with Ole Miss on Saturday, Oct. 5.
August, 26, 2013
8/26/13
12:00
PM ET
Game week has arrived. No more waiting for the action because it all starts this week. Here are some links from around the SEC to whet your football appetite as game day nears:
October, 1, 2011
10/01/11
3:41
PM ET
COLUMBIA, S.C. -- Kickoff is almost here inside Williams-Brice Stadium and you can tell these teams are really itching to play.


South Carolina is looking to show that its offense can actually do something when
Marcus Lattimore
isn't touching the ball, and Auburn wants to prove that it does have a defense somewhere out there.
These teams picked the best time to play each other and someone will come away from this game feeling much better about one particular side of the ball.
For Auburn, I'm interested to see what kind of pass rush the Tigers generate. Dee Ford, who had been rotating in and out at defensive end, is out for the season after undergoing back surgery earlier this week. That means redshirt freshman LaDarius Owens and sophomore Craig Sanders will get rotated in behind Nosa Eguae and Corey Lemonier. Expect Owens to get most of the snaps.
But the Tigers should benefit from left tackle
Kyle Nunn
being out of the starting lineup for South Carolina. Freshman Mike Matulis will start in his place. This is a great opportunity for Auburn to get its pass rush going by attacking the freshman. Remember, the Tigers have just three sacks on the season.
Auburn will also be without
Trovon Reed
at wide receiver, meaning freshman
Quan Bray
and senior
Quindarius Carr
will get much more action today. Jonathan Mincy will also start over Chris Davis at cornerback for the Tigers.
May, 27, 2011
5/27/11
11:17
AM ET
Kevin Yoxall, Auburn's veteran strength and conditioning coach, stopped making predictions on guys a long time ago.
But in terms of how hard a kid has worked in the weight room and how much bigger and stronger he's gotten in a little more than a year, Yoxall doesn't mind saying that sophomore defensive end Craig Sanders might be somebody to keep an eye on in the fall.
"I look for the young man to become a player in this league," Yoxall says simply.
[+] Enlarge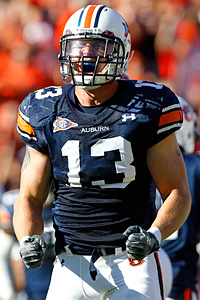 Mike Zarrilli/Getty ImagesCraig Sanders is putting work in this offseason that he hopes will pay off on the field in the fall.
Sanders, a fixture for the Tigers last season on special teams as a true freshman, has been hard to miss in Auburn's weight room this offseason. For one, he's practically lived there.
The results have been obvious, too, making Sanders one of the SEC's resident "Workout Warriors" as we point toward the 2011 season.
He came to Auburn a year ago after graduating high school early and weighed 225 pounds. Earlier this week, Yoxall said Sanders weighed in at 266 pounds.
"The goal for him was to weigh 270 pounds by the end of the summer, and he's right there," Yoxall said. "He's followed his weight program to a 'T.'"
In fact, just one program hasn't been enough for Sanders.
He's flourished in the morning workout and training sessions attended by all of the Auburn players. And on lifting days, Sanders had Yoxall and the strength staff put together a second program just for him, so he's been grinding through dual workouts for much of the offseason.
"He's gotten stronger, bigger and faster, and he hasn't put on any bad weight," Yoxall said. "He comes in on his own for that second workout after all of his classes and is an example of what we want in all of our kids. He comes in every day with a dedication to get better and is ready to work.
"You've got to have an edge at this level, and to me, it's those guys who realize they have to continuously work on that edge. And that edge is in the weight room. Craig has figured that out."
Sanders hasn't maxed out at Auburn in any of the lifts, but Yoxall said his projected max in the power clean is 308 pounds and 350 pounds on the bench-press.
"Now, that number might not be impressive to a lot of people, but we do a variety of different lifts," Yoxall said. "I'm not a big bench-press guy. You play on your feet. I've yet to see many players play on their backs."
Sanders is also a legitimate 500-pound squatter.
"Anything that's legitimate and is above 480 or 485 pounds is good," Yoxall said. "There's a lot of lip service given to squats, but a lot of it gets back to how they're being done.
"I don't get hung up on numbers anyway. I get hung up on how the players are doing and how it helps them on the field."
The other thing Yoxall gets hung up on is how hard a player pushes himself in the strength and conditioning program.
Currently, the Tigers are in the middle of doing a lot of running, and as the days get hotter, those guys who are the most driven usually end up leading the pack.
Sanders has consistently been one of those guys.
"I'm talking about full gassers, the stuff kids usually hate, and this kid [Sanders] is running right up there with the linebackers at 266 pounds," Yoxall said. "Those are the guys you try to find, the guys who are intrinsically motivated and aren't afraid to run up front.
"If you get a bunch of those guys, your team's going to be all right."