January, 4, 2013
1/04/13
10:57
AM ET
By
Toby Petitpas, ESPN Stats & Info
| ESPN.com
Matt Cashore/USA TODAY SportsThe Notre Dame defense stopped its opponents in almost every goal-to-go situation this season.
Flash back to Nov. 24:
USC
trailed
Notre Dame
by nine points and had just four minutes remaining to erase the deficit. USC needed a touchdown.
The Trojans had the ball at Notre Dame's 1 and had just received a new set of downs after
Marqise Lee
drew a second consecutive pass interference penalty in the end zone.
On first and second down, USC lined up with two tight ends and tried a quarterback sneak with
Max Wittek
. Notre Dame denied both attempts. On third down, the Trojans went with a handoff to
Curtis McNeal
. He never made it back to the line of scrimmage. On fourth down they tried play-action, but the pass fell harmlessly to the ground.
It was second time USC had failed to score a touchdown in a goal-to-go situation in the quarter and the 10th time for a Notre Dame opponent this season.
Notre Dame's defense has been great all season when it had its back to the wall. Of the nine offensive touchdowns that its defensive conceded, only five were in goal-to-go situations, the fewest among FBS teams.
The Irish did bend a few times on defense but rarely broke.
They allowed 33 percent of opponents' goal-to-go drives to end with a touchdown, tied with the 2010 Miami Hurricanes for the lowest touchdown percentage for any defense in the past eight seasons. BYU was the only opponent that scored a touchdown on all of its goal-to-go possessions against the Irish this season.
Run defense has been the key. The Irish allowed minus-5 total yards on 39 goal-to-go plays this season, the fewest yards and lowest average in the nation. Against the run, their opponents had minus-28 yards on 24 carries.
Opposing offenses were unable to gain any yards on 14 of those 24 carries (58.3 percent), the highest percentage for any FBS defense this season. Even more impressive, the Irish allowed only one rushing touchdown on a goal-to-go run. Every other team gave up at least three such touchdowns.
Notre Dame's defense will be challenged by an Alabama offense that leads the SEC with 124 yards rushing and 24 touchdowns in goal-to-go situations.
The Tide have scored at least two goal-to-go rush touchdowns in four straight games, the second-longest active streak in the nation.
They also have had success throwing the ball in these situations: six touchdowns in 13 attempts. Yet two of
AJ McCarron
's three interceptions this season were at their opponents' goal line.
(For a visual explanation of Notre Dame's red zone defense,
click here
.)
March, 27, 2012
3/27/12
9:00
AM ET
The Pac-12 is the conference of quarterbacks. The SEC is all about defense.
Oh, and winning national championships.
But as good as the defenses are in the SEC, what role does poor-to-middling offense play in that perception? As in, what would happen if those defenses played against a series of future NFL quarterbacks, as Pac-12 (and Big 12) defenses do?
The question before us is this: How would USC quarterback
Matt Barkley
do against those rough-tough SEC defenses?
Ted Miller
: It's sort of a chicken and the egg question. Are SEC defenses so good because they rarely play against A-list quarterbacks? Or do Pac-12 quarterbacks pile up eye-popping numbers because they don't play against SEC defenses?
[+] Enlarge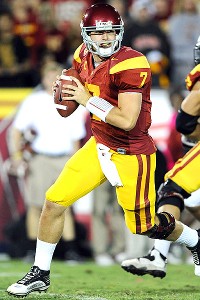 Harry How/Getty ImagesWould Matt Barkley be as successful if he played against SEC defenses all season?
Is it more notable that four of the top 11 quarterbacks in the nation in terms of passing efficiency in 2011 were from the Pac-12, compared to none in the top 20 from the SEC? Or is it more important that six SEC defenses ranked in the top 17 in pass efficiency defense compared to zero for the Pac-12?
It's hard to say. It's likely a person's home -- Los Angeles or Baton Rouge -- has a large influence on his or her opinion.
Pac-12 fans would be prone to point out: In 2005, LSU ranked No. 3 in the nation in passing efficiency defense. But in the Tigers' trip to Tempe that season, Arizona State's Sam Keller completed 35 of 56 passes for 461 yards with four touchdowns and no interceptions in a 35-31 defeat.
Or this: LSU's defense did a nice job against Oregon's offense in the 2011 season opener. Of course, the Ducks scored more points on LSU than ANY OF THE OTHER 13 TEAMS LSU PLAYED.
Apologies for the caps lock. Reckless typing.
While we can all acknowledge the SEC -- at least the elite teams -- play better defense than the rest of the nation, it is also worth noting that when future first-round NFL draft picks played quarterback in the SEC, they put up good numbers, whether we're talking about the Manning brothers, Matt Stafford or Cam Newton. And I'm sure, one day in the future --perhaps this decade! -- we'll be able to add a name to that list.
There are some nice quartebacks in the SEC:
Tyler Wilson
,
AJ McCarron
and
Aaron Murray
. All three seem like they'd have a good chance of winning the backup job at USC. Maybe.
Chris Low
: No way am I going to argue that Barkley wouldn't have success in the SEC.
He's a future pro and probably the front-runner to win the Heisman Trophy in 2012.
The question is: How much success would he have, and would he hit the proverbial wall going against SEC defenses on a weekly basis?
My feeling is that all quarterbacks hit that wall. Any coach will tell you (ask your buddy Lane Kiffin) that what separates SEC defenses is the speed in the front seven, particularly in the defensive line. There are fast players all over the country in college football, but the SEC has cornered the market on fast, explosive defensive linemen and pass-rushers who also have the size and strength to overpower people.
That's the difference, and that's where Barkley would notice the greatest difference.
It wasn't a banner year for quarterbacks in the SEC last season. And, yes, I realize that's an understatement. But it was a banner year for premier defensive players. That's why the first round of the NFL draft next month is going to look like an SEC who's who. As many as 10 SEC defensive players could go in the first round.
Don't sleep on the SEC's quarterback class this coming season, either. Wilson may be a future first-rounder. Murray has thrown nearly 60 touchdown passes in his first two seasons, and we all saw what McCarron did in the BCS title game against an LSU defense that was outstanding.
Barkley's a big-time talent, no question. But it's a different game when you're trying to throw from your back.
And in this league, ALL QUARTERBACKS (sorry, my caps tend to lock up, too) encounter that problem.
Ted Miller
: Truth is, Wilson, Murray and McCarron are good quarterbacks who look like guys with NFL futures. Loved how McCarron handled the pressure of the title game, and Murray has Pac-12-type talent.
[+] Enlarge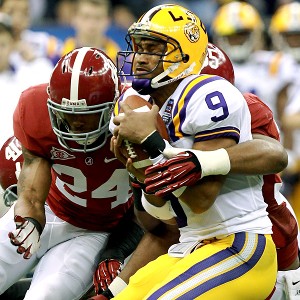 Ronald Martinez/Getty ImagesAlabama's defense smothered Jordan Jefferson and the LSU Tigers in the BCS championship game.
We're trash talking here, but if you can't acknowledge what is real, well, then it's just noise.
And the reality of this debate is this: Barkley would be more challenged on a weekly basis by SEC defenses than by Pac-12 defenses -- which I believe are underrated but still a step behind the SEC for the reasons the Inimitable Low mentioned above. If Barkley played at Vanderbilt, Mississippi State or Kentucky, he'd just be the best quarterback in the history of those programs while leading those teams to "historic" seasons. Like a third-place finish in their divisions.
Yet what makes Barkley, Barkley is not just Barkley. It's USC. It's his supporting cast. It's receivers
Robert Woods
and
Marqise Lee
, who will both have NFL careers. And two tight ends who will also. And a good offensive line, and a 1,000-yard rusher who averaged 6.9 yards per carry in 2011 (
Curtis McNeal
).
By the way, if you wonder where USC's true potential Achilles heel is this year, it's the defensive line. The Trojans have three A-listers -- guys who would be touted in the SEC -- but are thin thereafter. That's a problem for a team that views itself as a national title contender.
That's ultimately the rub here, too. If all goes according to plan, Barkley and USC should be in position to play for the national title. It's hard to imagine that wouldn't be against another SEC team.
Now, Chris, wouldn't it be fun if it were USC and LSU? Recall that in 2003, LSU won 1/16 of the national title when no one in the entire world thought LSU was better than USC, other than computers obviously loaded with all sorts of viruses.
Or USC-Alabama? Great history, and Saban versus Barkley & Co. would certainly attract plenty of eyeballs.
Chris Low
: One of the most compelling things that could happen to college football next season would be for USC and Barkley to take their shot at an SEC defense in the money game.
Then, we could quit debating and let it play out on the field. As much as I knew that Alabama and LSU were the two best teams in the country last season, there was a part of me that wanted to see Oklahoma State against either the Alabama or LSU defense in the BCS title game.
It's the matchup we all want to see: A high-powered offense versus a suffocating defense.
Maybe that's what we'll be treated to this fall.
Of course, I go back to the 2010 national title game, and Oregon had been short-circuiting scoreboards all season long. The Ducks go up against an Auburn defense that had been opportunistic, but wasn't one of the best in the SEC that season statistically. But in that game, Auburn put the clamps on Oregon and won 22-19.
The Tigers won because the Ducks couldn't block Nick Fairley.
And that's what the Trojans would run into if they find themselves up against an SEC team next January in Miami.
It won't come down to Barkley. Sure, he'll make a few plays. He's legit. But what it will come down to is the group of guys blocking for Barkley, and that's where it always gets ugly against SEC defenses.
In the meantime, just make sure the Trojans get there. They've been known to stumble along the way, and what we're left with is a bunch of hollow chatter about what they would have done (or could have done) had they made it to the party.
We'll check the guest list in December and chat again then.