August, 8, 2014
8/08/14
4:00
PM ET
GAINESVILLE, Fla. -- After three years of watching his pro-style offense go nowhere slowly, Florida head coach Will Muschamp switched to an up-tempo, spread attack.
Installing a new offense takes time, however, and there is only so much that can be accomplished in 15 practices during the spring. That is why there might not be a team that benefited from the NCAA's offseason rule change more than the Gators.
Whereas coaches used to hand off their players to the strength and conditioning staff, the new rule allows coaches to spend up to eight hours a week with players, including two hours for meetings and film study.
[+] Enlarge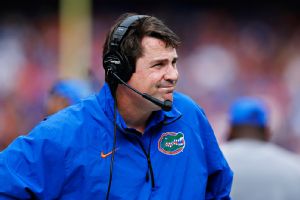 Joe Robbins/Getty ImagesHead coach Will Muschamp likes what he has seen from the Gators so far in practice.
"I'm really pleased with how our summer went," Muschamp said just before Florida opened preseason camp this week. "I love the new NCAA rule, to be able to be on the field with our guys, see our guys work. We're much further along than we have ever been because of the new rule. That's a credit to the NCAA."
Senior right tackle
Chaz Green
said the interaction was especially helpful for Florida's offensive linemen.
"That helped," he said. "Coach [Mike] Summers did a good job of letting us know what drills he wanted us to work on, and I would go up there and talk with him, meet with him and he would show me a couple of things and then he would go through them, and we would all meet in the offseason. That was definitely a big help."
Green said he and three teammates were responsible for organizing all of the players.
"I was the mediator," he said. "I made sure everybody got to the places on time."
Offensive line developing chemistry:
It's been well documented just how thin the Gators are on the line, which likely will play a critical role in the success of the offense.
Florida has just six linemen who have ever started a collegiate game and eight freshmen. Summers has insisted that each of his veterans work with one of the freshmen.
In the early going, Muschamp singled out redshirt freshmen
Roderick Johnson
and
Antonio Riles
along with true freshmen
David Sharpe
and
Andrew Mike
.
"David Sharpe has been looking real good," Green said. "Young guy has been working with some of the older groups, big body, 330 [pounds], real long. He's been coming along real well. So far he's stood out to me.
"[Johnson] is full-go. He's behind me [on the depth chart]. We're sharing reps. He's a guy that can play a lot of positions, too. He's definitely somebody that can help us, very athletic. It's good that he's finally healthy with the group. We're expecting big things this year. He's looking pretty good so far this camp."
Fast track for young corners:
Star cornerback Vernon Hargreaves III exemplifies Florida's situation in the secondary -- very young but very talented.
The Gators expect to start a true freshman opposite Hargreaves, who is still just a sophomore and a teen himself. The top candidates,
Jalen Tabor
and
Duke Dawson
, arrived on campus in January and have already distinguished themselves in Hargreaves' eyes.
"Jalen and Duke, they're vets in my book," he said. "They have a spring under their belts. They understand the defense and what's expected. In my book they're with me.
"They're playing well. They're still getting it. We've got to do better. We've got to perfect our craft."
Muschamp also was quick to praise Tabor and Dawson for carrying over what they learned earlier in the year.
"Jalen Tabor did some nice things," he said. "Duke did some nice things. Duke's a guy we played at the nickel a little in the spring, can play a different position. He gives you a different skill set as far as a bigger guy that's a good blitzer. He's got good run instincts, could possibly get some looks at safety. Smart guy."
Extra points:
Muschamp said true freshman tight end
C'yontai Lewis
suffered a thigh bruise in Thursday night's practice, and true freshman defensive tackle
Thomas Holley
is dealing with scar tissue buildup from a sports hernia surgery in high school. Both will be held out of Friday night's practice. ... Steve Shaw, the SEC's coordinator of officials, visited Florida on Friday morning to clarify rules and rule changes. "We talked a lot about pace of play," Muschamp said, "and the procedure that our officials -- which do a great job in our league -- of handling hurry-up situations."
May, 16, 2014
5/16/14
11:00
AM ET
GAINESVILLE, Fla. -- For a team that was desperate for playmakers on offense last season, the
Florida Gators
have growing hopes for 2014.
Enthusiasm has been building since spring football ended, and it's not just because starting quarterback
Jeff Driskel
is healthy or the young receivers and running backs have another year of experience and maturity.
[+] Enlarge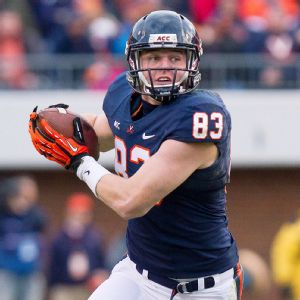 Lee Coleman/Icon SMIJake McGee's 45 catches last season at Virginia were 41 more than Florida's entire tight end corps had.
It's the tight end position, and one player in particular.
Fifth-year senior
Jake McGee
, the former Virginia standout who
announced his transfer to Florida
last week, gives the Gators a dynamic threat that defenses will have to account for.
"I'm very excited," head coach Will Muschamp said to a gathering of media on Tuesday in Orlando, Fla. "He's a guy that has tremendous ball skills, very good athlete at 6-5, 245 pounds and runs extremely well. I think he's a good addition to our team, and he'll certainly compete well."
The Gators haven't had a pass-catching tight end since 2012, when
Jordan Reed
led the team with 45 catches for 559 yards and three touchdowns. He was Driskel's safety net and go-to target. Not coincidentally, the Gators had their best season under Muschamp, winning 11 games.
"I think it was a very offensive position when Jordan Reed was here," Muschamp said.
Last year, it was just plain offensive.
It won't be hard for Florida to improve on the production it got out of the tight end position last season -- a
total
of four catches.
Florida returns seniors
Tevin Westbrook
(three catches in 2013) and
Clay Burton
(one catch), who have been used primarily as blockers. The Gators also are building depth at the position with three true freshmen.
DeAndre Goolsby
enrolled in January and made a good first impression in the spring, while
C'yontai Lewis
and
Moral Stephens
are due to arrive in June.
With McGee on board, however, the freshmen won't need to be rushed into early playing time.
The focus throughout the spring was for the tight ends to learn the no-huddle spread offense brought from Duke by new coordinator Kurt Roper. His B position uses the tight ends and fullbacks in a variety of roles and disguises -- from motioning and blocking out of the backfield to inline blocking, lining up in the slot, or splitting out wide.
In every one of those wrinkles, Roper expects his players to be pass-catching threats.
"It's going to be an important position," he said during spring, "and it's going to be a playmaking position for us, so we're counting on them. ...
"I think I've seen growth. Those guys haven't done a whole lot of [receiving]. I think they enjoy doing it. I think they enjoy being part of the pass game. Because of that they go out and work hard and get better at it."
It's a work very much in progress. Now with McGee, suddenly the Gators have a more polished, vastly more experienced puzzle piece. He comes to UF with plenty of accolades.
McGee was Virginia's leading receiver last season with 43 catches for 395 yards and two touchdowns despite a lingering shoulder injury. With his speed and athleticism, the Florida coaching staff is also excited about what he brings on special teams.
McGee was drawn to Florida by Muschamp who recruited him in high school, and Roper, who led Duke's offense against Virginia while McGee took note.
"Their offense, being on the other side, was sort of fun to watch," McGee said to Scott Carter of Gatorzone.com, Florida's official athletics website. "They did a lot of cool things and really did a lot with the tight end position that excites me as a player. There's a lot of versatility with the position to create mismatches and be allowed to do all sorts of different things."
Those feelings of eagerness and optimism are very much mutual, as both parties anticipate a sudden impact. UF coaches know they very well might have recruited a game-changer in McGee, whose graduation from UVA last month enabled him to transfer without having to sit out a year.
"To be able to have a guy that defenses know they have to account for in terms of is he a receiver, is he a tight end, can he create a three-man blocking surface?" Muschamp gushed. "That changes things in the run game. It changes things in protection and how people will attack you. ...
"We feel like he's a very talented player and a great addition for our team."
April, 1, 2014
4/01/14
2:00
PM ET
GAINESVILLE, Fla. -- Thanks to a new offense, the
Florida Gators
are expecting some serious improvement this fall. Every player has hopes and dreams of better statistics.
The most realistic chances to double or even triple their production? That's easy.
Tight ends and fullbacks were an afterthought in 2013, used almost exclusively as blockers in UF's pro-style offense. Two tight ends combined for four catches. Two fullbacks had a total of six receptions and three carries.
[+] Enlarge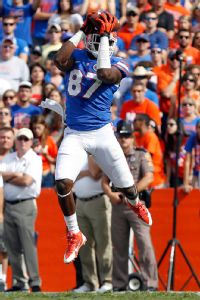 Kim Klement/USA TODAY SportsTevin Westbrook hopes to be a bigger part of Florida's offense this season.
But rather than file a class-action lawsuit for neglect, the four rising seniors are thrilled to learn an offense that promises much more involvement.
"It's really exciting," tight end
Tevin Westbrook
said. "It's more of a competition. Every day when you go out you know that you've to play to be able to catch the ball and block, to move from off the ball to a bigger role. It's exciting. We're catching balls and blocking from the backfield, blocking for the quarterback."
With so little to see of the tight ends and fullbacks on last year's game tape, offensive coordinator Kurt Roper has had to use the first part of spring practice to evaluate what he's got.
"The thing we're trying to figure out first and foremost is the tight end/H-back in our offense, who we call the 'B,' is who is that?" he said. "Who's the guy that's going to be the best in that situation? So it's a fun battle to watch between all those guys that we're repping at that position.
"I think that that B position, because it's so different from what they were doing in the past is probably the thing that we've got to watch the closest."
The change has been apparent.
Those four returning players -- Westbrook, tight end
Clay Burton
and fullbacks
Hunter Joyer
and
Gideon Ajagbe
-- have probably seen more targets this spring than all of their previous years combined. And true freshman tight end
DeAndre Goolsby
has seen as much action as any of the seniors.
Joyer, who has even gotten to show off his hands on intermediate routes, can't hide his smile when talking about the new opportunities available.
"Yeah, everybody's being used and used a lot," he said. "Everyone has a role in it and everyone determines our own roles. So as long as you're doing well, you'll have one."
It's all by design, says Roper. Last year at the reins of a Duke offense that averaged more than 409 yards a game, Roper gave significant roles to two quarterbacks, four running backs and six receivers.
"I think the biggest thing when you put together an offense is you want a defense to have to defend the field and defend all your skill players," Roper said. "Those guys [at the B position] are a big part of our offense. I think they're going to be put in position to make some plays.
"It's been fun to evaluate and we've had some big plays made by those guys. [Last Wednesday], we had two great catches by Gideon and Goolsby. So I think they're starting to get a feel for what we're asking them to do, and I think they're going to be capable of making some of those plays."
That's a huge development for an offense that got almost nothing there last year. Now there's potential and the promise of more to come.
Goolsby, a three-star prospect out of Derby, Kan., committed last November as Florida was in the midst of a seven-game losing streak. He chose the Gators over Ohio State, Oklahoma Arkansas and Kansas State and is now seeing the benefits of UF's new offense.
At 6-foot-4, 230 pounds, Goolsby still needs work in the weight room, but the education he is getting in spring practice should work wonders in getting on the field this fall.
"He's a really good athlete," head coach Will Muschamp said. "He's a guy that can do some things as far as what we're looking for at that position. He fits it extremely well. … I think he's done a really good job. I'm very pleased where he is. I think it's a little early right now to tell where he will contribute."
Florida also signed two more players in its 2014 class who profile as part of the 'B' team -- tight ends
C'yontai Lewis
and
Moral Stephens
, who arrive this summer.
It should make for a robust competition that carries over from spring practice into the fall and maybe even turns into some long-awaited offense.
For the previously invisible tight ends and fullbacks, the new offense means they can dare to dream.
"If we make plays and we come out and block and we catch the ball, they're going to have to put the tight end into the plays," Westbrook said. "As a unit, it's a chip on our shoulder. We need to step up and make more plays in practice and then there will be more action from the tight end."