August, 3, 2012
8/03/12
1:30
PM ET
Schedule:
The Gamecocks open practice Friday, and their first day in pads is on Aug. 7. They open the season on Aug. 30 at Vanderbilt, which will air at 7 p.m. ET on ESPN.
Returning starters:
Seven on offense and six on defense.

Star power:
Though he missed half of last season, running back
Marcus Lattimore
is the face of South Carolina's program and is one of the nation's best running backs. Before he went down with his ACL injury he led the SEC in rushing. He has 2,015 rushing yards and 27 touchdowns in 20 career games.
New faces:
With
Alshon Jeffery
gone, the Gamecocks are looking for more help at wide receiver. The staff hopes a lot of that help will come from incoming freshman Shaq Roland, who was South Carolina's top recruit in the 2012 class. He'll have every chance to compete for immediate playing time. Running back Mike Davis provides good depth, and Chaz Elder is talented enough to get some quality reps at safety during fall camp.
Don't forget about:
Last season, defensive end
Devin Taylor
received a lot of praise during the preseason, but played in the shadows of
Melvin Ingram
and
Jadeveon Clowney
. But don't think Taylor isn't fired up for his final season in Columbia. He's still an extremely disruptive pass-rusher, and he's combined for 13.5 sacks and 17 quarterback hurries over the past two seasons. Clowney might get he attention, but teams can't sleep on Taylor.
Big shoes to fill:
Just look at the numbers and you'll see how much Jeffery meant to South Carolina. He was the only player to catch 30 or more passes for the Gamecocks last season with 49, and he caught 88 passes in 2010. Now that he's gone, South Carolina is turning to a group of very unproven targets.
Ace Sanders
is the top returning receiver with 29 catches last season, and has been anointed the No. 1 receiver. After that no wide receiver had more than 17 catches.
Key battle:
South Carolina has to find reliable receivers this fall. Sanders has done well when his number has been called, but he needs help, and the offense needs help. Roland will get his chance, but he'll also compete with unproven starters
D.L. Moore
and
DeAngelo Smith
.
Bruce Ellington
is back and could also get time as a Wildcat quarterback. Speedster
Damiere Byrd
, Nick
Jones,
Shamier Jeffery
and
K.J. Brent
will also get their shots. Freshman Jody Fuller could also get a chance to grab some reps.
Rising star:
South Carolina enters fall camp with one of the strongest defensive lines in the SEC. While most of the attention is paid to the outside, sophomore defensive tackle
Kelcy Quarles
has the makings to be an elite player in this league. He played in 12 games last season, starting six, and registered 28 tackles with two for loss. He had a solid spring and should improve on his numbers this fall, especially when it comes to production behind the line of scrimmage.
Bottom line:
The Gamecocks are fresh off of their first 11-win season, but could have bigger things in store in 2012. While the schedule gets tougher with the addition of a road game at LSU, Steve Spurrier's chirping means he's pretty excited about the team he has coming back and he's ready to make a run back to the SEC title game. If Lattimore is healthy and
Connor Shaw
can continue to be the pass-first quarterback Spurrier wants, the offense should see some good balance. But receivers have to step up. Defensively, this team is loaded again and will rely on its front seven. If the pieces fall into place, South Carolina could be looking at another sweep through the SEC East and another trip to Atlanta.
May, 15, 2012
5/15/12
7:30
AM ET
2011 record:
11-2
2011 conference record:
6-2
Returning starters:
Offense: 7; defense: 6; kicker/punter: 0
Top returners:

WR
Ace Sanders
, OG
A.J. Cann
, QB
Connor Shaw
, RB
Marcus Lattimore
, CB
Akeem Auguste
, DE
Jadeveon Clowney
, DE
Devin Taylor
, DT
Kelcy Quarles
, LB
Shaq Wilson
, Spur
DeVonte Holloman
, S
D.J. Swearinger
Key losses:
WR Alshon Jeffery, OT Rokevious Watkins, OG
Terrence Campbell
, Spur Antonio Allen, DE Melvin Ingram, CB Stephon Gilmore, DT Travian Robertson
2011 statistical leaders (*returners)
Rushing:
Marcus Lattimore* (818 yards)
Passing:
Connor Shaw* (1,448 yards)
Receiving:
Alshon Jeffery (762 yards)
Tackles:
Antonio Allen (88)
Sacks:
Melvin Ingram (10)
Interceptions:
Stephon Gilmore (4)
Spring answers
1. Shaw's development:
The goal for quarterback Connor Shaw this spring was to work on the passing part of the position. The run-first quarterback showed flashes of transformation in his mindset toward the end of last season and it bled over to this year. He seems to be more confident in his passing and that will go a long way for the Gamecocks offense, as the downfield passing game was missing for most of South Carolina's season in 2011.
2. Running back depth:
With Lattimore sitting out the spring, South Carolina turned to reserves
Brandon Wilds
and
Kenny Miles
. Both performed well, but Miles was named the offensive player of the spring. He wrestled with returning to the Gamecocks, and still seems to be creating some drama about his return this fall, but if he comes back he'll be the No. 2 back. Miles made major strides in his game and his return would mean South Carolina has some insurance at running back if Lattimore struggles. Even if he returns at full health, having Miles there will give the Gamecocks a solid option to keep Lattimore fresh.
3. Shell's development:
South Carolina's coaches were anxious to see what redshirt freshman
Brandon Shell
could do and he didn't disappoint. He ended spring as the starter at left tackle -- the same position that Rokevious Watkins manned last season. The Gamecocks lost two starters along the offensive line, but Shell provided a nice spark at the most important position along the line.
Fall questions
1. Lattimore's health:
While word out of South Carolina's camp is that Lattimore was ahead of schedule with his knee rehab, it's still unknown if he will be back to his old self. It's hard to believe that anyone could come back from an ACL injury in this amount of time and be as effective and as good as Lattimore was, but his coaches think he can do just that. Until we see him play, there will still be some uncertainty. A healthy Lattimore makes this an SEC contender and maybe more.
2. Secondary:
South Carolina has veterans Akeem Auguste and D.J. Swearinger returning in its defensive backfield, but both dealt with injuries in the spring and the Gamecocks must replace three of its top four cornerbacks from last season. The injuries gave young guys the opportunity to get more reps, but questions still remain.
Victor Hampton
, listed as a starter, might be South Carolina's most athletic returning corner, but he has limited experience and a history of off-field issues.
Brison Williams
should enter the fall as a starter at strong safety, but has just one career start. He's one of two players at strong safety with game experience.
Jimmy Legree
and
Cadarious Sanders
are the only other corners with game experience. Expect redshirt freshman
Ahmad Christian
to compete for time as well.
3. Wide receiver:
The Gamecocks will start the summer still wondering about the wide receiver position. Ace Sanders returns as the team's most productive receiver, but after that there isn't a lot of production. The good news was that
Bruce Ellington
returned to football this spring, but the bad news is that even with him back, Sanders is still the only receiver returning with 20 or more catches (29). Speedster
Damiere Byrd
showed progress and the coaches expect to get more from
D.L. Moore
, but the position is still a mystery. Incoming freshman Shaq Roland will be relied on a lot when he reports in the summer.
April, 2, 2012
4/02/12
4:00
PM ET
By
ESPN.com staff
| ESPN.com
Everybody knows the Head Ball Coach likes to play pitch and catch. Finding another catcher or two will be paramount if the Gamecocks are going to do that next season.

OUT: WR Alshon Jeffery.
Even in a supposedly "down" year, Jeffery caught eight touchdown passes and made the play that sent the Gamecocks on their way to a 30-13 win over Nebraska in the Capital One Bowl last season. Jeffery commanded so much attention when he was on the field that it helped the entire offense even when he wasn't catching passes. He was the ultimate weapon down around the goal line with his 6-foot-4 frame and superb leaping ability. And while not a burner, he was fast enough and won his share of footraces to the goal line. His sophomore season was so monstrous with 88 catches and 1,517 receiving yards that the natural reaction this past season was to say he had an off year. The reality is that receivers like Jeffery don't come around that often, and now that he's decided to take his shot at the NFL a year early, the Gamecocks will miss him dearly.
IN: Ace Sanders, DeAngelo Smith, D.L. Moore, Damiere Byrd, Bruce Ellington or Shaq Roland.
The 5-7 Sanders is about nine inches shorter than Jeffery and not nearly as big a target, but Sanders has really had an impressive spring. He's especially dangerous on the quick slants and has made a ton of plays after the catch. He's clearly the Gamecocks' top receiver at this point and might be their Offensive MVP of the spring. He's going to need help, though, and that's where it gets interesting. Roland, one of the top receiver prospects in the country last year, doesn't arrive until the summer. He'll get every opportunity to show what he can do early. Smith and Moore have been around for a while. They combined for 11 catches last season. If they're going to make their move, this is the time to do it. Byrd has a chance to bring that speed element to the group. He served an NCAA suspension during the first part of last season, but is a guy who can stretch the field. Ellington should also be better and more consistent in his second season. It's wide open after Sanders. We'll see how it shakes out come fall.
March, 13, 2012
3/13/12
1:00
PM ET
Schedule:
South Carolina opens spring camp at 4:15 p.m. ET Tuesday at the Bluff Road Practice Fields. The Gamecocks will conclude spring with the Garnet & Black Spring Game on April 14, beginning at 1 p.m. ET at Williams-Brice Stadium. All 15 of practices are open to the public, unless determined otherwise.

What's new:
Four of South Carolina's nine assistants are new. John Butler, Jay Graham, Jeep Hunter and Ellis Johnson are all gone. Lorenzo Ward was promoted from defensive backs coach to defensive coordinator, replacing Johnson. Ward will still focus on the cornerbacks this season. Head coach Steve Spurrier also added Kirk Botkin to coach linebackers/Spurs, Grady Brown to coach the secondary, Joe Robinson to coach special teams/tight ends, and Everette Sands to coach running backs. Joe Connolly also replaces Craig Fitzgerald as South Carolina's strength and conditioning coach. Also, South Carolina will be looking to replace kicker
Jay Wooten
and punter
Joey Scribner-Howard
. Walk-ons
Landon Ard
and
Adam Yates
will compete at kicker this spring, and sophomore
Patrick Fish
should be No. 1 at punter.
On the move:
Safety
DeVonte Holloman
is looking to transition back to the Spur position after spending 2011 at safety. He worked at the Spur last spring, but the departing
Antonio Allen
played there last season. Also,
Damario Jeffery
is slated to move from the Spur to Will linebacker this spring.
Jimmy Legree
is moving back to cornerback after making a couple of starts at free safety last season.
On the mend:
The Gamecocks will be without star running back
Marcus Lattimore
, who is still recovering from a devastating knee injury suffered halfway through the 2011 season. Running back
Shon Carson
is also out and recovering from a knee injury suffered last season. Sophomore offensive lineman
Mike Matulis
will sit out the spring after recovering from shoulder surgery, and senior cornerback
Akeem Auguste
will be limited as he tries to get over a foot injury that kept him out of all but one game last season. Safety
D.J. Swearinger
will miss the spring after having an operation on his foot. Offensive lineman Brock Stadnik will sit out the spring following shoulder surgery.
Questions:
Auguste and Swearinger are dealing with injuries, South Carolina must replace three of its top four cornerbacks, and Holloman is moving back to the Spur, meaning the Gamecocks' secondary is loaded with questions. Sophomore
Victor Hampton
is expected to take one of the cornerback spots. He's talented, but has had off-field issues. He has the potential to be a key player for the Gamecocks. Depth behind him is a question, as Legree and
Cadarious Sanders
are the only other cornerbacks with game experience. A big spring from redshirt freshman
Ahmad Christian
could put him in the thick of it for a starting cornerback spot. Sophomore-to-be
Brison Williams
takes over at strong safety after playing in eight games last season, but depth behind him is a concern, as rising sophomore
Kadetrix Marcus
,
Edward Muldrow
and
Sheldon Royster
enter spring with six games of experience, all from Marcus. South Carolina must also find players at free safety.
Key battle:
With
Alshon Jeffery
taking his talents to the NFL, and
Bruce Ellington
sticking to basketball, South Carolina enters the spring with little experience at wide receiver.
Ace Sanders
is the only returning receiver with 20 or more catches (29), and
Nick Jones
is the only other one with 10 or more catches (12). There are bodies, but not production.
D.L. Moore
and
DeAngelo Smith
should enter the spring as starters, along with Sanders. Both showed promise in the past, but they combined for just 11 catches last season.
Lamar Scruggs
is a junior, but didn't catch a pass last season. Speedster
Damiere Byrd
is back after missing four games last season because of NCAA issues. Also, redshirt freshmen
Shamier Jeffery
(Alshon Jeffery's brother) and
K.J. Brent
will need to have big springs. South Carolina is expected to get good use out of incoming freshman Shaq Roland, but the Gamecocks need to find at least two solid options before he arrives this summer.
Don't forget about:
South Carolina's front seven should be solid again in 2012.
Jadeveon Clowney
and
Devin Taylor
will man the defensive end positions, while rising sophomore
Kelcy Quarles
, who enjoyed a tremendous freshman season, will help ease the loss of
Travian Robertson
inside. At linebacker, South Carolina only lost
Rodney Paulk
, and returns seniors
Reginald Bowens
and
Shaq Wilson
, who combined for 96 tackles in 2011. Seniors Damario Jeffery and Quinn Smith will also get time at the Will spot.
Breaking out:
The coaches are very excited about the potential redshirt freshmen offensive tackle
Brandon Shell
possesses. He was a standout high school player, and will have every chance to earn the starting spot at left tackle this spring. He has supposedly had a good offseason so far, and has gotten stronger. If he's as good as the coaches say, he'll help shore up a line that has to replace two starters, including left tackle
Rokevious Watkins
.
All eyes on:
Quarterback
Connor Shaw
saw vast improvements in his game as the 2011 season went on. He started to develop into more of a passer than a runner. While he still likes to run at times, you could tell that Shaw was making a conscious effort to rely on his arm first. In his last three games, Shaw averaged 219 yards and threw eight touchdowns to one interception. Now is the time for him to really come into his own as a passer. For South Carolina's offense to be successful, Shaw has to play smarter, and has to boost the Gamecocks' passing game. He'll also need to create better chemistry with his unproven receivers. South Carolina's offensive players will feed off Shaw's spring.
June, 16, 2011
6/16/11
9:16
AM ET
Today we take a look at the wide receiver/tight end positions in the SEC. This one gets tricky since we're basing rankings on two different positions.
Let's take a look at what we came up with:
[+] Enlarge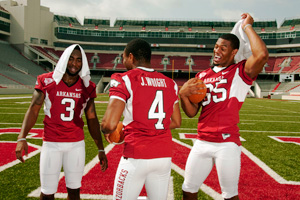 AP Photo/April L. BrownJoe Adams, Jarius Wright and Greg Childs combined for 2,260 yards last season.
1. Arkansas:
The Razorbacks could have the best wide receiver corps in the country. Making things even better for Arkansas is that each member of its tremendous trio is a senior. First, there's
Greg Childs
, who would have taken part in the NFL draft this year had he not suffered a knee injury late in the season. Childs is Arkansas' best receiver when he's healthy.
Joe Adams
really came on strong last year, especially after Childs went down. He's the best when he gets the ball in open space and will command the slot. Then there's
Jarius Wright
, who is the fastest of the three and got even stronger this spring as well. The three have 324 combined career receptions for 5,404 yards and 41 touchdowns.
2. LSU:
The Tigers might have lost
Terrence Toliver
, but they'll still have weapons at receiver. Junior
Rueben Randle
is expected to be the go-to guy in LSU's offense and is coming off a season where he caught 33 passes for 544 yards and three touchdowns.
Russell Shepard
was right behind him last season, catching the same amount of balls, but only totaled 254 yards and one touchdown. He looked sharper this spring and is looking to break out this fall. Tight end
Deangelo Peterson
should also get more attention this fall. He only caught 16 passes, but that number should increase.
3. South Carolina:
For starters, the Gamecocks have the league's best receiver in
Alshon Jeffery
. The 6-foot-4, 233-pound freak snatched just about everything that came his way last fall and registered 1,517 yards and nine touchdowns. He's nearly impossible to stop in one-on-one situations. Senior
Jason Barnes
didn't make a major impact in 2010, but he does have 60 career receptions under his belt. The smaller
Ace Sanders
should be even better after bursting onto the scene with 25 receptions for 316 yards and two touchdowns.
D.L. Moore
, who caught 17 passes in 2010, should have a more expanded role as well.
[+] Enlarge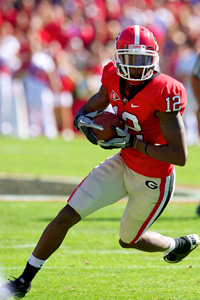 Dale Zanine/US PresswireWith A.J. Green in the NFL, Tavarres King should become the Bulldogs' main receiving threat.
4. Georgia:
The Bulldogs are still looking for a few playmakers at receiver, but there is definitely talent in Athens. Junior
Tavarres King
has moved into A.J. Green's flanker spot and while he's not Green, he proved this spring that he's ready to be the Bulldogs' main receiving threat. Tight end
Orson Charles
is the best at his position and can flex out to receiver if needed. His 26 catches for 422 yards should increase this upcoming season.
Marlon Brown
also made strides this spring and should be the No. 2 receiver.
5. Tennessee:
Neither
Justin Hunter
nor
Da'Rick Rogers
had a ton of catches last fall, but that will change with a strong passing game in 2011. Hunter caught 16 passes, but registered 415 yards and seven touchdowns in the process. He's a solid deep threat and playmaker. Rogers also only caught 16 passes, and while he didn't have the yardage Hunter had, he made tremendous strides this spring. Tight end
Mychal Rivera
caught 11 passes in 2010 and with Luke Stocker gone he takes over as the Vols' weapon at tight end.
6. Alabama:
There aren't a lot of questions surrounding the Crimson Tide, but receiver isn't Alabama's best area. Seniors
Marquis Maze
and
Darius Hanks
should get the brunt of the catches. They combined for 70 catches for 1,013 yards and six touchdowns last season. There is a long list of other inexperienced players who should grab some catches as well and former Ohio State receiver Duron Carter, who just transferred in, could be a factor this fall.
7. Florida:
The Gators have talent at wide receiver, and Florida should have a more pass-friendly offense, but the group is very unproven. Frankie Hammond Jr. could be Florida's best weapon at receiver with his speed and athleticism.
Omarius Hines
has the size and speed to be a major mismatch for defenders in the slot and on the outside. Freshman
Quinton Dunbar
was Florida's top deep threat this spring and should get ample playing time. At tight end,
Jordan Reed
was called Florida's best athlete and could end up being the Gators' top playmaker.
Trey Burton
should catch a few more passes as well.
[+] Enlarge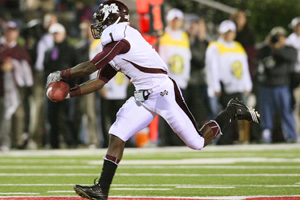 Marvin Gentry/US PresswireMississippi State's Chad Bumphis caught 44 passes for 634 yards and five touchdowns last season.
8. Mississippi State:
The Bulldogs have a ton of depth at receiver, starting with
Chad Bumphis
. The junior has yet to really break out, but this could be the year he finally puts it together. Alongside him, Mississippi State has
Chris Smith
,
Brandon Heavens
and Arceto Clark, who all had solid springs. Those four combined for 115 catches last fall. The Bulldogs also have a host of young receivers who appear ready to compete.
9. Auburn:
There is still some talent left on the Plains at receiver. Sure,
Darvin Adams
and
Terrell Zachery
are gone, but the Tigers will look to
Emory Blake
and
Trovon Reed
to make up for their departures. Blake is the leading returning receiver, while Reed will be used all over the field by Auburn's coaches. He can be a threat in the slot and on the outside.
Philip Lutzenkirchen
will be more of a staple in the offense as the Tigers' trusted H-back.
10. Ole Miss:
Athletically, the Rebels are fine. However, this group is very inexperienced and was inconsistent this spring. The incoming freshmen will have every opportunity to take a starting spot and Tobias Singleton could be the best option of Ole Miss' youngsters. Of the returners,
Melvin Harris
did the most in 2010, catching 30 passes for 408 yards and three touchdowns. Redshirt freshman
Vincent Sanders
will also get a chance to heavily contribute after making strong strides this spring.
11. Vanderbilt:
Four of Vanderbilt's five receiving leaders return, but the group wasn't tremendously productive last fall. The Commodores didn't have a receiver go over 320 yards last season and tight end
Brandon Barden
caught a team-high 34 passes for 425 yards. Vanderbilt's top two wideouts --
John Cole
and
Jonathan Krause
-- are back, but the Commodores might have to turn to their youngsters for help.
12. Kentucky:
The Wildcats lost a lot when do-everything Randall Cobb left early for the NFL and things didn't get any better by losing No. 2 wideout
Chris Matthews
. Now, it's back to the drawing board in Lexington.
La'Rod King
should be the top target for quarterback
Morgan Newton
, but he disappointed at times this spring.
Matt Roark
and
E.J. Fields
will compete for time, but both need vast improvement. The top athlete could be
Brian Adams
, but he spent spring playing for Kentucky's baseball team.