June, 18, 2014
Jun 18
2:30
PM ET
Texas A&M
is a young team, so there are plenty of freshmen and sophomores who will be counted on to play key roles in 2014. With three offensive standouts chosen in the first round of the 2014 NFL draft, there are big shoes to fill.
So as we continue our
second-year star installment
, there is no shortage of candidates to choose from when looking for sophomores or redshirt freshmen poised for a breakout seasons.
[+] Enlarge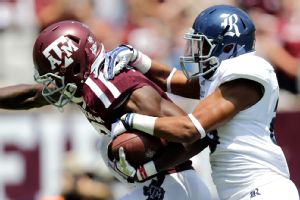 AP Photo/Eric GayWideout Ricky Seals-Jones could have a big season for the Aggies in 2014.
Class recap:
In Kevin Sumlin's first full year of recruiting in Aggieland, Texas A&M turned in the
nation's eighth-ranked 2013 class
. It was a group that was heavy on numbers (32 players signed) and the class has had a mix of contributors and attrition. Several players are expected to play prominent roles this season, such as linebacker
Jordan Mastrogiovanni
, receivers
LaQuvionte Gonzalez
and
Ricky Seals-Jones
, defensive end
Daeshon Hall
and possibly quarterback
Kenny Hill
and transfer linebacker
A.J. Hilliard
. On the flip side, some potential stars from the class were recently
dismissed from the team
(linebacker Darian Claiborne and defensive tackle Isaiah Golden) and four others have either transferred or are no longer with the program.
Second-year star:
WR Ricky Seals-Jones (6-foot-5, 225 pounds)
Recruiting stock:
Seals-Jones was the highest-ranked prospect the Aggies signed in the 2013 class. A four-star prospect, Seals-Jones was the nation's No. 8 receiver, the sixth overall prospect in the state of Texas and the No. 61 player in the ESPN 300. He played myriad positions at Sealy (Texas) High, including quarterback, receiver, safety and return specialist. A former Texas commitment, the Aggies eventually won his signature over SEC foe LSU, which pursued Seals-Jones throughout the fall of 2012. Landing his verbal commitment in December 2012 was a significant coup for Texas A&M recruiting at that point, given Seals-Jones' profile.
2013 in review:
A knee injury suffered on his first college touchdown led to a premature ending to Seals-Jones' 2013 season. He caught three passes for 84 yards, one of which was a 71-yard touchdown, in the season-opening win over Rice. He tried to give it a go two weeks later against Alabama, but had limited playing time and soon thereafter opted for season-ending surgery on his knee. The Aggies applied for a medical hardship waiver to restore that season of eligibility so he can be classified as a redshirt freshman this fall.
2014 potential:
Barring injuries, Seals-Jones has star potential. It was clear to see last August what kind of ability he brings. After a season of rehabilitation and a good spring, he looks poised to start and play a major role in the Aggies offense. With three starting receivers from 2013 pursuing pro careers now, there will be plenty of catches to go around (
Malcome Kennedy
is the only returning starting receiver for Texas A&M). Seals-Jones is big, fast and is versatile enough to line up at inside receiver or outside receiver.
Also watch for:
If Hill wins the competition for the starting job over freshman
Kyle Allen
, it stands to reason that Hill, a sophomore, will be poised for a breakout season in the Aggies' up-tempo offense. Mastrogiovanni will step in as the starter at middle linebacker and coaches raved about him during the spring. Sumlin pointed out the kind of leader Mastrogiovanni is becoming and the Aggies' defense sorely needs it. Keep an eye on defensive ends Hall and
Jay Arnold
. Both played as freshmen and received increased playing time late last season. Both sat out spring recovering from offseason surgeries, but should be good to go for the fall. Defensive tackle
Hardreck Walker
, a sophomore, is likely to have a prominent role on the defensive interior now that projected starter Golden is no longer around. Cornerback
Noel Ellis
received valuable experience late last season and will compete for a spot on the field, likely at nickel cornerback. And watch for another young receiver, Gonzalez, who is very quick and a good fit for the Aggies' offense. He is likely to get more touches this fall.
April, 3, 2014
Apr 3
1:30
PM ET
COLLEGE STATION, Texas -- Building the proper depth along the offensive and defensive lines has been one of Texas A&M's chief goals since joining the SEC.
In a league often dominated by line-of-scrimmage play, the Aggies know they have to be up to par if they want to be long-term contenders in the conference. On the offensive line, that hasn't been an issue. They've stayed relatively healthy and had high-level players across the front five.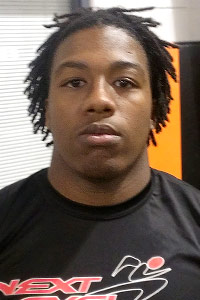 William Wilkerson/ESPNEarly enrollee Zaycoven Henderson is making an impact at Texas A&M.
On defense, it's another story.
While the Aggies had the luxury of a mostly veteran line and a highly productive defensive end in Damontre Moore in 2012, their inaugural SEC season, the 2013 season brought something totally different. The Aggies were young, inexperienced and not particularly deep as they continued to recruit in an effort to get better numbers on the defensive line.
After the Aggies' 13th practice of the spring on Wednesday, defensive coordinator Mark Snyder indicated that they're making progress toward that effort.
"Up front for the first time, we're going to be able to roll people," Snyder said. "I told [defensive line coach] Terry [Price] yesterday that when we get to the fall, we're going to have to practice our rotations, which is a great thing."
Snyder and Price could look at opponents such as Alabama, Auburn and LSU last season with envy. Those programs have enough talent on their defensive fronts to freely substitute and not worry about a drop-off in level of play. Texas A&M hasn't had that luxury the last two seasons, but with a heavy focus on defensive line recruiting in recent seasons and a highly regarded group coming in from the 2014 recruiting class, the Aggies are taking steps toward having that ability.
One benefit is that the Aggies return virtually their entire defensive line from 2013. Those same players who were rushed into duty as youngsters, such as defensive tackles
Isaiah Golden
and
Hardreck Walker
and defensive ends
Daeshon Hall
and
Jay Arnold
, will no longer be freshmen and have a year of SEC experience under their belts.
Add into the mix five-star prospect
Myles Garrett
, ESPN 300 defensive end
Qualen Cunningham
and four-star defensive tackle
Zaycoven Henderson
as part of a five-man defensive line class, and suddenly the pieces begin to come in place.
Garrett, Cunningham and
Jarrett Johnson
are a trio of defensive ends due in Aggieland in the summer and it has pushed the incumbent defensive ends, such as junior
Julien Obioha
, to raise their level of play this spring.
"Obioha's fighting for his life because competition makes us all better and he knows what's coming," Snyder said.
Henderson is the only one of the five defensive line recruits to enroll in January and he'll be joined in the summer by
Deshawn Washington
. Henderson has already made waves in his short time on campus, but he still has progress to make this summer.
"(The new) guys, (they) don't know how to practice. (Henderson is) a little bit out of shape," Snyder said. "He does have a big rear end and he's a plugger in the middle. When he's fresh, he's not bad. ... Right now he's three plays and he's done. He's going to bring some beef up front for us."
Veterans such as Obioha, senior defensive end
Gavin Stansbury
and junior defensive tackle
Alonzo Williams
, who have two years of experience, are expected to have significant roles again this season. With those returnees, a redshirt freshman entering the mix [
Justin Manning
], the returning youngsters and incoming recruits on the way, the future on the defensive front looks a little bit better for the Aggies after a disastrous 2013 on defense.
"We're not there," Snyder said of the defensive depth. "We still need another recruiting class, but we're way, way, way closer."
March, 26, 2014
Mar 26
10:00
AM ET
COLLEGE STATION, Texas -- One of Kevin Sumlin's top priorities since becoming
Texas A&M
's head coach more than two years ago has been building a team that could compete in the trenches in the SEC.
[+] Enlarge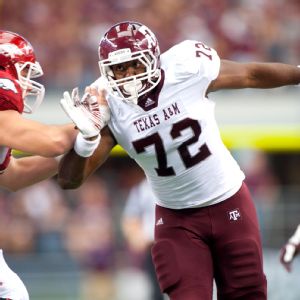 Rob Tringali/SportsChrome/Getty ImagesGavin Stansbury will be in the mix to be a big contributor on the Aggies defensive line.
Central to that effort is building the caliber of offensive and defensive lines necessary to win in the league. With a strong offensive line already on campus upon his arrival, Sumlin and his staff have been able to focus their efforts on recruiting SEC-caliber defensive linemen. So far, the Aggies appear to have done a good job stockpiling talent on the defensive line in the last two recruiting classes.
While young players continue to come in, that puts the onus on veterans on the roster to step it up. That's certainly the case at defensive end, where the Aggies had two true freshmen see time last year (
Jay Arnold
and
Daeshon Hall
) but also have a handful of veterans (
Gavin Stansbury
,
Julien Obioha
,
Tyrell Taylor
and
Tyrone Taylor
).
Arnold and Hall are both sitting out spring recovering from injuries and Stansbury has been limited as well, but Sumlin addressed the state of his defensive ends on Monday.
"Obioha has been good," Sumlin said. "He hasn't had any problems with that back, which has been great for us. Stansbury, we know what he can do so we just want him to be completely healthy, which has given the Taylors a lot of reps because we don't know what they can do. They haven't been put in those positions to have to play a bunch of snaps and be counted on. Gavin has proven to us what he can do on Saturdays when he's healthy. When he's not healthy, it's a different guy. So we want to make sure he's healthy for the fall."
Once Arnold and Hall are healthy, it stands to reason both will figure into the mix at defensive end in the fall since both did enough to earn playing time a season ago. But the current crew will also be joined in the summer by a trio of highly touted freshmen from the 2014 recruiting class: five-star prospect
Myles Garrett
, ESPN 300 prospect
Qualen Cunningham
and three-star prospect
Jarrett Johnson
.
That means now is the time for inexperienced players to prove they're worthy of playing time, because the competition will only get stiffer come August.
"That puts some of the onus on the Taylors to kind of show us what they can do and get them going because we've got two other D-ends in the program who have shown what they can do in Jay Arnold and Dae Dae (Daeshon Hall)," Sumlin said. "They're getting healthy and out running now. And the guys we recruited are obviously guys we expect to come in here and compete to play. In our way of thinking ... it's time for the Taylors to show what they can do and we're giving them every opportunity to do that right now."
Though the Aggies have been precautionary with Stansbury this spring, Sumlin was encouraged by his progress last season and feels like he is now a proven commodity.
"Defensively, Gavin was probably the most improved player that we had coming through the year," Sumlin said. "That's why I said, when he's healthy, he's really, really effective for us."
Obioha is a two-year starter who said earlier this spring that he feels good. His veteran presence will be welcome in the fall, too.
For the Taylor twins, Tyrell (a senior) and Tyrone (a redshirt sophomore), now is the time to perform, Sumlin says.
"What we're trying to do right now is get the guys healthy that have experience and the Taylor twins, who don't have that type of experience, they need to prove where they are in their capability to be able to help us win," Sumlin said.
March, 21, 2014
Mar 21
1:00
PM ET
COLLEGE STATION, Texas -- Texas A&M's work toward putting a defensive product on the field that is drastically better than the one that lined up in 2013 is among the most important offseason tasks.
Climbing out of the SEC cellar in major defensive statistical categories is critical if the Aggies wish to succeed in the SEC West. Central to that goal is the performance of the Aggies' defensive line, a unit that is a work in progress this spring.
[+] Enlarge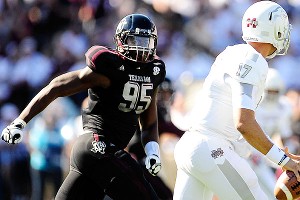 Stacy Revere/Getty ImagesJulien Obioha is a season contributor on the Aggies' DL. Now he's looking for some help.
There's a mix of missing bodies due to injury (defensive ends
Jay Arnold
,
Daeshon Hall
and
Tyrone Taylor
) as well as one to a suspension (
Isaiah Golden
,
who recently withdrew from school but is expected back
). That has given a chance for new faces to get turns in the rotation and show their worthiness to the coaching staff.
"Zaycoven [Henderson] has continued to impress," head coach Kevin Sumlin said of the true freshman, who enrolled in January.
Henderson, at 6-foot-1 and 310 pounds, appears to be a possible instant-impact player. The four-star 2014 prospect, who was previously committed to TCU and Texas before eventually landing in Aggieland, brings the size and ability the Aggies need to improve their quality and depth at defensive tackle. That's significant for a run defense that allowed 222 rushing yards per game and ranked 110th nationally (as well as last in the SEC) in that area.
Another defensive tackle making waves this month is one from the previous recruiting class: 2013 signee
Justin Manning
.
Ranked as the top defensive tackle in the state of Texas in his class, and the ninth-best nationally, Manning didn't see a snap of game action last fall while he redshirted. But Golden's absence has allowed Manning to get some time in the two-deep this spring and show the improvements he has made.
"[He] showed some twitch that he had in high school," Sumlin said. "He lost a little weight; when he got here he was out of shape. He has come on."
If Henderson and Manning can contribute, that helps bolster the Aggies up the middle, where they already have veteran
Alonzo Williams
and sophomore
Hardreck Walker
, who also contributed as a true freshman. With ESPN 300 defensive tackle DeShawn Washington arriving this summer and Golden expected to return, the Aggies could begin to show the kind of depth Sumlin has been pining for since taking over the program.
At defensive end, there's a mix of veterans and youth.
Julien Obioha
, who has been a starter since his true freshman season, is now a junior. Senior
Gavin Stansbury
is coming off his best season in Aggieland, showing flashes of his potential last fall. Senior
Tyrell Taylor
is back also and has been getting turns this spring.
The two young players at the position who are sitting out with injuries this spring -- Arnold and Hall -- both saw time as true freshmen last season, suggesting a promising future for each. And in the summer, the Aggies will welcome the services of five-star recruit
Myles Garrett
as well as ESPN 300 defensive end
Qualen Cunningham
and three-star prospect
Jarrett Johnson
.
Obioha said he is looking forward to the increased depth.
"I'm really excited," he said. "My first couple of years here I had to play 60-70 plays [per game] and you don't want to play that much. When you think about a two-deep or a three-deep, you want to play maybe 35 plays and having those 35 plays be where you can come 100 percent every play and you're not tired."
Defensive line coach Terry Price's message to his group this spring has been clear.
"Last year, bottom of the SEC, bottom 25 in the nation, that's not going to happen this year, that's been the message," Obioha said. "We're going to be completely different this year from the bottom to the top and it all starts with the D-line."
November, 8, 2013
11/08/13
2:00
PM ET
COLLEGE STATION, Texas -- Perhaps the most telling sign of how poor Texas A&M's pass rush was in the first half of the season came when the Aggies finally found one.
Two weeks ago, when the Aggies hosted Vanderbilt, they came up with seven sacks in a 56-24 win over the Commodores.
[+] Enlarge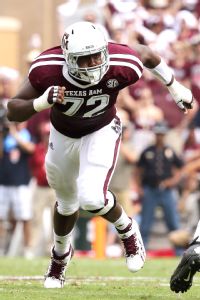 Matthew Emmons/USA TODAY SportsWith three talented quarterbacks remaining on the Aggies' scheduled, they will need Gavin Stansbury and the pass rush to continue its quick development.
The telling part was that the seven sacks that day matched what A&M had produced in the first seven games
combined
.
Last week against UTEP, the Aggies picked up two more sacks in a 57-7 victory. Suddenly, a team that struggled to get near the quarterback is showing signs of being able to do it with consistency.
"We've been able to turn it up a little bit," head coach Kevin Sumlin said.
One of the key figures in the Aggies' recent improvement is junior defensive end
Gavin Stansbury
. In the last two weeks, Stansbury has been a force, picking up a combined 16 tackles and three sacks, two of which came against Vanderbilt.
Defensive coordinator Mark Snyder felt like that game could be a turning point for Stansbury.
"He's got a different look in his eye," Snyder said. "He comes in here to meetings and he's bouncing around, having a game like that is really going to be good for his confidence too. Everybody needs that game."
The Aggies were efficient at getting to the quarterback last season behind the strength of defensive end Damontre Moore, who led the team with 12.5 sacks. Moore declared for early entry into the 2013 NFL draft and is now with the New York Giants.
Moore's departure left a void in the production, and throughout the season, the Aggies have rotated players in and out of the lineup, with the primary three being Stansbury, sophomore
Julien Obioha
and true freshman
Daeshon Hall
. Each has had their ups and downs this season, but Stansbury's strong play as of late has been noticeable.
Hall and Obioha have also both picked up tackles for losses in each of the last two games, so it seems like the defensive ends are finding their groove.
Sumlin points out that just because the Aggies weren't racking up sacks, it doesn't mean they weren't getting a pass rush. They were struggling in other areas as well.
"I think early in the year, we had guys get loose, but because we were taking some other chances, we had no contain on the other side," Sumlin said. "So the quarterback flushes out the back door. Or we've got pressure here and we didn't hold our gaps in the middle and the quarterback just runs up the field. So the pressure has been there but the quarterback has escaped a bunch in the first part of the year.
"I think we've been a lot more sound in what we're doing and guys understand that 'Hey, just running to the quarterback isn't going to get it. These guys have a plan too.' They're going to take off and go somewhere. You need to maintain your gap structure, even in the pass rush. And I think that's really, really helped us."
Stansbury started the season off on a bad note, missing the first two games after being suspended for violating athletic department rules and regulations. He said he has played that much harder to "make up for it" and that he's working on continuing to develop. His three sacks are currently tied for the team lead.
"My thing is, I feel like I'm getting better but I need to improve every week," Stansbury said. "It's not a satisfying thing but it's getting better every week."
Stansbury said the intensity has been dialed up and that has led to the defensive line's resurgence.
"Emotion and effort," he said. "Swarming to the ball. Just trying to get there. Everybody's playing with intensity and going off each other."
The No. 15 Aggies will have to continue that if they hope to keep having success when they host Mississippi State on Saturday at Kyle Field. They'll face a talented dual-threat quarterback in
Dak Prescott
.
As for Stansbury, much like Moore a year ago, Snyder thinks things might finally be clicking for his new star pass-rusher.
"I don't remember what game it was for Damontre last year but he had one of those games ... where he kind of turned it on and the ball started rolling for him," Snyder said. "Hopefully the same thing happens for Gavin."
November, 1, 2013
11/01/13
8:00
PM ET
A light load with this week's mailbag and it's Texas A&M-specific. Thanks to those that did send in questions.
Oliver Howard (@ManfreAg95): Why is Mike Evans not top 5 Heisman consideration?
[+] Enlarge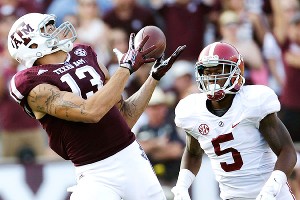 AP Photo/David J. PhillipMike Evans has been dominant at times this season, but receivers rarely garner Heisman buzz.
Sam Khan Jr.:
Mainly because it appears the public sentiment traditionally falls toward a quarterback or running back. The last time a non-quarterback or non-running back won the trophy was in 1997, when Michigan cornerback Charles Woodson took home the hardware. Historically, the players who touch the ball most frequently, which are quarterbacks and running backs, seem to be the ones getting most of the votes. Whether that's right or just is up for debate; personally, I don't like it. But I don't have a Heisman vote.
To your point, I agree that Evans has been one of the nation's best players, regardless of position. Alabama, the No. 1 team in the country, had to try three different defenders to cover him, and he still finished that day with 279 receiving yards, including a 95-yard touchdown catch-and-run. Against a ranked Auburn team, Evans put up 289 yards and four touchdowns and again was unstoppable. When the stage is big and the lights bright, Evans has delivered for Texas A&M.
Head coach Kevin Sumlin even went out of his way to mention that he feels the sophomore receiver deserves to be in the Heisman discussion. "I'm also puzzled, why people aren't talking about Mike Evans in the Heisman race, to be honest with you," Sumlin said. "I think he's as good a player as there is in the country." He's second in the country in receiving yards (1,101), third in receiving touchdowns (11) and leads the SEC in both categories. Hat tip to SEC blogger Edward Aschoff, who argued back in September after the Alabama game that Evans should be in the discussion.
Delvin Bennett (@DelvinJokes): Where do you think Mike Evans will be next year?
Sam Khan Jr:
He hasn't said whether he's considering making the jump to the NFL after this season (because he's a redshirt sophomore, he's eligible to declare for early entry into the NFL draft), but I won't be surprised if he does. If he gets talked about as a potential first-round pick (and considering his size, speed and pure ability, I don't see why he wouldn't be), I think he'll seriously consider making the jump. What will be worth watching is whether Texas A&M quarterback
Johnny Manziel
's decision affects what Evans chooses to do. I doubt that it will, but you never know.
Josh Lee (@JoshLee_ar): How much do young players actually improve between 19 and 21? Re: A&M defense.
Sam Khan Jr.:
It all depends on the individual, because different guys have different work ethic, mental toughness, physical ability, etc. Basically, will the Texas A&M defense -- which has been porous almost all season, save a couple games -- be better in a few years as the 11 freshmen currently on the two-deep grow into juniors and seniors? I think so.
Some might progress faster than others but I think when you see a guy like true freshman middle linebacker
Darian Claiborne
, who has been starting since the fourth game, or defensive end
Daeshon Hall
, who is getting more playing time as of late, or cornerback
Noel Ellis
, who played a lot against Vanderbilt, those guys look like potential stars once they mature as players.
Plus, Texas A&M continues to recruit heavily on the defensive side of the ball, and the Aggies are landing elite talent: Of their last four verbal commitments, which all came in October, three were on the defensive line and were in the ESPN 300 of their respective classes. If this group can grow together and the scheme and coaching staff stays intact, I think they could be significantly improved in a couple years.
September, 22, 2013
9/22/13
12:43
AM ET
COLLEGE STATION, Texas -- Coming off a thriller that few will soon forget, No. 10 Texas A&M had a few questions to answer going into Saturday's battle with SMU.
Though it's way too early to surmise that they've permanently answered some of those questions, the Aggies certainly took steps toward a few solutions in their dominant 42-13 win over the Mustangs at Kyle Field.
The biggest question about the Aggies after three games surrounded their defense, or lack thereof. If Texas A&M (3-1) couldn't prove that it could get stops against an opponent like SMU (the Aggies already allowed significant yardage to Rice and Sam Houston State, though the unit was shorthanded for both games), when would it ever show that? The rest of A&M's SEC schedule is coming, starting with a road game at Arkansas on Sept. 28.
Fortunately for the Aggies, the unit showed some progress.
[+] Enlarge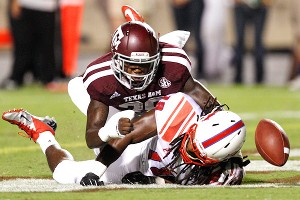 AP Photo/Bob LeveyDeshazor Everett's move to safety this week was one of several moves that help jumpstart the Texas A&M defense.
Though SMU compiled 292 yards in the first three quarters as A&M built a 42-6 lead, the Aggies were stellar on third downs, holding the Mustangs to just four conversions on its first 14 attempts in that span and 5-of-16 for the game.
"We looked pretty fast out there tonight," Aggies defensive coordinator Mark Snyder said. "There were times where we looked extremely fast, which is what I was hoping was the case. We still have some areas that we've got to work on, but it was a much better game from our sideline tonight."
Snyder made two key personnel changes this week. He moved starting cornerback
Deshazor Everett
to safety to help address the issues the Aggies have had in coverage and he inserted true freshman
Darian Claiborne
into the starting lineup at middle linebacker.
"I think we have the right guys on the field right now," Snyder said. "[Claiborne] needs to play and needs to be on the field. He was able to make the adjustment from [weakside linebacker] to [middle linebacker] in a week. … I was really proud of him. He handled getting the front [seven] set, he brought a lot of energy, he's a lot like
Steven Jenkins
and I was very, very happy with that."
Everett spent time at both cornerback and safety last season, so it's not an unfamiliar move for the junior. By moving him back there, the Aggies moved third cornerback
Tramain Jacobs
to the starting lineup next to
De'Vante Harris
, and he didn't appear to miss a beat. Everett said because SMU runs an offense similar to A&M's, the transition was smooth.
"It was pretty simple," Everett said. "I see those formations a lot and I know what the safety's checks are to me at corner. … It kind of helped me because I know where the corner is going to be and where I should be if I were a corner, to want safety help."
Was Saturday a sign that a cure-all is coming to a defense that ranked in the bottom 20 in the nation in total yards allowed and rushing yards allowed coming into the game? Far from it. But it was a much-needed positive performance from a group that has struggled through youth, inexperience and missing personnel because of suspensions or injuries in the first three games. On-field communication and the ability to make adjustments in the first three games was a chore simply because of the lack of consistency in starting personnel from week to week.
"In the first couple, three weeks … there were a lot of moving parts and guys out there just worrying about doing their job, not being able to communicate," head coach Kevin Sumlin said. "There's definitely a comfort factor with having all your pieces back and being able to not only play that play but also make adjustments as the game moves on."
With the Aggies resuming SEC play next week in Fayetteville, Ark., having some success on defense is key.
Offensively, the Aggies ran smoothly, as they have most of the year. Quarterback
Johnny Manziel
threw strikes when he stayed in the pocket and chewed up rushing yards when he darted out of it. His night, which included 244 passing yards, 102 rushing yards and three total touchdowns, was done by the 10:06 mark of the third quarter with the Aggies leading 39-6.
Malcome Kennedy
(six catches, 83 yards) continued to show that will be a legitimate receiving threat to complement star sophomore receiver
Mike Evans
and the running game was productive and efficient, led by Manziel and
Ben Malena
(13 carries, 71 yards, two touchdowns).
The win wasn't without its warts though. Like SMU, the Aggies were heavily penalized (there were 29 accepted penalties in the game, 13 of which went against the Aggies for 114 yards) and the kicking game continues to be a struggle. Sophomore place-kicker
Taylor Bertolet
missed back-to-back point-after-touchdown kick attempts in the first half and was replaced thereafter by junior walk-on
Josh Lambo
. And what happened when Lambo entered the game? Holder
Drew Kaser
bobbled a snap -- the second time that's happened this season -- and as a result, Lambo's first PAT attempt failed.
When Lambo connected on a PAT after a Malena touchdown run with 11:34 remaining in the third quarter, it almost seemed as if the cheers for Lambo were as loud as those for Malena's touchdown. Finding a solution at place-kicker is critical if the Aggies expect to remain contenders in the SEC West. Against SMU, those points left on the field didn't matter. Against Ole Miss or LSU on the road later this season, they might.
Sumlin, when asked who will be kicking field goals and PATs moving forward, called the situation "a competition."
"We're going to keep the competition up just like we do at every position," Sumlin said. "Lambo came in and did a good job. … It's just like any other position. … We evaluate guys every week, no matter what the position, so there will be competition there."
But the Aggies made some plays on defense. They forced a turnover that led directly to points when defensive back
Toney Hurd Jr
. jolted the ball loose from receiver
Jeremiah Gaines
, a fumble that Everett returned for a 12-yard touchdown. Linebacker
Tommy Sanders
intercepted a pass late, and though he fumbled, freshman defensive end
Daeshon Hall
was able to scoop it up for a 39-yard return. The secondary was tested a few times in the first half by SMU quarterback
Garrett Gilbert
(37-of-62 passing, 310 yards) but passed with flying colors when it came to third downs or plays near the end zone or red zone.
"I feel like going back into SEC play [next week] it was great for us to come and play well," Hurd said. "It was great for our defense to put a good showing out tonight."
September, 5, 2013
9/05/13
4:00
PM ET
COLLEGE STATION, Texas -- The statistics weren't pretty.
Rice compiled 509 offensive yards, 306 of which were chewed up on the ground, against Texas A&M in its season opener. The most important stat -- the score, 52-31 in favor of the Aggies -- was what mattered in the end but with a defense that was gutted by suspensions and filled with newcomers playing for the first time, it provided for some early growing pains for Texas A&M defensive coordinator Mark Snyder.
Of the 16 true freshmen that saw the field in the Aggies' opener, 11 were defensive players. That doesn't include yet another newcomer, junior college transfer linebacker
Tommy Sanders
, meaning a dozen defensive players who appeared on Saturday were newcomers.
[+] Enlarge
Thomas Campbell/USA TODAY SportsTexas A&M freshman corner Alex Sezer got some much-needed game experience against Rice.
"They all had goods and bads, all the guys that played," Snyder said. "You could tell, pregame, over at the hotel there was a little bit of nervousness. You can imagine being 18 and being in front of all those people."
The Aggies have FCS opponent Sam Houston State this week, but they still won't have their full arsenal of defensive players. Cornerback
De'Vante Harris
, linebacker
Steven Jenkins
and defensive end
Gavin Stansbury
-- all three of whom are starters -- will miss the game while serving the second of a two-game suspension for violating athletic department rules. Cornerback
Deshazor Everett
will miss the first half because he was ejected for targeting in the second half of the Rice win and, by rule, must sit out the first half of this game as a result. Freshman defensive end
Daeshon Hall
will also miss the first half after being ejected in the second half for throwing a punch at Rice player.
While the Aggies are heavily favored and the losses are unlikely to keep Texas A&M from winning this week, it does pose an interesting dilemma for Snyder and his staff moving forward. The first time the full complement of defensive players will be available for the Aggies will be Sept. 14, for the showdown against Alabama.
"The good thing is we're going to be fresh, that's for sure," Snyder joked. "We're going to be injury-free and we're going to be fresh."
Snyder noted that the advantage for Alabama in that regard might not be as significant since the Crimson Tide have an open date this weekend, so they'll only have one more game under their belts than the Aggies' suspended players do come next weekend. Those players are still practicing -- with the second-team -- and getting repetitions in the meantime.
There were some short-term struggles with so many new bodies on the field, even in play-calling. Snyder said he couldn't "get in a rhythm," calling plays because of how many new pieces and moving parts there were.
"[Rice] came out and showed us some things that we had not seen and not having a veteran group, I can't call timeout and run out on the field and say 'Hey, they're getting in diamond formation and running three levels, or they're getting three out into the flat weak,'" Snyder said. "Those are things that we had to get adjusted."
Snyder was encouraged by how much better the defense performed in the second half, making adjustments and responding to the coaching given at halftime. The unit came up with two turnovers and didn't allow the Owls to score in the first three series of the third quarter. Snyder looks as the growing pains and the game experience that freshmen like linebacker
Darian Claiborne
, cornerback Alex Sezer and a host of others received as an advantage down the road.
"We're building depth right now for our future, for the rest of this season," Snyder said. "So what might be hurting us right now, in the future is going to help us. We've got to live with that and we've got to deal with that."
September, 4, 2013
9/04/13
10:00
AM ET
COLLEGE STATION, Texas -- Silence isn't a word typically synonymous with a stadium hosting more than 86,000 rabid fans, particularly at Kyle Field, where Texas A&M is known to hold a tremendous home-field advantage.
But silence is a key word in describing some of the growing pains the Aggies had to go through in their season-opening win against Rice on Saturday, as they played 16 true freshmen, 11 of which were defensive players.
A&M coach Kevin Sumlin illustrated that point thusly:
"We had a couple situations where a couple guys actually froze up out there and wouldn't even open their mouths and couldn't get lined up," Sumlin said after Saturday's 52-31 victory. "The D-line said they couldn't hear and then one of them admitted to me "Coach, I just didn't say anything. I was just standing there.'"
Not exactly what a coach is looking to hear from defensive players, particularly when facing a no-huddle offense. Communication, especially in those situations, is key for a defense.
[+] Enlarge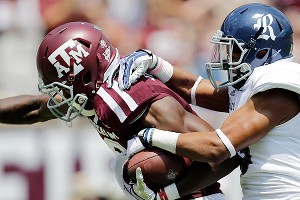 AP Photo/Eric GayFreshman wide receiver Ricky Seals-Jones made an impact in his college debut, hauling in a 71-yard touchdown pass.
But that was the position the Aggies were put in, missing eight players to start the game, six on defense -- including five defensive players who were listed as starters on the week's depth chart -- because of suspensions. There were true freshmen playing in every defensive position group, plus some at receiver. That doesn't include a handful of redshirt freshmen and junior college players who were making their debuts as well.
The Aggies coaches did what they could to prepare their newcomers, but some lessons are only learned the hard way.
"It's like anything else," Sumlin said. "As a coach, you try to prepare guys for all situations, but until the live bullets are flying, you don't know. It'll get better as it goes on, but I think the experience that we gained from today will help us down the road, a bunch. Particularly [in the front seven] because that's where most of the guys are gone."
The struggles were clear. As the defense tried to find its footing, Rice showed the ability to move the ball with ease. The Owls finished the game with 509 total offensive yards, including 306 rushing. The last time they gave up that many offensive yards was in their marathon battle against Louisiana Tech last October (615) and they haven't allowed that many rushing yards since a 66-28 drubbing at the hands of Oklahoma on Nov. 8, 2008.
True freshman played on the defensive line (
Jay Arnold
,
Isaiah Golden
,
Daeshon Hall
and
Hardreck Walker
), at linebacker (
Darian Claiborne
,
Jordan Mastrogiovanni
,
Shaan Washington
) and defensive back (
Noel Ellis
,
Tavares Garner
,
Alex Sezer Jr
. and
Jonathan Wiggins
).
"There's no way to duplicate the tempo and the emotion [of a game]," Sumlin said on Tuesday. "You know what you're doing, but the pressure to perform in that environment can be very, very difficult on a young guy, and that's what experience is all about."
Offensively, the Aggies were much better off. Even though
Matt Joeckel
made his first career start at quarterback, he's a junior who has spent more than a year practicing in the offense and he had at least seen some game time. Center
Mike Matthews
, who received high praise from Sumlin on Tuesday, also played in games and traveled with the team last season.
The true freshmen who saw the field for the first time on offense were all receivers:
Ricky Seals-Jones
,
Jeremy Tabuyo
,
LaQuvionte Gonzalez
and
Ja'Quay Williams
. But because there were more experienced players surrounding them on Saturday, not to mention Heisman Trophy winner
Johnny Manziel
entered the game in the third quarter, the transition was smoother for the Aggies' offense.
In total, 21 newcomers saw the field for Texas A&M on Saturday, many in significant roles. Plenty will log significant time this Saturday against Sam Houston State, as four players received two-game suspensions and won't be back until Sept. 14 against Alabama. With a signing class of 31 players in February, there was no question the Aggies were going to need some of the newcomers to contribute. By being forced to play so many in the first game, Sumlin feels like it could be a positive later in the season.
"[It's] a real, real learning experience," Sumlin said. "I think for those guys, that's going to pay dividends for us down the road."
August, 31, 2013
8/31/13
8:52
PM ET
COLLEGE STATION, Texas -- There are several reasons Texas A&M was so highly thought of and had lofty expectations coming into the 2013 season.
The No. 7 Aggies, who were ranked in the top 10 of both preseason polls (they were No. 6 in the coaches' poll), returned a Heisman Trophy-winning quarterback, a plethora of running backs and an All-America caliber tackle, and play a style of offense that many SEC teams -- defending champion Alabama included -- find hard to defend.
And while there were several positives to take away from Texas A&M's season-opening 52-31 win over Rice on Saturday at Kyle Field, the win also illustrated that the Aggies still have a long way to go in several areas if they plan on fulfilling championship expectations.
[+] Enlarge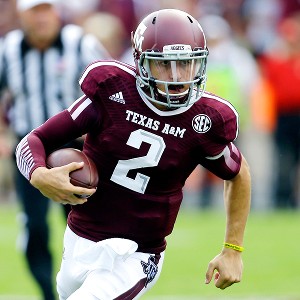 AP Photo/Eric GayThe good news is Johnny Manziel looked like his Heisman Trophy winning self once he got in the game. The bad news is the Aggies look like they still have lots of work to do if they want to win titles.
One of those areas is maturity. Head coach Kevin Sumlin discussed that after the game, and while he was specifically addressing it in relation to the ejection of freshman defensive end
Daeshon Hall
and the unsportsmanlike conduct penalty drawn by quarterback
Johnny Manziel
after a touchdown pass, Sumlin's words can apply across the board.
The Aggies had eight players miss at least the first half of Saturday's game. Four were suspended for "violating Texas A&M athletics department rules and regulations." Three were suspended after offseason arrests and Manziel was suspended for the first half after "inadvertent violations" that occurred as a result of signing autographs after the conclusion of an NCAA investigation.
That was also part of Manziel's message, according to Sumlin, to his teammates when he addressed them on Friday as part of the requirements of restoring his eligibility.
"Actions just like today and just like other guys on this team, those actions may be actions that you think just hurt you, but they end up hurting the whole football team," Sumlin said. "That was the real gist of [Manziel's] message to the team. That everybody's individual acts affect the team. When that happens, it's not good."
Of the suspended players, five were defensive starters (defensive tackle
Kirby Ennis
, cornerbacks
Deshazor Everett
and
De'Vante Harris
, linebacker
Steven Jenkins
and defensive end
Gavin Stansbury
). Another, Floyd Raven, is a key player expected to contribute this fall and was one time projected to start at free safety before
Clay Honeycutt
wound up first on the depth chart after a strong training camp.
As a result, the Aggies' defense was filled with true freshmen and newcomers getting significant playing time on Saturday and ended up surrendering 509 total offensive yards. Now, Rice is a good team in Conference USA that could contend for the league title, but it's not nearly the caliber of opponent Texas A&M will see on its SEC schedule. The Owls ran for a whopping 306 yards -- six yards a carry -- and appeared able to run right at the Aggies' defense.
The Aggies struggled with missed tackles and missed assignments, which are to be expected when you have a significant number of 18- and 19-year-olds on the field.
"We played 20 guys out there that had never played before," Sumlin said. "Is that an excuse for our play? No. I think we learned from today."
The Aggies regain the services of Ennis and Raven next week, though Everett will again have to sit out a half, by rule, because he was ejected in the second half after being called for a targeting penalty. The other four suspended -- Jenkins, Harris, Stansbury and receiver
Edward Pope
-- won't return until Sept. 14 when the Aggies host No. 1 Alabama.
But there were plenty of positives to be seen as well, most notably in the win column. Backup quarterback
Matt Joeckel
showed he was capable of moving the offense, leading the Aggies to 28 first-half points while putting up more than respectable numbers (14-of-19 passing, 190 yards). Joeckel's lone touchdown pass was a 71-yard catch-and-run completion to an apparent star in the making, 6-foot-5, 240-pound true freshman receiver
Ricky Seals-Jones
.
Players who are considered to be among the team's leaders, running back
Ben Malena
(100 total offensive yards, two touchdowns) and
Mike Evans
(84 receiving yards, two touchdowns) played their roles aptly. The kicking game was consistent as
Taylor Bertolet
was perfect on all his kick attempts, something he struggled with last season. And as Sumlin noted, the positive to having so many young players on the field on defense means they'll have a chance to learn from their mistakes and develop. Though there were struggles, they came up with turnovers and still did enough to win.
Most importantly, the Aggies got their quarterback, Manziel, back on the field in the second half and he looked like the player who captivated the nation a season ago. He was 6-of-8 passing for 94 yards with three touchdown passes and showed his trademark scrambling ability, though Rice did a solid job of keeping him from running too wild.
This is a team that has encountered a lot this offseason. From the headlines Manziel made and the NCAA investigation, to the suspensions and most importantly, the death of a teammate --
Polo Manukainiu
-- the Aggies have already dealt with their fair share of adversity.
The Aggies honored Manukainiu on Saturday by wearing decals with his number, first name and a Tongan-inspired design on their helmets and electing sophomore defensive tackle
Alonzo Williams
to wear Maunkainiu's No. 90. The team will elect a different defensive lineman to do so each week as a nod to Manukainiu and his family that he is "still out there with us," senior defensive back
Toney Hurd Jr
. said.
This team has lofty goals. Hurd mentioned Saturday the team would wear the Manukainiu decal "each and every week, leading [up] to the national championship." If they plan to get there, they have a lot of work still to do.