June, 24, 2013
6/24/13
3:00
PM ET
Every year, players come and go in college football. With the turnover teams can either grow or take steps back.
It's time to check out Kentucky's strongest position and weakest position heading into the 2013 season:
Strongest position: Defensive line

New coach Mark Stoops really lucked out when it came to his defensive line. The Wildcats have the pieces in place up front to cause some real discomfort for opposing offenses. The foundation up front could help mask the issues the Wildcats have at linebacker and in the secondary due to inexperience. Inside, Kentucky has starters
Donte Rumph
and
Tristian Johnson
return, along with the talented
Mister Cobble
, who showed vast improvement last year and this spring. Rumph registered four sacks and six tackles for loss last year, while Cobble and Johnson combined for 3.5 sacks and 5.5 tackles for loss. Two starters are gone outside, but
Alvin Dupree
is moving from linebacker to end. He was Kentucky's best pass-rusher last year (12.5 tackles for loss and 6.5 sacks) and could be even more of a threat to passing games with his hand in the ground. Dupree is All-SEC material. And he'll have help from junior college transfer Za'Darius Smith, who registered 47 tackles, 11 for loss and 6.5 sacks at the juco ranks last fall. He had a very good spring and should come in and make an immediate impact. Freshman Jason Hatcher should also help on the outside as well.
Weakest position: Secondary and/or pass-catchers
The Wildcats are really hurting to find a consistent receiving threat now that
La'Rod King
is gone.
Demarco Robinson
and
Daryl Collins
will be in their third years this fall, and while they have big-play potential, they just haven't been able to live up to that potential. Yes, the quarterback play hasn't been great, but there comes a point where players have to step up and figure out a way to make plays. Both players were held under 300 yards last year. It doesn't help that three seniors are gone, making this a very young group overall. Only four players return with any experience from last year, with only Robinson catching more than 20 passes. Freshman Ryan Timmons has a chance to play right away, along with juco standouts Javess Blue and Steven Borden, who was on campus this spring.
As for the secondary, the Wildcats lost three starters and safety
Ashely Lowery
is working his way back onto the field after his horrific car accident. Both cornerback and safety are littered with youngsters, which means that incoming players will have a pretty good shot at getting valuable playing time. Regardless, the secondary is going to be younger and more inexperienced than Stoops would like in his first year. Sophomore corners
J.D. Harmon
(two interceptions),
Cody Quinn
(five pass breakups) and
Fred Tiller
(two pass breakups) are the only returners with any stats at corner. There is a little more experience at safety, but not much. Getting senior
Dakotah Tyler
back from his knee injury will be big, but he's only played sparingly for the Cats during his career.
March, 18, 2013
3/18/13
11:00
AM ET
Schedule:
The Wildcats opened spring practice Monday morning, and will conclude the spring with their annual Blue/White Spring Game on April 13, at 7 p.m. ET at Commonwealth Stadium.

What's new:
The entire coaching staff is new in Lexington. Former Florida State defensive coordinator Mark Stoops replaced Joker Phillips as the Wildcats' head coach. Neal Brown takes over as Kentucky's offensive coordinator/quarterbacks coach, while D.J. Eliot left FSU with Stoops to become the Wildcats' defensive coordinator/linebackers coach. Derrick Ansley is Kentucky's new cornerbacks coach and Jimmy Brumbaugh takes over as the new defensive line coach. Tommy Mainord will coach wide receivers, while Vince Marrow will coach up the Wildcats' tight ends. Bradley Dale Peveto will coach the safeties and be the special teams coordinator. John Schlarman will coach Kentucky's offensive line, while Chad Scott coaches running backs.
On the mend:
Running back
Josh Clemons
missed all of last season with a knee injury that he suffered halfway through the 2011 season and could be limited this spring. The amount he works out this spring will depend on well his knee responds. Rising senior safety
Dakotah Tyler
will miss spring ball while he recovers from a knee injury he suffered last year. Freshman cornerback
Shawn Blaylock
also suffered a knee injury last year and is still recovering as well. Tight end
Anthony Kendrick
will also miss spring practice with a foot injury.
On the move:
Junior
Alvin Dupree
played both linebacker and defensive end last year, but the coaches want him to focus more on end this spring. With a new staff, position changes are expected to develop as practice continues and the new staff gets to see how players look on the field.
New faces:
The Wildcats welcomed in three early enrollees. Junior college transfers Za'Darius Smith (defensive end) and Steven Borden (tight end) joined true freshman quarterback Reese Phillips.
Question marks:
With wide receiver
La'Rod King
gone, Kentucky is in desperate need of someone stepping up to be the go-to guy in the passing game. King wasn't a game-changer, but he was the team's most reliable offensive weapon in 2012. Youngsters
Demarco Robinson
and
Daryl Collins
will be looked at first, and while both have big-play potential, they both have a lot of room to grow on the field. The Wildcats also looking for someone to take over at the running backs spot. The good news is that a handful of players come back, but finding that No. 1 guy is a priority. The Wildcats also lost three starters in the defensive backfield. Replacing do-it-all safety
Martavius Neloms
will be particularly hard for the Wildcats to do, but there are young options for Kentucky's new staff.
Key battle:
With injuries derailing
Maxwell Smith
's second year as the Wildcats' starting quarterback, all eyes will be on this position. Along with Smith, who needed ankle surgery last year, Kentucky will have two rising sophomores competing this spring in
Jalen Whitlow
and
Patrick Towles
, who both saw time last year. Smith enters the spring as the starter, but he will have to hold off the two youngsters, who gained valuable experience last year. Plus, this is a new staff, so Smith's spot from a year go isn't guaranteed. With the heavy amount of passing Brown wants out of his offense, figuring out the quarterback situation is the top priority for the Wildcats this spring.
Breaking out:
Really, anyone at wide receiver is a candidate to break out because the Cats expect to sling the ball around a ton this spring. Robinson was a candidate to break out last year, but fell short of expectations. Collins has the potential too with his playmaking ability, but he also he still has a lot of room for improvement. The same can be said at the tight end position as well. Stoops was very excited about the offseason reports he got about Za'Darius Smith in the weight room and with
Collins Ukwu
gone, he's expected to start right away. Offensive tackle
Jordan Swindle
was a backup last year and the previous staff really raved about him. Two starters are gone up front so he could get a shot to move around and help even more this spring. Also, keep an eye on young running backs
Dyshawn Mobley
and
Justin Taylor
.
Don't forget about:
The Cats' strength could be the defensive line this year. Bringing in Za'Darius Smith was big, but Kentucky also returns rising senior defensive tackles
Donte Rumph
,
Mister Cobble
and
Tristian Johnson
. Rumph and Cobble finally started playing up to their potential last season, and are expected to be even better this fall. Stoops and Eliot have to be pretty excited about working with this group.
All eyes on:
With a team that has struggled as much as the Wildcats have over the last two years, everyone will be watching to see how players respond to a new coaching staff. Stoops brings in a more defensive-minded philosophy, but he certainly understands how important it will be to get the offense off the ground. Brown's high-flying pass attack has fans excited, but players have to buy into the new scheme and have to get comfortable with it this spring. It's all about finding the right level of comfort in Lexington this spring.
October, 31, 2012
10/31/12
1:00
PM ET
We're saying Happy Halloween to everyone from the SEC blog. It's been another scary good year for the SEC, and all of this southern success must be truly frightening for the rest of the country.
Also, it's Nick Saban's birthday. You can't make this stuff up.
I can't wait to see all the
Honey Boo Boos
(not) and PSY (
Gangnam Style
) costumes parading around Atlanta tonight. But before we all go trick or treating, check out our most spine-chilling post of the year:
[+] Enlarge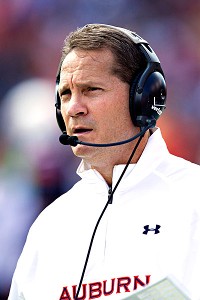 Wesley Hitt/Getty ImagesGene Chizik's Auburn squad has been scary bad this season.
Cursed:
Two seasons removed from winning a national championship, Auburn is sitting at the bottom of the SEC with eight straight conference losses dating to last season. Auburn has the SEC's worst offense and is second to last in total defense. The Tigers are also near the bottom of the offensive barrel nationally. Auburn is on its third starting quarterback of the season, and coach Gene Chizik's seat is getting hotter and hotter on the Plains, as Auburn enters the weekend with a 1-7 record.
Trick:
This spring, Arkansas was considered a real SEC championship contender, then, Bobby Petrino took that now infamous motorcycle ride. After Petrino, who thought he had a national championship-caliber team, was dismissed and John L. Smith took over, the thought was that there was still enough talent for this team to make a run in the SEC West. However, two weeks into the season, we found that not to be the case, as the Razorbacks lost in overtime to unranked Louisiana-Monroe. Alabama then shellacked the Hogs, and Arkansas went 1-4 in September. Arkansas' bowl chances are all but gone with a 3-5 record and blood-curdling November coming up.
Treat:
Heading into the season, not much was expected from Ole Miss. But Hugh Freeze has played a perfect Dr. Frankenstein, creating a monster at Ole Miss. The Rebels might not be as menacing as Frankenstein's original monster, but they've been more challenging than the past two years. Oh, and Ole Miss is a win away from being bowl eligible for the first time since 2009. Freeze is just hoping that his monster doesn't have a tragic end like the one with the bolts in his neck.
Boo (boo):
No question, the biggest injury of the season occurred over the weekend when South Carolina running back
Marcus Lattimore
suffered that gruesome season-ending knee injury against Tennessee. Not only was the injury hard to watch, but you hate to see bad things happen to good people like Lattimore. He is one of the most respected individuals in college football, and the sport seemed to temporarily stop when word spread about his devastating injury.
Thriller:
The play of the season right now might be
Jarvis Jones
' wicked fumble forced on Florida tight end
Jordan Reed
last week. Georgia's linebacker was having a monster game already, and capped it by sealing the game for the Bulldogs when he poked the ball out of Reed's hands as he tried to jump into the end zone for a potential game-tying touchdown. The ball flew out of Reed's hand, bounced off his knee and fell into the back of the end zone, where the Bulldogs fell on it.
The Walking Dead:
Kentucky's football team looks like something right out of the minds of Robert Kirkman and Frank Darabont. It hasn't been healthy all season. Starting quarterback
Maxwell Smith
has suffered shoulder and ankle injuries and is out indefinitely. Backup
Patrick Towles
then suffered his own ankle injury. Former starting running back
CoShik Williams
is out for the season, and running back
Josh Clemons
, who might be the Wildcats' most talented back, has been out all season. Starting safety
Dakotah Tyler
is also out for the season. This team has had to play a handful of freshman because of all the injuries piling up.
House of Horrors:
LSU has won a school-record 22 straight games at home. It's the nation's longest home winning streak, and it will be put to the test against No. 1 Alabama. But expect all those rabid Tigers fans to try to make the Crimson Tide's experience frightening.
Scary:
As in just how scary good Alabama has been this season. The Tide has totally dominated the competition this season. It hasn't even been close. Alabama has one of the nation's most balanced offenses (1,776 passing/1,715 rushing) and is first nationally in scoring, rushing and total defense.
Scariest:
Tennessee's defense has been downright terrifying to watch this season. New defensive coordinator Sal Sunseri's 3-4 scheme just hasn't translated well with his players, and the Vols have been beaten up by opposing offenses. Tennessee is last in the SEC in total defense (453.4 yards per game) and scoring (33.9), and 13th in passing (271.9) and rushing (181.5) defense.
Halloween costumes:
LSU coach Les Miles/The Mad Hatter (just too easy, again); Jarvis Jones/Predator; South Carolina defensive end
Jadeveon Clowney
/Michael Myers (doesn't talk much, but he's terrifying on the field); Tennessee defensive tackle
Daniel McCullers
/
Great Smokey Mountain
; Vanderbilt coach James Franklin/College football bowl planner; Florida coach Will Muschamp/Lionel Messi (
separated
at
birth
?); Texas A&M quarterback
Johnny Manziel
/Iron Man/Johnny Football; Ole Miss running back
Jeff Scott
/Mighty Mouse.
October, 11, 2012
10/11/12
3:30
PM ET
As Kentucky looks to somehow salvage a season full of first-half disappointments, the Wildcats will have to do so with a much younger roster.
Thanks to the pesky injury bug, the Wildcats have played 24 freshmen (14 true freshmen) and expect to watch the youngsters take hold of this team as the season progresses.
When Kentucky meets a pretty banged up Arkansas team on Saturday, it will do so without two quarterbacks, including starter
Maxwell Smith
, two running backs. Three starters in the secondary could be out as well.
The Wildcats were already dealing with the loss of starting safety
Dakotah Tyler
, who is out for the season with a torn ACL. Now, seniors
Martavius Neloms
(hamstring) and
Mikie Benton
(ankle), and sophomore
Ashely Lowery
(head) could all be out. Reserve linebacker/safety
Kory Brown
(hamstring) is also listed as day to day.
Coach Joker Phillips will now have to rely on five more true freshmen in safeties
Zack Blaylock
and
Daron Blaylock
, and cornerbacks
J.D. Harmon
,
Fred Tiller
and
Cody Quinn
to help the Wildcats out against
Tyler Wilson
and Arkansas' offense.
"It is a challenge, but it's an opportunity for some young guys that we have brought here," Phillips said. "All five of the freshmen are going to play. We expected them to help us this year, but didn't expect them to be starting in our fourth SEC game. We will play them, throw them out there and see how it goes."
So far, this unscheduled youth movement hasn't exactly panned out for the Wildcats. It's easy to tell just how young they are with all the struggles Kentucky has endured during its 1-5 start.
Kentucky is right near the bottom of the SEC in most offensive and defensive categories, and with all of these injuries, especially losing Smith, climbing out of the cellar could be tough.
But all Phillps can do is find the silver lining. When he was at Kentucky as an assistant back in 2005, he watched as 33 surgeries took place, starting in preseason and going right through the season. The Wildcats went 3-8 that year, but Phillips said the positive was that it built depth for the next few years.
The Wildcats then went on a five-year bowl streak.
"The positive behind is that once you start getting some of the guys back, it does nothing but build depth because you got to play some guys that normally wouldn't have been able to play and they start getting some experience and that starts developing depth," he said.
The present is hurt by the injuries, but Phillips hopes the future is helped. Still, there better be plenty of Tussin to go around for these black-and-blue Cats in 2012.
October, 1, 2012
10/01/12
4:35
PM ET
The injury bug has set up shop in the SEC.
Week 6 has started with Alabama and Kentucky losing a couple of offensive players. For Alabama, the Tide will be down sophomore wide receiver
DeAndrew White
and redshirt freshman running back
Dee Hart
, after
both suffered season-ending knee injuries
in Alabama's win over Ole Miss this past weekend.
Tide coach Nick Saban said that both will require surgery.
Losing White takes away a deep threat for the Tide. He had only caught eight passes for 105 yards and two touchdowns this season, but he entered the season expecting to be a key part of the Tide's more downfield passing game. Now, true freshman
Amari Cooper
, who is coming off of his best game with the Tide (eight catches for 84 yards and two touchdowns) will move to White's starting "X" position. Junior
Kevin Norwood
and sophomore
Christion Jones
will compete for time there as well.
Freshman
Cyrus Jones
has the "athlete" labeled attached to his name, but has lined up at receiver this season. He'll now be expected to do more at that position going forward.
The good news for Alabama is that there are a few players to pick from at wide receiver, although they are young. Young, but talented. Plus, when you have a quarterback like
AJ McCarron
directing things, the passing game should be just fine.
At running back, the Tide is now down to three scholarship running backs, with
Jalston Fowler
being lost for the season with a knee injury earlier this season. While Hart provided a nice option in the passing game for the Tide, he wasn't exactly a between-the-tackles guy, so Alabama won't be hurt too much in that area.
Eddie Lacy
,
T.J. Yeldon
and
Kenyan Drake
should still be able to work just fine at running back. Expect to see even more of Drake.
Kentucky isn't so lucky when it comes to quality depth. The Wildcats have
lost starting quarterback
Maxwell Smith
"indefinitely," coach Joker Phillips said. Smith is out after injuring his ankle against South Carolina over the weekend. Phillips said Smith will need surgery to repair a torn ligament in his ankle.
With Smith missing a game with a shoulder injury, Phillips said that the team will apply for a medical hardship for Smith if he can't return this season.
Now, the Wildcats will turn to a freshman duo at quarterback in
Jalen Whitlow
and
Patrick Towles
. Towles, who was arguably the Wildcats' most ballyhooed signee in 2012, will now burn his redshirt as he competes with Whitlow, Phillips said.
"It's going to take an effort of both of them," Phillips said. And it could be right in the middle of the series. If it's not series to series, it could be play after play after play, switching them in and out, give them things that they both can do, give them a chance to go out and play and compete."
This offense has bee inept without Smith in the lineup, so losing him is a huge blow the Wildcats. Already reeling with a 1-4 record, this team has to rally around a new quarterback -- or two. It will be important that their confidence and knowledge of the playbook are both accelerated this week before taking on No. 20 Mississippi State, which sports arguably the best cornerback duo in the SEC with
Johnthan Banks
and
Darius Slay
.
Phillips also said that starting safety
Dakotah Tyler
is out for the season with a torn ACL and running backs
CoShik Williams
and
Raymond Sanders
are both day-to-day. Tight end
Gabe Correll
is also out with an injury.
Losing Tyler hurts the Wildcats with depth. Kentucky was already struggling with bodies in its secondary, so this certainly doesn't help.
June, 19, 2012
6/19/12
11:15
AM ET
Safety Dakotah Tyler has returned to Kentucky's football team, coach Joker Phillips has announced Monday.

Once Tyler, who will be a junior this fall, completes his summer course he'll be able to play this fall. He sat out the 2011 season for personal reasons.

After missing the first two games of the 2010 season because of a sprained ankle, Tyler played in the last 11 games in 2010 and made one start. He registered 13 tackles, one tackle for loss, one pass breakup and forced a fumble. He also contributed on special teams.

Tyler arrived at Kentucky as a running back in 2009, but redshirted his freshman year and moved to defensive back in the spring of 2010.

His return gives the Wildcats another experienced player in the secondary. The Wildcats have two returning starters at safety, in seniors Martavius Neloms and Mikie Benton, but are down two starters at corner. No word yet if he'll get some time at one of the corner spots, but the opportunity is there if the coaches want to take it. Most importantly, he has some experience, which is something Kentucky's secondary needs heading into the 2012 season.