March, 13, 2014
Mar 13
12:00
PM ET
LSU, Missouri, Ole Miss, South Carolina, Tennessee and Vanderbilt have all opened spring practice. Forget one day closer to the weekend, we're one day closer to more teams around the SEC starting camp. Alabama gets going on Saturday and Arkansas will follow suit on Sunday.
March, 21, 2012
3/21/12
12:30
PM ET
March, 14, 2012
3/14/12
4:00
PM ET
Vanderbilt athletic officials have completed their investigation dealing with allegations of tampering by the Commodores' coaching staff regarding the possible transfer of Maryland quarterback
Danny O'Brien
and have sent the report to the SEC.
The backstory:
O'Brien was one of three Maryland players who all expressed a desire to transfer from the program earlier this year. Vanderbilt coach James Franklin coached O'Brien during his freshman season as Maryland's offensive coordinator (O'Brien was named the ACC freshman of the year), so the feeling was that Vanderbilt would be one of the top choices for the quarterback. However, O'Brien and his teammates weren't originally granted a release to Vanderbilt -- or any of the other ACC schools.

O'Brien was eventually granted a full release by Maryland coach Randy Edsall, but just when people thought O'Brien and Franklin would reunite, Maryland filed a complaint against Vanderbilt alleging that improper contact occurred between the school and the quarterback.
Vanderbilt officials are unable to elaborate or release the conclusion of the report until the SEC reviews it, but vice chancellor David Williams did release a statement through the school on the situation Wednesday:
We did a thorough review. We looked closely at months of phone and email records, and Twitter accounts. We interviewed all of our coaches with University of Maryland backgrounds and we also interviewed the student-athlete.

Our reputation is our primary concern. We have a long and proud history of playing by the letter and the spirit of the rules. Coach Franklin feels the same way. He and his staff were most cooperative.
Williams said the study was done internally because if the matter was indeed a violation it would -- at most -- be a secondary one.
O'Brien will graduate from Maryland this spring, meaning he'd be able to play immediately this fall and would have two years of eligibility remaining. O'Brien has shown interest in other schools, but he hasn't committed anywhere, meaning Vanderbilt still has a chance. The longer this drags on, the worse it is for Vandy's staff, but his decision to take his time with this certainly helps the Commodores' chances.
One way or the other, a decision from the SEC will speed up the process.
February, 22, 2012
2/22/12
2:00
PM ET
Maryland coach Randy Edsall made the right call Wednesday when he finally changed his mind and decided to grant quarterback
Danny O'Brien
and two other players their
full releases from the program with no transfer restrictions
.
Edsall took loads of criticism for his decision to not allow three Maryland players the opportunity to transfer to Vanderbilt -- a school that isn't scheduled to play Maryland in the near future and rarely ever competes with the Terps in recruiting.
Maybe all that negativity thrown toward him and the program helped him come to his senses.
Here's what Edsall said in a prepared statement:
"While at first I thought it was important to limit the institutions to which they could transfer, I have since reconsidered my decision. At the end of the day, I want what's best for these guys and I wish them well in their futures."
O'Brien also released a statement on the situation:
"I am pleased to be able to move on and pursue a graduate degree and continue my athletic career at the school of my choosing. "I would like to thank Coach Edsall for his support throughout this process."
Now, it appears O'Brien can take his talents to Vanderbilt and reunite with coach James Franklin, who was the offensive coordinator at Maryland during O'Brien's successful freshman season in 2010.
Well, once the rules are made clear ...
Tuesday, two sources close to the situation told ESPN.com's Heather Dinich that Maryland filed a complaint against Vanderbilt alleging that improper contact occurred between the school and O'Brien.
Vanderbilt vice chancellor David Williams released a statement Wednesday afternoon acknowledging the ACC's complaint against Vandy's football program:
"We have been informed by the Southeastern Conference that the Atlantic Coast Conference has filed a formal complaint involving Vanderbilt University football on behalf of one of its members. We are complying with SEC and Vanderbilt procedures and are conducting an investigation on the matter."
Until things get cleared up, O'Brien and Vanderbilt will have to wait before taking the next step, if both sides choose to.
February, 22, 2012
2/22/12
12:30
PM ET
Checking out the SEC with some links.
February, 16, 2012
2/16/12
9:00
AM ET
There was never anything official about the possibility of Vanderbilt coach James Franklin and former Maryland quarterback
Danny O'Brien
reuniting. But from the moment the school announced that O'Brien
was leaving
, the speculation began.
It made sense. While Franklin was Maryland's offensive coordinator back in 2010, O'Brien, who will graduate this spring and has two years of eligibility remaining, was named the ACC's rookie of the year after passing for 2,438 yards and 22 touchdowns. O'Brien is even quoted in Vandy's media guide as saying that "Coach [Franklin] was a big factor in my decision (to attend Maryland). We have a similar passion for the game, and I thought he was the coach to mold me into the player I thought I could be."
[+] Enlarge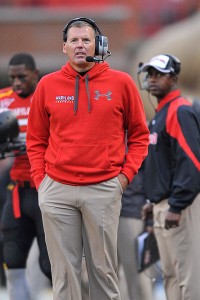 AP Photo/Gail BurtonCoach Randy Edsall has forbidden three Maryland players who wished to transfer from heading to a number of schools, including Vanderbilt.
Needless to say, the two got along and worked well together. With O'Brien a free agent and Vanderbilt's starting quarterback spot not exactly locked up, why wouldn't Franklin make a run at his old quarterback?
However, that might not be possible if Maryland coach Randy Edsall has his way.
The Washington Post
reported earlier this week that Edsall won't grant O'Brien permission to transfer to Vanderbilt. Under the stipulation, O'Brien can still attend Vanderbilt, but not with a football scholarship.
Usually, coaches don't allow players to transfer to schools that are in the same conference, are rivals or are future opponents. That's totally understandable, but Vanderbilt doesn't fit any of those descriptions. There's a chance these two could play in a bowl game. I'm sure that at some point in the history of college football a player who has transferred elsewhere has faced his former team in the postseason.
The fact that Edsall won't allow grant O'Brien permission to transfer to a school that isn't likely to have any sort of negative affect on Maryland is baffling.
Edsall also forbid two other players who requested to transfer from heading to the same 16 schools (mostly ACC schools and future nonconference opponents) as O'Brien, including Vandy. When pressed about the issue, Edsall told
Comcast SportsNet's Chick Hernandez
that all of the players were treated the same, but he never specifically said why Vanderbilt was off limits:
"We had stipulations in there, the same schools for all three of them," Edsall said. "And so neither of the three were treated any differently than the other guys. And again, I'm not gonna get into the names or anything like that [of] the schools that we put on there, because as we talked to the players, it was a situation where we said that we would keep that amongst ourselves.
"But usually what'll end up happening is there's gonna be schools on there that you might compete against, or if there's things that you feel might have taken place, you might put schools on that list. So we have that prerogative, to put those schools on the list. The players have the prerogative that if they want to appeal that, that they can appeal that as well."
The problem is that there really isn't much of a reason to put Vanderbilt on this list. He bolted from UConn to Maryland because it was his "dream job" but these players can't head to Vanderbilt to finish out their football careers?
It's all very silly, really, as odds are that Edsall won't have to see either O'Brien or any form of the Commodores anytime soon. Vanderbilt certainly won't stop Maryland from competing for an ACC title.
So what gives? One theory is that
maybe some premature contact occurred
between Vanderbilt and the Maryland players, so that could very well be a turnoff. Maybe the fact that Franklin coached at Maryland and now has Vanderbilt trending up, while Edsall is coming off a 2-10 first year at Maryland has something to do with it.
Who knows?
Regardless, this isn't the best situation for Edsall. Our own ACC blogger, Heather Dinich, already wrote that Edsall
handled the O'Brien situation poorly from the start
, and it doesn't look like he's handling the finish well, either.
February, 14, 2012
2/14/12
12:30
PM ET
While you're still cramming to find just the right Valentine's Day gift, check out some of these SEC links to calm your nerves.
SEC SCOREBOARD
Wednesday, 12/24
Saturday, 12/20
Monday, 12/22
Tuesday, 12/23
Friday, 12/26
Saturday, 12/27
Monday, 12/29
Tuesday, 12/30
Wednesday, 12/31
Thursday, 1/1
Friday, 1/2
Saturday, 1/3
Sunday, 1/4
Monday, 1/12
Tweets from https://twitter.com/ESPNCFB/lists/sec