November, 22, 2013
Nov 22
2:00
PM ET
How long has it been since Texas A&M traveled to Baton Rouge, La., to play LSU at Tiger Stadium? Aggies coach Kevin Sumlin offers perspective.
"It's a little bit different for our current players than maybe it is for our former students or our fans," Sumlin said. "That was [19] years ago. Guys like [starting middle linebacker]
Darian Claiborne
, shoot, they couldn't even
walk
the last time we went to Tiger Stadium."
[+] Enlarge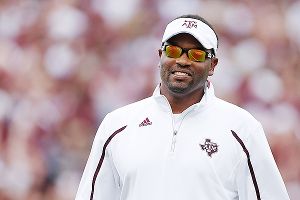 Scott Halleran/Getty ImagesKevin Sumlin will take Texas A&M back to Death Valley for the first time in 19 years.
To be exact, Sept. 3, 1994, was the previous trip the Aggies made to Death Valley. Texas A&M won 18-13, and the teams played the next season at Kyle Field, a 33-17 win for the Aggies.
The 1995 battle was the last of 10 straight and the teams didn't meet again until the Cotton Bowl brought them together in 2010. The major shifts that shook up college football because of conference realignment have broken up many rivalries, but in this particular case, it rekindled an old one, with the Aggies and Tigers becoming conference mates in the SEC West Division.
LSU and Texas A&M have a long history together; the Tigers lead the all-time series 28-20-3. Former Texas A&M coach R.C. Slocum, who coached in seven of those battles, called it a "great rivalry."
"I think over the years it's been a natural thing because the closeness of the two states and the environment," said Slocum, who was born in Louisiana and coached high school football in that state, but grew up in Orange, Texas, virtually on the Texas/Louisiana border. "There were so many people, particularly in Southeast Texas and in Houston in the oil industry that had Louisiana ties. And if you went into southeastern Louisiana and down to New Orleans, again, because of the oil industry, there were a lot of people with Texas ties."
It was a bit of baptism by fire for former LSU coach Gerry DiNardo. When the teams met in 1995, it was DiNardo's first game as the Tigers' coach. And he had the unenviable task of coaching the season opener at raucous Kyle Field.
"I don't know that anybody wants to open up at A&M when you take over a job," DiNardo said with a laugh.
"I really didn't know much about it. I was in the Southeast for four years at Vanderbilt, then I went to LSU. When you first take over a job, there's so many things that you have to do that honestly, you don't pay much attention to your first opponent until it's close up.
"I did have an appreciation for the rivalry. It was a great setting and a good game."
The teams' first meeting dates to 1899 and the teams played sporadically until 1942, which began a series of seven straight years that the teams played. They met annually from 1960 to 1975, then not again until 1986, which started a string of eight consecutive matchups.
The teams were to continue playing through at least the 1997 season, but LSU chose not to play the final two games that were part of a 10-year contract that began in the 1988 season.
[+] Enlarge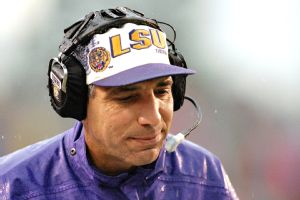 Andy Lyons/Getty ImagesGerry DiNardo's first taste of the rivalry came in his first-ever game as LSU's coach.
DiNardo suspects that the SEC expansion that turned the conference into a 12-team league and split it into two divisions in 1992 was a big factor in ending the rivalry at that time.
"When the SEC went to two six-team divisions, everybody thought they were all going to kill one another," DiNardo said. "I was at Vanderbilt the first year we had that and I'm sitting in the coaches' meetings and coaches were saying, 'We will never win another national championship game.'
"Alabama won it that year and obviously, the rest is history. Just the opposite happened."
Now the teams share the same division and will see each other annually. With Texas A&M not playing longtime rival Texas -- its former Southwest Conference and Big 12 Conference mate -- for the foreseeable future, it could be LSU that emerges as the Aggies' traditional Thanksgiving weekend rival. The teams are scheduled to play on Thanksgiving in 2014.
"I am ecstatic about LSU and being able to play on Thursday of Thanksgiving," Texas A&M athletics director Eric Hyman said when the SEC schedule was announced in August. "To be able to play LSU just makes a natural rivalry, the proximity and everything else."
There also should be some familiarity with players on each side, as LSU recruits Texas and Texas A&M recruits Louisiana. As long as Sumlin and Les Miles are coaching, that will continue. But for it to develop as a rivalry, the teams might have to play each other a few more times consecutively and it won't hurt if both teams are successful -- as they are right now, with both in the top 25 of the BCS standings -- when those meetings occur.
"For our fans, it has the potential [to become a rivalry]," Sumlin said. " . . . I've got a feeling that as soon as we try to get into Tiger Stadium tomorrow at about 12:30, they'll figure out what kind of atmosphere we're playing in and what kind of rivalry it is."
November, 19, 2013
Nov 19
11:30
AM ET
COLLEGE STATION, Texas -- When it comes to the presence schools have in their respective home states, few are stronger than LSU in the state of Louisiana.
The Tigers' success, conference affiliation and game day atmosphere are just a few of the unique advantages for natives of the Pelican State.
[+] Enlarge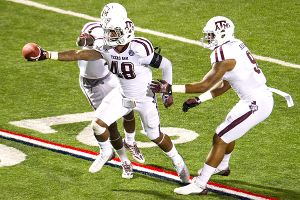 Michael Chang/Getty ImagesTexas A&M freshman Darian Claiborne (48) took over the middle linebacker job before the fourth game of the season.
Port Allen (Louisiana) High School head coach Guy Blanchard vividly remembers the emotions of one of his players,
Darian Claiborne
, when LSU took a tough loss early in 2012.
"When Darian was in January of his junior year (of high school) and LSU lost the national championship game to Alabama, you would have thought his best friend died the next day at school," Blanchard said. "He was a big LSU fan. You can't grow up in Southeast Louisiana and not have some kind of attachment or an eye on the prize, however you want to say it, [to LSU]."
Claiborne, a true freshman, is now the starting middle linebacker for No. 12 Texas A&M, which heads to Death Valley on Saturday to play No. 22 LSU. But Port Allen is fewer than seven miles from the LSU campus, so it's understandable how he could have envisioned a future with the Bayou Bengals.
But Texas A&M's staff developed a strong relationship with Claiborne, a three-star prospect. Furthermore, the Aggies made a strong impression and made it clear they wanted him while LSU didn't officially extend an offer. The Aggies' diligence paid off because Claiborne has played a key part on the A&M defense.
In recent years, Texas A&M has had success recruiting the state of Louisiana. Texas is and will continue to be the home base for Texas A&M recruiting for good reason -- it's fertile recruiting ground that most colleges attempt to pick from, because of the vast number of players and caliber of talent the state produces. But Louisiana is also known for producing high-caliber recruits as well and head coach Kevin Sumlin has made sure to make "The Boot" part of his recruiting footprint.
Currently, the Aggies have nine players that are from Louisiana on the roster and all of them are on the Aggies' two deep. Some of them have been recruited by the current staff, others are holdovers from the previous staff, but all of them currently contribute on the field.
All nine are defensive players and five of them are regular starters: Claiborne, defensive back
Deshazor Everett
, defensive ends
Julien Obioha
, safety Floyd Raven and defensive end
Gavin Stansbury
. The others have played key roles: true freshman cornerback
Noel Ellis
has seen significant time in recent weeks and is the Aggies' future at the nickel cornerback position. Cornerback
Tramain Jacobs
started six games this season while the Aggies' dealt with injuries in the secondary and has been a reliable rotation player among the cornerbacks. True freshman linebacker
Shaan Washington
has found his way onto the field in a special teams capacity but also saw time at linebacker early in the year and defensive tackle
Ivan Robinson
has been a part of the rotation at his position when healthy.
[+] Enlarge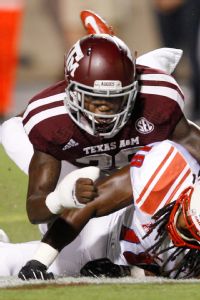 AP Photo/Bob LeveyDeshazor Everett, another Louisiana native, was recruited my Mike Sherman's staff but has been the Aggies' most reliable defensive back.
There's no doubt the Aggies have received bang for their buck with the "Louisianimals," the term former Texas A&M center Patrick Lewis coined for his fellow Louisiana products last season. Claiborne and Everett have been arguably the Aggies' best defensive players this season. Everett has done whatever the Texas A&M coaches have asked, whether it's playing safety while Raven was injured or going back to his traditional position of cornerback, while playing with a broken thumb early in the year. Claiborne got the starting job at middle linebacker -- which is not his traditional position -- before the fourth game of the season and hasn't let go of it.
Stansbury has emerged as a playmaker while Obioha and Raven have each been a steady presence at their respective positions.
Even when he was at Houston, where the Cougars put their primary focus on their own city, Sumlin's staff would travel across the border to recruit talent out of Louisiana. But in the SEC it's a different story, because the caliber of player Texas A&M is searching for is often the same that LSU is trying to keep in state.
With the Tigers being
the
signature program in Louisiana, it makes it all the more difficult to pull a kid out of the state when LSU wants him.
The Aggies are experiencing that in their early SEC years. In this recruiting cycle, the Aggies are going after some of Louisiana's finest, like ESPN 300 athlete
Speedy Noil
and ESPN 300 defensive end
Gerald Willis III
. The Aggies are also trying to make inroads with the top 2015 prospects from the state, like receiver
Tyron Johnson
.
All have LSU offers and the battle for Noil and Willis III has been hotly contested and will be until signing day approaches.
But the Aggies have found success in recruiting prospects from the state that might have been overlooked or not as heavily pursued. If those players continue to play like Claiborne, the in-state powerhouse will start taking notice.
"Yeah, we've run across them at times," said LSU coach Les Miles of seeing A&M recruiting in Louisiana. "We recognize some of the [players] that they have there, and we wish them the very best. It's an opportunity to play in this league, and we're for that."
November, 15, 2013
Nov 15
2:30
PM ET
COLLEGE STATION, Texas -- The linebacker position has been one of change for Texas A&M this season. With some early season struggles, an injection of youth and some growth needed, it has been an area where defensive coordinator Mark Snyder and linebackers coach Mark Hagen have tinkered to find the right combination of players. The group as a whole has had its fair share of ups and downs this season.
[+] Enlarge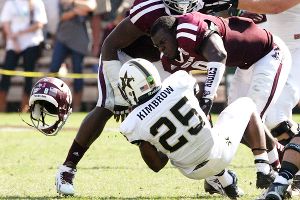 Bob Levey/Getty ImagesSince returning from suspension, Steven Jenkins has been a key part of Texas A&M's defense, both on and off the field.
The same could be said for the elder statesman of the group, senior
Steven Jenkins
. Though Snyder feels like lately, that Jenkins, the most veteran presence in the group, is trending up.
"Up and down," Snyder said when asked to assess Jenkins' season. "I think he's coming on a little bit [lately]."
The 6-foot-2, 220-pound Jenkins has started the last eight games for the Aggies (he missed the first two, the result of a suspension for violations of Texas A&M athletic department rules and regulations) and is second on the team in tackles with 69, while also tied for second in tackles for loss (five). He has been productive, though not necessarily always consistent. When he's at his best, he might be the best defensive player the Aggies have.
Jenkins has kept a positive outlook and consistent approach throughout this season.
"You have to keep trying to get better every week," Jenkins said. "Everyone has their highs and lows, a good day and a bad day. You just have to keep a positive attitude moving forward and try to get better each week."
Knowing there were a lot of young players and newcomers among the A&M linebackers, Jenkins wanted to step into more of a leadership role. Teammates have noticed his effort in that area.
"He wasn't a very vocal guy at the beginning of the year, but he's really opened up and he's been a great leader for us in the linebacker unit," senior linebacker
Nate Askew
said. "On the backend, everybody talks and everybody communicates, and that's the most important thing. We need to communicate."
Snyder said he has noticed Jenkins getting tired toward the ends of games recently and he might start working in true freshman
Jordan Mastrogiovanni
into the lineup more at middle linebacker while sliding starting middle linebacker
Darian Claiborne
back to his natural position of weakside linebacker, which is usually manned by Jenkins. That would enable Jenkins to get a breather and be fresher for the fourth quarter of games.
Now in his third year in Aggieland after transferring from Coffeyville Community College, Jenkins is continuing to work and trying to improve. He's also making an impact. Jenkins had an interception return for a touchdown in Texas A&M's thrilling win at Ole Miss in 2012 and has had a plethora of big-time hits or tackles for loss accumulated over the last two seasons.
When it comes to his setback that kept him on the sideline to start the season, Jenkins said he "definitely took some life lessons and learned from it." If the Aggies are going to finish the way they hope to, winning their final two games later this month at LSU and at Missouri, Jenkins and the linebackers probably have to play a key role in that.
The senior simply wants to push forward, play well and have fun while doing so.
"I'm just trying to lead by example for the younger guys, trying to bring energy to the field so we can have some Aggie swag," Jenkins said with a smile. "Just have fun on the field. We do make mistakes but move on from it. ... Just have fun and go out there and try to win."
November, 5, 2013
Nov 5
2:30
PM ET
COLLEGE STATION, Texas — Texas A&M freshman linebacker
Darian Claiborne
seems prescient when it comes figuring out his football future.
Port Allen (La.) High School coach Guy Blanchard learned this firsthand when Claiborne was in his program. Blanchard remembers an eager Claiborne, who played linebacker on the Port Allen varsity team in the final seven games of his freshman season, approaching Blanchard in the offseason and telling him that he could play quarterback. Blanchard dismissed the idea until he saw Claiborne launch a football 60 yards. Eventually, Claiborne wound up playing both linebacker and quarterback and became proficient at both.
[+] Enlarge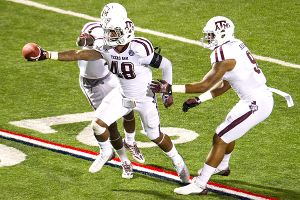 Michael Chang/Getty ImagesTexas A&M freshman Darian Claiborne is second on the team in tackles and leads the Aggies in tackles for loss.
So it's not a complete surprise to Blanchard that Claiborne is again living up to his word. After signing for Texas A&M, Claiborne told Blanchard over the summer that he would see the field – a lot. He was confident, based on his progress during voluntary summer workouts. It turns out Claiborne was right again.
"The kid has a motor," Blanchard said. "He just doesn't quit."
Claiborne has started the last six games for the Aggies at middle linebacker. During preseason training camp, it became clear that he would play a role, but few could have predicted he'd become a starter – and at a different position than he was recruited to play. In his first few months on campus, he practiced at weakside linebacker.
But after the Aggies yielded 568 yards and 49 points to Alabama on Sept. 14, Claiborne progressed from reserve linebacker and special-teams contributor to the starter at a position he wasn't pegged to play.
The 6-foot, 225-pound Claiborne made the transition in a week and has progressed ever since. He's now second on the team in tackles (61), leads the Aggies in tackles for loss (six), has an interception and 1.5 sacks. Last week against UTEP, Claiborne led the team in tackles and forced a fumble.
"It's been extremely crucial," head coach Kevin Sumlin said of Claiborne's play. "You sit there and you have a true freshman mike linebacker and a true freshman nose guard (
Isaiah Golden
), you worry a little bit. The opponent reads the program, too, so there's no hiding that. They're going to try to figure out where they are. Those guys know that. It's been valuable with Darian going really since Arkansas and Isaiah Golden going the last couple of weeks, getting a lot of playing time."
Blanchard said that at Port Allen, Claiborne always was a quick learner with a high football IQ. Defensive coordinator Mark Snyder has seen that firsthand. When the Aggies' defeated Ole Miss last month, Snyder said Claiborne made an adjustment that Snyder asked for quickly and it resulted in an interception.
"One thing about Darian is that he is so coachable," Snyder said. "Early in the game we had some things going where he was to push [to the] weak [side] and we didn't quite get there. You would get him on the sidelines and tell him, 'Darian, if you push weak you are going to have an interception.' Sure enough, the very next series he intercepted the football. That, to me, tells me that it is coming. He is getting it. I think Darian's going to be a good football player."
Snyder calls him the "voice" or the "mouthpiece" of the Aggies' front seven. That's quite a bit of responsibility for a true freshman.
While Blanchard is excited to see what Claiborne has done this season, he's more excited about what's to come.
"If you think what he's doing now is good, stay tuned," Blanchard said. "You're only witnessing the tip of the iceberg."
November, 1, 2013
Nov 1
8:00
PM ET
A light load with this week's mailbag and it's Texas A&M-specific. Thanks to those that did send in questions.
Oliver Howard (@ManfreAg95): Why is Mike Evans not top 5 Heisman consideration?
[+] Enlarge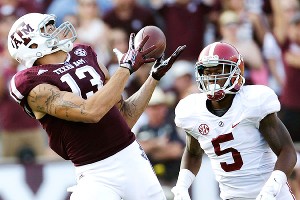 AP Photo/David J. PhillipMike Evans has been dominant at times this season, but receivers rarely garner Heisman buzz.
Sam Khan Jr.:
Mainly because it appears the public sentiment traditionally falls toward a quarterback or running back. The last time a non-quarterback or non-running back won the trophy was in 1997, when Michigan cornerback Charles Woodson took home the hardware. Historically, the players who touch the ball most frequently, which are quarterbacks and running backs, seem to be the ones getting most of the votes. Whether that's right or just is up for debate; personally, I don't like it. But I don't have a Heisman vote.
To your point, I agree that Evans has been one of the nation's best players, regardless of position. Alabama, the No. 1 team in the country, had to try three different defenders to cover him, and he still finished that day with 279 receiving yards, including a 95-yard touchdown catch-and-run. Against a ranked Auburn team, Evans put up 289 yards and four touchdowns and again was unstoppable. When the stage is big and the lights bright, Evans has delivered for Texas A&M.
Head coach Kevin Sumlin even went out of his way to mention that he feels the sophomore receiver deserves to be in the Heisman discussion. "I'm also puzzled, why people aren't talking about Mike Evans in the Heisman race, to be honest with you," Sumlin said. "I think he's as good a player as there is in the country." He's second in the country in receiving yards (1,101), third in receiving touchdowns (11) and leads the SEC in both categories. Hat tip to SEC blogger Edward Aschoff, who argued back in September after the Alabama game that Evans should be in the discussion.
Delvin Bennett (@DelvinJokes): Where do you think Mike Evans will be next year?
Sam Khan Jr:
He hasn't said whether he's considering making the jump to the NFL after this season (because he's a redshirt sophomore, he's eligible to declare for early entry into the NFL draft), but I won't be surprised if he does. If he gets talked about as a potential first-round pick (and considering his size, speed and pure ability, I don't see why he wouldn't be), I think he'll seriously consider making the jump. What will be worth watching is whether Texas A&M quarterback
Johnny Manziel
's decision affects what Evans chooses to do. I doubt that it will, but you never know.
Josh Lee (@JoshLee_ar): How much do young players actually improve between 19 and 21? Re: A&M defense.
Sam Khan Jr.:
It all depends on the individual, because different guys have different work ethic, mental toughness, physical ability, etc. Basically, will the Texas A&M defense -- which has been porous almost all season, save a couple games -- be better in a few years as the 11 freshmen currently on the two-deep grow into juniors and seniors? I think so.
Some might progress faster than others but I think when you see a guy like true freshman middle linebacker
Darian Claiborne
, who has been starting since the fourth game, or defensive end
Daeshon Hall
, who is getting more playing time as of late, or cornerback
Noel Ellis
, who played a lot against Vanderbilt, those guys look like potential stars once they mature as players.
Plus, Texas A&M continues to recruit heavily on the defensive side of the ball, and the Aggies are landing elite talent: Of their last four verbal commitments, which all came in October, three were on the defensive line and were in the ESPN 300 of their respective classes. If this group can grow together and the scheme and coaching staff stays intact, I think they could be significantly improved in a couple years.
October, 25, 2013
Oct 25
11:45
AM ET
COLLEGE STATION, Texas — The words "youth" and "inexperience" are frequently used to describe the Texas A&M defense this season.
The struggles are significant. The Aggies rank near the bottom of the FBS in most defensive statistical categories. According to ESPN Stats & Information, the five teams that have allowed more yards per game than the Aggies -- New Mexico State, Idaho, California, Nevada and Indiana -- have a combined record of 8-27.
Texas A&M is fortunate enough to have a 5-2 record (2-2 in the SEC). It certainly helps to have one of the nation's most high-powered offenses and a reigning Heisman Trophy winner at quarterback (
Johnny Manziel
).
For defensive coordinator Mark Snyder and his staff, it has been a challenge from the start of the season. Suspensions, injuries and ineffectiveness are all to blame.
The Aggies currently have 11 freshmen in their defensive two-deep depth chart. Two true freshmen (defensive tackle
Isaiah Golden
and linebacker
Darian Claiborne
) are starting. The four defensive line first-team spots include Golden and two sophomores. At linebacker, a former receiver who moved to linebacker this offseason (
Nate Askew
) is the starter at strongside linebacker. Of the seven linebackers on the Aggies' two-deep, only one (
Steven Jenkins
) started a full season at the position before this year.
Head coach Kevin Sumlin's first signing class that was completely under his watch had 32 members, 18 of whom were on defense. Of those 18, a dozen have already played this season.
But how did the Aggies get to this point, playing this many freshmen and newcomers? There are some juniors and seniors on the field, but there aren't nearly as many as there were a year ago when the Aggies went 11-2 in their debut season in the SEC.
In 2012, the Aggies were fortunate to have the benefit of some good leaders on defense and others who were productive. At linebacker, Sean Porter and Jonathan Stewart both provided leadership and production. Along the defensive line, Spencer Nealy made the move from defensive end to defensive tackle effectively despite not having the ideal size for the position. Steven Terrell was a steady and heady player at free safety. All four of those players were seniors and part of the 2009 recruiting class. So was Dustin Harris, who didn't always start but played plenty at cornerback and was the team's primary punt returner.
One defensive player still remains from that 2009 class: defensive tackle
Kirby Ennis
, who started last season and this year but suffered a season-ending knee injury on Sept. 28 against Arkansas. But last year's A&M starting defense was more than half made up of what turned out to be a solid recruiting class on the defensive side of the ball.
So to understand why A&M is in the position it is now, take a look at the recruiting classes on defense since then:
In 2010, the Aggies signed seven defensive players and two more that were offensive players but eventually moved to defense. Defensive end Damontre Moore turned out to be a star, but declared for early entry into the 2013 NFL draft with a year of eligibility remaining. For a team that's lacking in its pass rush (only three FBS teams have fewer sacks than Texas A&M's seven this season) a guy like that could help. Of the remainders in that class, three are starting: Toney Hurd Jr. at nickel back, Gavin Stansbury at defensive end and Askew, who was recruited and spent his first three years at receiver, at strongside linebacker. Two others (defensive tackle Ivan Robinson and quarterback Clay Honeycutt, who's now a reserve safety) are playing but not starting. Nehemiah Hicks was considered to be either a defensive end or tight end and became a tight end. The other two players in the defensive class are no longer on the team.
The 2011 class -- the final class signed by former head coach Mike Sherman -- brought 13 defensive players. Deshazor Everett, a cornerback with ability to play safety, is currently the defense's best player. Safeties Howard Matthews and Floyd Raven and linebacker Steven Jenkins also emerged as starters out of that group. One of the big fish landed late in that class, defensive end Brandon Alexander, has rarely played. He's now getting some playing time at tight end. Linebacker Donnie Baggs entered this season as the starting middle linebacker but is now a reserve. Tyrell Taylor is rotating at defensive end. The rest of the group hasn't made any impact at all. Five players in that group are no longer with the program.
The 2012 class, the first one Sumlin signed after essentially two months on the job, had some holdovers that committed to the program under Sherman. It is a mixed bag. Four of those players are starting as either true sophomores (Julien Obioha at defensive end, Alonzo Williams at defensive tackle and De'Vante Harris at cornerback) or in one case, a senior (cornerback Tramain Jacobs, who was a junior college transfer). Defensive end Tyrone Taylor, brother of Tyrell, gets some playing time at defensive end. Edward Pope, who was a receiver/defensive back, is playing receiver for the Aggies. A car accident took away one member from that class -- defensive tackle Polo Manukainiu, who died in a crash in July and is being honored by the team every week this season. A spinal injury took away another member, linebacker Michael Richardson, who played as a freshman. He had successful surgery and was fortunate to not suffer any major physical issues, but is no longer playing football. Defensive back Kenneth Marshall, though on the team, was not part of the 105-man roster during preseason training camp. Linebacker Jordan Richmond transferred to Navarro College in the offseason and one player in the class, defensive tackle Edmund Ray, never made it to campus because of qualifying issues.
October, 4, 2013
Oct 4
3:00
PM ET
COLLEGE STATION, Texas -- In 2012, Texas A&M wound up with no open date to break up its 12-game regular season schedule.
The Aggies' first SEC campaign saw them play 12 games in 12 consecutive weeks, thanks to a schedule change that moved their season opener against Louisiana Tech to their off week because of the threat of Hurricane Isaac.
[+] Enlarge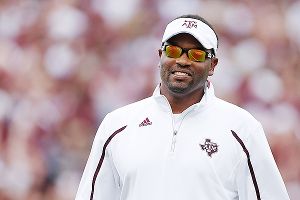 Scott Halleran/Getty ImagesCoach Kevin Sumlin is comforted by Texas A&M's two bye weeks this season.
This year, the Aggies (4-1, 1-1 SEC) actually get two Saturdays off, the first being this week. And according to head coach Kevin Sumlin, it's much needed.
"We've got five games in, we get a week off, which we need," Sumlin said. "There are some guys limping around after that [Arkansas] game. We've got to get healthy for this next stretch run."
Sumlin gave the team complete days off -- no practice, no lifting in the weight room -- on Tuesday and Friday. The Aggies practiced Monday, Tuesday and Thursday and will also practice on Saturday. But giving his team a couple of days to gather itself is important.
"There are some teams where you don't want a week off," Sumlin said. "Like last year, you have some momentum, you feel like you're a hot team, you just want to keep playing. We need some time. We've got some guys that left Arkansas limping around. Anybody who saw everybody getting off that plane, there was some slow walking coming down that ramp, and it wasn't just because it was wet."
The time gives the Aggies a chance to see some injuries to key players heal up. Sophomore receiver
Mike Evans
left the Arkansas game briefly with an injury but returned to finish the game. Sumlin said he was fine with giving Evans the week off of practice since "I know what he can do." On the field and Evans has played injured before [last season he played much of the year with a nagging hamstring].
Neither he nor starting middle linebacker
Darian Claiborne
, who left the Arkansas game with a thigh bruise in the second half and didn't return, is likely to miss next Saturday's game at Ole Miss. The area where Sumlin is concerned is defensive tackle, where senior
Kirby Ennis
hurt his left knee against Arkansas.
"Kirby Ennis is a lot more serious than that, and we'll continue to evaluate that and figure out where he is by the end of the week," Sumlin said.
If Ennis is out for any extended period of time, it will likely mean more playing time for true freshmen defensive tackles
Isaiah Golden
and
Hardreck Walker
, both of whom have seen time on the field this year. Golden filled in for Ennis when he left the game last Saturday.
Sumlin also feels this team can benefit from a mental break, especially considering the fact he has more than 15 true freshmen who have seen the field this year.
"Everybody thinks about the physical strain of playing, but the hard part for the young players now is the mental strain, because it's stressful," Sumlin said. "You're in school and you've got the first barrage of exams, quizzes, those types of deals, and those guys are having to handle all that. For our team, the bye week comes at a great time. Not only physically, but mentally we needed this week."
The weekend without a game also offers a chance for the entire coaching staff to hit the recruiting trail. Sumlin and his nine assistants will watch prospects this weekend, including a group of four coaches (Sumlin, special teams coordinator Jeff Banks, defensive line coach Terry Price and quarterbacks coach Jake Spavital) that will head to Arizona to see some out-of-state talent, including a highly-touted quartet of Aggie targets: ESPN 300 quarterback and Texas A&M commit
Kyle Allen
, ESPN 300 defensive end
Qualen Cunningham
(Chandler, Ariz./Hamilton), ESPN 300 offensive tackle
Casey Tucker
(Chandler, Ariz./Hamilton) and ESPN Junior 300 receiver
Christian Kirk
(Scottsdale, Ariz./Saguaro).
September, 29, 2013
Sep 29
12:40
AM ET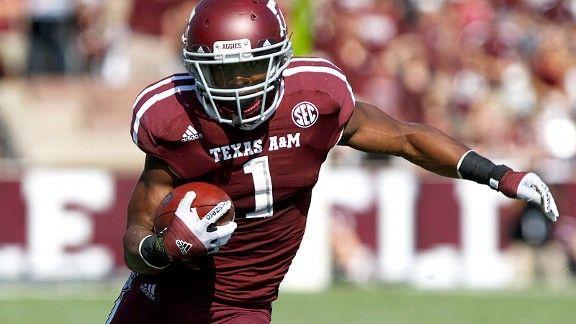 FAYETTEVILLE, Ark. -- To the casual fan, it would be easy to surmise that Texas A&M is a one-man team.
With much of the national conversation surrounding the Aggies' quarterback, Heisman Trophy winner
Johnny Manziel
, someone who hasn't paid close attention might jump to the conclusion that Manziel is the man who makes everything happen for Texas A&M.
It can seem like that at times. Manziel's performance certainly has a major role in the fate of the Aggies, but they proved Saturday that they are much more than just Johnny Football -- even with the game on the line.
With Arkansas breathing down their necks and the crowd of 72,613 at Razorback Stadium raising the decibel level as the host squad threatened an upset of No. 10 Texas A&M, the Aggies handed over the game not to their quarterback but to their running game. It helped them put away the Razorbacks 45-33 on Saturday night.
When the Razorbacks narrowed an 11-point lead to just four midway through the third quarter, A&M put the game in the hands of its offensive line and sophomore running backs
Tra Carson
and
Trey Williams
. Nine plays and 68 yards later, Williams hit pay dirt with a 17-yard touchdown run to extend the Aggies' lead to 38-27.
Arkansas cut the lead back to five, and early in the fourth quarter the Aggies went back to Carson and Williams, who ate up 56 yards before starting running back
Ben Malena
put the finishing touch on another touchdown drive, punching it in from a yard out for the final margin of victory with 10:08 to go.
[+] Enlarge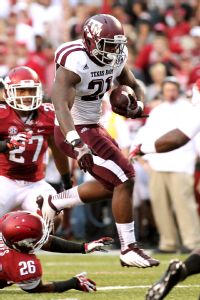 Nelson Chenault/USA TODAY SportsTra Carson was part of an RB quartet that posted more than 200 rushing yards against Arkansas.
Only once in those two scoring drives did Manziel run the ball, and he didn't throw it on either of those two series. He was responsible for two touchdowns, his lowest single-game total since the Aggies beat Alabama last November. And the Aggies still put up more than 40 points for the eighth straight game (best in the FBS) and at least 400 yards for 17th consecutive game.
"I think it just shows another dimension of our offense," Malena said. "People look at our offense being so spread out, being the 'Air Raid' offense, but I think we had two or three drives where we didn't throw the ball but maybe one or two times. I think it just shows how good our offensive line is and how talented our running backs are."
For the first time since their win over Oklahoma in the AT&T Cotton Bowl in January, the Aggies finished with more rushing yards (262) than passing (261). That helped the Aggies' struggling defense immensely, particularly in the second half when they were able to chew up the yardage. The drives weren't long in terms of time (each of the two aforementioned scoring drives lasted 3:06 or less), but they did give the defense time to catch its breath.
And the Aggies were able to possess the ball for 9:45 of the final 15:00.
Saturday was the second consecutive week that the Aggies had all four of their scholarship running backs — Carson, Malena, Trey Williams and
Brandon Williams
— available and it was the first time this season Trey Williams looked like the explosive back the Aggies signed in the 2012 recruiting class and got to see flashes of last season. Each of the four contributed, and they combined for 203 rushing yards.
Coming into the season the coaching staff discussed the benefits of having four backs as talented as these. Saturday was a manifestation of what the coaches hoped could be when utilizing each of them.
"All of our backs have their own value," coach Kevin Sumlin said. "They all have their own pluses and we utilize them all and I think we're able to keep them all fresh that way."
And though Manziel didn't have to put the game on his shoulders in the second half, he played flawlessly when he had the ball. He was efficient as usual (23-of-30, 261 yards, no interceptions) and gave Arkansas headaches with his scrambling ability (59 rushing yards). Perhaps the most telling sign of the respect he has earned came late in the second quarter when
Chris Smith
and
Deatrich Wise Jr
. pulled Manziel down for a sack. The crowd erupted perhaps as loud as it did the entire night, and Wise proceeded to egg the crowd on with a celebratory sack dance.
But that was the only time the Razorbacks sacked Manziel.
"We ask him to make plays and he makes plays," Sumlin said. "He took care of the ball."
The defense, which didn't play well for large stretches on Saturday, even found its footing in the second half. Each of the three times that the Razorbacks were within five points or fewer in the second half, the Aggies responded with a stop.
Junior defensive back
Deshazor Everett
came up with the Aggies' biggest defensive play, a 34-yard interception return for a touchdown, on Arkansas' opening drive of the second half.
"Coach [Mark] Snyder told us on the sideline that he was going to change the call and he wants me to stay inside of [
Julian Horton
] and wait for the slant route," Everett said. "He dialed it up and called it and it was perfect. They ran the slant and I jumped it, just like he told me to."
After the next two times the Razorbacks narrowed the gap, the Aggies' D responded with three-and-outs each time. For a unit that was gashed for 483 yards, 201 rushing, 6.7 yards a carry and 7.3 yards per play — and lost starting defensive tackle
Kirby Ennis
and middle linebacker
Darian Claiborne
to injuries in the process — it was a significant turn of events in an SEC road game.
The Aggies get next weekend off before traveling to Oxford, Miss., to take on Ole Miss. The open date comes at an appropriate time, with Claiborne, Ennis and receiver
Mike Evans
all suffering injuries on Saturday, though Evans returned to play the remainder of the game after a brief first-half exit. There are still several areas in which the Aggies must get better, but Saturday they showed a side of themselves that some might not have seen.
September, 26, 2013
Sep 26
1:00
PM ET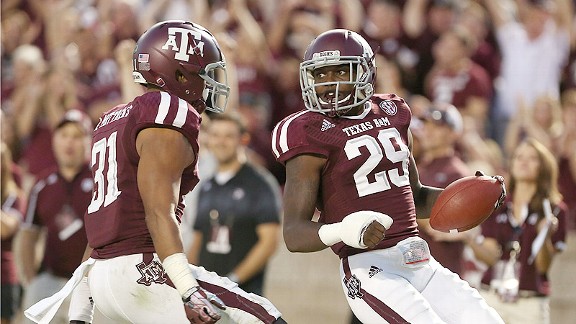 Thomas B. Shea/Getty ImagesTexas A&M's willingness to use starters such as safety Deshazor Everett (right) on special teams has allowed the Aggies to have one of the best units in the SEC.
COLLEGE STATION, Texas — When Alabama receiver and return specialist
Christion Jones
carried the ball out of the end zone on the Crimson Tide's first kickoff return against Texas A&M on Sept. 14, he was quickly faced with a host of defenders.
The first Aggie to make contact was cornerback
Tramain Jacobs
. Defensive back
Toney Hurd Jr
. followed him by wrapping up Jones for a tackle. If Hurd would have been unable to wrap him up, cornerback
Deshazor Everett
was nearby, and so was linebacker
Steven Jenkins
.
The common thread among the above names? They're all either regular starters or players who have started before for the Aggies.
Special teams -- kickoff and punt coverage units in particular -- are a place where many non-starters find their homes, and Texas A&M is no different. But the Aggies' coaching staff is also liberal about using its best players when the need arises.
The Alabama game was a prime example. With the threat of a return man such as Jones, who returned a punt and a kickoff for a touchdown in the Crimson Tide's season-opening win against Virginia Tech, Texas A&M special teams coordinator Jeff Banks wanted to ensure he had the best players available to prevent Jones from making a game-breaking play. The Aggies got the desired result, as Jones finished with 83 yards on four kickoff returns and just 5 yards on his one punt return.
"We're
always
going to use the best players," Banks said. "Coach Sumlin's an advocate of 'Jeff, you just tell me who you need and who you want and that's how we're going to do things.'"
Banks said offensive coordinator Clarence McKinney, defensive coordinator Mark Snyder or any of the other A&M assistants also have no qualms about the policy. Since he has been at Texas A&M, Banks said not one coach has said a word about who he can use or not use on special teams, whether it's in the return game or punt or kick coverage.
That luxury is something Banks, who is in his first year in Aggieland, hasn't always had in his career as a special teams coach.
"Usually you get a deal where it's 'Hey, take that guy off of there,' or 'Hey, don't use that guy,'" Banks said. "And here's my deal with that: That's fine. Because I try to be as flexible as I can because we're dealing with 60-80 people and players that have to go in and out, seniors, veterans, juniors, sophomores, freshmen, true freshmen, you've got to coach what you can get and get the best on the field.
"But you also have to be careful because if you practice them in training camp for 30 days and then you get them in the first week and someone says 'Oh no, he can't play on that many special teams,' now you're playing a guy with no experience.'"
So the planning has to begin in August when preseason training camp starts. Banks tries to get a feel for which newcomers have the size, speed or physicality to contribute, and the first week of camp is largely spent trying out numerous players in different roles to get a feel for who he can rely on. The rest of training camp is about getting those that are going to make his two-deep on special teams as many repetitions as possible so that he's comfortable with who is out there come the start of the season.
Playing offensive and defensive starters is nothing new for a Sumlin-coached team. It was something done regularly at Houston when he was there. One of the Cougars' special teams aces in their 12-1 season in 2011 was running back Michael Hayes, who played a major role in the Cougars' backfield, but could regularly be seen making tackles in punt coverage.
That attitude has carried over to Texas A&M. McKinney, who also coaches running backs, made it clear to his position group in the spring of 2012 that they would be expected to contribute on special teams. Players accepted the challenge, and
Ben Malena
and
Trey Williams
became key players on special teams.
Malena eventually emerged as the starting running back for the Aggies last season and remains that this season but can be seen on the kickoff return team making blocks and last season spent time covering kicks and punts at times, too.
"You have to realize that special teams wins and loses games," Malena said. "You need the best players out there, whether you're a starter or just a special teams guy. If you're the best player at that position, we need you on the field to help us win. I just took that to heart and will do anything for my team to win."
The example set by players with that attitude has an effect on the younger players, many of whom have a role on special teams. Many true freshmen such as
Darian Claiborne
-- who started at linebacker last week -- linebacker
Shaan Washington
, safety
Jonathan Wiggins
and cornerbacks Alex Sezer and
Tavares Garner
are already playing key roles on coverage units, and the example set by their elders is important.
"It's huge," Banks said. "They see Ben in practice, they see Jenkins in practice, they see those guys doing special teams drills at a high level.
Howard Matthews
,
De'Vante Harris
, Floyd Raven when he was healthy. That's huge. That's bigger than anything I can say. When they go out there and they give us great effort as a staff, that sells it and now you get the buy-in of the younger guys."
Banks said it helps increase the desire for the younger players to contribute, particularly in high-profile games.
"You see the Alabama game and go 'Man, I want to be out there,'" Banks said. "Tavares Garner's a prime example. He gets substituted in for Deshazor Everett and he's like 'Man, I know Deshazor's a veteran guy and he's going to make the play, but I want to be in there.' Then he gets in there and makes a tackle."
There's a balance to be struck, however. Playing starters constantly on coverage teams can fatigue them, especially if they're playing a large amount of snaps on offense or defense. So Banks is conscious to employ the personnel wisely.
"You can't wear a guy out because a Deshazor Everett or a Toney Hurd is so good at everything, you can't overuse them and start them on four special teams and expect them to play 60-80 snaps on defense," Banks said. "There's kind of a responsibility on my end, because I've gotten the leeway from the head football coach and the coordinators to use whoever we want. I think it's really important that you don't take advantage of that deal either."
Complementing players such as
Sam Moeller
, who has been the Aggies' special teams player of the week twice already this season and doesn't have a major role on defense, with some of these starters are what help the Aggies find a mix that Banks and Sumlin hope lead to one them having one of the best special teams units in the SEC.
"With Coach Sumlin being as awesome as he is about letting us use whoever we need to in order to be the No. 1 team, special teams-wise, in the conference, I think we've got a good mix of him and I of making sure we have the right guys on there, but also give an opportunity to guys who maybe aren't starting on offense or defense," Banks said.
September, 22, 2013
Sep 22
12:43
AM ET
COLLEGE STATION, Texas -- Coming off a thriller that few will soon forget, No. 10 Texas A&M had a few questions to answer going into Saturday's battle with SMU.
Though it's way too early to surmise that they've permanently answered some of those questions, the Aggies certainly took steps toward a few solutions in their dominant 42-13 win over the Mustangs at Kyle Field.
The biggest question about the Aggies after three games surrounded their defense, or lack thereof. If Texas A&M (3-1) couldn't prove that it could get stops against an opponent like SMU (the Aggies already allowed significant yardage to Rice and Sam Houston State, though the unit was shorthanded for both games), when would it ever show that? The rest of A&M's SEC schedule is coming, starting with a road game at Arkansas on Sept. 28.
Fortunately for the Aggies, the unit showed some progress.
[+] Enlarge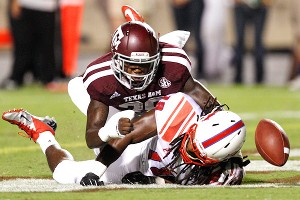 AP Photo/Bob LeveyDeshazor Everett's move to safety this week was one of several moves that help jumpstart the Texas A&M defense.
Though SMU compiled 292 yards in the first three quarters as A&M built a 42-6 lead, the Aggies were stellar on third downs, holding the Mustangs to just four conversions on its first 14 attempts in that span and 5-of-16 for the game.
"We looked pretty fast out there tonight," Aggies defensive coordinator Mark Snyder said. "There were times where we looked extremely fast, which is what I was hoping was the case. We still have some areas that we've got to work on, but it was a much better game from our sideline tonight."
Snyder made two key personnel changes this week. He moved starting cornerback
Deshazor Everett
to safety to help address the issues the Aggies have had in coverage and he inserted true freshman
Darian Claiborne
into the starting lineup at middle linebacker.
"I think we have the right guys on the field right now," Snyder said. "[Claiborne] needs to play and needs to be on the field. He was able to make the adjustment from [weakside linebacker] to [middle linebacker] in a week. … I was really proud of him. He handled getting the front [seven] set, he brought a lot of energy, he's a lot like
Steven Jenkins
and I was very, very happy with that."
Everett spent time at both cornerback and safety last season, so it's not an unfamiliar move for the junior. By moving him back there, the Aggies moved third cornerback
Tramain Jacobs
to the starting lineup next to
De'Vante Harris
, and he didn't appear to miss a beat. Everett said because SMU runs an offense similar to A&M's, the transition was smooth.
"It was pretty simple," Everett said. "I see those formations a lot and I know what the safety's checks are to me at corner. … It kind of helped me because I know where the corner is going to be and where I should be if I were a corner, to want safety help."
Was Saturday a sign that a cure-all is coming to a defense that ranked in the bottom 20 in the nation in total yards allowed and rushing yards allowed coming into the game? Far from it. But it was a much-needed positive performance from a group that has struggled through youth, inexperience and missing personnel because of suspensions or injuries in the first three games. On-field communication and the ability to make adjustments in the first three games was a chore simply because of the lack of consistency in starting personnel from week to week.
"In the first couple, three weeks … there were a lot of moving parts and guys out there just worrying about doing their job, not being able to communicate," head coach Kevin Sumlin said. "There's definitely a comfort factor with having all your pieces back and being able to not only play that play but also make adjustments as the game moves on."
With the Aggies resuming SEC play next week in Fayetteville, Ark., having some success on defense is key.
Offensively, the Aggies ran smoothly, as they have most of the year. Quarterback
Johnny Manziel
threw strikes when he stayed in the pocket and chewed up rushing yards when he darted out of it. His night, which included 244 passing yards, 102 rushing yards and three total touchdowns, was done by the 10:06 mark of the third quarter with the Aggies leading 39-6.
Malcome Kennedy
(six catches, 83 yards) continued to show that will be a legitimate receiving threat to complement star sophomore receiver
Mike Evans
and the running game was productive and efficient, led by Manziel and
Ben Malena
(13 carries, 71 yards, two touchdowns).
The win wasn't without its warts though. Like SMU, the Aggies were heavily penalized (there were 29 accepted penalties in the game, 13 of which went against the Aggies for 114 yards) and the kicking game continues to be a struggle. Sophomore place-kicker
Taylor Bertolet
missed back-to-back point-after-touchdown kick attempts in the first half and was replaced thereafter by junior walk-on
Josh Lambo
. And what happened when Lambo entered the game? Holder
Drew Kaser
bobbled a snap -- the second time that's happened this season -- and as a result, Lambo's first PAT attempt failed.
When Lambo connected on a PAT after a Malena touchdown run with 11:34 remaining in the third quarter, it almost seemed as if the cheers for Lambo were as loud as those for Malena's touchdown. Finding a solution at place-kicker is critical if the Aggies expect to remain contenders in the SEC West. Against SMU, those points left on the field didn't matter. Against Ole Miss or LSU on the road later this season, they might.
Sumlin, when asked who will be kicking field goals and PATs moving forward, called the situation "a competition."
"We're going to keep the competition up just like we do at every position," Sumlin said. "Lambo came in and did a good job. … It's just like any other position. … We evaluate guys every week, no matter what the position, so there will be competition there."
But the Aggies made some plays on defense. They forced a turnover that led directly to points when defensive back
Toney Hurd Jr
. jolted the ball loose from receiver
Jeremiah Gaines
, a fumble that Everett returned for a 12-yard touchdown. Linebacker
Tommy Sanders
intercepted a pass late, and though he fumbled, freshman defensive end
Daeshon Hall
was able to scoop it up for a 39-yard return. The secondary was tested a few times in the first half by SMU quarterback
Garrett Gilbert
(37-of-62 passing, 310 yards) but passed with flying colors when it came to third downs or plays near the end zone or red zone.
"I feel like going back into SEC play [next week] it was great for us to come and play well," Hurd said. "It was great for our defense to put a good showing out tonight."
September, 5, 2013
Sep 5
4:00
PM ET
COLLEGE STATION, Texas -- The statistics weren't pretty.
Rice compiled 509 offensive yards, 306 of which were chewed up on the ground, against Texas A&M in its season opener. The most important stat -- the score, 52-31 in favor of the Aggies -- was what mattered in the end but with a defense that was gutted by suspensions and filled with newcomers playing for the first time, it provided for some early growing pains for Texas A&M defensive coordinator Mark Snyder.
Of the 16 true freshmen that saw the field in the Aggies' opener, 11 were defensive players. That doesn't include yet another newcomer, junior college transfer linebacker
Tommy Sanders
, meaning a dozen defensive players who appeared on Saturday were newcomers.
[+] Enlarge
Thomas Campbell/USA TODAY SportsTexas A&M freshman corner Alex Sezer got some much-needed game experience against Rice.
"They all had goods and bads, all the guys that played," Snyder said. "You could tell, pregame, over at the hotel there was a little bit of nervousness. You can imagine being 18 and being in front of all those people."
The Aggies have FCS opponent Sam Houston State this week, but they still won't have their full arsenal of defensive players. Cornerback
De'Vante Harris
, linebacker
Steven Jenkins
and defensive end
Gavin Stansbury
-- all three of whom are starters -- will miss the game while serving the second of a two-game suspension for violating athletic department rules. Cornerback
Deshazor Everett
will miss the first half because he was ejected for targeting in the second half of the Rice win and, by rule, must sit out the first half of this game as a result. Freshman defensive end
Daeshon Hall
will also miss the first half after being ejected in the second half for throwing a punch at Rice player.
While the Aggies are heavily favored and the losses are unlikely to keep Texas A&M from winning this week, it does pose an interesting dilemma for Snyder and his staff moving forward. The first time the full complement of defensive players will be available for the Aggies will be Sept. 14, for the showdown against Alabama.
"The good thing is we're going to be fresh, that's for sure," Snyder joked. "We're going to be injury-free and we're going to be fresh."
Snyder noted that the advantage for Alabama in that regard might not be as significant since the Crimson Tide have an open date this weekend, so they'll only have one more game under their belts than the Aggies' suspended players do come next weekend. Those players are still practicing -- with the second-team -- and getting repetitions in the meantime.
There were some short-term struggles with so many new bodies on the field, even in play-calling. Snyder said he couldn't "get in a rhythm," calling plays because of how many new pieces and moving parts there were.
"[Rice] came out and showed us some things that we had not seen and not having a veteran group, I can't call timeout and run out on the field and say 'Hey, they're getting in diamond formation and running three levels, or they're getting three out into the flat weak,'" Snyder said. "Those are things that we had to get adjusted."
Snyder was encouraged by how much better the defense performed in the second half, making adjustments and responding to the coaching given at halftime. The unit came up with two turnovers and didn't allow the Owls to score in the first three series of the third quarter. Snyder looks as the growing pains and the game experience that freshmen like linebacker
Darian Claiborne
, cornerback Alex Sezer and a host of others received as an advantage down the road.
"We're building depth right now for our future, for the rest of this season," Snyder said. "So what might be hurting us right now, in the future is going to help us. We've got to live with that and we've got to deal with that."
September, 4, 2013
Sep 4
10:00
AM ET
COLLEGE STATION, Texas -- Silence isn't a word typically synonymous with a stadium hosting more than 86,000 rabid fans, particularly at Kyle Field, where Texas A&M is known to hold a tremendous home-field advantage.
But silence is a key word in describing some of the growing pains the Aggies had to go through in their season-opening win against Rice on Saturday, as they played 16 true freshmen, 11 of which were defensive players.
A&M coach Kevin Sumlin illustrated that point thusly:
"We had a couple situations where a couple guys actually froze up out there and wouldn't even open their mouths and couldn't get lined up," Sumlin said after Saturday's 52-31 victory. "The D-line said they couldn't hear and then one of them admitted to me "Coach, I just didn't say anything. I was just standing there.'"
Not exactly what a coach is looking to hear from defensive players, particularly when facing a no-huddle offense. Communication, especially in those situations, is key for a defense.
[+] Enlarge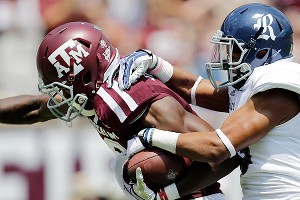 AP Photo/Eric GayFreshman wide receiver Ricky Seals-Jones made an impact in his college debut, hauling in a 71-yard touchdown pass.
But that was the position the Aggies were put in, missing eight players to start the game, six on defense -- including five defensive players who were listed as starters on the week's depth chart -- because of suspensions. There were true freshmen playing in every defensive position group, plus some at receiver. That doesn't include a handful of redshirt freshmen and junior college players who were making their debuts as well.
The Aggies coaches did what they could to prepare their newcomers, but some lessons are only learned the hard way.
"It's like anything else," Sumlin said. "As a coach, you try to prepare guys for all situations, but until the live bullets are flying, you don't know. It'll get better as it goes on, but I think the experience that we gained from today will help us down the road, a bunch. Particularly [in the front seven] because that's where most of the guys are gone."
The struggles were clear. As the defense tried to find its footing, Rice showed the ability to move the ball with ease. The Owls finished the game with 509 total offensive yards, including 306 rushing. The last time they gave up that many offensive yards was in their marathon battle against Louisiana Tech last October (615) and they haven't allowed that many rushing yards since a 66-28 drubbing at the hands of Oklahoma on Nov. 8, 2008.
True freshman played on the defensive line (
Jay Arnold
,
Isaiah Golden
,
Daeshon Hall
and
Hardreck Walker
), at linebacker (
Darian Claiborne
,
Jordan Mastrogiovanni
,
Shaan Washington
) and defensive back (
Noel Ellis
,
Tavares Garner
,
Alex Sezer Jr
. and
Jonathan Wiggins
).
"There's no way to duplicate the tempo and the emotion [of a game]," Sumlin said on Tuesday. "You know what you're doing, but the pressure to perform in that environment can be very, very difficult on a young guy, and that's what experience is all about."
Offensively, the Aggies were much better off. Even though
Matt Joeckel
made his first career start at quarterback, he's a junior who has spent more than a year practicing in the offense and he had at least seen some game time. Center
Mike Matthews
, who received high praise from Sumlin on Tuesday, also played in games and traveled with the team last season.
The true freshmen who saw the field for the first time on offense were all receivers:
Ricky Seals-Jones
,
Jeremy Tabuyo
,
LaQuvionte Gonzalez
and
Ja'Quay Williams
. But because there were more experienced players surrounding them on Saturday, not to mention Heisman Trophy winner
Johnny Manziel
entered the game in the third quarter, the transition was smoother for the Aggies' offense.
In total, 21 newcomers saw the field for Texas A&M on Saturday, many in significant roles. Plenty will log significant time this Saturday against Sam Houston State, as four players received two-game suspensions and won't be back until Sept. 14 against Alabama. With a signing class of 31 players in February, there was no question the Aggies were going to need some of the newcomers to contribute. By being forced to play so many in the first game, Sumlin feels like it could be a positive later in the season.
"[It's] a real, real learning experience," Sumlin said. "I think for those guys, that's going to pay dividends for us down the road."