April, 26, 2010
4/26/10
10:43
AM ET
By
ESPN.com staff
| ESPN.com
Every year, I'm surprised at who goes in the NFL draft and how high they go and who never gets that call.
The biggest surprise for me this year was that Arkansas defensive lineman
Malcolm Sheppard
went undrafted.
Granted, he doesn't have ideal size for an interior defensive lineman (280 pounds), but you'd be hard-pressed to find a defensive lineman in the SEC who was more consistent than Sheppard the past two seasons. He recorded 24.5 tackles for loss over his last two years at Arkansas and collected more than 10 tackles for loss in each of his sophomore, junior and senior seasons.
He's played both end and tackle in his career, has a great work ethic and plays hard on every down. Just ask the guys at Florida and Alabama who tried to block him last season.
The thing that killed him was a shoulder injury he suffered in the Liberty Bowl. He tore ligaments and didn't undergo surgery. That led to a poor showing at the NFL combine, and as recently as March, Sheppard said the shoulder was still only about 80 percent.
If he gets back to 100 percent, the
Houston Texans
may have gotten a steal in free agency. His challenge is going to be finding a position. He's not really an end, and it remains to be seen if he's big enough to play inside in the NFL.
One of the other big surprises in the SEC was that somebody didn't take a shot on Auburn's
Antonio Coleman
, who led the league in sacks and tackles for loss last season. Coleman, too, is in between positions. He played defensive end in college, but will probably have to shift to outside linebacker in the NFL. Coleman signed as a free agent with the
Buffalo Bills
, who are switching to a 3-4 defense.
Other prominent SEC players who weren't drafted included LSU tight end
Richard Dickson
, Ole Miss quarterback
Jevan Snead
, Ole Miss receiver
Shay Hodge
, South Carolina safety
Darian Stewart
, Tennessee linebacker
Rico McCoy
, Alabama tight end
Colin Peek
and Vanderbilt safety
Ryan Hamilton
.
Snead's decision to turn pro early was puzzling when he made the announcement. Now it's to the point where it's almost sad how far he's fallen.
Going into last season, the feeling by many NFL analysts was that he was a first-round pick and possibly one of the top quarterbacks in the draft. But when you throw 20 interceptions in a season and look jittery in the pocket every time you feel pressure, things change in a hurry.
September, 25, 2009
9/25/09
2:27
AM ET
By
ESPN.com staff
| ESPN.com

Posted by ESPN.com's Chris Low
COLUMBIA, S.C. -- South Carolina senior receiver
Moe Brown
called his teammates together Wednesday night at the team hotel and offered a brief history lesson that's been pure misery for anybody who's followed this program.
It's called the Chicken Curse, and it goes something like this: The Gamecocks are allowed to get close, many times agonizingly close, but they just can't seem to break through.
They entered Thursday night's game against No. 4-ranked Ole Miss having never beaten a top-5 team at home, and they'd lost 22 straight games overall to top-5 teams.
| | |
| --- | --- |
| | |
| | Paul Abell/US Presswire |
| | Steve Spurrier had to rely on his defense to defeat Ole Miss Thursday night. |
Brown's message to his teammates: We've been close to winning some of these. Let's finish this thing and get it done.
"We wanted to come in and show the world what we can do. Now they know," South Carolina safety Darian Stewart said. "This is the new Carolina."
New Carolina or old Carolina,
these Gamecocks are 3-1
and one play away at Georgia two weeks ago from being 4-0.
They're doing it with old-school defense, just enough plays on offense and a genuine belief that this is their time to finally break through in the SEC.
It was Steve Spurrier's biggest win at South Carolina since beating Florida his first season in Columbia.
"Our defense was sensational," said Spurrier, marveling over the Gamecocks' ability to hold the Rebels to 1-of-13 on third down. "We relied on our defense to win the game. It's as simple as that."
That may not be the ideal blueprint to win a game in the offensive-minded eyes of the Head Ball Coach, but he's not giving this one back, either.
Not after so many near misses that have defined this program long before he showed up in Columbia.
"It was good for our team to get a big win at home, especially for our fans," said Spurrier, who improved to 6-13 at South Carolina against nationally ranked teams.
The surest sign that perhaps this one was going to be different came in the second quarter when Ole Miss' Marshay Green took off on a punt return and cut back across the field on his way to what looked like a sure touchdown.
But South Carolina junior punter Spencer Lanning made a textbook tackle in the open field to save a touchdown. The Rebels ended up getting no points because they faked a field goal that was snuffed out by the Gamecocks.
"The biggest play of the game was our punter making a tackle. We're going to bring him over and let him show some tackling drills to our perimeter people," joked Ellis Johnson, South Carolina's assistant head coach for the defense.
Yep, it was that kind of night for the Gamecocks, the kind they expect to have many more of on down the road.
"College football is about being resilient," said senior outside linebacker Eric Norwood, who had two more sacks and leads the SEC with six. "We don't care about what's happened in the past here. It's about what's going on right now."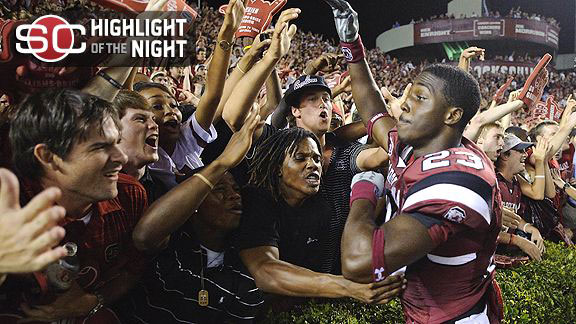 September, 21, 2009
9/21/09
11:36
AM ET
By
ESPN.com staff
| ESPN.com

Posted by ESPN.com's Chris Low
It's the last thing South Carolina's defense needed to happen.
The Gamecocks have played three games, with No. 4-ranked Ole Miss coming to town Thursday, and they're already scrambling to keep guys on the field because of injuries.
Six starters or backups are nursing injuries on defense, which not only has a short week to get ready, but is facing its greatest challenge yet in a
Jevan Snead
-led Ole Miss offense that's fresh and leading the SEC in scoring.
"We don't have a defensive unit right now. We have a bunch of bodies and a bunch of guys trying hard," said Ellis Johnson, South Carolina's assistant head coach for the defense. "We're young in some spots. We're beat up in other spots. We're thin in some spots. And right now, there's nothing you can look at out there except for effort and heart and say we can hang our hat on that."
It's questionable at this point whether the Gamecocks will get defensive tackle Nathan Pepper back for the Ole Miss game. He and backup tackle Kenny Davis both have high ankle sprains. Pepper was already dealing with knee issues and missed the Florida Atlantic game.
Strong safety Darian Stewart and end Cliff Matthews both played with neck stingers in the Florida Atlantic game, while All-SEC outside linebacker Eric Norwood was limited in the second half after suffering a shoulder contusion. The Gamecocks were already missing middle linebacker Rodney Paulk, who's out for the season with a torn ACL.
Johnson didn't want to take any chances with Norwood, which is the reason he played sparingly in the second half. He's going to play against Ole Miss, but the problem is that the Gamecocks are right on that threshold of being in major trouble if anybody else goes down in the front seven.
"It's frustrating because we have to cut back to almost vanilla because there are so many young players out there and so many kids out there that haven't practiced," Johnson said. "We're not good enough physically to overcome that right now. Hopefully, we'll get some of those guys back and go from there."
The Gamecocks will get junior tackle Ladi Ajiboye back from a three-game suspension, and that will help.
The other area where all these injuries come into play is special teams. The Gamecocks started the season with younger players on kickoff coverage, and that unit suffered. They've since added several starters to the coverage teams, but that really gets dicey when so many guys on defense are already banged up.
May, 5, 2009
5/05/09
9:50
AM ET
By
ESPN.com staff
| ESPN.com
Posted by ESPN.com's Chris Low
South Carolina Gamecocks
2008 overall record: 7-6

2008 conference record: 4-4

Returning starters

Offense: 5, defense: 6, kicker/punter: 1

Top returners
QB Stephen Garcia, WR Dion LeCorn, WR Moe Brown, OT Jarriel King, DE Cliff Matthews, LB Eric Norwood, S Chris Culliver, S Darian Stewart
Key losses
QB Chris Smelley, RB Mike Davis, WR Kenny McKinley, TE Jared Cook, OT Jamon Meredith, LB Jasper Brinkley, CB Captain Munnerlyn, S Emanuel Cook
2008 statistical leaders (* returners)
Rushing: Mike Davis (573 yards)
Passing: Chris Smelley (1,922 yards)
Receiving: Kenny McKinley (642 yards)
Tackles: Emanuel Cook (87)
Sacks: Eric Norwood* (9)
Interceptions: Stoney Woodson (4)
2009 Schedule
Sept. 3 at North Carolina State
Sept. 12 at Georgia
Sept. 19 Florida Atlantic
Sept. 24 Ole Miss
Oct. 3 South Carolina State
Oct. 10 Kentucky
Oct. 17 at Alabama
Oct. 24 Vanderbilt
Oct. 31 at Tennessee
Nov. 7 at Arkansas
Nov. 14 Florida
Nov. 28 Clemson
Spring answers
Garcia's awakening: It was the first time that Stephen Garcia had gone through a spring practice at South Carolina, and he at last looked the part of a starting quarterback. Garcia played with more poise, more maturity and took it upon himself to be a leader on offense. The trick now is taking that approach into the fall against SEC defenses.
Immediate help: The Gamecocks won't have to wait long to see what they have in cornerback Stephon Gilmore, safety DeVonte Holloman and running back Jarvis Giles. All three true freshmen enrolled early and made their presence felt this spring. There's a chance that all three could end up starting at some point next season.
New blood on offense: Steve Spurrier overhauled his offensive coaching staff, and a big emphasis this spring was placed on establishing the right kind of mentality up front in the offensive line and beefing up the running game. Spurrier liked what he saw along those lines with Eric Wolford, the Gamecocks' new running game coordinator and offensive line coach.
Fall questions
Offensive punch: The jury's still out on whether the Gamecocks have enough firepower to move the ball and score points against the defenses they're going to be facing each week in the SEC. Garcia's development is a key, but the offensive line also has to get a lot better and more playmakers need to emerge at running back and receiver to improve on last season's dismal showing.
Backing up Garcia: Don't be surprised if Spurrier has bodyguards following Garcia's every move this summer. If he gets in trouble again or happens to get injured, the Gamecocks are in big trouble. They don't have anybody behind him at this point who's remotely ready to play at quarterback. Spurrier said the Gamecocks will have a special package in place for Gilmore, who played quarterback in high school.
Inexperience in the secondary: South Carolina will be talented in the secondary, but frighteningly young. In addition to Gilmore and Holloman, cornerback Akeem Auguste is a sophomore who played last season as a true freshman. Sophomore cornerback C.C. Whitlock was suspended for the final part of spring practice. He's blessed with gobs of talent if he would ever get his act together off the field.
March, 25, 2009
3/25/09
2:45
PM ET
By
ESPN.com staff
| ESPN.com
Posted by ESPN.com's Chris Low
A couple of thoughts on South Carolina as the Gamecocks bear down on the midway point of their spring:
It's just the spring and there's still a long ways to go, but the South Carolina staff is pleased with the way sophomore quarterback Stephen Garcia has thrown the ball. In particular, he's managing the offense better and just looks more comfortable. New quarterbacks coach G.A. Mangus has obviously been a good influence on him. Garcia knows it's his show, and he's playing that way.
Don't be surprised if the Gamecocks have a true freshman starter at cornerback next season. Stephon Gilmore has been that impressive to this point. He plays with great awareness and toughness. He's exactly what the Gamecocks thought he was when they signed him out of Rock Hill, S.C. His former high school teammate and fellow true freshman, DeVonte Holloman, is getting plenty of work at the strong safety position. Right now, senior Darian Stewart is the starter there. But there's a chance that Stewart would move back to the hybrid "spur" safety position if sophomore Alonzo Winfield doesn't solidify that spot. If that happens, Hollomon could be the starter at strong safety.
The wild card in the Gamecocks' secondary remains sophomore cornerback C.C. Whitlock. He's one of best all-around athletes on the team, but his focus simply hasn't been what it needs to be. He missed Tuesday's practice after failing to show up for several things, including class and a morning punishment run. Whitlock had shown some signs of progress, but he's running out of chances.
Some of the best competition this spring and in the fall will be at the running back position. Junior Brian Maddox, sophomore Eric Baker and redshirt freshman Kenny Miles are trying to hold off true freshman Jarvis Giles, who's shown the kind of burst this spring the Gamecocks lacked last season at running back. Giles needs to get stronger and tougher, though. He was hit hard by a defensive lineman in Tuesday's practice and fumbled.
It sounds like the door is open for defensive tackle Ladi Ajiboye to return to the team if he does everything that's been required of him. Ajiboye was indefinitely suspended last week. He was arrested in February and charged with marijuana possession after narcotics investigators said they observed him taking part in a drug deal.