January, 5, 2014
Jan 5
9:40
AM ET
When last seen on a football field, Auburn's offense looked unstoppable.
The Tigers mowed through Missouri for an SEC championship game record 677 total yards to pull away for a 59-42 victory. Missouri had a hard enough time finding the ball that day in Atlanta, much less slowing down Auburn's running game.
Auburn piled up 545 rushing yards in that contest and enters Monday's Vizio BCS National Championship with an astonishing 1,608 rushing yards in its past four games.
Several of the defensive coordinators who faced Auburn's offense this season told ESPN.com that clamping down on quarterback
Nick Marshall
's ability to run the football was a must if you're going to keep Auburn from revving up that offensive machine.
[+] Enlarge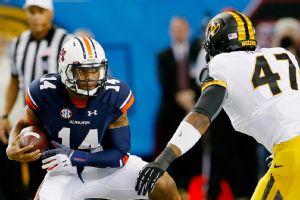 Kevin C. Cox/Getty ImagesLimiting QB Nick Marshall's ability to run is a key to containing Auburn's offense. But that's easier said than done.
Of course, that's easier said than done, especially when the Tigers are playing at breakneck pace and Marshall is averaging 9 yards per carry on zone-read plays.
"You've got to account for Marshall, which means you better have athletic safeties who can tackle him," Tennessee defensive coordinator John Jancek said. "That's where we got exposed because he's exceptional at taking off and making athletic plays in space."
Jancek saw Marshall toward the latter part of the season, when he was playing his best football. So did Georgia, and Bulldogs defensive coordinator Todd Grantham said Marshall was much improved as a passer.
"Nick has really grown into the position and is much better now than he was at the start of the season," Grantham said. "He's got a cannon for an arm and can make plays. He's really an NFL cornerback. That's what he is, but he can throw the deep ball, and he's really good in that offense and gives them another dimension because it truly is 11-on-11 with his ability to run the football."
Marshall and junior running back
Tre Mason
both rushed for more than 1,000 yards this season, a telltale sign that the Tigers were doing something right up front.
Both Grantham and LSU defensive coordinator John Chavis said Auburn's offensive line was the best one they faced all season.
"You've got to be ready to play the tempo game and tackle well, but don't let anybody kid you," Chavis said. "They've got a lot of really good football players in the offensive line. We didn't play against a better offensive line this year, and I don't think people are giving that offensive line enough credit."
LSU was the only team to beat Auburn this season after jumping out to a 21-0 halftime lead and then holding on for a 35-21 rain-soaked win back in September.
"You have to be able to handle all their different looks on the perimeter," Chavis said. "It will look like the same run, and they'll end up throwing it. They're not going to let you cheat and get an extra guy in there. They're going to put you in a lot of one-on-one situations, and you have to be able to tackle. If not, you're going to have a hard time with them."
Ole Miss defensive coordinator Dave Wommack said one of the things Auburn coach Gus Malzahn does best is disguising what he's doing.
"He'll use motion and shifts and those types of things, and it doesn't give the players enough time in their heads to recognize it," Wommack said. "He'll create the same play over and over again, but it won't necessarily look the same on the field.
"I'm anxious to see this game. Gus is going to run his offense, but it won't look the same to Florida State. That's why Gus is so good. He'll have some special things."
Grantham could see Florida State being more multiple in its defensive line and using some three-man fronts.
"An odd front gives Auburn more trouble than an even front," Grantham said. "I think they're much better at blocking an even front than they are an odd front. But Auburn is multiple enough to find something it likes and sticking with it.
"Their tempo didn't bother us. I think that's a little bit overrated. It's more their formations, movement, skill of their players and that offensive line. Florida State will have more things in [its] arsenal to stop them and may be able to create more negative plays and get them into third-and-6 or more, and that's when you've got them."
Even though Auburn doesn't throw it much, Grantham said sophomore receiver
Sammie Coates
can change the game in a hurry. Coates averages 22.1 yards per catch and has seven touchdown receptions.
"He's going to be a steal in the NFL draft," Grantham said. "With Marshall, you've got to commit extra people to get to the quarterback, which leaves you one-on-one outside with Coates. He's got the physical skill set to win most of those battles."
October, 23, 2013
10/23/13
3:00
PM ET
Nobody took Saturday's
loss to Ole Miss
harder than LSU quarterback
Zach Mettenberger
. He's as competitive as they come and is willing to do whatever it takes to win the game.
"That's kind of how I've always been," he said. "It's something I pride I myself on -- wins and losses."
But sometimes that competitive spirit can get the best of Mettenberger. On Saturday, he threw three first-half interceptions all while trying to make a big play for his team. Coach Les Miles attributed the miscues to his quarterback trying too hard to win.
"He's a tremendously competitive man," Miles said. "He wants for his team to win. He wants to have contribution. He wants to do and make the play.
"Sometimes, it takes 60 minutes to make that play. You're not necessarily going to get that play when you call it. It depends on how they play you, how they defend and how they cover. Then you're going to have to make other choices. I think his want to lead his team is so strong that he affected himself."
Through the first six games, Mettenberger looked like the nation's most-improved quarterback. He averaged 290 passing yards per game with 15 touchdowns and just two interceptions. He was completing 68 percent of his passes and was fifth nationally in Total QBR (88.1), up 93 spots from where he finished a year ago.
"I don't think there was any magic pill or any secret," he said. "It's hard work and preparation, and just some luck, some things to go my way."
In the last two games, however, Mettenberger has reverted back to last season's form. He has thrown for 426 yards with one touchdown and three interceptions. He's completing just 56 percent of his passes and only 41 percent on passes of 15-plus yards. His three interceptions all came on throws down the field.
"I was just being inpatient," he said. "Not really taking what the defense gave me and kind of forcing some plays there. I always trust our receivers,
Odell [Beckham]
and
Jarvis [Landry]
especially, and I thought I could force those balls into Odell, but it didn't work out. Now I have to live with it and continue working every day to prevent that from happening again."
Mettenberger played better in the second half against Ole Miss and showed glimpses of why people thought he might be the most talented quarterback in the SEC. With the game on the line, he led the Tigers on an 11-play, 80-yard drive, capped off by his four-yard touchdown pass to Landry to tie the game.
"I noticed that he's vastly improved over last year," Ole Miss defensive coordinator Dave Wommack said. "I think he's a fine quarterback and going to be a really good NFL quarterback. He reads coverages extremely well, and then he's got the two great receivers."
But all Mettenberger could do was watch as the Rebels drove down and kicked a game-winning field goal, ripping away any chance LSU had at playing in the BCS national championship.
"It's tough," he said. "You just have a bitter taste in your mouth that you want to get rid of. You really want to get back on that field and get a win. That's what we're looking to do this week -- go back out there and get a nice win against Furman and head into our bye week before we play Alabama."
The Tigers will host Furman on Saturday, but it's hard not to start looking ahead to Alabama in three weeks. Mettenberger had arguably his best game of the season last year against the Crimson Tide. He finished 24 of 35 with a season-high 298 yards passing and a touchdown.
But all he remembers from the game is that LSU lost. He hopes he can return to form in time to knock off the nation's No. 1 team.
"Obviously, I don't want to play a game like I did against Ole Miss," Mettenberger said. "I'd like to amend my mistakes and play well. But at the end of the day, the win is what matters."
October, 20, 2013
10/20/13
2:00
AM ET
OXFORD, Miss. -- Even though Ole Miss coach Hugh Freeze isn't one to make excuses, he had plenty of room to do so this week. The Rebels, who had lost three consecutive games, were without five starters on defense and the team's leading rusher when they hosted No. 6 LSU on Saturday.
Turns out Freeze and the Rebels didn't need any excuses as they stunned the Tigers, 27-24.
"I couldn't be more proud of that staff and those kids to go through what they've been through, with the injuries and the outside world having their opinion of things," Freeze said. "In the back of your mind, you always wonder as a coach if you can get a team ready to do those things like this when you're shorthanded and coming off an extremely disappointing loss."
The Rebels were in a similar situation last week when Texas A&M came to town. The game was tied with three minutes left, and it was up to quarterback
Bo Wallace
and the offense to drive down the field and win the game. Instead, they went three-and-out, punted the ball and watched as the Aggies drove down and kicked the game-winning field goal.
[+] Enlarge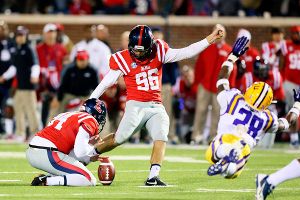 Spruce Derden/USA TODAY SportsAndrew Ritter drilled a 41-yard, game-winning field goal with 2 seconds remaining that gave the short-handed Rebels a stunning win over LSU.
"For A&M to beat us the way they did, I wasn't letting that happen to us again," Wallace said. "
Ja-Mes [Logan]
made a huge catch in the same situation that he had last week. He took a shot and hung onto it. Everybody just came together and fought hard on that last drive."
It was Ole Miss who kicked the game-winning field goal this week, but it wouldn't have happened had it not been for a number of players who stepped up when called upon.
The defense lost four starters due to injury against Texas A&M, and Freeze told his team Friday that starting cornerback
Senquez Golson
would be suspended for the visit from LSU. Four more Rebels defenders went down during Saturday's game, and yet, they forced three turnovers in the first half and held on for the upset.
"I think it was a God thing," defensive coordinator Dave Wommack said. "We sat in there on Sunday and said, 'We got 14 players, not starters, 14 players for seven spots between the defensive line and the linebackers. We tried to make
D.T. [Shackelford]
do two different things, and he was able to do that. Fortunately,
Tony Conner
made a big difference because we were able to teach him some linebacker stuff. The kids are warriors. We needed that for our program."
On offense, running backs
Jaylen Walton
and
I'Tavius Mathers
more than made up the absence of starter
Jeff Scott
. Walton finished with 106 yards rushing and two touchdowns while Mathers added 51 yards on 12 carries.
"We ran the football against a really good defense," Freeze said. "Our offensive line played against a good defensive front. I have great confidence in Jaylen and I'Tavius. Jaylen has quick acceleration. He did really well tonight and protected the ball."
It was a crushing loss for Les Miles and his LSU team, who lost any chance they had to play in the BCS National Championship, but the victory shouldn't be understated for Ole Miss. The Rebels were down, but they showed they're not out.
"We really needed a win," Walton said. "We came close last week where we should've won, but this week, we got the W and now we can keep moving forward with wins."
April, 1, 2013
4/01/13
11:00
AM ET

Ole Miss defensive coordinator Dave Wommack discusses the goals for the Rebels' defense this spring.
August, 13, 2012
8/13/12
12:10
PM ET
By
ESPN.com staff
| ESPN.com
Some of what's happening around the SEC:
May, 11, 2012
5/11/12
10:35
AM ET
OXFORD, Miss. -- There were a lot of changes in and around Ole Miss' football program this spring.
New coach Hugh Freeze was brought in, and with him came a slew of new assistants and schemes. Some have been easier to deal with than others.
For rising junior linebacker
Mike Marry
, he welcomed all of that change with open arms. It wasn't always easy, but as Marry, who led Ole Miss with 81 tackles, embarks on the offseason he does so with a better outlook on his team, especially the defense.
[+] Enlarge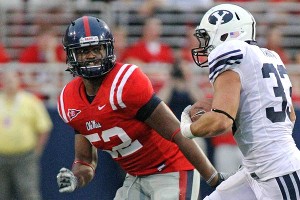 Spruce Derden/US PresswireLB Mike Marry says he's confident the Rebels' defense will be a much-improved unit in 2012.
The Rebels ranked last in the SEC in total defense last year, but Marry said he's excited about this group because of the multiple formations new defensive coordinator Dave Wommack is running. Marry said it'll make Ole Miss' defense tougher to figure out and it allows players to play with more freedom and have more fun on the field.
Marry took time away from hitting the weights to speak with ESPN.com about the spring and changing the culture at Ole Miss.
Edward Aschoff:
With a new defensive coordinator and some new coaches in, how did the defense respond and where is it now compared to where it was at the beginning of the spring?
Mike Marry:
I feel like at the beginning it was hard for some of us to pick up the schemes and we were playing kind of slow. As practice went on, we had more and more meetings and things started progressing. We started flying around as a D and started connecting and being able to help each other and that's what made things easier and practice more fun.
What was difficult about the new schemes at first?
We're doing a lot of different things and you're never in the same spot. Even if you're running the same play you never line up in the same spot and it was kind of difficult for some of us to move around and do our responsibilities. Once we started picking that up, things became a lot easier.
How much does that help you as a defender when you have to move around so much and play in a lot of different formations?
It helps you a lot because the offense can never predict what defense you're in by where you line up because we line up in all kinds of places and run the same defense. They'll just never know.
For you, what's different? Where are you now compared to where you were last year after stepping into a pretty big role before the season?
As I get older, I have more responsibility to help the younger guys. Last year, I had people over me that were already here and they were able to help me. Now, I'm kind of one of the oldest ones on the team, even though I'm about to be junior. I have to help these younger guys come along.
What have you done to make sure that you step up and lead those younger guys?
We do extra drills after practice or we watch film without the coaches. We just go in and watch film because some players find it easier to talk to older players rather than the coach. If they have a question they'll ask me and if I don't know it I'll ask the coaches and get back to them.
What did you try to improve in your individual game this spring?
Running to the ball. That's one of the main things coach [Freeze] said I needed to improve on from last year. On deep passes, I need to chase the ball even if I can't get there. You never know what's going to happen. If I run to the ball I might get a lucky play and get a fumble or something like that.
Is that something that has been missing on this defense?
I feel like we were missing that last year. There would be a couple games where teams would get a big play you could see the offense and the defense put their heads down and we weren't trying as hard anymore and that's what lost us a lot of games. Even the games that we started off winning, once they got a big play, we put our heads down and ended up letting them come back instead of fighting. Bad plays are going to happen every game. You can't just dwell on that. You have to keep moving for the next play.
Was something that you wanted to make clear to your teammates this spring that they have to keep going no matter the score this time?
Yes, sir. Like I said, we lost a lot of games because of that last year. One thing we have to do is we have to prove to the fans that we're not going to give up because when I first got here we went and won back-to-back Cotton Bowls and I feel like we've been letting down the fans because they put in a lot of time and effort into us, too. We have to play for ourselves and our families and the fans as well.
When you look at the team that you came in to and then you look at the 14 straight SEC losses, what do you think immediately about when it comes where this team was to where it is now in such a short amount of time?
We have a long way to go, but I feel like we have the weapons to get back to where we were, if not better. When I got here, there were a handful of players that dominated and were difference makers. I feel like we have a lot more difference makers now. Even though they're young, they play hard. That's going to get us back to where we were.
March, 13, 2012
3/13/12
5:00
PM ET
Hugh Freeze enters his first spring at Ole Miss with a lot of questions surrounding his new football team.
The same team that won just two games last year, watched its head coach get shown the door and has lost 14 straight SEC games.
Talk about a project.
For starters, Ole Miss is breaking in a totally new spread offense for a team that isn't exactly built for it. Plus there are four scholarship quarterbacks competing this spring and the ones who played last year had a host of issues.

Don't be surprised if junior college transfer Bo Wallace turns some heads this spring at QB because he's more familiar with Freeze's offense. He spent 2010 with Freeze at Arkansas State before going the JUCO route. While he had a record-setting season at East Mississippi Community College in 2011, Wallace has zero experience at this level. He redshirted in 2010, so he has yet to take a snap at the FBS level.
The defense will also see quite a few changes, as defensive coordinator Dave Wommack has said he plans to move the Rebels all around the field. Ole Miss ran a 4-2-5 defense last year under Tyrone Nix, but will come out in multiple sets this time around. It's going to take some time for players to adjust. It also means the Rebels might have to rely more on its secondary again. The good thing for Ole Miss is that just about everyone from the secondary is back, including standouts
Charles Sawyer
and
Wesley Pendleton
.
Sawyer might have been Ole Miss' best defensive player last year, while Pendleton has a chance to be a very solid corner in the SEC next fall. Also, keep an eye on
Aaron Garbutt
, who transferred from the JUCO ranks last year and was sixth on the team in tackles. Getting more out of them this spring will go a long way to helping this defense adjust.
At linebacker, the Rebels return all four starters, but adjusting to the new defensive formations could be more of a chore for them. But having
Mike Marry
back will be big for the Rebels this spring, considering
D.T. Shackelford
won't go through the spring as he recovers from another surgery on his knee. Marry filled in nicely for Shackelford last season, leading the Rebels in tackles as just a sophomore.
Marry will be accompanied by rising sophomores
Serderius Bryant
and
C.J. Johnson
. Bryant was the better of the two former freshmen last season and was fourth on the team in tackles. For Johnson, the spring will be crucial for his maturation. He started to come on strong toward the end of the season, but he still needs to make strides in his game before the end of the summer. Johnson could also line up at defense end, a position that must replace former star
Kentrell Lockett
.
The defense has more positives, but there are still questions surrounding where guys will lineup and how they'll take to all the changes. Plus, this is practically the same group that ranked last in total defense, rushing defense and scoring defense in the SEC last year.
On offense, finding a quarterback is priority No. 1, with improving an offensive line that took more than a few steps back in 2011 as a close second. Two starters are gone from the line and Freeze has said that the linemen he has weren't recruited for a "more power-type offense."
Freeze has a lot on his plate, but he knew that coming in. He understands that there were locker room issues in the past and the field issues are well documented. This won't be a quick fix by any means, but this spring will be really interesting for Freeze because even he'll have a lot of questions of his own to sort through when the Rebels start digging deep into spring practice.