September, 15, 2013
9/15/13
2:08
AM ET
AUSTIN, Texas – Before the final seconds ticked off, the chants came raining down.
"S-E-C! S-E-C!"
[+] Enlarge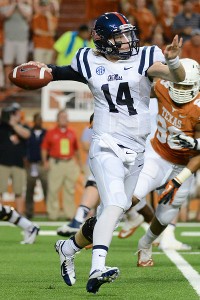 Brendan Maloney/USA TODAY SportsBo Wallace and Ole Miss diced up the Texas defense to give Rebels coach Hugh Freeze a signature victory.
When the game did end, the Ole Miss players sprinted to the southeast corner of Darrell K Royal-Texas Memorial Stadium where their fans waited. Together, they bellowed out "Hotty Toddy" so loud they nearly drowned out Smokey's nearby cannon fire.
Coach Hugh Freeze had been waiting for that signature win to pin his program's ascent upon. Saturday night, he got it, as Ole Miss repaid the Longhorns by hammering them on their home field, 44-23.
"It's a step in the right direction," said Freeze, who pointed to this game a measuring stick after losing to Texas by five touchdowns last season. "We didn't take six steps tonight. We just took one."
But what a step it was.
Until Saturday, Ole Miss' biggest victory under Freeze had been a 17-point win over reeling Mississippi State in last year's Egg Bowl.
Sure, the Longhorns are a team in turmoil. Texas coach Mack Brown fired defensive coordinator Manny Diaz earlier in the week and was forced to play backup quarterback
Case McCoy
with starter
David Ash
ailing with head and shoulder injuries.
But beating Texas in Austin still counts for something. And not only did the Rebels beat the Longhorns, they beat them up. In the second half, it was Ole Miss delivering the hits, and Texas taking them.
All told, the Rebels racked up 272 yards on the ground and shut down the Longhorns' running game after halftime to pull away.
"At half, we just said, 'Hey, I know we're young, but let's go out and play our base defense and see if our kids can compete,'" Freeze said. "Just line up and play base."
Ole Miss didn't do anything special offensively, either. Rebels quarterback
Bo Wallace
simply operated the zone reads to perfection, and tailback
Jeff Scott
dashed through Texas defenders around the edge.
Behind superb blocking from the Ole Miss offensive line and wideouts, Scott piled up 164 yards on 19 carries, then returned a punt 73 yards for a touchdown late in the third quarter to send Texas fans scurrying through the exits for Sixth Street.
"I think we had a great game plan," Wallace said. "Our coaches studied it and knew we had a great game plan. It was on us to execute it."
Wallace executed the game plan with unyielding precision. He rushed for 57 yards and a touchdown out of the zone read, finishing off the TD with a nifty spin move. Wallace also completed 17 of 25 passes for 177 and two touchdowns without an interception.
Wallace's trust with hotshot true freshman wideout
Laquon Treadwell
only grew as the game wore on, too. With Ole Miss clinging to a 24-23 lead in the third quarter, Wallace found Treadwell 11 yards downfield to convert a third-and-6. Two plays later, Wallace connected with Treadwell for an 18-yard completion on the other side of the field, setting up an Ole Miss touchdown to give the Rebels the momentum back for good.
"We never got it back," Brown said.
While the Longhorns are having to lower their expectations by the week, the undefeated Rebels are raising theirs.
"No doubt," Wallace said. "Seven, eight wins, I don't think that's good enough. We're talented enough to win more games."
Such talk underscores which direction this Ole Miss program is heading. Since 1971, the Rebels have reached double-digit wins just once, when Eli Manning quarterbacked them in '03.
But even in the rugged SEC West, these Rebels have their sights set high. And during postgame interviews, the conversation quickly changed from beating Texas to challenging top-ranked Alabama on the road in two weeks.
"It's huge," Wallace said. "'Bama will be hostile and fun. But those are the kind of games we want to play in."
First, Ole Miss and its fans will enjoy this one. Until Freeze arrived, wins like this had been few and far between. But the way the Rebels played in Austin, many more appear to be on the way.
"For some of the times that our fans have gone through," Freeze said, "and now to be in these games and them leaving the stadium very happy – it's a great satisfaction."
September, 16, 2012
9/16/12
1:04
AM ET
Nothing short of a great win for Texas tonight. Definitely felt a lot like
David Ash
took some big steps toward maturity in the Longhorns' first road trip of 2012.
He completed 15 consecutive passes from the first to third quarters, and showed some big improvement as the Longhorns rolled over Ole Miss,
66-31
.


Time for some instant analysis:
It was over when:
Texas opened the second half with a dominant drive, going 78 yards in seven plays and capping it with a powerful
D.J. Monroe
10-yard touchdown run. That put the Longhorns up 38-10 and took even more energy out of an amped crowd at Vaught-Hemingway Stadium. Any idea of an upset ended when Texas asserted itself to open the half and prevented the Rebels from gaining any momentum.
Gameball goes to:
Ash. Did we just see his career breakout game? Ole Miss' secondary looked ragged for much of the game, but Ash, a sophomore, played the best game of his career, and showed plenty of promise that he could be depended on later in the season. He finished 19-of-23 for 326 yards, four touchdowns and still has yet to throw his first interception of 2012. Did anyone think we could see this kind of performance out of Ash this early in the season?
Stat of the game:
Texas won the turnover battle, 3-0. That included an interception from
Steve Edmond
that opened the game's scoring. He returned a
Bo Wallace
pass 22 yards for a touchdown.
Unsung hero of the game:
Texas' offensive line. The big uglies up front gave David Ash all day to throw, and the holes were roomy and frequent for Texas' rushing attack all night long. The focus in this game will be on Ash's performance, but the offensive line deserves plenty of credit, too.
What Texas learned:
The offense can look like a juggernaut from time to time. We haven't seen an offensive performance like this from Texas in a long, long time. Texas hadn't scored this many points since the Big 12 title game in 2005, and the next game ended with the Longhorns hoisting a national championship trophy. It's too soon to have any talk close to that, but Ash's development makes that power running game up front even tougher to stop. His difficult freshman season seemed pretty far in the rearview mirror tonight.
What Ole Miss learned:
The defense has a long way to go. Receivers were open all day, and when Ash put the ball in the air, the Rebels defensive backs never seemed to be able to find it. The front seven were dominated, and the Longhorns made this win look easy. Could be a long season in Oxford for Hugh Freeze's first season.