November, 24, 2013
11/24/13
12:50
AM ET
ATHENS, Ga. -- Georgia sent its seniors out the right way with a 59-17 pummeling of Kentucky on Saturday night, but the Bulldogs lost perhaps their most valuable senior of all.
Quarterback
Aaron Murray
-- who has started every game of his career and on Saturday tied David Greene's school record for most career starts by a non-kicker (52) -- injured his left knee in the second quarter and needed assistance to reach the locker room.
Bulldogs coach Mark Richt said he does not expect Murray to play next Saturday against Georgia Tech, but would not rule him out for the Bulldogs' bowl game, pending the results of an MRI on the injured knee.
"It just was hard to have a lot of fun," Richt said after the game. "Even right now, I'm glad we won and I'm really proud of how we did, but it's kind of a crummy feeling right now when you think about what Aaron is going through."
Prior to the injury, Saturday's game was shaping up as a glorious going-away party for the senior quarterback in his final game at Sanford Stadium.
He was the centerpiece of an emotional pregame ceremony to honor Georgia's 28 departing seniors, with the home crowd offering a raucous ovation when the SEC's all-time leading passer was the final Bulldog to be introduced. Murray had tossed four touchdown passes (he finished 18-for-23 for 183 yards) and in the first quarter became the first SEC quarterback to pass for 3,000-plus yards in four seasons.
[+] Enlarge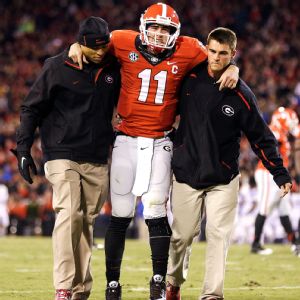 AP Photo/John BazemoreAaron Murray will have an MRI on his left knee to determine the extent of his injury.
But Kentucky defensive lineman
Za'Darius Smith
slammed Murray to the ground after a pass to
Rhett McGowan
deflected off the senior receiver and floated to Wildcats linebacker
Khalid Henderson
at the Kentucky 2-yard line. Murray immediately motioned to the training staff that he needed assistance, and they walked him directly to the locker room with Murray struggling to put any weight on his left leg.
He left Sanford Stadium during the third quarter to undergo an MRI at Athens' St. Mary's Hospital and did not return.
"You could tell in his body language he was hurt," backup quarterback
Hutson Mason
said. "It wasn't the same Murray."
And it was yet another injury in a fall where the Bulldogs (7-4, 5-3 SEC) already lost tailback
Keith Marshall
and receivers
Malcolm Mitchell
and
Justin Scott-Wesley
for the season, while tailback
Todd Gurley
and receivers
Chris Conley
and
Michael Bennett
also missed multiple games with an assortment of injuries.
"He did mention that was about how our season has gone as far as injuries and everything," Richt said of his conversation with Murray at halftime. "It was tough."
Mason did an admirable job as Murray's replacement -- he finished 13-for-19 for 189 yards and one touchdown, plus a 1-yard scoring plunge -- but Murray's injury put a major damper on what should have been a happy final outing between the hedges for the seniors.
"Seeing Aaron go down, that was tough. That's one of my best friends. He was one of my groomsmen at my wedding, and seeing him go down, I never want him to go down because most of the time it's my fault," said senior offensive guard
Chris Burnette
, whose wife, Arielle, was one of Murray's classmates at Tampa (Fla.) Plant High School.
The Bulldogs quickly made it clear that there would be no lingering hangover in the wake of last week's devastating 43-38 loss at Auburn, when the Tigers scored the game-winning touchdown with 25 seconds to play. Georgia needed only three plays to score its first touchdown -- on a 9-yard pass from Murray to McGowan -- and led Kentucky 21-0 after its first three possessions.
Murray and Gurley were the stars of the early onslaught, with the pair hooking up for a 16-yard touchdown where Gurley soared into the end zone -- reminding Bulldogs fans of Knowshon Moreno's memorable 2008 touchdown dive against Arizona State -- that put Georgia up 14-0.
By the time Gurley left in the third quarter of the blowout, he had rushed eight times for 77 yards, caught five passes for 90 yards and scored two touchdowns.
Not to be miss out on the fun, Georgia's defense posted perhaps its finest outing of the season. A week after surrendering 566 yards to Auburn's potent offense, the Bulldogs held Kentucky (2-9, 0-7) to 211 yards -- 69 of which came on
Dyshawn Mobley
's first-quarter touchdown run, with 30 more coming on a
Maxwell Smith
touchdown pass to
Javess Blue
against the defensive reserves late in the fourth quarter.
"We got some turnovers, too, which was good to see," said Georgia defensive coordinator Todd Grantham, whose defense recovered three of Kentucky's six fumbles, with those turnovers leading to 21 Bulldogs points. "Kentucky has not turned the ball over a lot."
Richt credited the seniors for holding the team together through the spate of injuries and a disappointing season that started with a top-five ranking and BCS title aspirations.
"Even though the season had certain expectations and certain hopes got dashed along the way, the leadership was great," Richt said. "The unity of our team was rock solid because of those guys. And I've said it a couple times, this was a fun team to coach, but I think it was mostly because of the seniors and how they led this year."
November, 22, 2013
11/22/13
11:00
AM ET
ATHENS, Ga. -- In the days after Georgia's loss to Vanderbilt, with his team's season unraveling,
Aaron Murray
received a text message from exactly the right person.
"Keep them boys believing, man,"
D.J. Shockley
's message read. "Make them answer the bell. This is your legacy. Remember that: how do I want to be remembered when things get a little tough."
[+] Enlarge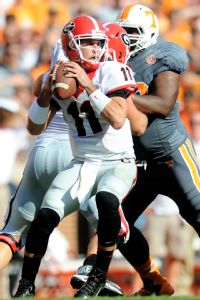 Randy Sartin/USA TODAY SportsGeorgia QB Aaron Murray has leaned on past Bulldogs QBs for support and advice throughout the years.
Such words of support were nothing new from Shockley, who preceded Murray as Georgia's quarterback by four years and now serves as a confidante for the Bulldogs senior, but the timing was perfect. Murray was understandably down in the dumps after crushing injuries and defensive inconsistency caused the Bulldogs to tumble from their top-five ranking earlier in the season. Murray returned for his senior season to win championships, and that goal was on life support after the loss to Vandy.
He desperately needed to hear Shockley's message, and was so appreciative that he saved the text as the screen saver on his cell phone so that it would be a constant reminder of his role as a team leader.
"It's the first thing I see every morning when I hit my phone," Murray said. "I look at it and that little thing right there just meant the world to me. It's awesome to get those kind of supporting text messages from him and
[David] Greene
and other guys who have played here."
Circle of support
Murray has a large circle of supporters, ranging from family to teammates to quarterbacks across the country with whom he has formed a bond at various events. But he has a special relationship with those who played quarterback at Georgia before him -- Shockley and Greene, in particular -- because he had the foresight to reach out before taking his first college snap.
"He embraced the guys that have come before him and wanted us to just kind of help him at the very beginning, work with him," Greene said. "It wasn't ever a relationship where we were talking every day or anything like that. It was more of like a big brother kind of role, I guess. It wasn't like we touched base that often.
"

If you just look at stats, you say, 'Since he's been quarterback, Georgia has not won a big game.' I get it, I agree. But does it mean that I could win the big game because when we played in the SEC championship, we only gave up three points [to Arkansas in 2002]? Does that mean that I could win the big game and he couldn't? No, of course not. It's not fair to compare the two. ... The way that he has played this year I think has completely erased any doubt of whether or not he could play big in big moments.

"

-- Former Georgia QB David Greene
"But during the season at times, like after this weekend [when Auburn spoiled a fourth-quarter comeback by scoring the game-winning touchdown with 25 seconds to play], I definitely shot him a text and basically just said, 'Look, I admire the way you play the game.' As a former player that knows what it's like to be in those situations, as much adversity as he faced, you could tell that he wore his heart on his sleeve. He wanted that game and he fought tooth-and-nail to get it back, and he's done that his whole career."
There are several reasons why Georgia's ex-quarterbacks have developed relationships with the current players on the roster.
One is that the Bulldogs have had the same quarterback-centric head coach and position coach, Mark Richt and Mike Bobo, for the last 13 seasons, which helps maintain continuity between generations. Another is an event that Richt brought from Florida State -- the "Quarterback Classic" -- which serves as a reunion between Richt's ex-Seminoles quarterbacks and current and former Bulldogs signal-callers.
While Murray joked that there is heated competition in events like ping pong, bowling, air hockey, bocce ball and horseshoes, he said that it provided a tremendous outlet.
"I think that's one of the best times of the year, getting together with those guys and playing all these crazy games that only the old guys win because they know how to play them," Murray said.
Bobo agreed on its value.
"It's a chance for those quarterbacks to meet those older guys and they get contact info from them and they kind of stay in touch," he said. "Greene and Shockley have been real good about staying in touch with all those guys."
Murray's legacy
With 108 passing yards Saturday against Kentucky -- Murray's final home start as a Georgia player -- he can become the first quarterback in SEC history to pass for 3,000 yards in all four seasons. He's already the only one to do it three times.
He owns the SEC career records for passing yards, total offense, touchdown passes and completions, and could break the marks for pass attempts and touchdown responsibility before season's end.
Statistics are not the only way we measure quarterbacks, though. The glaring hole in Murray's resume is that, unlike Greene (2002) and Shockley (2005), he never won a conference title. It's a painful reality, particularly because of last season's near-miss against Alabama in the SEC championship game, where Murray and the Bulldogs fell just short of a spot in the BCS title game.
"There's also a piece of me that feels a little bad for him because I think there's been a couple of times throughout his career where he's kind of had a legacy moment kind of taken away from him," Greene said.
Murray would be the first to point out the things he should have done better in games that didn't turn out in Georgia's favor, but Greene is quick to offer a counterpoint of sorts.
Consider the brilliance with which Murray performed in wins against LSU and South Carolina, how he led the last-minute comeback to force overtime against Tennessee with nearly all of his most important playmakers sidelined by injuries, how he dove for the go-ahead touchdown against Auburn, and the argument that he shrinks under the spotlight seems silly.
"If you just look at stats, you say, 'Since he's been quarterback, Georgia has not won a big game.' I get it, I agree," Greene said. "But does it mean that I could win the big game because when we played in the SEC championship, we only gave up three points [to Arkansas in 2002]? Does that mean that I could win the big game and he couldn't? No, of course not. It's not fair to compare the two. … The way that he has played this year I think has completely erased any doubt of whether or not he could play big in big moments."
Murray has Shockley have been there. Better than nearly anyone else, they understand the demands Murray faced for the last four seasons – and they remain impressed by how he thrived under those circumstances.
"I think people will say he was arguably one of the best quarterbacks to play at the University of Georgia, but … There's an asterisk right there. They didn't get that championship and that kind of stuff," Shockley said. "But in my book, he's No. 1. He's done it all. The numbers don't lie. He's put them in position, and obviously he can't play defense and special teams. He's definitely had a great career and worthy of being one of the best."
October, 30, 2013
10/30/13
10:00
AM ET
ATHENS, Ga. -- In some ways,
Arthur Lynch
believes that
Aaron Murray
fits the quarterback stereotype perfectly. In others, Georgia's senior tight end says that Murray could not be further from what one might expect from a record-setting, four-year starter at one of the nation's most prominent football programs.
[+] Enlarge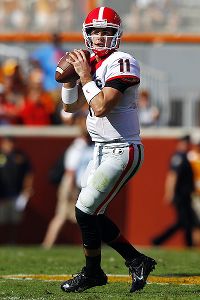 AP Photo/Wade PayneAaron Murray's career at Georgia is one of the best in SEC history.
"He wants to be the leader, kind of the guy that needs to be looked upon for everything. Sometimes I think he applies too much pressure on himself with that," said Lynch, Murray's longtime friend and roommate. "But in terms of like walking around campus and brushing people off, I kind of wish he had more of that. Sometimes it gets so annoying in public, no matter where it is. It could be the dining hall, it could be in Atlanta, it could be at Shane's Rib Shack, he's going to stop and give pictures where some guys might brush people off.
"So no, he's never given that vibe, which is a testament to him because he could easily be that guy and people would probably like him more for it because it's, 'Ah, that's what he's supposed to act like.' But the fact that he doesn't fit that mold is probably what people get weirded out about. They're probably like, 'There's got to be something behind the curtain.'"
Nope. Murray's generally affable demeanor is no facade -- which might be part of his perception problem nationally and even within his own conference.
He's not a flashy player, throwing up "Get Money" hand signals after a touchdown like Heisman Trophy winner
Johnny Manziel
at Texas A&M. He hasn't won BCS titles like Alabama's
AJ McCarron
. Yet when the SEC's coaches released their preseason all-conference list, some college football observers were surprised to see Murray as the first-team quarterback.
Maybe that was a career achievement award from the league's coaches, as Murray's team-first attitude and legendary work ethic have helped him become the most prolific passer in the league's history.
"Everything he's done, he's earned it. It wasn't just off God-given talent or this crazy arm or anything like that. It's that he's worked for it, he's earned it," said receiver
Rhett McGowan
, Murray's fellow fifth-year senior.
Murray has already broken ex-Bulldog
David Greene
's SEC record for career passing yards (Murray now has 12,029) and surpassed former Florida great
Tim Tebow
's career mark for total offense (Murray's at 12,327 yards) with a completion to Lynch in the Bulldogs' last game against Vanderbilt.
Entering Saturday's game against Florida, Murray is two touchdown passes behind ex-Gator
Danny Wuerffel
's SEC record of 114 touchdown passes, and he's still on pace to threaten ex-Gator Chris Leak's league record of 895 completions (Murray has 835) and former Kentucky quarterback
Jared Lorenzen
's mark of 1,514 pass attempts (Murray has 1,355).
Not that he has much time to focus on the record book these days. Coming off two straight losses, Murray's Georgia team (4-3, 3-2 SEC) needs a win on Saturday to have any hope in the SEC East race -- and he has been working overtime with an injury-depleted receiving corps in hopes of giving his offense a chance against a stout Florida defense.
"I guess when I'm old and want to brag, I can," Murray said of the records. "But right now it's all about the team. It's all about getting this win. I guess I can talk about this later in life when I'm done playing and all, when I look back."
Murray was on a short list of Heisman contenders just a few weeks ago, when Georgia was coming off wins against top-10 teams South Carolina and LSU and still had hopes of claiming a BCS championship berth. That was Murray's stated goal all along in returning for his senior season, and it appeared to be a reasonable possibility before many of his most valuable skill players fell victim to long-term or season-ending injuries.
The Bulldogs' once-explosive offense struggled without
Todd Gurley
and
Keith Marshall
in the backfield and
Malcolm Mitchell
,
Justin Scott-Wesley
and
Michael Bennett
at receiver, and the losses to Missouri and Vanderbilt in those players' absence sunk the Bulldogs' BCS hopes. But Murray said he doesn't regret his decision to put off his NFL dreams for one more season.
"I'm still playing football. I'm still out there with my buddies having fun, competing," Murray said. "Obviously I came back to try to give ourselves a chance to win a championship, but it didn't happen. So what? Let's move on. Let's continue working hard and having fun, and that's what I'm doing."
That typifies the attitude Murray has displayed since he arrived at Georgia in 2009, with his relentless behind-the-scenes work propelling him through one of the most statistically impressive careers in SEC history, even if it might not result in the recognition that goes to quarterbacks on championship teams or those with a flashier highlight reel.
A BCS crown will not complete Murray's legacy at Georgia, but he will leave a significant void nonetheless. To gain some insight, consider an observation that Bulldogs coach Mark Richt made last Friday at the end of the Bulldogs' open week, when most coaches and players had already started making the most of a rare off weekend.
"It was maybe close to noontime, maybe just after noontime, and he and
Faton [Bauta
, one of Georgia's backup quarterbacks] are out there doing footwork and drill work and throwing the ball," Richt recalled. "I went over the rail and I said, 'Get out of here. Just relax.' They were like, 'There's no days off, Coach. There's no days off.' [I said], 'All right, if that's what you want.'
"But that's how he is. He's wired that way. Every single day he wants to try to find a way to get better, and he's not feeling sorry for himself or anything like that. I think he's still very happy that he's here with us and wants to finish strong."
October, 6, 2013
10/06/13
9:00
AM ET
Let's hand out some recognition for outstanding play on Saturday with this week's SEC helmet stickers.

Nick Marshall:
Auburn's quarterback led the Tigers to their first win over a ranked opponent under Gus Malzahn by rushing for 140 yards and two touchdowns on 14 carries in a
30-22 win against No. 24 Ole Miss
. Marshall was clearly bothered by a leg injury that kept him from running as Ole Miss attempted a late comeback, but his earlier rushing yards -- plus an 11-for-17 passing performance for 93 yards -- allowed the Tigers to hold on for a win.
Missouri's offense:
There was more than enough reason to question what unbeaten Missouri had accomplished thus far before jumping into SEC play at Vanderbilt on Saturday. But the Tigers' offensive explosion in a
51-28 win
in Nashville showed what they can do.
James Franklin
passed for 278 yards and four touchdowns and ran for 63 more, and the Tigers totaled 245 rushing yards to move to 5-0 with a trip to Georgia on deck next weekend.
Solomon Patton:
Undersized senior receiver Patton came into Florida's game against Arkansas with just 303 career receiving yards and two touchdowns, but he made some of the biggest plays in the
Gators' 30-10 victory
. Patton hauled in touchdown passes of 51 and 38 yards and finished with six catches for 124 yards. The Gators' stout defense did a good job limiting Arkansas' powerful rushing attack and Patton provided enough of an offensive spark to help the Gators to pull away in the second half.
Aaron Murray:
With All-SEC tailback
Todd Gurley
already sidelined by injury, Murray lost tailback
Keith Marshall
and receivers
Michael Bennett
and
Justin Scott-Wesley
to apparently serious injuries during Saturday's game against Tennessee. But somehow Georgia's senior quarterback led his cobbled-together offense to just enough points to
win 34-31
in overtime. Murray broke
David Greene
's SEC career passing record in the first half and led the Bulldogs to the game-tying touchdown with a 2-yard pass to
Rantavious Wooten
with 5 seconds remaining. Murray finished 19 of 35 for 196 yards and three touchdowns and also set up a key second-half touchdown with a 57-yard run.
Odell Beckham Jr.:
He had a critical fumble in last week's loss to Georgia, but Beckham Jr. was nearly unstoppable in Saturday's
59-26 win against Mississippi State
. He sparked LSU's 28-0 run to close the game with a 33-yard touchdown catch and run from
Zach Mettenberger
, who was also outstanding with 340 yards on 25 of 29 passing. Beckham finished with nine catches for 179 yards and two touchdowns, with his first a leaping 14-yard grab with 17 seconds left until halftime, giving the Tigers a 28-23 edge at the break.
September, 27, 2013
9/27/13
7:00
AM ET
ATHENS, Ga. – As an SEC West school, LSU is hardly a fixture on Georgia's annual football schedule. But when the Tigers and Bulldogs do get together, the results are almost always memorable.
Just think back over the past decade. Two meetings in the SEC championship game – one won by each school. The phantom celebration penalty against Georgia receiver A.J. Green in 2009, helping pave the way for LSU's comeback victory. Georgia putting huge point totals on LSU's defending BCS champion teams in 2004 and 2008.
There's a lot to remember – and just like in Saturday's meeting between No. 6 LSU (4-0, 1-0 SEC) and No. 9 Georgia (2-1, 1-0) – there are often major SEC and BCS implications in play.
"[I told the younger players] any game can go down to the last second, but what kind of fight that they're going to have to be ready for," said Georgia fifth-year senior receiver
Rantavious Wooten
, one of the few Bulldogs who were on the team when LSU last visited Athens in 2009. "They've got aspirations just like we do. They want a championship and we want a championship and this game right here, this is the game for it. So I just let them know what to expect and how it's going to be and just to get ready for it."
Georgia coach Mark Richt is 3-4 against LSU since arriving at UGA in 2001 and Tigers coach Les Miles is 2-2 against the Bulldogs. Let's take a look at the last five times their programs squared off:
[+] Enlarge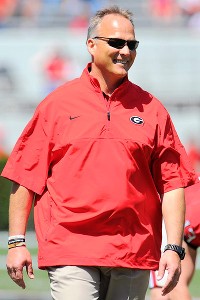 Dale Zanine/USA TODAY Sports Mark Richt and the Bulldogs hope to give LSU its first loss of the season on Saturday.
2011 SEC Championship Game (Atlanta): No. 1 LSU 42, No. 16 Georgia 10
In one of the most bizarre games of Richt's tenure, Georgia's defense thoroughly dominated the first half. LSU didn't muster a single first down and was in danger of falling down by a big margin, but Georgia receivers dropped a pair of potential first-half touchdown passes and LSU punt returner Tyrann "Honey Badger" Mathieu took a kick back for a touchdown to make it 10-7 Georgia at halftime. The second half was a completely different story, as the Bulldogs committed a couple of turnovers, LSU's pounding rushing attack began to have its intended effect and Todd Grantham's defense seemed helpless as the Tigers rushed for 202 yards and three touchdowns after intermission, turning the game into a rout.
Oct. 3, 2009 (Athens): No. 4 LSU 20, No. 18 Georgia 13
This one will forever be remembered among Georgia fans for a referee's questionable decision to penalize Georgia superstar Green for excessive celebration following his leaping, go-ahead touchdown catch with 1:09 to play, giving Georgia its first lead at 13-12. The penalty forced the Bulldogs to kick off from their own 15 and LSU return specialist Trindon Holliday made them pay by returning the kickoff to the Georgia 43, with a 5-yard penalty against the Bulldogs on the kickoff moving LSU even closer to the UGA end zone. Two plays later, Charles Scott rushed for his second touchdown of the fourth quarter, a 33-yard run with 46 seconds to play allowing LSU to improve to 5-0.
Oct. 25, 2008 (Baton Rouge): No. 7 Georgia 52, No. 13 LSU 38
As wild as the ending of the 2009 game was, this one was crazy from the very beginning. Georgia linebacker Darryl Gamble returned an interception for a 40-yard touchdown on the first play from scrimmage and added a 53-yard pick six in the game's closing minutes as the Bulldogs hung half-a-hundred on LSU's porous defense. The Tigers surrendered 50-plus twice that season – the first time in school history that had happened – leading Miles to dump co-defensive coordinators Doug Mallory and Bradley Dale Peveto after the season in favor of former Tennessee coordinator John Chavis, who has been in Baton Rouge ever since.
2005 SEC Championship Game (Atlanta): No. 13 Georgia 34, No. 3 LSU 14
Although fellow receiver Sean Bailey caught a pair of first-quarter touchdowns from D.J. Shockley that got Georgia off on the right foot, Bulldogs senior Bryan McClendon – now the team's running backs coach – might have delivered the play of the game when he blocked a punt midway through the second quarter deep in LSU territory. That helped Georgia score to take a commanding 21-7 halftime lead which LSU never threatened. The Bulldogs' defense also did its job that day, limiting an LSU rushing attack that dominated in their 2003 meeting in Atlanta to just 74 rushing yards.
Oct. 2, 2004 (Athens): No. 3 Georgia 45, No. 13 LSU 16
Nick Saban's final game against Georgia while at LSU ended with a humiliating loss, as the Tigers surrendered the most points allowed by an LSU defense since Florida hung 56 on them in 1996. Georgia quarterback David Greene threw only 19 passes, but set a school record by completing five of them for touchdowns. The Bulldogs had lost twice to Saban's Tigers in 2003 – 17-10 in Baton Rouge and 34-13 in the SEC Championship Game – but they quickly exacted a degree of revenge by jumping out to a 24-0 lead before LSU could answer. The Bulldogs also generated three turnovers and sacked LSU quarterbacks Marcus Randall and JaMarcus Russell five times.
Both teams have been ranked in the top-20 in all seven of their meetings in the Richt era, and this will be the second time they've both been in the top-10. While not every meeting between the two has produced a close contest, they've all been memorable – and almost always impacted their respective championship chases.
"They've been great games. ... Just about every one of them, both teams are ranked teams and at least in the Top 25," Richt said. "It is a cross-conference rival, so it doesn't hold quite the weight of an Eastern Division [game] when it comes to who plays in Atlanta. We could lose the game and still control our destiny, and they could lose the game and still control their destiny, so it's not do-or-die as far as league play, but it's very important for any national title hopes."
September, 20, 2013
9/20/13
10:00
AM ET
There aren't quite as many marquee games this weekend around the SEC, but we still have a couple of divisional rivalry games -- namely Tennessee-Florida and Auburn-LSU -- to look forward to, plus a couple of intriguing nonconference matchups. Let's take a look at some statistical notes from around the league with an assist from ESPN's Stats and Information group.
LSU's Zach Mettenberger was hardly a star-caliber quarterback last season, posting the third-lowest Total QBR (39.3) of all qualified quarterbacks in the SEC (50 is average on the 1-100 QBR scale). He's been anything but a failure through three games of his senior season, notching the biggest increase for any qualified FBS quarterback in the last two seasons. His 52.3-point increase this season gives him a 91.6 Total QBR that ranks eighth nationally. Missouri's James Franklin has posted the third-biggest increase, jumping 45.4 points to 84.2 (20th nationally).
Conversely, some of Florida's offensive woes can be attributed to quarterback Jeff Driskel, whose Total QBR inside an opponent's 20 (1.5) is the second lowest in the nation among quarterbacks with at least 10 action plays. Driskel is one of five qualified quarterbacks with more interceptions (two) than touchdowns (one) inside the red zone. Florida's three turnovers against Miami were its most red zone turnovers in a game in the last 10 seasons. The Gators have already matched or exceeded their total of red zone turnovers from each of the past three seasons.
It's no secret that Auburn coach Gus Malzahn wants his hurry-up, no-huddle offense to operate at an accelerated pace. The Tigers have already improved substantially over their snail's pace from a season ago, when they were the third-slowest offense in the nation with a play every 30 seconds. This season, Auburn is running a play every 23 seconds, which is 1 second faster than the FBS average. The Tigers are averaging 440.3 yards per game (135.3 more than last year, when they were last in the SEC), converting 42 percent on third down (11 percent better than last year, when they were last in the league) and scoring touchdowns on 24 percent of their drives (up 8 percent from last year's SEC-low percentage).
Despite last week's blowout loss at Oregon, Tennessee has enjoyed some success moving the ball on the ground. The Volunteers have gained 384 of their 733 rushing yards before contact and are averaging 2.8 yards before contact per carry. In Florida, the Vols face their toughest run defense test yet, however. The Gators have allowed 7 rushing yards before contact on 44 carries through two games.
Texas A&M quarterback Johnny Manziel's 562 yards of total offense last week against Alabama rank second in school and SEC history, trailing only his 576-yard performance last season against Louisiana Tech. Manziel is responsible for the top three total-offense games in league history.
Speaking of Manziel, last week's shootout against Alabama will certainly not be the last time the Aggies play in a high-scoring game. The next one could come this weekend when SMU visits College Station. SMU quarterback Garrett Gilbert is third nationally in total offense (393.5 ypg), two slots ahead of Manziel (379).
A week after entering the AP Top 25 for the first time since 2009, Ole Miss jumped from No. 25 to No. 21 after last weekend's win at Texas. The Rebels, who are idle this week, are 3-0 for the first time since 1989 with a visit to No. 1 Alabama coming next week.
Georgia quarterback Aaron Murray is one touchdown pass away from becoming the second quarterback in SEC history to toss 100 in his college career. Murray is 15 away from Danny Wuerffel's career record of 114. He should catch up to former Georgia star David Greene's SEC passing yardage record of 11,528 yards soon, as well. Murray is 805 yards behind Greene with 10,723 in his career.
Both of this weekend's marquee SEC games rank among the top 10 closest head-to-head SEC series since 2000 (that have been played at least 10 times). The average margin of victory in Auburn-LSU in that time period is 12.38 points, with seven of those games being decided by nine points or less. Florida has held the advantage in recent years against Tennessee with eight straight wins, but the average margin of victory in that series since 2000 is just 12.54 points.
Alabama quarterback AJ McCarron is approaching former Crimson Tide star Jay Barker's SEC career winning percentage record. Barker went 35-2-1 (93.4 percent) between 1991-94. McCarron can improve to 28-2 (93.3) if the Crimson Tide defeats Colorado State this weekend.
Quick, name the two SEC defenses that have allowed the fewest yards per game thus far. If you guessed Florida, you'd be correct. The Gators are third nationally with 208.5 yards allowed per game. The other team might be more of a surprise. Entering Saturday's game at Rutgers, Arkansas ranks sixth nationally by allowing 253 ypg.
Four players across the country have notched an FBS-high 4.5 sacks thus far. Two of them are from the SEC: Arkansas' Chris Smith and Kentucky's Za'Darius Smith, whose team is off this weekend.
November, 3, 2012
11/03/12
7:22
PM ET
ATHENS, Ga. -- Upset-minded Ole Miss put a scare into the fans who gathered at Sanford Stadium for Georgia's homecoming on Saturday afternoon, but a pair of first-half touchdown passes by quarterback
Aaron Murray
broke Georgia out of its early daze and the Bulldogs broke away in the second half for a comfortable
37-10 victory
.


How the game was won:
Ole Miss jumped out to an early lead, but Georgia used a 40-yard touchdown pass from Murray to
Tavarres King
with 3 seconds left in the first half to take a 14-10 lead at intermission. It was all Bulldogs after that as Ole Miss mustered just 55 yards in the second half and the Bulldogs steadily pulled away.
Turning point:
Georgia was going nowhere and trailed 10-0 when it faced third-and-1 at its own 34-yard line. That's when offensive coordinator Mike Bobo went deep into the mothballs to fish out the rooskie pass that David Greene used to great success as the Bulldogs' quarterback a decade ago. Murray faked a handoff and stood with the ball on his hip and his back to the line of scrimmage. He then wheeled and lofted a pass to uncovered
Marlon Brown
for a 66-yard touchdown pass that gave the Bulldogs life for the first time.
Unsung hero: Todd Gurley.
Georgia's freshman running back did not score a touchdown and lost his first fumble of the season, but he kept the Bulldogs' ground game going with another solid effort. Gurley rushed 18 times for 117 yards, pushing past the 100-yard barrier for the sixth time in nine games.
What it means:
By putting away the Rebels, Georgia (8-1, 6-1) will be able to clinch its second straight SEC East title with a win against Auburn (2-7) next week. The Tigers snapped a five-game losing streak by beating lowly New Mexico State 42-7 on Saturday. But Georgia must win against Auburn, as Florida (8-1, 7-1) completed its SEC schedule with a 14-7 win against Missouri on Saturday and would claim the division title if Auburn pulls the upset next week.
July, 4, 2012
7/04/12
1:59
PM ET
By
ESPN.com staff
| ESPN.com
DawgNation Roundtable

: Today being the Fourth of July, we expect to see fireworks and parades. Georgia football has had its share of fireworks, too, through the years. So we asked the staff and DawgNation's readers: "What is the biggest fireworks display, figuratively speaking, you have seen at a Georgia football game?"
Radi Nabulsi writes

: Georgia will be well represented at The Opening this weekend, with QB Brice Ramsey leading seven notable commits who will showcase their talents at the Oregon event. The seven will also put on their recruiter caps, aiming to coax several Georgia targets to join them next year in Athens.
David Ching writes

:
Around the Hedges in 80 Days -- 59 days to kickoff.
During the offseason Georgia coaches took advantage of Ray Drew's growth, cross-training him in the spring at defensive end, where they believe he'll become a force. With Isaiah Crowell gone, Drew effectively takes over as the cream of the Dream Team crop, and figures to contribute a great deal in the next few seasons.
April, 27, 2010
4/27/10
11:32
AM ET
By
ESPN.com staff
| ESPN.com
Remember when Georgia's quarterback stable almost looked crowded?
Well, with Zach Mettenberger no longer part of the program and
Logan Gray
now pondering his future, the Bulldogs could be looking at the possibility of going into next season with a pair of freshmen who've never taken a college snap -- and nobody else.
Redshirt freshman
Aaron Murray
is the starter and has a great work ethic and a ton of talent. But freshmen in this league almost always struggle. It's a fact, and some struggle longer than others.
As most Georgia fans surely remember, one of the exceptions to this rule was David Greene, who as a redshirt freshman in 2001 played beyond his years en route to winning SEC Freshman of the Year honors. He passed for 2,789 yards, 17 touchdowns and nine interceptions that season, Mark Richt's first at Georgia, and the Bulldogs finished 8-4.
Greene would go on to win 42 games as a starter, an NCAA Division I-A record for a starting quarterback until it was broken last season by
Colt McCoy
.
So if Murray has close to the same kind of success that Greene did during his first season at Georgia, they will be partying down on Broad Street next fall.
Chances are they'll be partying anyway.
That said, Gray's decision could still prove to be crucial. He might not be ideal as an every-down quarterback, but he's at least been around the program, is extremely athletic and has played some.
There was talk last season that he might be moving to another position, possibly receiver or safety. You're talking about a guy who's returned punts during his career.
But he's one injury away right now from being Georgia's starting quarterback.
Those close to Gray think he'll end up staying. But if he does decide to transfer, then Murray's backup would be incoming freshman Hutson Mason of Marietta, Ga. Mason doesn't even arrive on campus until this summer.
Stay tuned.
January, 20, 2010
1/20/10
11:22
AM ET
By
ESPN.com staff
| ESPN.com
What makes a great game? What makes a memorable game?

Most of the time, that depends on where you sit.

Again, though, picking just 10 games that stick out in the SEC over the last decade is a thankless task.

My question: Can I pick 10 over the last two seasons?

While realizing some memorable contests are going to be left out, here's our stab at the 10 best games the decade had to offer in the SEC:

1. Florida 31, Alabama 20, 2008 SEC championship game: The No. 1 and No. 2 teams in the country went toe-to-toe for three classic quarters in a game that lived up to every bit of its hype. But in those final 15 minutes, Tim Tebow took over with one clutch play after another, and the Gators -- playing without injured star Percy Harvin -- turned in a flawless quarter to earn a spot in the BCS National Championship Game.

2. Arkansas 50, LSU 48 (3 OT), 2007: Easily one of the more shocking games of the decade. Darren McFadden rushed for 206 yards and three touchdowns and threw for another score, as unranked Arkansas knocked off No. 1 LSU at home on the final weekend of the regular season. Arkansas' Matterral Richardson intercepted Matt Flynn's two-point conversion pass in the end zone to clinch the win for the Hogs. It was Houston Nutt's final game at Arkansas, and LSU limped away thinking it had blown its chance to play for a national title. But the right teams lost, and the Tigers climbed back into position in the final BCS standings and whipped Ohio State for their second national title of the decade.

3. Florida 17, South Carolina 16, 2006: Talk about a surreal setting. Steve Spurrier was back at the Swamp ... but wearing different colors and standing on the opposing sideline. His Gamecocks outplayed the No. 6 Gators most of the day. South Carolina had a chance to win it at the end, but Jarvis Moss blocked Ryan Succop's 48-yard field goal attempt as time expired to save the Gators. It was his second blocked kick of the game and the third by Florida. The Gators would go on to win their first of two national titles under Urban Meyer.

4. Tennessee 34, Florida 32, 2001: The game was pushed back to the end of the season because of the 9/11 terrorist attacks. Florida was No. 2 and Tennessee No. 5. The Vols, who hadn't won in the Swamp since the 1970s, got a career-high 226 yards rushing from Travis Stephens and survived a two-point conversion pass attempt in the end zone at the end of the game to put themselves in prime position to play for the national championship. They couldn't make it stand up, though, and were upset the next week by LSU in the SEC championship game.

5. LSU 28, Florida 24, 2007: The black-and-blue game of the decade, for sure. The Tigers and Gators went at it in one of the hardest-hitting, most physical games you'll ever see. Three different times, Tim Tebow led the Gators to 10-point leads over the No. 1-ranked Tigers. But LSU coach Les Miles kept gambling on fourth down, and the Tigers -- namely Jacob Hester -- kept converting. Hester had two fourth-down conversions on the game-winning drive and scored the go-ahead touchdown on a third-and-goal play.

6. Arkansas 71, Kentucky 63 (7 OT), 2003: It was the longest game in NCAA history, taking nearly five hours to play. The Hogs prevailed in the seventh overtime when DeCori Birmingham scored on a 25-yard touchdown run. They then stopped the Wildcats on fourth down.

7. Ole Miss 31, Florida 30, 2008: It's the game that led to "The Promise" from Tim Tebow, and it's also the last game the Gators lost before reeling off 22 straight victories. The Rebels shocked the No. 4 Gators in the Swamp. Jevan Snead passed for two touchdowns and ran for another, and Kentrell Lockett blocked an extra point attempt late in the fourth quarter. But the clincher came with 40 seconds to play when the Rebels stopped Tebow on fourth down and less than a yard from the Ole Miss 32. Tebow was hit in the backfield and never made it back to the line of scrimmage.

8. Georgia 24, Auburn 21, 2002: Auburn and Georgia have specialized in playing thrilling games over the years, but the 2002 contest was one of the best. The Bulldogs won it with 1:25 left to play when David Greene hit a leaping Michael Johnson with a 19-yard touchdown pass on a fourth-and-15 play to clinch the Eastern Division title. The Bulldogs went on to win their first SEC title in 20 years.

9. Kentucky 43, LSU 37 (3 OT), 2007: In one of the biggest wins in Kentucky history, the Wildcats took down the No. 1 Tigers in Lexington, settling off a wild celebration in the Bluegrass. Quarterback Andre Woodson threw a 7-yard touchdown pass to Steve Johnson in the third overtime, and LSU couldn't answer on its possession. Charles Scott was stopped on fourth-and-2 by Kentucky's Braxton Kelley, sealing the Wildcats' first victory over a No. 1 team since 1964.

10. Alabama 12, Tennessee 10, 2009: Terrence Cody made more than a few big plays during his two seasons at Alabama, but nothing compares to his blocked field goal as time expired to save the Crimson Tide against the Vols. It was Cody's second blocked field goal of the day, and he ripped off his helmet and went racing across the field in celebration afterward. Alabama seemingly had the game under control, but Tennessee drove for a late touchdown and then recovered an onsides kick to move into position. The Crimson Tide prevailed without scoring a touchdown. Leigh Tiffin kicked four field goals, including a 50-yarder and 49-yarder.
January, 19, 2010
1/19/10
4:52
PM ET
By
ESPN.com staff
| ESPN.com
Now that we've unveiled our
players of the decade
and
moments of the decade
in the SEC, it's worth looking at those players that didn't make the list that probably should have.
After all, when you start listing great players over an entire decade in the SEC, the names start pouring through your mind. There just are so many of them.
The guy who was the hardest for me to leave off the Top 10 was Auburn running back Carnell "Cadillac" Williams. He rushed for 45 career touchdowns and teamed with Ronnie Brown on that unbeaten 2004 Auburn club to form one of the best running back combos in SEC history.
Right behind Williams was Georgia quarterback David Greene, who was the winningest quarterback in major college football history until
Colt McCoy
passed him this season. Greene remains the SEC career leader with 11,528 passing yards from 2001-04.
I also thought long and hard about Arkansas offensive tackle Shawn Andrews, Alabama offensive tackle Andre Smith and Auburn offensive tackle Marcus McNeil. They would have been my top three offensive linemen.
Tennessee defensive tackle John Henderson won the Outland Trophy in 2000 and was a finalist in 2001. Leaving him off was difficult. Alabama linebacker DeMeco Ryans was another outstanding defender that just missed the cut.
Another quarterback who deserves mention is Vanderbilt's Jay Cutler, especially when you look at the numbers he put up during the 2005 season and the way he helped elevate the program.
Georgia's Matthew Stafford was the No. 1 overall pick in the 2009 draft, and Kentucky's Andre Woodson threw 79 career touchdown passes, ranking him fifth all-time in the SEC.
Two of the best receivers of the decade were Vanderbilt's Earl Bennett and LSU's
Josh Reed
.
There are many more, too. But I just wanted to provide a glimpse of some of the other great players in this conference who were considered.
January, 19, 2010
1/19/10
11:19
AM ET
By
ESPN.com staff
| ESPN.com
We next turn our attention to the most memorable moments of the last decade in the SEC.

Granted, what's memorable for Florida fans isn't necessarily memorable for Georgia fans. And something tells me Auburn fans weren't basking in Alabama's national championship this season.

But we've done our best to capture the 10 moments that defined SEC football over the last decade.

Here they are:

1. Alabama's 2009 national championship: The Crimson Tide became the first 14-0 national champion in league history with a 37-21 victory over Texas in Pasadena, signifying once and for all that the league's biggest name and most storied program was indeed back. It also punctuated the league's dominance over the last decade. Five of the 10 BCS national titles were won by SEC teams.

2. Alabama vs. Florida I: It was the most anticipated SEC game since expansion when Alabama and Florida collided for the SEC championship in 2008. The Crimson Tide were No. 1 in the polls and the Gators No. 2. The game was essentially a play-in for the right to play for a national title. The Gators dominated the fourth quarter to win 31-20 and went on to win their second national title in the last three years with a victory over Oklahoma in the BCS National Championship Game. The two teams did it all over again in 2009.

3. Saban's return: In a move that sent shockwaves throughout the league, particularly Louisiana, Nick Saban returned to the SEC in 2007 -- but not to LSU. After initially saying he wasn't going to be the Alabama coach, Saban reconsidered and left the Miami Dolphins for an eight-year, $32 million deal. His challenge was to restore the Crimson Tide to national prominence. It's taken him all of three years to do that.

4. Dawning of the spread: Urban Meyer arrived in 2005 at Florida with his spread option offense. Initially, there were rumblings that it wouldn't work in the SEC given the caliber of defenses in this league. The truth is that Meyer's spread has changed the way defenses play in this league, and it's an offense that's being run in some form all over college football now. It's also an offense that's been pretty good to the Gators. They've won two national titles on Meyer's watch.

5. Tebow's speech: It's already been immortalized on a plaque that sits just outside the front entrance to Florida's football facility. Tim Tebow made an emotional promise to fans following the 31-30 home loss to Ole Miss in 2008 that nobody would outwork him or his teammates the rest of the way. The Gators responded by winning their next 22 games, including the 2008 national championship.

6. LSU's Bluegrass Miracle: It was easily the wildest ending of the decade. Kentucky had just kicked a field goal to take a 30-27 lead (and seemingly) the win over LSU with 11 seconds left. Kentucky coach Guy Morriss had already been doused with Gatorade. But on the game's last play, LSU's Marcus Randall uncorked a ball down the field that Michael Clayton tipped and somehow hit teammate Devery Henderson in stride. As Henderson crossed the goal line with his improbable 75-yard touchdown catch, Kentucky fans on the other end of the field were already tearing down the goal post in celebration.

7. Croom's hiring: Sylvester Croom became the first black head football coach in SEC history in 2004 when Mississippi State hired him to replace Jackie Sherrill. Croom played in the SEC at Alabama under Bear Bryant and had been interviewed for the Alabama head job the year before, although he didn't get it. Croom's Bulldogs won the Liberty Bowl in 2007, but he was ousted following the next season when Mississippi State dipped to 4-8.

8. Prothro's catch: If you're looking for the catch of the decade, look no further than Tyrone Prothro's acrobatic catch in Alabama's 30-21 win over Southern Miss in 2005. On the dead run, Prothro reached around the defender's neck to pull in the ball and held on despite everyone crashing to the turf. Tragically, three games later, Prothro's football career came to an end when he snapped his lower leg against Florida.

9. Johnson's catch: Michael Johnson's leaping 19-yard touchdown catch from David Greene on a fourth-and-15 play with 1:25 to play sent Georgia to a thrilling 24-21 win over Auburn, clinching the first Eastern Division title for the Bulldogs. They went on to win the SEC championship in 2002, their first in two decades.

10. Spurrier's return: Steve Spurrier won six SEC championships at Florida, but left to take his shot at the NFL following the 2001 season. The Head Ball Coach lasted just two seasons with the Washington Redskins. Itching to get back into college football, he shocked everybody when he agreed to take over at South Carolina in 2005. It's been an uphill battle for him ever since, as the Gamecocks have lost at least five games every season he's been there.
SEC SCOREBOARD
Saturday, 12/27
Saturday, 12/20
Monday, 12/22
Tuesday, 12/23
Wednesday, 12/24
Friday, 12/26
Monday, 12/29
Tuesday, 12/30
Wednesday, 12/31
Thursday, 1/1
Friday, 1/2
Saturday, 1/3
Sunday, 1/4
Monday, 1/12
Tweets from https://twitter.com/ESPNCFB/lists/sec