January, 3, 2012
1/03/12
1:22
PM ET
By
ESPN.com staff
| ESPN.com
A few links to munch on for your viewing pleasure:
January, 2, 2012
1/02/12
12:36
PM ET
Those January bowls are just about to start, but we've got some SEC links to help you pass the time before kickoff.
December, 30, 2011
12/30/11
11:00
AM ET
Tennessee wide receiver
DeAnthony Arnett
is
looking to transfer
in order to be closer to his ailing father in Saginaw, Mich.
In an
email to members of the media
, Arnett discussed his father's health issues and the financial issues his family is having.
"I want to play football but I NEED to be here for my Dad and with my family," Arnett said in the email.
Arnett also said in the email that he is seeking a release to all schools in the state of Michigan. He said Tennessee will release him to a Mid-American Conference school in Michigan, but won't grant him an unconditional release to Michigan or Michigan State. If he wants to attend either school, Arnett said he'd have to pay his own way.
Arnett said in the email that he wasn't sure if his family would be able to pay to play at one of the Big Ten teams. He added in the email that he thought Tennessee coach Derek Dooley was hindering him by "not allowing me to compete at a bcs level!"
A Tennessee spokesman told ESPN's Joe Schad that Arnett isn't being denied the opportunity to be released to play at the FBS level, but that the school has a policy of not releasing players to schools Tennessee plays or recruits against.
Neither Michigan nor Michigan State are on Tennessee's current or future schedule, but there is no doubt that Tennessee crosses paths with both on the recruiting trail.
Since Arnett's release paperwork hasn't been processed yet, there could still be time for a change of heart on both sides. The tough deal for Arnett is that this is the school's policy and it's probably something players are told before they arrive on campus. It's unclear if Arnett knew about the policy, but if he was, he has to realize that options could be limited.
Whether Tennessee's policy is right or wrong is up for debate, but those are the rules that are set there. Still, extreme circumstances can sometimes create exceptions to those rules.
Losing Arnett would be a blow to Tennessee's passing game. His 24 receptions this season tied for the second-most by a freshman in school history and he was fifth on the team with 242 receiving yards and had two touchdowns.
Arnett would have been another rising receiving weapon for quarterback
Tyler Bray
to arm himself with next season, especially with high-flyer
Justin Hunter
expected to be back from his knee injury.
December, 29, 2011
12/29/11
12:00
PM ET
Checking out the league with some links.
October, 6, 2011
10/06/11
12:35
PM ET
Making the rounds in the SEC with some links.
September, 29, 2011
9/29/11
10:15
AM ET
We are starting to learn more about every team in the SEC, but there is still room for growth on every squad.
We know that LSU and Alabama are the teams to beat in the conference and are setting up for a national championship knockout game in November.
We know that Florida's defense is better than we expected and the running game is very tough to stop with all that speed. We still don't really know much about the passing game, but it has been efficient enough to this point.
We know that South Carolina has the talent and the athletes, but the focus isn't always there. We saw tremendous improvement in the defense last week and something tells me that trend will continue. We also know that running back
Marcus Lattimore
won't be able to continue carrying the heavy load he's had through the first part of the season.
And we know that Arkansas just isn't the same team that it was last year. The defense is much improved, but not having
Knile Davis
in the backfield has held the offense back at times.
We'll know even more after this weekend, and here's what to watch in Week 5:
1. Something has to give in Columbia:
Outside of ultimate workhorse Marcus Lattimore, South Carolina's offense looked awful against Vanderbilt last week. For most of the season, the Gamecocks have struggled to get anything really going on offense when Lattimore isn't touching the ball. Oh, and
Stephen Garcia
seems to be more mistake-prone than ever. Enter Auburn's defense. The Tigers are allowing 477.5 yards per game, which is most in the SEC and 110th nationally. So, maybe South Carolina's offense can rebound against Auburn. Or maybe it will be the complete opposite. Someone has to win this game and someone will. But which team will come to play for longer?
[+] Enlarge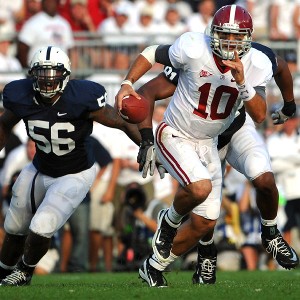 Jeffrey G. Pittenger/US PresswireAJ McCarron and his Gators counterpart, John Brantley, will need to open up their downfield passing games Saturday.
2. Downfield passing games:
Alabama and Florida have spent most of the season cramming the ball down opponents' throats with their running games. The two are first and second in the league in rushing offense and are in the top three in rushing defense. Passing the ball, however, hasn't looked as pretty. Alabama ranks 64th nationally in passing (225.25 yards a game), while Florida is 79th (202.75). With two defenses that eat up the run like Cookie Monster does Chips Ahoy, Alabama's
AJ McCarron
and Florida's
John Brantley
might have to look downfield more in this contest. Those passes to the flat and check downs won't come as easily in this one for either team.
3. Jet lag:
If a rough start in Oxford, Miss., isn't bad enough, Ole Miss has to travel across the country to take on Fresno State. Last year, the Rebels hung 55 on the Bulldogs, but that was at home. Ole Miss hasn't been able to get much done offensively this season, especially with a quarterback shuffle on its hands. The running game doesn't have the same grit it did during the past three years under coach Houston Nutt and the offensive line isn't playing to its potential. This trip comes at the worst time for this team. It's a long flight and could be an even longer game with the way the Bulldogs score points, meaning the Rebels' offense will have to step up even more.
4. Arkansas' pass rush:
The Razorbacks will be without defensive end Tenarius Wright, who is out four to six weeks with a broken arm, and could have to play without end Jake Bequette for the third game in a row. During the two weeks in which Bequette was out, the Hogs had just three sacks. Arkansas' inability to consistently get to the quarterback really hurt them when Troy put up 373 passing yards and three touchdowns through the air. Arkansas was better against Alabama last week, but not having both these players won't help them against Texas A&M's
Ryan Tannehill
, who is averaging just under 300 yards a game.
5. Life without Justin Hunter:
Tennessee suffered a devastating loss when sophomore wide receiver Justin Hunter tore his ACL very early in the Florida game two weeks ago. Now coach Derek Dooley will look to fill Hunter's spot at the X position by committee.
Zach Rogers
will get the first shot, starting in the X, but expect Dooley to call on a few other young receivers to help out quarterback
Tyler Bray
. Da'Rick Rogers also needs someone else out there in order to lessen the double-teams he's likely to see from here on out. Freshman
DeAnthony Arnett
, who had a breakout game against Florida, is listed as the backup to Rogers and so is former running back
Rajion Neal
, who has seven career catches.
6. Bounce-back Bulldogs:
Georgia hosts Mississippi State this weekend, and both teams are in a must-win situation. Georgia is already behind the eight ball in the East with both South Carolina and Florida getting early conference wins. Two SEC losses won't kill Georgia, but this team is looking to build momentum to get through the heart of the SEC, and losing now could drain this team. Mississippi State just hasn't looked like the team that put up 93 points and 1,176 yards through the first two weeks. Since then, this pack of Bulldogs has averaged 266.5 yards in the past two games and has scored just 32 points. Mississippi State is 0-2 in conference play and desperately needs to get in the win column in conference play.
7. Teacher vs. student:
Will Muschamp might not know much about Star Wars, but he definitely knows that people are extremely interested in seeing him take on his former mentor in Nick Saban. Florida and Muschamp are the underdogs at home, while Saban and his Alabama team will enter Gainesville, Fla., as the villains. It's a great storyline for us in the media, but publicly neither cares too much about it. However, neither wants to be bested by the other. Expect Muschamp to unveil a few wrinkles that should frustrate Saban a bit. But don't think Saban won't have a few things up his sleeve to trick his former pupil.
8. Quarterback shuffle:
As we've said time and time again on the blog, Ole Miss' offense has really struggled this season. It's also had three quarterbacks line up and take snaps.
Barry Brunetti
started off the season as the Rebels' signal-caller, then he was benched for
Zack Stoudt
and eventually
Randall Mackey
came in. Stoudt has taken the majority of the snaps, but Mackey took reps with the first-team offense during Wednesday's practice. Nutt said he'd like to redshirt Brunetti, but there's a chance he could still play again this year. Nutt wasn't made available to the media after practice, so let the speculation begin on who will line up under center first against California this weekend. Regardless of who makes the start, if things get bad, you can bet there will be a quarterback switch at some point.
9. Even more SEC flare in Arlington:
Saturday's game between Texas A&M and Arkansas is a preview of even more to come from the Aggies and the SEC in the future. With Texas A&M officially making the move to the SEC in time to start athletic competition next season, expect to hear more than the normal amount of SEC chants echoing throughout Cowboys Stadium. In fact, you might hear it right when the Aggies take the field. Will that cause Arkansas players and fans to go easy on their future family members? Absolutely not. There will be handshakes and hugs early, but it will be all business after kickoff.

10. A youth jolt for Kentucky's offense:
Freshman
Josh Clemons
will continue to be
the guy
at running back for Kentucky this weekend when the Wildcats travel to Baton Rouge to take on No. 1 LSU. The youngster is healthy and ready to take on one of the most smothering defensive fronts in the entire country. Besting LSU's defense probably isn't going to be something Clemons and Kentucky does often Saturday, but coach Joker Phillips is hoping that he can generate some more consistency for Kentucky's offense. The Wildcats haven't moved the ball well, but Clemons has been a bright spot at times. Clemons is getting ready for a major road test, but it will be good experience for the frosh, who is in charge of this running game with
Raymond Sanders
sidelined with a knee injury.
September, 26, 2011
9/26/11
3:30
PM ET
Coming off Tennessee's bye week, the Volunteers' coaching staff is making some changes to its depth chart before Saturday's game with Buffalo.
With receiver
Justin Hunter
out for the season with a torn ACL, junior
Zach Rogers
is listed in Hunter's spot at the X position. Rogers has five catches for 73 yards and a touchdown on the season.
Freshman
DeAnthony Arnett
, who had a breakout game against Florida two weeks ago with his eight catches for 59 yards, is listed as the backup to starter
Da'Rick Rogers
. Former running back
Rajion Neal
, who has seven career catches, is also listed as a backup to Rogers.
On defense, sophomore cornerback Izauea Lanier is listed as the starting corner opposite junior Marsalis Teague. Freshman Justin Coleman had started two of the first three games for the Vols.
Junior linebacker Herman Lathers, who fractured his ankle in early June, isn't currently listed on Tennessee's two-deep, but was doing some jogging at practice Monday.
September, 18, 2011
9/18/11
8:10
PM ET
Tennessee suffered a crushing blow when tests revealed Sunday that sophomore receiver
Justin Hunter
tore the anterior cruciate ligament in his knee and will
need season-ending surgery
.
Hunter suffered the injury on the fourth play of Tennessee's opening drive in Saturday's
33-23 loss to Florida
when he landed awkwardly while making a 12-yard reception.
This is a major hit for the Volunteers' offense. Before Saturday's game, Hunter caught 16 catches for 302 yards and two touchdowns and had the potential to not only be Tennessee's best deep threat but one of the SEC's top receivers.
At 6-fee- 4-inches and 200 pounds, Hunter's size frustrated most corners in this league. Catches in traffic were made easier because of his ability to out jump most defenders and be more physical with smaller corners. When it came to route running, Hunter grew tremendously since arriving last year. He finished last season with 16 catches for 415 yards and seven touchdowns. He had a long of 81 yards last season and had a long of 80 in his three games this fall.
Tennessee's inability to develop a power running game means that quarterback
Tyler Bray
will be relied upon even more this season. He showcases one of the best arms in the league, but Saturday proved this team can't be one-dimensional. Now, being one-dimensional will be even more risky with the loss of a top playmaker like Hunter.
Da'Rick Rogers
has been a solid weapon for the Vols and his number should be called even more this season, but expect defenses to really key in on him and smother him with double-teams before another receiving weapon steps up for Tennessee. There is some young talent on that roster, but no one has what Hunter had. No one is close enough to Hunter's ability to really help Rogers out. That means the Vols will have to go with strength in numbers.
Freshman receiver
DeAnthony Arnett
showed some promise Saturday, recording a game-high eight catches for 59 yards. It was the first time he touched the ball all season.
Tight end
Mychal Rivera
has 11 catches for 125 yards and touchdown in his two games of work, providing a meatier target for Bray in the middle of the field.
Now junior
Zach Rogers
(22 career catches) has to step up. Maybe freshman running back
Marlin Lane
can provide a spark. He made a couple of plays in the Florida game and can be used out of the backfield more.
With Bray's talent, the Vols should be able to get production out of its receiving game, but there will be plenty of times where Hunter's absence is greatly felt. Bray's leadership skills will need to be accelerated from this point on and we'll see how well he makes those around him better.
September, 17, 2011
9/17/11
10:35
PM ET
GAINESVILLE, Fla. -- Tennessee coach Derek Dooley said he'll wait for an MRI on the knee of sophomore wide receiver
Justin Hunter
, but the thought is that the injury could be serious.
"Every indication that it's not OK," Dooley said.
Hunter, who entered the game with a team-high 16 catches for 302 yards and had two touchdowns,
was injured
on the fourth play of Tennessee's opening drive.
Hunter went into the locker room during the second quarter and came back out on crutches and in warmups. Without Hunter in the game, the Vols lost a major weapon in their passing game and lacked another true deep threat outside of
Da'Rick Rogers
, who had five catches for 62 yards and a touchdown.
The immediate affects of Hunter's absence was in Tennessee's confidence. The Vols looked drained during the first couple of drives after he left.
"It was clear that it was a break in your spirit when you saw it happen," Dooley said. "The whole team saw it happen. You have to move on. I could tell when he went down that it had an effect on our team. It is an effect and you have to come out of it and play out of it because it is part of the game.
"It is very unfortunate, but that is the way it is."
Tennessee showed that it has some weapons at wide receiver, with freshman
DeAnthony Arnett
having a game-high eight catches for 59 yards. Tight end
Mychal Rivera
also had five catches for 71 yards and a touchdown.
Those were nice stats, but none of Tennessee's other receivers are as talented as Hunter and if he is out for a significant amount of time, it could really hurt this offense. Quarterback
Tyler Bray
, who is very gifted, now faces the challenge of making some of those unproven receivers better in a hurry.
SEC SCOREBOARD
Saturday, 12/20
Monday, 12/22
Tuesday, 12/23
Wednesday, 12/24
Friday, 12/26
Saturday, 12/27
Monday, 12/29
Tuesday, 12/30
Wednesday, 12/31
Thursday, 1/1
Friday, 1/2
Saturday, 1/3
Sunday, 1/4
Monday, 1/12
Tweets from https://twitter.com/ESPNCFB/lists/sec