December, 18, 2014
Dec 18
12:30
PM ET
Les Miles said his discussions with the players haven't gone beyond the informal stage yet, but he knows that a number of LSU players are weighing the possibility of entering the NFL draft after the season.
That's nothing new for LSU's coach, who has lost 17 underclassmen to the draft in the last two years, but he also knows the potential that will exist for his 2015 team if juniors like offensive lineman
Vadal Alexander
, linebacker
Kwon Alexander
and defensive backs
Jalen Collins
and
Jalen Mills
opt to return.
"I think that this team has the potential to play in championships and should the juniors recognize how close we are to being in the [College Football Playoff] that frankly this could be a great class for quite some time and a great team for quite some time," Miles said this week.
Those upcoming decisions will be a major factor in whether LSU fulfills that potential next season. Miles said he has made and will make that point in further discussions with his underclassmen on whether another year in college would benefit them.
[+] Enlarge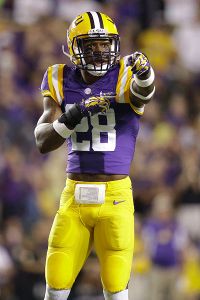 Gerald Herbert/AP PhotoJalen Mills is one of several LSU draft-eligible defenders with a decision to make.
"It's just basically revealing simple statistics about conference opponents and guys that are going to have senior quarterbacks and teams that are going to lose this and lose that, whereas we're really in pretty good shape should we return our junior class," Miles said.
Earlier today, we examined each position on LSU's offensive roster and which players have NFL decions to make. Now we turn to the defense:
DEFENSIVE LINE
Key departing seniors:
Defensive end
Jermauria Rasco
(63 tackles, 4 sacks, 6.5 tackles for loss)
Key draft-eligible player:
Junior defensive end
Danielle Hunter
(64 tackles, 1.5 sacks, 12 TFL)
Key underclassmen/not eligible for draft:
Sophomore defensive tackle
Christian LaCouture
(37 tackles, 2.5 sacks, 4 TFL), freshman defensive tackle
Davon Godchaux
(34 tackles, 1.5 TFL)
Comment:
Hunter refused to discuss his draft situation on Wednesday, but there is good reason to believe that he can and will jump to the pros after the bowl game. If he and Rasco are both gone, the Tigers might lean heavily on
Tashawn Bower
,
Lewis Neal
,
Deondre Clark
and
Sione Teuhema
to provide a pass rush next season. The good news is that the tackle spot will be much better off in 2015 now that LaCouture and Godchaux have established themselves, with junior
Quentin Thomas
and a number of freshmen and redshirt freshmen (look out for
Travonte Valentine
) capable of grabbing some playing time for themselves.
LINEBACKER
Key departing seniors:
D.J. Welter
(35 tackles)
Key draft-eligible players:
Junior Kwon Alexander (79 tackles, 7.5 TFL), junior
Lamar Louis
(29 tackles, 2.5 TFL)
Key underclassmen/not eligible for draft:
Sophomore
Kendell Beckwith
(68 tackles, 2 sacks, 6.5 TFL, INT)
Comment:
This figures to be a strong position even if Alexander jumps to the pros. Asked whether he requested an evaluation from the NFL's advisory committee, Alexander said, "One of the coaches told me to put it in. I just threw it in there, but I'm not worrying about that right now. I'm just trying to focus on this bowl game." He had a strong first season at weakside linebacker, posting a team-high 79 tackles and earning second-team All-SEC honors, but could certainly boost his draft stock by returning. Starting strongside linebacker Louis figures to return, and Beckwith should be a star next year in his first full season as the starter in the middle. Plus, the Tigers will have regulars
Deion Jones
and
Duke Riley
back, and freshman
Clifton Garrett
will be coming off his redshirt season. With so much depth and talent returning, Alexander predicted that his position group next year can be "the best linebackers in the country."
SECONDARY
Key departing seniors:
Safety
Ronald Martin
(66 tackles, 2 INT)
Key draft-eligible players:
Junior cornerback Jalen Collins (33 tackles, INT), junior safety Jalen Mills (54 tackles, 3 TFL, INT), redshift sophomore defensive back
Dwayne Thomas
(24 tackles, 2.5 TFL, INT)
Key underclassmen/not eligible for draft:
(Safety) sophomore
Rickey Jefferson
(23 tackles, 2 INT), freshman
Jamal Adams
(56 tackles, 3 TFL), (cornerback) sophomore
Tre'Davious White
(32 tackles, 3 TFL, 2 INT)
Comment:
Mills and Collins are both expected to explore their draft possibilities. Mills hasn't spoken to reporters since the end of the season, and Collins said Wednesday that "I've thought about it a couple times, but I haven't made any final decisions yet." ESPN's Mel Kiper Jr. rates Collins as the No. 8 draft-eligible cornerback prospect for 2015. Even if they both jump to the pros, the secondary should still be in good shape. Thomas and junior safety
Corey Thompson
will return from injury, while Adams, White and Jefferson have all established themselves as reliable contributors.
Rashard Robinson
is a wild card, as Miles hasn't announced whether the suspended cornerback will be allowed back on the team. "I would hope that he might be here [next season]," Miles said earlier this week. If Robinson is gone permanently, the Tigers might have to rely on a freshman like
Ed Paris
,
John Battle
or
Russell Gage
.
SPECIAL TEAMS
Key departing seniors:
None
Key draft-eligible players:
Junior punter
Jamie Keehn
(45.0 yards per punt), junior snapper
Reid Ferguson
Key underclassmen/not eligible for draft:
Sophomore kicker
Colby Delahoussaye
(11-15 FG, 34-36 PAT, 67 points)
Comment:
Keehn told reporters this week that he plans to return, so LSU's kicking game should remain intact. In fact, there could be added competition next season now that freshman kicker
Cameron Gamble
has had time to settle in and possibly challenge Delahoussaye and sophomore
Trent Domingue
for opportunities on field goal/PAT and kickoffs.
October, 21, 2014
Oct 21
4:00
PM ET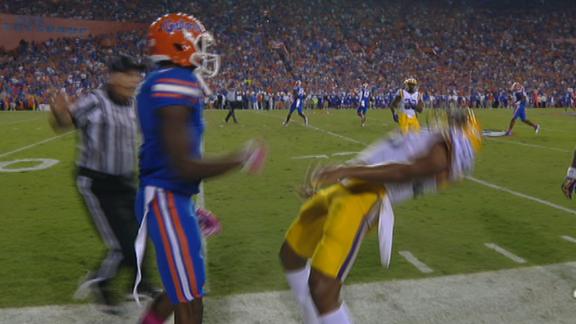 BATON ROUGE, La. -- A player can't be considered a star when the average fan still reaches for a roster after he makes a play in order to make the connection between name and jersey number.
[+] Enlarge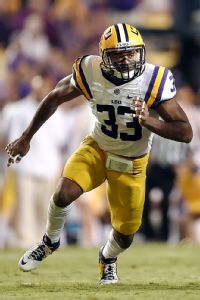 Stacy Revere/Getty ImagesLSU has already seen the impact Jamal Adams can have on and off the field.
LSU's
Jamal Adams
might be on the verge of making the transition from hyped newcomer to household name.
"That's what's kind of happening to him: 'Who's No. 33?' and then they go look him up in the program because simply put, he's making plays wherever you line him up at," LSU coach Les Miles said. "That's a great characteristic."
The freshman safety's name was already well known among recruitniks, as the No. 2 safety and No. 18 overall prospect on this year's ESPN 300. He was the highest-rated defensive player to sign with LSU in February. He's quickly gaining recognition among more casual fans -- and not just because of his dramatic flop against Florida after Gators punt returner
Andre Debose
lightly shoved Adams' facemask.
That play, which went viral on the Internet and drew an unsportsmanlike conduct penalty against Debose, has been a source of nonstop comedy in the LSU locker room, with several teammates comparing Adams' antics to that of NBA superstar and noted flop king
LeBron James
.
"That was too funny. That was something I expect out of him," safety
Rickey Jefferson
said. "Then he tweeted and said LeBron taught me."
Linebacker
Deion Jones
agreed, adding, "It was hilarious. I laughed about it on the field."
Running back
Terrence Magee
, who was only a few feet away when Debose's attack occurred, also got a laugh out of the play.
"He's been watching basketball too much," Magee said.
Adams said the play exemplified his energetic on-field personality, which Miles has described as "electric."
"I'm a character and I do whatever for the team," Adams said. "That flop, everybody's blowing it up, so it was just definitely something I needed to do at the time."
His contributions of late are not limited to appearances on SportsCenter's Not Top 10, however. Adams is getting significant playing time in LSU's nickel and dime defensive packages and is one of the team's most valuable special-teams performers. He leads the Tigers with nine special-teams tackles and delivered the key block that sprung
Tre'Davious White
for a 67-yard punt return touchdown last Saturday against Kentucky.
On White's first return of the night, Adams noticed that his side of the field was wide open for a return and pleaded with White to bring the next punt his way. Sure enough, White ran toward the Kentucky sideline with his next return and Adams crushed Kentucky's
A.J. Stamps
with the block that helped White sprint into the open field.
"He's put himself in a great position to make big-time blocks for us," White said. "I went back and watched the first punt that actually I took [17] yards. It could have been another touchdown if I would have just went outside. He was right and I did it that time and he made a big block like he said I would and sprung me for a touchdown."
It was Adams' most notable play in what was probably his best night as a Tiger to date. He continued to shine on the coverage teams, posting two special-teams tackles and also made his biggest impact yet on defensive downs. Adams finished with a career-high eight tackles, 1.5 tackles for loss and a sack.
"He has a motor that don't stop," White said. "He's a guy that brings so much energy. He's just not like that in games, he's like that around practice. Very vocal, and he's a young leader and we look forward to him making plays down the road for us."
In truth, Adams is making plays now. Although he hasn't started a game yet, he ranks fifth on the team with 37 tackles and is starting to live up to the preseason comparisons that LSU insiders made to former All-America safety Eric Reid.
Asked why he is becoming a more productive player, Adams fell back on the attributes that so many teammates cited while describing his game: He consistently shows great effort and energy.
"[LSU's coaches have] been stressing how to be the player that you want to be," Adams said. "They stress it hard in practice. It's practice how you play, so every time in practice I'm going hard, I'm running hard, doing the little things. The little things separate you."
September, 10, 2014
Sep 10
9:00
AM ET
BATON ROUGE, La. -- When it comes to turnovers and sacks, it's not a chicken-or-the-egg equation for LSU's defense.
It's a chicken-AND-the-egg thing -- because without one, the Tigers likely won't have the other.
"If you're covering and they're not getting that pressure, you can only cover for so long before somebody gets open," cornerback
Tre'Davious White
said. "But if you have both going at the same time, it's hard to get beat."
[+] Enlarge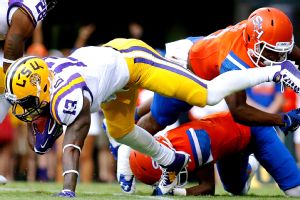 AP Photo/Jonathan BachmanDwayne Thomas nabs one of LSU's two interceptions against Sam Houston State.
Last season was a down year for LSU in both categories, with the Tigers registering 27 sacks and 11 interceptions -- their fewest sacks since 2009 and interceptions since 2008. It was also the first time since 2008 that the Tigers had fewer interceptions than touchdown passes allowed (15).
Improving in both categories was an area of offseason emphasis for LSU's defense, and the Tigers seem to be showing marked improvement. Through two games, LSU leads the SEC in pass-efficiency defense (50.6), is tied with Arkansas for the league lead in sacks (seven) and ranks second with four interceptions (Ole Miss has five).
"We've been working on a lot of ball skills and a lot of strip drills and a lot of fumble-recovery drills. As far as getting it done at practice, it's coming easier to us in the game," said defensive back
Dwayne Thomas
, who halted Sam Houston State's opening drive last week with an interception at LSU's 6-yard line.
Clearly it's too early to pronounce LSU's problems in either area solved. The Tigers notched three takeaways and all seven sacks in last Saturday's 56-0 rout of Sam Houston State, an FCS opponent that isn't up to the competitive level of some of the teams waiting on LSU's schedule.
And yet the Tigers picked off multiple passes for the third straight game -- their longest such streak since an all-star secondary intercepted at least two passes in each of the final four games of the 2010 season -- and recorded LSU's best single-game sack total since getting seven in a 2007 win against Alabama.
There have been other Sam Houston States on the schedule in the last several years, but LSU didn't post numbers like that against any of them. Perhaps the offseason work is actually starting to pay dividends.
"[SHSU's] offensive line, they were pretty good and we had to run our stunts perfectly. By doing that, you saw a bunch of sacks," said linebacker
D.J. Welter
, who accounted for one of the sacks and also stripped Bearkats quarterback
Jared Johnson
on the play for a fumble that
Deion Jones
recovered at the SHSU 1. "That definitely helps going into the next couple of games to have more confidence in the pass rush."
Saturday's game against Louisiana-Monroe will provide a further test of their progress -- the Warhawks have surrendered four sacks and have had just one of their 86 passes intercepted through two games -- but the truth will truly come to light starting the next week against Mississippi State.
In eight SEC games last season, the Tigers recorded 15 sacks and seven interceptions. Those numbers weren't pitiful, but they definitely weren't up to LSU's previous standards, either.
LSU's 2014 defense intends to function more like its dominant predecessors, and in a shutout streak that stretches over the last 87 minutes, 24 seconds of action, the Tigers have offered regular glimpses of such play.
"We kind of struggled a bit last year as a secondary," White said, "and I feel like us having two big games, going down the road that'll give us so much confidence when we get into the big-time games that we can make those plays, too."
August, 11, 2014
Aug 11
11:50
AM ET
BATON ROUGE, La. -- Maybe he doesn't want to give away anything to Wisconsin, maybe it truly is a tight battle -- and maybe it's both -- but LSU offensive coordinator Cam Cameron said the quarterback race between
Anthony Jennings
and
Brandon Harris
is too close to call.
[+] Enlarge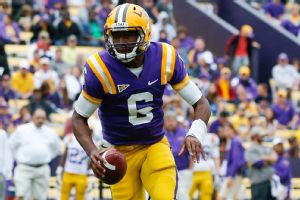 Derick E. Hingle/USA TODAY SportsFreshman Brandon Harris made a heck of a first impression during LSU's spring game.
"The competition is so stiff every day in practice," Cameron said. "You can improve in two, two and a half hours like you wouldn't believe because the pressure you're under here every day. I've seen as much improvement in our quarterbacks this week as I've ever seen in a group of quarterbacks in that small a timeframe.
"And that has nothing to do with me as it does with the attitude of the guys, No. 1, but the amount of pressure John [Chavis, LSU's defensive coordinator] and his defense put on them. Any flaw a guy has is going to get exposed and get exposed in the first 30 minutes of practice."
LSU's assistant coaches, quarterbacks and freshmen spoke with reporters on Sunday for the first and possibly only time this preseason, so Jennings, Harris and Cameron were among the day's busiest participants.
Head coach Les Miles said he is not rushing yet to name a starter between sophomore Jennings and freshman Harris as he wants to allow a competitive environment to thrive.
"I think the naming of a starter will be when one separates himself from the other. And when it's a real advantage to name him as a starter because he needs to recognize as does the team that this is where we're going," Miles said. "We're not there."
[+] Enlarge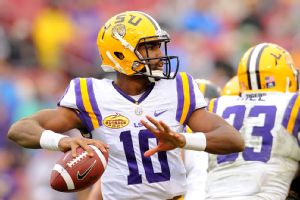 Steve Mitchell/USA TODAY SportsCan sophomore Anthony Jennings secure the starting quarterback job out of preseason training?
Also the Tigers' quarterbacks coach, Cameron agreed with that philosophy. The longer true competition exists, the better off Jennings and Harris will be, he said.
"My job is to make this decision as tough on Les as possible," Cameron said. "What do you mean by that? Well, we've got two guys that we feel confident we can win with -- if not three, if not four. We're not coaching one guy more than the other hoping he's the guy."
Cameron might even find roles for both quarterbacks to fill.
He's best remembered for leading the game-winning touchdown drive against Arkansas after replacing injured Zach Mettenberger last season, but Jennings played in nine games -- including contests against TCU, Florida, Ole Miss, Texas A&M and his first start in the bowl win against Iowa -- in 2013.
Using him in spot duty made more sense because the dual-threat Jennings possesses a different skill set from Mettenberger, a prototypical dropback passer. However, Jennings and Harris are much more similar players.
Regardless, Cameron expressed confidence that whoever wins the competition will be ready to be successful once the opener against Wisconsin arrives on Aug. 30.
"I would say this confidently: we're going to have more than one quality starter here at LSU," Cameron said. "That's what we're charged with and we'll get that done."
Linebacker rotation?:
Defensive coordinator John Chavis has rarely enjoyed the luxury that a deep group of linebackers might provide this season. Beyond starters
Kwon Alexander
,
D.J. Welter
and
Lamar Louis
, Chavis' position group runs two and three deep with quality players across the board -- and that might help not only on defense, but on special teams.
"If they're ready to play, we're going to play them. There's no question about that," Chavis said. "They're not any different than anybody else on our field. In an ideal situation, you'd like to have six starting linebackers and then they all could go play special teams and we could rest them on defense. Unfortunately we haven't been that way with depth.
"Is this a year that we can reach that? We're closer than we've been in the past."
In addition to players such as
Deion Jones
,
Duke Riley
and
Ronnie Feist
, Chavis has talented sophomore
Kendell Beckwith
trying to surpass Welter as the starting middle linebacker and one of the Tigers' top 2014 signees,
Clifton Garrett
, behind them.
It might be difficult to juggle, as there are only so many snaps to go around between the three linebacker spots. But Chavis seems confident that everyone who deserves to play will be on the field in some capacity.
"If you can go two deep and you don't have a drop-off, then that just makes your special teams even better," Chavis said.
No decisions on return men:
Speaking of special teams, coach Bradley Dale Peveto said he is considering six candidates for the punt return and kickoff return jobs, but wasn't ready to identify them yet.
Tre'Davious White
and
Travin Dural
are among the players known to be working at punt returner and
Terrence Magee
is among the kickoff return men.
"We had four great days in evaluating a lot of our team, got it down to six guys at each spot," Peveto said. "I don't really want to talk about that yet because we've got a great competition going on, but I'm going to tell you we've got enough. We've got some really good guys, some really talented young men who might compete for those positions."
Miles said earlier that
Trent Domingue
has taken over as the Tigers' kickoff specialist.
Right guard competition:
Offensive line coach Jeff Grimes chuckled when asked how the right guard competition is shaking out.
"It's still shaking," Grimes said. "We'll let it go until somebody lays claim to it."
Seniors
Fehoko Fanaika
and
Evan Washington
have battled for the starting job at right guard, the lone spot where the Tigers lost a starting offensive lineman from 2013.
August, 7, 2014
Aug 7
12:15
PM ET
It's still the first week of fall camp, and we're still getting a look at the fresh faces in the SEC. How is Jacob Coker spinning it? Where is Leonard Fournette on the depth chart? ESPN's Travis Haney has Coker and Fournette as his
top two breakout players for 2014
, a list that includes 18 players total from the SEC.
For more news and notes around the conference, check out Thursday's lunch links.
April, 22, 2014
Apr 22
9:00
AM ET
LSU's spring practice ended two weeks ago, leaving a full 15 weeks before the Tigers return to the practice field.
The position battles that started in the spring will continue through summer workouts before resuming in front of coaches in August. Let's take a look at what happened in a few of those spring battles and what we'll be watching between now and Aug. 30, when the Tigers open the season against Wisconsin.
Defensive tackle:
The spring was as much a feeling-out process as anything for defensive line coach Brick Haley. He mostly rode two departed veterans last fall while using youngsters
Christian LaCouture
and
Quentin Thomas
in spot duty. LaCouture and Thomas jumped into leading roles during the spring, and Haley also tested
Maquedius Bain
,
Greg Gilmore
and
Frank Herron
(at times) in the middle. Haley has probably established a mental pecking order with the group, but August and the early-season games will certainly play important roles in cementing the coach's opinions. It will also be worth watching how signees such as
Travonte Valentine
perform once they arrive on campus, as they might allow Haley to utilize a true rotation in the middle.
[+] Enlarge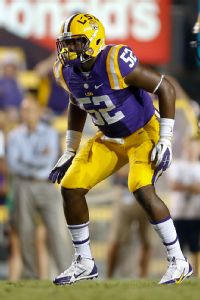 Derick E. Hingle/USA TODAY SportsSophomore linebacker Kendell Beckwith moved inside and was impressive this spring.
Linebacker:
This should be a fun bunch to watch in the fall. While
Kwon Alexander
,
Lamar Louis
and
D.J. Welter
seemed to rank among John Chavis' first options during the spring, it's apparent that the Tigers' defensive coordinator has no shortage of talented options. One of the intriguing spring storylines was
Kendell Beckwith
's transition to middle linebacker behind Welter. The linebackers as a group had an excellent spring game, with
Ronnie Feist
leading all tacklers with 14 stops and both Alexander and
Deion Jones
picking off
Anthony Jennings
passes and returning the interceptions for touchdowns.
Clifton Garrett
is one of the Tigers' highest-rated 2014 signees, and he could add even more intrigue to the competition for playing time once practice resumes.
Quarterback:
Surely you've heard by now that the battle between Jennings and freshman
Brandon Harris
appears to be wide open entering the summer months. Jennings has a slight experience advantage, but Harris was the more effective performer in the spring game. Both players made plenty of mistakes, however. Their offseason preparation in the next few months will be enormously important once August arrives.
Right guard:
This is another battle that the coaches said was wide open once the spring concluded.
Evan Washington
shifted from tackle to guard and seemed to take the leading role in the competition. Fellow senior
Fehoko Fanaika
and sophomore
Ethan Pocic
are lurking, however. It wouldn't be much of a surprise to see all of them play some scrimmage downs against Wisconsin -- or in Weeks 2 and 3 against Sam Houston State and Louisiana-Monroe -- as new offensive line coach Jeff Grimes weighs his options. Coach Les Miles complimented all three players after the spring game, so it seems that the coaches would be comfortable playing any of the candidates.
Safety:
Injuries caused this position to remain as a bit of a mystery during the spring.
Jalen Mills
remained in a starting role, and
Ronald Martin
seemed to be faring well in a return from a fractured right foot. He was injured again by the end of the spring, however, joining
Corey Thompson
(knee surgery) on the sideline by the time the spring game rolled around. Mills and
Rickey Jefferson
were the top options in the spring game, but the Tigers could use any number of combinations when the season arrives -- especially once highly-rated safety prospect
Jamal Adams
and the other signees make it to Baton Rouge this summer. Once the Tigers are back to full strength in August, this should make for one of the most intriguing position battles.
Tight end:
This will be a fun position to track in the fall. They had plenty of playing time last season, but barely made a blip as receivers. They seem to be confident that they will make a more well-rounded contribution in 2014. Sophomore
DeSean Smith
and signee
Jacory Washington
possess intriguing receiver skills, and
Dillon Gordon
,
Travis Dickson
and
Logan Stokes
worked this spring to prove that they are well-rounded players at the position. It's a big group, but all of them should have roles to fill during the season.
Wide receiver:
They were the walking wounded for much of the spring, with
Avery Peterson
,
Kevin Spears
,
John Diarse
and
Quantavius Leslie
all spending time in non-contact jerseys. That was a tough blow for a group that has a lot to prove after
Odell Beckham
,
Jarvis Landry
,
Kadron Boone
and
James Wright
all left the roster after last season.
Travin Dural
-- who had an outstanding spring game with five catches for 130 yards and two touchdowns -- seemed to solidify his spot as the No. 1 receiving option for now. But this will become one of the Tigers' most interesting position battles in August once a star-studded signing class, led by
Malachi Dupre
and
Trey Quinn
, arrives to challenge the returning wideouts.
April, 8, 2014
Apr 8
1:00
PM ET
BATON ROUGE, La. -- LSU is scheduled to hold its final spring walk-through on Tuesday, which will officially send the Tigers into the offseason.
As Les Miles' club wraps up its 15 spring workouts, here are five things we took away from the last month on the practice field:
[+] Enlarge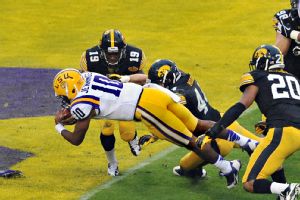 Al Messerschmidt/Getty ImagesAnthony Jennings' ability as a running quarterback will be a weapon LSU can utilize this fall.
1. Those QBs can move:
Having seen
Anthony Jennings
play a bit as a freshman, we already knew he had some wiggle. But freshman
Brandon Harris
looks to be at least his equal in the running-quarterback department after he had 76 rushing yards and a touchdown in last Saturday's spring game.
Whichever quarterback wins the starting job, it's a certainty that his playing style will differ wildly from predecessor
Zach Mettenberger
, who stood like a stone in the pocket. With either Jennings or Harris under center, defenses will have to respect that he can take off and make big plays with his legs.
"Oh boy, isn't that fun to see?" Miles asked, referring to a 41-yard run that Harris made in the second quarter. "You go back in there and the defense makes a mistake and let me tell you what happened: One of those linebackers went over there to the other side with one of those backs and did not stay home. And so that quarterback came out the back side and suddenly 41 yards later, he's run out of bounds.
"That's something you can't do, either, so when you line up against a quarterback with that kind of ability -- and both of our guys have it -- you'd better keep that linebacker home."
Jennings still seems to have a tendency to hold on to the ball too long while looking to pass. Iowa sacked him four times in the Outback Bowl, and his defensive teammates got to him four times in the spring game. Harris seemed to have a better idea when to tuck it and run, which doesn't seem to be a terrible idea for either of them, as they can both be dynamic runners when they leave the pocket.
2. Linebackers will be strong:
Saturday was a great day for LSU's linebackers. Not only did
Kwon Alexander
and
Deion Jones
both intercept Jennings' passes and take them to the house for touchdowns, but
Ronnie Feist
(14 tackles) and
Lamar Louis
(seven tackles, 0.5 tackle for a loss) were their respective teams' leading tacklers.
Feist seemed to be everywhere, continuing what Miles said was an impressive spring from a physicality standpoint.
"When he hits you, you're hit," Miles said of Feist. "There's no pretend to it."
Senior middle linebacker
D.J. Welter
apparently left a major impression on his coaches this spring as well. Not only was he among the defense's honorees in awards for leadership and for outstanding performance, but he was the lone winner of the Jimmy Taylor Award, the team's comprehensive spring award for outstanding leadership, effort and performance.
3. Offensive playmakers still must emerge:
It seemed like a foregone conclusion even before spring practice started that some of the team's top offensive players for 2014 weren't on campus yet. Spring didn't do much to change that perception.
Kenny Hilliard
and
Terrence Magee
-- who dealt with a sprained ankle for much of the spring -- were adequate at tailback, but freshman
Leonard Fournette
will inject some star power to the position once he arrives on campus. Likewise,
Malachi Dupre
,
Trey Quinn
and the new receivers will add explosiveness at a position that was riddled with injuries throughout the spring. The receivers were nearly nonexistent in the spring game.
LSU wide receivers totaled seven catches for 200 yards and two touchdowns on Saturday. Sounds pretty good, right? But five of the catches, 130 yards and both touchdowns came from one player:
Travin Dural
.
Otherwise, the group frequently dropped passes and misplayed catchable balls, proving that they need every bit of the available practice time this summer to develop chemistry with their quarterbacks. Dural looks like a star in the making, but the others have a lot to prove from a consistency standpoint.
4. Tight end talk seems legit:
DeSean Smith
and the Tigers' other tight ends expressed hope this spring that they would get more opportunities to catch passes in 2014 than they did last season, when wideouts
Jarvis Landry
and
Odell Beckham
got most of the looks from Mettenberger.
They said that's how things had been going in practice, and Saturday looked to continue that trend. Smith led the way with three catches for 45 yards and a touchdown, but
Dillon Gordon
(2-32),
Logan Stokes
(1-26),
John David Moore
(1-20) and
Travis Dickson
(1-8) also made receptions. In all, the tight ends accounted for eight of the Tigers' 21 catches in the final spring scrimmage, and offensive coordinator Cam Cameron seems pleased with the weapons he has at his disposal at the position.
"Every year, with different personnel, creates a whole new set of opportunities, and I think the opportunities for our tight ends are going to be critical," Cameron said. "I was thrilled -- for the most part -- I thought they made the most of it."
5. Defense is on the comeback:
Judging by the way the White team (which featured the starters) throttled the Purple team's offense on Saturday, it looks like LSU's first-team defense has the potential to rank among the SEC's best this fall.
The Purple team accounted for 179 yards of offense on 46 plays -- 53 rushing on 27 carries and 126 passing on 6-for-19 attempts. The Purple converted for a first down just once out of 11 third downs.
After saying earlier in the week that he overthought things in his first season as a starter, defensive end
Danielle Hunter
seems to have cut loose now. He recorded two sacks on Saturday and was a regular presence in the Purple team's backfield.
He was only one member of a sizable group of defensive players on both teams who flashed major potential in the scrimmage. Things seem to be looking up for defensive coordinator John Chavis' bunch.
April, 7, 2014
Apr 7
12:00
PM ET
April, 7, 2014
Apr 7
11:00
AM ET
BATON ROUGE, La. -- You know what early enrollees typically do when they play in their first spring game? They stink up the joint -- and understandably so.
By all rights, they should still be in high school, making prom plans or figuring out where to go for spring break. They've had only a couple of months to digest a complex college playbook, and they're competing against more seasoned, more physically mature athletes.
[+] Enlarge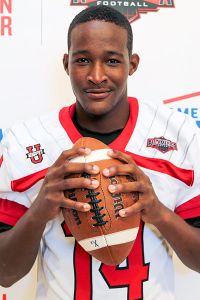 Courtesy of IntersportEarly enrollees aren't supposed to make an impact in spring ball, but QB Brandon Harris did just that in the spring game.
But not only did
Brandon Harris
not stink up the joint in LSU's spring game on Saturday, he was arguably the star of the show with three touchdown passes and 195 passing yards. He also flashed impressive escapability when the pocket collapsed, rushing six times for 76 yards and another score.
It was an eye-opening performance, but let's pump our breaks before declaring the Tigers' quarterback race over -- even if
Anthony Jennings
followed an underwhelming performance in the Outback Bowl by going 9-for-17 for 157 yards and tossing interceptions that linebackers
Deion Jones
and
Kwon Alexander
returned for touchdowns.
Let's be clear: if LSU had been playing Alabama -- which seems to be the measuring stick for anything around this program these days -- the performances by either Jennings or Harris would have probably led to an LSU loss.
"There needs to be improvement at the position for both guys," LSU coach Les Miles confirmed afterward.
Obviously the pair of pick-sixes determined the day's narrative for Jennings, but Harris had plenty of misfires himself. He displayed a phenomenal skillset and made some remarkable plays, without question, but he simply must reduce the mistakes before he can fulfill his obviously sky-high potential.
Case in point: in the second quarter, Harris overthrew a wide-open
DeSean Smith
-- wide open as in there was nobody within 10 yards of the big tight end -- and then floated an ugly throw over fullback
Connor Neighbors
' head on his next pass attempt. Later, he made a debatable decision to throw into double coverage in the end zone, with the pass luckily falling incomplete.
"I really think he made, I don't know, four, five, six major errors in the scrimmage and yet had the ability to get beyond it, which always is a tremendous mark," Miles said of Harris, whom LSU has not made available to speak to the media. "And if we can eliminate the mistakes and really play to the advantages, that's what we're looking to do."
If there was anything positive that Jennings could take away from the day, it's that he at least finished with a flourish. In the first two quarters, Jennings presided over seven drives -- the longest of which covered 31 yards -- with those seven possessions ending in five punts and the two interception returns for touchdowns.
He wrapped up his day with an efficient 73-yard touchdown drive in the third quarter, concluding the possession with a 13-yard scoring pass to
Travin Dural
.
"If you throw an interception and you don't come right back, you're not a good quarterback," Jennings said afterward. "So every quarterback goes through adversity. It's how you respond, it's not how you fall."
He seemed to take a nasty fall on Saturday, but Jennings now has plenty of time to respond. The good news for the Tigers is that they don't play Alabama for seven months. In fact, they don't play anybody until the Aug. 30 kickoff against Wisconsin. That's nearly five months for both quarterbacks to keep developing a rapport with their receiving corps and battling for the right to take the first snap against the Badgers.
Asked about the message he will send the quarterbacks going into summer workouts, Miles' message was simple: "Compete. That's it." This after saying in his press conference that the coaches plan to "let the competition continue and see how this thing plays out" this summer.
Competition was also the theme of this spring, and it was apparently a productive period for both players, of whom Miles reiterated after Saturday's game that "I think both guys are talented enough to be our quarterback."
The talent was apparent, particularly when Harris was throwing darts and sprinting away from defenders for big gains. But will LSU's coaches be able to harness that talent quickly enough to beat opponents like Wisconsin, Auburn, Florida, Mississippi State and, of course, the mighty Crimson Tide?
That is going to be the deciding factor in LSU's 2014 season. With what should be an improved defense and with
Leonard Fournette
,
Terrence Magee
and
Kenny Hilliard
in the backfield, the Tigers should be able to pound most of their opponents into submission. But against the nastiest teams on the schedule, they need to be able to at least make opposing defenses respect the pass -- and not make any catastrophic errors when they do choose to put the ball in the air.
Both quarterbacks made some potentially catastrophic throws on Saturday, and that's OK for now. Jennings and Harris need to make great strides in this summer's passing sessions, however, or it will be 2015 at the earliest before the Tigers again rank among the top contenders for a national championship.
LSU SPRING AWARDS
Here is the full list of spring practice awards that LSU coach Les Miles presented after Saturday's spring game:
Jimmy Taylor Award (Comprehensive spring award for outstanding leadership, effort and performance):
D.J. Welter
Ralph Norwood Performance Award (Outstanding performance in spring drills, offense):
Kenny Hilliard
,
La'el Collins
,
Elliott Porter
,
Jerald Hawkins
Toby Caston Performance Award (Outstanding performance in spring drills, defense):
Deion Jones
,
Tre'Davious White
,
Rashard Robinson
,
Danielle Hunter
,
D.J. Welter
,
Kwon Alexander
Eric Andolsek Leadership Award (Outstanding leadership in spring drills, offense):
La'el Collins
,
Connor Neighbors
,
Kenny Hilliard
,
Terrence Magee
,
Jerald Hawkins
Mike Miley Leadership Award (Outstanding leadership in spring drills, defense):
Danielle Hunter
,
Christian LaCouture
,
D.J. Welter
,
Jalen Mills
,
Ronald Martin
Alvin Roy Fourth Quarter Award (Outstanding performance in LSU offseason program):
Danielle Hunter
,
Duke Riley
,
K.J. Malone
,
Ethan Pocic
,
Travin Dural
,
Christian LaCouture
,
Lewis Neal
,
Tre'Davious White
,
Tre' Sullivan
,
Terrence Magee
,
Luke Boyd
,
Jeff Lang
Most Improved Award:
Ronald Martin
,
Lewis Neal
,
Quentin Thomas
,
Dillon Gordon
,
Dwayne Thomas
,
Fehoko Fanaika
,
K.J. Malone
,
DeSean Smith
,
Anthony Jennings
,
Tashawn Bower
Jerry Stovall Special Teams Award:
Colby Delahoussaye
,
Reid Ferguson
,
Tre'Davious White
Newcomer Award:
Brandon Harris
,
Ed Paris
Overcoming Adversity Award:
Dwayne Thomas
,
Quantavius Leslie
,
Lamar Louis
Coaches Award:
Devante Meullion
,
John David Moore
,
Chris LaBorde
,
Tommy LeBeau
,
Tre' Sullivan
,
Brad Kragthorpe
,
Alex Cheramie
March, 14, 2013
3/14/13
9:00
AM ET
Schedule:
The Tigers open spring practice Thursday and will conclude the spring April 20 with their annual National L Club spring game at 3 p.m. ET in Tiger Stadium.
What's new:
Cam Cameron steps in as LSU's offensive coordinator after spending part of last season in that role with the Baltimore Ravens. Cameron replaces Greg Studrawa as LSU's play-caller on offense and will also coach the quarterbacks. Studrawa remains on staff and will coach the offensive line. Steve Kragthorpe will move into an administrative role after coaching the LSU quarterbacks the previous two seasons.
On the mend:
Reserve quarterback
Rob Bolden
(knee) and defensive end
Justin Maclin
will both miss the spring while recovering from injuries.
On the move:
Junior
La'el Collins
will get first shot at left tackle this spring after starting all last season at left guard. Senior
Josh Williford
will shift from right guard to left guard. Junior
Terrence Magee
is moving back to running back after playing receiver last season and catching just one pass.
Question marks:
The Tigers are replacing five of their top seven defensive linemen. Junior tackles
Anthony Johnson
and
Ego Ferguson
and junior end
Jermauria Rasco
need to take that next step and become every-down forces up front. Head coach Les Miles said sophomore tackle
Mickey Johnson
has lost weight and had a promising offseason. Playing with more consistency at receiver will also be important. The Tigers had too many dropped passes last season and didn't make a lot happen down the field.
Odell Beckham
and
Jarvis Landry
will be counted on to make big moves as juniors. LSU also has to find a new place-kicker and punter. Sophomore
Jamie Keehn
heads into the spring as the punter, while junior
James Hairston
will have to hold off redshirt freshman walk-on
Colby Delahoussaye
for the starting place-kicking job.
New faces:
Junior-college newcomer
Logan Stokes
will battle for a starting job at tight end, while junior-college newcomer
Fehoko Fanaika
could factor in at offensive guard. At receiver, redshirt freshman
Travin Dural
will be one to watch after injuring his knee last season along with a pair of early enrollees -- Avery Peterson (Patrick Peterson's younger brother) and
John Diarse
. Two more true freshmen,
Anthony Jennings
and
Hayden Rettig
, will be among a handful of players vying for the backup quarterback job. The Tigers have a total of six true freshmen on campus who will be going through spring practice as early enrollees. Redshirt freshman
Dwayne Thomas
is a prime candidate to be the Tigers' third cornerback on passing downs.
Breaking out:
In reality, senior linebacker
Lamin Barrow
has already broken out. He had 104 total tackles last season, but was overshadowed by
Kevin Minter
. With Minter leaving early for the NFL draft, Barrow will move this spring from weakside linebacker to Minter's middle-linebacker spot. The 6-foot-2, 232-pound Barrow has everything it takes to become an All-SEC performer. If he sticks in the middle, it just makes the Tigers that much deeper at linebacker. Talented sophomores
Kwon Alexander
,
Deion Jones
and
Lamar Louis
can all play on the outside along with senior
Tahj Jones
, who returns after missing all but one game last season for academic reasons.
Don't forget about:
Senior running back
Alfred Blue
returns to give the Tigers one of the deepest backfields in the league. He injured his knee in the third game last season and was No. 2 in the SEC in rushing at the time. The 6-2, 220-pound Blue has excellent speed and also catches the ball well out of the backfield. He'll team with sophomore
Jeremy Hill
to give LSU a dynamite one-two punch. The 6-2, 235-pound Hill had four 100-yard games as a true freshman and led the Tigers in rushing. Following a splendid freshman season,
Kenny Hilliard
was the forgotten man last season. He'll be looking to regain his form this spring, while Magee will add some speed to the Tigers' backfield.
All eyes on:
Now that senior quarterback
Zach Mettenberger
has a season as a starter in the SEC under his belt, can he capitalize on the improvement he showed toward the end of last season? In particular, Miles wants to see Mettenberger get better at throwing the deep ball and understand all of the throws better. Mettenberger struggled early last season, but he didn't get a lot of help from his receivers. The best news for Mettenberger was the hiring of a veteran offensive coordinator like Cameron, who's tutored a ton of quality quarterbacks. There's no question that LSU has to be more consistent on offense if it's going to return to the SEC championship picture. How much Mettenberger improves from his junior to senior season will go a long way toward determining whether the Tigers will be a part of that equation.
August, 10, 2012
8/10/12
3:15
PM ET
At the end of the day,
Tyrann Mathieu
just couldn't stop thinking about himself.
Months after proclaiming he was changed, humbled and ready to lead, Mathieu's selfishness cost him his LSU career, as
Les Miles announced his player's dismissal at a news conference Friday
.
[+] Enlarge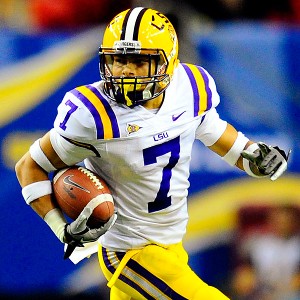 Dale Zanine/US PresswireTyrann Matheiu emerged last season as one of the nation's top cornerbacks and punt returners.
Miles, with disappointment scribbled all over his face, stood up and announced to the college football world that one of the most exciting players in the game -- and a Heisman Trophy finalist a year ago -- is no longer a part of LSU's football because he violated team policies again.
One of the best game-changers and playmakers -- regardless of position – that the game had to offer claimed to have learned from his mistakes, but he is now leaving a team capable of making back-to-back national championship runs.
The face of LSU's program, who went with the celebrity flow by posing for preseason magazine shots this year and showed off his punt-returning skills to the nation on ESPN, let his team and its fan base down by once again thinking of himself first.
Miles didn't give details as to what Mathieu did to earn a one-way ticket out of Baton Rouge, but from the way Miles sounded during his press conference, Mathieu had run out of chances. And Miles had run out of patience with the Honey Badger.
"This is a very difficult day for our team," Miles said. "We lose a quality person, teammate and contributor to the program. However, with that being said, we have a standard that our players are held to, and when that standard is not met, there are consequences.
"It's hard because we all love Tyrann. We will do what we can as coaches, teammates and friends to get him on a path where he can have success. We are going to miss him."
What they'll miss on the field is his unbelievable playmaking ability. Mathieu had a true nose for the ball, constantly locating and flying to it no matter where he lined up, and amazing vision. He wasn't the biggest player or the best cover man, but he just had a way of disrupting things that few could mimic. And on special teams, he proved he could completely change the landscape of a game with one cut.
During his two years at LSU, he totaled 133 total tackles (16 for loss), grabbed four interceptions and forced 11 fumbles (most in school history). He also recovered eight fumbles and averaged 15.59 yards per punt return (with two scores) last year.
The Tigers will now look to a committee of players to replace Mathieu. Redshirt freshman
Jalen Collins
could get work at corner, while true freshmen
Dwayne Thomas
,
Deion Jones
and
Corey Thompson
could get work at nickel. Redshirt freshman safety
Micah Eugene
could also get some work there.
But none are the Honey Badger.
In January, Mathieu sat at a podium inside the Marriott Convention Center in New Orleans just days before the national championship expressing his feelings about his celebrity status and how it transformed him.
He admitted to getting carried away with his Honey Badger persona that took the Internet and college football by storm. The T-shirts, signs, videos and slogans that made him so captivating and famous slowly began to inflate his ego. He went from playing with a chip on his shoulder to playing like he owned the world.
Then, just as he was sitting on top of the world, he was suspended halfway through the season for reportedly failing a drug test. Mathieu later said his one-game suspension helped him realize he wasn't as invincible as he thought. It helped bring him back to reality and made him truly cherish his time with his team.
But the past caught up with Mathieu, who leaves a team poised to be better in 2012. The offense is expected to take off with quarterback
Zach Mettenberger
, and the defense, which ranked second nationally last year, had a chance to be even better, too. But Mathieu won't be around to help.
LSU has met distractions before, but to lose someone with so much talent and status is a real shot to a team hungry to make up for last year's championship failure. This team will regroup, but it has to feel betrayed.
The childlike smile, blonde hair and charismatic play that made Mathieu so endearing in Baton Rouge are all gone. And Mathieu has no one to blame but himself.
SEC SCOREBOARD
Friday, 12/26
Saturday, 12/20
Monday, 12/22
Tuesday, 12/23
Wednesday, 12/24
Saturday, 12/27
Monday, 12/29
Tuesday, 12/30
Wednesday, 12/31
Thursday, 1/1
Friday, 1/2
Saturday, 1/3
Sunday, 1/4
Monday, 1/12
Tweets from https://twitter.com/ESPNCFB/lists/sec