November, 15, 2010
11/15/10
11:12
AM ET
The SEC league office released its top performers for Week 11:
OFFENSE
South Carolina running back Marcus Lattimore:
He carried a school-record 40 times for 212 yards and three touchdowns in South Carolina's 36-14 win at Florida to win the Eastern Division title. Lattimore established a school freshman record for rushing yards in a season with 964.
Auburn quarterback Cam Newton:
He rushed for 151 yards and two touchdowns on 30 carries and completed 12 of 15 passes for 148 yards with two touchdowns and an interception in Auburn's 49-31 win against Georgia. Newton became the first player in SEC history to pass for 2,000 yards and rush for 1,000 in the same season.
DEFENSE
Alabama safety Robert Lester:
He had two interceptions to go along with four total tackles in Alabama's 30-10 win against Mississippi State. His first interception ended State's first possession at the Alabama 6-yard line. Lester is now tied for the NCAA lead with seven interceptions.
SPECIAL TEAMS
South Carolina kicker/punter Spencer Lanning:
After missing an early extra point, Lanning was a perfect 3-for-3 on field goal attempts, hitting from 49, 47 and 41 yards out, all in the first half, in South Carolina's 36-14 win at Florida. He also punted six times for a 43.7 yard average with a long of 49 yards.
OFFENSIVE LINE
Auburn guard Mike Berry:
He graded out at 95 percent, which led all Auburn linemen in the Tigers' 49-31 win against Georgia. Berry did not allow a sack or a pressure while playing in all 73 offensive plays.
DEFENSIVE LINE
Kentucky end DeQuin Evans:
He totaled three tackles against Vanderbilt, all for losses, in the Wildcats' 38-20 win against Vanderbilt. Evans assisted on a tackle for loss from the UK 1-yard line which helped force a field goal attempt. He combined on a sack early in the third quarter, forcing the punt that led to UK's go-ahead touchdown.
FRESHMAN
South Carolina running back Marcus Lattimore:
He carried a school-record 40 times for 212 yards and three touchdowns in South Carolina's 36-14 win at Florida to win the Eastern Division title. Lattimore established a school freshman record for rushing yards in a season with 964.
Tennessee quarterback Tyler Bray:
He led all SEC quarterbacks for the second straight week with 323 passing yards as Tennessee defeated Ole Miss 52-14. Bray completed 18 of 34 passes against Ole Miss with three touchdowns and no interceptions in his second consecutive start. He has eight touchdowns in his past two games.
September, 16, 2010
9/16/10
10:25
AM ET
We should know by 3:30 p.m. on Saturday if Georgia still has a heartbeat in the Eastern Division race.
The same goes for Arkansas' defense and whether or not the Hogs are for real.
Their noon showdown highlights Week 3 in the SEC. Here's a look at what to watch:
1. Heisman hopes gone?:
Alabama's
Mark Ingram
returns this Saturday against Duke after missing the first two games while recovering from arthroscopic knee surgery. His chances of repeating as the Heisman Trophy winner probably went out the window when he underwent surgery. But ensuring that he's going to be 100 percent for the bulk of this season will only bolster Alabama's chances of repeating as national champion. Ingram would choose the latter every time. Just getting him back out there for some live game snaps this week is important, especially with that Arkansas, Florida, South Carolina stretch upcoming. The big thing you look for out of Ingram this weekend is how he cuts on the knee and if he still has that same burst through the hole.
2. Georgia's running game:
It's disappointing enough for Georgia to be 0-1 in the SEC. But to see the Bulldogs at the bottom of the league's rushing statistics two weeks into the season is not the tone this team wanted to set offensively. It's also a tone the Bulldogs had better change if they're going to beat Arkansas at home Saturday and stay alive in the Eastern Division race. Getting junior tailback
Caleb King
back from an ankle injury will help. He and
Washaun Ealey
really had it going at the end of last season. But this one Saturday is on the Georgia offensive line. The Bulldogs are better up front offensively than they played last Saturday at South Carolina, and it's time they showed it.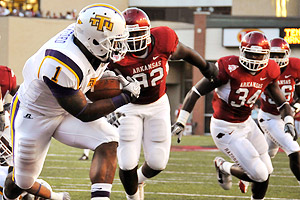 AP Photo/April L BrownThe Arkansas defense will face a big test on the road against Georgia.
3. High on the Hogs:
All offseason, Arkansas' defenders answered questions about whether or not this defense would be improved enough to make a legitimate run at an SEC championship. The Hogs are ranked fourth nationally in total defense entering Saturday's game at Georgia. A bigger question might be: Are the Hogs ready to step up on the road? They were a different team at home last season as compared to the road. In fact, they didn't win a true road game. For that matter, they've lost seven consecutive true road games going back to the 2008 season. Their lone road win under Bobby Petrino was a 25-22 victory against Auburn in 2008. A year ago, they averaged 46.7 points in their seven home games and only 18.5 points in their four road games. It's a trend the Hogs will obviously have to change if they're going to contend in the West this season.
4. Urban and his rivals:
Florida's trip to Tennessee on Saturday gives Urban Meyer another shot at one of the Gators' traditional rivals. He's owned them to this point with a 15-1 record over the foursome of Tennessee, Georgia, Florida State and Miami. The only loss was to Georgia during the 2007 season, the infamous end zone celebration game by the Bulldogs. Meyer is looking for his sixth straight win against Tennessee. The Vols have scored just two touchdowns against the Gators in the past two seasons, and the combined score of the past three meetings is 112-39 in favor of Florida.
5. Evans' slow start:
Kentucky lost a ton of talent on defense last year, but the feeling around the program was that one of the Wildcats' most talented players was returning. Defensive end DeQuin Evans racked up 12.5 tackles for loss, including six sacks, in his first season in the SEC a year ago. He was being counted on to be the anchor of the Wildcats' defensive line this season. But through two games, he's still looking for his first sack – and his first tackle. The Kentucky coaches aren't worried and are confident Evans will come on, and he needs to if this defense is going to reach its potential this season. He's that dynamic finisher off the edge that makes everybody better.
6. Masoli's show:
There's no more easing
Jeremiah Masoli
into the position. Ole Miss coach Houston Nutt has decided to ride with Masoli as his quarterback and give him the full set of keys to the Rebels' offense heading into Saturday's game with Vanderbilt. Nutt likes Masoli's ability to move around and make plays and his knack for improvising when something's not there. Masoli's only thrown one touchdown pass to this point to go along with two interceptions. But with the Rebels still struggling to find some stability in their offensive line, it makes sense to go with the more mobile quarterback and the quarterback with the most experience.
7. Starting a new streak:
After 42 straight quarters, an Alabama offensive lineman has finally been penalized for holding. It happened in the Penn State game last week, and the guilty party was sophomore guard Chance Warmack. Alabama offensive line coach Joe Pendry let him have it pretty good. But, hey, it was going to end at some point. To go 42 quarters at this level without being called for holding in the offensive line is a testament to how well coached the Crimson Tide are up front. OK, maybe they were a tad lucky too, because what constitutes holding can at times be subjective. After all, it's only holding if you're caught. But Pendry's influence on this offense shouldn't be underestimated. Don't be surprised if Alabama starts another long streak this weekend.
8. Lattimore's encore:
He'll take a break from SEC competition, but South Carolina freshman running back
Marcus Lattimore
will take another crack Saturday at turning a group of defenders black and blue when the Gamecocks take on Furman. In rushing for 182 yards against Georgia last week, Lattimore had more than 100 of those yards after contact. And don't think he's the least bit satisfied. After watching the tape from the game, Lattimore said he left a bunch of yards on the field. For those wondering who has the South Carolina single-game record for rushing yards, it's not Heisman Trophy winner George Rogers.
Brandon Bennett
had 278 yards against East Tennessee State in 1991, and Bennett was only a freshman at the time.
9. Going by feel:
For the time being, it sounds like Mississippi State coach Dan Mullen will play it by ear (or feel) with his quarterbacks. The Bulldogs will continue with their rotation of junior
Chris Relf
and redshirt freshman
Tyler Russell
this Saturday at LSU. Neither was real effective in throwing the ball in the loss to Auburn. Relf started the game, and he was also the one Mullen decided to go with on the final few possessions when the Bulldogs had a chance to either tie the game or take the lead. Relf and Russell combined to complete just 45.7 percent of their passes against Auburn. Russell has the bigger upside as a passer, but never found a rhythm in the last game. If the Bulldogs fall behind again in this game, it will be interesting to see which quarterback Mullen goes with in the second half.
10. LSU's sack party:
LSU defensive coordinator John Chavis felt good about his defensive line coming into this season, even though the Tigers were going to have several new faces up front. He's not caught up in sack numbers, but he did want to get more pressure on the quarterback after LSU finished with just 21 sacks a year ago. So far, so good. The Tigers have 10 sacks in their first two games, which leads the country. The enforcer in the middle of that defensive line has been senior tackle Drake Nevis, who already has 3.5 sacks and is playing the best football of his career. Not many people have blocked him to this point. But the Tigers have also spread the wealth. Seven different players have at least half a sack heading into Saturday's home opener against Mississippi State.
July, 26, 2010
7/26/10
10:28
AM ET
In a lot of cases, the defensive line is what has set the SEC apart over the years. When you're strong up front defensively, you've always got a chance.
Who's the strongest in the SEC this season? Here goes:
[+] Enlarge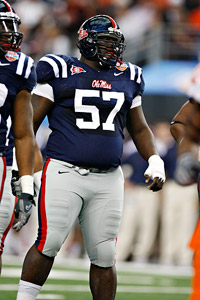 Icon SMIJerrell Powe is arguably the best interior D-lineman in the SEC.
1. Ole Miss:
For the second season in a row, the Rebels will be as formidable as anybody up front defensively. Senior tackle Jerrell Powe is perhaps the best interior defensive lineman in the league, and senior end Kentrell Lockett is one of the better pass-rushers. Between them, Powe and Lockett had 22 tackles for loss last season. It's also a deep and experienced defensive line, especially at tackle, and the Rebels added a newcomer at end, junior college transfer Wayne Dorsey, who should be a factor right away.
2. Alabama:
Players leave to go to the NFL, and Alabama slides in another great one right behind them. Welcome to Nick Saban's recruiting machine. Junior end Marcell Dareus was the star of the BCS National Championship Game last season and is one of the top NFL draft prospects in the league. He'll have to wait and see if anything comes of his trip to Miami that's being investigated by the NCAA, but there's no shortage of talent. Kerry Murphy may be the next star in the making and could potentially play nose or end in the Tide's scheme.
3. South Carolina:
Assistant head coach for the defense Ellis Johnson would like to have a little more depth, but if everybody holds up health-wise, the Gamecocks will be plenty imposing up front defensively. It starts with senior end Cliff Matthews, who's one of the most complete defensive linemen in the SEC. He had 10 tackles for loss, including seven sacks last season. Senior Ladi Ajiboye and junior Travian Robertson anchor the middle of the line, and both are explosive and powerful.
4. Mississippi State:
As the Bulldogs attempt to make their move in Season No. 2 under Dan Mullen, the strength of their football team will be their defensive line. Senior Pernell McPhee is an All-SEC performer at end and should be even better his second time around in the league. Sophomore tackles Josh Boyd and Fletcher Cox have both bulked up to the 300-pound range after solid freshman seasons, and the Bulldogs brought in massive junior college tackle James Carmon (6-7, 345 pounds) this spring.
5. Florida:
The Florida defensive linemen themselves will tell you that there aren't any superstars in this group, but there are five seniors returning, not to mention the most talented freshman defensive line class in the country. Senior captain Justin Trattou returns full time to end after playing inside on passing situations last season. He's healthy, too, after tearing the biceps tendon in his left arm last season. Sophomore tackle Omar Hunter is just waiting to break out, and freshmen Ronald Powell at end and Sharrif Floyd at tackle won't have to wait long to make an impact.
6. LSU:
Some new faces will be counted on to play key roles for the Tigers up front this season, but a veteran remains the centerpiece of this defensive line. Senior tackle Drake Nevis rates up there with Jerrell Powe as one of the top interior linemen in this league. The Tigers are also eager to see what redshirt freshman end Sam Montgomery and redshirt freshman tackle Michael Brockers can do after big springs. Senior Pep Levingston is moving inside to tackle after starting 10 games last season at end. One thing the Tigers would like to generate more of is sacks. They only had 21 last season, which was tied for eighth in the SEC.
[+] Enlarge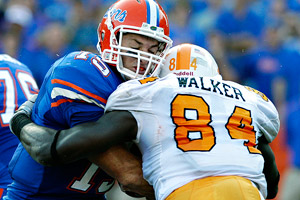 AP Photo/John RaouxChris Walker led the Vols with six sacks last season.
7. Tennessee:
The Vols have excellent depth at the end positions, starting with senior Chris Walker, who led the team with six sacks last season. Seniors Ben Martin and Gerald Williams also return at end, while former Southern California end Malik Jackson will be eligible to play this season after transferring from the Trojans. Tennessee doesn't have much depth inside, but Montori Hughes and Marlon Walls both had solid freshman seasons. The Vols can't afford for either, though, to go down with an injury.
8. Georgia:
With the Bulldogs switching to a 3-4 defense under first-year coordinator Todd Grantham, some guys will be playing new positions. One of the keys will be junior DeAngelo Tyson at the nose and establishing some depth behind him. Grantham wants to get to a point where he has a steady rotation up front, but that may take another recruiting class or so. Senior Demarcus Dobbs is the starter at one end, while sophomore Abry Jones impressed Grantham in the spring at the other end spot.
9. Auburn:
The Tigers lost their top playmaker up front last season in Antonio Coleman and are hopeful senior Antoine Carter can step in and be that guy this season at end. The first thing Auburn has to do if it's going be a better defense this season is be stingier against the run. Senior Mike Blanc returns at one tackle, and the Tigers are also counting on a big season from junior tackle Nick Fairley, who showed flashes a year ago. Another guy to watch is redshirt freshman end Nosa Eguae, who would have played last season had it not been for a stress fracture in his left foot.
10. Arkansas:
The Hogs will be better on defense this season. So says Arkansas coach Bobby Petrino, and they'll need to be better if they're going to make a run in the Western Division race. The depth should be better, although losing Malcolm Sheppard in the middle is a killer. Junior end Jake Bequette had 5.5 sacks last season and is one of those guys who could really blossom this season. Junior Zach Stadther returns at one tackle. Sophomore Tenarius Wright missed the spring with a foot injury, but will also be a key at the other end position.
11. Kentucky:
The big blow for the Wildcats was losing tackle Corey Peters, who was dominant a year ago and made everybody around him that much better. Replacing him will be a chore, but Kentucky hopes Mark Crawford can have a breakout season inside after coming over from junior college last year. Speaking of breakout seasons, senior end DeQuin Evans emerged as one of the most productive pass-rushers in the league last season, his first in the SEC after coming over from junior college. He finished with 12.5 tackles for loss, including six sacks.
12. Vanderbilt:
The bad news is that senior tackle Adam Smotherman tore his ACL early in spring practice. The good news is that he's recovering quicker than anybody could have imagined and has a chance to be back for at least part of the season. The Commodores need Smotherman and T.J. Greenstone there in the middle, especially after losing three key senior defensive linemen to graduation. It was a struggle for Vanderbilt up front defensively in the fourth quarter last season. That will again be the challenge in 2010.
May, 6, 2010
5/06/10
9:30
AM ET
Kentucky senior defensive end DeQuin Evans counts his blessings every day.
He's thankful for having made it out alive of one of the most dangerous housing projects in Compton, Calif.
He's thankful that he got a chance to play football in the first place. Remarkably, this will be only his fourth full season of organized football.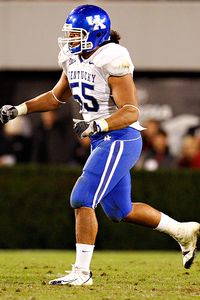 Kevin C. Cox/Getty ImagesKentucky senior defensive end DeQuin Evans has his best football in front of him, according to his coach.
Most of all, he's thankful he gets one last shot to continue paying back Kentucky for believing in him enough a year and a half ago to give him a scholarship out of Los Angeles' Harbor College.
It all flashed before his eyes, though, early during spring practice this year. He rolled his knee up in practice, and it didn't look pretty at the time.
As it turned out, it was only a mild sprain, and Evans was back in a few days.
"I learned a long time ago to appreciate everything I have," Evans said. "I can't tell you how much I'm looking forward to this senior season."
Evans led the Wildcats in sacks (6) and tackles for loss (12.5) last season. Still raw as a football player, he got by on sheer athletic ability and heart much of the time.
He has no doubt that he'll be a more complete football player in 2010.
"I've never worked this hard in my life," Evans said. "I'm hoping and praying all my ability shows on Saturdays, all the small technical stuff I've been working on and all this film I've been watching.
"I also have to be a leader for this team, which will lead me to being a better player. That's what keeps me coming in at 5:30 in the morning, keeping my inner drive going every day and never being satisfied with nothing."
The 6-3, 257-pound Evans is one of the better stories in the SEC.
He was raised by a single mother, along with three younger sisters, in the Park Village projects in Compton. His grandfather, Tavita Maefau, did his best to keep Evans in sports as a youngster, but Maefau died when Evans was only 12.
"That's a big reason I never got into football when I was a kid. He kept me involved, but I didn't even play high school ball," Evans said. "In my world, you were just trying to make it day by day. It was tough. Everything that people see on TV that happens in Compton ... that stuff is for real.
"I've got a lot of friends who are in wheelchairs now and friends who've been shot and didn't even gang-bang or anything. A lot of times, they were just in the wrong place at the wrong time. I had a friend going to Nevada on full basketball ride, and he got shot one night after a game and was paralyzed from the waist down."
Evans acquired a taste for football through his cousin, Hershel Dennis, who played running back at USC.
"He took me under his wing and said to come live with him when he was living off campus at USC, and I would be around LenDale White, Reggie Bush and Dominique Byrd," Evans said. "I was like, 'This is tight,' and they all wanted to know why I didn't play football."
Evans started wondering the same thing himself and wound up hooking up with a buddy of his who was playing junior college ball at Harbor College.
"I went and met the coach, and he told me he would love to have me on the team, that I just had to be ready to put in the work," Evans recalled. "So I moved back in with my mom, who was living in Long Beach then, and she had this huge hill in the back of her house. I used to always see those clips of Walter Payton running those hills on ESPN Classic.
"I lost about 20 pounds running that hill, did my pushups and was hungry to get a chance. Anything that would keep me busy and out of trouble, that's what I wanted to do. I went out there for the first practices and was coming in first in all the sprints.
"It was like a snowball going downhill after that. The game just grew on me."
First-year Kentucky coach Joker Phillips said Evans' best football is clearly in front of him.
"The light was starting to come on at the end of the year last year when he was playing his best football," Phillips said. "He was playing really well at the first part of this spring when he hurt himself and missed some practices.
"We put a lot on him as far as being a leader. We have some leaders on offense in
Randall Cobb
,
Mike Hartline
, Stuart Hines,
Derrick Locke
. The thing we have to start doing his giving more people leadership roles on defense, and DeQuin is one of those guys. He's always been a leader in the way he plays, because he's a high-motor guy. Now, he's got to be a leader with how he speaks when he's in front of our team and off the field.
"He's taken ownership with that, and we think this will be a huge year for him."
May, 4, 2010
5/04/10
9:00
AM ET
2009 overall record:
7-6
2009 conference record:
3-5
Returning starters
Offense: 5; Defense: 7; Kicker/punter: 1
Top returners
QB
Mike Hartline
, RB
Derrick Locke
, WR
Randall Cobb
, WR
Chris Matthews
, OG Stuart Hines, DE DeQuin Evans, LB Danny Trevathan, FS Winston Guy
Key losses
FB John Conner, OT Zipp Duncan, DT Corey Peters, LB Micah Johnson, LB Sam Maxwell, CB Trevard Lindley
2009 statistical leaders
(* returners)
Rushing:
Derrick Locke* (907 yards)
Passing:
Mike Hartline* (802 yards)
Receiving:
Randall Cobb* (447 yards)
Tackles:
Micah Johnson (105)
Sacks:
DeQuin Evans* (6)
Interceptions:
Sam Maxwell (6)
Spring answers
1. No Joking matter:
Everybody knew Joker Phillips' day was coming. He was named the Wildcats' coach-in-waiting back in 2008. But with Rich Brooks retiring following last season, it's now Phillips' time to see what he can do with a program that's made four consecutive bowl appearances. A sharp recruiter, Phillips understands the importance of continuing to upgrade the talent, which was obvious the last few years as Kentucky won seven or more games four years in a row.
2. Hartline states his case:
He's never been the most popular guy among the fans, but you've got to hand it to senior Mike Hartline. He doesn't discourage easily and bounced back from a knee injury that ended his season a year ago to have a solid spring. His experience and understanding of the offense gave him the edge this spring over
Morgan Newton
and
Ryan Mossakowski
, and Hartline has made it clear that he's preparing as if he'll also be the guy come fall. A big senior season by Hartline would go a long way toward sending the Wildcats to a fifth straight bowl game.
3. New faces on defense:
Much of the progress Kentucky made under Brooks can be traced to the caliber of defensive players he was able to bring into the program and the depth the Wildcats built on defense. Some key guys are gone on that side of the ball, but some newer faces such as linebackers Danny Trevathan and Qua Huzzie and tackle Mister Cobble made big steps this spring. Trevathan will be one of the leaders of this defense. Senior end DeQuin Evans, in his second year in the program, returns as one of the top pass-rushers in the league.
Fall questions
1. Padding the passing game:
The No. 1 objective this spring was to improve the passing game. After Hartline went down last season, the Wildcats weren't able to generate much of anything through the air and had to rely way too much on Randall Cobb in the Wildcat formation. Ideally, Phillips would like to ease some of the load on Cobb, which should make him even more effective as a receiver. The other key is Chris Matthews, who now in his second season after coming over from junior college has the size and speed at receiver to be a major headache for opposing defenses.
2. Getting it done on 'D':
Even though the Wildcats feel good about the way they've recruited on defense the last couple of years, you don't lose the likes of Corey Peters, Micah Johnson, Sam Maxwell and Trevard Lindley and not have some type of drop-off, especially early. There may be some growing pains for this defense as new guys settle into starting roles. How long those growing pains last could prove crucial because the middle part of the schedule is grueling, starting with the trip to Florida on Sept. 25
3. Molding the offensive line:
The only starter returning on the Wildcats' offensive line is guard Stuart Hines, and he's a good one. Some of the guys who will step in have at least played some in the past, and a few have started. But this is a group that will need to establish some continuity pretty quickly. Protecting the passer will be key, particularly if the Wildcats are serious about being a better passing team. That means tackles Brad Durham and Billy Joe Murphy better hit the ground running.
April, 21, 2010
4/21/10
10:02
AM ET
LEXINGTON, Ky. -- As just the second black head football coach in SEC history, Joker Phillips hasn't had much time to ponder the bigger picture and what it all means.
He's operating at light speed right now, having taken over a Kentucky program that Rich Brooks guided from the depths of NCAA probation to four straight bowl appearances.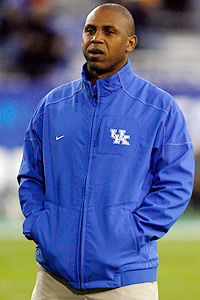 Mark Zerof-US PRESSWIREKentucky coach Joker Phillips wants to up the intensity in the program.
Now, before anybody huffs at the Wildcats' success the last four years and says everybody goes to a bowl game these days, take a look at who's actually done it in the SEC.
Only four other teams in the league -- Alabama, Florida, Georgia and LSU -- can say they've been to the postseason each of the last four years.
Some pretty lofty company, indeed.
Phillips' first order of business is keeping the Wildcats there, or as senior defensive end DeQuin Evans says, foregoing the water faucet route.
"We don't want to be that team where you can turn us on one season and then turn us off the next season like a water faucet," said Evans, who led the Wildcats in sacks (6) and tackles for loss (12.5) last season.
"That's not what we're looking for. Coach Phillips wants to elevate us. We want to be somewhere warm playing in the bowl game. The main thing is winning, and that's winning in the classroom, in the community and out on the football field. It's what we call 'Operation Win.' "
Phillips, 47, was named the Wildcats' coach-in-waiting following the 2007 season. Brooks was the one pushing for Phillips to be his successor, and it was important to him that he hand the program over to Phillips in good shape.
Under Brooks, Kentucky was able to upgrade its talent level significantly, particularly on defense, and built the kind of depth across the board the Wildcats have rarely possessed in the past.
The result: 30 wins over the last four years, three bowl victories and four consecutive seasons of at least seven wins -- something that previously hadn't been accomplished at Kentucky in nearly 100 years.
Phillips, who grew up in the Bluegrass and played at Kentucky, thinks there's still another level for the program.
"It will be difficult to get there," he said. "But it was difficult to get to where we are now. It's going to be difficult to climb these next couple of steps. We felt like we had to, and this is something Rich left us with, but we felt like we had to up the intensity level a little more, demand a little bit more.
"We do have more athletes now, and our athletes expect to win. We've been a little bit more demanding and have brought a little more intensity into the program to give the guys the belief that we're just as good as that next tier of guys we have to cross over in this league."
The Wildcats brought in former strength and conditioning coordinator Ray "Rock" Oliver to run their strength program, and the players say the results this offseason have been obvious. The other staff changes included Mike Summers coming over from from Arkansas to coach the offensive line, David Turner coming over from Mississippi State to coach the defensive line and former Tennessee quarterback Tee Martin coming over from New Mexico to coach the receivers.
"The only way to improve a program is to win football games," senior quarterback
Mike Hartline
said. "We brought in a great strength coach who pushes us to levels you never thought you could go to, and then you transfer that over to the field in practice.
"I don't think a lot has changed with coach Phillips and how the program is run, but there is a whole new intensity and atmosphere to Kentucky football. We're putting that extra time in and working a little more. That's how you go from that seven-win season to that 10-win season like we should have had last year."
Hartline's knee injury in the South Carolina last season handcuffed the Wildcats, who had to turn to true freshman
Morgan Newton
at quarterback the rest of the way.
Randall Cobb
also played back there some, but more as a runner, and Kentucky's passing game dropped to the bottom of the league.
Not surprisingly, the emphasis this spring has been improving the passing game and making it more efficient, and Phillips thinks the Wildcats will be much more diverse when it comes to throwing the football in 2010.
"Seeing the development of our skill people and Mike in his third year now and Morgan in his second year, we feel like we'll be better in the passing game and know that we have to be better at it," Phillips said. "We know we have to throw the football. We want to be balanced. We haven't been balanced the last two years."
For all of Brooks' success in leading the Wildcats back to respectability, they still had a losing record in the SEC in seven of his eight seasons in Lexington.
So if there is a proverbial next step for Phillips and the program, it's winning more consistently against SEC foes and taking down a few more nationally ranked teams. The triple-overtime win over eventual national champion LSU in 2007 was easily Brooks' biggest win, but it was also one of only two wins the Wildcats managed against Top 25 teams during his tenure.
"We want to be in those names when you talk about SEC championship teams," Cobb said. "We want to be in the notable games whenever they show them on ESPN. We're still not getting the respect that we want. That's one of the biggest things with this team. If we don't get that respect, we want to make sure we go out and get it.
"We've beaten Georgia on the road, beaten LSU and won some big games, but we need to win more of them. We have to be consistent. We have to win five and six games in the league every year before we get to that status."
Phillips counts his blessings every day to be taking over a program that has such a strong foundation. There's nothing to clean up, because Brooks did it the right way.
"If you know the history behind this program, it seems like every year they've had some success, there have been some (NCAA) sanctions come behind it," Phillips said. "This is a clean place. Rich has built a foundation of doing it the right way, and I want to build it the same way on that strong foundation he built for us."
Phillips takes seriously his role in opening doors for other black head coaches, particularly in the SEC, but he's not fixated on it. He's fixated on elevating Kentucky's program, recruiting and developing great players, graduating his players … and winning games.
"There's no doubt we can open up doors," Phillips said. "But again, it has to show up in the win column. If you look at Lovie Smith and Tony Dungy and Mike Tomlin, they're opening doors because they're winning. If they were losing, those doors would be closing behind them. The best thing we can do is win games."
Phillips says "we" because the three FBS head coaching jobs in the state of Kentucky are currently held by black men. Charlie Strong's at Louisville and Willie Taggart at Western Kentucky.
As fate would have it, Phillips and Strong once worked together on the South Carolina staff and have remained close over the years.
Just recently, the three of them all signed footballs for each other with the year and each of their schools' logos.
"We cherish this moment," Phillips said. "I play both of them. I wish Charlie would play Willie also. I'm looking forward to competing against those guys. We've already competed some in recruiting or as coordinators, but having a chance for all three of us to lead our own programs is a dream come true."
April, 5, 2010
4/05/10
12:30
PM ET
Making the SEC rounds on a Monday:
July, 28, 2009
7/28/09
11:13
AM ET
Posted by ESPN.com's Chris Low
Rich Brooks brought in his highest-rated signing class this year, and look for a handful of junior college newcomers to play key roles for the Wildcats.
Mark Crawford, DT: Enrolled in school early enough to go through spring practice, the 6-foot-1, 297-pound Crawford demonstrated a blend of power and athleticism that should make him an effective inside pass-rusher. Having the spring to brush up on his technique will make him more polished when he steps in as a starting tackle this fall alongside Corey Peters. Crawford, who's originally from Indianapolis, played at Coffeyville (Kan.) Community College, but he redshirted his first year there and will have three years of eligibility at Kentucky.
DeQuin Evans, DE: The Wildcats were already hurting for depth at defensive end before Jeremy Jarmon was ruled ineligible for his senior season. Now, they don't have a defensive end on the roster who's ever recorded a sack in a college game. That's where the 6-foot-3, 260-pound Evans comes in. He was one of the top-rated junior college pass-rushers in the country after playing the last two years at Los Angeles Harbor College. With two starting jobs open at end, Evans will jump right into that race this preseason along with redshirt freshman Collins Ukwu and sophomore Chandler Burden.
Chris Matthews, WR: Matthews looks like the real deal in his junior college tape. He and Evans were teammates at Los Angeles Harbor College, and like Evans, Matthews will be counted on to come in and make an immediate impact. The Wildcats need more pop in their passing game. In particular, they need somebody to complement Randall Cobb on the other side, and the 6-foot-5, 210-pound Matthews is a legitimate deep threat and one of those players with the height and leaping ability to be a force in the red zone. He really goes up and gets the football.
May, 11, 2009
5/11/09
1:46
PM ET
Posted by ESPN.com's Chris Low
Two names you didn't hear out of the Kentucky camp this spring that you may in the fall are those of defensive end DeQuin Evans and receiver Chris Matthews.
They were teammates at Los Angeles Harbor Community College and will be on campus in June to begin summer school classes and voluntary workouts with the rest of the Wildcats.
The Kentucky coaches hope the 6-foot-3, 265-pound Evans can be an immediate contributor at end. Another junior college transfer, Mark Crawford, made big strides this spring toward replacing Myron Pryor at tackle, but Crawford had the benefit of spring practice.
Evans will have to learn on the fly. He showcased his ability as an athletic pass-rusher in junior college, but didn't play much football in the two years prior to that. He took a year off from school after high school and worked, and he transferred during his senior year of high school, thus playing only half the season.
Evans narrowed it down to Kentucky and Louisville and also visited Kansas and Oregon.
The 6-3, 210-pound Matthews, one of the country's top junior college receiver prospects last year, will get a chance to show what he can do right away. The Wildcats need more pop in their passing game, and Matthews has been consistently clocked under 4.5 in the 40-yard dash.