October, 20, 2012
10/20/12
6:05
PM ET
KNOXVILLE, Tenn. -- Greetings from Neyland Stadium!
The sun isn't really out, but the weather is just about perfect here. Tailgates were going hard for the Third Saturday in October.
Not a lot of people are giving Tennessee a chance in today's matchup with No. 1 Alabama, but don't sleep on the Vols' passing attack. The Tide's secondary came into the season younger and less experienced than last year's unit, and it really hasn't been tested this season. Now, the play up front has been a big reason, but this is easily the best passing game Alabama has faced to this point.
Tennessee quarterback
Tyler Bray
is passing for almost 300 yards a game and leads the SEC with 16 touchdown passes. He also has
Justin Hunter
and
Cordarrelle Patterson
to work with out there. Don't be surprised if he makes a few plays early on this secondary.
The key for Tennessee's offense is balance. If the Vols can't run the ball, Bray won't be able to be as affective throwing the ball against this swarming Alabama defense. That'll be tough for the Vols with running back dealing with an ankle injury. He's been listed as doubtful this whole week and hasn't done much during warmups. That leads
Devrin Young
and
Marlin Lane
to carry the load. Young and Lane have combined for 301 rushing yards compared to Lane's 500 on the season.
Alabama hasn't had to be flashy this year, and expect that again tonight. This team feeds off its running game and just pounds teams in the second half. Now,
AJ McCarron
might have the opportunity to throw it around a bit with Tennessee's defense reeling right now. McCarron has the ability to stretch the field, and he might get to more tonight.
Tennessee coach Derek Dooley will also be coaching down on the field today after hip surgery. He won't be moving around a lot, but he'll be down there.
October, 14, 2012
10/14/12
3:42
AM ET
STARKVILLE, Miss. -- Fittingly, senior offensive guard
Tobias Smith
was the last player out of the Mississippi State locker room late Saturday night.
With cowbells still clanging in the distance, he limped out wearing a smile as wide as his massive barrel chest.
Talk to coaches or players, and they'll tell you the same thing: Smith is the heart and soul of this football team. He's fought through injuries his entire career, including a nasty knee injury a year ago.
But he just keeps chugging along, a lot like the Bulldogs, who have been fighting for respect this entire season despite rising to No. 19 in the polls.
Their
41-31 victory
over Tennessee should quiet some of the doubters, at least for now.
"That's all we've been hearing, who we hadn't played and how our schedule was soft," said Smith, who left the game in the second quarter after re-injuring his knee, but returned for both of Mississippi State's fourth-quarter touchdown drives.
"We have a lot of faith in each other and a lot of faith in our coaches, and we know what kind of team we are. We showed it tonight."
Something else the Bulldogs showed (and have been showing all season) is that they're learning how to win.
When they need a play, somebody's there to make it.
"What's happened for us is that in years past during big times in the game, everybody kind of looked around," Mississippi State coach Dan Mullen said. "This year, everybody's like, 'Give me the ball. I'm going to be the one to make the play.'
"It's not just one guy, either."
[+] Enlarge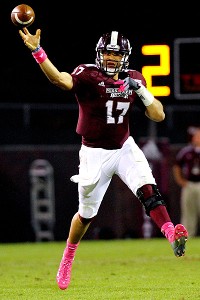 Spruce Derden/US PRESSWIRE]Mississippi State's Tyler Russell completed 23 of 37 passes for 291 yards and two touchdowns against Tennessee.
Take your pick from Saturday.
There was
Johnthan Banks
' strip of Tennessee running back
Devrin Young
on the sideline in the fourth quarter when it looked like the Vols might be putting together a drive to go ahead. The Bulldogs led 27-24 at the time and turned Banks' big play into a touchdown three plays later.
"Hopefully, we'll get the respect we deserve now, because our team's for real," Banks said.
On offense, the Bulldogs started fast, then hit a lull, but closed with a flurry.
Junior quarterback
Tyler Russell
passed for a career-high 291 yards and two touchdowns. He now has 12 touchdown passes this season and only one interception.
He was at his best in the game-clinching drive when he hit
Chad Bumphis
for 10 yards on a third-and-7 play. Russell had the presence to change the play at the line and went to his third option. Later in that same drive, he scrambled away from pressure and connected with Bumphis for 23 yards.
And on his final touchdown toss, he lofted one to the back of the end zone for a leaping
Malcolm Johnson
in the final seconds.
"Tyler missed some reads earlier and could have very easily gotten flustered, but he just stays calm and makes the plays he needs to," Mullen said.
That's been the trademark of this entire team, which is why Mullen didn't fret during the first five games, when the Bulldogs tended to play down to their competition.
Coming into Saturday's game, Mississippi State's toughest test had probably come against Troy on the road. The Bulldogs' other victims were Jackson State, South Alabama, Kentucky and Auburn, so it's not exactly been a murderer's row for Mississippi State.
That's what made the Tennessee game so important.
"Our locker room was ridiculous," Banks said. "Ya'll can't imagine what our locker room was like. This is the biggest win probably since I've been here."
Now, we find out what Mississippi State does with it. This is the first time the Bulldogs have been 6-0 since 1999.
Up next is Middle Tennessee at home, and then comes a wicked stretch that begins with Alabama on the road. But a victory over Middle Tennessee would ensure a third consecutive winning season for the Bulldogs, and the last time that happened was 1997-2000, when they had four straight under Jackie Sherrill.
"We're halfway," Mullen said. "It's been a great first half with a lot of football to play."
That may be, but the Bulldogs have some doors open to them that haven't been open for a long time.
"Four years ago, we went out and sold these kids on being able to build something special here in your home state of Mississippi," Mullen said. "We've had 20 straight sellouts now. The atmosphere was unbelievable, and these kids believe in what we're doing, believe in themselves and believe in each other.
"It all shows out there on the field."
October, 14, 2012
10/14/12
12:48
AM ET
STARKVILLE, Miss. -- With cowbells clanging away, Mississippi State remained unbeaten Saturday night with a
41-31 victory
over Tennessee at Scott Field.


Here's an instant analysis from the game:
It was over when:
After Tennessee had pulled within 34-31 with a little more than five minutes to play, Mississippi State put together the game-clinching touchdown drive, which was capped by
Malcolm Johnson
's one-handed touchdown catch in the back of the end zone. The big play in the drive was
Tyler Russell
's 10-yard pass to
Chad Bumphis
on a third-and-7 play over the middle. Russell came back later in the drive, and was able to scramble and hit Bumphis for 23 yards down to the Tennessee 23.
Turning point:
With Mississippi State leading 27-24, Tennessee running back
Devrin Young
was stripped of the ball on the sideline by
Johnthan Banks
, who pounced on it at the Vols' 30-yard line with 9:12 remaining. Mississippi State scored three plays later to take a 10-point lead with just less than eight minutes to play.
Game ball goes to:
Russell finished with a career-high 291 passing yards. He was 23-of-37 with a pair of touchdown passes and no interceptions. In three SEC games this season, he's thrown seven touchdown passes and no interceptions.
Key stat:
Mississippi State is off to its best start since 1999, when the Bulldogs played in the Cotton Bowl.
Key stat 2:
Tennessee quarterback
Tyler Bray
was held to 148 passing yards, his lowest output as a starter.
What it means:
Mississippi State (6-0, 3-0) gained the legitimacy it was looking for with its biggest win of the season. The No. 19 Bulldogs likely will now go into the Alabama game Oct. 27 unbeaten; they get Middle Tennessee at home next week. The Vols (3-3, 0-3) are now looking at a long October. They get Alabama at home next week and then South Carolina on the road after that.
August, 28, 2012
8/28/12
1:35
PM ET
Depth charts for all 14 SEC teams are out, so let's take a look at them.
I'll handle the Eastern Division, while Chris takes a look at the West later today.
I've added some notes of my own for each team:

FLORIDA
Depth chart
The first thing you notice is that "Or" comes up a few times. The quarterback spot is still up for grabs, as sophomores Jacoby Brissett and Jeff Driskel will play by quarters against Bowling Green Saturday. The "X" receiver spot has three names by it with Frankie Hammond, Latroy Pittman and Andre Debose competing for that spot. Everyone is still waiting for Debose to be more of a complete player.
Both corner spots might appear to be up for grabs, but it would be a shocker if sophomores Marcus Roberson and Loucheiz Purifoy didn't start. Roberson has the talent to be an All-SEC player at some point, while the staff thinks Purifoy is an extremely athletic player. Also, seeing Antonio Morrison behind Jelani Jenkins is impressive. He's been solid since arriving this spring.
You don't see De'Ante Saunders on there at free safety. Will Muschamp said he's battling a hamstring injury and will be out two weeks. Corner Jeremy Brown is also battling a wrist injury and isn't on the two-deep, either.

GEORGIA
Depth chart
(Page 2)
It's hard to say how much we can really make of Georgia's depth chart. Bacarri Rambo and Alec Ogletree are both listed as starters. Rambo and Ogletree could still sit out a couple of games due to their reported failed drug tests this spring and Mark Richt hasn't said if either will play Saturday.
Malcolm Mitchell is listed as a starter at cornerback, opposite Branden Smith, and is a third-team receiver. That sounds about right, as Mitchell has primarily played corners since the spring. He has taken some reps on offense, so you might see him on both sides of the ball Saturday.
Two guys to keep an eye on are center David Andrews and outside linebacker Ramik Wilson. Andrews might be the key to the offensive line. He has done very well at center and there was some worry that he might not be cut out of the position. If he had to move this line might have been in disarray. Wilson received a lot of praise from his teammates this spring and he continued to show out this fall. He won't outshine Jarvis Jones this fall, but he'll cause a stir on defense.

KENTUCKY
Depth chart
You can tell that the Wildcats aren't afraid to throw out some younger players this fall. Kentucky has 24 sophomores, redshirt freshmen or true freshmen listed on its two-deep for Saturday. That's a lot, especially for a team that is looking to revamp both sides of the ball. There could be a lot of growing pains for this team early.
Sophomore receiver Demarco Robinson and redshirt freshman receiver Daryl Collins might be currently listed as backups for the Cats, but don't let that fool you. Both have been very impressive since the spring and both will get plenty of chances to see the field Saturday. Having three senior starters at wide receiver will help bring those two along, but I expect them to breakthrough eventually.
You won't see sophomore Josh Clemons listed on the two-deep at running back, as he's out after his knee was cleaned up. CoShik Williams and Raymond Sanders are listed as co-starters. I'm also curious to see what happens at linebacker. Four new starters are in and there were questions surrounding the weakside position. Former quarterback Tyler Brause moved ahead of Malcolm McDuffen, who exited spring as a starter. Joker Phillips has said this will be a day-to-day competition.

MISSOURI
Depth chart

SOUTH CAROLINA
Depth chart
The first thing that stands out to me is that top signee Shaq Roland is listed as a third-team wide receiver behind Ace Sanders and DeAngelo Smith. It might say more about how the others have done, but Roland is someone this staff has been very excited about and hopes he can make an instant impact on offense. He isn't taking Sanders' spot, but he'll get on the field.
That secondary looks pretty green without Akeem Auguste in it. He's out after tearing a muscle in his right thigh, meaning junior Jimmy Legree, who moved from safety this spring will get the start against Vanderbilt Thursday. Legree began last season as a starter, but lost his spot after struggling during the first two games. First-time starter Victor Hampton is at the other corner spot. He's unproven, but the staff is excited about his talent and athleticism.
Freshman tight end Jerell Adams might be listed as a second-teamer, but the coaches have been very impressed by him this fall and he'll have every chance to get some solid playing time early.

TENNESSEE
Depth chart
Junior Rajion Neal did a good job of staying ahead in the running back race. After an impressive spring, he will enter Friday's opener against NC State as the Vols' starter. He edged out Devrin Young and Marlin Lane, who both made good strides this spring. He has a lot of pressure to deal with, as Tennessee was awful running that ball in 2011.
Tennessee is hoping to get much more out of its defensive line this fall and junior college transfers Daniel McCullers and Darrington Sentimore could be the answers. Both came in with a ton of hype and snatched starting spots at nose guard and end, respectively. McCullers' arrival moved Maurice Couch from tackle to end. Derek Dooley has said the line is still a work in progress, but a lot is expected from Sentimore and McCullers.
Byron Moore and Brent Brewer are listed as co-starters right now, but Moore let it slip last week that he was named the starter. This could be another position that won't be settled right away. The secondary will get a nice test against the Wolfpack, so that could make things clearer for Week 2.

VANDERBILT
Depth chart
Redshirt junior Warren Norman is back, but he might have to wait his turn for reps. He's listed on Vandy's second team, but Zac Stacy and Jerron Seymour are on the first team. If the Commodores line up with two backs Seymour could be out there before Norman, who is coming back from a knee injury that sidelined him for all of 2011.
The defensive side has a few guys who were banged up listed as starters. Inside linebacker Chase Garnham was limited during fall camp, but he's set to start Thursday against South Carolina. So are defensive tackles Rob Lohr and Colt Nichter.
Looking at that offensive line, you'll see nothing but underclassmen on the second team. While that's a good sign for the future, it could be worrisome for this staff if a starter goes down this fall. Staying healthy up front is critical for this team.
August, 13, 2012
8/13/12
12:10
PM ET
Some of what's happening around the SEC:
August, 2, 2012
8/02/12
3:15
PM ET
Schedule:
The Vols' first practice is on Friday, and their first day in pads is on Aug. 7. They open the season against NC State in the Chick-fil-A Kickoff Game in Atlanta on Aug. 31. The game will be televised on ESPNU at 7:30 p.m. ET.
Returning starters:
Ten on offense, seven on defense and the place-kicker and punter on special teams.
Star power:
Quarterback
Tyler Bray
has yet to complete a full season as Tennessee's quarterback, but he has all the talent to be a star in this league. In the 16 games he's played in he has 3,832 passing yards, 35 touchdowns and 16 interceptions.

New faces:
Junior college transfer
Darrington Sentimore
was a welcome addition on the defensive line this spring, but now things will heat up as he tries to take a starting spot inside. Tennessee's staff is also very excited about the arrival of fellow juco defensive lineman
Daniel McCullers
, who the staff thinks can come in this fall and immediately compete for the noseguard spot. Another juco player getting a lot of attention is wide receiver
Cordarrelle Patterson
, who should add another deep threat to Bray's arsenal.
Don't forget about:
Senior linebacker
Herman Lathers
missed all of last season after fracturing his ankle in early June. He was expected to have a true breakout year in 2011, after collecting 75 tackles, including 4.5 for loss and 2.5 sacks in 2010. While he was held out of action last year, it didn't seem to slow him much this spring. The staff is expecting him to build off of his sophomore season, and he should be a key cog on the Vols' defense this fall.
Big shoes to fill:
With defensive tackle
Malik Jackson
gone, Tennessee's staff is scrambling to find someone to clog the middle this fall. Stepping up in the middle will be even more important, as the Vols work more out of the 3-4 scheme. A lot was expected from
Maurice Couch
last year, but he didn't really get going until the end of last season. Couch enters the fall as a co-starter with
Daniel Hood
and
Gregory Clark
. Sentimore is a co-starter with
Steven Fowlkes
at the other tackle spot when the Vols are in the 4-3. Sentimore and McCullers should get plenty of chances this fall to push for time in the middle of Tennessee's line.
Key battles:
The battle at defensive tackle is big for the Vols, but the battle at running back might be even more exciting this fall, as three backs --
Marlin Lane
,
Rajion Neal
and
Devrin Young
-- all left spring as co-starters. Lane didn't do much in the rushing department last year, but had a very good spring. The staff is also very excited about the potential Neal and Young have. Young could be a big-play threat for this offense. Tennessee struggled all season to run the ball, so improving in that area is key in 2012.
Rising star:
Tennessee's staff was always excited about offensive lineman
Antonio Richardson
, but he was left to special teams duty last year. This spring, he took over the left tackle spot and should give the Vols the stability it searched for up front last year. Richardson is big (6-foot-6, 332 pounds) and athletic. He's young, but the staff isn't concerned about him holding his own against SEC pass-rushers.
Bottom line:
There is no doubt that this is the most talented team Derek Dooley's has had in Knoxville. After two straight losing seasons, Dooley believes he has the pieces in place to make a run in the SEC East. The team appears much more confidence and the players have their minds on the SEC championship in Atlanta. Tennessee could have the East's most explosive passing game, while the defense returns a handful of experienced players, but is learning from four new defensive coaches, including defensive coordinator Sal Sunseri. A strong start will go a long way for this team, but if the Vols record another losing season, it could be the end for Dooley.
July, 10, 2012
7/10/12
10:30
AM ET
We continue our position rankings by looking at some of the hardest working players in the league. Running backs are very important in the SEC and more is always better around these parts.
Past rankings:
On to the running backs:
[+] Enlarge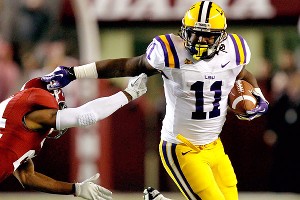 Streeter Lecka/Getty ImagesThe powerful Spencer Ware should be a key part of LSU's running back depth this upcoming season.
1. LSU:
The Tigers claim the top spot thanks to depth, talent and more depth. They have five guys back there who could start for a lot of teams.
Michael Ford
is the speed guy.
Spencer Ware
is a bruiser who also has great cutting ability,
Alfred Blue
is extremely versatile and strong, and
Kenny Hilliard
is an even bigger bruiser. This group combined for 2,338 rushing yards and 30 touchdowns last fall. Keep an eye out for freshman
Jeremy Hill
, too.
2. South Carolina:
Marcus Lattimore
alone would warrant the Gamecocks being near the top. All reports coming out of Columbia are that he's healthy and ready to pick up where he left off when he hurt his knee. Sophomore
Brandon Wilds
was excellent in filling in for Lattimore last season, veteran
Kenny Miles
has said he will be back for his senior season and the talented
Shon Carson
should be back after his ACL injury.
3. Arkansas:
It was a close call between the Hogs and the Gamecocks. Similar to Lattimore,
Knile Davis
insists he's as good as new after missing all of last season with a fractured ankle.
Dennis Johnson
can do a little bit of everything and certainly won't be forgotten about in the Hogs' offense, while
Ronnie Wingo Jr.
returns for his senior season.
4. Alabama:
Eddie Lacy
gets his shot to be the Crimson Tide's feature back now that Trent Richardson is gone, but Nick Saban prefers to share the wealth. Who wouldn't when you've got a true freshman on campus as talented as T.J. Yeldon? Don't forget about
Dee Hart
, either. Hart would have played some last season had he not been injured. And
Jalston Fowler
adds another big, bruising body to Bama's backfield.
5. Texas A&M:
If the NCAA rules that Oklahoma transfer
Brandon Williams
is eligible this season, the Aggies may move up this list. Williams was sensational this spring, and
Christine Michael
also returns after rushing for 899 yards last season prior to tearing his ACL. In addition, incoming freshman Trey Williams was one of the premier running back prospects in the country.
6. Vanderbilt:
We're still not sure what
Warren Norman
can do, as he returns from his knee injury.
Jerron Seymour
is a do-it-all guy. The centerpiece of the Commodores' offense will again be
Zac Stacy
, who set a school record last season with 1,193 rushing yards. He's the leading returning rusher in the SEC. Highly-touted freshman Brian Kimbrow could also be used at running back.
7. Mississippi State:
The competition this preseason at running back ought to be fierce at Mississippi State. Speedy
LaDarius Perkins
is the likely starter, but the Bulldogs' coaches can't wait to see what a healthy
Nick Griffin
can do. There are two talented redshirt freshmen --
Josh Robinson
and Derek Milton -- who've also been waiting their turn.
8. Georgia:
Losing Isaiah Crowell was a real blow for the Bulldogs, but they're not lacking in talent. We won't have to wait long to see if true freshman Keith Marshall is the real deal, but he's at his best when he's in space or used in the passing game.
Ken Malcome
had a very good spring and was a co-starter heading into summer. Incoming freshman Todd Gurley will be called upon this fall as well.
9. Auburn:
Onterio McCalebb
remains one of the top breakaway threats in the league, but he's going to need help.
Tre Mason
could emerge as the Tigers' every-down back. Transfers
Mike Blakely
and
Corey Grant
also impressed this spring and will add good depth. Either way, losing a player the caliber of
Michael Dyer
always stings.
10. Missouri:
People forget that
Kendial Lawrence
was the starter before he went down with an injury last year. He regrouped well and was even better this spring.
Marcus Murphy
was out last season with a shoulder injury, but will be back and adds explosion to the backfield. Big-bodied rising senior Jared McGriff-Culver returns and should get carries along with redshirt sophomore
Greg White
. It still looks as though leading rusher
Henry Josey
won't be healthy enough for the fall.
11. Florida:
Mike Gillislee
has been inconsistent during his career, but is perhaps the key to the team and is the first downhill runner Florida has had since Tim Tebow. The Gators also hope this is the year finally
Mack Brown
comes on.
Hunter Joyer
might be best true fullback in the league and
Trey Burton
will also play a role as an H-back/fullback.
12. Tennessee:
The Vols will be searching this preseason for their go-to back. Junior
Rajion Neal
has gotten bigger and stronger and may be the most explosive back. He left spring practice tied with an improved
Marlin Lane
and
Devrin Young
for the starting spot. Tennessee's rushing game has to improve greatly, as it ranked 116th nationally last year.
13. Kentucky:
All four top rushers are back, but none eclipsed the 500-yard mark last year. The Wildcats hope
Josh Clemons
can recover from a knee injury that cut short his promising freshman season.
CoShik Williams
was Kentucky's leading rusher last year (486) and is one of the Wildcats' more elusive backs.
Jonathan George
will be in the mix again, while
Raymond Sanders
figures to be healthier this fall.
14. Ole Miss:
The Rebels can't afford to lose top back
Jeff Scott
, whose academics are still being monitored. Seniors
Devin Thomas
and
H.R. Greer
provide depth, but have combined for 125 career rushing yards. Redshirt sophomore
Nicholas Parker
has dealt with shape issues and has yet to see any game action, while
Tobias Singleton
moved from receiver to running back this spring. The Rebels will have to turn to their incoming freshmen for help here.
May, 23, 2012
5/23/12
10:40
AM ET
Our look at the SEC's most productive returning players in 2012 continues with a look at the league's top returning kickoff returners.
Past producers:
The SEC returns seven of the top 10 kick returners from 2011. The top three returners are back, so kickers beware. However, the ball will now be moved forward five yards to the 35-yard line for kickoffs, meaning returns should occur less often. But that also means they'll now be more important. We're going by average per return.
Note: To qualify, a player must have at least one return per team's games played
. This is one of the most exciting plays in football and here's a look at the SEC's top returner:

Tre Mason, RB, Auburn:
He returned 24 kicks for an average of 26.4 yards per return, had a long of 97 yards and recorded a touchdown. Mason dealt with being in a crowded backfield by making a name for himself in the return game during the first half of the season. He did most of his damage in the first two weeks, grabbing 10 returns for 348 yards and had a touchdown in the season opener against Utah State. He saw his production dip as the season went on because of injuries and his fumbling issues. He eventually lost his job, but could he make a comeback for his crown in 2012?
The SEC returns six more of the top kickoff returners in 2012:
Andre Debose, WR, Florida:
He returned 19 kicks for an average of 26.1 yards per return, had a long of 99 yards and registered one touchdown.
Dennis Johnson, RB, Arkansas:
He returned 18 kicks for an average of 25.6 yards per return, had a long of 98 yards and registered one touchdown.
Tobias Singleton, RB, Ole Miss:
He returned 21 kicks for an average of 24.6 yards per return and had a long of 47 yards.
Andre Hal, CB, Vanderbilt:
He returned 31 kicks for an average of 23.8 yards per return, had a long of 96 yards and registered one touchdown.
Devrin Young, RB, Tennessee:
He returned 27 kicks for an average of 23.3 yards per return and had a long of 67 yards.
Bruce Ellington, WR, South Carolina:
He returned 20 kicks for an average of 23.2 yards and had a long of 45 yards.
With kickoffs being moved up, we might see even less in the kick return game this fall. We could also see a new winner for this category if Mason doesn't get his job back. And with the amount of production he'll have on offense, his returns might get cut short anyway. Keep an eye on Mason's teammates,
Onterio McCalebb
and
Quan Bray
. McCalebb averaged 30.1 yards per return and had a touchdown on just 11 returns, while Bray averaged 24.2 on 10 returns.
Johnson has always been very dangerous in the return game. He entered the 2011 season as the SEC's active leader for career kickoff return yards and total return yards with 2,014 and he added 461 last fall. Johnson will likely have more steam to work with this fall with
Knile Davis
eating into his carries at running back. That will make him even tougher to stop in the return game and counting him out of the race for the return crown is just silly.
Debose was named the nation's top kick returner by the College Football Performance Awards in 2010, but has always had some issues with his decision-making in the return game. Still, there's no doubting his speed when he finds a hole. When he's focused, he's exciting to watch, but he's yet to keep his focus for an entire season as a returner.
LaDarius Perkins
will have more responsibility in Mississippi State's offense, but he was sometimes fun to watch in the return game.
Missouri receiver
T.J. Moe
averaged 23.3 yards on 26 kicks, but didn't return a kick longer than 49 yards. Still, he's shifty enough and has the vision to make a run at this thing.
May, 15, 2012
5/15/12
7:00
AM ET
2011 record:
5-7
2011 conference record:
1-7
Returning starters:
Offense: 10; defense: 8; kicker/punter: 2
Top returners:

OG
Dallas Thomas
, WR
Da'Rick Rogers
, OT
Ja'Wuan James
, WR
Justin Hunter
, TE
Mychal Rivera
, QB
Tyler Bray
, LB
A.J. Johnson
, S
Brian Randolph
, LB
Curt Maggitt
, LB
Herman Lathers
, CB
Prentiss Waggner
Key losses:
RB Tauren Poole, DT Malik Jackson, DE
Ben Martin
, LB Austin Johnson
2011 statistical leaders (*returners)
Rushing:
Tauren Poole (693 yards)
Passing:
Tyler Bray* (1,983 yards)
Receiving:
Da'Rick Rogers* (1,040 yards)
Tackles:
Austin Johnson (81)
Sacks:
Malik Jackson (2.5)
Interceptions:
Austin Johnson (4)
Spring answers
1. Tyler Bray's leadership:
No one has questioned Bray's arm as he can sling it with the best of them. But his heart has been questioned, and he knew it heading into spring. He never considered himself a real leader until this year, when he decided to take his job more seriously. Bray said players listened to him more in practice and respected him more as a person, not just a player. Bray can now be looked at as someone to rally around and look up to. He's finally learning how to be a
real
quarterback in this league.
2. Richardson's revival:
Tennessee's offensive line took a lot of heat last season and for good reason. The Vols were last in the SEC and 116th nationally in rushing. The line needed to find a spark and rising sophomore
Antonio Richardson
might be just that. His potential has always impressed coaches and after playing on special teams last year, he came out of the spring as the starter at left tackle. Richardson is an extremely athletic and gifted player and the coaches feel confident that he can protect Bray's blind side.
3. Lathers' and Hunter's health:
Linebacker Herman Lathers and wide receiver Justin Hunter did all the right things this spring. Lathers missed the 2011 season with an ankle injury, while Hunter missed most of the season after tearing his ACL in against Florida last September. While both still aren't 100 percent, the coaches feel confident that both will be by the fall. Hunter got some good work in this spring and even flew by some players in a scrimmage. Lathers' ankle progressed more and more and thinks he'll be right on track come fall practice.
Fall questions
1. Defensive comfort:
Tennessee returns eight defensive starters, but it welcomed a brand new defensive coordinator in Sal Suneri, three other new coaches and a new defensive scheme. Sunseri would like to run more 3-4 this fall, but it'll take time for his players to adjust and Tennessee isn't sure if that comfort level is quite there yet. Tennessee players will also have to continuing adjusting to the new coaching faces they'll be working with this fall. It's important that this defense, which is still relatively young, get on the same page exiting camp.
2. Running the ball:
Rising sophomore
Marlin Lane
showed nice improvement, but he finished the spring tied with
Rajion Neal
and
Devrin Young
at running back. So, the jury is still out on whether this team will be able to run the ball more consistently this season and Tennessee might have to look to its incoming freshmen for more help. While the running backs struggled last year, the offensive line was another reason for the Vols' shortcomings in the rushing department. There was a lot of movement up front and improvements need to start there before Tennessee can even think about handing the ball off more.
3. Defensive tackle:
There's a lot of uncertainty and inexperience at tackle, and a lot of of players listed as co-starters on Tennessee's post-spring depth chart.
Maurice Couch
had an up-and-down 2011 season and now will be called to take on more responsibility now that Malik Jackson is gone.
Daniel Hood
, who was recovering from shoulder surgery this spring,
Steven Fowlkes
, Darrington Sentimore and
Gregory Clark
will all get chances in the middle. Also, keep an eye on incoming junior college transfer Daniel McCullers, who the coaches think can contribute immediately.
March, 26, 2012
3/26/12
10:45
AM ET
Schedule:
Tennessee begins spring practice Monday and concludes with the Orange and White Game on April 21.
What's new:
There was a lot of movement on coach Derek Dooley's staff this offseason. Seven new coaches are in Knoxville this spring. Sal Sunseri arrives as the Vols' new defensive coordinator after serving as Alabama's linebackers coach the previous three seasons. After being a defensive assistant at Alabama from 2010-11 and the defensive backs coach at Central Florida for a couple months, Derrick Ansley joined Tennessee's staff to coach the Vols' cornerbacks. Charlie Coiner is Tennessee's new special teams/tight ends coach. Josh Conklin left The Citadel to coach Tennessee's safeties, and Jay Graham left South Carolina to return to his alma mater to coach running backs. John Palermo and Sam Pittman round out Tennessee's new hires. Palermo will coach the Vols' defensive line, and Pittman will coach the offensive line. Tennessee also welcomed seven early enrollees -- Cody Blanc (wide receiver), Alden Hill (running back), Justin Meredith (tight end), Nathan Peterman (quarterback), Darrington Sentimore and Trent Taylor (defensive line), and Tino Thomas (defensive back).

On the mend:
Wide receiver Justin Hunter and defensive back/linebacker
Brent Brewer
are both coming off of ACL injuries from last fall and will be limited during the spring. Linebacker
Curt Maggitt
, nose guard
Daniel Hood
and defensive back
Prentiss Waggner
all had offseason shoulder surgery and will be non-contact this spring. Offensive lineman
Zach Fulton
will be limited this spring as he tries to recover from a stress fracture suffered a couple of weeks ago during offseason workouts. Offensive lineman
JerQuari Schofield
and defensive lineman
Corey Miller
will not be practicing for academic reasons.
On the move:
Dooley plans to move a few players around this spring. With Tennessee moving to a 3-4 defense, the team is adding to its linebacker depth. Brewer (defensive back),
Channing Fugate
(fullback),
Jacques Smith
(defensive lineman), and
Willie Bohannon
(defensive lineman) are all working at linebacker this spring. Smith and Bohannon will compete at the Jack linebacker spot. Maggitt is also moving to inside linebacker.
Rajion Neal
is moving exclusively to running back after playing both wide receiver and running back last season. Waggner is moving back to cornerback after playing safety last season.
James Stone
, a center last season, will play some guard and tackle this spring.
Questions:
The Vols return a lot of bodies on defense, but with a new coordinator, new scheme, and several position changes, there will be starting jobs available. With the 3-4 coming in, Tennessee will be in search of a reliable nose guard.
Maurice Couch
played there more as last season progressed, but Tennessee's staff thinks very highly of incoming junior college noseguard Daniel McCullers, who will be on campus this summer. Having Hood limited also means depth is an issue there this spring. There is still a little uncertainty in Tennessee's secondary. Waggner moving to cornerback will help with boundary play, but it takes a solid player out of the safety spot. Redshirt senior
Rod Wilks
takes over at free safey, but has no career starts. The running back position also enters the spring with questions surrounding it. The Vols were last in the SEC in rushing last season, and lose starter
Tauren Poole
. Only three lettermen return, and none are proven. Neal and
Marlin Lane
will start spring getting the majority of reps, but they combined for just 414 rushing yards on 102 carries last season.
Key battle:
Injuries to Hunter and quarterback
Tyler Bray
certainly hurt Tennessee's offense last season, but being unable to run the ball effectively really kept the Vols from overcoming their struggles in the passing game. There is no question that Tennessee's run game, which ranked 116th nationally (90.1) last season, needs a major upgrade. Lane and Neal will get the first shots at earning the job this spring, but having Hill on campus early will definitely add some depth, and he should push both this spring. Sophomore
Devrin Young
, who rushed for 25 yards last season, will also compete for time this spring. Tennessee can't go another season without having much of a running game to speak of if it wants to take a step forward and compete for an SEC East title.
Don't forget about:
Tennessee will get back a familiar face on defense this spring when linebacker
Herman Lathers
returns. After fracturing his ankle last June, Lathers missed all of the 2011 season, but will be full go this spring. Tennessee needs more linebackers, and adding a veteran like Lathers will help. Tennessee's staff is also excited about what Sentimore can bring to the defensive end spot. He played one season at Alabama before going the JUCO route in 2011. He's on campus now, and is listed on the Vols' two-deep at one of the end spots. Sentimore has a good shot at earning a starting spot this spring.
Breaking out:
The staff has high expectations for offensive lineman
Antonio Richardson
. The sophomore spent 2011 playing on special teams, but after being such a highly regarded recruit coming out of high school, the coaches are expecting him to compete for playing time even though the Vols return all five starters. With Fulton limited this spring, Richardson will get his chance to impress. Also, Lane is a player who has the physical tools to make a big jump this spring. He was a top high school prospect, and now has a chance to claim the running back spot for himself. He's a big body with pretty good speed, but Lane needs to work on his consistency.
All eyes on:
Bray has yet to play a full season at Tennessee. A thumb injury kept him out for half of the 2011 season, but he appears to be back to full health. He wasn't great when he returned at the end of last season, but rust will do that to a quarterback. Now is a chance for Bray to get back into the swing of things and get more comfortable after his injury. It's also time for him to improve his leadership skills. Those have been called into question during his two years in Knoxville, but now that he's officially a veteran, it's time for him to take hold of this team. He has weapons around him to help his passing numbers, but Bray should look to improve this team as a whole by leading by both example and with his words.
February, 24, 2012
2/24/12
10:00
AM ET
Now that you've seen what to watch in the
SEC Western Division
, let's check out the East:

FLORIDA
Spring practice start date:
March 14
Spring game:
April 7
What to watch:
Finding offensive playmakers:
Year 2 of the Will Muschamp era begins with the team trying to find someone who can make a few plays for this fall. New offensive coordinator Brent Pease has a host of unproven offensive talent to work with. Wide receiver
Andre Debose
was Florida's best deep threat last year, and the coaches raved about receiver
Quinton Dunbar
's potential, but neither was consistent enough in 2011. Maybe Florida can finally turn to bigger backs
Mike Gillislee
and
Mack Brown
in the playmaking department.
Toughening up the offensive line:
The Gators' line struggled throughout the 2011 season. It wasn't always at 100 percent, but Florida's line also just wasn't tough enough -- mentally or physically. The Gators couldn't get the tough yards on the ground and didn't exactly protect quarterback
John Brantley
enough. The line should get a boost with early enrollees D.J. Humphries, who was the top offensive line prospect in the 2012 class, and Jessamen Dunker, but Florida will have to get improvement from players who return to a line that lost just one starter from last season.
Quarterback battle:
Brantley is gone, leaving rising sophomores
Jacoby Brissett
,
Jeff Driskel
and
Tyler Murphy
. Brissett replaced Driskel as Florida's No. 2 quarterback last year, while Murphy has yet to take a college snap. Brissett and Driskel had plenty of down moments last fall but should get a chance to reinvent themselves this spring with new leadership and more practice reps. This spring will be extremely important for all three quarterbacks as they try to improve a position that struggled mightily the past two years.

GEORGIA
Spring practice start date:
March 20
Spring game:
April 14
What to watch:
Isaiah Crowell's toughness:
Crowell has the talent to be a star in this league. He has the size and athletic ability to cause a lot of headaches for opposing defenses. However, his inability to stay healthy -- and in games -- became more of a headache for Georgia's coaches and fans in 2011. Crowell needs to get tougher and be more reliable. He said as much after last season, but it's time to make good on his word. Crowell could get a push from early enrollee Keith Marshall this spring, and we know coach Mark Richt isn't afraid to play multiple backs.
Position changes:
Richt made headlines recently when he said he'd be open to considering moving star freshman receiver
Malcolm Mitchell
to cornerback now that the Bulldogs are thin there. Maybe he'll play both ways. Also, rising sophomore
Ray Drew
could switch from outside linebacker to defensive end. He played both in high school. Georgia's offensive linemen also could play multiple positions up front.
The target on the Bulldogs' backs:
There will be a lot more attention paid to the Bulldogs this spring, as they will probably enter the 2012 season as the favorites in the SEC East. Georgia returns just about everyone from a team that reeled off 10 straight wins on its way to the SEC championship game. The Bulldogs aren't just considered the East front-runners -- they also are being viewed as national championship contenders. But the Bulldogs can't let the hype get to them. We've seen this team underachieve when the expectations were high before.

KENTUCKY
Spring practice start date:
March 21
Spring game:
April 21
What to watch:
Offensive line auditions:
The Wildcats must replace three offensive linemen this year. That process will begin this spring, and the good news is that veterans
Larry Warford
and
Matt Smith
return. Left guard
Kevin Mitchell
, who will be a junior this fall, started one game last year, while soon-to-be sophomore right tackle
Darrian Miller
started two games last fall, so there is some experience coming into the open spots.
Trevino Woods
, who didn't start a game last year, should be the favorite to play left tackle this spring, but he also can play guard. There's also a lot of depth to work with.
Defensive makeover:
Danny Trevathan
is gone, so Kentucky must find someone else to run the defense this season. There's no question that Trevathan was the heart of this defense, so replacing him won't be easy, but the Wildcats must find someone who can step up and be a player others can look up to. The Wildcats also lost six starters from their linebacking corps and secondary, meaning Kentucky will have to fill holes with youngsters.
Mikie Benton
and
Ridge Wilson
are the only returning starters not on the defensive line.
Maxwell Smith:
With fellow quarterback
Morgan Newton
sidelined this spring as he recovers from shoulder surgery, all eyes will be on Smith. He struggled at times last year, but Kentucky's offense was better when he was under center. Now, he'll have to make even bigger strides this spring if he wants to create a sizable lead in the race before Newton returns. Smith needs to work on his consistency, clean up his mistakes and develop better chemistry with his receivers.

MISSOURI
Spring practice start date:
March 6
Spring game:
April 14
What to watch:
Offensive adjustments:
Missouri might return some key pieces at skill positions, but the Tigers must replace three offensive linemen and will have to tweak some things to make their spread offense efficient enough to face SEC defenses. It helps that quarterback
James Franklin
is a runner and Missouri has speed and depth at receiver and running back, but the team must make subtle changes to combat the improved speed Missouri will see on defense, especially off the edge.
Rebuilding up front:
The Tigers will be without three starters on the offensive and defensive lines. That isn't exactly what any SEC team would like, considering games are won in the trenches in this league. Fortunately for Missouri, both sides saw multiple guys get playing time last season. Keep an eye on defensive end
Brad Madison
. He was viewed as a defensive player of the year candidate in the Big 12 last year but was limited by a shoulder injury.
Wide receivers:
Franklin had a heck of a 2011 season, but as he gets ready for 2012, he's still looking for a big-play threat in his receiving corps.
T.J. Moe
returns as the Tigers' leading receiver, while
Marcus Lucas
was fourth in receiving last year. Both have the potential to be elite in this league, but can one leave spring with the title of playmaker? Lucas showed flashes last year, but flashes only go so far. Missouri needs to find a definitive receiving threat.

SOUTH CAROLINA
Spring practice start date:
March 12
Spring game:
April 14
What to watch:
Marcus Lattimore's health:
His knee injury took place at the halfway point of the season, so he won't be 100 percent for a while. Still, the word is that he's ahead of schedule when it comes to rehabbing his knee. ACL injuries can be tough to manage, but with Lattimore's determination, he'll do everything possible to come back sooner than expected. He likely won't take contact this spring, but it'll be interesting to see whether the Gamecocks get much use out of him before summer.
Finding receiving options:
Now that
Alshon Jeffery
is gone, there's more pressure on South Carolina's receiving corps. Outside of Jeffery, the Gamecocks didn't have consistently reliable options in 2011. That has to change this year, and it starts with a productive spring.
Ace Sanders
should get more reps, and the coaches are excited about the big-play ability that speedster
Damiere Byrd
possesses. Also, keep an eye out for
Shamier Jeffery
, Alshon's little brother.
Connor Shaw's development:
Things couldn't have ended any better for South Carolina's quarterback last season. After an up-and-down start, he rebounded in the final three games with 896 combined yards passing and rushing and 11 touchdowns. Now, it's time for him to sharpen his passing skills and develop more confidence in his passing ability. Accomplishing that will help his receivers as well.

TENNESSEE
Spring practice start date:
March 26
Spring game:
April 21
What to watch:
New coaching feel:
The Vols enter spring practice with some new faces on the coaching staff. Six new assistant coaches will make their spring debuts this year. The most important might be defensive coordinator Sal Sunseri and running backs coach Jay Graham. Sunseri is working to make Tennessee more multiple in its approach, adding more 3-4 looks, while Graham will have to fix a struggling running game. Tennessee players will need to adjust to new coaching styles and buy in quickly this spring.
Running backs:
No group at Tennessee struggled quite like Tennessee's running backs last fall. The Vols were ranked 116th nationally in rushing offense and recorded just 11 rushing touchdowns (nine from running backs).
Tauren Poole
is gone, which means Graham will first turn to
Marlin Lane
and
Rajion Neal
, who combined for just 414 yards and four touchdowns last year.
Devrin Young
and
Tom Smith
will have to step up, while Tennessee will get some use out of early enrollee Alden Hill.
Justin Hunter's health:
Losing Hunter was the first of a few blows Tennessee's offense took last year. He's arguably Tennessee's best receiver and one of the best deep threats in this league. He suffered his ACL injury at the beginning of the season, and he's reportedly ahead of schedule but won't take any contact this spring. The goal is to have him running and cutting well at the end of the spring.

VANDERBILT
Spring practice start date:
March 16
Spring game:
April 14
What to watch:
Jordan Rodgers' confidence:
He enters spring as
the
quarterback for the Commodores, but he has to improve the mental part of his game. He let it get the best of him at times last year, especially in last season's bowl game. He can lose his rhythm quickly at times. He needs to work on improving his confidence and take more command of Vandy's huddle this spring. He has the skill to be a top quarterback in this league, but his head has to follow.
Warren Norman's health:
A knee injury forced the running back to redshirt last year, but the good news is that he spent the fall strengthening his leg by participating in each practice. The hope is that he'll be ready to go this spring, but you'd imagine that since this is his second knee injury, the coaches won't push him too much. Getting him to sprint and cut with ease will be important to his rehab this spring.
Keeping the edge:
James Franklin's first year as a head coach was a success, but it's important that the attitude and personality that made Vanderbilt so confident last year roll over to the spring. The loss in the bowl game might have stunted that personality growth a bit, but it's important that the Commodores get it back. It will go a long way toward keeping the progress going.
September, 14, 2011
9/14/11
12:13
PM ET
Making the rounds on a Wednesday:
August, 2, 2011
8/02/11
9:03
AM ET
Tennessee freshman Devrin Young has a fractured collarbone, putting his availability for the season opener in question.

The Vols were hoping that Young would be the answer to their punt return woes. They finished 11th in the SEC last season with a 4.1-yard average, but an even bigger problem was how many punts they mishandled.

The 5-foot-8, 165-pound Young scored 83 touchdowns during his prep career at Bearden High in Knoxville. In addition to being a factor on special teams, the Vols were also going to give him a long look this season as a change-of-pace running back.

Tennessee opens fall camp on Tuesday, and there's no official word on how long Young will be sidelined. The Vols open the season against Montana on Sept. 3 and then face Cincinnati the next week.