December, 22, 2014
12/22/14
4:30
PM ET
Christmas came early for Tennessee walk-on
Alex Ellis
this week. The redshirt junior received a special bowl gift from Vols' head coach Butch Jones on Monday -- a scholarship.
"I've been dreaming about this every day of my life," Ellis said after he opened it.
Ellis has played in all 12 games this season for the Volunteers. He has six catches for 115 yards, and he scored a 31-yard touchdown on a fake field goal against Missouri on Nov. 22. He made his first career start the week before against Kentucky.
His teammates and fellow coaches were just as excited, giving Ellis a standing ovation when he unwrapped the present and unveiled the scholarship.
Congrat's to Alex Ellis on earning a scholarship! Hard worker that gives great effort daily! Hard work pays off! #GBO pic.twitter.com/BI8yFg94ZP

— Dave Lawson (@UTCoachLawson) December 22, 2014
So proud of Alex Ellis for earning a scholarship today! He has fought thru a lot of adversity and is VERY deserving!

— Mark Elder (@UTCoachElder) December 22, 2014
Big congrats to my man Alex Ellis earning a scholarship today! #Christmascameearly http://t.co/aicBvm5hOB

— Dillon Bates (@dillonbates) December 22, 2014
Shout out to my best friend skitter(Alex Ellis) nobody deserves a scholarship more than him. I'd go to war with this dude any day!

— Joe Stocstill (@Joestocstill18) December 22, 2014
May, 9, 2014
5/09/14
1:00
PM ET
Spring football, for obvious reasons, is a chance to start fresh. But it's all a matter of degrees. Auburn, coming off a trip to the BCS National Championship Game, doesn't need a full-blow makeover with
Nick Marshall
back under center and seven other returning starters on offense. South Carolina, Mississippi State and Ole Miss, which bring back a healthy amount of experience, are all in similar boats, building upon last year's success rather than rebuilding entirely.
And then there's
Tennessee
.
[+] Enlarge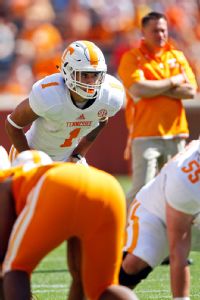 AP Photo/Wade PayneRB Jalen Hurd is one of many new faces making an impact for the Vols, and there are more on the way.
Common sense dictates that every year roughly 25 percent of any given roster turns over as the senior class departs and a new freshman class steps in. Throw in a few underclassmen leaving early for the draft and that number can swell to anywhere from 30-35 percent. But Butch Jones isn't dealing with a normal situation at Tennessee. Since taking over the Vols late in 2012, he has hit the recruiting trail hard in an effort to rework the roster in a hurry. His
first full signing class
in February featured a jaw-dropping 35 prospects, 14 of which made their way to campus early to participate in spring practice.
"Fifty percent of our players were going through spring practice for the first time," Jones said on a conference call earlier this month. "We're still dealing with the realities of building a football program in an elite conference, but I thought out players were very focused. As we continue to move forward, this summer is going to be very big for our overall development in all phases.
"I thought our program benefited from 14 newcomers. I thought they brought a whole other level of energy and competition and that competitive culture that we speak about each and every day. I thought we took tremendous strides improving as a football team and as a football program."
Tennessee will need to make improvements in leaps and bounds if it wants to stay competitive in the SEC. While the rest of the East lost its fair share of starters (
Aaron Murray
and
Jadeveon Clowney
, among others), the Vols were hit where it hurts most as a grand total of zero starters return on either the offensive or defensive lines. Without a true incumbent at quarterback, look for a real youth movement in Knoxville this season, maybe more so than we saw in Year 1 under Jones.
Jones called spring practice "extremely productive" and said that "great progress" was made in terms of developing an identity and style of play. But what had him "very excited" were all the new faces he saw for the 14 practices and spring game.
Jalen Hurd
, the No. 8 running back in the ESPN 300, and wide receiver
Josh Malone
, a fellow four-star prospect who was No. 43 overall in the ESPN 300, made a positive impression on the staff since arriving on campus, and the two were the first to score touchdowns in Tennessee's spring game. Defensive back
Emmanuel Moseley
, a candidate to start at cornerback, and linebacker
Jakob Johnson
, whom Jones called an "alpha male," also stood out. Junior college wideout
LaVon Pearson
, who is 6-foot-3 and was the No. 2 player at his position in ESPN's Junior College 50, is expected to make a contribution, along with junior college transfer
Dontavius Blair
, an offensive tackle.
All told, six of the 14 early enrollees were offensive or defensive linemen.
"I thought our older players did a great job of teaching the 14 newcomers our culture, our standard of excellence, our expectations, our mindset, really what it means to play here," Jones said. "I think it was a big, not a wake-up call, but I think it was great that for the spring game we had almost 69,000 people, and we needed that to happen because we needed to see those youngsters in that type of environment and see how they could compete individually."
Moving ahead, Tennessee should benefit substantially from a new NCAA rule that allows for more contact between players and coaches during these summer. As Jones said, "the rule change is coming at the right time for us."
It will be a balancing act, however, because whatever time coaches spend with players will be deducted from the strength and conditioning room. Not only does Jones want his guys getting physical reps, he wants "mental reps in a classroom setting."
"Being a player-led football team is critical," he said. "The leadership, and everything that goes along with it, the team chemistry, that's necessary to win. To be able to have two hours in a classroom setting will prove to be extremely beneficial to us because of the influx of newcomers that we have in our program."
Don't look now, but even more rookies are on the way. Safety
Todd Kelly Jr.
and linebacker
Dillon Bates
, both top-five prospects at their respective positions, are among the remaining signees to get to school this summer.
"Most of our signees were early enrollees," Jones said. "Now we get the infusion of the depth and competition with the 18 newcomers coming in. I believe, 16 are on the defensive side of the ball, so we should be a different defensive football team."
March, 7, 2014
3/07/14
10:30
AM ET
Tennessee opens spring practice Friday, and there's a sense of excitement around the program again. The Volunteers finished 5-7 a year ago, but second-year coach Butch Jones put together a top-five recruiting class that's expected to come in and turn the program around. Fourteen of the 32 signees enrolled early and will participate this spring.
ESPN 300 linebacker
Dillon Bates
(Ponte Vedra Beach, Fla./Ponte Vedra) isn't among the early enrollees, but he could still push for playing time when he gets on campus this summer. He took a few minutes this week to talk with us about the future of the Vols.

Q: You've talked with the coaches. Are they excited about the start of spring practice?
Dillon Bates:
They are. They have high expectations for the guys who are coming in this freshman class. I'm really excited to get up there for a few practices just to see where they're at, see how everybody looks and see how the competition is.
Q: What are the expectations heading into this season?
Bates:
Just from talking with Coach Jones and Coach [Tommy] Thigpen, my linebackers coach, there are really high expectations. They set a high bar for the guys that are coming in. All we can do is just get better with the people that we have. We lost a lot of guys on the offensive line, and that's probably going to be a place where we need to really focus a lot of our time. But really, it's about getting better every day, giving our all every practice, and trying to get better.
Q: The coaches seem really high on this 2014 class. How good can it be?
Bates:
This class is really good. Hopefully down the road, this is something they make a "30 for 30" on -- trying to rebuild this tradition of winning that Tennessee always has. It may take time. It may take a few more of these classes to come in and truly get everything rolling again, but this is the foundation. This is the starting box of something great. All of these players that are with us coming in have that mindset of getting Tennessee back to where it should be, so it won't be long.
Q: Your dad (Bill Bates) played for Tennessee. What does it mean to follow in his footsteps?
Bates:
Early on, I knew I wanted to follow in my dad's footsteps. Those are some pretty big shoes to fill, so I've got a lot of work to do. It's not going to be easy. There are going to be a lot of people comparing me to my dad and everything, but all I can do is focus on myself, focus on what I can do to make myself better and make myself as good as I can be. Hopefully, that will be as good as my dad was and maybe better.
Q: He's a former NFL coach. How'd you like playing for him in high school?
Bates:
It was great. He's always been around coaching me and my brothers. There's never been a time where I didn't know football with my dad. I just remember going to some of his practices when I was young and watching him coach with the Cowboys and then here with the Jaguars. Just having that experience out on the field and that pro style around our practices has really helped in my preparation for the next level and everybody else's. It's been a blessing to have him around and to be able to be coached by him.
Q: Tennessee broke out the "Smokey" uniforms last year. What'd you think?
Bates:
I really liked them. I really thought that they brought a lot of momentum to the program. It brought a lot of 'wow' factor. You can do a lot of things with those colors, and now that they signed that deal with Nike for 2015, I'm really excited about that. It's really more of a recruiting tool because all of the guys that are looking at schools, they all take a hard look at what they're going to get as in gear and what their jerseys are going to look like. With that new deal with Nike and the stuff that Adidas is giving us, it's a really big part of future recruiting classes.
Q: Have you seen any new uniform combinations for this coming season?
Bates:
I've seen a few new things. I don't know if I can really explain them, but there are going to be some new things, some new surprises, coming next year and the years to come, so I'm really excited for it.
October, 15, 2013
10/15/13
8:00
PM ET
Editor's note: For a look at the national recruiter power rankings based only on Class of 2014 success,
click here
.
It's no secret that Southeastern Conference has been the top conference in the country as far as recruiting over the last several years. The league currently has six teams ranked in the top 11 of the team recruiting rankings. Here's a look at the top 10 recruiters around the ultra-competitive conference.
October, 9, 2013
10/09/13
2:00
PM ET
Each Wednesday, ESPN RecruitingNation updates its
national class rankings
. For an in-depth look at the SEC, check out our conference rankings:

1. Alabama, 21 commits:
The Crimson Tide sit atop the RecruitingNation class rankings with a class that features 15 ESPN 300 prospects, including most recent commitment
Ronnie Clark
(Calera, Ala./Calera), the No. 96 overall prospect. Alabama remains in the hunt for several five-star prospects, including No. 1 overall
Leonard Fournette
(New Orleans/Saint Augustine) and No. 9
Marlon Humphrey
(Hoover, Ala./Hoover).
To continue reading this article you must be an Insider
September, 10, 2013
9/10/13
8:00
AM ET
Top to bottom, the Southeastern Conference is recruiting better than any conference in the country. Thirteen of 14 SEC schools are ranked in the top 40 of the recruiting rankings, including six schools ranked in the top 10. Here's a closer look at which SEC school has the top recruiting classes at each position.
Quarterback
Strongest class: Alabama
This is the hardest position to determine who has the strongest class. Four of the top-five quarterbacks in the final Elite 11 rankings --
Sean White
(Auburn),
Kyle Allen
(Texas A&M),
Will Grier
(Florida) and
Jacob Park
(Georgia) -- are committed to SEC schools. Alabama, however has the top-ranked quarterback,
David Cornwell
(Norman, Okla./Norman North) in the ESPN 300. The Under Armour All-American is the 32nd-ranked player in the nation. At 6-foot-5, 241-pounds, Cornwell has a big-time arm and ideal size for the position.
Running back
To continue reading this article you must be an Insider
July, 24, 2013
7/24/13
4:30
PM ET
It's hard to imagine that first-year Tennessee coach Butch Jones could have done any more to this point (without actually coaching in a game) to galvanize the Vols' fan base.

In the
latest ESPN recruiting rankings
, Tennessee has moved all the way up to No. 2 nationally and is tops among SEC teams. The new No. 1 team nationally is Florida State.
Remember the big question about Jones when he got the Tennessee job? Everybody wondered if he would be able to recruit well enough in the SEC, and even though we're still more than six months away from national signing day, I'd say he's gone a long way toward answering that question.
And let's face it. If he's going to get the Vols back into the SEC championship equation after four losing seasons in the past five years, it's going to take more than one stellar recruiting class to get there.
But the folks on Rocky Top love his start, as well they should.
Tennessee already has 24 commitments for the 2014 class, and 11 of those are ESPN 300 prospects -- which is the most in the country.
Jones has been able to reel in key in-state targets such as running back
Jalen Hurd
, safety Todd Kelly, Jr., and athlete
Vic Wharton III
. But he's also gone into the state of Georgia and scored with the likes of linebacker
Kevin Mouhon
, safety
Cortez McDowell
and running back
Treyvon Paulk
. Outside linebacker
Dillon Bates
, the son of former Vol and Dallas Cowboy Bill Bates, was also a big get out of Ponte Vedra Beach, Fla.
The Vols might not be done in Georgia, either. Coveted cornerback prospect
D.J. Smith
of Marietta, Ga., was on campus last Friday for a visit. Smith is also an ESPN 300 member.
Where Jones could really take this class to another level is if he closes with some muscle up front defensively and a few dynamic pass-rushers. That's where the Vols are still short right now.
Here's a look at where the SEC schools stack up nationally in ESPN's latest class rankings:
Tennessee -- No. 2
Alabama -- No. 4
Georgia -- No. 5
LSU -- No. 8
Texas A&M -- No. 9
Florida -- No. 12
Kentucky -- No. 13
Ole Miss -- No. 16
Auburn -- No. 17
Vanderbilt -- No. 25
July, 8, 2013
7/08/13
11:00
AM ET
By
ESPN.com staff
| ESPN.com

Derek Tyson relays what he learned at The Opening about new Tennessee commit Dillon Bates, Florida commit Will Grier, Cameron Robinson, Ermon Lane and Elite 11 MVP Sean White.
July, 4, 2013
7/04/13
12:48
AM ET
Ultimately, Butch Jones will have to get it done on the field as coach at Tennessee, but it's hard to knock anything he's done off it to this point leading up to his first season in Knoxville.

In particular, Jones and his staff are making things happen on the recruiting trail and
landed a commitment

from ESPN 150 linebacker
Dillon Bates
on Wednesday night. Bates, who's from Ponte Vedra Beach, Fla., is the son of former Dallas Cowboys player Bill Bates, who's from Knoxville and played his college football at Tennessee. The younger Bates is ranked by ESPN as the No. 3 outside linebacker in the country and had narrowed his choices to Alabama, Florida and Tennessee.
The Vols now have commitments from three of ESPN's top 100 prospects nationally, and all three have ties to the state of Tennessee or the university.
Jalen Hurd
is from Hendersonville, Tenn., and ranked as the No. 6 running back in the country.
Todd Kelly Jr.
is from Knoxville, and his father, Todd Kelly, was a defensive end for the Vols before going on to play in the NFL. The younger Kelly is ranked as the No. 5 safety in the country.
In ESPN's latest class rankings, Tennessee is No. 6 nationally. The only SEC schools higher are Alabama at No. 2 and Texas A&M at No. 4.
March, 11, 2013
3/11/13
3:49
PM ET
Rebuilding Tennessee, and in particular Tennessee recruiting, will be challenging. Butch Jones could use the help.
Via legacies, he's getting it.
[+] Enlarge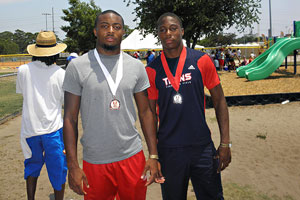 Berry FamilyElliot, left, and Evan Berry would be third-generation Volunteers if they decide to choose Tennessee.
In an unusual coincidence, the Volunteers have a handful of prospects with strong ties to the football program. Just recently, Tennessee picked up commitments from ESPN Watch List defensive back
Todd Kelly Jr.
from Knoxville (Tenn.) Webb and receiver
Neiko Creamer
from Elkton (Md.) Eastern Christian. Kelly's father, Todd Kelly, was a standout defensive lineman for the Vols in the early 1990s. Creamer's father, Andre Creamer, was a defensive back for the Vols in the '80s.
But wait. There's more.
To continue reading this article you must be an Insider