September, 5, 2014
Sep 5
11:00
AM ET
STARKVILLE, Miss. -- Dan Mullen leans back in his oversized black leather office chair. He turns his attention from an interview with a reporter to the large projection screen on the right wall of his office.
Mississippi State
's head coach carefully studies the movements -- or lack thereof -- of sophomore defensive lineman
Chris Jones
. The crown jewel of Mullen's 2013 recruiting class is supposed to be this prodigy player sent to Starkville to make mincemeat of opponents.
Not on this play. No, Mullen flashes a half-disappointed smile as he rewinds over and over a play where his young phenom is getting abused by a double team. Yes, it's a double team, but even Mullen knows Jones is better than this. Jones shouldn't be stopped this easily, even if it is two behemoths in his way.
[+] Enlarge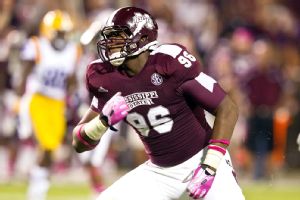 John Korduner/Icon SMIMississippi State's Chris Jones finished last season with 32 tackles, including seven for loss and three sacks.
"He's getting blocked right here," Mullen said.
Mullen is still looking to get the most out of Jones, who was rated the nation's No. 6 defensive end and an ESPN300 member by ESPN's RecruitingNation in 2013. Mullen sees the potential for greatness, but he also sees inconsistent technique and raw talent that hinders his game.
It's still very early in Jones' Mississippi State career, and the good news is he understands that he is still a work in progress, which is a scary thought because many pegged him as a preseason All-American performer.
"Still a lot to work on technically to become a great, every-down player," Mullen said. "He makes big plays, but still has a lot of work to do to become a great, technical, every-down player."
Last season, Jones was a little lost inside defensive coordinator Geoff Collins' defense. Attempting to get his technique down, Jones moved from defensive end to defensive tackle, and he struggled to adjust to his new position.
The funny thing is Jones said he was tricked into playing extensively at defensive tackle by Mullen. As Jones recalls, Mullen told him they would try him inside for the first four games and then move him back outside. Jones agreed, but after four weeks, he was still at tackle and felt he was underperforming.
"I was thinking 'I can't do this, man. This is not for me,'" Jones said. "I came in at D-end, I need to stay at D-end."
But Mullen had different plans. He felt Jones could do more inside, so he posed an important question to his freshman.
"You wanna be great, don't you?"
Well, how could Jones say no?
"I was like, 'Yes sir, anything to be great,'" Jones recalled with a boyish grin.
With Jones transitioning inside, he finished his freshman season with 32 total tackles, including seven for loss and three sacks. But to Jones, his season left a lot to be desired. He still thinks about what he could have done differently on certain plays, which fuels his work ethic now.
His technique is coming along, but he's moving fast, working within the framework of the defense and is thinking less. He took his training more seriously in the offseason, slimming down from the 315 pounds he played at last season. To improve his fundamentals, Jones took time to watch his own film over and over during the offseason ... by himself.
It paid off in fall camp, and his sophomore year has already started well -- he had three tackles and a sack in the Bulldogs' 49-0 opening win against Southern Miss.
"When you're learning what to do, you can't get your full potential," Jones said. "When you know what to do, you can just ball out."
The Bulldogs are hoping he continues to do just that in Year 2. The talent is there, and as senior center
Dillon Day
puts it, Jones has that special ability you don't see from a lot of players. Sometimes it's hidden, but when it erupts, watch out because he can hurt you.
"I guess you can say you're getting better [by playing against him], but he really is a freak," Day said. "You can only do so much. ... Once he gets everything down, I don't know what you can do [to stop him]."