July, 25, 2014
Jul 25
3:45
PM ET
Another week, another off-field incident. That is the way it has been this offseason in the SEC, and this past week was no different.
Texas A&M suspended cornerback
Victor Davis
after he was arrested and charged with shoplifting, and defensive end Gavin Stansbury, who was arrested in April, left the team for personal reasons.
At Georgia, Mark Richt dismissed yet another player a day after defensive lineman Jonathan Taylor was arrested for aggravated assault.
These incidents are just the latest in what has been a troubling offseason for the SEC. With media days behind us and fall camps about to begin, we want to know which team's offseason issues will present the greatest on-field questions for this season.

In Tuscaloosa, the media's pick to win the SEC has had its fair share of off-field incidents.
Dillon Lee
and
Jarran Reed
were both arrested for driving under the influence,
Altee Tenpenny
was caught with marijuana, and
Kenyan Drake
was arrested for disobeying a police officer. None of the players involved has been dismissed, but this is becoming both a problem and a distraction for Alabama.
Across the state, Auburn is still trying to figure out what to do with quarterback
Nick Marshall
. The potential Heisman Trophy contender was given a citation for possession of marijuana this month, but will he miss any time as punishment? To make matters worse, teammate
Jonathon Mincy
was arrested for the same thing, possession of marijuana, just two weeks prior.
The school that has been in the news the most this offseason is Georgia. Four players were arrested in March for theft by deception. Two of those four, Taylor and
Tray Matthews
, were later dismissed for separate incidents. A third,
Uriah LeMay
, opted to transfer. Back in February, safety
Josh Harvey-Clemons
also was dismissed from the program following multiple violations of team rules.
At Missouri, it was three strikes and you're out for star wide receiver
Dorial Green-Beckham
. The sophomore was arrested for the second time on drug-related charges in January, and after being involved in an altercation with his girlfriend in April, he was dismissed from the team. Green-Beckham has since joined Oklahoma.
Lastly, there is Texas A&M, which has not seen any decline in off-field distractions since quarterback Johnny Manziel left. Quarterback
Kenny Hill
was arrested in March for public intoxication. Two months later, head coach Kevin Sumlin dismissed a pair of key defenders -- Darian Claiborne and Isaiah Golden -- after they were arrested and charged with aggravated robbery. Then the news broke this week with Stansbury's departure and the suspension of Davis.
July, 21, 2014
Jul 21
9:00
AM ET
HOOVER, Ala. -- Nick Saban could have stepped to the microphone last week at SEC media days and delivered a stern message to his team at Alabama. After an offseason colored by two DUI arrests, one player getting caught with marijuana and another getting arrested for disobeying a police officer, it seemed like a prime opportunity to fire a shot across the bow. Or, at the very least, to make a statement about the direction the program is headed.
But Saban wasn't interested in doing that. As he has done with each off-field incident since last season ended, he insisted that issues will be handled internally. He argued, essentially, that to do otherwise would be akin to kicking your own child out of the family for disappointing you.
"We have to try to support them, teach them, get them to do the right things because we love them, we care about them," he said.
[+] Enlarge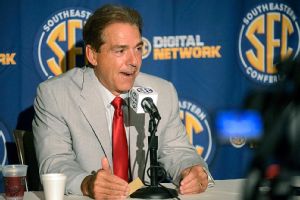 AP Photo/AL.com/Vasha HuntNick Saban on discipline: "I want you to know that there's not one player, not one player, since I've been a head coach that I kicked off the team that ever went anywhere and amounted to anything ..."
Saban spoke about a "disparity in the behavioral culture of our young people" and how they must "control their impulsive behaviors." He closed his mini-sermon by saying that the process -- his process -- "really does work."
"I want you to know that there's not one player, not one player, since I've been a head coach that I kicked off the team that ever went anywhere and amounted to anything and accomplished anything, playing or academically, all right?" he said.
All right.
Saban did levy a little bit of discipline. Harkening back to "guys learning how to control their impulsive behavior," he said, "those players are suspended, but they're not kicked off the team." But which players? It could be
Jarran Reed
,
Kenyan Drake
,
Altee Tenpenny
or
Dillon Lee
. It could be all four that are "suspended from activity" until "they prove ... they're ready to come back."
In Saban's eyes, discipline isn't punishment.
"That's what you all think: What are you going to do to the guy? How many games is he getting suspended? Are you going to kick him off the team? This guy kicked this guy off the team because he did this, and that was a good thing," he said. "Well, but what about the kid? What happens to him? Well, I'm telling you what happens to him: I've never seen one go anyplace else and do anything."
While Saban did drop some occasionally strong remarks -- "There's an end of the rope for everybody." "Sometimes you have to get the wrong people off the bus." -- he never really dropped the hammer, which isn't necessarily a bad thing. There are some coaches whose track records as disciplinarians is lacking, but Saban isn't one of those men.
"Are there consequences?" he said. "Yeah, we don't have to depend on the guy. They might get suspended for some games, because that's the one thing that will change their behavior because they all want to play. I get that part, and we do that. But I don't usually announce that. I don't usually say we're going to do that. I tell you before the game, 'These three guys aren't going to play.'"
It was interesting, however, to note the tonal change at media days between what Saban said and what Mark Richt said a few hours earlier.
Richt has long been a lightning rod on the subject of discipline. Type "Mark Richt lost control" into Google and you will get roughly 29,000 results. But this offseason Richt developed an image of being tough on crime. Rather than offering starters Tray Matthews and Josh Harvey-Clemons a route back to school, he dismissed them from Georgia. Rather than worrying about the program's strong drug policy creating a competitive disadvantage, he said, "It doesn't bother me."
"We don't want our guys to do drugs, OK? I don't want my son to do drugs," he said. "We've got policies that are stronger maybe than some when it comes to the punitive part of it. That's kind of what everybody talks about. Georgia ends up suspending their guys a little bit sooner in the policy, which I've got no problems with."
"It's a lot more than just the punitive part," he said later. "There's a punitive part, there's an educational part, then we love 'em. You made a mistake. You have these consequences. Now let's turn in the right direction and become a better man for it."
Georgia linebacker
Ramik Wilson
said it's simple: "Do the right thing is all they ask."
"You're either going to do it Coach Richt's way or you're going to go home," he added.
Strong words, wouldn't you say?
Saban and Richt want the same thing when it comes to keeping players on the right track and on the right side of the law. But for at least one day and one offseason, the coach we expected to play the role of disciplinarian was not the one who showed up to take the stage.
July, 13, 2014
Jul 13
2:48
PM ET
The time for leniency has ended. The use of "internal discipline" is no longer enough. Nick Saban needs to tighten the reins on his program, make an example of someone publicly, and send the message to every one of his players that the offseason has ended, the time for work is here and any instances of poor behavior will not be tolerated.
[+] Enlarge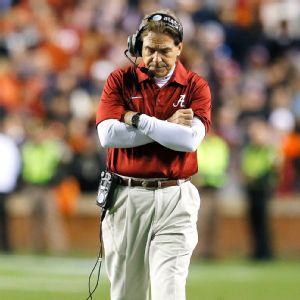 Kevin C. Cox/Getty ImagesFollowing yet another brush with the law for an Alabama player, it's time for Nick Saban to take a disciplinary stand.
Alabama has had its name dragged through the mud enough since the end of last season. Saban has dealt with enough negative headlines to know it's time for more proactive measures.
You could live with
Kenyan Drake
making a bone-headed decision by disobeying an officer earlier this month. He was trying to get to his car. He wasn't thinking and he was arrested. You could handle the repercussions coming behind closed doors without condoning the action that led to his arrest. And, frankly, the same could be said for
Altee Tenpenny
, who wasn't arrested but was given a citation by police in April for possession of a controlled substance.
Both cases were enough to raise your eyebrows at. Neither was enough to spike your blood pressure.
But
Jarran Reed
's subsequent
arrest this weekend
for suspicion of driving under the influence has finally moved the needle. We've hit the proverbial "three strikes and you're out" phase of this annual offseason game we play in major college football where one arrest leads to another and suddenly we start to see a trend. Next we question the health of the program as a whole and wonder aloud whether the coach truly has a handle on things.
Now, it must be said that Saban deserves the benefit of the doubt in such matters. We've never had to wonder whether discipline is a part of his process. But even he isn't immune to the arrest bug. Even he can't avoid the increasing sound of police sirens at his program's doorstep.
Now is the time for Saban to step up and deliver a message.
Now is the time to right the course and get his team's full attention.
Fall camp begins in only a few weeks. The start of the season is less than two months away. Alabama has enough questions on the field; the Tide don't need negative attention off it. There's a new quarterback to break in, two new offensive linemen and a defense that would be described as "rebuilding" if it were any place other than Alabama. If the Crimson Tide want to return to the national championship picture, they can't afford another issue to tackle.
Drake, Tenpenny and Reed are all in Saban's doghouse now. So is linebacker
Dillon Lee
, who was also arrested on suspicion of driving under the influence in April. If this keeps up, there won't be enough room to hold all the team's disciplinary problems.
Eventually you have to say enough is enough and put a bar on that doghouse door. Eventually you have to show that once you go in, you might not be allowed out so easily.
That time is now for Saban and Alabama. Leniency can no longer be afforded. Decisive, heavy-handed action is needed. The season is almost here, and every player and every coach must get the message loud and clear that mistakes will no longer be tolerated.
May, 14, 2014
May 14
9:00
AM ET
TUSCALOOSA, Ala. -- Some stocks rise during spring practice and some inevitably fall, and that wave of momentum heading into the offseason can be a valuable determinant when it comes to seeing more playing time during the season.
With that in mind, here's a look at five players emerging on defense for
Alabama
.
[+] Enlarge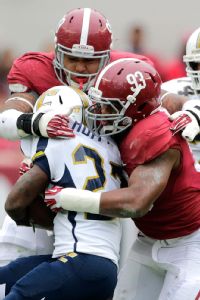 AP Photo/Dave MartinSophomore defensive end Jonathan Allen could be a big part of the Tide's defense in 2014.
DE Jonathan Allen:
You can't ask for much more as a true freshman than to play in every game. So while Allen might not have grabbed the same headlines as fellow rookie
A'Shawn Robinson
last season, he did do enough to see the field early and was able to gain some valuable experience. With
Jeoffrey Pagan
and
Ed Stinson
now off to the NFL, expect Allen to be in the mix to start at defensive end. And judging by his A-Day performance -- one blocked kick, two sacks, four tackles for loss -- it might be safe to call him a frontrunner to run with the ones as a sophomore.
CB Tony Brown:
Even with a shoulder harness on and a black no-contact jersey pulled over his head, Brown found a way to make plays at A-Day, hauling in an impressive interception in his first public appearance in front of the Alabama faithful. The former five-star prospect chose to enroll early at Alabama for that very purpose -- a head start. With Alabama lean on experience at cornerback and
Eddie Jackson
dealing with
a torn knee ligament
, Brown has every opportunity to compete for a starting job when practice begins again after the summer.
LB Reuben Foster:
Someone on campus needs to show Foster the proper way to tackle. He's always been a reckless head-first linebacker, but after a series of neck stingers, you'd think the staff would have gotten him to change his ways. Well, at A-Day he dove head-first again into a pile and dealt himself a concussion that sent him to the locker room. Even so, with
C.J. Mosley
gone and a spot at inside linebacker up for grabs, expect Foster to push for more playing time. Injuries are a concern, but his athleticism is too much to keep off the field.
LB Dillon Lee:
An
arrest for suspicion of driving under the influence
clouded an otherwise bright spring for the junior. After getting himself sent home from the BCS National Championship Game as a freshman, it looked like he had turned the corner. Nick Saban even said
he was in line to compete for a starting job at outside linebacker
. And even though Lee's off-field behavior is a red flag, fans had to be pleased with his response to the situation, coming out at A-Day and leading the Crimson Team with nine total tackles. If he can keep his nose clean this offseason, he should be able to contribute come fall.
DE D.J. Pettway:
It was almost as if he never left. Pettway got himself thrown off the team following a season in which he was named to the Freshman All-SEC squad. But after paying his penance at a junior college program,
he returned this spring
and has re-inserted himself in the mix at defensive end. He even had his own "welcome back" moment at A-Day, intercepting a
Blake Sims
pass and returning it 29 yards for a touchdown.
April, 22, 2014
Apr 22
10:30
AM ET
TUSCALOOSA, Ala. -- A-Day might not have featured the finest quarterback play. It might not have been the introductory moment offensive coordinator Lane Kiffin was hoping for, either.
One thing did, however, go over incredibly well for Alabama on Saturday. The defensive line answered this spring's most hard-to-pin-down question with a resounding yes.
[+] Enlarge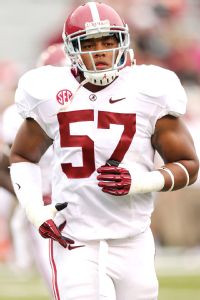 Nelson Chenault/USA TODAY SportsD.J. Pettway was a big part of Alabama's resurgent pass rush this spring.
Yes, Alabama has excellent depth up front on defense. And, yes, the line seems ready to get after the quarterback more than it has in seasons past. All you had to do was watch Kiffin's passing game fold under pressure time and time again to see that.
The ultimate point of pride for defensive line coach Bo Davis and his players had to be the first touchdown of the game: Defensive end
D.J. Pettway
snags a screen pass from
Blake Sims
, finds the open field and races 29 yards to pay dirt. After holding the offenses scoreless for 45 minutes, it was the defense that found a way to score.
But as much fun as it was to watch a big man rumble into the end zone, what really had the faithful at Bryant-Denny Stadium giddy was Alabama's resurgent pass rush. We'd heard all spring how Davis had infused enthusiasm and energy into the defensive line. How he was full of energy. How he was asking his players to read less, react more and get after the quarterback. And unlike the unfulfilled promise of Alabama's quarterbacks, its defensive linemen delivered, to the tune of seven sacks and 19 tackles for loss.
(For comparison sake, Alabama totaled two sacks and five tackles for loss at last year's spring game.)
Even coach Nick Saban, who
fought speculation about the quality of the defensive line
early on this spring, had to concede that he had a talented group of players to work with. In fact, he had to widen his praise to most of the defensive front seven.
"We have a lot of experienced players," Saban said after the White beat Crimson, 17-13, in a game where the score is meaningless, though White was led by the first-team defense. "[D.J.] Pettway and [Jarran] Reed add a lot of depth and athleticism to that group.
A'Shawn Robinson
and
Jonathan Allen
were both freshman last year, and I always say that you make the most improvement between your freshman and sophomore year. Those guys got to play a lot last year; they've both had great springs.
"We had three inside linebackers that I thought played really well.
Trey DePriest
had a really good spring.
Reggie Ragland
and
Reuben Foster
[did] as well. We also had three guys that played really well at outside linebacker.
Denzel Devall
,
Xzavier Dickson
, and
Dillon Lee
, those guys all had really good springs.
Tim Williams
and
Ryan Anderson
both contributed and improved."
Pettway and Williams played so well on A-Day that they were named co-winners of the Dwight Stephenson Lineman of the Game award. Allen, who had six tackles and two sacks, also blocked a field goal.
"From the front seven stand point, I feel a lot further along," Saban said.
Trey DePriest
, Alabama's leader on defense at middle linebacker, said the defensive line showed at A-Day what it was capable of.
"My defensive line is great," he said. "They put their hands on guys, they strike them, they push them back and let me and Reggie hit the holes and run."
Ragland, for his part, agreed -- though it came with a caveat. How good is the defensive line? "You'll see coming up," he said.
"We still have a lot more to prove. We didn't get to do half the stunts we wanted to."
April, 11, 2014
Apr 11
12:00
PM ET
Spring games galore this weekend! Florida, Georgia, Mississippi State, South Carolina, Tennessee and Vanderbilt will be in action on Saturday. But news isn't just on the field; there's plenty off the field, too:
March, 26, 2014
Mar 26
12:00
PM ET
Spring storylines abound this week around the SEC. Let's take a quick spin around the league to see what's happening.
March, 21, 2014
Mar 21
12:00
PM ET
How's your bracket looking after the first day? If you're like me, you're probably hoping for a better Day 2. If it's so bad that you're giving up on basketball and ready for football, then take a look at the latest news and notes around the SEC in today's lunch links.
March, 14, 2014
Mar 14
9:00
AM ET
Schedule:
The Crimson Tide will open spring practice on Saturday in Tuscaloosa, Ala. All practices are closed and only the A-Day scrimmage at 2 p.m. ET on April 19 will be open to the public.
What's new:
The coaching staff has gone under some serious reconstruction. In fact, it looks a lot like Nick Saban's staffs of old with Kevin Steele as the linebackers coach and Bo Davis as the defensive line coach. Defensive coordinator Kirby Smart moved back to coaching the secondary to allow for Steele's return. And let's not forget the one new face on the staff, offensive coordinator Lane Kiffin. You might have heard of him.
On the move:
When Saban last spoke to the media a week ago, he said there was "no news on who's playing what position and who the quarterback is." But there will be movement. Look for some tweaking in the defensive backfield this spring. Much like last year,when Saban asked offensive players
Dee Hart
,
Christion Jones
and
Cyrus Jones
to try their hand at cornerback, he might ask someone like
ArDarius Stewart
to see if a return to defense is in order. Considering the lack of depth at cornerback and the departure of safeties
Ha Ha Clinton-Dix
and
Vinnie Sunseri
, the coaching staff might need to plug some holes in the secondary with some surprise players.
[+] Enlarge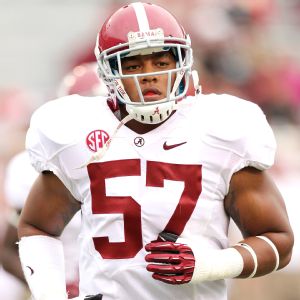 Nelson Chenault/USA TODAY SportsD.J. Pettway is back and will attempt to earn a shot at playing time at Alabama.
On the mend:
One of those defensive backs coming back is
Nick Perry
. The safety started four games in 2012 and appeared in two more games in 2013 before suffering a season-ending injury. Though he might not be the most talented option at the position, he's clearly the most experienced, with 30 games under his belt. And that counts for something with Saban, who needs to trust whoever starts opposite
Landon Collins
.
New faces:
Aside from the handful of early enrollees fresh out of high school, there are four junior college transfers to watch, including the return of former Alabama defensive end
D.J. Pettway
. There's also tight end
Ty Flournoy-Smith
, who was at Georgia once upon a time and could add to the passing game behind
O.J. Howard
; defensive tackle
Jarran Reed
, who could help plug the middle at 315 pounds; and offensive tackle
Dominick Jackson
, who was ranked as the No. 1 player at his position and could challenge to replace
Cyrus Kouandjio
.
Question marks:
We've detailed the problems in the secondary and hinted at the battle at left tackle, leaving a major unanswered question as to who replaces
C.J. Mosley
on defense. The former All-American linebacker was the heart and soul of the unit. We know
Trey DePriest
wants to take on the role, but is he ready? And who will play alongside him at inside linebacker?
Reuben Foster
was an immensely talented linebacker coming out of high school -- with a dramatic recruitment, no less -- but he played mostly on special teams as a freshman. He'll have a lot of competition for playing time, with
Dillon Lee
and
Reggie Ragland
hoping to emerge.
Key battle:
Unfortunately, this one won't be solved until the fall. But that makes the battle no less important. Alabama needs to find a starting quarterback to replace
AJ McCarron
, and until that's resolved, it's priority No. 1.
Jacob Coker
, the Florida State transfer, won't arrive on campus until May. So that leaves a bevy of unproven options under center.
Blake Sims
will get his shot after backing up McCarron last year, but it remains to be seen how the run-first athlete will do as a pocket passer. Beyond Sims, there's rising sophomore
Alec Morris
and a pair of redshirt freshmen,
Cooper Bateman
and
Parker McLeod
. If one stands out this spring, he'll surely have the upper hand come fall and could challenge the presumed frontrunner, Coker.
Breaking out:
It was a process started at the Sugar Bowl that many Alabama fans hope will continue right on into his sophomore season.
Derrick Henry
didn't do much during the regular season, carrying the ball a total of 28 times. But all you'll remember is the bowl game and his eight carries and one reception against Oklahoma, accounting for 161 yards and two touchdowns. He's big (try 6-3 and 238 pounds) and he's deceptively fast. With dreadlocks that stick out from under his helmet, picture a stretched out Trent Richardson. After losing a large chunk of practice last spring to a broken leg, he'll have the benefit of a full offseason to climb the depth chart and nip at the heels of incumbent starter
T.J. Yeldon
.
Don't forget about:
Don't sleep on Yeldon. He's pretty darn good, with back-to-back 1,000-yard rushing seasons to start his career. But don't forget Alabama's depth at wide receiver. Whoever starts at quarterback will have plenty of receivers to throw to.
Amari Cooper
, who is among the best in the SEC when healthy, is just the tip of the iceberg.
DeAndrew White
and Christion Jones are two veteran pieces, and tight end O.J. Howard has the potential to be one of the disruptive offensive weapons in the league if he reaches his potential. Given the way Alabama has recruited of late, look for one or two blue-chip prospects to emerge.
Chris Black
has been waiting patiently, and
Robert Foster
seems poised to step up with a year of experience under his belt.
All eyes on:
There's going to be a quarterback competition, position battles and several new players will emerge. But keep an eye on Alabama's attitude. Saban's dynasty in Tuscaloosa was shaken but not entirely derailed last season. Losing the final two games, to Auburn and Oklahoma, in such unspectacular fashion hurts. The question is how Alabama will respond. It worked out well after the 2010 season, but this isn't the same team. There are quite a few leaders in need of replacing, and there might be something to McCarron's criticism that a five-star sense of entitlement crept into the program. Righting the ship won't be easy for Saban and his staff, but he will have the luxury of putting a gigantic chip on his players' shoulders this offseason. How they respond is up to them.
January, 9, 2014
Jan 9
6:50
PM ET
TUSCALOOSA, Ala. -- It happens every year now, so don't act surprised. If you're an Alabama fan, deal with it. If you're not, don't weep for the Crimson Tide, either. Coach Nick Saban has lost multiple underclassmen to the NFL before, so
Thursday's news
that safety
Ha Ha Clinton-Dix
, offensive tackle
Cyrus Kouandjio
, linebacker
Adrian Hubbard
and defensive end
Jeoffrey Pagan
will all leave school early is no insurmountable thing. This is just the reason why Saban and his staff recruit so hard.
[+] Enlarge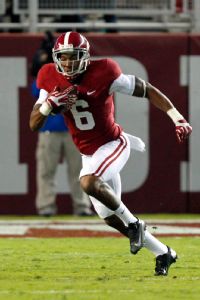 AP Photo/Butch DillSafety Ha Ha Clinton-Dix is one of four Alabama players who are leaving school early to enter the 2014 NFL draft.
Their leadership and experience will be missed -- along with seniors
AJ McCarron
,
C.J. Mosley
and
Anthony Steen
-- but their talent can be replaced. When you're the only school in the country to finish in the top three of ESPN's class rankings every year since 2008, you have that luxury of plug-and-play. Blue-chip prospects overflow from Alabama's football offices, rattling out its pockets every once in a while like loose change.
"Our twos and threes could do what I did out there," Clinton-Dix said of the team moving forward. "I'm not worried about any of those guys stepping up."
Alabama will be fine without Pagan, Hubbard, Kouandjio and Clinton-Dix. Many of their replacements are already on board:
Landon Collins
at safety,
Leon Brown
at tackle,
Dillon Lee
at strongside linebacker,
Jonathan Allen
at defensive end. Those who will challenge them for playing time are either just now arriving or just now finishing their first seasons in Tuscaloosa: defensive backs
ArDarius Stewart
and
Laurence 'Hootie' Jones
, tackles
Grant Hill
and Cam Robinson, linebackers
Tim Williams
and
Da'Shawn Hand
, and defensive ends
Dee Liner
and
D.J. Pettway
-- all excellent prospects.
It's easy to look at the loss of stars and say, "Oh no!" but that's not how it works at Alabama. It wasn't that long ago that safety
Mark Barron
left school and Clinton-Dix entered the fold.
D.J. Fluker
went to the NFL a year early and
Austin Shepherd
had little trouble at right tackle in his absence.
Eddie Lacy
torched Notre Dame in last year's BCS title game, announced he was turning pro and Alabama never missed a beat. Not only is
T.J. Yeldon
back for his junior season, a fella by the name of
Derrick Henry
appears ready to be his new sidekick.
This is the program that Saban has built. This is what his "Process" has borne. And it's embraced around campus. Just look at
this
,
this
and
this
from Alabama's director of player personnel Tyler Siskey. As Saban told reporters, "We've had 13 guys go out early for the NFL draft, 11 of those guys have been first-round draft picks."
Often when other schools lose key players to the NFL, there's a mad scramble to find their replacements. At Alabama, coaches turn to a stocked cupboard. Take the safety position, for instance: Cinton-Dix goes out with off-field drama and Collins enters the fold at free safety, followed by
Vinnie Sunseri
blowing out his knee and Collins then shifting over to strong safety. Collins, a former five-star prospect in his own right, immediately found success. A year after playing primarily on special teams, he finished second on the team in tackles, tied for first in interceptions and tops in passes defended.
Sure, Saban would love to see Pagan, Hubbard, Kouandjio and Clinton-Dix back for another year. Just don't expect him to openly weep about it. He's probably more than thrilled that
Trey DePriest
and
DeAndrew White
should be sticking around for their senior seasons.
You know, two out of six isn't bad. Three championships in five years seems to be going over quite well in Tuscaloosa.
Alabama will survive and new stars will emerge next season. Sometimes you hate to see athletes like Clinton-Dix leave early, but their departure only clears the way for who's next.