April, 16, 2014
Apr 16
9:00
AM ET
GAINESVILLE, Fla. -- Fresh faces were everywhere at Florida this spring.
A poor season in 2013 brought a clean slate. A new offense brought opportunities at every position. A large group of redshirt freshmen and true freshmen brought a much-needed infusion of talent.
Going into spring practice,
our list of players to watch
consisted of quarterback
Jeff Driskel
, cornerback
Jalen Tabor
, wide receiver
Demarcus Robinson
, tight end
DeAndre Goolsby
, and running back
Adam Lane
.
Now that football is finished for a few months, we'll take a look at the spring results and see who else stood out.
[+] Enlarge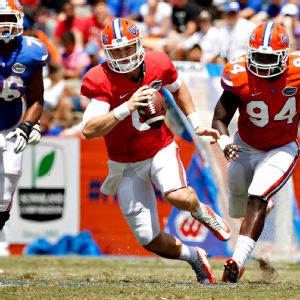 Rob Foldy/USA TODAY SportsFlorida QB Jeff Driskel is healthy again and it showed in the spring game.
Driskel:
The fourth-year junior had a very good spring in terms of health, leadership and command of the offense. He capped it with a solid spring game, going 18-for-32 for 167 yards and a touchdown.
Tabor:
It says a lot when a true freshman is thrown right into the competition for a starting cornerback job. At 6-foot-1, 188 pounds, Tabor used his long arms to make plays in coverage. He still needs to work on his press technique and where to keep his eyes, but it's easy to see that he has great athleticism and natural instincts.
Robinson:
He came in with a lot of hype last season as a true freshman and didn't respond well to the rigors of college life, but this spring Robinson lived up to expectations. He is clearly Florida's most complete receiver and best hope for a star in the passing game.
Goolsby:
The true freshman has the talent to become Florida's top pass-catching tight end. He drew the attention and praise of head coach Will Muschamp and offensive coordinator Kurt Roper. But most young tight ends struggle with inline blocking, and Goolsby was no exception. He still has a lot to learn before he gets regular playing time.
Lane:
Out of 12 redshirt freshmen, Lane made the biggest splash this spring. He proved to be very tough to tackle because, at 5-7, 222 pounds, he's built like a fire plug and never stops moving his feet. The Gators rode the "Lane Train" to a team-leading 12 carries for 67 yards (5.8 yards per carry) in the spring game.
Dante Fowler Jr.:
Not enough can be said about the junior buck linebacker's importance in Florida's defense. The Gators simply need him to become a pass-rushing menace. He showed up in better shape this spring, commanded the respect and attention of his teammates and delivered on the field with consistency.
Trenton Brown:
The mammoth senior began the spring looking like a backup at right tackle, but by the spring game Brown convinced his coaches that he was among Florida's five best offensive lineman and started at right guard. At 6-8, 361, Brown is easy to spot, especially when he's clearing running lanes.
Jarrad Davis:
As a true freshman last year, Davis made a late-season breakthrough and followed that up with a very good spring. He consistently earned first-team reps and the praise of his coaches and teammates. Davis has quickly become a leader and clearly has a very bright future.
Hunter Joyer:
After very limited offensive contributions over his first three seasons, the senior fullback was something of a revelation at the B position. He showed good hands, even on intermediate routes. Joyer sustained a minor knee injury in the spring game but earned praise afterward. "[He] did a great job this spring," Muschamp said.
Bryan Cox Jr.:
It's unclear if the third-year sophomore was just a spring starter or if he can stick with the first unit this fall, but there's no denying that Cox stood out. With a nonstop motor, he forced coaches to experiment with moving junior
Jonathan Bullard
inside to defensive tackle. At the very least, Cox stepped forward to show that he can provide quality depth.
Duke Dawson:
The "other" true freshman cornerback on the roster came in with less acclaim than Tabor but had just as much success this spring. Dawson is solid in coverage and plays with more of a physical edge than Tabor. "We're excited about him, too," said defensive coordinator D.J. Durkin.
Veterans who performed up to their coaches' expectations included sophomore cornerback
Vernon Hargreaves III
, junior left tackle
D.J. Humphries
, sophomore tailback
Kelvin Taylor
, senior safety
Jabari Gorman
, senior running back
Mack Brown
, senior wide receiver
Quinton Dunbar
and senior right tackle
Chaz Green
.
Several other players developed well enough to win consideration for playing time this fall. They were: junior slot receiver
Latroy Pittman
, junior guard/center
Trip Thurman
, sophomore safeties
Keanu Neal
and
Marcus Maye
, sophomore linebacker
Daniel McMillian
, redshirt freshmen defensive backs
Nick Washington
and
Marcell Harris
, and true freshman defensive end
Taven Bryan
.
April, 14, 2014
Apr 14
9:00
AM ET
GAINESVILLE, Fla. -- In keeping with tradition, Florida concluded a month of practices with a feel-good scrimmage in front of thousands of fans and called the spring a success.
Coming off of a terrible 2013 season, the Gators desperately needed changes and positive feelings. They got that and more.
Florida satisfied head coach Will Muschamp's top priorities by installing a new offense, developing confidence, discovering some new players and rehabilitating some old ones.
Here's what else happened this spring:
[+] Enlarge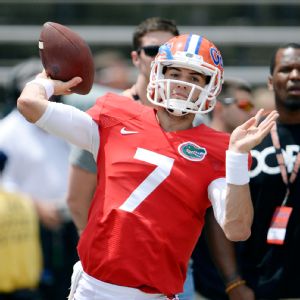 AP Photo/Phil SandlinFreshman Will Grier showed a quick release in Florida's spring game.
Quarterbacks in command:
From the opening of the first practice, it was obvious the QBs had studied hard and grasped the no-huddle spread offense. They led the installation process and made enough progress with fundamentals and basic principles to add wrinkles throughout the spring. Junior
Jeff Driskel
clearly separated himself as the starter in camp and had the strongest arm. He got into a good rhythm in the spring game and showed what the offense can do (against much of Florida's first-team defense). The battle for the No. 2 quarterback spot was a draw. Sophomore
Skyler Mornhinweg
improved as a passer throughout the spring and split reps with true freshman
Will Grier
. The much-anticipated prospect didn't disappoint, as Grier showed he has an extremely quick release and a bright future.
Deeper at receiver:
The Gators have been painfully short of playmakers on offense in recent years, but the numbers are tilting in their favor. Florida will lean heavily on senior starter
Quinton Dunbar
and three talented sophomores who gained valuable experience last season in
Demarcus Robinson
,
Ahmad Fulwood
and
Chris Thompson
. The three combined for 13 receptions in Saturday's spring game. Robinson led the way with five catches for 53 yards, including a 31-yard, highlight-reel touchdown. The biggest proof of concept for the offense was that it did what everyone promised it would -- get the ball to players in space.
Still some concerns:
After years of departures to the NFL, Florida has a very young secondary. There's plenty of talent, but it appears likely that at least one of the true freshman cornerbacks --
Jalen Tabor
and
Duke Dawson
-- will start either at corner or nickel. There will also be two new starters at safety, with an open spot still up for grabs opposite senior
Jabari Gorman
. ... The issue Muschamp harped on the most throughout the spring was a "huge" drop-off in ability from his first team to the second team on the offensive and defensive lines. Mental and physical stamina is part of the problem. ... Florida still isn't getting much offense from its tight ends and fullbacks. "We're still looking for that consistent playmaker at the B-position," Muschamp said Saturday. He did single out true freshman
DeAndre Goolsby
for praise. ... Though there weren't any major injuries this spring, the bug still looms. Florida on Saturday held out two key starters on defense in defensive end
Dante Fowler Jr
. and cornerback
Vernon Hargreaves III
. There was no reason to expose them to risk, and can you blame a team that lost one of its best players in
Ronald Powell
to a torn ACL in the spring game two years ago?
Kick in the pants:
Muschamp said he's talked to a lot of mental conditioning coaches to try to help place-kicker
Austin Hardin
iron out his mechanics. Hardin, who struggled mightily in his first season as UF's kicker, made all four of his field-goal attempts in the spring game and won his coach's praise for achieving some consistency. Hardin will still have to fight off a few walk-ons who will try to take his job.
Position changes:
Senior offensive tackle
Trenton Brown
moved inside to guard, performed well as a starter in the spring game and will stay there. At 6-foot-8 and 361 pounds, the Gators love his ability to be a people-mover in the running game. ... Florida gave junior
Trip Thurman
a long look at guard throughout the spring before giving him second-team snaps at center in Saturday's game. ... Redshirt freshman
Antonio Riles
moved from defensive line to offensive guard midway through spring. Florida coaches like his athleticism and said he looked natural on the O-line, but the real reason for the move might have more to do with three highly touted defensive line signees who are coming this summer:
Thomas Holley
,
Gerald Willis III
and
Khairi Clark
. ... Redshirt freshman
Marqui Hawkins
wasn't making much of an impact at wide receiver early in the spring so he was moved to safety, where he played some in high school. Florida felt good about its numbers at receiver and needed more help in the secondary.
What's next:
The Gators are on their own as far as workouts, as veteran players typically organize drills throughout the summer to stay sharp. Driskel said he plans to throw a lot and work on timing with his receivers. Muschamp said it best in outlining the next phase for his players: "Still got a way to go, 112 days until we report. Our older players understand the importance of this time of year. Understanding in all three phases, taking the next step schematically, being in shape, being ready to go and understanding what it's going to take to be successful and win in this league."
April, 11, 2014
Apr 11
10:00
AM ET
GAINESVILLE, Fla. -- Progress. It's what
Florida
fans expect to see this fall. It's what they hope to see in Saturday's spring game.
Everyone is under much more scrutiny after the Gators' 4-8 record last season, but mostly the microscope will be on a brand-new offense that has been installed in just 14 spring practices. It's just one of several aspects of the scrimmage that fans and the media will be analyzing.
[+] Enlarge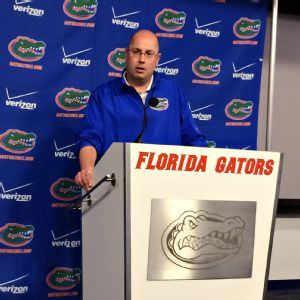 Jeff Barlis/ESPNAll eyes on Saturday at Florida's spring game will be on new coordinator Kurt Roper's offense.
The game, at 1:30 p.m ET at Ben Hill Griffin Stadium, will be divided into four, 12-minute quarters with a running clock. Teams were drafted by honorary alumni captains on Thursday night, but fans will get to see a lot of first-team offense against first-team defense in the mix.
Here's what to watch for:
New and improved quarterback:
All eyes will be on
Jeff Driskel
, the junior who hasn't exactly lived up to his status as the
top QB prospect in 2011
. He's coming off surgery and six months of rehab for a broken bone in his lower right leg. The injury, which cost him most of the 2013 season, ensures that he'll be a non-contact participant (as will all of the QBs). Driskel has had an excellent spring. He's clearly the starter and is a respected leader. His teammates have been raving about how good and comfortable he looks in an offense that is much closer to what made him a star in high school. Driskel said he just
wants to show the fans that he is confident and having fun
. But nothing pleases a crowd like putting points on the board. He can create a lot of goodwill if he finds receivers in stride and generally commands a smooth-looking offense.
Mr. Roper's offense:
Some success by Driskel and backup quarterbacks
Will Grier
and
Skyler Mornhinweg
would go a long way in showing off the new scheme that offensive coordinator Kurt Roper brought from Duke. The No. 1 thing that fans want to see is a very different-looking offense. Roper has the potential to deliver with his no-huddle, shotgun spread attack. At the very least, the tempo will be much faster than in any of Florida's last three seasons of taking a clock-chewing, run-heavy, pro-style approach.
Young secondary:
The Gators have
Vernon Hargreaves III
at cornerback,
Jabari Gorman
at safety and little certainty throughout the rest of the defensive backfield. Yes, there is a ton of talent, but it's young and inexperienced. There are three starting jobs open because UF operates so often in a nickel formation. Early enrollee freshmen
Jalen Tabor
and
Duke Dawson
have had their expected ups and downs in competing with junior
Brian Poole
for the starting spot opposite Hargreaves. Poole is also in the mix at nickel corner, along with
Marcus Maye
.
Keanu Neal
might have the edge for the other starting safety spot, but keep an eye on
Nick Washington
and
Marcell Harris
. Don't be surprised if the DBs struggle on Saturday as Florida's offense looks to win fans and influence coaches.
O-line vs. D-line:
This one is a toss-up. The Gators' offensive line has not been good in pass protection, but the defensive line isn't exactly loaded with pass-rushing demons. The uptempo offense should help Florida's O-line, as there is a new emphasis on getting the ball out of the quarterback's hand in three seconds. The marquee matchup to watch is defensive end
Dante Fowler Jr
. against left tackle
D.J. Humphries
. They're two of the Gators' most talented players, and they've been going at each other throughout spring practice. The rest of Florida's starters are veterans, but fans might want to cover their eyes when the second units come on. Coach Will Muschamp has not been pleased with the development of his young linemen on either side of the ball.
The B-position:
Tight ends and fullbacks have been largely overlooked in recent years, as blocking has been the top priority. That's changed under Roper, who said on Thursday: "It's going to be an important position and it's going to be a playmaking position for us, so we're counting on them." Roper said he's seen growth out of veterans such as
Tevin Westbrook
,
Clay Burton
and
Hunter Joyer
. He also said early enrollee freshman
DeAndre Goolsby
is more comfortable in a pass-catching role based on his experience in high school.
Playmakers at WR:
It bears repeating that this spring has been all about the new offense. Fans were screaming for dramatic changes by the end of last season, and no position needs it more than wide receiver, where the Gators haven't had anyone crack the 600-yard mark in a season since 2009. As the spring wore on, playmakers began to emerge. Senior
Quinton Dunbar
is the unquestioned leader of the group and a certain starter. Sophomores
Demarcus Robinson
,
Ahmad Fulwood
and
Chris Thompson
appear to be developing as reliable targets. Slot receivers
Valdez Showers
and
Latroy Pittman
have had solid spring camps as well. If the offense clicks, it will be a treat for fans to finally see these athletes make catches in space and show what they can do with the ball in their hands.
March, 27, 2014
Mar 27
11:00
AM ET
GAINESVILLE, Fla. -- There's a short list of true freshmen cornerbacks who have made instant impacts at
Florida
in recent years. And the success that
Joe Haden
and
Janoris Jenkins
have had in the NFL has become a source of tremendous pride for the Gators.
[+] Enlarge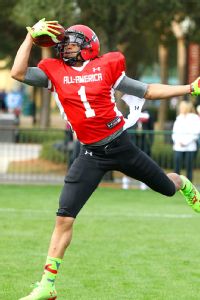 Miller Safrit/ESPNFive-star cornerback Jalen Tabor has an opportunity to play immediately for the Gators.
Last season,
Vernon Hargreaves III
topped all of their accomplishments when he was named first-team All-SEC as a freshman.
Could another star be around the corner (pardon the pun) in 2014?
Coach Will Muschamp set the stage when he recruited two talented cornerbacks in the Gators' 2014 class and got them on campus as early enrollees. Now that spring practice is in full swing, they're already competing for the starting cornerback job opposite Hargreaves.
Jalen Tabor
made a late switch to Florida from Arizona just before he arrived in January. Ranked the No. 11 overall prospect in the nation, Tabor came to the Gators with the same kind of elite pedigree as Hargreaves.
Duke Dawson
had been committed to the Gators for a year when he showed up. And while he was ranked lower than Tabor in the
ESPN 300
(No. 207), Dawson is no less a prime prospect in the eyes of his college coaches.
"[Tabor] and Duke Dawson both have been a quick study as far as the corner position is concerned," Muschamp said on Tuesday. "Both of them are going to be really good players. They've got to just continue.
"The willingness is there and the coachability is there with both guys. They're willing to be in the film room extra. They're willing to come up here after hours and meet with our coaches and go over things and go over schemes and watch film and learn from it. The one thing that I would say [is] that they both have a very similar ability as Vernon -- when you tell them once they get it. They don't make that mistake again."
After five practices, neither of the freshmen has looked out of place. They've won their share of battles and have been singled out for praise as well as criticism.
"Jalen's got really good length on the line of scrimmage," Muschamp said. "[He] needs to do a better job in his press technique staying on the line of scrimmage, getting his hands on people -- that's his strength. And Duke's a guy that's playing corner and nickel and right now is battling
Brian Poole
for the starting job at nickel."
Florida employs a lot of nickel defense using three cornerbacks. It's how Hargreaves and Poole were able to combine for 16 starts last season despite the presence of veteran cornerbacks
Marcus Roberson
and
Loucheiz Purifoy
. With those two skipping their senior seasons for the NFL draft, there are spots to fill.
Naturally Poole wants to take the next step in his career.
"Of course I want to start," said Poole, a junior who came to Florida with four-star status of his own. "I don't want to just say it's mine, but I'm working for it. It's pretty important to me because I just want to play every snap. I don't want to come on and off, on and off."
After missing just two of 25 games in his career, Poole says he's more comfortable than ever: "I don't have to learn what to do. I know what to do. Now it's just executing."
He expects his experience will give him the edge in the competition with Tabor and Dawson, but Poole still can't help being impressed with the newcomers.
"They're going to be really good," he said. "They're really learning the defense and starting to execute it well."
Well enough to start? Well enough to follow in the footsteps of Haden, Jenkins and Hargreaves?
Those are questions that will take several more months to answer.
March, 26, 2014
Mar 26
12:00
PM ET
Spring storylines abound this week around the SEC. Let's take a quick spin around the league to see what's happening.
March, 18, 2014
Mar 18
1:00
PM ET
Schedule:
The Gators' first spring practice is Wednesday. It's open to the public and free, along with seven other practice sessions. Spring football concludes Saturday, April 12 with the annual Orange & Blue Debut, which starts at 1:30 p.m. ET.
What's new:
After a 4-8 season in 2013, a couple of key offensive coaches were replaced. Offensive coordinator Brent Pease was fired and replaced with Kurt Roper, who was in the same position at Duke. Offensive line coach Tim Davis was fired and replaced by Mike Summers, who coached the OL at USC in 2013. Special teams coordinator Jeff Choate left to coach at Washington and was replaced with Coleman Hutzler, who coached special teams at New Mexico.
[+] Enlarge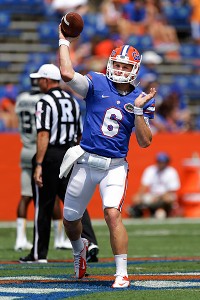 AP Photo/John RaouxFlorida pushed back the start of spring practice to ensure that previously injured players such as Jeff Driskel could participate.
On the mend:
Florida pushed back the start of spring football by about 7-10 days in order to insure the full participation of several players who were injured last fall. Most notable among them are QB
Jeff Driskel
(broken leg), LBs
Antonio Morrison
(torn meniscus) and
Jeremi Powell
(torn ACL), and O-linemen
Tyler Moore
(broken elbow) and
Chaz Green
(torn labrum). Still,
the Gators will be without nine players this spring
, including two former starters -- RB
Matt Jones
(torn meniscus) and DT
Leon Orr
(broken wrist).
On the move:
The biggest shuffling will happen on the offensive line, which lost three senior starters and another key reserve who transferred.
Max Garcia
, who started at left guard and left tackle last season, will move to center. Moore, who played tackle in 2013, moves to guard.
Trenton Brown
, who started five games at right tackle, will also see time at guard. And junior
Trip Thurman
, a reserve at guard and tackle who's been praised for his offseason work, will also get a look at center.
New faces:
Eight true freshmen and a juco guard
enrolled in January
. The biggest impact is likely to come from CB
Jalen Tabor
, who should compete for a starting job. QB
Will Grier
will have a chance to become Driskel's primary backup. TE
DeAndre Goolsby
could stand out as a pass-catcher. Juco guard
Drew Sarvary
should compete for a spot on the two-deep roster.
Taven Bryan
has a chance to impress at defensive end. DB
Duke Dawson
will get a look at cornerback and safety.
Kavaris Harkless
provides depth at guard. RB
Brandon Powell
(foot) will be a non-contact participant. Guard
Nolan Kelleher
(back) is waiting on a second opinion before he's cleared to participate.
Question marks:
There are so many following a subpar season. The biggest issue for Florida is making the most of its 15 allotted practices to install a new offense. Roper can often be heard telling his new students to play fast, but it will take time for new plays, new schemes and new principles to become second nature. The Gators' problems on offense ran deep. The line was porous in pass protection, often giving the quarterbacks precious little time to scan the field. When there was time, the receiving corps had trouble getting open. All of those issues must be addressed, as head coach Will Muschamp is betting his job on new hires Roper and Summers to restore competence to one of the worst passing attacks in the nation.
Florida was not great on defense last season, either. It's true that the offense got so bad that Muschamp publicly complained about the effect it had on his defense, but he also had some gripes of his own. The Gators' run defense, for one, slipped badly and got worse as the season went along. After DT
Dominique Easley
got hurt, the middle of UF's defense never recovered. It's a high priority for the Gators to find and develop some linemen who can win one-on-one battles. Also, for the second straight year, the secondary lost a lot of experienced players. Florida is deep and talented and will put pressure on several young players to progress quickly.
Key battle:
There are several to choose from, but the most important and tightest competition will probably happen at middle linebacker. Morrison is the incumbent but performed below expectations last season. Senior
Michael Taylor
is a solid option and should push Morrison, but Taylor has always struggled in coverage. The wild card is sophomore
Jarrad Davis
, who came on strong as a true freshman when he drew raves for his speed, athleticism and ability to absorb coaching.
Breaking out:
This is a team desperate for skill players to produce. Florida signed five talented wide receivers in 2013, and three --
Ahmad Fulwood
,
Chris Thompson
and
Demarcus Robinson
-- saw immediate playing time. With at least one starting WR job up for grabs, the Gators are counting on those three and redshirt freshmen
Alvin Bailey
and
Marqui Hawkins
to mature. Roper's offense depends upon getting its best weapons the ball in space. At this time, any of those five could become the team's most dangerous weapon. Regardless of who it is, a reliable pass-catching threat must emerge this spring.
Don't forget about:
On a young team, senior
Quinton Dunbar
will be counted on for leadership and more. He's been a solid possession receiver and has improved in each of his three seasons, but the Gators will ask Dunbar to take the next step. A certain starter, Dunbar needs to consistently separate and catch everything that comes his way. Florida's QBs need their senior receiver to be something of a security blanket.
All eyes on:
It's all about the offense for a program that has consistently fielded one of the nation's best defenses. Driskel and Grier will be in the brightest spotlights, as only quarterbacks can be. They will be the easiest measuring sticks of the progress that Roper's offense makes, and hundreds of fans will come to practice to see if things are indeed improving. The shotgun, zone-read options and spread elements of the new scheme are tailor-made for these two QBs. Roper (and therefore Muschamp) will be counting on their QBs to make the offense look good.
January, 31, 2014
Jan 31
3:00
PM ET
It's not every day that a program can lose two future early-round draft picks at a position and still be in good shape. But that's exactly where Florida sits when it looks at the cornerback position.
Before the Gators could even start thinking about spring practice, they lost starters
Loucheiz Purifoy
and
Marcus Roberson
to the NFL draft. Both had solid careers at Florida and have been viewed as a either first- or second-round draft picks in this year's NFL draft.
But coach Will Muschamp and his staff can breathe a collective sigh of relief when they take a look at their depth chart at the corner spot this spring and beyond. For starters, third-team All-American, freshman All-American and All-SEC stud
Vernon Hargreaves III
is back and could be viewed as the SEC's best returning cornerback in 2014.
[+] Enlarge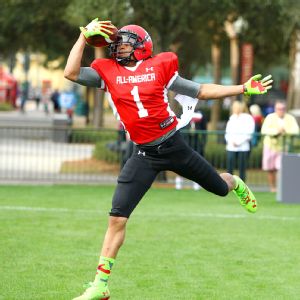 Miller Safrit/ESPNFive-star CB Jalen Tabor, an early enrollee, is one reason that Florida shouldn't miss a beat in its secondary despite losing two starters to the NFL draft.
During his first year on campus, Hargreaves looked like the Gators' best corner more than a few times this season. He started the final 10 games of the season and finished the year with three interceptions and defended 14 passes, which ranked third in the league. His 11 pass breakups equaled the most by a true freshman in school history.
Hargreaves is a special talent who has the potential to be one of the nation's best cover corners this fall. So one side of the field is secured, but the Gators' corner talent goes far deeper than just Hargreaves. This is certainly not an empty cupboard in Gainesville.
Youngsters such as
Brian Poole
and
Nick Washington
give the Gators a good place to start, but veteran
Cody Riggs
, who played safety last season, could slide back down to corner again if needed. But it really doesn't end there for the Gators, either. ESPN 300 corners
Jalen Tabor
(five-star and No. 4-rated corner) and
Duke Dawson
(No. 16 corner) are already on campus and the early impressions are that both are doing well during offseason workouts.
Dawson had been committed to the Gators for a while before enrolling early, but getting Tabor was a major recruiting surprise. He originally committed to Arizona over Alabama at the Under Armour All-America Game earlier this month before flipping to Florida shortly after. At 6-1, 188 pounds, Tabor already has good size and bulk for the position. Tabor has all the talent to play immediately for the Gators this fall. He'll likely add a little more weight, but he's already a very physical cornerback and will definitely benefit from spring practice. As will Dawson, who is a quick-twitch guy and pretty rangy at the corner position.
Florida also has a commitment from ESPN 300 athlete
J.C. Jackson
, who could play either corner or receiver for the Gators. The thing Florida has to do is make sure he stays committed, as Miami is making a major run at him late.
Then, there's uncommitted five-star
Adoree' Jackson
, who is rated as the No. 9 player nationally. Florida is one of his finalists and he's another player who could play either side of the ball. Florida's coaches would likely let him play wherever he wants with his skill set. The Gators are near the top of his list, but it doesn't look like he'll take an official visit to Gainesville, making things pretty wide open until national signing day.
Losing two of their top defensive players in 2014 isn't ideal for the Gators, but they'll be able to start rebuilding once spring practice starts. And it could only get better when summer workouts start and fall practice rolls around.
For all the trouble the Gators had in 2013 and all the questions surrounding this team in 2014, it looks like cornerback won't be something Florida frets over this fall.
September, 10, 2013
9/10/13
8:00
AM ET
Top to bottom, the Southeastern Conference is recruiting better than any conference in the country. Thirteen of 14 SEC schools are ranked in the top 40 of the recruiting rankings, including six schools ranked in the top 10. Here's a closer look at which SEC school has the top recruiting classes at each position.
Quarterback
Strongest class: Alabama
This is the hardest position to determine who has the strongest class. Four of the top-five quarterbacks in the final Elite 11 rankings --
Sean White
(Auburn),
Kyle Allen
(Texas A&M),
Will Grier
(Florida) and
Jacob Park
(Georgia) -- are committed to SEC schools. Alabama, however has the top-ranked quarterback,
David Cornwell
(Norman, Okla./Norman North) in the ESPN 300. The Under Armour All-American is the 32nd-ranked player in the nation. At 6-foot-5, 241-pounds, Cornwell has a big-time arm and ideal size for the position.
Running back
To continue reading this article you must be an Insider
September, 2, 2013
9/02/13
8:00
AM ET

With football season now in full swing, there was plenty of recruiting news over the weekend. From top high school performances to a five-star prospect ready to announce his decision, here is the latest news around the SEC.
Biggest commitment:
There was only one commitment in the SEC over the weekend. Defensive lineman
Braxton Hoyett
(Pelham, Ala./Pelham) verbally committed to Mississippi State on Friday. Hoyett also had offers from Miami and UAB. The 6-foot-3, 274-pounder announced his decision via Twitter:
Officially a Mississippi State Bulldog!!!!!!



To continue reading this article you must be an Insider
May, 17, 2013
5/17/13
3:00
PM ET
GatorNation's Rankings Week concludes with a list of the Gators' top needs in recruiting for the class of 2014, as well as a list of the top players the Gators are pursuing at those positions.
Ranking UF's needs for 2014
1. Offensive line
To continue reading this article you must be an Insider
December, 4, 2012
12/04/12
3:01
PM ET
By
ESPN.com staff
| ESPN.com
Michael DiRocco writes
: Ten things to know about Florida's Sugar Bowl matchup against Louisville -- including, but not limited to, super sophomore QBs Jeff Driskel and Teddy Bridgewater.
Derek Tyson writes

: Duke Dawson and Garrett Brumfield are among the prospects who will keep the UF-FSU recruiting rivalry burning into 2014.
August, 12, 2012
8/12/12
11:54
PM ET
By
GatorNation staff
| ESPN.com
GatorNation
has more coverage of Florida football and recruiting.
Staff report
: Florida lost two four-star commitments over the weekend, as offensive lineman Rod Johnson joined cornerback Tre' Bell in leaving the Gators' class of 2013.
Derek Tyson writes

: What do the two decommitments mean for Florida, and what will the Gators do next on the recruiting trail?
Tyson writes

: Duke Dawson may be a long way from signing day 2014, but the defensive back is already focused on Florida and Florida State.
Michael DiRocco writes
: Florida senior wide receiver Frankie Hammond has what can only be described as a healthy obsession with Krispy Kreme.