October, 25, 2013
Oct 25
11:45
AM ET
COLLEGE STATION, Texas — The words "youth" and "inexperience" are frequently used to describe the Texas A&M defense this season.
The struggles are significant. The Aggies rank near the bottom of the FBS in most defensive statistical categories. According to ESPN Stats & Information, the five teams that have allowed more yards per game than the Aggies -- New Mexico State, Idaho, California, Nevada and Indiana -- have a combined record of 8-27.
Texas A&M is fortunate enough to have a 5-2 record (2-2 in the SEC). It certainly helps to have one of the nation's most high-powered offenses and a reigning Heisman Trophy winner at quarterback (
Johnny Manziel
).
For defensive coordinator Mark Snyder and his staff, it has been a challenge from the start of the season. Suspensions, injuries and ineffectiveness are all to blame.
The Aggies currently have 11 freshmen in their defensive two-deep depth chart. Two true freshmen (defensive tackle
Isaiah Golden
and linebacker
Darian Claiborne
) are starting. The four defensive line first-team spots include Golden and two sophomores. At linebacker, a former receiver who moved to linebacker this offseason (
Nate Askew
) is the starter at strongside linebacker. Of the seven linebackers on the Aggies' two-deep, only one (
Steven Jenkins
) started a full season at the position before this year.
Head coach Kevin Sumlin's first signing class that was completely under his watch had 32 members, 18 of whom were on defense. Of those 18, a dozen have already played this season.
But how did the Aggies get to this point, playing this many freshmen and newcomers? There are some juniors and seniors on the field, but there aren't nearly as many as there were a year ago when the Aggies went 11-2 in their debut season in the SEC.
In 2012, the Aggies were fortunate to have the benefit of some good leaders on defense and others who were productive. At linebacker, Sean Porter and Jonathan Stewart both provided leadership and production. Along the defensive line, Spencer Nealy made the move from defensive end to defensive tackle effectively despite not having the ideal size for the position. Steven Terrell was a steady and heady player at free safety. All four of those players were seniors and part of the 2009 recruiting class. So was Dustin Harris, who didn't always start but played plenty at cornerback and was the team's primary punt returner.
One defensive player still remains from that 2009 class: defensive tackle
Kirby Ennis
, who started last season and this year but suffered a season-ending knee injury on Sept. 28 against Arkansas. But last year's A&M starting defense was more than half made up of what turned out to be a solid recruiting class on the defensive side of the ball.
So to understand why A&M is in the position it is now, take a look at the recruiting classes on defense since then:
In 2010, the Aggies signed seven defensive players and two more that were offensive players but eventually moved to defense. Defensive end Damontre Moore turned out to be a star, but declared for early entry into the 2013 NFL draft with a year of eligibility remaining. For a team that's lacking in its pass rush (only three FBS teams have fewer sacks than Texas A&M's seven this season) a guy like that could help. Of the remainders in that class, three are starting: Toney Hurd Jr. at nickel back, Gavin Stansbury at defensive end and Askew, who was recruited and spent his first three years at receiver, at strongside linebacker. Two others (defensive tackle Ivan Robinson and quarterback Clay Honeycutt, who's now a reserve safety) are playing but not starting. Nehemiah Hicks was considered to be either a defensive end or tight end and became a tight end. The other two players in the defensive class are no longer on the team.
The 2011 class -- the final class signed by former head coach Mike Sherman -- brought 13 defensive players. Deshazor Everett, a cornerback with ability to play safety, is currently the defense's best player. Safeties Howard Matthews and Floyd Raven and linebacker Steven Jenkins also emerged as starters out of that group. One of the big fish landed late in that class, defensive end Brandon Alexander, has rarely played. He's now getting some playing time at tight end. Linebacker Donnie Baggs entered this season as the starting middle linebacker but is now a reserve. Tyrell Taylor is rotating at defensive end. The rest of the group hasn't made any impact at all. Five players in that group are no longer with the program.
The 2012 class, the first one Sumlin signed after essentially two months on the job, had some holdovers that committed to the program under Sherman. It is a mixed bag. Four of those players are starting as either true sophomores (Julien Obioha at defensive end, Alonzo Williams at defensive tackle and De'Vante Harris at cornerback) or in one case, a senior (cornerback Tramain Jacobs, who was a junior college transfer). Defensive end Tyrone Taylor, brother of Tyrell, gets some playing time at defensive end. Edward Pope, who was a receiver/defensive back, is playing receiver for the Aggies. A car accident took away one member from that class -- defensive tackle Polo Manukainiu, who died in a crash in July and is being honored by the team every week this season. A spinal injury took away another member, linebacker Michael Richardson, who played as a freshman. He had successful surgery and was fortunate to not suffer any major physical issues, but is no longer playing football. Defensive back Kenneth Marshall, though on the team, was not part of the 105-man roster during preseason training camp. Linebacker Jordan Richmond transferred to Navarro College in the offseason and one player in the class, defensive tackle Edmund Ray, never made it to campus because of qualifying issues.
September, 28, 2012
9/28/12
10:00
AM ET
Here's your weekly dose of news and notes from ESPN Stats & Information and the SEC:
Arkansas' Cobi Hamilton set an single-game record with 303 receiving yards (on 10 catches and three touchdowns) against Rutgers. The total is the 14th highest in FBS history. The 303 yards is the most receiving yards and all-purpose yards in FBS this season.
Georgia quarterback Aaron Murray had two passing and one rushing touchdown against Vanderbilt, and now has a career touchdown responsibility of 78, which is tied with Kentucky's Tim Couch (1996-98) for 11th in SEC history.
South Carolina quarterback Connor Shaw completed 20 straight passes against Missouri, going 20-of-21 for 249 yards and two touchdowns. The consecutive completion streak is tied for second in SEC history. His 95.24 completion percentage is second in SEC history (both behind Tee Martin, UT, 1998). His single-game pass efficiency rating of 226.27 is 16th highest in FBS this season, and highest for any quarterback in a conference vs. conference game.
SEC defenses have five shutouts this season. SEC defenses recorded six all of last season.
Texas A&M's Dustin Harris' 96-yard punt return for a touchdown against South Carolina State is the longest in the FBS this season.
SEC is 28-7 (.800) against nonconference foes this season. The league is second among all FBS conferences this season in nonconference win percentage (Big 12 -- 24-3, .889).
The SEC has a winning record against all FBS conferences since 1997 except one. The SEC is 18-25 (.419) against teams in the Big East when the game was played.
SEC teams are 29-5 (.853) when scoring first this season. Alabama and Texas A&M are the only SEC teams to score first in all of their games this season.
More than 2.7 million fans have attended SEC home games so far this season. In 37 home dates, a total of 2,767,605 fans have attended SEC games, an average of 74,800 fans per game and 96.37 percent capacity. There have been 17 games where attendance has been at 100 percent-or-more capacity.
Tennessee leads the SEC with 12 passing touchdowns this season, while Georgia leads SEC with 14 rushing touchdowns … South Carolina has not allowed a rushing touchdown this season while Texas A&M has allowed just one passing touchdown … Every SEC team with the exception of Arkansas, Kentucky and Tennessee has scored at least one non-offensive touchdown this season … Opponents have not converted turnovers into points against Alabama, Florida, South Carolina and Texas A&M this season.
Alabama leads the SEC scoring (touchdown and field goal) on 56.3 percent of its offensive drives (27-of-48), while Texas A&M leads the league in touchdown scoring (42.5 percent, 17-of-40) … Alabama leads the SEC in allowing scores on just 6.4 percent of opponents' offensive drives (3-of-47) while South Carolina leads the SEC in least touchdowns allowed per opponents offensive drive (5.5 percent, 3-of-54) … Texas A&M and LSU average a league high 5.63 plays per offensive drive.
The change in kickoff yard lines has made a big difference in the SEC. With the move from the 30 to the 35-yard line, touchbacks have more than doubled in percentage. So far this season, there have been 167 touchbacks on 346 kickoffs (48.3 percent) among the 14 SEC teams. Last season, the 12 SEC teams were at a 22.6 percentage clip for the season, with 190 touchbacks on 841 kickoffs. SEC kickoff units have allowed an average of just 9.73 yards per kickoff return (3,367 yards on 346 kickoffs). Last year, SEC kickoff units allowed an average of 15.8 yards per kickoff return (13,284 yards on 841 kickoffs).
South Carolina's Marcus Lattimore is tied for 20th in SEC history with 33 career rushing touchdowns. He is also tied for 21st with 36 career touchdowns scored (rush and receiving). Only one of the top 10 in the SEC career touchdowns scored list has averaged more touchdowns per game than Lattimore (36 touchdowns in 24 games/1.5 per game). Georgia's Herschel Walker averaged 1.57 TDs per game (52 in 33 games) during his career (1980-82).
Missouri at Central Florida
This is the first meeting between the schools … This will mark Missouri's first game in the state of Florida since 1988 at Miami … Missouri is second in the nation in fumbles recovered (eight), behind only Louisiana Tech (nine) … Junior linebacker
Andrew Wilson
is tied for first nationally, averaging 1.00 forced fumbles per game … In USA Today's Jeff Sagarin's latest computer ratings, Missouri has the nation's toughest schedule.
Arkansas at Texas A&M
These teams have played in 68 previous times, with Arkansas holding a 41-24-3 series advantage … The teams have played three years straight prior to this year, with the Razorbacks winning all three meetings … Arkansas and Navy are the only schools in the NCAA to have a 1.000 winning percentage in Texas since the start of the 2009 season with a minimum of four games played in the state … Aggies junior defensive end
Damontre Moore
leads the nation in sacks per game (2.0) and is tied for the national lead in tackles for loss per game (2.67).
With a loss, Arkansas would join the 1984 Pittsburgh Panthers as the only preseason top-10 teams to have four losses by the end of September. The 1984 Panthers began 0-4 after being ranked third in the preseason poll and finished the season 3-7-1.
Tennessee at Georgia
Tennessee holds a 21-18-2 series lead against Georgia … In games in Athens, Tennessee holds a 10-9-1 advantage … Georgia has won the past two meetings … Six of the past seven meetings in the series have been decided by at least 12 points, with the exception being Georgia's 20-12 win in 2011 … This season, the Bulldogs have 40-plus points in four consecutive games for the first time in school history … The Vols have accumulated 2,055 offensive yards after four games, the highest total through the first four games in Tennessee history … The Vols lead the SEC and are seventh nationally in least sacks allowed per total pass attempts (2/156) … Georgia has won 14 consecutive regular-season games dating to last season (sans the SEC championship game/bowl), the second longest such streak in the nation (LSU -- 17).
Tennessee is trying to avoid a 0-2 start in the SEC, which would be the fifth straight year it started 0-2 in the SEC. From 1977 until 2008, Tennessee never started 0-2 in SEC more than twice in a row.
Tennessee's last win against an AP top-5 team came in 2005, when it won at No. 4 LSU. Since then, the Vols are 0-10 against AP top-5 teams.
Towson at LSU
This is the first meeting between the teams … LSU is 4-0 for the sixth straight year, longest streak in school history … LSU is 30-0 under Les Miles in nonconference regular-season games … LSU has won 36 straight nonconference games in Tiger Stadium, a streak that dates to 2001 … Sixteen players on LSU's defense have recorded either a sack or a tackle for loss, with another three being responsible for a turnover.
South Carolina at Kentucky
South Carolina leads the series with Kentucky, 15-7-1, leading 8-4 in games in Lexington … The Gamecocks have won eight straight dating to last season, the second longest winning streak in school history, topped only by their nine-game winning streak that started the 1984 season … The No. 6 national ranking is the best for South Carolina since 2007 … Kentucky head coach Joker Phillips was wide receivers coach at South Carolina in 2002 ... South Carolina won 54-3 last season in Columbia, while Kentucky won 31-28 in Lexington in 2010 … Kentucky quarterback
Maxwell Smith
is third in the SEC and 17th nationally in total offense at 316.3 yards per game.
Lattimore has gained 152 of his 320 yards after contact (47.5 percent). Lattimore gained 39.7 percent of his yards after contact in his first two seasons.
Kentucky has lost seven straight and 18 of its past 19 against AP-ranked opponents. The Wildcats' only win in that span came two years ago at home against 10th-ranked South Carolina.
Ole Miss at Alabama
Alabama leads the series with Ole Miss, 45-9-2 … The Tide has won eight straight against the Rebels with the last Ole Miss win coming in 2003 … Ole Miss opens SEC play on the road for the eighth time in the past 10 seasons, and kicks off SEC play against Alabama for first time since 2004 … The Rebels are 3-1 for the first time since 2009 … The Crimson Tide has not trailed after the first quarter in its past 18 games, starting with the 2011 Capital One Bowl against Michigan State … Alabama has been ranked in the past 70 AP polls, the longest streak in the nation … Ole Miss junior running back
Jeff Scott
is fifth in the SEC in rushing yards per game (89.3), and sophomore receiver
Donte Moncrief
is fifth in the league in receiving yards per game (85.8) … Tide quarterback A.J. McCarron leads the SEC in passing efficiency (188.6), and kicker
Cade Foster
is third in the SEC in touchback percentage (14-of-18 / 77.78 percent) and leads league in most 40-plus-yard field goals (four).
Alabama has not trailed in regulation since last season's game against Tennessee, when Tennessee led 3-0 in the first quarter. That was 10 games ago.
No team has made a field goal against Alabama this season, just three touchdowns -- two by Michigan and one by Florida Atlantic. The Tide defense has allowed a total of three touchdowns in its past nine games against SEC competition. Ole Miss was one of the teams that managed a single touchdown against the Tide defense last season; Florida and Mississippi State were the others.
September, 24, 2012
9/24/12
11:15
AM ET
Here are the SEC players of the week, as announced by the league Monday:
SEC Co-OFFENSIVE PLAYERS OF THE WEEK
SEC DEFENSIVE PLAYER OF THE WEEK
SEC Co-SPECIAL TEAMS PLAYERS OF THE WEEK
SEC OFFENSIVE LINEMAN OF THE WEEK
SEC DEFENSIVE LINEMAN OF THE WEEK
SEC FRESHMAN OF THE WEEK
Here are some other
top performances from the SEC
.
September, 23, 2012
9/23/12
9:21
AM ET
Week 4 is in the books, and we hand out our weekly helmet stickers in the SEC:
Cobi Hamilton, WR, Arkansas:
Rarely do players on losing teams get helmet stickers on the SEC blog, but there are exceptions for rare performances. Hamilton had an SEC-record performance in the
Hogs' 35-26 loss
to Rutgers with 303 receiving yards. Hamilton caught 10 passes, and three of them were touchdowns. He had a 57-yarder in the first quarter and touchdown grabs of 80 and 10 yards in the fourth quarter. The old SEC record for receiving yards in a game was 293, set by LSU's Josh Reed in 2001.

Dustin Harris, CB/RS, Texas A&M:
Harris led the nation in punt return average last season and showed off his craft Saturday night by setting an SEC record with 246 punt return yards in the
Aggies' 70-14 rout
of South Carolina State. He had a 96-yard punt return for a touchdown in the third quarter, which was the second longest in school history, and wound up averaging 30.8 yards on eight returns.
Sam Montgomery, DE, LSU:
It was one of those nights where the defense saved LSU in its
12-10 escape
at Auburn, and Montgomery was a disruptive force from the opening kick. He finished with 3.5 tackles for loss, including a sack, and was responsible for LSU's first points when he tackled Auburn running back
Tre Mason
in the end zone for a safety in the first quarter. It's a safety that helped ease the pain for LSU, which a few seconds earlier had lost a fumble at the 2.
Florida coach Will Muschamp:
He made it clear when he took the job that he wanted a tough, physical, blue-collar football team. That's exactly what the Gators are, and they're also 4-0 with three SEC wins and playing their best football of the Muschamp era. They get a bye this coming week and then comes a huge showdown with LSU on Oct. 6. This team is playing fast, playing with discipline and playing with a purpose. The Gators haven't given up any fourth-quarter points all season, and in
blanking Kentucky 38-0
on Saturday, recorded their first SEC shutout in 11 years.
Connor Shaw, QB, South Carolina:
The Gamecocks' junior quarterback flirted with the SEC record for consecutive completions in a game. Shaw completed his last 20 and finished 20-of-21 for 252 yards and two touchdowns in South Carolina's
31-10 beatdown
of Missouri. The record is held by former Tennessee quarterback Tee Martin, who completed 23 in a row in 1998 against South Carolina. Shaw also rushed for 41 yards and showed no ill effects from the hairline fracture in his right throwing shoulder. If Shaw continues to play at this level, the Gamecocks are going to be one tough out with the way they're playing defense right now.
September, 22, 2012
9/22/12
10:44
PM ET
COLLEGE STATION, Texas -- Starting quarterback
Johnny Manziel
only saw the field for a half, as Texas A&M cruised to a
70-14
win over FCS opponent South Carolina State. Taking a look at the win:


It was over when:
The clock hit triple zeroes in the second quarter. Texas A&M had a commanding 49-7 lead at the half, one that it wouldn't relinquish, after producing 347 offensive yards in the first half.
Game ball goes to:
Dustin Harris
. The senior cornerback had his second consecutive start at cornerback but made his biggest waves on special teams, recording a school and SEC single-game record 246 punt return yards. That included a 96-yard return for a touchdown. Harris is no stranger to big plays on special teams -- he led the nation in punt return average a year ago. He consistently had good returns and set the Aggies' offense up with great field position throughout the night.
Game ball, Part 2:
Johnny Manziel. The redshirt freshman quarterback had a five-touchdown day while only playing a half. Manziel was 15-of-20 passing for 174 yards and three touchdowns while rushing for 78 yards and two touchdowns on eight carries. His playmaking ability continues to impress through three games.
Rising star:
Deshazor Everett
. The sophomore got his second consecutive start at safety, had four tackles, a half-tackle for loss and a pass breakup and returned an interception 22 yards for a touchdown late in the game. Defensive coordinator Mark Snyder loves him at safety so expect to see Everett stay there.
What it means:
The win essentially served as a tuneup for the Aggies as they prepare for the rest of their SEC slate, which begins next week against Arkansas. Texas A&M opened its season with a 20-17 home loss to SEC foe Florida but gave Aggies fans reason for optimism despite the loss considering the way they played. The next two weeks bring a home game against Arkansas before they hit the road to play Ole Miss.
August, 24, 2012
8/24/12
4:00
PM ET
COLLEGE STATION, Texas -- Texas A&M coach Kevin Sumlin's philosophy on personnel decisions is simple.
"The best players play," he said.
While that sounds logical enough (most coaches will echo that sentiment), it's part of a larger point Sumlin is trying to prove, that just because a player has been in the program longer than someone else, it doesn't automatically mean anyone has the upper hand. That can be seen throughout the Aggies' depth chart as they enter the 2012 season.
In other positions, young players are on the field not necessarily just because they are outplaying their older counterparts, but out of necessity.
[+] Enlarge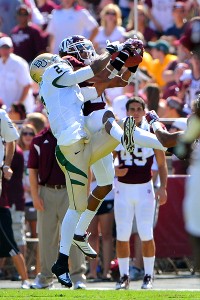 Patrick Green/Icon SMIDustin Harris is one of the few Aggies with game experience in the secondary.
"There's young guys there because we don't have anybody else," Sumlin said. "Fortunately we recruited to that and we've thrown some guys into the fire."
One area where players are feeling that fire's warmth is at cornerback. While the options are plentiful, the experience is not.
The two starting cornerbacks, true freshman
De'Vante Harris
and sophomore
Deshazor Everett
, have zero starts between them. Of the six core guys that will see time at corner --
Dustin Harris
, Tremaine Jacobs,
Floyd Raven
and nickel corner
Toney Hurd
being the others -- only two (Harris and Hurd) have started a game before.
While they're light on experience, the coaches say they have plenty of talent.
"(De'Vante Harris) has had a really good camp," defensive coordinator Mark Snyder said. "You can tell he's from a football family, his dad (Rod Harris) being a football player here. Football makes sense to him. He's going to be a really good football player for us.
"Deshazor has really come along. There's a kid that can tackle and run. I've been very pleased with Deshazor as well."
Everett has received work at both cornerback and safety during fall camp. If injuries occur or the need arises, he'll be the first reserve option at safety behind veteran starters
Steven Campbell
and
Steven Terrell
.
Senior linebacker
Sean Porter
said that he has been impressed by the way the cornerbacks have battled throughout camp.
"That's a heavy battle," Porter said. "All of those guys out there are good. I don't really see a lot of difference in them. ... I think it's good. Competition is always healthy on a team like this. It just makes everybody better."
Terrell, a senior safety, said the secondary as a group made some mistakes early in fall camp but has cut them down since.
"I feel like we've made really big strides," Terrell said. "A lot of the mistakes we made at the beginning of camp, those are gone, especially with the young corners. ... They're doing a great job competing. That's what I really like the most: the way they've been competing and fighting to get reps with those ones and things like that. I think they've come a long way also. It's going to be good for us. I'm excited."
Defensive backs coach Marcel Yates said the group still has room to improve.
"Right now we're athletic," Yates said. "We still need to get better. They're just starting to get to the point where we're practicing hard. They still need to talk to each other. We need to get each other on the same page. The ones right now are getting pretty good. What I need, is I need the twos to push the ones. Once our twos start playing like ones, we'll be pretty good."
Despite the lack of starting experience in the group, Snyder suggested that the Aggies do have depth at the position and that all those core guys will see time on the field this fall.
"The only place that we really have some depth is at corner, because we have Floyd and some of those guys," Snyder said. "It's kind of hard to put them all on this (two-deep) sheet because we are a little bit deep."
August, 2, 2012
8/02/12
11:00
AM ET
The Mississippi State duo of
Johnthan Banks
and
Chad Bumphis
leads a contingent of 12 SEC players on the preseason watch list for the 2012 Paul Hornung Award, which is presented to the most versatile player in major college football.
Georgia's Brandon Boykin was the 2011 winner.
There are 49 players on the preseason watch list. The SEC leads the way with 12 players. The Pac-12 is second with 10 players on the list.
Here's a complete rundown of the SEC players on the list:
Johnthan Banks, CB/RS, Mississippi State, Sr.
Chad Bumphis, WR/RS, Mississippi State, Sr.
Trey Burton, RB, Florida, Jr.
Dustin Harris, CB/RS, Texas A&M, Sr.
Dennis Johnson, RB/RS, Arkansas, Sr.
Onterio McCalebb, RB/RS, Auburn, Sr.
Tyrann Mathieu, CB/RS, LSU
T.J. Moe, WR/RS, Missouri, Sr.
Warren Norman, RB/RS, Vanderbilt, Jr.
Ace Sanders, WR/RS, South Carolina, Jr.
Jeff Scott, RB/RS, Ole Miss, Jr.
Branden Smith, CB/RS, Georgia, Sr.
Players from all FBS teams are eligible, and appearing on the Paul Hornung Award watch list is not a prerequisite for winning the award. That said, look for Georgia's
Malcolm Mitchell
to play his way into consideration this season as both a cornerback and receiver for the Bulldogs.
July, 23, 2012
7/23/12
1:30
PM ET
The SEC's top kickers and punters have been ranked, so now it's time to rank some of the most exciting players in the league.
Past rankings:
Here are our top return men in the SEC:
[+] Enlarge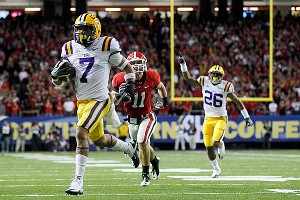 Josh D. Weiss/US PresswireTyrann Mathieu was a big-play machine for LSU last season.
1. Tyrann Mathieu, Jr., LSU:
When he got the ball in his hands on punt returns you never knew what might happen. He showed excellent vision and movement and really drew more praise as a returner with his three game-changing returns against Arkansas and Georgia, with two going for scores. He finished the year averaging 15.6 yards on 27 returns, with a long of 92 yards and two touchdowns.
2. Dennis Johnson, Sr., Arkansas:
He was one of the top returners out there before an injury cut his 2010 season short. He returned in 2011 to average 25.6 yards on 18 returns and had a 98-yard touchdown. Johnson will have even more energy on returns with
Knile Davis
returning to the backfield. For his career, Johnson enters the fall as the SEC's active leader in career kickoff return yards and total return yards with 2,475.
3. Dustin Harris, Sr., Texas A&M:
He was one of the country's best punt returners last year, with a nation-leading 18.6 average per return. He had a long return of 72 yards that went for a touchdown and set a school record with 162 punt return yards against Kansas.
4. Andre Debose, Jr., Florida:
Two years ago he was one of the nation's best when it came to returning kicks because of his speed and vision, but inconsistency has held him back at times. Last year, he returned 19 kicks for an average of 26.1 yards per return and had a long of 99 yards that went for a touchdown.
5. Onterio McCalebb, Sr., Auburn:
He's one of the league's best home run threats and all that space on kickoffs makes him even more dangerous. He only returned 11 kicks, but averaged 30.1 yards per return, had a long of 83 yards and registered one touchdown. The Tigers rotated a few players in the kick return game, so McCalebb will continue to get his chances to make big plays back there.
6. Warren Norman, Jr., Vanderbilt:
As a freshman, he put up historic numbers as a return man. He set the SEC record for kickoff return yards for a freshman (1,050) and tied a league record with three touchdowns on kickoff returns and averaged 26.3 yards along the way. An injury cut his sophomore season short and he missed all of last season, but if he's totally healthy he's one of the best out there returning kicks.
7. Tre Mason, Soph., Auburn:
He returns as the league's top statisitical kickoff returner, averaging 26.4 yards per return last year. He had a long of 97 yards that went for a touchdown. After a very successful start to the year, Mason saw his production decrease as the season went on and eventually lost his spot because of injuries and fumbling issues. Mason has the talent to be a special returner, but he has to get his job back first.
8. Jeff Scott, Jr., Ole Miss:
Two years ago, he averaged 27.7 yards per return on kickoffs. Last year he spent time on both kickoffs and punts, registering a touchdown on one of his eight punt returns. He is Ole Miss' top all-purpose weapon and will be expected to do more in the return game to get Ole Miss in better field position, as it brings in a new offense.
9. Andre Hal, Jr., Vanderbilt:
He'll share time with Norman now, but Hal did a solid job in his place last season, averaging 23.8 yards per return with a long of 96 yards that went for a touchdown. Having Norman alongside him might make him that much more productive because kickers might want to direct kicks away from Norman.
10. Johnthan Banks, Sr., Mississippi State:
He averaged 10.4 yards on his 16 punt returns and had one go for a score last year. He might have been even more successful in the return game if fellow Bulldog
Chad Bumphis
didn't have eight returns of his own last season. Banks has great vision and elusiveness to be a top return man again if he gets enough touches.
July, 23, 2012
7/23/12
9:00
AM ET
We took a little hiatus from the position rankings last week while attending the SEC media days.
We'll pick back up today with special teams. Place-kickers and punters are important, especially those with experience, but so are dangerous return men. We also looked at net punting and the way teams covered kicks last season.
Here's how we would rank the special teams units in the league heading into the 2012 season:
[+] Enlarge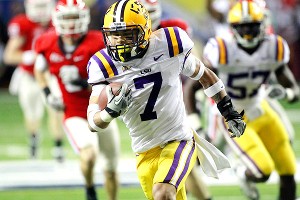 AP Photo/John BazemoreLSU's Tyrann Mathieu has become perhaps the nation's most feared player on special teams.
1. LSU:
Where are the Tigers not loaded for 2012? They again should be outstanding in the kicking game with place-kicker
Drew Alleman
and punter
Brad Wing
both returning. Alleman was 16-of-18 on field goals last season, and Wing averaged 44.4 yards per punt. The Tigers were third nationally in net punting (41.15 yards), and
Tyrann Mathieu
is back after averaging 15.6 yards on punt returns and taking two back for touchdowns.
2. Florida:
Coach Will Muschamp said last week that
Caleb Sturgis
was the best kicker in the country. Sturgis was a Lou Groza Award finalist last season and made 22-of-26 field goals. He was one of only two FBS kickers to make three field goals of 50 yards or longer. The Gators also have an assortment of speed in their return game.
Andre Debose
was second in the SEC in kickoff return average and took one back 99 yards for a touchdown.
3. Auburn:
The Tigers have a trio of dangerous return men in
Onterio McCalebb
,
Tre Mason
and
Quan Bray
. McCalebb and Mason both returned kickoffs for touchdowns last season. Junior punter
Steven Clark
was a Ray Guy Award finalist last season. He was third nationally with 33 punts inside the 20. Junior place-kicker
Cody Parkey
returns after making 13-of-18 field goals. Auburn led the SEC in kickoff coverage and tied for third in net punting.
4. Arkansas:
The Hogs love their kicking combo of junior place-kicker
Zach Hocker
and senior punter
Dylan Breeding
. Hocker was 21-of-27 on field goals, and his 40 touchbacks ranked second nationally. Breeding led the SEC in punting with an average of 45.3 yards per kick. Joe Adams won't be weaving his magic on punt returns any more, but
Dennis Johnson
is equally dangerous when he's back there as the deep man.
5. Ole Miss:
The Rebels have one of the top senior kicking duos in the conference returning.
Bryson Rose
was 9-of-11 on field goals, while
Tyler Campbell
averaged 43.6 yards per punt and was second in the SEC with 28 punts downed inside the 20. Ole Miss was second in the league in kickoff coverage and fifth in net punting.
Jeff Scott
is also back after averaging 17.2 yards on punt returns, including a 67-yard touchdown.
6. Missouri:
Senior
Trey Barrow
earned second-team All-Big 12 honors last season as a punter when he averaged 44.8 yards per punt, which ranked him ninth nationally. He also filled in later in the season as the place-kicker and was 7-of-9 on field goals, but was outplayed this spring by redshirt freshman
Andrew Baggett
.
E.J. Gaines
and
T.J. Moe
are both veteran return men.
7. Texas A&M:
Senior
Dustin Harris
is one of the top return men in college football. He led the country last season in punt return average with an 18.6-yard average. The big loss is Lou Groza Award winner Randy Bullock, who made 29 of his 33 field goal attempts, including 13-of-16 from 40 yards or longer. Redshirt freshman place-kicker
Taylor Bertolet
has some big shoes to fill.
8. Alabama:
Kicking field goals wasn't one of the things defending national champion Alabama did best last season, but
Jeremy Shelley
came through in the BCS National Championship Game and returns for his senior season. Junior
Cody Mandell
was ninth in the SEC in punting a year ago, and the Crimson Tide were shaky in kickoff coverage. They also have to replace Marquis Maze in the return game.
9. Vanderbilt:
Junior
Warren Norman
is healthy again and ready to showcase the same form that earned him SEC Freshman of the Year honors when he returned three kickoffs for touchdowns. Incoming freshman Brian Kimbrow could also provide some fireworks in the return game. The Commodores didn't make any field goals longer than 40 yards last season, but were third in the SEC in net punting.
10. Mississippi State:
Junior punter
Baker Swedenburg
is the most proven component of Mississippi State's special teams. He averaged 41.8 yards a kick last season, and the Bulldogs were sixth in the league in net punting. Senior
Brian Egan
and freshman Devon Bell will compete for the place-kicking duties after
Derek DePasquale
made 12-of-18 field goals last season.
11. Kentucky:
Senior place-kicker
Craig McIntosh
has gone from walk-on to one of the most dependable place-kickers in the SEC. He made 12-of-14 field goals last season and also took over the kickoff duties later in the season. Replacing punter Ryan Tydlacka won't be easy, and the Wildcats' return game was non-existent in 2011. They were last in the SEC in punt return average (1.8 yards).
12. South Carolina:
The Gamecocks need to make more happen in the return game and hope
Ace Sanders
and
Bruce Ellington
can fill that void. They also will break in two new kickers.
Landon Ard
is a redshirt freshman place-kicker, and there's still a battle raging at the punter position. South Carolina was last in the SEC in kickoff coverage a year ago and 11
th
in net punting.
13. Tennessee:
The Vols were last in the SEC in net punting last season, and covering kicks, period, has been a problem for some time on Rocky Top. They're also looking for more consistency when it comes to kicking field goals. Junior
Michael Palardy
was 9-of-14 last season. Making more happen in the return game would help, too. Speedy sophomore
Devrin Young
may be the answer.
14. Georgia:
The Bulldogs were a train wreck on special teams last season. They couldn't cover kicks, and senior place-kicker Blair Walsh had an off year. Now, Walsh is gone along with veteran punter Drew Butler. That means the Bulldogs will have a new place-kicker and a new punter, and their most dynamic weapon in the return game,
Brandon Boykin
, also has to be replaced.
July, 17, 2012
7/17/12
9:00
AM ET
We continue to rank all the positions in the SEC and turn our attention to groups of defensive backs the conference has to offer.
Past rankings:
On to the league's secondaries:
[+] Enlarge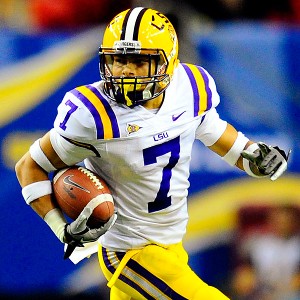 Dale Zanine/US PresswireTyrann Mathieu is a force to be reckoned with in the LSU secondary.
1. LSU:
The Tigers bring back a load of talent here.
Tyrann Mathieu
and his Honey Badger persona return, but he might not be LSU's best pure corner. While Mathieu has a true knack for finding the ball, no matter where he is, junior
Tharold Simon
, who replaces Thorpe Award winner Morris Claiborne, might have the best cover ability on the team. Junior safety
Eric Reid
takes the back end of the field away and will challenge to be one of the nation's top safeties this fall. The coaches are still waiting for safety
Craig Loston
to break out, and his solid spring was an encouragement. Keep an eye on safety
Micah Eugene
, who turned heads this spring.
2. Georgia:
The Bulldogs have some depth concerns and some players will face early-season suspensions, but the Bulldogs are loaded at the top.
Bacarri Rambo
is one of the nation's best safeties and he has a very solid partner in
Shawn Williams
, who led the Dawgs in tackles last year. Seniors
Sanders Commings
and
Branden Smith
are back, but will likely sit out the start of the year because of suspension. That leaves
Malcolm Mitchell
, who moved from receiver, to fill in and he's no stranger to defense. The coaches are also excited about youngster
Damian Swann
, who will play early.
3. Alabama:
With three starters gone, this group is drawing a lot of comparisons to the 2010 unit that struggled at times. However, this batch of DBs insists it'll be more prepared this fall and shakes off the comparisons. Veteran
Robert Lester
is back at safety and is an All-SEC-type player. Junior cornerback
Dee Milliner
has 16 career starts under his belt and is an underrated talent, and the coaches are expecting to get a lot out of junior college transfers Travell Dixon and Deion Belue. Keep an eye on safety
HaHa Clinton-Dix
, who has the talent to be a star in this league.
4. Mississippi State:
The Bulldogs own one of the league's best corner duos in seniors
Johnthan Banks
and
Corey Broomfield
. Banks might hold the title as the league's best returning cover corner.
Darius Slay
is also another corner to watch, as he has some legit playmaking ability. Junior safety
Nickoe Whitley
is back as well and he would have had better numbers if not for a ruptured Achilles tendon that cut his 2011 season short. He grabbed four interceptions in nine games and should be 100 percent this fall.
5. Florida:
This group was pretty young last year, but now has some quality experience under its belt. Safety
Matt Elam
is the best of the bunch and should challenge to be the league's top safety this year. Sophomore
Marcus Roberson
had a solid freshman season and has the makings to be a top cover corner in this league. The other corner spot is up for grabs, but keep an eye on sophomore
Loucheiz Purifoy
, who the staff is very excited about.
Josh Evans
had a good spring at free safety, but he'll have his hands full fighting off sophomore
De'Ante Saunders
, who started nine games last year.
6. Missouri:
The star of this group is junior corner
E.J. Gaines
, who recorded only two interceptions, but he broke up 16 passes in 2011 and is bonafide All-SEC candidate. Across from Gaines is senior
Kip Edwards
, who returns for his second year as a starter and has 37 games to his credit. Edwards turned into a solid cover man toward the end of last season. Seven players return with starting experience, including safeties
Kenronte Walker
(four starts), who was named the team's most improved safety this spring, and
Braylon Webb
(four), who had a strong freshman year.
7. South Carolina:
The Gamecocks are down three starters, but they aren't without talent. Senior safety
D.J. Swearinger
, the lone returning starter, is one of the league's top safeties and is solid against the pass and the run. Vet
Akeem Auguste
returns after missing all of last year with a foot injury, and he's back at corner after moving to safety in 2010. The questions begin with sophomores
Victor Hampton
(corner) and
Brison Williams
(safety). Hampton has the talent to succeed, but has some maturing to do. Williams struggled in his only start last year, but the staff really likes his upside.
8. Vanderbilt:
Casey Hayward and Sean Richardson are gone, but the Commodores still possess some pretty good talent in the secondary, starting with corner
Trey Wilson
, who had a solid 2011 in Hayward's shadow. The coaches like what they've seen from junior corner
Andre Hal
, and safety
Kenny Ladler
could be a real player at free safety. Expect
Eric Samuels
and
Javon Marshall
, who have both see plenty of field time in their careers, to get into the safety rotation this fall.
9. Auburn:
The Tigers' secondary took some lumps last year, but certainly has experience back there. Three veteran starters are back with 33 combined starts from a year ago. Fifth-year senior cornerback
T'Sharvan Bell
didn't go through spring while he recovered from knee surgery, but has the talent to be a top corner in this league. Juniors
Chris Davis
(corner) and
Demetruce McNeal
are both back and sophomore
Jermaine Whitehead
, who had a solid freshman campaign, will get time at safety.
10. Tennessee:
Tennessee gave up 7 yards per attempt last year, but things could turnaround this fall. Tennessee has a lot of game experience at corner, including senior
Prentiss Waggner
, who is the leader of the group. Sophomore
Brian Randolph
had a solid freshman campaign and junior
Brent Brewer
is returning to the other safety spot after suffering an ACL injury in late October.
Izauea Lanier
was ruled ineligible this summer, meaning
Marsalis Teague
and
Eric Gordon
will compete with
Justin Coleman
for a corner spot.
11. Arkansas:
Sophomore
Tevin Mitchel
had a solid first year in Fayetteville and is on course to have a true breakout year this fall. Junior
Eric Bennett
is holding down one of the safety sports and started 13 games in 2011 after moving from cornerback last spring. The staff is still waiting on senior corner
Darius Winston
to live up to the hype that followed him from high school. Freshmen
Kelvin Fisher
Jr. and
Davyon McKinney
will get their chances to play this fall and help with depth.
12. Ole Miss:
The Rebels should be better against the pass this year and things start with veteran safety
Charles Sawyer
, who has All-SEC quality and should have had at least three more than the four interceptions he recorded last year. Former JUCO transfer corner
Wesley Pendleton
had an impressive year last season, but looked even better this spring. Nickolas Brassell is gone, but the coaches hope to get more out of former freshman standout
Senquez Golson
, and junior
Brishen Mathews
returns from back injury to take the hybrid Husky position.
13. Kentucky:
The Wildcats must replace two starting corners, but the coaches feel good about senior
Cartier Rice
and redshirt freshman
Marcus Caffey
. Caffey, who moved from running back, might have the most upside and was one of Kentucky's top players this spring. Senior starting safeties
Martavius Neloms
and
Mikie Benton
are back. Neloms had a solid spring and racked up 71 tackles last year. Behind them, the Wildcats are full of unproven youngsters.
14. Texas A&M:
This is where the Aggies could really struggle. Texas A&M ranked 109th nationally in pass defense last year and could start three sophomores in its secondary this fall. Senior safety
Steven Campbell
can be a real playmaker for this group, but he's struggled to stay healthy during his career. Senior
Dustin Harris
has shown flashes on defense, but left spring as a backup to sophomore
Deshazor Everett
. Sophomore
Floyd Raven
, who was impressive this spring, has the edge over JUCO transfer Tremaine Jacobs at the other corner spot. The coaches are hoping this is a more athletic group in 2012.
May, 24, 2012
5/24/12
4:30
PM ET
Our look at the SEC's most productive returning players in 2012 concludes with a look at the league's top returning punt returners.
Past producers:
The SEC returns six of the top 10 punt returners from 2011. Unfortunately for all those interested in watching one of the most electrifying plays in football, the SEC's top returner won't be back. Arkansas' Joe Adams must have had a blast returning punts last year. If you don't believe me just
look here
. He led the nation with four punt returns for touchdowns and led the SEC with an average of 16.9 yards per return. His moves will be missed, but the top player returning (we're going by average per return) isn't too bad either:

Tyrann Mathieu, CB, LSU:
He averaged 15.6 yards on 27 returns, had a long of 92 yards and recorded two touchdowns. If Adams was the most exciting punt returner in the country, Mathieu was a close second. He completely turned the Arkansas and Georgia games to LSU's favor with three huge returns. The first came on a 92-yarder against the Razorbacks to tie the game at 14 in the second quarter and helped spark a 34-3 run for the Tigers. Against Georgia in the SEC championship game, he gave LSU its first points of the game with a 62-yard touchdown return in the second quarter, but his most exciting return came on a scintillating 47-yarder in the third that he took down to Georgia's 17-yard line. Mathieu is a game-breaking returner and the best thing teams can do is just kick away from him.
The SEC returns five more of the top 10 punt returners from 2011:
Johnthan Banks, CB, Mississippi State:
He averaged 10.4 yards on 16 returns, had a long of 65 yards and recorded one touchdown.
Ace Sanders, WR, South Carolina:
He averaged 9.3 yards on 12 returns, had a long of 68 yards and recorded one touchdown.
Marquel Wade, WR, Arkansas (currently not a part of Arkansas' team):
He averaged 8.2 yards on 12 returns and had a long of 19 yards.
Quan Bray, WR, Auburn:
He averaged 7.4 yards on 13 returns and had a long of 24 yards.
Jonathan Krause, WR, Vanderbilt:
He averaged 4.1 yards on 19 returns and had a long of 18 yards.
Teams will likely kick away from Mathieu more this fall, so he could have a tougher time going for the crown in 2012. One player who could really push for the top spot in this category is Wade. But with him not currently being with the team following his recent arrest, he might not have the chance. Wade is a very dynamic athlete and got to learn from the best in Adams. If he comes back, he'll definitely compete for the throne.
Banks could have competition from his own teammate in
Chad Bumphis
. Bumphis only returned eight punts last fall, but returned one 82 yards for a score and averaged 16.6 yards per return.
Krause is someone to keep an eye on. Coach James Franklin was very pleased with how his spring went, but he might have to battle incoming freshman Brian Kimbrow here as well.
Texas A&M's
Dustin Harris
could certainly challenge for the crown after the season he had in 2011. He led the Big 12, averaging 18.6 yards per return, had a long of 72 yards and registered a touchdown. Last season against Kansas, Harris set the school record with 162 punt return yards, including that 72-yard score.
Ole Miss'
Jeff Scott
still has some academic hurdles to get over, but when he's fielding punts, he's one of the most fun to watch in the SEC. He averaged 17.2 yards per return on just eight returns last year and returned one for a touchdown.
May, 8, 2012
5/08/12
2:10
PM ET
The good folks over at the SEC office delivered a plethora of post-spring notes for us to dive into as summer creeps closer and closer.
I've split it up by division, so you all aren't overwhelmed. We'll start with the SEC West:

ALABAMA
The attendance for A-Day was 78,526 (1st in the SEC and 2nd nationally this year to Ohio State) which was the fifth-largest in school history. Each spring game under coach Nick Saban has had an attendance of 78,200 (2008) or higher.
As an SEC head coach (beginning in 2001 at LSU and 2007 at Alabama), Saban has totaled 73 NFL draft picks with 20 first-round selections and 10 among the top 10 overall.
During the last academic year, Alabama's football program led the SEC (in what is believed to be a conference record) with a total of 38 student-athletes on the Academic All-SEC Honor Roll. A total of 22 players were on the bowl roster who had already earned their degrees, which was tied for first nationally in terms of graduates on bowl rosters.
Of Alabama's 13 starters lost, all were either drafted or signed free -agent contracts with the NFL. Included among those 13 were the four first-rounders along with LB Courtney Upshaw (2nd round), NG Josh Chapman (5th round), DB DeQuan Menzie (5th round) and TE Brad Smelley (7th round). OG Alfred McCullough, WR Marquis Maze, WR Darius Hanks, C William Vlachos and LB Jerrell Harris each signed as free agents following the draft.

ARKANSAS
Arkansas is the only team in the SEC to return a quarterback (Tyler Wilson) with a 3,000-yard passing season in his career and a running back (Knile Davis) with a 1,000-yard rushing season.
Arkansas has been ranked in 32 straight Associated Press polls, tied for the seventh-longest active streak in the nation, and in the top 10 for nine straight polls, which also ranks seventh among active streaks in the country.
Arkansas finished the 2011 season undefeated at home for the first time since 1999. With seven home victories in 2011, the Razorbacks have 19 wins at home in the past three years, which is tied for the fourth-highest total in the NCAA. Arkansas enters the 2012 season with an 11-game home winning streak, the fifth-longest active streak in the country.
Kicker Zach Hocker enters his junior season as Arkansas' record holder for career field goal percentage with his success rate of 80.4 percent. He also ranks in the top 10 in school history in six other categories and finished the 2011 season second in the SEC in points per game, field goals made per game and touchback percentage.

AUBURN
Auburn returns 48 lettermen (20 offense, 26 defense, 2 specialists). Of the 68 scholarship players who participated in spring drills, 61 percent (38) were underclassmen.
The Tigers start the 2012 season in the same location as they finished the 2011 campaign, playing in Atlanta's Georgia Dome. On Sept. 1, Auburn opens with Clemson in the Chick-fil-a Kickoff Game. The Tigers completed the 2011 season with a 43-24 victory over Virginia in the Chick-fil-a Bowl on Dec. 31. Auburn's 2012 schedule features eight games against bowl participants from a year ago, including five that played in traditional New Year's games.
Junior punter Steven Clark, one of three finalists for last year's Ray Guy Award, is one of two returning first team All-SEC honorees for Auburn, along with junior defensive end Corey Lemonier. Returnees Philip Lutzenkirchen (senior tight end) and Onterio McCalebb (senior all-purpose back) were second team all-SEC selections in 2011.

LSU
The Tigers have four running backs coming back who had seven or more rushing touchdowns (Spencer Ware 8, Kenny Hilliard 8, Michael Ford, Alfred Blue 7).
LSU has five returning offensive linemen with starts to their credit, led by C P.J. Lonergan with 26 and OG Josh Dworczyk with 26. Other linemen with career starts to their credit include LT Chris Faulk (13), RT Alex Hurst (23) and RG Josh Williford (9). A sixth offensive lineman – La'el Collins – came out of spring practice as possibly the starter at left guard.
Defensively, LSU returns its top two tacklers (Tyrann Mathieu 76, Eric Reid 76) and its top two leaders in both tackles for loss (Barkevious Mingo 15.0, Sam Montgomery 13.5) and sacks (Montgomery 9.0, Mingo 8.0).
LSU returns 11 players on defense that started at least one game a year ago, including five defensive linemen.

MISSISSIPPI STATE
Mississippi State is one of only two SEC teams to bring back all 10 on-field coaches from last season. The entire staff continuity is a first in more than a decade (1999-2000) for the Bulldogs.
Dan Mullen enters the 2012 campaign with 21 wins in his first three seasons, the second most in school history (Alllyn McKeen, 26, 1939-41). Mississippi State had only won 21 games over any three-year stretch eight times prior to Mullen's arrival.
Wide receiver Chad Bumphis enters the season with 101 career receptions, good for eighth in school history and 61 shy of David Smith's (1968-70) record of 162. The Tupelo native needs five touchdowns to reach the school record of 17 held by Eric Moulds (1993-95) and Justin Jenkins (2000-03).

OLE MISS
Five returning offensive linemen have each started five or more games in their career, including junior starting center Evan Swindall. Senior A.J. Hawkins and sophomore Aaron Morris settled in at the guards during the spring, while a pair of potential first-time starters, junior Emmanuel McCray and mid-year JUCO transfer Pierce Burton, have taken the lead at the tackles.
Special teams remains a strength of the Rebels, led by 2010 NCAA punting champion and two-time All-SEC senior Tyler Campbell. In addition, senior K Bryson Rose has made 25 of 29 career field goals and 65-of-67 PATs.
In the return game, junior running back Jeff Scott has established himself as a weapon during his career, ranking 20th in the country in kickoff returns in 2010 and helping Ole Miss finish third as a team nationally in punt returns in 2011.

TEXAS A&M
Senior Dustin Harris enters the 2012 football season as the reigning punt return average statistical champion. The cornerback from Livingston, Texas, led the NCAA with a 18.9 average on 18 returns in 2011, with a 72-yard touchdown return against Kansas. Against the Jayhawks, Harris set a school record with 162 punt return yards.
Senior Ryan Swope, from Austin, Texas, has career numbers of 180 catches for 2,204 yards and is chasing Jeff Fuller's school records of 233 catches for 3,092 yards. Fuller's records would appear to be within range after Swope's record-setting junior season that saw him set school standards with 89 catches for 1,207 yards.
The Aggies led the nation with 51 sacks in 2011 (six more than the second-best team), and A&M's top two pass-rushing threats return in 2012. In fact, Texas A&M is the only team in the nation with two returnees that posted 8.5 or more sacks in 2011. Senior Sean Porter led the Big 12 with .73 sacks per game (No. 19 nationally), while junior Damontre Moore chipped in .71 per game (No. 21 nationally).
Despite attempting the ninth most pass attempts in the NCAA FBS, the Aggies did a remarkable job of protecting their quarterback in 2011. In 13 games, A&M allowed just nine sacks for a NCAA-low 44 lost yards. Four of five starters return from the 2011 offensive front, including juniors-to-be OTs Luke Joeckel and Jake Matthews, who have been mentioned as first-round draft picks in several early 2013 mock drafts.
The offensive line was penalized for holding just twice in 2011 and enters 2012 with a streak of 11 straight games without a holding call against a lineman.