September, 10, 2014
Sep 10
9:00
AM ET
BATON ROUGE, La. -- When it comes to turnovers and sacks, it's not a chicken-or-the-egg equation for LSU's defense.
It's a chicken-AND-the-egg thing -- because without one, the Tigers likely won't have the other.
"If you're covering and they're not getting that pressure, you can only cover for so long before somebody gets open," cornerback
Tre'Davious White
said. "But if you have both going at the same time, it's hard to get beat."
[+] Enlarge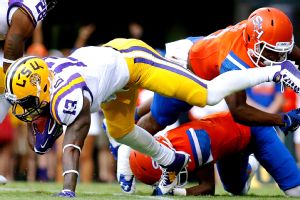 AP Photo/Jonathan BachmanDwayne Thomas nabs one of LSU's two interceptions against Sam Houston State.
Last season was a down year for LSU in both categories, with the Tigers registering 27 sacks and 11 interceptions -- their fewest sacks since 2009 and interceptions since 2008. It was also the first time since 2008 that the Tigers had fewer interceptions than touchdown passes allowed (15).
Improving in both categories was an area of offseason emphasis for LSU's defense, and the Tigers seem to be showing marked improvement. Through two games, LSU leads the SEC in pass-efficiency defense (50.6), is tied with Arkansas for the league lead in sacks (seven) and ranks second with four interceptions (Ole Miss has five).
"We've been working on a lot of ball skills and a lot of strip drills and a lot of fumble-recovery drills. As far as getting it done at practice, it's coming easier to us in the game," said defensive back
Dwayne Thomas
, who halted Sam Houston State's opening drive last week with an interception at LSU's 6-yard line.
Clearly it's too early to pronounce LSU's problems in either area solved. The Tigers notched three takeaways and all seven sacks in last Saturday's 56-0 rout of Sam Houston State, an FCS opponent that isn't up to the competitive level of some of the teams waiting on LSU's schedule.
And yet the Tigers picked off multiple passes for the third straight game -- their longest such streak since an all-star secondary intercepted at least two passes in each of the final four games of the 2010 season -- and recorded LSU's best single-game sack total since getting seven in a 2007 win against Alabama.
There have been other Sam Houston States on the schedule in the last several years, but LSU didn't post numbers like that against any of them. Perhaps the offseason work is actually starting to pay dividends.
"[SHSU's] offensive line, they were pretty good and we had to run our stunts perfectly. By doing that, you saw a bunch of sacks," said linebacker
D.J. Welter
, who accounted for one of the sacks and also stripped Bearkats quarterback
Jared Johnson
on the play for a fumble that
Deion Jones
recovered at the SHSU 1. "That definitely helps going into the next couple of games to have more confidence in the pass rush."
Saturday's game against Louisiana-Monroe will provide a further test of their progress -- the Warhawks have surrendered four sacks and have had just one of their 86 passes intercepted through two games -- but the truth will truly come to light starting the next week against Mississippi State.
In eight SEC games last season, the Tigers recorded 15 sacks and seven interceptions. Those numbers weren't pitiful, but they definitely weren't up to LSU's previous standards, either.
LSU's 2014 defense intends to function more like its dominant predecessors, and in a shutout streak that stretches over the last 87 minutes, 24 seconds of action, the Tigers have offered regular glimpses of such play.
"We kind of struggled a bit last year as a secondary," White said, "and I feel like us having two big games, going down the road that'll give us so much confidence when we get into the big-time games that we can make those plays, too."
August, 13, 2014
Aug 13
3:00
PM ET
BATON ROUGE, La. -- Les Miles didn't offer many specifics about LSU's first preseason scrimmage on Wednesday -- particularly about which quarterbacks completed the two touchdown passes -- but the Tigers' coach described the 26-play scrimmage as "pretty productive."
Miles confirmed that freshmen
Leonard Fournette
and
Malachi Dupre
are both dealing with injuries, adding that tailback Fournette ran a handful of times in "thud" drills (not full contact) and that he should participate in a greater role in Saturday's full scrimmage.
"He really could have been involved today, but [with] a little bruise, we decided not to," Miles said.
[+] Enlarge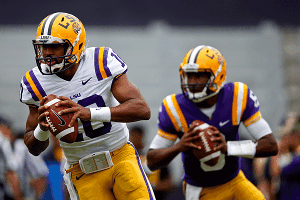 Derick E. Hingle/USA TODAY SportsCoach Les Miles said that QBs Anthony Jennings, left, and Brandon Harris are both grasping LSU's offense.
He made similar comments about wide receiver Dupre, who already missed a couple of practice days with an undisclosed injury.
"He's really nicked and on the heal and they don't think it's anything major in any way, but we've just got to continue to treat and get him going," Miles said.
He didn't say which quarterbacks threw the passes, but Miles did reveal that
Avery Peterson
and
Travin Dural
caught touchdowns in the scrimmage.
Speaking generally, he said that quarterback contenders
Anthony Jennings
and
Brandon Harris
are in command of the offense most of the time. The rest remains a work in progress.
"They're young, they're both engaged in leadership and want to have command of the offense -- and they do for the most part," Miles said. "They don't know what command is. They don't necessarily understand exactly what has to be communicated to make this thing go easy. They're learning.
"I'd say 70 percent of today was just very, very well done and 30 percent's probably not enough for anybody that sits in the stands to even notice. And yet that 30 percent we expect from our quarterbacks."
Miles said defensive tackle
Quentin Thomas
-- initially thought to be lost for the season with a torn bicep -- worked in individual drills on Wednesday and might still play this season.
"Today he went through individual and moved and used his hands. It's one of those things when you have a big old arm and you get it nicked, you can't quite tell what it is and what it isn't initially. Frankly he's as fortunate as he could be."
Miles added that the Tigers' occupational therapist, "looked at it and he says there's absolutely no reason to do anything else than rehabilitate and let him play."
Thomas' versatility:
One of the primary benefits of LSU's "Mustang" defense is that it's difficult to tell which rushers will attack the line of scrimmage on any given play. So perhaps it fits that one of the Tigers' key players in that package is
Dwayne Thomas
, since you never know where he might play.
Thomas said he has learned the duties of every position in the secondary, joining
Jalen Mills
as the only Tiger defensive backs who can do that.
"Corner, safety, nickel and dime -- I pretty much know the entire defense," Thomas said. "Wherever Coach [Corey] Raymond needs me, I just go fill in. It's a great opportunity to do that. Being able to be in the mix of any position is good for the next level."
Thomas said he added safety to his repertoire since the end of last season, having worked at the position throughout spring practice.
"Once I got safety down pat, that was like the last position I had to learn for the entire defense," Thomas said. "I had already been doing nickel and dime and corner. After the spring passed, getting all the safety reps down pat was just fantastic."
But it's that Mustang role where Thomas might make the biggest impact. Because of his speed off the edge -- aided by his ability to jump the snap count, work with assistant coach Brick Haley on the finer points of pass rushing and film study of former Mustang standouts Tyrann Mathieu and Ron Brooks -- Thomas could be even more valuable in that role this season.
"Dwayne really gives us what we're looking for at that position. He does a great job there," defensive coordinator John Chavis said when asked about who will play the rushing positions in the Mustang. "Jalen Mills has played a lot at that position. I'm not ready to say anything other than we expect Thomas to be one of those guys."
Kick returners:
Dural said one factor will probably determine who eventually wins LSU's kickoff and punt return jobs.
"We're battling every day to see who's going to drop the ball first," Dural chuckled.
Dural listed a half-dozen candidates who are contending for the return jobs when they catch balls before and after practice each day.
"It's just me,
Tre White
, Leonard, Jamal [Adams], Malachi,
Trey Quinn
. We're all back there battling for a spot," Dural said. "Everybody wants to be that dynamic player. Everybody wants to be the kickoff guy or [punt]."
LSU had one of the nation's best return men last year in Odell Beckham, who entered the NFL draft after winning the Paul Hornung Award as college football's most versatile player. Dural said it won't be easy to replace the explosive Beckham, but he believes the Tigers have plenty of promising candidates.
"It's hard to replace someone like that, but we have a lot of guys who have the ability to make those plays," Dural said. "Tre White, he's a guy that can return punts and return kickoffs as well as Leonard. Leonard's back there returning both of them. So as the season goes on, whoever that guy may be, you'll start to see him make those types of plays that Odell did."
March, 19, 2014
Mar 19
9:00
AM ET
BATON ROUGE, La. --
Jalen Mills
doesn't view himself as a safety. He doesn't view himself as a cornerback, either.
He views himself as both -- which is coming in handy for LSU's defense these days.
"When you come in, you call yourself a defensive back," said Mills, a rising junior who started at safety for the first time in the Tigers' Outback Bowl win against Iowa. "That means you can play corner to nickel to safety to dime. You want to be able to play all positions. You don't want to be a single-position type of guy if you're a defensive back."
[+] Enlarge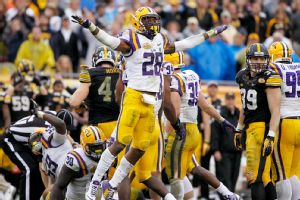 Kim Klement/USA TODAY SportsJalen Mills is helping out at safety this spring after playing the position in LSU's Outback Bowl victory over Iowa.
That's an ideal attitude because Mills is several of those things -- particularly now, when the Tigers must replace starting safety
Craig Loston
and are without part-time starting safety
Corey Thompson
, who is still recovering from offseason knee surgery. Mills is a starting safety in LSU's base defense, remains as the starting nickelback and still finds time to practice in a traditional cornerback role at points.
The Tigers need him most at safety for the time being, which was the message that defensive backs coach Corey Raymond imparted prior to spring practice.
"Him and Chief [defensive coordinator John Chavis], they kind of talked to me or whatever and they were like, 'Right now we need help at safety. You played a pretty good job those last two games of the season. Can you play it for us?' And I was like, 'Yeah,' " Mills said. "And he said, 'But we're still going to need you at corner and you're still going to be our starting nickel when we go Mustang package.' "
With Thompson on the shelf and a group of talented safety signees -- led by ESPN's No. 18 overall prospect and No. 2 safety
Jamal Adams
-- not yet on campus, the Tigers are primarily using Mills and
Ronald Martin
with the first-team defense.
Rickey Jefferson
and
Dwayne Thomas
are also working at safety, and thus far the foursome is pleased with what it has accomplished.
"Rickey, if he keeps coming along, he's going to help us out a lot. Jalen Mills is doing a good job back there, also. And Dwayne Thomas, he's doing a good job," Martin said. "That's the only other ones that we've got working in right now in the spring, just us four. Us guys, we're doing a pretty good job so far, so we're just trying to keep it going."
Perhaps that's a good sign, as safety was a problem area for much of 2013. Loston was the one constant when healthy, but the starting spot opposite him was a revolving door partially because of inconsistency. The Tigers used seven different starting combinations at safety, with Martin, Thompson, Mills and Jefferson all starting at least once.
Once Adams,
Devin Voorhies
and
John Battle IV
arrive on campus this summer, Raymond will have even more safety options from which to choose. And Tigers coach Les Miles said the newcomers will indeed get a long look from the coaching staff.
"We'll have guys back, but I think we'll be looking at some of these young guys that are coming in," Miles said.
Thompson will also be back by then. The rising junior missed the final two games of 2013 after injuring his left knee against Texas A&M and undergoing surgery in December. He said after Tuesday's practice that the knee is back to about 80 percent, but he will not attempt to test it during spring practice.
"I aim to be 100 by May," Thompson said. "I don't want to rush it, get back too early. But then I feel like May is a good time to be 100 and do everything to get in shape and be ready for the season."
So for now, the Tigers will continue to function with the four available safeties -- a group attempting to prove that last season's lapses were only a temporary hiccup for a program known for solid defensive back play. LSU's pass defense totals actually improved slightly (from 206.0 ypg in 2012 to 197.5 last season), but the Tigers' overall defensive slide continued, with Chavis' group dropping from second nationally in total defense in its 2011 SEC championship run (261.5 ypg) to eighth in 2012 (307.6) to 15th last fall (340.7).
That's an 80-yard increase in just a two-year span, and the safeties know they must perform more consistently in order to improve those numbers.
"We've just got to show that we can be leaders out there -- show that we can lead the defense just like those guys in the past like Eric [Reid], Brandon [Taylor], LaRon [Landry] and so on and keep the pedigree going," Martin said.
Continued progress from Mills at the position would offer a big boost, just as he did in his first-ever attempt at playing safety when he intercepted a pass during a comeback win against Arkansas.
Mills still has nuances of the position to learn, such as how to make new reads that are different at safety from those at cornerback, but he believes he is making the transition smoothly.
"I really didn't have a problem with [shifting positions]," Mills said. "Just coming from corner, you know where you want your safety to be sometimes in different types of checks. So just going from cornerback to safety, I know what the corner wants, so I just try to do it."
March, 14, 2013
3/14/13
9:00
AM ET
Schedule:
The Tigers open spring practice Thursday and will conclude the spring April 20 with their annual National L Club spring game at 3 p.m. ET in Tiger Stadium.
What's new:
Cam Cameron steps in as LSU's offensive coordinator after spending part of last season in that role with the Baltimore Ravens. Cameron replaces Greg Studrawa as LSU's play-caller on offense and will also coach the quarterbacks. Studrawa remains on staff and will coach the offensive line. Steve Kragthorpe will move into an administrative role after coaching the LSU quarterbacks the previous two seasons.
On the mend:
Reserve quarterback
Rob Bolden
(knee) and defensive end
Justin Maclin
will both miss the spring while recovering from injuries.
On the move:
Junior
La'el Collins
will get first shot at left tackle this spring after starting all last season at left guard. Senior
Josh Williford
will shift from right guard to left guard. Junior
Terrence Magee
is moving back to running back after playing receiver last season and catching just one pass.
Question marks:
The Tigers are replacing five of their top seven defensive linemen. Junior tackles
Anthony Johnson
and
Ego Ferguson
and junior end
Jermauria Rasco
need to take that next step and become every-down forces up front. Head coach Les Miles said sophomore tackle
Mickey Johnson
has lost weight and had a promising offseason. Playing with more consistency at receiver will also be important. The Tigers had too many dropped passes last season and didn't make a lot happen down the field.
Odell Beckham
and
Jarvis Landry
will be counted on to make big moves as juniors. LSU also has to find a new place-kicker and punter. Sophomore
Jamie Keehn
heads into the spring as the punter, while junior
James Hairston
will have to hold off redshirt freshman walk-on
Colby Delahoussaye
for the starting place-kicking job.
New faces:
Junior-college newcomer
Logan Stokes
will battle for a starting job at tight end, while junior-college newcomer
Fehoko Fanaika
could factor in at offensive guard. At receiver, redshirt freshman
Travin Dural
will be one to watch after injuring his knee last season along with a pair of early enrollees -- Avery Peterson (Patrick Peterson's younger brother) and
John Diarse
. Two more true freshmen,
Anthony Jennings
and
Hayden Rettig
, will be among a handful of players vying for the backup quarterback job. The Tigers have a total of six true freshmen on campus who will be going through spring practice as early enrollees. Redshirt freshman
Dwayne Thomas
is a prime candidate to be the Tigers' third cornerback on passing downs.
Breaking out:
In reality, senior linebacker
Lamin Barrow
has already broken out. He had 104 total tackles last season, but was overshadowed by
Kevin Minter
. With Minter leaving early for the NFL draft, Barrow will move this spring from weakside linebacker to Minter's middle-linebacker spot. The 6-foot-2, 232-pound Barrow has everything it takes to become an All-SEC performer. If he sticks in the middle, it just makes the Tigers that much deeper at linebacker. Talented sophomores
Kwon Alexander
,
Deion Jones
and
Lamar Louis
can all play on the outside along with senior
Tahj Jones
, who returns after missing all but one game last season for academic reasons.
Don't forget about:
Senior running back
Alfred Blue
returns to give the Tigers one of the deepest backfields in the league. He injured his knee in the third game last season and was No. 2 in the SEC in rushing at the time. The 6-2, 220-pound Blue has excellent speed and also catches the ball well out of the backfield. He'll team with sophomore
Jeremy Hill
to give LSU a dynamite one-two punch. The 6-2, 235-pound Hill had four 100-yard games as a true freshman and led the Tigers in rushing. Following a splendid freshman season,
Kenny Hilliard
was the forgotten man last season. He'll be looking to regain his form this spring, while Magee will add some speed to the Tigers' backfield.
All eyes on:
Now that senior quarterback
Zach Mettenberger
has a season as a starter in the SEC under his belt, can he capitalize on the improvement he showed toward the end of last season? In particular, Miles wants to see Mettenberger get better at throwing the deep ball and understand all of the throws better. Mettenberger struggled early last season, but he didn't get a lot of help from his receivers. The best news for Mettenberger was the hiring of a veteran offensive coordinator like Cameron, who's tutored a ton of quality quarterbacks. There's no question that LSU has to be more consistent on offense if it's going to return to the SEC championship picture. How much Mettenberger improves from his junior to senior season will go a long way toward determining whether the Tigers will be a part of that equation.
August, 10, 2012
8/10/12
3:15
PM ET
At the end of the day,
Tyrann Mathieu
just couldn't stop thinking about himself.
Months after proclaiming he was changed, humbled and ready to lead, Mathieu's selfishness cost him his LSU career, as
Les Miles announced his player's dismissal at a news conference Friday
.
[+] Enlarge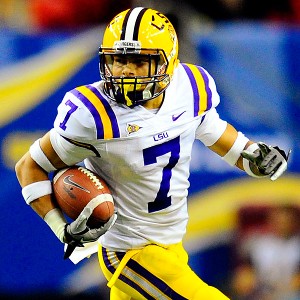 Dale Zanine/US PresswireTyrann Matheiu emerged last season as one of the nation's top cornerbacks and punt returners.
Miles, with disappointment scribbled all over his face, stood up and announced to the college football world that one of the most exciting players in the game -- and a Heisman Trophy finalist a year ago -- is no longer a part of LSU's football because he violated team policies again.
One of the best game-changers and playmakers -- regardless of position – that the game had to offer claimed to have learned from his mistakes, but he is now leaving a team capable of making back-to-back national championship runs.
The face of LSU's program, who went with the celebrity flow by posing for preseason magazine shots this year and showed off his punt-returning skills to the nation on ESPN, let his team and its fan base down by once again thinking of himself first.
Miles didn't give details as to what Mathieu did to earn a one-way ticket out of Baton Rouge, but from the way Miles sounded during his press conference, Mathieu had run out of chances. And Miles had run out of patience with the Honey Badger.
"This is a very difficult day for our team," Miles said. "We lose a quality person, teammate and contributor to the program. However, with that being said, we have a standard that our players are held to, and when that standard is not met, there are consequences.
"It's hard because we all love Tyrann. We will do what we can as coaches, teammates and friends to get him on a path where he can have success. We are going to miss him."
What they'll miss on the field is his unbelievable playmaking ability. Mathieu had a true nose for the ball, constantly locating and flying to it no matter where he lined up, and amazing vision. He wasn't the biggest player or the best cover man, but he just had a way of disrupting things that few could mimic. And on special teams, he proved he could completely change the landscape of a game with one cut.
During his two years at LSU, he totaled 133 total tackles (16 for loss), grabbed four interceptions and forced 11 fumbles (most in school history). He also recovered eight fumbles and averaged 15.59 yards per punt return (with two scores) last year.
The Tigers will now look to a committee of players to replace Mathieu. Redshirt freshman
Jalen Collins
could get work at corner, while true freshmen
Dwayne Thomas
,
Deion Jones
and
Corey Thompson
could get work at nickel. Redshirt freshman safety
Micah Eugene
could also get some work there.
But none are the Honey Badger.
In January, Mathieu sat at a podium inside the Marriott Convention Center in New Orleans just days before the national championship expressing his feelings about his celebrity status and how it transformed him.
He admitted to getting carried away with his Honey Badger persona that took the Internet and college football by storm. The T-shirts, signs, videos and slogans that made him so captivating and famous slowly began to inflate his ego. He went from playing with a chip on his shoulder to playing like he owned the world.
Then, just as he was sitting on top of the world, he was suspended halfway through the season for reportedly failing a drug test. Mathieu later said his one-game suspension helped him realize he wasn't as invincible as he thought. It helped bring him back to reality and made him truly cherish his time with his team.
But the past caught up with Mathieu, who leaves a team poised to be better in 2012. The offense is expected to take off with quarterback
Zach Mettenberger
, and the defense, which ranked second nationally last year, had a chance to be even better, too. But Mathieu won't be around to help.
LSU has met distractions before, but to lose someone with so much talent and status is a real shot to a team hungry to make up for last year's championship failure. This team will regroup, but it has to feel betrayed.
The childlike smile, blonde hair and charismatic play that made Mathieu so endearing in Baton Rouge are all gone. And Mathieu has no one to blame but himself.