November, 24, 2013
11/24/13
12:50
AM ET
ATHENS, Ga. -- Georgia sent its seniors out the right way with a 59-17 pummeling of Kentucky on Saturday night, but the Bulldogs lost perhaps their most valuable senior of all.
Quarterback
Aaron Murray
-- who has started every game of his career and on Saturday tied David Greene's school record for most career starts by a non-kicker (52) -- injured his left knee in the second quarter and needed assistance to reach the locker room.
Bulldogs coach Mark Richt said he does not expect Murray to play next Saturday against Georgia Tech, but would not rule him out for the Bulldogs' bowl game, pending the results of an MRI on the injured knee.
"It just was hard to have a lot of fun," Richt said after the game. "Even right now, I'm glad we won and I'm really proud of how we did, but it's kind of a crummy feeling right now when you think about what Aaron is going through."
Prior to the injury, Saturday's game was shaping up as a glorious going-away party for the senior quarterback in his final game at Sanford Stadium.
He was the centerpiece of an emotional pregame ceremony to honor Georgia's 28 departing seniors, with the home crowd offering a raucous ovation when the SEC's all-time leading passer was the final Bulldog to be introduced. Murray had tossed four touchdown passes (he finished 18-for-23 for 183 yards) and in the first quarter became the first SEC quarterback to pass for 3,000-plus yards in four seasons.
[+] Enlarge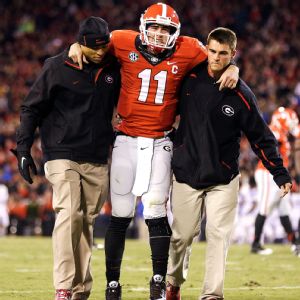 AP Photo/John BazemoreAaron Murray will have an MRI on his left knee to determine the extent of his injury.
But Kentucky defensive lineman
Za'Darius Smith
slammed Murray to the ground after a pass to
Rhett McGowan
deflected off the senior receiver and floated to Wildcats linebacker
Khalid Henderson
at the Kentucky 2-yard line. Murray immediately motioned to the training staff that he needed assistance, and they walked him directly to the locker room with Murray struggling to put any weight on his left leg.
He left Sanford Stadium during the third quarter to undergo an MRI at Athens' St. Mary's Hospital and did not return.
"You could tell in his body language he was hurt," backup quarterback
Hutson Mason
said. "It wasn't the same Murray."
And it was yet another injury in a fall where the Bulldogs (7-4, 5-3 SEC) already lost tailback
Keith Marshall
and receivers
Malcolm Mitchell
and
Justin Scott-Wesley
for the season, while tailback
Todd Gurley
and receivers
Chris Conley
and
Michael Bennett
also missed multiple games with an assortment of injuries.
"He did mention that was about how our season has gone as far as injuries and everything," Richt said of his conversation with Murray at halftime. "It was tough."
Mason did an admirable job as Murray's replacement -- he finished 13-for-19 for 189 yards and one touchdown, plus a 1-yard scoring plunge -- but Murray's injury put a major damper on what should have been a happy final outing between the hedges for the seniors.
"Seeing Aaron go down, that was tough. That's one of my best friends. He was one of my groomsmen at my wedding, and seeing him go down, I never want him to go down because most of the time it's my fault," said senior offensive guard
Chris Burnette
, whose wife, Arielle, was one of Murray's classmates at Tampa (Fla.) Plant High School.
The Bulldogs quickly made it clear that there would be no lingering hangover in the wake of last week's devastating 43-38 loss at Auburn, when the Tigers scored the game-winning touchdown with 25 seconds to play. Georgia needed only three plays to score its first touchdown -- on a 9-yard pass from Murray to McGowan -- and led Kentucky 21-0 after its first three possessions.
Murray and Gurley were the stars of the early onslaught, with the pair hooking up for a 16-yard touchdown where Gurley soared into the end zone -- reminding Bulldogs fans of Knowshon Moreno's memorable 2008 touchdown dive against Arizona State -- that put Georgia up 14-0.
By the time Gurley left in the third quarter of the blowout, he had rushed eight times for 77 yards, caught five passes for 90 yards and scored two touchdowns.
Not to be miss out on the fun, Georgia's defense posted perhaps its finest outing of the season. A week after surrendering 566 yards to Auburn's potent offense, the Bulldogs held Kentucky (2-9, 0-7) to 211 yards -- 69 of which came on
Dyshawn Mobley
's first-quarter touchdown run, with 30 more coming on a
Maxwell Smith
touchdown pass to
Javess Blue
against the defensive reserves late in the fourth quarter.
"We got some turnovers, too, which was good to see," said Georgia defensive coordinator Todd Grantham, whose defense recovered three of Kentucky's six fumbles, with those turnovers leading to 21 Bulldogs points. "Kentucky has not turned the ball over a lot."
Richt credited the seniors for holding the team together through the spate of injuries and a disappointing season that started with a top-five ranking and BCS title aspirations.
"Even though the season had certain expectations and certain hopes got dashed along the way, the leadership was great," Richt said. "The unity of our team was rock solid because of those guys. And I've said it a couple times, this was a fun team to coach, but I think it was mostly because of the seniors and how they led this year."
August, 12, 2013
8/12/13
10:30
AM ET
Today, our SEC preview shifts to the
Kentucky Wildcats
.
Coach:
Mark Stoops (0-0)
2012 record:
2-10, 0-8 SEC
[+] Enlarge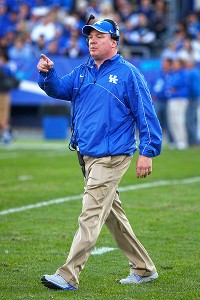 University of Kentucky AthleticsMark Stoops will be looking to develop some players in his first season at Kentucky.
Key losses:
RB CoShik Williams, WR La'Rod King, OG Larry Warford, C Matt Smith, DE Collins Ukwu, DE Taylor Wyndham, S Martavius Neloms, S Mikie Benton
Key returnees:
QB
Jalen Whitlow
, QB
Maxwell Smith
, RB
Raymond Sanders
, RB
Dyshawn Mobley
, DT
Mister Cobble
, DT
Donte Rumph
, DE
Alvin Dupree
, LB
Avery Williamson
Newcomer to watch:
Junior college transfer
Za'Darius Smith
had a great spring and summer and should be able to make an immediate impact at defensive end this fall.
Biggest games in 2013:
Western Kentucky (in Nashville), Aug. 31; Louisville, Sept. 14; Florida, Sept. 28; Missouri, Nov. 9; at Vanderbilt, Nov. 16; Tennessee, Nov. 30
Biggest question mark heading into 2013:
The Wildcats might have three quarterbacks competing for the starting job, but figuring out who will catch passes from any of them is still a mystery. There is a lot of potential at receiver, but there isn't any real production or consistency coming back. Junior
Demarco Robinson
and sophomore
Daryl Collins
were expected to break out in 2012, but combined for just 45 catches and 468 yards with no touchdowns. Highly recruited freshman
Ryan Timmons
and junior college transfer
Javess Blue
will have every opportunity to be fixtures at receiver this fall.
Forecast:
Stoops has quite the task in his first season with the Wildcats. The good news is that the defensive-minded coach will have a lot of talent and experience to work with along his defensive line. Past coaches waited and waited for defensive tackles Mister Cobble and Donte Rumph to reach their potential. Now, it seems like both are ready to do that and more this fall. Helping them out will be
Alvin "Bud" Dupree
, who is one of the league's best pass-rushers and moved from linebacker to end when the Wildcats went from a 3-4 scheme to a 4-3. Having Za'Darius Smith and freshman
Jason Hatcher
at the ends should make this line even more athletic this fall.
There are mixed reviews at running back. Even with the loss of
Josh Clemons
for the second straight year, the Wildcats have senior Raymond Sanders and sophomore Dyshawn Mobley, who is returning from hernia surgery. Both had good springs, but with Clemons' injury and the departure of Justin Taylor, both have to remain healthy because there isn't much depth at all.
There's a three-headed quarterback battle that carried into camp. Sophomore
Jalen Whitlow
left spring with the edge, but he still has to beat
Maxwell Smith
, who began last season as the starter before injuries took his season, and classmate
Patrick Towles
.
Players have to step up at receiver and tight end, and the Wildcats are thin at linebacker after Dupree's move to the defensive line. Three starters from the secondary are gone; Kentucky is getting some help, but it's coming in the form of the 2013 signees.
Stoops knows he has a lot of issues to work through in his first season, and while a bowl game could be a lofty goal, there's no doubt the Wildcats will be more competitive in 2013. Stoops certainly wants to win this fall, but a lot of the season will be devoted to development for the future.
June, 24, 2013
6/24/13
4:00
PM ET
After a very long hiatus, our SEC mailbag is back this week to celebrate the first day of summer!
We've missed you guys, but we can't do it without you, so don't forget to
send in as many questions as you want
each week. We get comments a lot, but questions get published. Remember that.
On to the questions:
Phillip in Little Rock, Ark., writes:
Every year we hear how the gap between the SEC and the rest is narrowing and every year that prophecy proves incorrect. The SEC always has seven or more teams in the Top 15 in recruiting every year. What is your take on this? Do you think the gap is narrowing, and if not how much longer can it go on?
Edward Aschoff:
Well, if you look at the SEC recruiting classes right now, it doesn't look like that trend is going to end in 2014. Nine SEC teams are currently ranked within the top 15 of the ESPN class rankings, and one of those teams is Kentucky. South Carolina and Vanderbilt will push to get in there as well, as the year goes by. I think the SEC could be in store for its toughest few years coming up. There are maybe five or six legitimate national championship contenders in the SEC right now and I think the league will be even better next year.
Alabama will still be elite, while Florida and Georgia could be very, very good in 2014. LSU will be more experienced, South Carolina might get hurt along the defensive line, but should return a lot of talent pretty much everywhere else. Texas A&M will likely lose
Johnny Manziel
, but will be stacked at the skill positions and in the front seven. Vanderbilt will be good again, Tennessee should be better, Auburn could be a real threat in the West and Ole Miss will display more of that impressive 2013 class.
But the league could really beat up on itself in the next few years. The good news for the conference is the first two years of the playoff will come with only eight conference games. You'll see the SEC champ in the four-team playoff, but getting a second team in the playoff could be tough if the conference gets 10 legit BCS conference games before the SEC championship.
---
dropkicked meeko in Atlanta writes:
In regards to your recent future power rankings, how far will UK rise if they have two top 10 classes back to back, and do you think they can keep these guys from switching commitments to other SEC powers?
Edward Aschoff:
Interesting choice in your name there. Meeko is actually looked at as a hero on the blog. You must be a rookie or just learning your way around the blog. You'll learn to love him. As for Kentucky, I think you'll only see the Wildcats rise in the power rankings if the defense can look out for the offense more often than not. The defense is in very good hands with Mark Stoops in charge, but the Wildcats have to find consistent playmakers on offense. There are no true go-to guys on the roster at the skill positions. The good news is that running backs
Raymond Sanders
and
Dyshawn Mobley
really impressed this spring and incoming freshman receiver Ryan Timmons could be a stud. There are some youngsters who have shown flashes here and there, like
Demarco Robinson
and
Daryl Collins
, but consistency has been an issue for this offense the last couple of years.
Development is key. Stoops will be able to recruit, especially in and around Ohio, but he and his assistants have to start developing because they just didn't happen before he got there. Players have to buy in and they have to mature on the field or the wins won't come. It can't just be about recruiting. If Stoops continues to recruit well and real development takes place, Kentucky will move up.
---
Caleb in Big Rock/TN writes:
Do you think Tennessee can sustain the recuiting success they are having this season over the next couple of years?
Edward Aschoff:
It's hard to say right now because no games have been played. I think Butch Jones has brought some real excitement to the program and the recruiting trail. But we all know that this is a what-have-you-done-for-me-lately world, and if recruits aren't impressed with the Vols this fall or start paying attention to other, more successful schools, it could hurt Tennessee next year. One thing he can sell is that there is plenty of playing time out there for prospects to have once they get on campus. That will really help. I think Jones is doing a great job, but wins and losses go a long way, and fans have seen Tennessee reel in top recruits with little results coming on the field.
---
Bruce in Osceola, Mo., writes:
Do you think Missouri will be bowl eligible this year? When do you think Missouri will be competitive in the SEC?
Edward Aschoff:
If the offense stays healthy and quarterback
James Franklin
plays with the confidence he had in 2011, the Tigers will go bowling. I think the defense will be fine. The defensive line played pretty well this spring and has good depth, and the secondary should be decent. I worry about the youth at linebacker, but a good front can hide those issues. For me, it's about that offense getting its act together. It has to be a tougher unit all around. This team just wasn't built for SEC play last year. There is so much talent at receiver and running back, but inconsistency and those injuries to Franklin and the offensive line killed the receiving corps last year. Running back
Henry Josey
has what it takes to be a star, but he can't do it alone.
There are four nonconference games out there for this team to win, leaving just two SEC games. The game at Vanderbilt is big, along with the home game against Tennessee and the trip to Kentucky. There are two wins there if the Tigers can stay healthy. If not, it's going to be tough with the rest of the SEC slate that Missouri has. I think the Tigers squeak by with six wins.
As for finally becoming truly competitive, it'll happen when the lines get bigger, more SEC-caliber players get on campus. Missouri was behind in the physical department last year. Recruiting has to get better from here on out, too.
---
Dave in Belton, Texas, writes:
The August date for the Aggies and Tide in College Station is interesting to me. Both are working in new-but-good offensive lines, and both are retooling defensive lines. D-Line wasn't necessarily the strength for either team last year, and now it's an open question for both. Is it going to be harder for the Aggies' new D-Line to stop the Bama power game, or for the new Bama D-Line to keep their contain on Manziel? Which team would benefit the most from moving this game to November?
Edward Aschoff:
I think Texas A&M will have a tougher time stopping Alabama because that running game just pounds and pounds and pounds. The Aggies lost so much in that front seven, especially along the defensive line. Replacing Damontre Moore will be tough enough, but two senior tackles are gone as well.
Kirby Ennis
started 11 games last year, but ran into legal trouble before spring practice and was suspended. Youngsters like
Alonzo Williams
,
Tyrone Taylor
and
Tyrell Taylor
will be thrown right into the fire this fall. You'll see some growing pains up front for the Aggies against Alabama. Alabama's defensive line isn't great right now, and playmakers still have to step up, but I think having a solid linebacker corps coming back and Kirby Smart running the defense will go a long way to stopping Manziel. Now, I'm not saying Manziel will be ineffective against the Tide, but I do think Alabama's defense will be much better prepared to defend him. Remember, Smart and his defense made great adjustments in the second half of this game last year.
May, 13, 2013
5/13/13
2:00
PM ET
The other day I was asked a question about the SEC that caught me off guard a little.
And no, it wasn't about Bob Stoops or scheduling.
I was asked if the league would be a quarterback or running back league in 2013. Obviously, when you think about the SEC, you think of pound-it-out, grind-it-out football. Games are won and lost in the trenches and running backs are usually a team's most coveted asset. The more the merrier, too.
But the SEC returns some pretty good experience at both positions.
At running back, the SEC will be without four of the league's top 10 rushers -- Eddie Lacy, Mike Gillislee, Zac Stacy and Kendial Lawrence -- from the 2012 season. The SEC will be without three of the top 10 passers -- Tyler Bray,
Tyler Wilson
and Jordan Rodgers.
Now, my math skills tell me that seven top players at a position is better than six, but the SEC is
deep
at running back this season. Of the seven top quarterbacks returning, six reached 2,500 passing yards, while only two made it to 3,000 yards --
Aaron Murray
and
Johnny Manziel
. Nine true starters return (Kentucky's
Maxwell Smith
missed most of last season and ended the spring behind
Jalen Whitlow
). So five teams are breaking in new starters.
The SEC saw eight running backs hit the 1,000-yard mark last season. There's a chance the league could not only reach that number again but it could eclipse it.
[+] Enlarge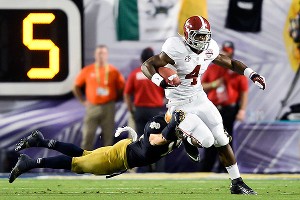 AP Photo/Romeo GuzmanT.J. Yeldon takes over for running back Eddie Lacy as "the guy" for Alabama.
Alabama lost Lacy -- and his 1,322 yards/17 touchdowns -- but rising sophomore
T.J. Yeldon
appears more than ready to take over as the lead back. He rushed for 1,108 yards and 12 touchdowns last year, and it sounds like he looked even better as
the guy
. He'll also have help from fellow sophomore
Kenyan Drake
, who played in 12 games last year, and
Jalston Fowler
and
Dee Hart
, who are both returning from season-ending knee injuries. Remember, Fowler had nearly 400 rushing yards in 2011. True freshman Derrick Henry, who was tearing it up this spring before his leg injury, should help once he's healthy this fall.
Oh, and Alabama will welcome three more backs this summer, including ESPN 150 member Alvn Kamara.
Texas A&M and Florida will also have the luxury of a packed backfield. The Aggies return leading rusher (for a running back)
Ben Malena
(808 yards), but will also have rising sophomore
Trey Williams
, and transfers
Brandon Williams
and
Tra Carson
. Brandon Williams might be the most talented of the bunch, and none of these guys should get too tired with all those legs to work with.
The Gators lost Gillislee, but sophomore-to-be
Matt Jones
had an excellent spring. He knew the playbook backward and forward and showed a more physical style. He already has the goal of getting 1,500 yards. But he'll have help from redshirt junior
Mack Brown
, who had a very solid spring, and freshmen Kelvin Taylor (early enrollee) and Adam Lane. The coaches feel very good about all four contributing a lot this fall.
Georgia is a little thin at running back, but with Gurley and
Keith Marshall
returning, the Dawgs could have the best running back duo in the SEC -- maybe the country.
Here's a quick look at how other SEC teams currently fare at running back heading into the summer:
Arkansas
The Razorbacks lack experience at the position, but sophomore
Jonathan Williams
made good strides this spring and looks poised to be the top back. He'll also have incoming freshman Alex Collins to help him this fall.
Auburn
Tre Mason
and his 1,000 yards return. He should have even more space to work with in Gus Malzahn's spread, which could spell trouble for defenses. Junior college transfer Cameron Artis-Payne had a solid spring, and
Corey Grant
returns.
Kentucky
Leading rushers
Raymond Sanders
(669 yards) and
Jonathan George
(504 yards) return with two talented youngsters to help out.
Dyshawn Mobley
had an excellent spring and
Josh Clemons
is back from a devastating knee injury he suffered in 2011.
LSU
Legal issues have
Jeremy Hill
's fall status unknown for the fall. If he returns, he gives the Tigers on of the top backs in the league.
Kenny Hilliard
and
Alfred Blue
return, but LSU will be thin at the position without Hill.
Mississippi State
LaDarius Perkins
returns after his 1,000-yard season. He's a complete back and can hurt teams running and catching.
Josh Robinson
returns after a productive year as the backup.
Nick Griffin
has a ton of skill, but still hasn't reached his potential.
Missouri
Lawrence is gone, but
Henry Josey
is back and says he's 100 percent after his devastating knee injury in 2011. He was one of the Big 12's best and most explosive running backs before his injury. The Tigers have plenty of bodies at running back and should get good use out of
Marcus Murphy
and
Russell Hansbrough
.
Ole Miss
Leading rusher
Jeff Scott
(846) is back and he'll be working with some solid sophomores in
I'Tavius Mathers
and
Jaylen Walton
. True freshman Mark Dodson had a productive spring as well. Along with the six returning lettermen, Ole Miss will have three more signees on campus this fall.
South Carolina
Mike Davis
isn't trying to be Marcus Lattimore, but he did a good job of taking his spot this spring. The rising sophomore can pound it or break out for that home run play.
Brandon Wilds
and
Shon Carson
are back from injuries and ESPN 150 member
David Williams
will be in town this fall.
Tennessee
Marlin Lane
's off-field problems didn't help things this spring, but Butch Jones was very happy with the play of
Alden Hill
and
Rajion Neal
this spring. Lane has every chance to come back and if he does the Vols will have a pretty solid three-headed rushing monster.
Vanderbilt
Stacy is gone, but
Wesley Tate
and
Brian Kimbrow
had good springs in Nashville.
Jerron Seymour
gives Vandy another body to use, as well. Tate and Kimbrow both have big-play ability, but they'll have to stay healthy because there isn't a lot of experience behind them.
May, 10, 2013
5/10/13
3:00
PM ET
The SEC welcomed in four new head coaches this spring. There are always awkward moments with new coaching staffs, but this spring saw a lot of positives from the four new faces.
Here's a quick look at how all four have done during their first few months on the job:
Bret Bielema (Arkansas)

The one thing Bielema wanted to instill in his new players was a more physical mentality. This team lost its edge early last season and never regained it. But under new management, Bielema made sure his tough, hard-nosed persona from Wisconsin rubbed off on his players. That seemed to be the case, especially with running back
Jonathan Williams
, who really toughened up this spring. Another positive from Bielema's arrival has been the increased confidence he's brought with his own bravado he showed at times.
There are still questions with depth, especially at linebacker, and true playmakers need to be found at wide receiver. Bielema also said goodbye to four players after the spring. The biggest loss was backup quarterback
Brandon Mitchell
, who could have been used in a few different ways in Arkansas' offense. Form an athletic standpoint, Mitchell is a big loss for Bielema. The good news is that he'll have some decent offensive weapons, including running back Alex Collins, to work with from this 2013 class in the fall.
Gus Malzahn (Auburn)

The big thing for Malzahn is that he was already very comfortable with the program after serving as the offensive coordinator under former coach Gene Chizik. But talk about having a lot more on his plate than he wanted during his first spring. Not only was he slowly trying to change the mind-set of a program that really has fallen since its 2010 national championship, he had to deal with allegations over past off-field incidents with that same 2010 team. Instead of making it a bigger deal for his staff and players, Malzahn didn't even bring it up. He said all the right things and made sure his players were focused on field issues, not the media. Major kudos to him for keeping his players on track.
It's obvious that the offensive players are more comfortable with Malzahn's spread, compared to Scot Loeffler's pro-style from 2012, so that was a big lift for this team. Malzahn's next goal is to find his starting quarterback. There are options, but it's really down to
Kiehl Frazier
, who is very familiar with Malzahn, and
Jonathan Wallace
. He also needs to find reliable receiving targets to help whichever quarterback emerges this fall.
Mark Stoops (Kentucky)

There certainly is a lot more excitement around Kentucky's program. That became very obvious when a record crowd of 50,831 showed up for the Wildcats' spring game. He really got things going with a strong closing in his first recruiting class and his personality is really rubbing Big Blue Nation the right way.
But Stoops has quite the uphill trek in front of him. While he has a very solid foundation along his defensive line, he's thin at linebacker and in the secondary. He also has to figure out who his quarterback is and where the production will come from at the wide receiver spot. Consistency is still an issue there. The good news is that he does like where his running game is with the return of
Raymond Sanders
,
Dyshawn Mobley
and
Josh Clemons
.
Butch Jones (Tennessee)

Like Stoops, Jones has a bit of a fight in front of him. He has some good experience coming back on defense, but he's thin in the secondary. Still, the front seven looked much more aggressive this spring with the Vols going back to a 4-3 scheme. This group was much more comfortable with the changes made on defense and as whole, this group is trending upward.
Jones' new up-tempo offense could bring some real growing pains to an offense that is breaking in a new quarterback and new receivers. There isn't a lot of experience at all at either position and there were some real shaky moments on offense this spring, especially in the spring game. Having a beastly offensive line back will help.
Jones has made a ton of noise off the field, though. He's recruiting like a madman and has injected some excitement back into this program. I think a lot of people are surprised at how well he's recruited in such a short amount of time, and it could only get better.
May, 6, 2013
5/06/13
9:00
AM ET
2012 record:
2-10
2012 conference record:
0-8 (seventh, Eastern Division)
Returning starters:
Offense: 6; defense: 6; kicker/punter: 1
Top returners

QB
Jalen Whitlow
, QB
Maxwell Smith
, RB
Raymond Sanders
, RB
Dyshawn Mobley
, DT
Mister Cobble
, DT
Donte Rumph
, DE
Alvin Dupree
, LB
Avery Williamson
Key losses
RB
CoShik Williams
, WR La'Rod King, OG Larry Warford, C
Matt Smith
, DE
Collins Ukwu
, DE
Taylor Wyndham
, S Martavius Neloms, S
Mikie Benton
2012 statistical leaders (*returners)
Rushing:
Raymond Sanders* (669 yards)
Passing:
Maxwell Smith* (975 yards)
Receiving:
La'Rod King (488 yards)
Tackles:
Avery Williamson* (135)
Sacks:
Alvin Dupree* (6.5)
Interceptions:
J.D. Harmon
* (2)
Spring answers
1. Stout defensive line:
New coach Mark Stoops has to be very happy with the foundation he has along his defensive line. There has always been potential with guys like Mister Cobble and Donte Rumph, but they've never truly put things together. However, the entire line impressed this spring and should be driving force for Kentucky's defense. Rumph missed most of spring with a shoulder injury, but should be fine this fall. Having Dupree at end in the new 4-3 scheme now provides the Cats with a top-notch pass-rusher. Add junior-college transfer defensive end
Za'Darius Smith
, and Kentucky should certainly hold its own up front this fall.
2. Comfort at running back:
Stoops is still searching for more playmakers on offense, but he was pretty happy with what he saw from his running backs this spring, especially senior Raymond Sanders and Dyshawn Mobley. Sanders has been around for a while, but he's battled health issues. Mobley did well last season as a freshman, but really stepped up this spring.
Josh Clemons
is back from his 2011 knee injury and showed flashes of his old playmaking self at times this spring.
3. Offensive line feeling fine:
The Wildcats might have lost two mainstays up front in Larry Warford and Matt Smith, but it sounds like the line did well without them around. Redshirt freshman
Zach Myers
spent the spring in Matt Smith's spot, and both tackles --
Kevin Mitchell
and
Darrian Miller
-- return. However, Mitchell worked inside this spring and the very large
Jordan Swindle
spent the majority of his time at right tackle with the first-team line.
Fall questions
1. Whitlow's time?:
The Cats have a three-headed quarterback competition on their hands, but it sounds like Jalen Whitlow, who was a true freshman last year, has the edge heading into summer workouts. He moved past Maxwell Smith (last year's starter before injuries ended his season early) and Towles after having the most impressive outing during the spring game. Whitlow really showed a lot of improvement this spring and is probably the most athletic of the three. Still, Stoops has said competition will continue this fall.
2. Searching for a go-to receiver:
La'Rod King is gone, so the coaches are searching for someone to be a consistent target for whichever quarterback wins the starting job. There were only six scholarship receivers on the team this spring and there isn't a ton of experience there.
Demarco Robinson
returns with 28 catches from last year and has shown that he's an explosive player, but he has to be more consistent going forward.
Daryl Collins
is next in line and has shown playmaking flashes as well, but caught just 17 passes last year.
3. Help at linebacker and the secondary:
The Cats are thin at linebacker and throughout the secondary. Kentucky lost three starters in the secondary and Dupree moved to defensive line this spring. Avery Williamson will provide an anchor at middle linebacker and
Miles Simpson
is back on the outside, but there isn't a lot of experience at linebacker, and Stoops didn't sign any in his first class. Junior starting safety Ashely Lower's
recent car accident
has his status for the season unknown, and there isn't much experience in the secondary. Help is on the way in terms of numbers with the 2013 class, but the youth back there will likely have to deal with a lot of growing pains this fall.
April, 15, 2013
4/15/13
9:25
AM ET
By
ESPN.com staff
| ESPN.com
People are certainly excited about the Mark Stoops era at Kentucky.
Only a few months on the job, Stoops watched as a record 50,831 fans showed up to watch Wildcats' Blue/White Spring Game inside Commonwealth Stadium Saturday night. Even with all the questions still remaining for this football team, Big Blue Nation clearly likes the change going on under Stoops and came out in full force for the Blue team's 24-23 win over the White squad.
"Thought it was a great night for the program," Stoops said. "Really appreciate the fan support, just an unbelievable atmosphere. I thought the players played hard. Made some mistakes, but overall, pretty clean game. So, very excited."
The competition everyone was ready to see was at quarterback.
Maxwell Smith
entered the spring as the favorite to win the job, but split reps with rising sophomores
Jalen Whitlow
and
Patrick Towles
. All three played for both the Blue and White teams Saturday, and Whitlow had the best statistical day of the trio.
Whitlow finished the day completing 17 of 28 passes for 193 yards and two touchdowns. He got the scrimmage going with a 16-yard touchdown pass to
A.J. Legree
to put the White team up 7-0 with 7:38 remaining in the first quarter.
Smith was 11 of 18 passing with 108 yards and a 47-yard touchdown pass. Towles was 6-of-13 for 65 yards and threw both a touchdown and an interception.
Stoops said after the game that this battle will continue through fall camp. It should be a good one to watch in Lexington.
The Wildcats also officially welcomed running back
Josh Clemons
back to the football field after he missed all of 2012 with a knee injury he suffered halfway through the 2011 season. Clemons carried the ball 10 times for 56 yards, with a long of 15 for the Blue team.
Dyshawn Mobley
, who the coaches are really high on right now, led all rushers with 79 yards on 15 carries.
To read more about Kentucky's spring game, check out the Wildcats'
official website
.
OLE MISS
Because of injuries, the Rebels took a page out of Florida coach Will Muschamp's book and held more of a practice with offense versus defense periods to go with practice drills.
The offensive stars of the day were wide receiver Ja'Mes Logan, who caught five passes for 101 yards, and backup quarterback
Maikhail Miller
, who threw for 46 yards on 7 of 11 passing. Starter
Bo Wallace
was out, as he continues to recover from shoulder surgery. You can read more about the Rebels' scrimmage on their
official website
.
SOUTH CAROLINA
The Black team grabbed a 44-30 win over the Garnet team in front of a crowd of 35,218 inside Williams-Brice Stadium. Four Gamecocks quarterbacks combined to throw for 523 yards and five touchdowns, but the highlight of the day came with
Jadeveon Clowney
, who was out with injuries,
grabbed a 54-yard touchdown pass
on the game's annual pass-to-someone-coming-off-the-sideline play. Clowney took an awkward spill after he caught the pass, but the ref "missed it" and allowed Clowney to sprint into the end zone, where he later chucked the ball into the stands.
To read more about South Carolina's spring game, check out the team's
official website
.
TEXAS A&M
A record crowd of 45,212 showed up to watch the Maroon team defeat the White team 43-23.
Johnny Manziel
was yet again the star of the show, passing for 303 yards and three touchdowns. Running back
Trey Williams
carried the ball seven times for a game-high 67 yards, while
Brandon Williams
rushed seven times for 59 yards.
Trey Williams added a 23-yard touchdown run, while Brandon Williams rushed for a 1-yard score and caught a 10-yard pass for another touchdown.
For more on the Aggies' spring game, check out the school's
official website
.
VANDERBILT
Carey Spear
lifted the Black team to a 17-15 win over the Gold Team with a 25-yard field goal as time expired in the fourth quarter. The quarterback battle has been arguably the most watch position battle this spring at Vandy, and both
Austyn Carta-Samuels
and
Patton Robinette
impressed on Saturday.
Carta-Samuels led all quarterbacks with 196 yards and a touchdown, while Robinette threw for another 101 yards and a score. Receivers
Chris Boyd
and
Jordan Matthews
combined to catch nine passes for 128 yards and a touchdown (Matthews).
Wesley Tate
led all rushers with 59 yards and a touchdown. To read more about Vandy's scrimmage, go to the school's
official website
.
March, 18, 2013
3/18/13
11:00
AM ET
Schedule:
The Wildcats opened spring practice Monday morning, and will conclude the spring with their annual Blue/White Spring Game on April 13, at 7 p.m. ET at Commonwealth Stadium.

What's new:
The entire coaching staff is new in Lexington. Former Florida State defensive coordinator Mark Stoops replaced Joker Phillips as the Wildcats' head coach. Neal Brown takes over as Kentucky's offensive coordinator/quarterbacks coach, while D.J. Eliot left FSU with Stoops to become the Wildcats' defensive coordinator/linebackers coach. Derrick Ansley is Kentucky's new cornerbacks coach and Jimmy Brumbaugh takes over as the new defensive line coach. Tommy Mainord will coach wide receivers, while Vince Marrow will coach up the Wildcats' tight ends. Bradley Dale Peveto will coach the safeties and be the special teams coordinator. John Schlarman will coach Kentucky's offensive line, while Chad Scott coaches running backs.
On the mend:
Running back
Josh Clemons
missed all of last season with a knee injury that he suffered halfway through the 2011 season and could be limited this spring. The amount he works out this spring will depend on well his knee responds. Rising senior safety
Dakotah Tyler
will miss spring ball while he recovers from a knee injury he suffered last year. Freshman cornerback
Shawn Blaylock
also suffered a knee injury last year and is still recovering as well. Tight end
Anthony Kendrick
will also miss spring practice with a foot injury.
On the move:
Junior
Alvin Dupree
played both linebacker and defensive end last year, but the coaches want him to focus more on end this spring. With a new staff, position changes are expected to develop as practice continues and the new staff gets to see how players look on the field.
New faces:
The Wildcats welcomed in three early enrollees. Junior college transfers Za'Darius Smith (defensive end) and Steven Borden (tight end) joined true freshman quarterback Reese Phillips.
Question marks:
With wide receiver
La'Rod King
gone, Kentucky is in desperate need of someone stepping up to be the go-to guy in the passing game. King wasn't a game-changer, but he was the team's most reliable offensive weapon in 2012. Youngsters
Demarco Robinson
and
Daryl Collins
will be looked at first, and while both have big-play potential, they both have a lot of room to grow on the field. The Wildcats also looking for someone to take over at the running backs spot. The good news is that a handful of players come back, but finding that No. 1 guy is a priority. The Wildcats also lost three starters in the defensive backfield. Replacing do-it-all safety
Martavius Neloms
will be particularly hard for the Wildcats to do, but there are young options for Kentucky's new staff.
Key battle:
With injuries derailing
Maxwell Smith
's second year as the Wildcats' starting quarterback, all eyes will be on this position. Along with Smith, who needed ankle surgery last year, Kentucky will have two rising sophomores competing this spring in
Jalen Whitlow
and
Patrick Towles
, who both saw time last year. Smith enters the spring as the starter, but he will have to hold off the two youngsters, who gained valuable experience last year. Plus, this is a new staff, so Smith's spot from a year go isn't guaranteed. With the heavy amount of passing Brown wants out of his offense, figuring out the quarterback situation is the top priority for the Wildcats this spring.
Breaking out:
Really, anyone at wide receiver is a candidate to break out because the Cats expect to sling the ball around a ton this spring. Robinson was a candidate to break out last year, but fell short of expectations. Collins has the potential too with his playmaking ability, but he also he still has a lot of room for improvement. The same can be said at the tight end position as well. Stoops was very excited about the offseason reports he got about Za'Darius Smith in the weight room and with
Collins Ukwu
gone, he's expected to start right away. Offensive tackle
Jordan Swindle
was a backup last year and the previous staff really raved about him. Two starters are gone up front so he could get a shot to move around and help even more this spring. Also, keep an eye on young running backs
Dyshawn Mobley
and
Justin Taylor
.
Don't forget about:
The Cats' strength could be the defensive line this year. Bringing in Za'Darius Smith was big, but Kentucky also returns rising senior defensive tackles
Donte Rumph
,
Mister Cobble
and
Tristian Johnson
. Rumph and Cobble finally started playing up to their potential last season, and are expected to be even better this fall. Stoops and Eliot have to be pretty excited about working with this group.
All eyes on:
With a team that has struggled as much as the Wildcats have over the last two years, everyone will be watching to see how players respond to a new coaching staff. Stoops brings in a more defensive-minded philosophy, but he certainly understands how important it will be to get the offense off the ground. Brown's high-flying pass attack has fans excited, but players have to buy into the new scheme and have to get comfortable with it this spring. It's all about finding the right level of comfort in Lexington this spring.
October, 3, 2012
10/03/12
2:05
PM ET
The injuries just keep piling up at Kentucky.

After losing starting quarterback
Maxwell Smith
indefinitely after he suffered a serious ankle injury, Kentucky is now down its starting running back, as coach Joker Phillips announced Wednesday that senior
CoShik Williams
is out for the season with a torn labrum in his hip.
Williams, who led the Wildcats in rushing last season, has battled injuries all season and only saw action on a total of 14 plays in just two games of work. He had rushed for 66 yards, including 62 in the opener against Louisville.
This is yet another blow to the Wildcats' running game. Sophomore
Josh Clemons
, who might be the most talented of Kentucky's running backs, has yet to play this season because he's still recovering from a knee injury suffered last season. Phillips said Wednesday that Clemons is still out, so the possibility of him redshirting this season has become more and more of a reality.
This season, Kentucky is 13th in the SEC in rushing, averaging just 119.6 yards per game.
So, the Wildcats will turn to junior
Raymond Sanders
, who leads Kentucky with 260 rushing yards and has two touchdowns on 40 carries. Junior
Jonathan George
, who has started the past two games, will also help. He's rushed for 182 yards and a team-high three touchdowns on 35 carries.
"Those two have played well," Phillips said of Sanders and George. "The thing that we must do is give them more opportunities.
"We're running the ball efficiently, just gotta get more opportunities."
Those opportunities haven't come because of offensive turnovers and the defense's inability to get off of the field, Phillips said.
Phillips is planning to give more reps to freshman
Dyshawn Mobley
and is considering stripping away
Justin Taylor
's redshirt if needed.
What you won't see are more designed runs for Kentucky's quarterbacks, as neither
Jalen Whitlow
nor
Patrick Towles
are fit to be effective runners, Phillips said.