April, 25, 2014
Apr 25
4:00
PM ET
Nate Brown
hails from Georgia. He received offers from Georgia, Georgia Tech and South Carolina. But rather than stay close to come, the three-star wide receiver chose to stick with his original commitment and sign with Missouri, the reigning SEC East champ.
We caught up with the Peach State native to ask him why he chose Missouri and what his impact will be this season with
Dorial Green-Beckham
no longer on the team.
When you committed to Missouri, it was before they had emerged as the favorite in the SEC East. What made you go ahead and pull the trigger?
Brown:
I took an unofficial visit up there over the summer and just worked, ran some routes, that sort of thing. Everybody up there was just really personable. It felt welcoming, and it wasn't anything fake. It was genuine. Also, how they use their receivers. I feel like that's the best fit for me, the offense that they run -- trying to get the ball to multiple guys and spreading their big targets out wide. Also, the academics. After I was there talking with some of the professors and academic advisers, they definitely take their academics seriously and that's a big thing for me in the house that I was raised in.
Were you surprised they made the run that they did last year?
Brown:
Honestly, no. When I went up there, I saw how they worked. And Coach [Gary] Pinkel -- just talking with him -- he seems like he really knows the game, and I think he's proven it on the field. Just talking to some of the guys and seeing how they work, how they work together, it was really a team-based atmosphere. Everybody's just trying to get the next person up to par, and that's what it takes. I saw them progressing as the season went on, and when they finally did face a big opponent, they delivered.
Georgia entered the mix late. You're a Georgia guy. Was that tempting?
Brown:
It was tempting a little bit. After I went [to Georgia], I took an unofficial visit to South Carolina also, and I didn't really get that same feel as I did with the Missouri coaching staff and the atmosphere at Missouri. Just talking to other coaches, I kind of got the same vibe from Georgia, South Carolina and these other schools, but Missouri really stood apart. Once I committed, I couldn't find any better. I felt like that was the place for me.
What were your thoughts when you heard that Green-Beckham had been dismissed from the team?
Brown:
I got a text from
Maty [Mauk]
and
Eddie [Printz]
, just saying that I need to be ready. You can't predict the future. Things come up, situations like that, and the next guy just has to be ready to step in line. That's motivated me more.
How does that loss change the outlook for this team?
Brown:
To me, nothing's really changed. He was definitely a big factor, but I don't see the whole team falling apart or anything like that. They're just going to build around the guys they have there and not look back.
[+] Enlarge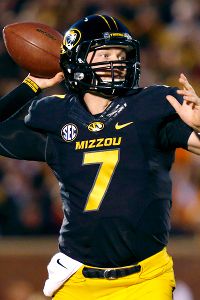 Kyle Rivas/Getty ImagesBrown said he's looking forward to playing with Missouri quarterback Maty Mauk.
You mentioned getting a text from Maty Mauk. What do you expect from him this season as he takes over at quarterback?
Brown:
They have a lot of weapons at quarterback this year, including Maty. I feel like going back and watching some of the games they played, he definitely knows how to be a leader, on and off the field. I just look forward to playing with him.
How about for you? What are your goals or expectations for your first year?
Brown:
Just to contribute to the team. I'm going to go in with the mindset to try and earn a spot, and I'm going to work as hard as I can to get that spot. That's my main goal right now, just to work and contribute to the team in any way possible.
And what are you working on now to help get you ready for next fall?
Brown:
I lift every morning. We have a weight training class, and then after school, I try to work on a lot of speed, footwork stuff. In between that time, I might go out and catch [balls] a couple days, but my main focus right now is just getting my speed up because I know the level of the game is night and day. It's so much faster in college than it is in high school. I want to get my speed up and get my hands ready for that type of atmosphere.
March, 12, 2013
3/12/13
11:00
AM ET
Schedule:
The Tigers open spring practice today at 4:30 p.m. ET and conclude the spring on April with their annual Black & Gold Game on April 20 at 2 p.m. ET in Memorial Stadium.

What's new:
After spending 12 years as a Missouri assistant, offensive coordinator David Yost resigned after the 2012 season and was named the inside receivers coach at Washington State. Josh Henson was then promoted from co-offensive line coach to offensive coordinator, while Andy Hill was promoted from wide receiver coach to quarterbacks coach/associate head coach. Pat Washington, who coached at Kentucky in 2012, was hired as the Tigers' new receivers coach.
On the mend:
Running back
Henry Josey
is still recovering from the devastating knee injury he suffered halfway through the 2011 season, but coach Gary Pinkel recently said that Josey ran a 4.4 in the 40-yard dash and should be able to go through spring camp. Offensive linemen
Justin Britt
and
Taylor Chappell
are also recovering from knee injuries, but could be at full strength later this spring. Fellow lineman
Anthony Gatti
is recovering from recent ACL surgery and could also return in late spring. Defensive end
Markus Golden
is playing with a hand cast this spring, while wide receiver
Dorial Green-Beckham
rolled his ankled during offseason workouts and is currently in a walking boot.
On the move:
Green-Beckham is moving from the inside "Y" receiver spot to the outside "X" spot. With redshirt freshman tight end/Y
Sean Culkin
back from injury, Green-Beckham was moved outside, where he should be more of a deep threat for the Tigers. Sophomore Ernest Payton has moved from cornerback to safety. Senior linebacker Andrew Wilson has moved from strong side linebacker to middle linebacker. Redshirt freshman offensive lineman Jordan Williams has moved from tackle to center.
Question marks:
With
Sheldon Richardson
gone, the Tigers are looking for someone to step in and help fill that void. Mizzou might have to replace Richardson by committee this year. Junior
Matt Hoch
(defensive tackle) and
Lucas Vincent
(nose guard) will get the first shots at filling the middle. Vincent was Richardson's backup last year, but still has a lot of room to grow on the field. Hoch had a decent 2012 season and the staff is excited about redshirt freshman
Harold Brantley
. With the heavy amount of ends, the Tigers could move some guys inside to help with depth. Wide receivers
Marcus Lucas
and
L'Damian Washington
are listed as starters this spring, but after underwhelming 2012 seasons, they will be battling for their spots this spring. Also, keep an eye on
Bud Sasser
and
Jimmie Hunt
at the "H" receiver spot. One of them has to solidify that spot this spring. Really, the offense in general has a bunch of question marks, but the biggest one of all might be at quarterback, where
James Franklin
will be in a heated competition with redshirt freshman
Maty Mauk
and sophomore
Corbin Berkstresser
. Franklin's history of injuries could keep the concern level around him high.
New faces:
Mizzou welcomed quarterbacks Trent Hosick and Eddie Printz, who enrolled early this spring. Wide receiver
Darius White
sat out last season after transferring from Texas during the offseason. The Tigers might have a lot of bodies at receiver, but the coaches are very excited about his potential, and he could push for real time this spring.
Key battle:
Franklin's past injuries can't be overlooked, and after the season he had in 2012, the coaches have to get his current backups ready for the 2013 season. Franklin enters the spring as the starter, but he'll have to earn it throughout the next two months because the staff is very excited about the potential Mauk has. He's been compared to former Mizzou QB Brad Smith and people around the program feel he can run the offense as well as anyone. Word is that Mauk is really going after the No. 1 spot, so Franklin will be constantly looking over his shoulder this spring. Berkstresser got good experience last year and should be even more comfortable in Mizzou's offense. Getting more confidence at the QB spot is critical heading into the offseason.
Breaking out:
Keep an eye on senior cornerback
Randy Ponder
. The former walk-on has had a lot of time to watch others and should be prepared for his starting role opposite shutdown corner
E.J. Gaines
. Brantley could be a big player at defensive tackle. He has packed on the pounds and with the position not solidified, the coaches are expecting a lot from him. Culkin should push
Eric Waters
for the starting spot at the "Y." The coaches are really excited about him and they didn't really want to redshirt him last year.
Don't forget about:
Josey had to sit out all of last year, and while
Kendial Lawrence
rushed for more than 1,000 yards, the offense missed the home run presence Josey brought to the offense in 2011. Josey was the Big 12's best rusher before he went down halfway through the season in 2011, and the Tigers need him to be back to his old ways this fall. Things are starting off right for Josey, who will participate in drills this spring.