October, 11, 2010
10/11/10
2:24
PM ET
There's warm. There's downright toasty, and there's scalding.
We'll keep it to Hot and Not, our weekly rewind in the SEC:
EN FUEGO
Balance in the SEC:
Having five teams ranked in the top 12 nationally midway through the season speaks for itself. There's no question that Alabama and Florida have dominated this league for the past two years, but it's clear that Arkansas, Auburn, LSU and South Carolina are serious about having a say in who wins the SEC championship this season. The knock on this conference recently has been that it's a two-team league with several other mediocre teams filling out the upper tier. Those critics might want to think again. South Carolina's convincing win against Alabama last week reinforced just how strong this league really is.
HOT
[+] Enlarge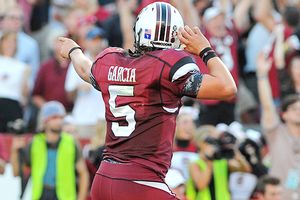 Al Messerschmidt/Getty ImagesStephen Garcia's performance was key in South Carolina's upset win over Alabama.
South Carolina quarterback Stephen Garcia:
He played nearly perfect football in the upset of Alabama, threw three touchdown passes, was extremely humble afterward and was praised profusely by his head coach. Yes, the same Head Ball Coach that was hammering away at him during the spring and summer.
NOT
Alabama running back Mark Ingram:
Maybe he is human after all. Last season's Heisman Trophy winner has been held to 88 rushing yards on 23 carries the past two games and was kept out of the end zone against the Gamecocks.
HOT
Arkansas's defense:
What's wrong with this picture? The Hogs' defense saved the day last week in the 24-17 win over Texas A&M with one critical stop after another. Willy Robinson's unit has improved tremendously.
NOT
Florida running back Emmanuel Moody:
The Gators keep waiting on him to break through and be that consistent threat in the running game, but it just hasn't happened. He didn't help matters by losing a costly fumble just before halftime in the 33-29 loss to LSU.
HOT
South Carolina in the red zone:
Let's refer to it as the "garnet zone." The Gamecocks lead the SEC in red zone offense, scoring touchdowns in 17 of their 20 trips inside the 20. They also lead the league in red zone defense, allowing opponents just five touchdowns in 20 trips.
NOT
Kentucky's run defense:
The Wildcats are getting gashed on the ground. They're last in the SEC in rushing defense, allowing 190.3 rushing yards per game, and have already given up 15 rushing touchdowns this season.
HOT
LSU quarterback Jarrett Lee:
He's a perfect example of why it pays to hang in there. Lee threw 16 interceptions two years ago as a redshirt freshman, and seven of those were returned for interceptions. But he's come off the bench to pull the Tigers out of the fire each of the last two weeks with game-winning drives.
NOT
Florida offensive coordinator Steve Addazio:
The boos were hard to miss last Saturday by the Florida fans as the Gators continued to limp along on offense. Nobody in Swamp Land is real thrilled with anything about this offense, including the play-calling.
FREEZER BURN
Tennessee's pass protection:
It will be a minor miracle at this rate if Tennessee quarterback
Matt Simms
finishes the season in one piece. He's taking a wicked beating, as the Vols' young offensive line continues to struggle when it comes to protecting the passer. They've now allowed 23 sacks, which is more than any other FBS team in the country. Simms has been sacked nine times in his past two games, and that's not even counting the other times when he was knocked around after just getting rid of the ball. Hope he's got a good whirlpool where he lives, because he's going to need it.
September, 4, 2010
9/04/10
12:33
PM ET
By
ESPN.com staff
| ESPN.com
Can't resist, so I'm going to say it: What was all that chatter about Florida not missing a beat with Tim Tebow gone?
The Gators have had two offensive possessions in the opener against Miami (Ohio) and turned the ball over both times.
The first one came on a bad snap, and
Chris Rainey
lost a fumble after catching a short pass on the Gators' second possession.
Even more telling, though, was that Florida was unable to convert on a fourth-and-short near midfield.
Emmanuel Moody
was stuffed in the backfield for a loss. It ended up working out for the Gators because Miami was offsides, but those were the types of short-yardage situations Tebow converted in his sleep the last three years.
That's where the Gators are really going to miss him, and they've got to find somebody they can lean on to get the tough yards.
To this point, Florida has gotten very little, period, out of its running game and is using the I-formation some.
Also,
Deonte Thompson
couldn't come up with a deep pass in the first quarter that would have been a touchdown. He was plagued by drops last season.
April, 6, 2010
4/06/10
9:11
AM ET
By
ESPN.com staff
| ESPN.com
It was about this time last year that Florida coach Urban Meyer talked openly about playing two quarterbacks during the 2009 season.
He said
John Brantley
had progressed enough as a passer that the Gators hoped to use him as a passing complement to
Tim Tebow
, potentially in the first half of every game.
It never happened.
Well, Meyer is again saying that the
Gators are going to play two quarterbacks
during the 2010 season, and this time, you get the feeling he really means it.
Brantley didn't have his best day throwing the ball in Saturday's scrimmage, and the defense prevailed for the second straight scrimmage. He was under a lot of pressure most of the day from the Florida defensive front.
Meyer and Co. aren't down on Brantley. They still feel like he will give them a dimension in the passing game the Gators haven't had in a while. But they're also looking for ways to replace what Tebow gave them on third-and-short, and that's where tight end
Jordan Reed
and freshman quarterback Trey Burton come in.
"Everyone says we ran Tim because he's a great player. That's partially true. The other part is single-wing offense gives you plus-one in the run game," Meyer said. "Jordan Reed has proven he can do it, and Trey Burton can run well, too. This is the year I think we actually will play two like we played Tim and Chris Leak."
As a freshman, Tebow was essentially the Gators' short-yardage and goal-line specialist.
Right now, it's difficult to pinpoint that guy at running back. Senior
Emmanuel Moody
has a chance, but the jury is still out on whether he's tough enough or durable enough. Moody had to leave Saturday's scrimmage with a quad injury, and he was just getting back to practice after injuring his ankle.
Reed, who moved from quarterback to tight end last season, has been solid for the Gators this spring. The 6-foot-3, 240-pound redshirt freshman is a natural in the Wildcat formation. Burton is also coming off his best scrimmage. He threw two touchdown passes to
Carl Moore
, including a 64-yard strike on a deep ball.
April, 1, 2010
4/01/10
12:25
PM ET
By
ESPN.com staff
| ESPN.com
Scouring the world of SEC football:
February, 19, 2010
2/19/10
12:05
PM ET
By
ESPN.com staff
| ESPN.com
A look at what's making headlines around the SEC:
April, 14, 2009
4/14/09
12:38
PM ET
By
ESPN.com staff
| ESPN.com
Posted by ESPN.com's Chris Low
With the injuries mounting by the day, it will be interesting to see how Florida coach Urban Meyer structures the Gators' spring game on Saturday.
He's hinted that the Gators don't have enough healthy players to split up and have an actual game. At least 10 starters are sidelined right now.
Four starters were ruled out for the game on Monday -- offensive guard Maurkice Pouncey (shoulder), defensive end Carlos Dunlap (abdomen), defensive tackle Lawrence Marsh (abdomen) and cornerback Janoris Jenkins (finger).
Pouncey underwent surgery Monday to repair labrum damage and will be out for about three months. Pouncey started all 14 games at center last season, but is expected to move to left guard next fall thanks to the development of redshirt freshman Sam Robey at center.
Pouncey's twin brother, offensive guard Mike Pouncey, was already out, further illustrating how thin the Gators are right now in the offensive line. Sophomore offensive tackle Matt Patchan missed some time last week after injuring his knee in a scooter accident. Patchan is penciled in for offensive duty only next season after filling in at defensive tackle a year ago.
Also out or limited are running back/return specialist Brandon James, running back Jeffery Demps, running back Emmanuel Moody, receiver David Nelson, defensive tackle Terron Sanders, defensive tackle Brandon Antwine, offensive lineman James Wilson and linebacker Brandon Hicks. Moody underwent surgery last week on a fractured bone in his hand.
April, 10, 2009
4/10/09
12:37
PM ET
By
ESPN.com staff
| ESPN.com
Posted by ESPN.com's Chris Low
A check of the SEC headlines on the eve of a couple of spring games in the SEC. Georgia and South Carolina will both play their spring games on Saturday:
October, 1, 2008
10/01/08
10:00
AM ET
By
ESPN.com staff
| ESPN.com
Posted by ESPN.com's Chris Low
Week 6 in the SEC awaits, and everybody figured at this point that Kentucky and Vanderbilt would be two of the four unbeatens in the league, right? For that matter, did anyone outside the state of Alabama have the Crimson Tide 5-0 five games into the season? The unpredictability in this league never gets old. Let's take a look inside in our weekly "Internal Affairs" feature:
Old-school Tebow: With Emmanuel Moody not expected to play with a high ankle sprain, it could be the old-school Tim Tebow that you see this Saturday against Arkansas. The Gators simply don't have any true running backs to hand the ball off to now, which means Tebow may have to rev up the jets in the running game. Through four games, he's rushed for 125 yards and two touchdowns on 49 carries. That's an average of 2.6 yards per carry. Look for the Gators to turn him loose a little more the rest of the way.
Who's the quarterback?: You don't have to listen real hard to tell that Auburn offensive coordinator Tony Franklin isn't about to give up on Chris Todd as the Tigers' starting quarterback. Franklin was also quick to divulge that the reason they started Kodi Burns in the second half against Tennessee was because Tommy Tuberville wanted to. The reality is that Auburn doesn't have a quarterback right now, at least one the entire team can look to with confidence and know he's the leader. Todd will start against Vanderbilt. The better question: Who will be at the helm if the game's on the line in the fourth quarter?
Stephens ready for duty: As the Vols try to figure out who to start at quarterback this weekend against Northern Illinois, backup Nick Stephens made it clear that he's ready. Stephens wasn't allowed to compete for the starting job in the preseason, and that didn't sit well with him. It's been such a struggle for Jonathan Crompton that the Tennessee coaches would have been in danger of losing the team had they not tried something new. If Stephens plays well, then look for more and more of him once the Vols jump back into SEC play.
Vanderbilt's coming: That's "coming" as in coming after the Auburn quarterbacks. The Commodores are tied for second in the SEC with 11 sacks. They also are tied for the lead nationally with 10 interceptions. They've made it a point to be aggressive all season, and with the way the Vanderbilt secondary is playing, why not? Bobby Johnson and his staff have enough faith in D.J. Moore, Reshard Langford, Ryan Hamilton and crew to take some chances up front.
Lee the man: LSU has found its quarterback. Redshirt freshman Jarrett Lee has taken the job and run with it the last couple of weeks. Andrew Hatch, who opened the season as the starter, was injured last week. Hatch may still play some, but Lee is the guy the LSU coaches see as their No. 1 trigger man heading into the teeth of the schedule. The Tigers are off this week, but then play Florida and South Carolina on the road in back-to-back weeks before coming back home to face Georgia.
September, 24, 2008
9/24/08
11:09
AM ET
By
ESPN.com staff
| ESPN.com
Posted by ESPN.com's Chris Low
Let's go inside as we do every week at this time for our "Internal affairs" look at the SEC. The toughest job this week belongs to Texas coach Mack Brown, who has to find a way to motivate his club against an Arkansas team that looked wretched last Saturday in a 49-14 home loss to Alabama. You've got to hand it to Brown, though. The more he talks, the more it sounds like Arkansas actually has a chance. If I'm hearing him correctly, that Alabama-Arkansas game came down to a handful of big plays that the Crimson Tide made to turn the game around. Hey Mack, Lou would be proud:

1. Alabama picking its spots: To be specific, that's picking its spots with the blitz. Nick Saban is one of the best in the business when it comes to mixing up coverages and bringing pressure at just the right time. The Crimson Tide didn't blitz as much against Clemson in the opener. For one, they didn't need to and got pressure with their front four, but they were also protecting themselves against the Tigers' screen package. Saban will go after Georgia quarterback Matthew Stafford more. You know he's watched the tape from that South Carolina game where the Bulldogs had to scale back on some of the stuff they wanted to do in the passing game in the second half because they couldn't protect Stafford.

2. More of Moody: Emmanuel Moody got his most work of the season last week against Tennessee and led Florida in rushing with 55 yards on nine carries. The main thing is that he held onto the ball, a must if you're going to play running back for Urban Meyer. Look for Moody to be even more involved in the running game this week against Ole Miss as Florida returns home. He has the makeup to be the Gators' featured back, but it's obvious that Meyer is bringing him along slowly. The transfer from Southern California insists that he will remain patient and take the carries as they come.

3. Making it simple: In three games against FBS teams this season, Mississippi State has scored three touchdowns and turned the ball over 10 times. The Bulldogs will continue to try to get some of their younger playmakers like running back Robert Elliott more involved and simplify things as much as possible. Changes you won't see are to the Bulldogs' offensive staff. Mississippi State coach Sylvester Croom was adamant on his weekly call-in show this week that he wasn't going down that road. "I'm the offensive coordinator. I'm the bus driver. I'm the equipment man, the lawn guy. I'm the secretary. I'm everything. Because whatever's not going right, it's me," Croom said Monday night.

4. Turning Todd loose: It's pretty clear by now that Chris Todd is Auburn's quarterback. Kodi Burns hasn't played a snap in the last two games. And if anything, the Tigers are going to give Todd more of a license to throw the ball this week against Tennessee. Auburn offensive coordinator Tony Franklin wants to throw the ball more to set up the run. He said the Tigers should have thrown it at least 10 more times against LSU. Todd finished 17-of-32 for 250 yards, a touchdown and two interceptions. He looked much more comfortable throwing the ball in the second half and gave the Tigers the lead with 6:40 to play on a 15-yard scoring strike to Robert Dunn.

5. Crompton taking coaching: It's been tough sledding so far for Tennessee quarterback Jonathan Crompton, who's turned the ball over and struggled to finish drives. The Vols' coaches haven't lost faith in him, but they would like to see him respond better to what they're preaching every day on the practice field. There's a sense among some on the Tennessee staff that Crompton needs to be more realistic about the way he's playing right now. He has the talent and the tools. He just has to go do it. If there's not some improvement against Auburn, the Vols will then look seriously at trying to get Nick Stephens some time in the Northern Illinois game.
September, 10, 2008
9/10/08
11:43
AM ET
By
ESPN.com staff
| ESPN.com
August, 8, 2008
8/08/08
9:00
AM ET
By
ESPN.com staff
| ESPN.com
Posted by ESPN.com's Chris Low
GAINESVILLE, Fla. -- Kenny Carter, the newest member of Florida's coaching staff, isn't worried about establishing a pecking order.
His group is being watched as closely as any this preseason because the Gators are committed to finding a running game this fall outside of quarterback Tim Tebow.
That's where Carter's running backs come in, or more specifically, the guys who may line up at running back at some point this season.

"We have somewhere between 10 and 11 guys that we can get the ball to and feel like they have a chance to go to the house," said Carter, who came to Florida after four seasons on the Vanderbilt staff. "As long as they know what's going on at that position and understand what their responsibility is when the ball is snapped, that's all that matters."
Senior Kestahn Moore was the Gators' leading rusher among "true" running backs last season with 580 yards. But, then, what is a "true" running back in Urban Meyer's system?
Carter said Moore has earned the right to be the starter and would go into the season as the starter.
"But those other guys are going to play," Carter said. "We have a lot of weapons here, and that's what we want to do, use them all."
One of those is obviously Percy Harvin, who's been limited to start practice after undergoing heel surgery in the offseason. But he's now weighing 205 pounds and has the look of a tailback.
"Percy's a guy you've got to get the ball to, whether you get it to him at receiver or get it to him at tailback," Carter said. "You get him the ball. You make sure he touches the ball. He's one of the best players in the country. It doesn't matter where he gets it from. What matters is that he gets it."
Carter's not going to put a limit on how many guys he'll play in the backfield. Sophomores Emmanuel Moody and Mon Williams and redshirt freshman Chris Rainey will all get their chances, Carter said.
"If you have guys that are productive and you don't skip a beat, then play them," Carter said. "You don't bring guys to a place and sit them if they're productive."