September, 21, 2014
9/21/14
2:40
AM ET
The hits keep coming for Florida quarterback
Jeff Driskel
.
As if a
42-21 loss
to No. 3 Alabama on Saturday wasn't painful enough for Driskel, Gators' legendary running back Emmitt Smith called for him to be benched during the fourth quarter.
Put Jeff Driskel on the bench please, I have seen enough.

— Emmitt Smith (@EmmittSmith22) September 20, 2014
There's no doubt Driskel had a rough day. He was 9-of-28 passing for 93 yards, two interceptions and one touchdown. He attempted a career-high 13 passes of 15 yards or longer with just one completion.
The junior, who has a 14-4 career record as a starter, did lead the Gators in rushing with 11 carries for 59 yards and a touchdown.
Florida (2-1, 1-1 in the SEC) is off next weekend before visiting Tennessee on Oct. 4.
April, 30, 2014
4/30/14
3:45
PM ET
Herschel Walker said recently that even at 50 he could still play in the NFL.
I'm not about to doubt him. Walker remains the greatest college football player I've ever seen play, and more than 30 years after he played his last game at Georgia, I'd still pay a lot of money to watch him play again.
[+] Enlarge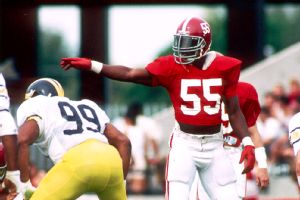 USA TODAY SportsDerrick Thomas set an NCAA single-season record for sacks while at Alabama.
In the immortal words of the late Larry Munson, "Oh, you Herschel Walker!"
But his comments got me to thinking: Other than Walker, who are those SEC players no longer playing that I'd most like to see play again?
Below are the five I came up with, and for clarification, they all played during my lifetime and I had a chance to see them play. I go back to the mid-to-late 1970s.
Here goes:
Eric Moulds, WR, Mississippi State:
I can still see No. 1 making a catch, shaking off a defender and exploding up the field with that imposing 6-2, 225-pound frame. Even though he didn't play in a pass-first offense, Moulds was tremendously productive and a nightmare matchup for opposing cornerbacks. In 1994, he averaged 21.7 yards per catch, and seven of his 39 catches that season went for touchdowns. He also led the country that season with a 32.8-yard kickoff return average. You just don't see receivers every day with his size, strength, speed and hands -- nor his sense of humor. He once had a pizza delivered to a Mississippi State practice.
David Palmer, WR/QB/RS, Alabama:
He was pure excitement no matter where he lined up and the ultimate ankle-breaker in the open field. A receiver by trade, "Deuce" was running the spread from the quarterback position before there really was a spread, and he was also a dynamic punt returner. He averaged 16.1 yards on punt returns in 1991 and 15.8 yards per catch for his career (1991-93). In 32 career games, he averaged 122.4 all-purpose yards, which is third all-time in Alabama history. He was a big part of Alabama's 1992 national championship team, finished third in the 1993 Heisman Trophy balloting and was easily one of the most entertaining players to play in the SEC in my lifetime.
[+] Enlarge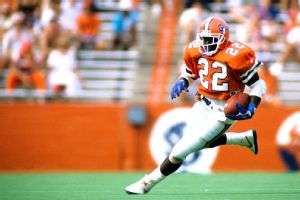 USA TODAY SportsEmmitt Smith twice led the SEC in rushing.
Emmitt Smith, RB, Florida:
Most people in thinking back to Smith's career remember his days with the Dallas Cowboys and all those Super Bowl championship teams he played on in Big D. But before he rose to fame in the NFL, Smith was a tackle-breaking machine with the Gators. Nobody ever seemed to be able to get a good shot in on him. Tackling the guy was like trying to tackle a beer keg, and he had deceptive acceleration. The coaches voted him SEC Player of the Year in 1989, and he set 58 Florida records. He led the SEC in rushing in 1987 and 1989, and in my mind, remains the standard in this league when it comes to getting the tough yards.
Derrick Thomas, OLB, Alabama:
Sadly, we lost Thomas in 2000 following a car accident. Those who saw him play with the Kansas City Chiefs know what a disruptive force he was coming off the edge. Seven sacks in one game speaks for itself. But before he carved out a Pro Football Hall of Fame career, Thomas was terrorizing SEC quarterbacks. He set an NCAA record in 1988 with 27 sacks and finished his career with 52 sacks. His pass-rushing ferocity was something to behold. Coaches throw around the term "unblockable" pretty freely these days, but Thomas was the essence of the term and one of the true measuring sticks in this league when it comes to rushing the passer.
Al Wilson, LB, Tennessee:
The heart and soul of Tennessee's 1998 national championship team, Wilson played every game as if it were his last. He almost single-handedly willed the Vols to their dramatic 20-17 win over Florida in 1998 with 12 tackles and a school-record three forced fumbles. It's no coincidence that in Wilson's three seasons as a starter at Tennessee that the Vols were 34-4 with a pair of SEC championships and a national championship. Wilson played the game with a fire that filtered down to his teammates and was at his best when it meant the most. He finished his career second all-time on Tennessee's tackles-for-loss list and remains one of the most revered players in school history.
August, 9, 2010
8/09/10
12:08
PM ET
By
ESPN.com staff
| ESPN.com
Making the rounds in the SEC:
May, 10, 2010
5/10/10
2:41
PM ET
By
ESPN.com staff
| ESPN.com
We at ESPN.com have taken on the task of identifying which college program truly is the
best pipeline to the NFL
.
We took a look at the NFL drafts between 1979 and 2009 and awarded points for the following milestones: NFL Most Valuable Player, Defensive Player of the Year, Offensive Player of the Year, All-Pro (first or second team) and Pro Bowl appearances.
Southern California led the way with 177 points, followed by Miami (164) and Pitt (120). Florida State (107) was fourth, while Tennessee was fifth (87) and the top SEC team.
The Vols were one of six SEC schools to finish in the top 25 of the survey results. Georgia was No. 8, Florida was No. 12, Alabama was No. 18, Auburn was No. 21 and LSU was No. 22.
To come up with a final determination, we ended up seeding the teams (by points) and matching them up in a 16-team playoff.
Here's a
copy of the bracket
.
Only three SEC teams made the bracket:
No. 5 Tennessee
No. 8 Georgia
No. 13 Florida
The first round took place Monday. ESPN.com's Mark Schlabach argued on behalf of the SEC teams. Here are the matchups:
No. 5 Tennessee vs. No. 12 Ohio State
No. 8 Georgia vs. No. 9 Penn State
No. 4 Florida State vs. No. 13 Florida
The SEC ended up going 1-2. Don't blame me. I was on vacation last week (what a cop-out, huh?). So blame Schlabach. Actually, Matt Williamson of Scouts Inc. made the final call.
Either way, Georgia is the lone SEC team moving to the second round.
December, 5, 2009
12/05/09
3:06
PM ET
By
ESPN.com staff
| ESPN.com
ATLANTA - Florida royalty is in the house.
Emmitt Smith has been down on the field chatting with Florida coaches and players as they warm up. Smith spent several minutes talking with defensive coordinator Charlie Strong.
Several of the players came by to shake hands.
Tim Tebow
gave Smith a big bear hug, and Joe Haden also talked for a while with the former star running back for the Gators.