March, 12, 2013
3/12/13
11:00
AM ET
Schedule:
The Tigers open spring practice today at 4:30 p.m. ET and conclude the spring on April with their annual Black & Gold Game on April 20 at 2 p.m. ET in Memorial Stadium.

What's new:
After spending 12 years as a Missouri assistant, offensive coordinator David Yost resigned after the 2012 season and was named the inside receivers coach at Washington State. Josh Henson was then promoted from co-offensive line coach to offensive coordinator, while Andy Hill was promoted from wide receiver coach to quarterbacks coach/associate head coach. Pat Washington, who coached at Kentucky in 2012, was hired as the Tigers' new receivers coach.
On the mend:
Running back
Henry Josey
is still recovering from the devastating knee injury he suffered halfway through the 2011 season, but coach Gary Pinkel recently said that Josey ran a 4.4 in the 40-yard dash and should be able to go through spring camp. Offensive linemen
Justin Britt
and
Taylor Chappell
are also recovering from knee injuries, but could be at full strength later this spring. Fellow lineman
Anthony Gatti
is recovering from recent ACL surgery and could also return in late spring. Defensive end
Markus Golden
is playing with a hand cast this spring, while wide receiver
Dorial Green-Beckham
rolled his ankled during offseason workouts and is currently in a walking boot.
On the move:
Green-Beckham is moving from the inside "Y" receiver spot to the outside "X" spot. With redshirt freshman tight end/Y
Sean Culkin
back from injury, Green-Beckham was moved outside, where he should be more of a deep threat for the Tigers. Sophomore Ernest Payton has moved from cornerback to safety. Senior linebacker Andrew Wilson has moved from strong side linebacker to middle linebacker. Redshirt freshman offensive lineman Jordan Williams has moved from tackle to center.
Question marks:
With
Sheldon Richardson
gone, the Tigers are looking for someone to step in and help fill that void. Mizzou might have to replace Richardson by committee this year. Junior
Matt Hoch
(defensive tackle) and
Lucas Vincent
(nose guard) will get the first shots at filling the middle. Vincent was Richardson's backup last year, but still has a lot of room to grow on the field. Hoch had a decent 2012 season and the staff is excited about redshirt freshman
Harold Brantley
. With the heavy amount of ends, the Tigers could move some guys inside to help with depth. Wide receivers
Marcus Lucas
and
L'Damian Washington
are listed as starters this spring, but after underwhelming 2012 seasons, they will be battling for their spots this spring. Also, keep an eye on
Bud Sasser
and
Jimmie Hunt
at the "H" receiver spot. One of them has to solidify that spot this spring. Really, the offense in general has a bunch of question marks, but the biggest one of all might be at quarterback, where
James Franklin
will be in a heated competition with redshirt freshman
Maty Mauk
and sophomore
Corbin Berkstresser
. Franklin's history of injuries could keep the concern level around him high.
New faces:
Mizzou welcomed quarterbacks Trent Hosick and Eddie Printz, who enrolled early this spring. Wide receiver
Darius White
sat out last season after transferring from Texas during the offseason. The Tigers might have a lot of bodies at receiver, but the coaches are very excited about his potential, and he could push for real time this spring.
Key battle:
Franklin's past injuries can't be overlooked, and after the season he had in 2012, the coaches have to get his current backups ready for the 2013 season. Franklin enters the spring as the starter, but he'll have to earn it throughout the next two months because the staff is very excited about the potential Mauk has. He's been compared to former Mizzou QB Brad Smith and people around the program feel he can run the offense as well as anyone. Word is that Mauk is really going after the No. 1 spot, so Franklin will be constantly looking over his shoulder this spring. Berkstresser got good experience last year and should be even more comfortable in Mizzou's offense. Getting more confidence at the QB spot is critical heading into the offseason.
Breaking out:
Keep an eye on senior cornerback
Randy Ponder
. The former walk-on has had a lot of time to watch others and should be prepared for his starting role opposite shutdown corner
E.J. Gaines
. Brantley could be a big player at defensive tackle. He has packed on the pounds and with the position not solidified, the coaches are expecting a lot from him. Culkin should push
Eric Waters
for the starting spot at the "Y." The coaches are really excited about him and they didn't really want to redshirt him last year.
Don't forget about:
Josey had to sit out all of last year, and while
Kendial Lawrence
rushed for more than 1,000 yards, the offense missed the home run presence Josey brought to the offense in 2011. Josey was the Big 12's best rusher before he went down halfway through the season in 2011, and the Tigers need him to be back to his old ways this fall. Things are starting off right for Josey, who will participate in drills this spring.
August, 28, 2012
8/28/12
1:35
PM ET
Depth charts for all 14 SEC teams are out, so let's take a look at them.
I'll handle the Eastern Division, while Chris takes a look at the West later today.
I've added some notes of my own for each team:

FLORIDA
Depth chart
The first thing you notice is that "Or" comes up a few times. The quarterback spot is still up for grabs, as sophomores Jacoby Brissett and Jeff Driskel will play by quarters against Bowling Green Saturday. The "X" receiver spot has three names by it with Frankie Hammond, Latroy Pittman and Andre Debose competing for that spot. Everyone is still waiting for Debose to be more of a complete player.
Both corner spots might appear to be up for grabs, but it would be a shocker if sophomores Marcus Roberson and Loucheiz Purifoy didn't start. Roberson has the talent to be an All-SEC player at some point, while the staff thinks Purifoy is an extremely athletic player. Also, seeing Antonio Morrison behind Jelani Jenkins is impressive. He's been solid since arriving this spring.
You don't see De'Ante Saunders on there at free safety. Will Muschamp said he's battling a hamstring injury and will be out two weeks. Corner Jeremy Brown is also battling a wrist injury and isn't on the two-deep, either.

GEORGIA
Depth chart
(Page 2)
It's hard to say how much we can really make of Georgia's depth chart. Bacarri Rambo and Alec Ogletree are both listed as starters. Rambo and Ogletree could still sit out a couple of games due to their reported failed drug tests this spring and Mark Richt hasn't said if either will play Saturday.
Malcolm Mitchell is listed as a starter at cornerback, opposite Branden Smith, and is a third-team receiver. That sounds about right, as Mitchell has primarily played corners since the spring. He has taken some reps on offense, so you might see him on both sides of the ball Saturday.
Two guys to keep an eye on are center David Andrews and outside linebacker Ramik Wilson. Andrews might be the key to the offensive line. He has done very well at center and there was some worry that he might not be cut out of the position. If he had to move this line might have been in disarray. Wilson received a lot of praise from his teammates this spring and he continued to show out this fall. He won't outshine Jarvis Jones this fall, but he'll cause a stir on defense.

KENTUCKY
Depth chart
You can tell that the Wildcats aren't afraid to throw out some younger players this fall. Kentucky has 24 sophomores, redshirt freshmen or true freshmen listed on its two-deep for Saturday. That's a lot, especially for a team that is looking to revamp both sides of the ball. There could be a lot of growing pains for this team early.
Sophomore receiver Demarco Robinson and redshirt freshman receiver Daryl Collins might be currently listed as backups for the Cats, but don't let that fool you. Both have been very impressive since the spring and both will get plenty of chances to see the field Saturday. Having three senior starters at wide receiver will help bring those two along, but I expect them to breakthrough eventually.
You won't see sophomore Josh Clemons listed on the two-deep at running back, as he's out after his knee was cleaned up. CoShik Williams and Raymond Sanders are listed as co-starters. I'm also curious to see what happens at linebacker. Four new starters are in and there were questions surrounding the weakside position. Former quarterback Tyler Brause moved ahead of Malcolm McDuffen, who exited spring as a starter. Joker Phillips has said this will be a day-to-day competition.

MISSOURI
Depth chart

SOUTH CAROLINA
Depth chart
The first thing that stands out to me is that top signee Shaq Roland is listed as a third-team wide receiver behind Ace Sanders and DeAngelo Smith. It might say more about how the others have done, but Roland is someone this staff has been very excited about and hopes he can make an instant impact on offense. He isn't taking Sanders' spot, but he'll get on the field.
That secondary looks pretty green without Akeem Auguste in it. He's out after tearing a muscle in his right thigh, meaning junior Jimmy Legree, who moved from safety this spring will get the start against Vanderbilt Thursday. Legree began last season as a starter, but lost his spot after struggling during the first two games. First-time starter Victor Hampton is at the other corner spot. He's unproven, but the staff is excited about his talent and athleticism.
Freshman tight end Jerell Adams might be listed as a second-teamer, but the coaches have been very impressed by him this fall and he'll have every chance to get some solid playing time early.

TENNESSEE
Depth chart
Junior Rajion Neal did a good job of staying ahead in the running back race. After an impressive spring, he will enter Friday's opener against NC State as the Vols' starter. He edged out Devrin Young and Marlin Lane, who both made good strides this spring. He has a lot of pressure to deal with, as Tennessee was awful running that ball in 2011.
Tennessee is hoping to get much more out of its defensive line this fall and junior college transfers Daniel McCullers and Darrington Sentimore could be the answers. Both came in with a ton of hype and snatched starting spots at nose guard and end, respectively. McCullers' arrival moved Maurice Couch from tackle to end. Derek Dooley has said the line is still a work in progress, but a lot is expected from Sentimore and McCullers.
Byron Moore and Brent Brewer are listed as co-starters right now, but Moore let it slip last week that he was named the starter. This could be another position that won't be settled right away. The secondary will get a nice test against the Wolfpack, so that could make things clearer for Week 2.

VANDERBILT
Depth chart
Redshirt junior Warren Norman is back, but he might have to wait his turn for reps. He's listed on Vandy's second team, but Zac Stacy and Jerron Seymour are on the first team. If the Commodores line up with two backs Seymour could be out there before Norman, who is coming back from a knee injury that sidelined him for all of 2011.
The defensive side has a few guys who were banged up listed as starters. Inside linebacker Chase Garnham was limited during fall camp, but he's set to start Thursday against South Carolina. So are defensive tackles Rob Lohr and Colt Nichter.
Looking at that offensive line, you'll see nothing but underclassmen on the second team. While that's a good sign for the future, it could be worrisome for this staff if a starter goes down this fall. Staying healthy up front is critical for this team.
August, 1, 2012
8/01/12
3:30
PM ET
Schedule:
The Tigers' first practice is on Thursday, and their first day in pads is Aug. 6. They open the season at home against Southeastern Louisiana on Sept. 1.
Returning starters:
Six on offense, seven on defense and the place-kicker and punter on special teams.
Star power:
James Franklin
enters his first season in the SEC as possibly the league's best dual-threat quarterback after passing for 2,865 yards and 21 touchdowns and rushing for another 981 yards and 15 more scores last fall.

New faces:
The face everyone is excited about seeing is true freshman wide receiver
Dorial Green-Beckham
. He was the nation's No. 1 recruit in the 2012 class and the coaches think he could make an immediate impact for the Tigers as a deep threat. Quarterback
Maty Mauk
was a Parade All-American and the two-time Gatorade Ohio Player of the Year. The staff expects big things from him down the road, and with James Franklin recovering from shoulder surgery, Mauk could compete for more reps in fall camp.
Don't forget about:
Senior linebacker
Will Ebner
missed most of last year, after suffering a season-ending injury in the first game. Before his injury, he played in 36 career games, registering 146 tackles. The starting middle linebacker was granted an extra year of eligibility and will lead a very solid linebacking corps.
Big shoes to fill:
It's no secret the Tigers like to use their tight ends, and Michael Egnew was one of the best to come through Columbia. Now, Missouri's staff is looking to junior
Eric Waters
to fill in. However, Waters suffered an MCL injury this spring that required surgery. Gary Pinkel said this spring that he expects Waters to be healthy this fall. He'll then have to compete with
Bud Sasser
, who was also injured this spring after suffering a hamstring injury, and
Jaleel Clark
, who struggled at times this spring, but he'll get his chance to compete for time as well.
Key battles:
There should be some fun battles during fall camp at both safety spots.
Kenronte Walker
(strong safety) and
Braylon Webb
(free safety) exited the spring as starters, but their jobs aren't solidified. Sophomore
Daniel Easterly
will compete with Walker for time, while junior
Matt White
is after Webb's spot. Also, watch out for junior Tavon Bolden. Keep an eye on the Z receiver spot as well. A banged up
L'Damian Washington
allowed
Jimmie Hunt
more opportunities to impress in the spring, and he did. He caught an 88-yard touchdown pass in the spring game and will make it tough for Washington to claim the Z spot.
Rising star:
One thing that all good SEC teams have is a solid pass rusher. While the staff expects to get defensive end
Brad Madison
back at full strength this fall, a guy to keep an eye on is fellow end
Kony Ealy
. He played here and there as a redshirt freshman last year, but Mizzou's staff is very excited about his potential in 2012. He's extremely athletic, possesses good speed and is coming off a solid spring.
Bottom line:
The Tigers are entering their first season in the SEC with solid experience on both sides of the ball and have the offensive playmakers to make a run at the SEC East title. They are bringing in a true spread and are undersized on both lines, but there's no question this team is very confident in its ability. If Franklin stays healthy, this offense could truly be fun to watch. But it's going up against some tough defenses in the East and some growing pains could occur in the Tigers' first year in their new conference.
July, 11, 2012
7/11/12
2:00
PM ET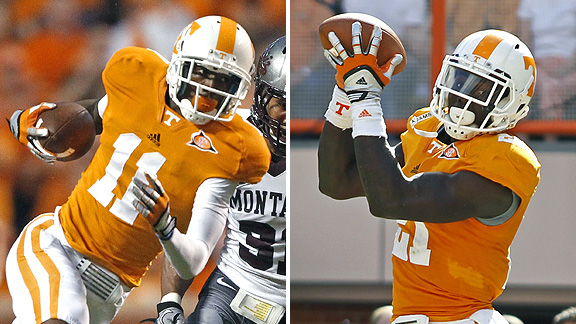 AP Photo/Wade PayneJustin Hunter (11) and Da'Rick Rogers (21) are considered to be the best receiving duo in the SEC.
Our SEC position rankings continue with a look at schools' wide receiver and tight end groups.
Past rankings:
On to the league's wide receiver/tight end groups:
1. Tennessee:
The Vols are equipped with two of the top wideouts in the league with
Da'Rick Rogers
, who was second in the SEC in receiving last year, and
Justin Hunter
, who might be the SEC's top deep threat. It sounds like Hunter will be 100 percent this fall after his ACL injury last year. Junior college transfer Cordarrelle Patterson is big, fast and possesses the big-play gene. The speedy
Zach Rogers
is back and is so is talented tight end
Mychal Rivera
.
2. Arkansas:
Cobi Hamilton
is now Arkansas' primary receiver, and he might be the league's most complete wideout. He can make the big-play and elude defenders along the way. While
Marquel Wade
's status is still unclear, if he does return, he'll be a major lift for this offense because of his playmaking ability in the slot.
Julian Horton
and
Javontee Herndon
have always impressed coaches in practice and now will get their chances to in games. Tight end
Chris Gragg
should be even more involved and is the league's top tight end.
3. Georgia:
While
Malcolm Mitchell
could go back and forth between receiver and corner, when he's at receiver he's Georgia's top offensive threat and was one of the league's best as a rookie. There are vets behind him, starting with reliable senior
Tavarres King
, who had a very good spring, senior
Marlon Brown
, who seemed to take a big step in his game this spring. Sophomores
Michael Bennett
and
Chris Conley
combined for 48 catches for 608 yards and seven touchdowns last year. Unproven tight ends
Arthur Lynch
and
Jay Rome
will replace Orson Charles and Aron White.
4. Texas A&M:
This isn't the fastest group out there, but there are some pretty reliable weapons, starting with star
Ryan Swope
, who could have left for the NFL after catching 89 passes for 1,207 yards and 11 touchdowns last year.
Uzoma Nwachukwu
was third on the team with 50 catches for 639 yards and three tight ends --
Nehemiah Hicks
,
Michael Lamothe
and
Hutson Prioleau
-- return. Keep an eye on junior
Nate Askew
, who could be a downfield threat this fall.
5. LSU:
Odell Beckham
Jr. was one of the top rookies last year and could be even better in Year 2. He'll be joined by potential deep threat and big-play target
Jarvis Landry
, who developed some good chemistry with quarterback
Zach Mettenberger
this spring.
Russell Shepard
is talented, but he's been wildly inconsistent. Keep an eye on junior
James Wright
and incoming frosh
Avery Johnson
, who is the younger brother of Patrick Peterson. Also, tight end
Chase Clement
is on the John Mackey watch list.
[+] Enlarge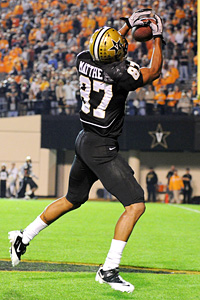 Don McPeak/US PresswireWide receiver Jordan Matthews is one player the Commodores will be counting on this fall.
6. Vanderbilt:
This group surprised last year and returns most of its components, starting with
Jordan Matthews
, who was fourth in the SEC in receiving last year. Sophomore
Chris Boyd
was solid last year, hauling in 31 catches and eight touchdowns.
Jonathan Krause
is very good in space and should see his role increase this fall after a solid spring. The coaches are excited about former QB
Josh Grady
moving to receiver. Replacing tight end Brandon Barden won't be easy.
7. Alabama:
There is more speed out wide in Tuscaloosa, but there's a lot more youth. The Tide could turn to freshmen Chris Black, Amari Cooper and Eddie Williams to help develop a more downfield passing game. More will be expected from veterans
Kenny Bell
and
Kevin Norwood
, while sophomore
DeAndrew White
possesses a ton of speed. Still no word on
Duron Carter
. Tight end
Michael Williams
was solid last year, but will be used even more this fall.
8. Mississippi State:
There is a lot of experience here, but this group has still underperformed at times, especially senior
Chad Bumphis
, who has yet to live up to all the hype that followed him from high school. Seniors
Chris Smith
and
Arceto Clark
combined for 65 catches last year, while the staff is very excited about the big-play potential redshirt freshman
Joe Morrow
possesses. Tight end
Malcolm Johnson
serves as a very reliable tight end target, as well.
9. Missouri:
The Tigers lost two starting receivers and stud tight end Michael Egnew, but three of the top five pass catchers are back, including inside threat
T.J. Moe
, who led Mizzou in receiving last year. Big things are expected from
Marcus Lucas
, who can stretch the field with his speed and physicality, and the coaches think
L'Damian Washington
can also be a downfield threat. Also, Dorial Green-Beckham, last year's top recruit, should make an immediate impact.
Eric Waters
is replacing Egnew, but has just two career catches and suffered a knee injury this spring.
10. Auburn:
Emory Blake
is one of the league's top downfield threats and has been one of Auburn's most consistent offensive weapons. So has tight end
Philip Lutzenkirchen
, who should be more of a passing threat with the addition of transfer fullback
Jay Prosch
. There is a lot of depth, but it's unproven.
Trovon Reed
was supposed to be a star, but had a lackluster second year. Seniors
Travante Stallworth
and
DeAngelo Benton
have 15 and 14 career catches, respectively.
Quan Bray
has shown potential and could have a bigger role this season and keep an eye on freshman Ricardo Louis.
11. Florida:
The Gators have struggled here since 2009 and still lack proven playmakers.
Andre Debose
is probably the best bet to be one, but he's been very inconsistent.
Quinton Dunbar
has the speed to be an outside threat, but caught just 14 passes last year. And the coaches are still waiting for senior
Frankie Hammond
Jr. to turn things up. True freshman Latroy Pittman had a great spring and the coaches are excited about his potential. Tight end
Jordan Reed
is one of the most athletic players in the league and will be a bigger target with two young quarterbacks throwing the ball.
12. South Carolina:
Now that Alshon Jeffery is gone, the Gamecocks have questions and inexperience here. The fast, athletic
Ace Sanders
is the only returning pass catcher with at least 20 catches from last year (29). The hope is
Bruce Ellington
will be more of a factor this fall. Tight ends
Justice Cunningham
and
Rory Anderson
combined for 26 catches and four touchdowns.
Damiere Byrd
has blazing speed, but caught just one pass last year.
DeAngelo Smith
had a solid spring, and the coaches hope he can be a downfield threat. A lot will be expected from incoming freshman Shaq Roland.
13. Ole Miss:
Sophomore
Donte Moncrief
is a budding star in this league and thinks he'll be even better in Hugh Freeze's spread offense.
Ja-Mes Logan
caught 20 passes last year, but had a very good spring. But Nickolas Brassell was an academic casualty and
Randall Mackey
had to move over from quarterback. The coaches are looking for consistency from
Terrell Grant
and
Vince Sanders
, who are both pretty unproven. Tight end
Jamal Mosley
is expected to do more in the spread and averaged 13.8 yards per catch last year.
14. Kentucky:
Joker Phillips' goal this spring was to find more playmakers and he thinks he did with sophomore
Demarco Robinson
, who had five receptions last year, and redshirt freshman
Daryl Collins
. The hope is that they'll take some pressure off of
La'Rod King
, who is really the only proven receiving threat on the team. Tight ends
Ronnie Shields
and
Tyler Robinson
did well this spring, but combined for just 10 catches last year.
May, 10, 2012
5/10/12
3:30
PM ET
Our look at the SEC's most productive returning players in 2012 continues with tight ends.
Past producers:
The SEC returns six of the top 10 statistical tight ends this season. Orson Charles led all tight ends in yardage with 574 yards and had five touchdowns on 45 catches. The No. 2 tight end returns this fall, and this race might be the most wide open of all the top returners by position.
Here's the conference's top returning producer at tight end:

Chris Gragg, Arkansas:
He was second among tight ends in catches (41) and receiving yards (518) last season, and had two touchdowns. Gragg also averaged 12.6 yards per catch last season. In an offense obsessed with throwing the ball, there was no way Gragg wouldn't get a good amount of passes thrown his way. But it's not like Gragg didn't deserve all the attention. The 6-foot-3, 236-pounder is an ideal target for any quarterback, and while he's a big body, he has good speed and is quite agile for his position. With all the receiving talent leaving Fayetteville, Gragg should get even more looks from quarterback
Tyler Wilson
, and there probably aren't too many people around that program upset by the thought of that.
The SEC returns five more of the top 10 statistical tight ends from a year ago:
Mychal Rivera, Tennessee:
He caught 29 passes for 344 yards and one touchdown, and averaged 11.9 yards per catch.
Jordan Reed, Florida:
He caught 28 passes for 307 yards and two touchdowns, and averaged 11 yards per catch.
Philip Lutzenkirchen, Auburn:
He caught 24 passes for 238 yards, and led all tight ends with seven touchdowns. He averaged 9.9 yards per catch.
Malcolm Johnson, Mississippi State:
He caught 11 passes for 207 yards and three touchdowns, and averaged 18.7 yards per catch.
Michael Williams, Alabama:
He caught 16 passes for 191 yards and two touchdowns, and averaged 11.9 yards per catch.
This race really is wide open. While Gragg is probably the most physically gifted of the returning tight ends, it's not a foregone conclusion that he'll take home prize of top SEC tight end. Reed, who is a freak athlete, is someone who the coaches at Florida think will be a major factor in the Gators' offense this fall because young quarterbacks tend to shorten throws, and Reed is a solid underneath target. Williams will get more attention with Brad Smelley gone, and Johnson, who won't share time with
Marcus Green
this year, drew comparisons to past Mackey Award winner Aaron Hernandez in spring camp.
Keep an eye on South Carolina rising senior
Justice Cunningham
. He played alongside fellow tight end
Rory Anderson
, who had more yards and touchdowns, but Cunningham doubled Anderson's catch count last season, and gained 142 yards and one score. With Alshon Jeffery gone, expect Cunningham to get more looks this fall.
If Missouri's
Eric Waters
comes back 100 percent from his MCL injury this spring, he could have a pretty productive season in that offense. Waters is replacing one of the best in Michael Egnew, but one reason Egnew was so successful was because Mizzou
loves
using its tight ends.
Texas A&M uses its tight ends a lot as well.
Nehemiah Hicks
is probably the most gifted tight end for the Aggies and started seven games, but is recovering from shoulder surgery.
Michael Lamothe
and
Hutson Prioleau
combined to catch 28 passes for 244 and four touchdowns last season.
April, 19, 2012
4/19/12
11:15
AM ET
COLUMBIA, Mo. -- On paper, Missouri's group of wide receivers bleeds inexperience.
Outside of veteran
T.J. Moe
, who will be a senior this fall, Missouri's returning receiving targets have combined for 51 catches for 712 yards and five touchdowns in their careers.
But when you talk to players and coaches at Missouri, those numbers tell a much different story. They say that while the returners aren't burning up the stat sheet, it hasn't been because of a lack of talent.
"It's only unproven because guys haven't got the chance to do anything yet," Moe said. "We have a lot of good receivers out here and we have a lot of guys out here who have made plays."
Last year, Moe led the Tigers with 54 receptions and 649 yards. Behind him, Missouri had former All-American tight end
Michael Egnew
(50 receptions) and seniors
Wes Kemp
(29 receptions) and Jerrel Jackson (17 receptions), who combined for 36 starts.
"It's hard to beat those guys out because they do all the right things," offensive coordinator David Yost said.
While most of the talk concerning Missouri's receivers has revolved around inexperience and numbers, Yost and Co. are excited about what this group can do.
[+] Enlarge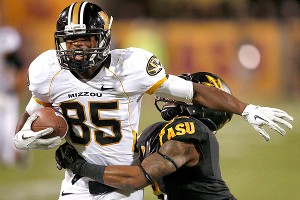 AP Photo/Matt YorkMissouri will be counting on speedy WR Marcus Lucas to make a significant impact in 2012.
Coaches and players think they have bona fide deep threats in rising juniors
Marcus Lucas
and
L'Damian Washington
. Lucas was fourth on the team in receiving last year (23 catches for 414 yards) and tied for first with five touchdowns. Washington was fifth with 20 catches for 364 yards and three scores.
Yost said both received more time as the season went on because of how explosive they were (Lucas has been clocked running a 4.3 in the 40-yard dash). Both ended the year averaging 18 yards per catch.
Washington was banged up this spring, but Lucas said he took full advantage of his time on the field. With more reps, Lucas said he shook the laziness that hurt him last year. His jogging and trudging around the field turned into sprints, his head stopped swimming and he finally learned how to finish plays after getting more comfortable in Missouri's offense.
"It comes with confidence, really," said Lucas, who caught four passes for 81 yards in Missouri's spring game. "When you don't really know exactly [what's going on] and you're guessing on what your exact assignment is it slows you down. Whenever you're out there just playing, you can play at your top-end speed."
Players like
Bud Sasser
, who worked at the Y position/tight end position,
Gahn McGaffie
and
Jimmie Hunt
, who caught an 88-yard touchdown in the spring game, all impressed this spring. So did tight end
Eric Waters
, who will now take over for Egnew, before he went down with an MCL injury that required surgery. Coach Gary Pinkel said Waters, who has two career catches, will be a key cog in the offense and should be back up to speed in three months.
Upperclassmen
Rolandis Woodland
,
Jaleel Clark
and
Kerwin Stricker
should also contribute more this fall and much ballyhooed recruit Dorial Green-Beckham, known around the program as "the big guy," will be on campus this summer.
"We're in pretty good shape," Pinkel said.
Before spring practice, 7-on-7 sessions helped build receiver chemistry, but what really brought this group together was not having quarterback
James Franklin
healthy this spring. After being sidelined with a shoulder injury, the receivers were forced to work with backups
Corbin Berkstresser
, Alex Demczak and
Ashton Glaser
.
Lucas said it was tough building chemistry with the other quarterbacks at first, but it forced the receivers to be more vocal in film sessions and in the huddle with the QBs
It also helped the receivers learn to take on more responsibility in the offense. They felt as though they were the voices this spring, and Lucas said that will be more beneficial for this group than in past seasons.
"We just want to be dominant," he said.
"We're kind of like the motor for [the offense]. We run the pace out there. If the wideouts are having a good day, it feels like the offense is having a good day."
April, 11, 2012
4/11/12
9:17
AM ET
COLUMBIA, Mo. -- I made it out to the
new
Columbia to check out the
new
Tigers in the SEC Tuesday. It was my first time visiting the city and school and it was the first time I had ever spoken to coach Gary Pinkel.
Immediately, I could tell that he wasn't afraid of his new surroundings. Not one bit. He's been at Missouri for 11 seasons and after some thought he'd be run out of Columbia before he even figured out where his office was he'll enter the 2012 season with 85 wins at Missouri. He's also taken the Tigers to seven straight bowl games.
[+] Enlarge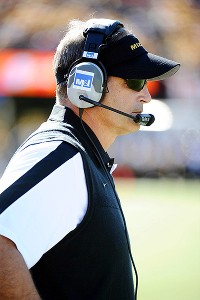 Dak DillonGary Pinkel has led the Tigers to double-digit wins in three of the past five seasons.
So when the coach with 21 years of head-coaching experience was asked about adjusting to the SEC, it was no surprise that he didn't budge much. He gives the SEC a ton of respect, but thinks his team can earn some with the move.
"It's hard to argue with anybody and say the SEC's not the best league in the country, consistently," Pinkel said. "There's no argument.
"I understand we're going into a great league this year, but we go in with some credibility and some success."
The Tigers have reached double-digit wins in three of their past five seasons, so there's no doubt this team will get some respect, but earning it means adjusting to life in a league that lives and dies by line play. That's where things might get a little tricky for the Tigers.
Missouri has to replace six linemen on the offensive and defensive side of the ball. Missouri has been without defensive linemen
Brad Madison
and
Sheldon Richardson
this spring due to injuries. It hurts because both are expected to contribute a lot this fall, but it has helped get younger players more reps, especially end
Kony Ealy
who should give Madison a real run for his spot when the senior-to-be returns.
On the offensive line, the Tigers were fortunate to get wise, old
Elvis Fisher
is back after he was granted a sixth year by the NCAA, following a devastating knee injury that end his 2011 season during fall camp. They also return a group of players that might not have started every game, but got good game experience last year.
To the coaches, the Tigers aren't exactly losing three starters on the offensive line. Offensive coordinator David Yost acknowledges that
Jayson Palmgren
,
Austin Wuebbels
and
Dan Hoch
are all gone, but he also considers guard
Jack Meiners
a starter from last year and Fisher is considered a returning starter as well. It also helps that
Justin Britt
started at left tackle last year, essentially giving Missouri two left tackles and containing the edges on this year's line. That's big because Missouri doesn't use an attached tight end much.
Speaking of tight end,
Eric Waters
, who is replacing All-American
Michael Egnew
, underwent surgery to repair a torn MCL in his knee Tuesday and Pinkel said he's out for three months. He should be ready for the season opener.
As for tweaking the offense and making sure Missouri is fit to run its true spread in the SEC, the players and coaches aren't worried. In fact, they're pretty confident in their scheme and they're not changing from being a true spread team.
"Until you play us, it's different than what other people do and how they do it," Yost said. "We have our system, and we're going to stick with it. Their challenge is to do what they do and have their stuff mesh to what we do."
The Tigers will have to have a balanced attack like they did last year.They'll have quarterback
James Franklin
back for the opener and think he'll help guide their group of unproven wide receivers. Missouri can also go four or five deep at running back, even without
Henry Josey
, who likely won't see the field this fall following that devastating knee injury.
March, 28, 2012
3/28/12
11:30
AM ET
Missouri has some offensive weapons returning in 2012, but it will be without one of its top receiving targets from a year ago:

OUT: TE Michael Egnew:
His stats weren't eye-popping last season, but he was one of Missouri's most reliable pass catchers. A year removed from being a Mackey Award finalist after catching 90 passes for 762 yards and five touchdowns, Egnew was second on the team with 50 catches for 523 yards and three touchdowns. His numbers went down in 2011, but that didn't mean he wasn't important to the Tigers' offense. He made his mark catching the ball, but he was also a decent blocker and helped open up things in both the passing and running game. Missouri's offense is still looking for a big-play threat in its passing game and Egnew showed that ability at times with the Tigers. Missouri's offense has always thrived with a solid tight end in its offense, so losing Egnew is a big hit for this team.
IN: Eric Waters, Bud Sasser, Jaleel Clark, Steve Drain, Kyle Peasel or Brandon Colbert:
The Tigers have a handful of players vying for time at tight end this spring, but Waters is the one that most expect to step right into Egnew's spot. He mostly played special teams last season and only caught two passes, but one went for a 42-yard touchdown. Quarterback
James Franklin
said earlier this spring that he had seen a ton of improvement out of Waters during preseason passing sessions. His routes looked crisper and Franklin said he started developing better chemistry with Waters before spring practice began. At 6 feet 4 inches and 240 pounds, the junior tight end is equipped with a big frame for defenders to handle, but also has quality speed to be a matchup issue through the middle of the field. Clark and Sasser are getting some work at tight end this spring in the Y-position. Incoming freshman Dorial Green-Beckham could get work there as well when he arrives. Sasser should get more playing time this fall with him getting more reps at tight end. He caught three passes last season and has the speed to stretch the field as more of a hybrid player. Clark worked primarily on special teams last year, recording seven tackles. Drain, Peasel and Colbert have yet to register stats during their Missouri careers.
March, 9, 2012
3/09/12
10:45
AM ET
James Franklin understands that from the outside, Missouri's wide receiver corps doesn't appear to be very polished.
Three starting pass-catchers from 2011 are gone and the leading returning receiver (
T.J. Moe
) caught 54 passes last year. After that, Missouri's returners have just 77 career catches combined.
[+] Enlarge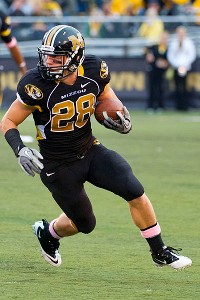 Photo by Scott Rovak/US PresswireT.J. Moe, Missouri's top returning receiver, caught 54 passes in 2011.
But for Franklin, who enters his second year as Missouri's starting quarterback, he's fine with the personnel he's passing to. Players might not have excelled in games, but he saw the talent and potential just about every day in practice last fall.
"Thankfully, it's been good to have so much depth at receiver," Franklin said.
"There's just not enough positions on the field to play them all."
There will be plenty of room in 2012.
Moe already has his place carved out in Missouri's starting lineup, but he isn't the only one defenses will have to account for. Junior
Marcus Lucas
showcased his deep threat skills last year and will see his role expand on the outside this fall, Franklin said. He's also expecting bigger things from outside threat
L'Damian Washington
, who caught 25 passes in 2011.
But those are names that people are familiar with. Franklin said there is still a heap of players who should gain more attention this fall.
There's
Bud Sasser
, who Franklin said really caught his eye during 7-on-7 drills but is dealing with a hamstring injury,
Jimmie Hunt
, who caught one pass for a 54-yard touchdown and has the ability to challenge as one of Franklin's deep-threat targets, and tight end
Eric Waters
, who is now out of
Michael Egnew
's shadow.
Franklin said he was impressed by the way his receivers and tight ends performed during 7-on-7s, but he was also thrilled by how fast the chemistry started to develop with them. Chemistry, Franklin said, will boost Missouri's passing game going after losing key components from a year ago.
"Obviously, we don't have telepathy," Franklin said, "but we know what the other guy is going to do in any given situation."
What else will help is having a big, talented youngster in top wide receiver prospect Dorial Green-Beckham coming in this summer. The hype machine has been pumping away when it comes to Green-Beckham and Franklin can't help but be excited about the chance to work with the 6-foot-6, 220-pounder.
Franklin said bringing Green-Beckham in will improve Missouri's passing game in multiple ways. First, he's a bigger, faster target for him to use vertically. Secondly, he's going to grab a lot of defensive attention. He can be used as a decoy at times, which should help open things up for other players.
"Really, it opens up everyone on the field to where [the defense] is going to have to start playing each side evenly, as if everyone were the same, and that's going to open up those opportunities because we have a lot of good route runners and a lot of good playmakers," Franklin said.
It's also going to push the handful of receivers already on campus. Franklin said there are some players who are a little worried about Green-Beckham coming in and taking playing time, but he's seen that motivate players to work just a little harder.
The Tigers will face a few more questions as they make the transition to the SEC, but Franklin assures the passing game won't be an issue this fall.